No. 3 Ohio State (25-1) at No. 11 Purdue (21-5)
When and where: Sunday (CBS, 1 p.m. ET), Mackey Arena (West Lafayette, Ind.)
Purdue's best player: E'Twaun Moore has been one of the most underrated players in the nation for four years now. He plays at both ends. He's one of the best perimeter scorers in the Big Ten and is also an elite perimeter defender. If he is active setting screens and looking for his offense, Moore can put up a big number. He is on his way to becoming only the third player in Big Ten history to put up 2,000 points, 500 rebounds and 350 assists and he is the second-leading rebounding guard in Purdue history. The kid is a gamer.
[+] Enlarge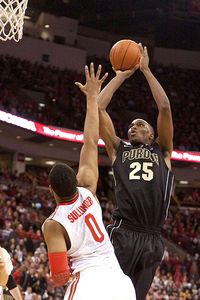 Greg Bartram/US PresswireJaJuan Johnson and Jared Sullinger's battle will go a long way in deciding Ohio State-Purdue.
Ohio State's key player: Jared Sullinger is the perhaps the best player in the Big Ten and commands a double-team in the post. He averages 17.8 points and 10 rebounds per game and is the best low-post threat in the league. Sullinger is not a great defender and you can expect Purdue to try to move him around and make him guard ball screens. While he has great feet, he has not shown the ability to cover ball screens well as a defender.
Purdue's X-factor: Ryne Smith is an excellent 3-point shooter and can find catch-and-shoot opportunities off JaJuan Johnson, E'Twaun Moore and Lewis Jackson. In addition, Smith is an excellent help defender and often gets in very good position to stop drives and take charges. Smith has been knocking down every shot in Big Ten play, shooting better than 50 percent from 3-point range.
Ohio State's X-factor: David Lighty may not be the Buckeyes' leading scorer, but he is their leader. There are few players in Thad Matta's tenure at Ohio State who have impacted the program as much as Lighty. He has blended in with six NBA first-round picks during his career and is one of only three Buckeyes to collect more than 1,000 points, 500 rebounds and 300 assists (the others are Jim Jackson and Evan Turner). Lighty defends, rebounds, passes and makes the right plays -- and he wins.
Purdue's hot player: JaJuan Johnson is a pivotal player in this game. He leads the Boilermakers in scoring in Big Ten play and can be moved all over the floor setting ball screens or being screened into the post. He has a turnaround jumper, he can shoot over almost anyone and he can really run the floor. Johnson is averaging more than 21 points per game in Big Ten play and is hitting his free throws at a very high rate. His battle with Sullinger could very well decide the game.
Ohio State's hot player: William Buford was outstanding against Michigan State and took advantage of every defensive mistake made by the Spartans to score 23 points on 9-of-15 shooting. Buford knocked in five 3-point field goals in the first meeting with Purdue on his way to a game-high 19 points and is hitting more than 50 percent of his deep shots in Big Ten play. Ohio State has great balance and any one of its top four players can go off on you, but Buford has been the hottest lately.
Purdue's game-breaker: For Purdue to win, Lewis Jackson has to play well. In Big Ten play, Jackson has been very efficient, scoring better than 10 points per game and hitting over 57 percent of his field goals. He had 18 points, 4 rebounds and 5 assists in the win over Wisconsin and made 6 of 9 shots from the floor. Jackson is a terrific competitor and needs to win his matchup against the Buckeyes.
Ohio State's game-breaker: He won't score a lot of points, but freshman point guard Aaron Craft can impact the game on the defensive end. He pressures the ball, works to turn over the ball handler and gets steals and deflections. Craft sets the tone for a defense that is stingy, but does not foul. He had four steals against Michigan State and his defense on Jackson will be critical.
Key stat: Rebounding and free throws. Ohio State plays excellent defense and does so without fouling. The Buckeyes have committed the second-lowest number of fouls in the country this season, and Purdue makes more free throws than many of its opponents attempt. To win, Purdue will have to get on the glass to get second shots (and limit Ohio State's second chances) and find its way to the free throw line at home in Mackey.
Who wins: Ohio State is the better team and the best and most balanced team in the nation. With Robbie Hummel, I would like Purdue at home, but I believe that Ohio State will win this one.
Washington (18-7) at No. 13 Arizona (22-4)
When and where: Saturday (ESPN/ESPN3, 6 p.m. ET), McKale Center (Tucson, Ariz.)
Washington's best player: Isaiah Thomas is one of the best guards in the country, but has somehow not received the credit he deserves. After the loss of Abdul Gaddy, Thomas took over the ballhandling duties and has been outstanding; he can really score and he is fearless. Thomas averaged 22.5 points and 5 assists and shot 56 percent from the floor in a sweep of Cal and Stanford last week and he is just the second player in Washington history to compile 1,500 points, 300 assists and 100 steals in a career. Thomas leads the Pac-10 in assists, while still ranking in the top five in scoring.
[+] Enlarge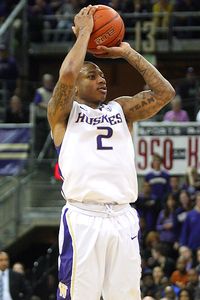 Jesse Beals/Icon SMIIsaiah Thomas is the spark that propels Washington's offense.
Arizona's key player: Derrick Williams has established himself as the best player in the West not named Jimmer. Williams is efficient, scoring at a high rate without being a volume shooter, and he gets to the free throw line. Williams is averaging 19.2 points per game on 64 percent shooting and he is shooting over 70 percent from 3 in Pac-10 play. He is explosive and he is playing hurt with a wrap on his hand that affects his ability to grip the ball. Williams has been consistent and a warrior all season long.
Washington's X-factor: The Huskies' corps of 3-point shooters (Thomas, Terrence Ross and Justin Holiday) can spread the floor and hit from deep. That will be a real test for Arizona's defense. Each member of the quartet has hit between 24 and 29 3-point field goals in Pac-10 play and none of them hesitates to pull the trigger. A close second in this category is 7-foot sophomore Aziz N'Diaye, who can change the game with his shot-blocking ability. N'Diaye can make it difficult for Williams inside and is coming off a strong performance against Stanford (9 points, 6 rebounds and 3 blocks).
Arizona's X-factor: Jamelle Horne is athletic and long and he hits really big shots from deep. He has not been consistent at a high level, but he has been very good in key situations and can stretch the floor and provide Williams space to operate.
Washington's hot player: Matthew Bryan-Amaning is averaging 18 points per game over his past three, and is shooting over 64 percent in the process. MBA is a load inside and can be a difference-maker when he is aggressively calling for the ball and gaining deep post position.
Arizona's hot player: Kyle Fogg is coming off of a 26-point outing against Arizona State and he can get hot in a hurry. He had been hitting only 30 percent from 3-point range prior to that game, but he is streaky. You cannot let him get going early. Over the past six games, Arizona is shooting almost 48 percent from 3-point territory.
Washington's game-breaker: Justin Holiday, the brother of NBA player Jrue Holiday, is a long-armed and athletic defender and perimeter scorer. He is averaging 12.2 points, 5.5 rebounds and 2.2 assists, but he can impact the game without scoring. Holiday gets deflections and blocks and does the dirty work.
Arizona's game-breaker: Lamont "Mo Mo" Jones is a scoring guard who had been playing his best basketball heading into the Arizona State game last Sunday. In his four games prior, Jones averaged 19 points per game, but managed only two against the Sun Devils in a Wildcats road win. Arizona goes as Jones goes. When he plays well, drives the ball, limits his errors and runs the team, the Wildcats win. When he does not, Arizona is vulnerable to getting beat. It is a fine line and Jones is a key performer.
Key stat: Arizona is unbeaten at home this season. To remain unbeaten and to distance themselves from Washington, the Wildcats need to guard the 3-point line. Washington is the most prolific 3-point-shooting team in Pac-10 play and the Huskies launch and make the most 3s in the league. They shoot them in transition, off offensive rebounds and in scramble situations and do so without hesitation. No Washington player can be allowed to shoot a deep 3 from the same spot as he catches it.
Who wins: Washington is on a roll after taking some lumps. The Huskies are very good in transition and shooting it from long range, but I like Arizona to protect its home court. Every game Arizona plays is for the Pac-10 title and if the Wildcats hold serve, it will be back in Tucson. Arizona wins in a close one.
More games to track
Friday
VCU at Wichita State (ESPN2, 7 ET): The Rams had some blown opportunities with home losses to Old Dominion and George Mason. If they want to be taken seriously by the selection committee, they must win at Wichita State. The Shockers have just as little wiggle room in their quest to earn an at-large berth.
No. 12 Connecticut at No. 16 Louisville (ESPN, 9 ET): Connecticut coach Jim Calhoun said the one game he'd like to take back is the double-overtime loss to Louisville, the one game he said the Huskies gave away. Louisville's loss at Cincinnati puts these teams even with Villanova, Syracuse and St. John's in the Big East and in quite a fight for a fourth-place finish and a double bye in the league tournament.
Saturday
No. 4 Pittsburgh at St. John's (ESPN, noon ET): The Red Storm have knocked off Duke, Notre Dame, Georgetown and Connecticut at Madison Square Garden; take out Pitt and they may be deemed one of the favorites to win the Big East tournament at MSG. Pitt still hasn't fully committed to having Ashton Gibbs available as he continues to recover from a knee injury, but it does appear he will play.
No. 7 Notre Dame at West Virginia (CBS, 1 ET): West Virginia is gearing up for a must-win home game against the hot Irish as it tries to climb into contention for the double bye in the Big East tournament. At the rate they're going, Notre Dame is looking at a possible No. 2 seed in the NCAA tournament.
Georgia at Tennessee (CBS, 1 ET): Georgia has lost at home to Tennessee, Florida, Xavier and Vanderbilt. If the Bulldogs want a bid, they better split another SEC East series like they did with Kentucky. That means beating the Vols in Knoxville. You would think there is plenty of motivation for UGA after Brian Williams' tip-in to win at the buzzer in Athens was deemed by many Bulldogs fans to be over the back.
No. 2 Texas at Nebraska (ESPN3, 1:45 ET): Nebraska hasn't been consistent enough to inspire belief that it can knock off Texas and get back into the NCAA tourney picture. The Longhorns are a lock for a No. 1 seed at the rate they're going, with a two-game lead on Kansas in the Big 12. It's a lead I can't see the Longhorns losing.
Boston College at No. 19 North Carolina (ESPN, 4 ET): The Eagles have a résumé made for the bubble; they still haven't knocked off the top teams in the ACC in Duke, UNC, Florida State and even Clemson. Here is their chance to get at least one. But Boston College better play defense after giving up 106 points in its last outing against UNC.
[+] Enlarge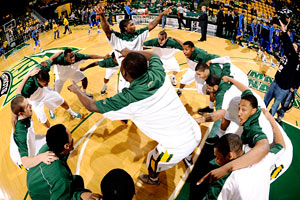 Rafael Suanes/US PresswireGeorge Mason will look to extend its winning streak to 13 games when it travels to Northern Iowa for its BracketBusters matchup.
Missouri State at Valparaiso (ESPN2, 5 ET): Missouri State is the leader with Wichita State in the Missouri Valley and a regular-season title would certainly carry weight with the selection committee. A road win against the second-best team in the Horizon League will at least catch the committee's attention.
George Mason at Northern Iowa (ESPN2, 7 ET): If George Mason completes a road sweep of VCU and Northern Iowa, it would send a strong statement to the selection committee that this team deserves a bid regardless of whether or not it wins the CAA tournament. GMU is defending, rebounding and scoring well, but Northern Iowa will try to lock the Patriots down into a rugged half-court game. The problem for the Panthers is that they've been incredibly inconsistent.
UNLV at Colorado State (7 ET): The Rams can create some separation as the third-best team in the Mountain West with a sweep of the Runnin' Rebels. A win would put the Rams at 9-3, with a two-game lead on UNLV and three on New Mexico, which would certainly wake up the committee to take a long look at the Rams as a possible at-large team. UNLV is still a viable at-large candidate and a win at Colorado State would certainly help.
Illinois at Michigan State (ESPN, 9 ET): The Illini held off Michigan at home but is there any reason to believe they can win this game on the road? Does anyone believe that the Spartans will hold serve at home? These are easily two of the most unpredictable teams in the Big Ten and yet both of them are squarely on the bubble.
No. 24 Utah State at No. 23 Saint Mary's (ESPN2, 9 ET): Utah State lost at Idaho. Saint Mary's lost at San Diego. The Gaels have the better résumé, but both teams could use one more quality win. Utah State certainly has more to gain with this road game. This looked like the best BracketBusters game a few weeks ago, but it has lost a little bit of its luster with both teams' recent odd road losses. Then again, one could argue it's now become even more important.
Sunday
Cleveland State at Old Dominion (ESPN2, 1 ET): Watch this game to see if Norris Cole can go for 40 and 20 again or to see if ODU is a serious threat to make a run toward a bid. The Monarchs beat VCU on the road but scored only 45 points in a loss to George Mason. This will be a critical game in the eyes of the selection committee to see where this team stands. And if the Vikings pick up an impressive road win, they might enter the conversation as well.
Viewer's Guide
All times ET

Friday
7 p.m.: VCU at Wichita State (ESPN2)
9 p.m.: Connecticut at Louisville (ESPN)
Saturday
Noon: Pittsburgh at St. John's (ESPN)
1 p.m.: Notre Dame at West Virginia (CBS)
1 p.m.: Georgia at Tennessee (CBS)
1:45 p.m.: Texas at Nebraska (ESPN3)
4 p.m.: Boston College at UNC (ESPN)
5 p.m.: Missouri St. at Valparaiso (ESPN2)
6 p.m.: Washington at Arizona (ESPN)
7 p.m.: UNLV at Colorado St. (the Mtn.)
7 p.m.: George Mason at No. Iowa (ESPN2)
9 p.m.: Utah State at Saint Mary's (ESPN2)
9 p.m.: Texas A&M at Oklahoma St. (ESPNU)
9 p.m.: Illinois at Michigan St. (ESPN)
Sunday
1 p.m.: Ohio State at Purdue (CBS)
1 p.m.: Cleveland St. at Old Dominion (ESPN2)
10 p.m.: UCLA at California (FSN)

O'Neil on Pittsburgh-St. John's
I can't wait to see …
Eamonn Brennan
Keep an eye out for Missouri at Iowa State. No, it doesn't look like much of a matchup on paper. But Iowa State has been tougher than you'd think in Fred Hoiberg's first season. Sure, the Cyclones have had their share of blowouts, and 1-10 is no one's idea of a quality Big 12 record. But they've defended well for much of the year, and they've pushed superior teams -- Kansas State, Texas A&M -- to the brink in recent weeks. Plus, they'll be playing at home, and Mizzou will be on the road, and if there's one thing we know about this Missouri team -- besides the brilliance of Marcus Denmon, Mike Anderson's love of up-tempo play and the uneven defense that was shredded at Kansas (OK, so we know a lot of things) -- it's that the Tigers are not very good on the road. In fact, they're 1-5 on the road this season. That includes an 0-5 mark in Big 12 play. If there's anything holding this Mizzou team back, it's an inability to notch conference wins on the road. This seems like a pretty good opportunity to break that streak.
Pat Forde
Washington-Arizona, the rematch. The Wildcats haven't lost in a month, since playing Washington in Seattle. Since then they've surpassed the Huskies as the alpha dogs of the Pacific-10, and can almost eliminate the preseason favorite Huskies from title contention with a victory in Tucson. Arizona power forward Derrick Williams (19.5 points, 8 rebounds) is the heavy favorite for Pac-10 Player of the Year, but UW point guard Isaiah Thomas (16.8 points, 3.7 rebounds, 5.7 assists) might be able to re-open the discussion with a big game and a UW victory.
Andy Katz
Purdue hosts Ohio State on Sunday in what is one of the few remaining high-profile regular-season games. If Purdue can avenge the early-season beatdown by the Buckeyes, then it will be one game back of Ohio State with the hope that the Buckeyes lose at least one more time the rest of the way. At the very least, it would mean Purdue is in contention for a No. 2 seed in the NCAA tournament. If OSU were to win this road game, the Buckeyes could just about lock in the No. 1 overall seed in the tourney. But more than that, I'm interested to see how the Boilermakers handle the mental aspect of this game. Purdue answered the challenge with a win over Wisconsin Wednesday; knock off Ohio State and the Boilermakers will complete their revenge for the season. How OSU coach Thad Matta uses his bench (especially players like Dallas Lauderdale and Deshaun Thomas, who were limited against Wisconsin) will be interesting to watch.
Dana O'Neil
A pretty big game at Madison Square Garden featuring the home team. Let's face it, it's been a while since St. John's filled the arena on its own but this year that's definitely changed. The Red Storm are 6-1 at the Garden and have beaten four top-15 teams on their home court already. The Big East and basketball in general are better when New York has a home team to root for and no question St. John's has rallied the masses. Next to walk into the lair: No. 4 and Big East-leading Pittsburgh. The Panthers, however, could be the least intimidated by the Johnnies' digs. They have yet to lose a game on the road and have already won twice at the Garden, with wins over Maryland and Texas in November.
Mark Schlabach
At what point do we consider Notre Dame one of the elite teams in the country, among the likes of Kansas, Ohio State, Pitt and Texas? The No. 7 Fighting Irish are 21-4 and have won seven games in a row. They're two games behind No. 4 Pitt in the Big East standings heading into Saturday's game at West Virginia. The Irish have won their last three Big East road games -- at Pitt, at DePaul and at USF -- and a victory in Morgantown will show they're a serious threat to win the Big East.
Pat Forde
Can Centenary avoid ignominy? The Gentlemen are two defeats away from an 0-30 regular season -- and if they don't win Saturday, all hope is probably lost. On Monday, Centenary hosts 16-12 IUPUI, a far superior team -- but on Saturday, the Gents should have a chance. They host Western Illinois, loser of nine straight and lugging a 2-13 Summitt League record with them to Louisiana. When they played the first time, way back in early December, the Leathernecks won by six. If you're not a WIU fan and you have a heart, you're rooting for Centenary to end the nightmare and win just once this season. Game time is 8 p.m. ET, for those with sufficient prurient interest.
Diamond Leung
I can't wait to see Arizona host Washington on Saturday in a big Pac-10 game that should not only help decide the league champion, but also serve as a measuring stick for where each program stands. The Huskies were the preseason favorites to win the conference, but have struggled on the road. The first-place Wildcats, behind sophomore star Derrick Williams and second-year coach Sean Miller, have a chance to take control of the race for the regular-season title. Having won 11 of its past 12 games -- with a loss at Washington being the one setback -- a win would be huge for Arizona.
Katz on Illinois-Michigan State
Player to watch
Derrick Williams, Arizona


Perhaps the most talented, under-the-radar player in the country, Williams is averaging 19.2 points and 8 rebounds per game and is the not-so-secret secret to the Wildcats' success this season. In a league most everyone thought was a foregone conclusion -- with Washington that conclusion -- Arizona now stands atop the standings. This Saturday is the prove-it game when the Huskies come to Arizona. Washington won the first game in a rout, 85-68.
-- Dana O'Neil
Leung on Utah State-Saint Mary's