No. 9 Connecticut (11-2) at No. 12 Texas (12-2)
When and where: Saturday (ESPN/ESPN3, 3:30 p.m. ET), Erwin Center (Austin, Texas)
[+] Enlarge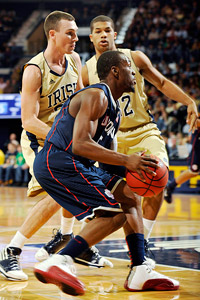 AP Photo/Joe RaymondKemba Walker was limited by Ben Hansbrough's defense in the Huskies' loss at Notre Dame.
Who Texas must guard: Of course, the Longhorns have to do a good job on Kemba Walker, but they really have to guard everyone else and keep others from having good games. UConn does not have great balance. Walker averages 26 points but only Alex Oriakhi also averages double figures with 10 points per game. Walker has taken 237 shots, and the next highest volume shooter has taken 95 shots. Rick Barnes can guard Walker with Dogus Balbay, who is very athletic and strong, and Balbay has to find Walker in transition and force him to shoot challenged shots without going for fakes and without fouling. One thing you know: If Walker sets a screen, he is getting a screen or a double screen. If Texas forces Walker to shoot challenged jump shots, they can have success. But, they cannot "over help" on Walker and leave others open for drop-offs, open shots and easy opportunities on the glass. Walker will get his shots, but Texas cannot allow guys such as Jeremy Lamb, Oriakhi or Roscoe Smith to have good scoring games. All Balbay and Cory Joseph need to do is to watch the tape of Notre Dame's Ben Hansbrough on Walker. Hansbrough did as good a job as a defender can do on Walker.
Who UConn must guard: Jordan Hamilton on the perimeter and Tristan Thompson inside. Hamilton is athletic and strong and can score from almost anywhere on the floor. He has great range, can post up and is improved off the bounce. Hamilton is a tough matchup for UConn because he is bigger and stronger than any guard and quicker and stronger than any forward. Over his last four games, Hamilton is averaging better than 21 points and is shooting 43 percent from 3-point range. Inside, the Huskies' big men have to guard Thompson and sit on his right shoulder to force him away from his left hand and keep him off the glass. Thompson averages over four offensive rebounds per game and is active on the glass. Over his last three games, Thompson is averaging almost 18 points and better than 10 rebounds while shooting 60 percent from the field.
Texas' best attribute: While Texas is much better offensively this season, the Longhorns really defend and do a better job communicating. Texas held Michigan State to 55 points on 29 percent shooting in the Breslin Center and can block shots and rebound.
[+] Enlarge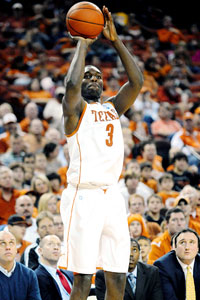 Brendan Maloney/US PresswireJordan Hamilton has emerged as a dangerous scoring threat for the Longhorns this season.
UConn's best attribute: The young Huskies play hard and really guard people. This is a good group that aims to please coach Jim Calhoun and has some good young players. Shabazz Napier has done a good job of guarding the ball and competing, but this team goes the way Walker goes. He needs to have big nights for UConn to win against the best competition.
Texas can exploit: UConn runs good offensive sets, but if opponents guard initial actions the Huskies can break down and go one-on-one, where their efficiency drops. And while UConn is a good rebounding team, Texas may be better. With Thompson, Gary Johnson and Hamilton, the Longhorns can board with anyone.
UConn can exploit: Texas is not a great shooting team, although Hamilton, Joseph and J'Covan Brown can make perimeter shots. If UConn can force Texas to be a jump-shooting team, the Huskies can win.
Texas' X factor: Joseph. Over his last eight games, Joseph has really grown up, averaging over 14 points, 4 rebounds and 3 assists during that stretch and shooting 50 percent from 3-point range. Joseph is good off of pick-and-rolls and is really fast in transition.
UConn's X factor: Oriakhi. The UConn big man either dominates or is limited. Against Notre Dame, Oriakhi found himself in foul trouble and could not find openings against the defense.
Who wins: Texas is at home and has been very good of late. I favor the Longhorns and think Texas will win in a close one.
St. John's (10-3) at No. 15 Notre Dame (13-2)
When and where: Saturday (ESPNU, 8 p.m. ET), Joyce Center (South Bend, Ind.)
Who St. John's must guard: Everybody. Notre Dame can score from so many different positions that St. John's cannot afford to key on just one guy. Tim Abromaitis, Ben Hansbrough, Carleton Scott, Tyrone Nash and Scott Martin are all capable of putting up a 20-point game against the Johnnies. The Irish can spread you out and hit over eight 3-point field goals per game, and five guys average double figures.
[+] Enlarge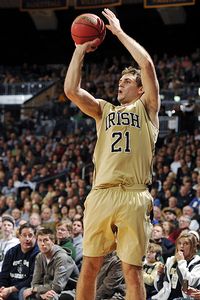 AP Photo/Joe RaymondTim Abromaitis leads five Notre Dame players averaging double figures in scoring with 16.5 points per game.
Who Notre Dame must guard: D.J. Kennedy. The lefty swingman is the best and most versatile player on the St. John's roster. Kennedy is a steady and reliable driver and slasher, and he gets to the free throw line. He is a good offensive rebounder that played in high school with former Pittsburgh star DeJuan Blair and is averaging 12 points, 6 rebounds and 2.4 assists. Kennedy is not scoring as much as last year but is still the Johnnies best player.
St. John's best attribute: The Johnnies are older and have been kicked around throughout their careers and are now hungry and punching back. There is tremendous value to the kind of hunger that being beaten up a bit will provide.
Notre Dame's best attribute: The Irish are older than the Pacers, except at the point guard spot, and have been much tougher collectively this season. Having an older and mature team allows Mike Brey to coach more and teach less. The Irish approach is very mature.
St. John's can exploit: Notre Dame's athleticism. The Irish are good athletes but not as athletic and strong as St. John's, and the Johnnies have beaten the Irish over the past couple of years.
Notre Dame can exploit: The St. John's defense. Notre Dame can spread you out, hit from deep at multiple positions and can really pass the ball. Five different guys have hit 12 or more 3s, and Notre Dame finds open people and delivers the ball, averaging 18 assists per game.
St. John's X factor: Dwight Hardy. The Johnnies best perimeter shooter and top scorer at 16.6 points per game, Hardy had 20 points against Georgetown and 21 points against Providence. He leads the team in 3-point field goals but has not shot a good percentage to this point in the season.
Notre Dame's X factor: Hansbrough. Coming off of his best game against UConn, Hansbrough is one of the toughest players in the Big East. He scored 21 points against the Huskies and was really the only defender to limit Kemba Walker on the season.
Who wins: St. John's has done well against Notre Dame over the last couple of years, but this year's Notre Dame team is better than last year's version. I like Notre Dame to win in a grinder.
Don't forget: 12 more to track
Friday
Cleveland State at Butler (ESPNU, 7 p.m. ET): This has become a huge game for Butler, now that the Bulldogs are coming off a humbling defeat to Milwaukee. The Bulldogs need to win this game, not just to hold off a charging Cleveland State for first place, but to show the rest of the league that they are still the team of record in the Horizon.
Saturday
West Virginia at Georgetown (ESPN2, 11 a.m. ET): The Mountaineers are floundering. West Virginia couldn't catch Marquette on the road, lost at home to St. John's and squeaked by one of the worst Big East teams in years in DePaul. Now the Mountaineers come to Washington with Georgetown smarting after a loss at St. John's. The timing isn't good.
Kansas State at Oklahoma State (ESPN2, 1 p.m. ET): This may be one of the more interesting games this weekend. Kansas State needs to re-establish itself as a legitimate Big 12 contender. Unfortunately, the Wildcats have to start the league season at one of the tougher homecourts in the country. Oklahoma State had been on a roll before losing at Gonzaga.
[+] Enlarge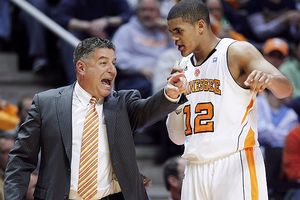 AP Photo/Wade PayneBruce Pearl's eight-game SEC suspension begins Saturday against Arkansas.
Tennessee at Arkansas (ESPN3, 1:30 p.m. ET): The Vols looked like the Vols in crushing Memphis on the road. Now the trick is to see if Tennessee can play with that kind of intensity, purpose and passion on both ends of the court with Bruce Pearl on the sideline, sitting out the first of his eight-game SEC suspension. The pressure is on associate head coach Tony Jones to coach the Vols to a game they should win to open SEC play.
Marquette at Pittsburgh (ESPN3, 2 p.m. ET): Pitt had a solid road win at Providence. Now the reward is to play a team that will grind the Panthers down to the final possession. Never take a game against Marquette for granted. Pitt should win this game at home but it will be a tough out.
Kentucky at Georgia (ESPN3, 4 p.m. ET): If we are to take Georgia seriously, let's see the Bulldogs beat Kentucky at home. This is Georgia's most important game of the season. The Bulldogs are healthy and have an advantage inside with Trey Thompkins that they must exploit. If Kentucky wins at Georgia, the Wildcats are the unquestioned leader in the SEC. If Georgia wins, the race is on.
Sunday
Cincinnati at Villanova (ESPN3, Noon ET): The Bearcats are undefeated and haven't been tested like they will be against Villanova on the road. Losing at Villanova is expected. Beat the Wildcats on the road and the Bearcats better be in contention for a top-three Big East finish.
Minnesota at Ohio State (2 p.m. ET): The Golden Gophers have been teetering on the edge, playing with fire in nearly every game. Minnesota doesn't have a bad loss, save losing at home to Virginia. But the Gophers' depth has taken a hit with the injury to Mo Walker and the departure of Devoe Joseph. The Gophers have the size to deal with Jared Sullinger, but can they make shots to compete with the Ohio State guards? Are they tough enough to go win on the road?
Kansas at Michigan (4:30 p.m. ET): A few weeks ago the Wolverines had the look of a team ready to win a game like this, but then Michigan got smacked by Purdue at Crisler Arena. Kansas is finding its rhythm quite well, and like it did at Cal, shouldn't fret going on the road in the nonconference.
Maryland at Duke (8 p.m. ET): How important was that early December home loss to Boston College? Because of that, the Terps could be 0-2 to start ACC play if they lose to Duke. They always play the Blue Devils tough … at the Comcast Arena. Of course, there have been wins at Cameron Indoor but not lately. Maryland still could be an NCAA team, and I predicted as much, but the run toward the bid may not start Sunday.
Missouri State at Wichita State (ESPNU, 8:30 p.m. ET): Wichita State has a chance to show the Bears who should be the favorite in the race. The joint should be jumping for this marquee Missouri Valley matchup. The Shockers will want to turn up the tempo from the opening tip. If they do, Missouri State will have a hard time catching up.
UCLA at USC (10:30 p.m. ET): The loser is down 1-2 in the Pac-10 and in a chase to catch Washington. The beauty this season in the Pac-10 is that the league is so competitively balanced (that's polite, right?), making second place hardly a decided outcome a week into the season. Expect this game to be an ugly affair in which offense is at a premium.
Viewer's Guide
All times ET

Friday
7 p.m.: Cleveland St. at Butler (ESPNU)
Saturday
1 p.m.: Kansas St. at Oklahoma St. (ESPN2)
2 p.m.: Marquette at Pittsburgh (ESPN3)
3 p.m.: Florida St. at Virginia Tech (ESPN2)
3:30 p.m.: Connecticut at Texas (ESPN)
4 p.m.: Kentucky at Georgia (ESPN3)
8 p.m.: St. John's at Notre Dame (ESPNU)
Sunday
Noon: Cincinnati at Villanova (ESPN3)
2 p.m.: Minnesota at Ohio St. (BTN)
4:30 p.m.: Kansas at Michigan (CBS)
8 p.m.: Maryland at Duke (FSN)
8:30 p.m.: Missouri St. at Wichita St. (ESPNU)
10:30 p.m.: UCLA at USC (FSN)

I can't wait to see …
Eamonn Brennan
I continue to be fascinated by Butler. Brad Stevens' usually steady team, picked by just about everyone to win the Horizon League (duh) and make it back to, say, the Sweet 16 (why not?), has seen this season turn into a full-on roller coaster ride. Just when you think the Bulldogs have figured things out for good, that they're about to get back to the calm and consistent ways that carried them all the way to the NCAA title game last season, something else goes wrong. Butler started well versus Duke, then lost Shelvin Mack to cramps, then lost and then followed that up with a loss to mediocre Xavier.
Recently, Butler rolled through the Diamond Head Classic, topping Utah, Florida State and Washington State in the process, only to turn around and lose to Milwaukee two weeks later. That loss makes Friday's home game with Cleveland State as important as any conference game the Bulldogs will play this year. The 15-1 Vikings have emerged as a legitimate contender in the Horizon League, and if they manage to handle Butler at home, the regular-season conference title will be Cleveland State's to win. When does Butler's roller coaster ride end?
Doug Gottlieb
I want to see how Jamar Samuels and Wally Judge match up against Oklahoma State's front line of Marshall Moses, Darrell Williams and Matt Pilgrim. Samuels, who is a huge key to Kansas State's defense with his ability to guard several positions, has recently rediscovered his jumper, and Judge is starting to find his confidence inside, too.
K-State, meanwhile, hits the road against the three toughest Big 12 South opponents in the league's split schedule with road games at OSU, Texas and Texas A&M (while KU gets the opposite). The Wildcats were beaten by Oklahoma State last year, and rest assured, K-State remembers. As for the Cowboys, Marshall Moses has been a machine inside, but they will need Ray Penn and Keiton Page to handle the pressure of K-State's defense as well as guard Jacob Pullen, especially in transition.
Andy Katz
I'm looking forward to seeing what happens in a hoop-junkie game in the Missouri Valley. Missouri State goes to Wichita State Sunday night to test its league-title credentials. Wichita State had the preseason buzz and with good reason. The Shockers were the most experienced and talented team in the Valley. But Missouri State has done enough in nonconference play to be considered a possible Valley title team. Winning in Wichita would certainly indicate that Missouri State is ready to be a favorite.
Dana O'Neil
Off-Broadway (aka away from the power-six spotlight), there's a stunning understudy stealing the show. The Cleveland State Vikings are 15-1 and currently 4-0 in the Horizon League. That's the Horizon League previously owned by Butler.
But until proven otherwise, the Horizon runs through Hinkle Fieldhouse and quite literally will Friday night when Cleveland State comes to Butler. The up-and-down Bulldogs had their good will of six wins in a row blown to pieces when they went down in horrific fashion at Milwaukee, 76-52, ending their 22-game conference win streak.
There is still plenty of time for the Bulldogs to turn things around, but I'm anxious to see what happens to the longtime prohibitive favorite when the new kids on the block come to town. Cleveland State's only loss came in their only real test, at West Virginia.
So are the Vikings really the next big thing in the Horizon? Or it just same story, different year?
Diamond Leung
I can't wait to see how Washington continues to react to the season-ending injury that point guard Abdul Gaddy suffered earlier this week. The Huskies host Oregon State on Saturday, and in their first game since the injury against Oregon, Venoy Overton started and freshman Terrence Ross come off the bench with a career-high 25 points and attempted the most field goals of anyone on the court. Ross has really stepped up since Pac-10 play began, and it should be interesting to see if his role continues to expand in light of Gaddy going down.
Joe Lunardi
As this is written, only six leagues in the country have yet to begin conference play. By Saturday night, the Big 12, SEC, Mid-American and Southland will have joined the party, as well as traditional latecomers in the Patriot League and Ivy League. The reason I can't wait to see conference play is because it emphasizes those two four-letter words: road game. Kansas State at Oklahoma State, Kentucky at Georgia and Kent State at Akron are three of the best league openers to track this weekend. The way I see it, when ranked teams or projected automatic qualifiers start winning conference games on the road, you know they're legit.
O'Neil on Kansas St.-Oklahoma St.
Player to watch
Jacob Pullen, Kansas State

It is quite literally the second act for the Wildcat preseason All-American, the mulligan after K-State's bad nonconference start and after Pullen's own three-game suspension.
For all the bad that happened before Dec. 31, 2010, Kansas State still has plenty of time to erase it -- by doing what the Wildcats were picked to do, win the Big 12 Conference.

If that's going to happen, Pullen is going to have to be the Pullen everyone thought he was going to be, not the imitation that came earlier this season.

In his first game back from suspension, Pullen went 9-of-11 from the floor and 4-of-6 from the 3-point arc, but that was against Savannah State. Can he be as consistent against Oklahoma State this weekend?

More important, can the newly rejuvenated Pullen -- he's likened himself to Michael Vick and believes most everyone is against him at this point -- provide the leadership and the fire that this Kansas State team sorely lacked early on? If he can, the bandwagon might start rolling again in Manhattan.


-- Dana O'Neil
Brennan on Missouri State-Wichita State