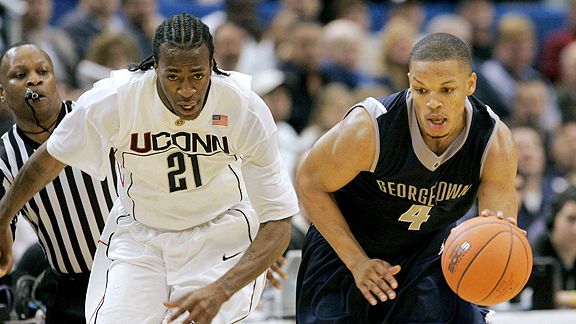 David Butler II/US PrtesswireGeorgetown's Chris Wright and UConn's Stanley Robinson have put together stellar seasons.
No. 13 Connecticut at No. 12 Georgetown
When and where: Saturday at noon ET (ESPN), Verizon Center
What sets Georgetown apart: Tempo. Georgetown will look to run off a turnover or a long rebound, but for the majority of possessions, they are looking to make opponents guard for extended periods of time and waiting for the defense to make a mistake. Georgetown is in the bottom third of Division I in number of possessions. In playing the Hoyas, you have to be patient on offense without taking quick jump shots, and you have to be tough enough to guard 30 seconds into a shot clock. Georgetown controls the game by controlling its offensive possessions and also will mix defenses to give you different looks.
What sets UConn apart: Transition. UConn is very good in the open floor and looks to push it up and attack off a turnover, a blocked shot or a defensive rebound. The Huskies also look to push it up quickly after a score. UConn likes to run but is not always able to wrestle the tempo away from another big opponent. To beat UConn, you have to force the Huskies to play in the half court and run half-court sets without allowing them into the open floor.
What Georgetown does well: Georgetown works for and takes good shots; it shoots a very good percentage on its 2-point shots. The Hoyas don't have a great deal of depth, but they have solid players at every position and are looking to use the clock and shorten the game. Georgetown's shooting percentage on 2-point shots is directly related to the quality of its passing and cutting. This is a good passing team but not a great shooting team beyond Chris Wright and Austin Freeman.
What UConn does well: The Huskies can really rebound and block shots, which allows the guards to get out and pressure and take some risks. UConn does not really force turnovers but instead relies upon its big men to block and challenge shots and limit opponents to one shot.
Where Georgetown can struggle: Although efficient on the offensive end, the Hoyas are not an explosive scoring team. When not scoring easily, Georgetown can find it difficult to manufacture scores. Georgetown does not shoot the ball particularly well from 3-point range and does not get to the free-throw line often. In fact, no team in the Big East shoots fewer free throws than the Hoyas. UConn has the league's best defense in terms of field goal percentage and will look to make Georgetown run through its chest on cuts.
Where UConn can struggle: The Huskies are not a good perimeter shooting team. If you can limit UConn in transition and on the offensive glass, and force the Huskies to test it over the top, they can struggle to score. Expect Georgetown to play zone and force UConn to take challenged jump shots.
[+] Enlarge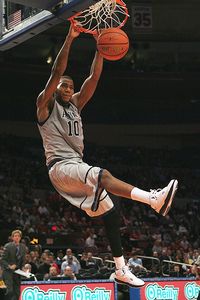 Chris Trotman/Getty ImagesGreg Monroe will be the key inside as Georgetown tries to bounce back from a loss at Marquette.
Georgetown's best player: Greg Monroe. Last season, Monroe was magnificent in the Hoyas' win over the Huskies in Hartford to begin the Big East season. The entire Georgetown offense runs through Monroe, and he is a reliable player. He averages just fewer than 15 points and 10 rebounds per game and is a very good passer. When he is assertive and looking to score, Monroe is among the best big men in the country.
UConn's best player: Jerome Dyson. The explosive guard is having a great year and is among the best and most productive guards in the country. Dyson is a warrior and is averaging 19.9 points, 5.4 rebounds and 5.5 assists. He is shooting only 41 percent from the floor but has shot more than eight free throws per game. Dyson excels in transition, and you have to make him into a contested jump shooter to have success against him.
Georgetown's wild card: Chris Wright. Over his last four games, Wright is averaging 20 points per game; he had 34 points against Harvard, 21 against St. John's and 18 against DePaul. Wright has the ability to go off for a big night, and former DeMatha star Austin Freeman has the ability to put up a big number.
UConn's wild card: Stanley Robinson. The super athlete has matured into a fine basketball player, and Robinson is the type of player who can go out and get 30 on you. On the season, he is averaging 17 points, 7.7 rebounds and 1.5 blocks while shooting 54 percent from the field, 54 percent from 3-point range, and 62 percent from the line.
Who wins: Georgetown was beaten by Marquette from the 3-point line, allowing the Golden Eagles 12 made treys. If the Hoyas can plug up the lane and force UConn to test it over the top, I think Georgetown will win this one at home.
No. 1 Kansas at No. 15 Tennessee
When and where: Sunday at 4:30 p.m. ET (CBS), Thompson Boling Arena
What sets Kansas apart: The Jayhawks have two All-Big 12- and All-America-caliber players who have played in the national championship game, and they have quality depth at every single position. Kansas is in the top 3 in the nation in both offensive and defensive efficiency, yet the Jayhawks have yet to play their best -- which is a little scary for everyone else. Bill Self's team looks to get the ball reversed and to work the third side (to go side to side to side), and as a result, defenses break down and KU can get quality shots. Kansas runs a lot of ball screens and high-low looks and really tries to get the ball into the paint.
What sets Tennessee apart: The Volunteers like to create a chaotic pace and force turnovers and quick shots. On Tennessee's out-of-bounds defense, Bruce Pearl will often put a big man on the ball to bother the inbounder with length and athleticism, and UT has traditionally gotten turnovers in special situations. The Vols score off their defense by forcing quick shots, contested 2s and turnovers. When you play them, your offense has to help your defense. You cannot turn the ball over and fuel Tennessee's offense with mistakes. On offense, UT will run some different sets but relies upon a wide-flex that can be difficult to guard because it spreads you out. With a full complement of players, the Vols have very good balance. But without Tyler Smith, Cameron Tatum, Brian Williams and Melvin Goins, Pearl obviously has fewer options.
[+] Enlarge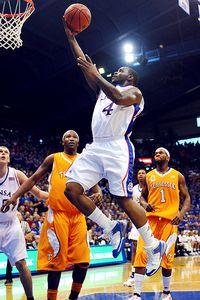 Denny Medley/US PresswireSherron Collins had a season-high 26 points against Tennessee last season and is coming off a career-high 33 versus Cornell.
KU's best player: Sherron Collins. Coming off a 33-point performance against Cornell, Collins took the game over, much as he did throughout last season. Kansas is still young in spots, and several of the Jayhawks are inconsistent. Collins is the only truly reliable scorer.
Tennessee's best player: Scotty Hopson. The sophomore swingman is averaging 13 points per game and is shooting 51 percent from the floor. Hopson is capable of scoring, but Kansas can really key on him without Smith in the lineup.
Jayhawk who needs to start playing better: Tyshawn Taylor. His assist and turnover numbers have been much better over the past five games, but Taylor has not played his best and is far better than he has shown. Taylor is the guy who can take KU to the next level.
Vol who needs to start playing better: Bobby Maze. He has not shot the ball well, but Maze is more than a scorer. He had 13 points and five assists against Charlotte, and Tennessee needs him to be a major contributor.
KU's wild card: Xavier Henry. The freshman lefty has a world of ability but needs to be more assertive. When he is, he is as good as any freshman outside of Lexington, Ky. The player whom Tennessee cannot guard is Cole Aldrich, but he has yet to play like the offensive force he can be -- although he is doing everything else.
Tennessee's wild card: Wayne Chism. He can step away and shoot it and leads the team in rebounding and offensive rebounds. Chism needs to have his best game against Kansas, and pull the KU bigs away from the basket.
Who wins: Kansas has not played like the title contender I expected, but the Jayhawks are still unbeaten and have the same potential to reach Indianapolis and cut the nets down. This team can really improve during the latter part of the season. I am not sure how many teams can really say that. KU is too strong for Tennessee, especially shorthanded. The only question is, will this be the Jayhawks who played focused and strong against Temple, or the Jayhawks who played poorly against Cornell? If it is the former, and I think it will be, Kansas wins.
Other games to keep an eye on
Saturday
Purdue at Wisconsin, 1:30 ET (Big Ten Network): Purdue has been sensational at home, came back at Iowa and Alabama, and has had recent success at the Kohl Center. How this mature crew handles its first really tough Big Ten road game will be an interesting watch. The Boilermakers have the defense to match anything the Badgers attempt, but it's still going to be quite a scene as UW attempts to hand Purdue its first loss of the season.
Duke at Georgia Tech, 2 p.m. (ESPN): The Blue Devils have been rolling the last few weeks, and Jon Scheyer is now the favorite for ACC player of the year. But this is a true ACC road game against a potential contender. The Blue Devils have always had tough games in Atlanta. If the Yellow Jackets are going to be taken seriously as a turnaround team, they must win this game. They have already lost at home to Florida State in overtime and can't afford two home losses if they really want to chase Duke and North Carolina. The Yellow Jackets are the only team in the ACC that plays those two traditional powers twice each this season.
Kansas State at Missouri, 2 p.m. (ESPN2): The Tigers have been stellar in Columbia this season, and the guard play has been one of the country's best-kept secrets. But K-State's Jacob Pullen has been one of the top 3-point shooters in the Big 12 and has consistently made big shots this season. This is a sneaky-good game that could produce quite a finish between two teams that will be trouble come March.
UNLV at New Mexico, 4 p.m. (Versus): The Runnin' Rebels conclude the toughest road swing in the Mountain West by going to the Pit after losing at BYU late in the game. UNM lost at San Diego State. There is no shame in either result. But if the Lobos are going to keep pace with BYU, they must win this game at home. UNLV can get away with an 0-2 start if it's BYU and UNM on the road. With a split, the Runnin' Rebels would suddenly hold an advantage in the chase for the title.
West Virginia at Notre Dame, 8 p.m. (ESPNU): WVU smacked around Rutgers, as expected. But if the Mountaineers are going to win the Big East, they need to win games like the trip to South Bend. The Irish have struggled to defend again this season and had to hold off a furious South Florida rally this week to escape with the win. The Irish shouldn't be able to defend Da'Sean Butler and Devin Ebanks if both play up to their potential.
Sunday
Virginia Tech at North Carolina, 7:45 p.m. (FSN): The Tar Heels didn't have Marcus Ginyard or Will Graves against the College of Charleston because of ankle injuries. If the Heels aren't healthy, the Hokies may have a clear shot at an upset win. Dorenzo Hudson went for 41 points in the win over Seton Hall in Cancun. Malcolm Delaney didn't play in that game for the surprising Hokies. No one would expect Virginia Tech to win this game, but if it did, the Hokies would need to be taken much more seriously as a true player in the ACC race.
Katz previews the weekend
Viewer's guide
All times ET

Friday
7 p.m.: Butler at Wright State
8:30 p.m.: Washington St. at Arizona (FSN)
10:30 p.m.: Washington at Arizona St. (FSN)

Saturday
Noon: Connecticut at Georgetown (ESPN)
Noon: Florida at Vanderbilt (ESPN2)
1:30 p.m.: Purdue at Wisconsin (BTN)
1:30 p.m.: Mississippi St. at Ole Miss (ESPN360)
2 p.m.: Duke at Georgia Tech (ESPN)
2 p.m.: Kansas State at Missouri (ESPN2)
2 p.m.: Marquette at Villanova (ESPN360)
3:30 p.m.: Ohio State at Minnesota (BTN)
4 p.m.: UNLV at New Mexico (Versus)
4 p.m.: Northern Iowa at Illinois St. (ESPN2)
6 p.m.: Oklahoma at Baylor (ESPN360)
6 p.m.: Wake Forest at Miami (ESPNU)
8 p.m.: Texas Tech at Oklahoma St. (ESPN360)
8 p.m.: West Virginia at Notre Dame (ESPNU)
9 p.m.: BYU at UTEP (CBS-CS)
10 p.m.: Gonzaga at Portland (ESPNU)
10:30 p.m.: USC at California (FSN)

Sunday
1 p.m.: Temple at Rhode Island
4:30 p.m.: Kansas at Tennessee (CBS)
5:30 p.m.: Florida State at Maryland (FSN)
7:45 p.m.: Virginia Tech at North Carolina (FSN)

Highlights: Georgetown-Marquette
I can't wait to see …
Fran Fraschilla
Although this game probably belongs in Missouri's Hearns Center, with legendary coaches Jack Hartman and Norm Stewart on opposite sidelines, I am excited about calling the game Saturday. The No. 10 Wildcats will come into this game 13-1 as Frank Martin continues to silence any remaining doubters. Junior guard Jacob Pullen is one of the country's most improved players and a serious front-runner for Big 12 player of the year. Mike Anderson's young team is getting 71 percent of its scoring from its freshmen and sophomores as "the fastest 40 minutes in basketball" has taken hold at Mizzou. Freshman Michael Dixon and sophs Kim English and Marcus Denmon are all names to remember.
Doug Gottlieb
I'm looking forward to Oklahoma at Baylor. BU hasn't beaten OU since 1977. If not now, when? LaceDarius Dunn and the 12-1 Bears are the Big 12's best-kept secret and have three very winnable games to begin league play. How about BYU at UTEP? The Mountain West and C-USA will arguably have more NCAA teams than the Pac-10, and these two might be the best from each. The Cougars just held off UNLV with Jimmer Fredette under the weather and now go to a really tough environment in El Paso as their last nonconference tilt. Randy Culpepper against Fredette and Derrick Caracter against Jonathan Tavernari? Wow. Get me to the Haskins Center immediately. In Madison, can Purdue do what Duke could not? Win at the Kohl Center, and the respect factor goes up a bunch. For the Boilers, this begins a stretch of three of four games on the road, the place Big Ten titles are won. Finally, let's not forget the biggest game hardly anyone will see: Northern Iowa at Illinois State. The 13-1 Panthers, with road wins at Creighton and SIU, take on the Redbirds in a rematch of last year's MVC title game. Last season, UNI beat ISU three times by a combined nine points, and the last two games went three total overtimes. Adam Koch lit up Redbird Arena for 25 last year and the Panthers corralled Osiris Eldridge all three times. While the Valley was down the last two seasons, this league is very solid, especially at the top. Should be a fun one in Normal.
Dana O'Neil
Big versus little. How will those phenomenal guards at Ole Miss stack up against Jarvis Varnado & Co. in the rivalry game with Mississippi State? The Rebels have quietly amassed a 12-2 record, losing only to Villanova in Puerto Rico and at West Virginia. The triple-guard team of Terrico White, Chris Warren and Eniel Polynice has been virtually unstoppable, racking up an average of 84.2 points per game. But in the Bulldogs they'll find a team that -- Renardo Sidney or not -- has something of an immovable force in the paint. Varnado is posting a double-double for the season (14.3 ppg, 10.9 rpg), and MSU has its own decent backcourt to contend with in the form of Ravern Johnson, Barry Stewart and Dee Bost.
Andy Katz
I'm intrigued by some of the games that aren't on the radar as much. BYU goes to UTEP in what could turn out to be a must-get for the Miners in their quest to be a possible at-large team. The Cougars are a hidden gem. Jimmer Fredette has been battling strep throat, but the balance of BYU shouldn't be dismissed. Meanwhile, the two best teams in the SEC West, Mississippi State and Ole Miss, will meet in Oxford in the first of two heated games. Florida goes to Vanderbilt in a game that should tell us whether either of these teams should be considered a contender for second in the SEC East. If Vandy can't hold its own at home, the Dores may not be ready, and if the Gators do get that win, they should again be taken seriously.
Jay Williams
K-State is the surprise team of the Big 12, and I'm really looking forward to seeing how the Wildcats play at Mizzou Arena, where the Tigers have won 29 straight (tied for the nation's second-longest home win streak). Jacob Pullen and Denis Clemente are one of the best backcourt duos in the country, averaging a combined 34.1 ppg and 7.8 apg. Pullen should be in the running for national player of the year -- he's averaging 20.1 points per game while shooting 46 percent from 3-point land and 47 percent from the field. The key for KSU to get a victory at Missouri will be not turning the ball over. The Tigers are known for their high-octane style of defense, which forces 22.1 turnovers a game and is averaging 28.6 points per game off those turnovers. Mizzou also leads the nation in steals (13.3 per game). Kansas State is a well-balanced machine that can play inside and out, but will it be able to handle "the fastest 40 minutes of basketball"?
The Bracketologist: Stock Report
Player to watch
Trevon Hughes, Wisconsin
The brightest star on a typically blue-collar, unsung Bo Ryan team, Hughes is coming off his roughest night of the season. He managed just seven points on 3-of-13 shooting against Michigan State as Wisconsin lost by seven.
Hughes doesn't have time to wallow in disappointment as the Badgers go through the wringer of the Big 10, with a home date against No. 4 Purdue on Saturday. If Wisky is going to score the upset and hand the Boilermakers their first loss of the season, they'll need Hughes back in his regular form. The senior guard is averaging 15.9 points and 4.9 rebounds per game and is shooting better than 40 percent from 3. He'll likely need all of that and more to beat the defensive-minded Boilers.
-- Dana O'Neil