No. 12 Missouri (15-2) at No. 13 Texas A&M (15-1)
By Fran Fraschilla
ESPN.com
When and where: Saturday (ESPN2, 1 p.m. ET), Reed Arena (College Station, Texas)
Overview: This is a fun matchup of two top-15 teams from the Big 12 that achieve success playing completely different styles. The Aggies are winning with excellent half-court defense and relentless rebounding on both ends of the court. The Tigers, on the other hand, are averaging 85 points a game in Mike Anderson's "40 Minutes of Hell" style. But keep in mind: With all of the great success the Tigers have enjoyed under Anderson, they are 0-4 against Mark Turgeon and Texas A&M during his tenure.
Key Mizzou player: Marcus Denmon
There are few in the country who have been as hot as Denmon lately. The 6-foot-3 junior has averaged 19 points a game on 51 percent 3-point shooting over the last 12 games. If Kansas' Marcus Morris is the leading contender for Big 12 player of the year, Denmon is right on his tail. Slowing him down must be the Aggies' first priority.
Key A&M player: Khris Middleton
Like Denmon, the 6-7 sophomore, Middleton, has made a huge jump in his game over the last year. And, like Morris, he is a complete player capable of scoring from inside and out. His 31-point game against Arkansas in Dallas in front of a bevy of NBA scouts bodes well for his future. In this game, he'll get a lot of attention from the Mizzou defenders.
[+] Enlarge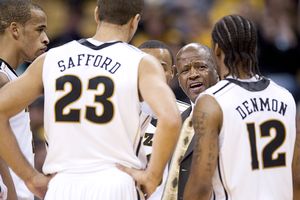 AP Photo/L.G. PattersonMike Anderson's Tigers are seeking to end a six-game losing streak to Texas A&M.
Mizzou X-factor: Laurence Bowers
The 6-foot-8 junior has started to hit his stride, especially on the defensive end. In the last eight games, he is averaging 14 points, six rebounds and three blocks. He'll need to control the paint and stay out of foul trouble if the physical Aggies are contained inside.
A&M X-factor: Nathan Walkup
Walkup is the ultimate garbage man who has already come up with some critical rebounds this season. Ironically, he came to College Station with a reputation as a 3-point shooter and not much else. Well, he hasn't disappointed from behind the arc, shooting 40 percent from deep this season. But his combination of strengths has been a huge reason for Texas A&M's hot start.
Worrisome for Mizzou: Rebounds The Tigers have been pummeled on the boards in the four losses to A&M under Anderson. This season, they are rebounding opponents' misses at a paltry 65.5 percent rate (240th nationally, according to kenpom.com) and giving back 34.5 percent to their opponents, while the Aggies are offensive rebounding at a 41.2 percent rate (eighth nationally). This is a very combustible situation for Missouri.
Worrisome for A&M: Turnovers As usual, the Tigers are turning over opponents at a very high rate. The 25.6 percent turnover rate is No. 12 in the country and essentially means that they are forcing a turnover every four defensive possessions. On the other hand, the Aggies give the ball up 21 percent of the time. Since a 17 percent rate would be considered elite, this is a potential danger zone for Mark Turgeon's team.
Underrated for Mizzou:Turnover rate
When most people think of Missouri's "40 Minutes of Hell," they think of frenetic defensive pressure and wild play on offense. When the Tigers have the ball, though, that couldn't be less true. During Anderson's head-coaching tenure, few teams have valued the basketball like his Tigers. This year, Missouri's turnover rate is 16.6 percent, 15th best in college basketball. Taking care of the ball while playing at a fast tempo is a major reason the team averages 85 points a game.
Underrated for A&M: Blocking out
The Aggies have the numbers to back this up, but they are one of the best rebounding teams in the country because they block out on every shot. That takes coaching these habits every day in practice. It's especially impressive because, while they have good size, they are not overly athletic on the interior. But they are beasts on the boards.
No. 8 Purdue (15-2) at West Virginia (11-4)
When and where: Sunday (CBS, 1:30 ET), WVU Coliseum (Morgantown, W.Va.)
Bob Huggins remembers what JaJuan Johnson did to his West Virginia team last season -- remembers it all too vividly.
His players?
"They generally don't remember what I tell them from one day to the next," Huggins said.
Perhaps ignorance is bliss.
[+] Enlarge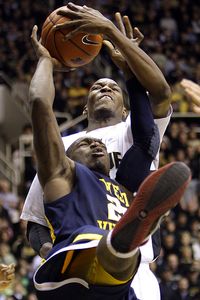 AP Photo/Michael ConroyIn a battle of top-6 teams last season, JaJuan Johnson and Purdue shoved aside WVU.
On New Year's Day last season, Johnson pounded the Mountaineers with 25 points and 10 rebounds, leading the Purdue assault in a battle of unbeatens that fizzled instead into a 77-62 Boilermakers walkover.
The Mountaineers have resorted to the painful film in an attempt to figure out how to stop Johnson this time around, searching for tendencies and weaknesses to expose.
But with a young frontcourt -- John Flowers and Deniz Kilicli played limited minutes for the Mountaineers last season -- Huggins isn't certain he'll find any answers.
"We don't have much experience in that position," he said. "Wellington Smith guarded everyone in the low post for us for three years. He was a lot more well-prepared than these guys and look what happened."
Still, Huggins is feeling much better about his team this month than he was the last. The Mountainers have won three in a row, holding those three opponents (Georgetown, DePaul and Providence) to an average of 65 points per game.
Casey Mitchell, a frequent resident in Huggins' occasionally crowded doghouse, seems to have figured out who wins the battle for control in Morgantown.
The answer: not him.
He is playing within the offense instead of trying to be the offense and has been rewarded by his coach with more minutes.
In return, Mitchell has delivered. In the string of three wins, Mitchell scored 18, 28 and 14 points, respectively, but more tellingly shot 52 percent in the process.
"We're playing a little better," Huggins said. "We're worlds better defensively, and we're shooting the ball better."
This game lacks last year's battle-of-the-unbeatens cache -- the Mountaineers are a work in progress at 11-4 and the Boilermakers are coming off a close loss to Minnesota.
But in some regards, this game could have bigger implications. By this time last season, West Virginia was a locked-in NCAA tournament team. The Mountaineers were 11-0, with wins against Texas A&M, Marquette and a ranked Ole Miss team on their resume.
With Da'Sean Butler, Devin Ebanks and Smith, success in the Big East was assured and, consequently, so was a tourney bid.
This season, West Virginia is in the Big East logjam and trying to distinguish itself. It is caught alongside the likes of Louisville, Marquette, St. Johns, Cincinnati and Georgetown. And the Mountaineers' highlight win is losing its panache, as Georgetown's struggles continue.
So Saturday is big for WVU. Sticking a Big Ten game in the middle of the Big East race typically wouldn't sit well with a lot of coaches, but Huggins can look down the road and see the merit to meeting Purdue in January.
"Hopefully our guys understand that a win against Purdue goes a long way," Huggins said. "We win this, 50 some days from now, we get in -- provided we do what we need to do in league play."
Don't forget: A dozen more to track
Friday
Butler at Detroit (ESPNU, 9 p.m. ET): The Bulldogs took one potential trouble team in the Horizon (Cleveland State) and disposed of it rather easily. But Butler did get rocked at Milwaukee and had a tight game against Youngstown State. Detroit hasn't been consistent, so it would be an upset if the Titans were to pull out the win against Butler. This one will be worth watching with Detroit freshman Ray McCallum on the court.
Saturday
Marquette at Louisville (ESPN2, 11 a.m. ET): The Cardinals pushed Villanova for most of the game but didn't have the ability to finish off the Wildcats on the road. Marquette has been the toughest team to put away in the Big East. This should be a grinder of a game that will come to the final few possessions.
Vanderbilt at Tennessee (ESPN, noon ET): "College GameDay" is in the house and this is a huge game for the Vols. Tennessee has to protect its home court after losing to Florida earlier in the week. This is a significant game for acting head coach Tony Jones (0-2) to ensure he has the confidence of everyone around him. Meanwhile, Vandy is coming off a must-win game against Georgia on the heels of an overtime road loss at South Carolina. A win in Knoxville would do wonders for the Dores' chances of winning the SEC East.
Cincinnati at Syracuse (ESPN3, noon ET): The Orange pulled away from St. John's in the second half and looked as good as they have all season in doing so. Cincinnati has had one elite game in the Big East and lost it at Villanova. This is its second shot to prove it is worthy of contender status. The Yancy Gates-Rick Jackson matchup inside should be a good watch.
[+] Enlarge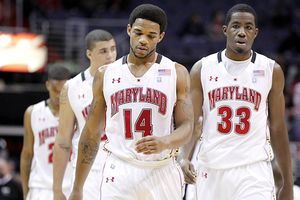 AP Photo/Luis M. AlvarezMaryland is in desperate need of a signature victory.
Maryland at Villanova (1 p.m. ET): Unless North Carolina cracks the top 25, this will likely be the last time an ACC team plays a ranked team not named Duke. Maryland desperately needs a signature win. Jordan Williams is playing at the top of his game and could be an issue for Mouphtaou Yarou. But the senior guards of Nova will be hard for the Terps to handle.
Illinois at Wisconsin (3 p.m. ET): The Badgers couldn't beat the Illini in Champaign two weeks ago and now get a rematch at the Kohl Center. They better get it done in Madison if they're going to stay in the Big Ten title race. The Badgers let a game slip away at Michigan State on Tuesday. As for Illinois, its loss at Penn State puts even more pressure on this team to avoid a loss against UW.
Old Dominion at Hofstra (4 p.m. ET): Hofstra did not look like a Colonial favorite during a three-game skid in Puerto Rico in November. But the Pride are 5-0 in league play and have figured out how to play for new coach Mo Cassara, and it has helped that Charles Jenkins is playing like one of the best players in the country on a nightly basis. ODU is still the conference favorite, but now Hofstra has to be taken seriously as a contender with its unbeaten streak in the league. Win this game and the Pride may just be the favorite.
UCF at Southern Miss (5 p.m. ET): UCF suffered a disappointing loss at Houston last Saturday. Southern Miss got blown out at Marshall. But with Memphis spiraling out of control, these teams are still the top contenders (along with UAB) for the Conference USA regular-season title. The loser is down in a hole, while the winner is still in stride to compete for the league title.
Penn State at Ohio State (5:30 p.m. ET): Penn State has two of the best wins in the Big Ten -- at home against Michigan State and Illinois. But Ohio State has something that the Nittany Lions do not -- Jared Sullinger inside. It's hard to imagine the Nittany Lions winning a game like this away from home, but that this game is even on a list like this shows how far they've come over the last few weeks.
San Diego State at New Mexico (6 p.m. ET): The Aztecs play the first of four difficult conference road games with BYU, UNLV and Colorado State to follow. UNM got inspired play out of Drew Gordon in a win over CSU on Wednesday. The Lobos will need that and more to handle Kawhi Leonard and Malcolm Thomas. SDSU is better, more talented and more experienced that UNM, but does this become a classic Pit game that rattles the Aztecs? Not sure. Maybe the Lobos should hope the fire alarm goes off again during an Aztecs run.
Dayton at Xavier (8 p.m. ET): The Flyers survived a scare from Saint Joseph's and now it's on to the rivalry game within the Atlantic 10 that matters the most. Xavier has been beat up and depleted but is still a tough out at the Cintas Center. A win here by the Musketeers ensures that they won't go away in the title chase with Richmond and Temple.
Sunday
Notre Dame at St. John's (ESPN3, noon ET): The Fighting Irish, like Mizzou, have been a different team on the road in conference play. St. John's got torched by Notre Dame just last week in South Bend, and the Red Storm are coming off a home loss to Syracuse. This game gets a a must-win tag for the Johnnies to stay relevant and contend for a top-four finish in the Big East.
Viewer's Guide
All times ET
Friday
7 p.m.: Valparaiso at Wright St. (ESPN3)
7 p.m.: Iona at Rider
9 p.m.: Butler at Detroit (ESPNU)
Saturday
11 a.m.: Marquette at Louisville (ESPN2)
Noon: Vanderbilt at Tennessee (ESPN)
Noon: Cincinnati at Syracuse (ESPN3)
Noon: Temple at Duquesne (CBS-CS regional)
1 p.m.: Maryland at Villanova (CBS)
1 p.m.: Missouri at Texas A&M (ESPN2)
1 p.m.: Northwestern at Michigan St. (BTN)
1:30 p.m.: Oklahoma State at Colorado (ESPN3)
1:30 p.m.: South Carolina at Florida (ESPN3)
2 p.m.: Nebraska at Kansas (ESPNU)
3 p.m.: Illinois at Wisconsin (BTN)
3 p.m.: Penn State at Ohio State (BTN)
4 p.m.: Old Dominion at Hofstra (CSN)
5 p.m.: UCF at Southern Miss
6 p.m.: San Diego State at New Mexico (CBS-CS)
8 p.m.: Dayton at Xavier (CBS-CS)
Sunday
Noon: Notre Dame at St. John's (ESPN3)
1:30 p.m.: Purdue at West Virginia (CBS)
Mizzou vs. A&M: Pregame notes
• This will be one of only two matchups this weekend involving a pair of teams with at least 15 wins. The other is Cincinnati at Syracuse.
• Texas A&M has won six straight against Missouri, having not lost to the Tigers since the 2004 Big 12 tournament. Mizzou coach Mike Anderson is 0-4 against the Aggies, the only Big 12 school he has not defeated. The Tigers haven't won in College Station since February 2001.
• In last season's meeting, A&M held MU without a field goal for more than 10 minutes in the second half, ending the Tigers' 32-game home-court winning streak with a 77-74 victory.
• On Wednesday, Missouri faced (and beat) a Nebraska team riding an 11-game winning streak. On Saturday, the Tigers will face a Texas A&M team riding a 12-game winning streak.
• The 12-game win streak is the longest at A&M in 90 years and is the longest-ever in a single season. During the streak, the Aggies have held their opponents to 37 percent shooting from the floor and 27 percent from 3-point range. During that span, A&M opponents have averaged just under 55 points per game and have been outrebounded by 11 boards a game.
• The rise of Marcus Denmon continues for Missouri. The junior guard tied a career-high with 27 points earlier in the week against Nebraska. Over his last 12 games, Denmon is averaging 19.2 points on 53 percent shooting overall and 51 percent from beyond the arc. For the season, he ranks among the top six in the Big 12 in six major categories: scoring (17.6), field goal percentage (.510), steals (1.9), free throw percentage (.852), 3-point FGs made (2.9) and 3-point percentage (.505).
O'Neil on Maryland-Villanova
I can't wait to see …
Dana O'Neil
I want to see how an undefeated and seemingly unflappable San Diego State team handles playing at The Pit on Saturday. New Mexico's arena may have gotten a facelift, but it remains one of the toughest places to play in the country -- even when fire alarms aren't going off -- and you can bet Lobo fans will be out in force to greet the new darling Aztecs. Outside of what will go down as a throwdown in Provo, Utah, in two weeks, this will be the toughest road game San Diego State will play for the rest of the season.
Eamonn Brennan
By basically every commonly used measure, Missouri-Texas A&M is undeniably the biggest game of the weekend. There's good reason for that. These are two of three plausible non-KU Big 12 contenders, and this game will be a major stress test for Mizzou (with that loss at Colorado fresh in its mind) and A&M (a team still trying to gain respect nationally). But if you're into adjusted efficiency rankings, Saturday has a surprise for you: The biggest game from a tempo-free perspective is arguably Maryland-Villanova. The Terps are -- again, surprise -- the No. 10-ranked team in the country, according to Ken Pomeroy. The Wildcats come in at No. 11. Maryland's lofty ranking has thus far been achieved through defense; Gary Williams' team has allowed fewer points per possession (adjusted) than any team in the nation this season. Based on sheer talent, Nova is the pick here. But this game could be much better -- and much more difficult for the Wildcats -- than most would expect.
Andy Katz
San Diego State at New Mexico and Missouri at Texas A&M are the two games that I've circled for Saturday. The Lobos are searching for that signature win and were pushed by Colorado State last week at The Pit. A win over the Aztecs might put the Lobos back in the conversation for a possible at-large berth. This the first of a number of serious road blocks for the Aztecs in the Mountain West. Winning at BYU, UNLV and Colorado State will hardly be a cakewalk. Meanwhile, the Aggies are the least-discussed top-25 team in the country. But the schedule hasn't been too tough and the lack of star power doesn't help. Still, A&M is simply winning. Missouri has been a different team on the road. The Tigers desperately need to change that if they're going to be taken seriously as a contender to win the Big 12.
Diamond Leung
I can't wait to see the Conference USA race start to sort itself out. With preseason favorite Memphis scuffling, an early separation game takes place Saturday when one-loss UCF plays at Southern Miss. Conference player of the year candidates Marcus Jordan and Gary Flowers square off. With a crucial road win, the Knights would likely stay in the rankings.
Jay Williams
Some people question the top-10 ranking of Steve Fisher's San Diego State team, but the Aztecs just find a way to keep winning games. Already with solid wins at Gonzaga, at California and against UNLV, Kawhi Leonard and company look to maintain their undefeated record on the road against New Mexico. Last time these two teams met was last year in the Mountain West conference tournament semifinals. SDSU pulled the upset over the top-seeded Lobos and eventually went on to win the automatic bid. Steve Alford and his Lobos will be primed for some payback at The Pit.
Joe Lunardi
This is a bit under the radar. We all know there were recently five unbeaten teams in the country (now four, sans Duke). Did you know that Miami (Ohio) has played all of them but Syracuse? The RedHawks lost the second game of the season at Duke (79-45), hosted San Diego State in the CBE Classic (77-56 loss) and later fell at Ohio State (66-45) and Kansas (83-56). These comparative scores don't tell us much about the next undefeated team to lose, but it's coming. Syracuse (at Pittsburgh) and Kansas (at Baylor) have serious challenges on Martin Luther King Day. By this time next week, the top line of the bracket could look very different. That's what I'm watching this holiday weekend.
Brennan on Illinois-Wisconsin
Player(s) to watch
Jeff Brooks and Andrew Jones, Penn State

The Nittany Lions are no longer the "Talor Battle Show." Brooks and Jones (not to be confused with Brooks & Dunn of country music fame) have come alive in their senior seasons, both enjoying a light-bulb-going-off moment at the same time. Brooks and Jones were as much the reason as Battle for Penn State's back-to-back upsets of Michigan State and Illinois, which was the first time the Lions beat two ranked opponents in a row since 1954.
Brooks had 17 points and 12 rebounds in the win against the Spartans to go with seven and 10 against the Illini. Jones chipped in 16 points and four boards against Michigan State and came up with 12 points, eight rebounds and the game-winning putback against the Illini.
Ed DeChellis will need all of that and more if the Lions are going to go for the miraculous back-to-back-to-back upsets when they play at Ohio State on Saturday. Brooks and Jones not only have to score and force the Buckeyes to direct some attention away from Battle, but defensively they've got to try to contain Jared Sullinger and attack the boards.
--
Dana O'Neil