No. 7 Villanova (16-2) at No. 3 Syracuse (18-1)
When and where: Saturday (ESPN, noon ET), Carrier Dome (Syracuse, N.Y.)
Villanova's best player: Corey Fisher. The diminutive guard plays bigger than he's listed and is a fearless driver who seeks out contact and gets to the free throw line. But, because of his size and the length of Syracuse inside, getting off clean looks against the zone will be difficult. Fisher has two other dynamic guards in Maalik Wayns and Corey Stokes to help him, and Stokes needs to find openings against the zone after having a rough outing against UConn on Monday.
[+] Enlarge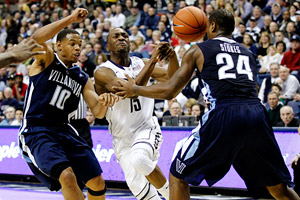 David Butler II/US PresswireCorey Fisher, left, and Corey Stokes will have their hands full attacking Syracuse's 2-3 zone.
Syracuse's best player: Kris Joseph. Joseph was out against Pittsburgh with a concussion and, although he practiced Thursday and hopes to play, he may not be at full strength. Joseph is long, athletic and very good in transition. He has been playing at a high level of late, and was averaging 20.6 points per game during a five-game stretch before suffering a concussion against Cincinnati. Syracuse's best player after Joseph is Scoop Jardine, an underrated guard who can make plays. Rick Jackson is Syracuse's most reliable player and controls the middle.
Villanova's best attribute: The Wildcats are a very good shooting team, yet attack off the dribble and attack close-outs and get to the free throw line. Villanova is the best 3-point shooting team in Big East play, but Syracuse makes you shoot over the top from distance, which is a lower-percentage shot and tougher to offensive rebound and get fouled. Nova has hit 34-of-69 from deep (49 percent). The Wildcats are also truly outstanding from the free throw line, but the only question will be: Can Villanova get to the line against the zone? Most teams cannot.
Syracuse's best attribute: The Orange are the best defensive team in the Big East, and one of the best defensive teams in the country. Syracuse's 2-3 zone is not complicated, but it is long, athletic and encourages opponents into taking the shots that Jim Boeheim wants them to take, rather than the shots that opponents want to take. And without high-percentage looks and easy baskets, and without free throws, even the best of offensive teams can get out of rhythm. Thus far in Big East play, Syracuse opponents are shooting only 28 percent from deep (37-of-132). That is a formula for winning.
Villanova's X-factor: Antonio Pena. In order for the Wildcats to win, Pena has to play a good game and stay out of foul trouble. He can hit shots along the baseline, and can get into the seams of the zone and score. While he is a different player, Pena is just as important to Villanova as Dante Cunningham was in 2009 when the Cats went to the Final Four.
Syracuse's X-factor: Scoop Jardine. The scoring point guard is capable of putting up numbers by hitting from deep or by driving it and getting fouled, and he is an outstanding passer. Jardine may not be quite as quick as Fisher and Wayns, but he is longer and stronger.
What to watch for Villanova: Against man-to-man, you would want to watch Villanova's use of ball screens. But against the Syracuse zone, you need to watch the Wildcats' penetration into the gaps of the zone. Instead of simply shooting over the top, Nova needs to dribble penetrate into the gaps, make two Orange defenders play one, find open people and attack. If Villanova settles for jump shots, Syracuse will walk away with a big win.
What to watch for Syracuse: Syracuse can really get out in transition. The Orange are positioned to run in their zone, they outlet well and run lanes hard to get to the rim and finish. Villanova needs to take care of the ball, take good shots and get good coverage on the glass. Otherwise, Syracuse will get open-court opportunities to play ahead of the defense. In half-court offense, this team is not exceptional. In transition, the Orange are outstanding.
Key stat for Villanova: Free throws.
The Wildcats need to attack and get to the line. Without free throws, Villanova will have to shoot a great percentage from deep.
Key stat for Syracuse: 3-point percentage defense.
The Orange led the Big East in defending the 3-point shot, and must contest every shot from Stokes and Fisher.
Who wins: Syracuse is at home before a sellout crowd, and Villanova has had a tough time at the Carrier Dome over the years. If Joseph plays, Syracuse wins.
No. 11 Texas (15-3) at No. 2 Kansas (18-0)
When and where: Saturday (CBS, 4 ET), Allen Fieldhouse (Lawrence, Kan.)
KU's best player: Marcus Morris. The junior forward is among the most versatile players in the country and can face up or post, and never forces anything. Morris is a difficult matchup for Texas. He averages 17 points per game on a league-leading 61 percent shooting from the field.
UT's best player: Jordan Hamilton. The sophomore swingman is an all-purpose scorer who shoots effortlessly from deep, can post up a smaller defender and has a hunger to score. Hamilton is coming off of a 27-point game against Texas A&M and is very confident. He averages almost 20 points per game and has hit 50 3-point shots on the season.
KU's best attribute: Kansas is an elite passing team. Whether in the high-low set or off of ball screens, this group does a great job of reversing the ball and making the right pass. This is an unselfish team that works to get the shot it wants, and it is usually a very high-percentage shot. Kansas rarely takes a bad one. Brady Morningstar is the best post passer on the KU team, but there is not a bad passer on the squad. The Jayhawks lead the Big 12 in assists and field goal percentage, and the latter is directly attributable to the former.
[+] Enlarge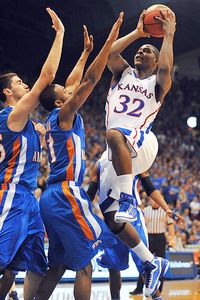 Denny Medley/US PresswireWhen he's shooting well, Josh Selby provides a dangerous dynamic to Kansas' offense.
UT's best attribute: The Longhorns really guard you and fight you. Scoring is easier for this team than some of Texas' past teams, but the defense is no less tough to score upon. With Tristan Thompson blocking shots, Gary Johnson flying all over the court and Dogus Balbay pressuring the ball and bullying the opposing point guard, Texas can guard almost anyone.
KU's X-factor: Josh Selby. There is not a more dynamic player on the KU roster, and Selby can get his own shot. He has had some ups and downs, but if Selby gets going early, he can have a big game. Expect Texas to get right into him from the opening tip so as not to let him get started and get confident. Selby should expect physical play from the start.
UT's X-factor: J'Covan Brown. While he is streaky, Brown is an outstanding scorer. He can come in and heat up in a hurry and put up 20 or more on you.
What to watch for with KU: The Jayhawks are very resolute about getting the ball inside and getting opportunities for Marcus and Markieff Morris and Thomas Robinson in the paint. The Jayhawks are also a very good rebounding team. Kansas is a complete team, but not a super dynamic team. There is no team that Kansas cannot beat, but the Jayhawks do not have the margin for error that the 2008 team had.
What to watch for with UT: Texas is a much better offensive team than last year's version. One reason is the play of freshman guard Cory Joseph. Joseph gives Rick Barnes speed and quickness at the point guard position and allows him to use more ball screens. He is a scoring guard and really the only player that Barnes puts in pick-and-roll situations.
Yikes: Texas and Kansas are 11th and 12th, respectively, in free throw accuracy in Big 12 play. Because these two very good teams shoot free throws so poorly, who gets fouled and how they shoot from the line could be a key issue that determines the outcome of the game.
Who wins: Kansas is the more efficient team and has by far the longest home winning streak in the country, but it's also had some issues putting teams away. Texas has been very tough on the road, and is playing with a swagger it didn't have last season. I like Texas in an upset at the Phog.
Don't forget: A dozen more to track
Saturday
No. 1 Ohio State at No. 22 Illinois (noon ET): Illinois can be a dominant team at home. We know that. But can Ohio State win a game on the road against an elite Big Ten team? That we don't know yet. Ohio State won at Michigan, but beating Illinois on the road would say quite a bit more. This game could go a long way toward OSU winning the Big Ten.
Tennessee at No. 8 Connecticut (2 ET): Bruce Pearl is back on the sideline and he said there shouldn't be any difference. Well, he's selling himself short. Nothing against Tony Jones but it will be important to the team to have Pearl on the sideline. The Vols are the most unpredictable team in the country. They have the talent to contain Kemba Walker and win this game. Do that and the Vols are the de facto champs of the Big East. Meanwhile, a UConn win would complete quite a nonconference haul for the Huskies, with wins over Kentucky, Michigan State and at Texas.
No. 21 Saint Mary's at Vanderbilt (2 ET): The Gaels have a shot to pick up a rare marquee nonconference road win in January. This is the kind of stuff Gonzaga pulls off, not Saint Mary's. But the Gaels have increased their standing as a legit WCC power. Getting Vandy to play a game like this (return of a home-and-home) is a major move for SMC. A Vandy loss will raise more questions. The Dores should win at home against a team from the Bay Area, even one as talented as the Gaels are on the perimeter. And the win would have power-rating meaning.
Temple at Xavier (ESPN2, 3 ET): Duquesne is atop the A-10, but these are the two standard-bearers in the league of late. Xavier has had injuries but is still standing as an elite team in the league. Temple lost badly at Duquesne and needs to steal back a quality road win -- something that rarely occurs at the Cintas Center.
VCU at Old Dominion (4 ET): Drexel had a shot to be the favorite in the Colonial after beating Louisville at the Yum! Center and then beating ODU at home. But the Dragons then stumbled and VCU and ODU are now in step with Hofstra, James Madison and George Mason for the top spot in the league. The loser will step back; the winner may assume favored status.
Kentucky at South Carolina (ESPN, 6 ET): South Carolina was awful at home against Boston College earlier this year. The Gamecocks looked like any talk of the NCAA tournament was fantasyland stuff. But then South Carolina came back to beat Vandy in overtime and win at Florida. Now the Gamecocks are actually leading the SEC East and look like a legitimate contender. Kentucky is hardly cruising. The Wildcats haven't won on the road yet in the SEC, losing at Georgia and at Alabama. The only conference wins for UK came against the two worst teams -- LSU and Auburn at home. A win by South Carolina here and the Gamecocks would shockingly hold a two-game lead on Kentucky in the division.
Memphis at UAB (ESPN2, 7 ET): Memphis had its game of the year to come back and beat Southern Miss in the final second Wednesday night in Hattiesburg. That win should allow the Tigers to stay in the Conference USA title race. But UAB has arguably emerged as the new leader in the clubhouse. Beating the Blazers in Birmingham would give the Tigers an advantage with two road wins most other teams probably wouldn't get. Winner is the new favorite; loser is back in a crowded pack.
Indiana State at Wichita State (8 ET): The Sycamores knocked off Missouri State in the final seconds on Wednesday and ensured that Greg Lansing's crew -- now 7-1 in the MVC -- is in the Valley race to stay. Preseason favorite Wichita State has already been knocked off twice at home -- by Missouri State and Northern Iowa -- and can't afford to lose another home game if it's going to win the regular-season title.
Michigan State at Purdue (ESPN, 9 ET): The Boilermakers made sure this game mattered more with JaJuan Johnson's game-winning shot to beat Penn State on Wednesday night in West Lafayette. Michigan State continues a rough week going from Illinois to Purdue. The Spartans got a breakthrough win at Northwestern earlier this month, but it looks like it will be harder to snag an elite Big Ten road win. Purdue goes to Ohio State next so winning this game would set up a showdown with the Buckeyes in Columbus.
BYU at Colorado State (9 ET): Colorado State coach Tim Miles said in the preseason he thought the Rams could become one of the top four programs in the Mountain West alongside San Diego State, UNLV and New Mexico once BYU leaves for the WCC in 2011-12. Well, the Rams may have already accomplished that after a road win at UNLV earlier this week pushed them into third place in the league. Now the Rams can seek a higher spot if they can knock off BYU before the Cougars' showdown with San Diego State next week.
Sunday
Wisconsin at Northwestern (12:30 ET): The Badgers should have won at Michigan State, but uncharacteristically gave the game back and caved to the Spartans' pressure. Northwestern is doing what it's supposed to in the Big Ten -- beat the bad teams at the bottom. But now comes the hard part -- take out at least one of the elites. Northwestern has four home games left against Wisconsin, Minnesota, Illinois and Ohio State. Anything less than three of four in that group likely means NIT for the Wildcats.
Belmont at East Tennessee State (4 ET): Belmont (8-0) is crushing its opponents in the Atlantic Sun and nearly took down Tennessee. The Bruins have won by an average of 24.7 points in their 16 victories. East Tennessee State (7-1) is rolling as well, having won eight straight. The A-Sun has reason to celebrate this game since it has significant relevance. Even with a gaudy record it would be hard for Belmont to earn a bid, but if the Bruins win the league don't sleep on them as a possible first-round pest.
Viewer's Guide
All times ET

Saturday
11 a.m.: George Mason at JMU (ESPNU)
Noon: Villanova at Syracuse (ESPN)
Noon: Ohio State at Illinois (CBS)
2 p.m.: Kansas State at Texas A&M (ESPN)
2 p.m.: Tennessee at UConn (CBS)
2 p.m.: Saint Mary's at Vanderbilt
3 p.m.: Temple at Xavier (ESPN2)
4 p.m.: Texas at Kansas (CBS)
4 p.m.: VCU at Old Dominion (CSN)
4 p.m.: Cincinnati at St. John's (ESPN3)
6 p.m.: Kentucky at South Carolina (ESPN)
7 p.m.: Memphis at UAB (ESPN2)
7 p.m.: Marquette at Notre Dame (ESPN3)
7 p.m.: Boston College at Florida St. (ESPNU)
8 p.m.: Arizona at Washington State (FSN)
9 p.m.: Michigan State at Purdue (ESPN)
9 p.m.: Iowa State at Missouri (ESPNU)
9 p.m.: BYU at Colorado State (Mtn.)
Sunday
12:30 p.m.: Wisconsin at Northwestern (BTN)

Brennan on Michigan State-Purdue
Leung on Saint Mary's-Vanderbilt
I can't wait to see …
Eamonn Brennan
It's another Saturday of obviously good basketball, which means another Friday spent trying to find a legitimately sneaky -- but ultimately good -- game. This week, I'm going with No. 21 Saint Mary's at Vanderbilt. The Commodores have lost a little luster lately, but losses at South Carolina and Tennessee aren't exactly horrible losses. This team is still a viable contender in the SEC East. How would a home win over a WCC team solidify that reputation? Because Saint Mary's happens to be the best team in the WCC (sorry, Gonzaga fans, but it's true) and one of the best offenses in the entire country. It's hard to stop a team that pairs not one, but two lethal outside shooters (Matthew Dellavedova and Mickey McConnell, naturally) with a host of capable interior contributors. But that's what the Gaels are, and that's what the Commodores have to stop if they want to keep getting the "this is still a good team!" treatment by default. Plus, Saint Mary's is too fun to miss. Count me in.
Pat Forde
I can't wait to see whether Texas' Jordan Hamilton can do it again Saturday against Kansas. "Do what again?" you ask. This: Do nothing without the ball on the offensive end of the court and still score 27 points. That was his aggravating-yet-impressive feat against Texas A&M on Wednesday night. Hamilton was as involved as a popcorn vendor when the ball wasn't in his hands against the Aggies. He spectated, and his stat line shows it: zero offensive rebounds, one assist. He didn't exert any overt effort to get open. But when he had the ball he got things done, hitting 10 of 14 shots, all four of his free throws and three 3-pointers. Will the undefeated Jayhawks let him do the same, or will they make him work a little harder for his points? The answer could decide who wins that Big 12 showdown in Lawrence.
Andy Katz
The Bruce Pearl story takes another turn Saturday in Hartford as Pearl returns to the bench for one game to coach against Connecticut. His suspension made little sense in that it was just for eight SEC games. Of course, SEC commissioner Mike Slive said he had no jurisdiction over a nonconference game but Tennessee did and if it was going to support a suspension then it should have added the UConn game as well. It didn't. And now this just adds to the surreal nature of the Vols' season. They'll have their head coach back on the bench for one game before he's banned again for the next four. But he'll rejoin the team for a game day as the Vols have found their mojo again, beating Vanderbilt in a thrilling comeback and then Georgia in Athens on a putback. Having Pearl on the sidelines against UConn coach Jim Calhoun, who like Pearl is waiting to hear from the NCAA on a violation case (although Calhoun never misled investigators), adds another subplot. It's good theater for a mid-January Saturday afternoon.
Joe Lunardi
I spend a lot of time in and around the Atlantic 10, so my biggest interest this weekend is Saturday's clash of Temple and Xavier in Cincinnati (ESPN2, 3 ET). Xavier has dominated regular-season play in the league for the past four-plus seasons (57-11, .838), but Temple has won the past three conference tournament titles. What gives in the only scheduled meeting between the two teams this season? If point guard Juan Fernandez is all the way back, I like the Owls in a tight, one-possession victory.
Dana O'Neil

In what could be a trap game, Brigham Young travels to Colorado State on Saturday … four days before the Cougars host San Diego State in what everyone expects to be a showdown between the Mountain West's best. But while Jimmer Fredette and Kawhi Leonard are stealing the show, the Rams are quietly emerging as a team to be reckoned with. Colorado State manhandled UNLV at the Thomas & Mack Center on Wednesday night and has positioned itself in third place in the league. The Rams aren't the high-scoring team that the Cougars are, but they can shoot it. Colorado State ranks fifth in the nation in field goal percentage, knocking down 50 percent from the floor.
Doug Gottlieb
I'm looking forward to a little-discussed, cross-country, quasi-BracketBuster game between Saint Mary's and Vanderbilt in Memorial Gym. The Dores are undefeated at home, and, truthfully, could well be undefeated this season if they hadn't been undone by guard play down the stretch on occasions. Meanwhile, Saint Mary's has quietly loaded up its schedule with decent, though rather uninspiring, wins to get into the top 25. Mickey McConnell is about as good off the ball screen as anyone in the college game and Matthew Dellavedova seems to be taking the next step in his development during his sophomore campaign.
Vandy seems to have an obvious advantage inside with Festus Ezeli and Lance Goulbourne, but keep an eye on the Gaels' Rob Jones. Jones, who transferred in from San Diego, is a bit undersized for the likes of Ezeli, but he averages nearly 14 points and seven rebounds, and is an explosive frontcourt option. Vandy is prone to turnovers, while Saint Mary's is third in the country with 18.5 assists per game. This tilt should be a good one and very telling as to the legitimacy of the Gaels' record. They do not have to win, but they do need to be competitive.
O'Neil on Tennessee-UConn
Player to watch
Tristan Thompson, Texas

The freshman has been absolutely terrific all season for Rick Barnes. He had 18 points, showing a deft array of jump shots, dunks and quick-footed moves to the basket, plus six rebounds and four blocked shots in the Longhorns' impressive win against Texas A&M. He's averaging 13 points and 7.7 boards per game.
But Thompson hasn't seen anything quite like what he'll face on Saturday, when he goes toe to toe with Marcus and Markieff Morris. Thompson will have his hands full defensively and will need that entire repertoire offensively to help Texas pull off the upset and end KU's 69-game home win streak.
--
Dana O'Neil
Katz on weekend: Fact or fallacy