No. 13 Missouri (17-3) at No. 8 Texas (17-3)
When and where: Saturday (ESPNU, 9 ET), Erwin Special Events Center (Austin, Texas)
UT's indispensible player: Jordan Hamilton
The sophomore super-scorer has emerged as one of the best players in the country, and has picked his spots like a pro. Being a "pro" does not have anything to do with money; it has to do with approach and discipline and Hamilton has displayed both. He's one of the most versatile scorers in the college game and is averaging 17.8 points and 8.2 rebounds and shooting almost 52 percent from the field in Big 12 play. He gets his points from all over the floor; he is a deep shooter with an effortless stroke from range, and he can operate in the post against a favorable matchup. Rick Barnes has done a great job moving him around the floor and of bringing him along as a star performer.
[+] Enlarge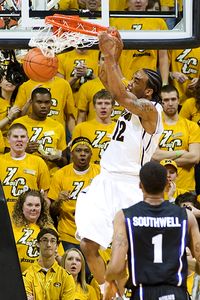 AP Photo/L.G. PattersonMarcus Denmon (17.3 ppg) is the engine that powers Missouri's high-octane offense.
Mizzou's indispensible player: Marcus Denmon
A courageous player, Denmon plays a fearless style and takes big shots. Excellent in transition and a good shooter, he was arguably the Big 12's best player entering conference play, along with Marcus Morris, Perry Jones and Hamilton. Denmon is averaging more than 17 points per game in Big 12 play and the Tigers feed off of his energy and enthusiasm. Over his past 15 games, Denmon has averaged 19 points on 52 percent shooting and has had six games of 20 points or more. Overall, he ranks in the top 10 in the Big 12 in scoring, field-goal percentage, steals, free-throw percentage, 3-point percentage and made 3-pointers. Denmon is a player.
UT's offensive key: Ball security
Missouri will come after Texas with pressure, and Texas has to catch, face the defense and make a play. Barnes and his staff can diagram their press breaks all they want, but it really comes down to attacking pressure at the point it is applied. If UT is strong with the ball, there are opportunities for lay-ups and open shots. If not, Missouri will take it from them and get easy scores. The Tigers are in the top 10 in the nation in steals and rank in the top three in the nation in turnover margin. Taking care of the ball is vital for Texas.
Mizzou's offensive key: Inside production
Missouri has to attack the rim off the dribble and get the ball inside to Ricardo Ratliffe, who averages 11.8 points on 58 percent shooting to go along with seven rebounds per game. If the Tigers can establish Ratliffe against Tristan Thompson in an up-tempo game, they can get the Texas big man in foul trouble and wear him down. Missouri is a good passing team, ranking in the top 10 in the nation in assists with 18 per game.
UT's defensive key: Good offense
As different as this may seem, the best help that Texas can give its defense is to run good offense. Missouri feeds off of turnovers and quick shots. If Texas' offense is strong, patient and forces the Tigers to take the ball out of the net, it will go a long way to better defend Mizzou. A bad shot or a turnover is the first pass in the Tigers' fast break. Good offense will lead to good defense for Texas.
Mizzou's defensive key: Defensive rebounding
Texas is a very good rebounding team, and Missouri cannot allow the Longhorns to get second shots. That means that every Tiger has to go to the defensive glass. Each time a shot goes up, five guys have to be defensive rebounders without leaking out the other way.
UT's X-factor: J'Covan Brown
He was the X-factor last week against Kansas, and he is the X-factor every time that Texas plays. Very gifted offensively, Brown heats up in a hurry and can put points on the board. The Horns are a much better offensive team this year, and much of that is because of the maturation of Hamilton and Brown.
Mizzou's X-factor: Kim English
A good shooter, a tireless worker and a smart player, English can have a big impact on this game. With the emergence of Phil Pressey at the point, who has contributed almost four assists and two steals per game, English does not have as big of a scoring role, but he has scored in double figures in 12 of his past 16 games. English's assists are up and he is a steadying influence and a leader. He needs to take good shots and take care of the ball.
Who wins: Texas is on a roll right now and has been very good on the defensive end. We have come to expect that from the Longhorns. The difference is UT's improved offensive output. I like Texas to win this one at home.
No. 19 Louisville (16-4) at No. 5 UConn (17-2)
When and where: Saturday (ESPN3, noon ET), Gampel Pavilion (Storrs, Conn.)
UConn's indispensible player: Kemba Walker
Duh. Walker has been outstanding and while he may not shoot it well every game, no player has been more reliable when the game is on the line. In a road game against Marquette, Walker had 14 points on 16 shot attempts, but also had six rebounds, nine assists and two steals. On or off the ball, Walker has been the best clutch player in the country.
Louisville's indispensible player: Preston Knowles.
Always known as a terrific defender who could hit open shots, Knowles has become the Cards' best offensive player. He is coming off of a poor performance against Providence in which he shot 1-for-8, but prior to that, Knowles put up 66 points combined against Villanova, Marquette and St. John's. He is second in the Big East in 3-point field goals, making three per game, and he averages 15 points. UConn cannot allow Knowles to get open looks in transition and must make him bounce it before he shoots it.
[+] Enlarge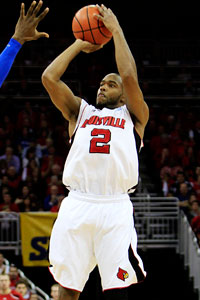 Icon SMIPreston Knowles is an important part of UL's offensive arsenal.
UConn's offensive key: Recognition
Louisville plays a lot of zone defense in the half court, but it is a disguised zone. Rick Pitino believes that there is no zone offense as good as a man offense, so he switches up defenses to keep his opponent off-balance. Then, in the middle of a zone possession, Louisville will switch from zone to man-to-man. It is vital for Connecticut to recognize what defense UL is in and attack. UConn can still run its man sets against Louisville and be successful.
Louisville's offensive key: Don't settle
Connecticut is an outstanding defensive team, and the Huskies play really hard on the defensive end. Against UConn, Louisville cannot settle for quick shots or challenged shots, but have to work really hard for the best shots. When Louisville shoots a better percentage than its opponent, the Cards are unbeaten. They are unafraid to take shots, but they have to be disciplined enough to take good shots. Contested shots will not beat UConn.
UConn's defensive key: Guarding the 3-point line
Louisville is one of the more prolific 3-point shooting teams in the country, and the Cardinals can get hot in a hurry. Connecticut has to find shooters in transition, close out under control to shooters and force Louisville to take contested 2s rather than open 3s. Alex Oriakhi and Charles Okwandu are there to block shots and UConn should defend the line with confidence.
Louisville's defensive key: Take Walker out of transition
No team will "stop" Kemba Walker. But Louisville can limit the looks and opportunities that he gets in transition. The Cards have to make UConn operate in the half-court, and that means taking Kemba out of open-court situations where he is more effective and efficient. Also, Louisville has to rebound. Second shots are an important part of UConn's offensive output.
UConn's X-factor: Jeremy Lamb
The silky smooth, long-armed freshman scorer has emerged as a legitimate Robin to Walker's Batman. Against Marquette, who has really good and determined defenders, Lamb went for 24 points on 9-of-14 shooting, with four assists and just one turnover. Lamb has a good stroke and has added a runner and floater to his arsenal (or at least has showed it to us). He is playing with great confidence and is starting to be a true difference-maker.
Louisville's X-factor: Chris Smith
A transfer from Manhattan and the brother of NBA star J.R. Smith, the 6-2 guard is capable of putting up numbers. He scored 19 points against Providence and 18 points against Villanova and is averaging 10 points per game on 53 percent shooting from the floor and 49 percent from deep.
Who wins: Connecticut is really starting to come on and this team has some potential to get better. With Lamb maturing, the Huskies will be a tough out and are much more than just Kemba Walker. UConn wins in what could be a terrific game.
Don't forget: A dozen more to track
Saturday
No. 20 Georgetown at No. 7 Villanova (ESPN, noon ET): Villanova can't win when Corey Fisher and Corey Stokes combine for just four field goals and one 3-pointer, as they did in a loss at Providence -- at least not against solid Big East competition. The Wildcats hit a bump in the road and now face a revitalized Georgetown team, which is on a three-game winning streak -- including a recent 25-point win over St. John's -- though the Hoyas are still looking for a breakthrough Big East road win.
Xavier at Richmond (ESPN2, noon ET): Duquesne is still unbeaten in league play and Temple will not go quietly, but Xavier (6-0) and Richmond (5-1) play a huge one at the Robins Center this weekend. The winner has the inside track on the title, while the loser is still in the chase and in contention for an at-large berth.
No. 18 Minnesota at No. 12 Purdue (CBS, 1 p.m. ET): The Golden Gophers are still trying to figure out life without point guard Al Nolen, while Purdue has to reclaim its mental toughness after getting drilled at Ohio State. The last time these two teams played, Minnesota barely won. It's hard to see the Boilermakers being flat two games in a row.
Colorado at Baylor (ESPN3, 1:30 p.m. ET): Colorado has been hit by a reality check after a fast conference start, while Baylor is in a desperate state as both teams look more and more bound for the NIT if they don't start racking up quality wins. After a 3-0 Big 12 start, I made a bold prediction pegging the Buffs as an NCAA team -- that quickly backfired after consecutive losses at Nebraska and Oklahoma. Baylor has talent, but can't figure out how to win games against elite competition.
Butler at Valparaiso (ESPN3, 2 p.m. ET): Valpo has emerged as the arguably top team in the Horizon League, though Butler has the better nonconference résumé. By their high standards, the Bulldogs are having a terrible time in league play (losing twice to Milwaukee was a humbling experience). This will end up being one of the tougher road games for Butler.
No. 10 Syracuse at Marquette (ESPNU, 3 p.m. ET): Can you say must-win for Marquette? What about Syracuse? The Orange are reeling right now after losing at home to Seton Hall and Villanova. Syracuse has to find itself fast while Marquette can't keep blowing its chances of earning an NCAA tournament bid.
Georgia at No. 16 Kentucky (ESPN, 4 p.m. ET): Georgia beat Kentucky in the first meeting between these teams to jump-start the SEC season. But since then, the Bulldogs haven't been able to win a key game, losing at Vandy and then at home to Tennessee and Florida in late-game situations. UK figured out how to win on the road, beating South Carolina after losing at Georgia and Alabama. The Bulldogs match up well with the Wildcats but these teams are heading in opposite directions right now.
No. 9 BYU at New Mexico (4 p.m. ET): Jimmer. Jimmer. Jimmer. The Lobos are simply not as good a defensive team as San Diego State, and Fredette thrives on the road (two of his past three 40-plus point games were away from home). UNM is past needing a signature win to get an at-large big -- the Lobos have to win the MWC tournament. But knocking off the Cougars before they head off to the WCC would be a treat for denizens of the Pit.
Kansas State at No. 6 Kansas (ESPN, 7 p.m. ET): KU has been on an emotional roller coaster after the death of Thomas Robinson's mother, Lisa. The team went to her funeral Thursday and returned later that same night. Kansas State is fresh off a win over Baylor, but the Wildcats are no longer a Big 12 title contender. The emotion of this game and the overall talent disparity points to a Kansas win.
West Virginia at Cincinnati (ESPN3, 8 p.m. ET): The Mountaineers showed plenty of grit in nearly taking down Louisville on Wednesday despite being down two players, including leading scorer Casey Mitchell. Cincinnati battled hard physically and beat Rutgers at home. The Bearcats had the joint jumping and it should that way again for Bob Huggins' return.
Sunday
No. 3 Duke at St. John's (CBS, 1 p.m. ET): This looked like a possible upset early in January when the Red Storm were playing well. They're not now and Duke has experienced its one mental roadblock at Florida State. The crowd at Madison Square Garden could be split (and possibly be pro-Duke). If the Blue Devils are on, they will win, perhaps easily. But if they somehow check out, then St. John's has a chance -- maybe.
No. 17 Washington at Washington State (FSN, 10 p.m. ET): Washington is still the class of the Pac-10 and the Cougars are the tease of the league, constantly looking like a contender but behaving more like a pretender. If the Cougs are going to be taken seriously in the league, they must win this home game against their rival.
Viewer's Guide
All times ET

Saturday
Noon: Georgetown at Villanova (ESPN)
Noon: Xavier at Richmond (ESPN2)
Noon: Louisville at Connecticut (ESPN3)
1 p.m.: Minnesota at Purdue (CBS)
2 p.m.: NC State at North Carolina (ESPN)
2 p.m.: Butler at Valparaiso (ESPN3)
3 p.m.: Syracuse at Marquette (ESPNU)
4 p.m.: Georgia at Kentucky (ESPN)
4 p.m.: Wisconsin at Penn State (BTN)
4 p.m.: BYU at New Mexico (Versus)
6 p.m.: Ohio State at Northwestern (ESPN2)
7 p.m.: Kansas State at Kansas (ESPN)
8 p.m.: West Virginia at Cincinnati (ESPN3)
8 p.m.: Pittsburgh at Rutgers (ESPN2)
9 p.m.: Missouri at Texas (ESPNU)
Sunday
1 p.m.: Duke at St. John's (CBS)
2 p.m.: Dayton at Duquesne
8 p.m.: Northern Iowa at Missouri State (ESPNU)
10 p.m.: Washington at Washington State (FSN)

Brennan on Minnesota-Purdue
I can't wait to see …
Doug Gottlieb
I am interested in several "pretender" teams showing up Saturday. Colorado has been pathetic on the road in its past two Big 12 games, and Baylor is not a tough environment to steal one. The Buffaloes' shooting and interior defense are the biggest keys, though the immense frontline of Baylor and the rapid improvement of Perry Jones lead me to think the Bears will play volleyball with offensive boards against what will likely be a CU zone.
Also Washington State needs a home win over Washington in a bad way to climb back into the discussion as the second-best team in the Pac-10. Klay Thompson needs some help and the Cougs must keep the Dawgs in front of them and out of the lane.
Diamond Leung
I can't wait to see New Mexico do its best to try to stop Jimmer Fredette and upset BYU at the Pit. Drew Gordon continues to play well for the Lobos, but clearly someone in the backcourt will have to step up in order to contain Fredette, who will be looking for yet another 40-point game and a nice win on the road. San Diego State has already won at the Pit, but New Mexico traditionally plays very well in the building.
Andy Katz
I'm a little surprised I'm going here but I want to see what happens when Wisconsin plays at Penn State. The Badgers look like the best challenger to Ohio State in the Big Ten and get the Buckeyes twice. But UW has to avoid falling into the same trap as Illinois and Michigan State -- namely, losing at Penn State. PSU toyed around with Iowa on Wednesday night before pulling away, while the Badgers absolutely hammered Northwestern on the road Sunday. A win would leave Wisconsin two games back of Ohio State with two games pending against the Bucks.
Joe Lunardi
I'm tracking at least a half-dozen bubble teams this weekend, most of which will be "in" or "out" of Monday's Bracketology projections depending on their results this weekend. In particular, I'll be watching Richmond (vs. Xavier), Butler (at Valpo), Marquette (vs. Syracuse) and Virginia Tech (vs. Miami). Then, in the final game of the weekend, Washington State hosts Washington in a matchup that is critical for Wazzu and key for the rest of us in sorting out a complicated Pac-10.
Dana O'Neil
Aside from wondering WWJD (What Will Jimmer Do?), I'm looking forward to seeing if Texas can continue to squeeze the breath out of the Big 12. The Longhorn defense has been absolutely stifling in conference play and the real reason UT sits atop the league standings at 5-0. The Horns have held five Big 12 teams to an average of 53.4 points per game -- that includes, of course, a Kansas team that knows a thing or two about scoring. Now comes maybe the toughest test for the Texas D -- Missouri. Mike Anderson's fastest 40 minutes is producing a blistering 85 points per game, fifth-most in the country. I think Texas is legitimate this season. Slowing down the Tigers will prove that the Longhorns' defense is for real, too.
Mark Schlabach
Georgia looks like an NCAA tournament-worthy team, but the Bulldogs don't yet have an NCAA-worthy résumé. UGA has one high-quality victory: 77-70 over Kentucky at home on Jan. 8. The Bulldogs could really use another victory over the Wildcats at Rupp Arena on Saturday, where they've won only five times in 59 tries. After dropping SEC home games on a last-second shot to Tennessee last week and then in double overtime to Florida on Tuesday night, Georgia needs to start turning its immense potential into results.
Pat Forde
Can BYU back it up? After Jimmer Fredette's electrifying 43-point performance shot down unbeaten San Diego State and spilled the students out of the seats in the Marriott Center, can the Cougars reach another emotional peak Saturday at New Mexico? The Lobos have been a disappointment so far this season, but they're famously tough at home in The Pit. UNM has won 17 of its last 18 at home and beat BYU twice last season. But The Jimmer has been even more ridiculous on the road than at home, averaging 42.7 points in BYU's last three road games. If the Cougars survive Albuquerque, they might be 27-1 when they play the return game against the Aztecs in San Diego on Feb. 26.
Eamonn Brennan
When it comes to marquee matchups, this isn't the greatest hoops Saturday in the world. But if you follow the sport closely there are a handful of totally intriguing games well-worth keeping an eye on. One such game? No. 10 Syracuse at Marquette on Saturday. The Orange appear to be reeling after three straight losses, two of which came at home, and one of which was a 22-point drubbing at the hands of the 9-12 Seton Hall Pirates. Can Jim Boeheim get his team back on track? He'll have to hope so, because his team's previously stalwart defense has been shredded in three straight games, and he'll be playing a road game in a tough environment (the Bradley Center) against a team with one of the best per-possesion offenses in the Big East. Tough test at a tough time for the Cuse, and a chance for the Golden Eagles to finally break through with a much-needed big win.
Williams on Missouri-Texas
Player to watch
Jimmer Fredette, BYU


Maybe we should just rename this category and call it "Why to Watch Jimmer Fredette This Weekend." If you don't watch, heaven knows what you'll miss. He is now a verb ("You got Jimmered"), the subject of a rap song ("Amazing") and the face of college basketball this season. After dropping 43 in the showdown against San Diego State, Fredette has now topped the 40-point plateau three times in the past four games and his scoring average is 27.4 points per game. That's a career-high for most people. That's average for Fredette. Soaring after that win against the Aztecs, BYU travels to New Mexico. Though the Lobos are reeling a bit, having lost three of their last four, the Pit can be a great equalizer.

-- Dana O'Neil
Leung on Washington-Wazzu