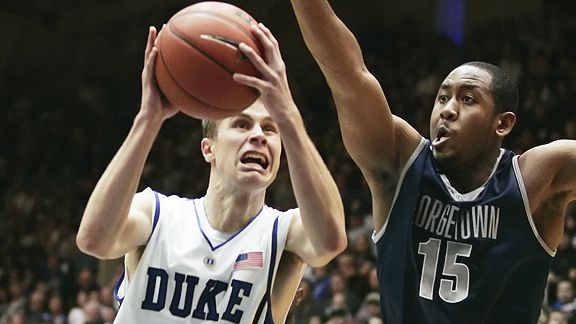 Andrew Synowiez/US PresswireJon Scheyer, left, and Austin Freeman will be two keys to Saturday's showdown in Washington.
No. 7 Duke at No. 11 Georgetown
When and where: Saturday at 1 ET (CBS), Verizon Center
Duke's toughest matchup: Greg Monroe. Few big men can guard Monroe without significant help, and if he is doubled, Monroe is a very good passer. If he's guarded by Miles Plumlee, Monroe can take him away from the basket. If he's guarded by Lance Thomas, Monroe can take him into the post. Monroe will be a tough cover for Duke, as he is for most of his opponents.
Georgetown's toughest matchup: Kyle Singler. Nolan Smith is the only Blue Devil who can get his own shot, and he is very good in the midrange. Singler is the one player whom Georgetown will have difficulty guarding. He's tough and versatile, and there's simply not a good matchup on him.
Duke's toughest challenge: Pressuring Georgetown's offense. John Thompson runs an offense based on Princeton principles and actions, and the Hoyas are very good with the ball and take good shots. Georgetown shoots just less than 50 percent from the field as a team and is a very good free-throw-shooting team. The Blue Devils will try to put pressure on the ball and force all of Georgetown's cuts to go through their chests. Duke wants to take away open 3s and layups and force the Hoyas to take challenged 2s all game long.
Georgetown's toughest challenge: Getting its tempo. The Hoyas look to run off turnovers and against teams with poor transition defense, but the vast majority of the time, Georgetown is not playing in a high-possession game. The Hoyas are looking to make the opponent guard their passing and cutting offense until there is a defensive breakdown. Georgetown is patient and has three truly special scorers in Austin Freeman, Chris Wright and Greg Monroe. The Hoyas will face pressure from Duke, but the challenge will be to run good offense against that pressure and play at their chosen tempo.
Key stat: Georgetown's field goal percentage. The Hoyas work for and take good shots, and if they are able to get the shot they want, they will be in a good position to win. Georgetown does not score off its defense or get a lot of offensive rebounds, so offensive execution is paramount to its success. Duke's defense has always prided itself on taking opponents out of what they want to do, but Georgetown is really difficult to disrupt.
Georgetown X factor: Jason Clark. Clark is just 6-2, but he has long arms and is a very good shooter when he has time to pull the trigger. If he can knock down some shots, he can have an impact on the game. Wright is the explosive playmaker, Freeman is the efficient and versatile scorer, and Monroe is the playmaking big man, and all have to score. But Clark can be a big factor if he can put up 10 points and hit his open opportunities.
Duke X factor: Lance Thomas. Thomas has performed at a high level on the defensive end and has guarded some of the best big men that Duke has faced. Thomas can be a big contributor in guarding Monroe and can be a difference-maker if he can slow Monroe down.
Who wins: Duke in a tight game. If Georgetown can get the Blue Devils to chase its Princeton offense, it will be advantage Hoyas. But Duke is very confident right now after wins against Clemson on the road and Florida State at home. A win at Georgetown would be the Devils' biggest of the season so far.
No. 2 Kansas at No. 13 Kansas State
When and where: Saturday at 7 ET (ESPN), Bramlage Coliseum
[+] Enlarge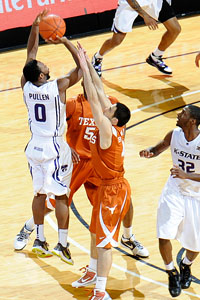 Peter G. Aiken/Getty ImagesJacob Pullen struggled against Texas and OSU but bounced back at Baylor. Can he help take down the hated Jayhawks?
KU's most important matchup: Jacob Pullen. The Kansas State guard was 4-of-30 against Texas and Oklahoma State but bounced back with 25 points in a win at Baylor, going 6-of-7 from 3-point range. Pullen is a productive player who has really improved his efficiency. He's hit 60 3s and shot 142 free throws. Kansas will have to limit him in order to win. The Jayhawks have several capable defenders to rotate onto Pullen, and Pullen has to accept that challenge.
KSU's most important matchup: Sherron Collins. The powerful point guard can take the team on his shoulders and take the big shot, but he can also take some shots that make you scratch your head. Collins is fearless, and Kansas goes the way that he goes. If Collins is the smart decision-maker and leader that he has shown the ability to be, KU will be in a great position to win. If Kansas State can make him go on his own, the Wildcats will be in a great position to pull one out at home.
Key stat: Offensive rebounding and turnovers. Kansas State is a very good offensive rebounding team and needs to get additional possessions through work on the glass. And Kansas cannot afford to turn the ball over in the heat of the Octagon of Doom. Being "ball strong" is vital, and the Jayhawks have to be tough enough to run their offense in a difficult environment.
KU's X factor: Xavier Henry. The freshman is an outstanding scorer but has hit only eight of his last 31 shots over his last three games. The lefty has a complete game, but he is still a rookie, and Kansas State's Bramlage Coliseum will be a new experience for him. Marcus Morris and Cole Aldrich have played very well of late, but Kansas could still use a quality performance from Henry.
KSU's X factor: Jamar Samuels. Samuels is a very good offensive rebounder and is very active. His activity rate gets him to the free throw line, and he will have to be a third scorer alongside Pullen and Denis Clemente for Kansas State to win.
Who wins: The Jayhawks have had a lot of success at Kansas State, but this is a different K-State team. However, with Cole Aldrich playing like himself again, I favor Kansas in this one. I believe the Jayhawks can separate a bit from the pack, and they can start by winning a tough game in a tough environment Saturday night.
Ten to track: Why these games matter
Saturday
Louisville at West Virginia, noon ET (ESPN): If the Mountaineers want to hang with Villanova and Syracuse, they cannot lose another home game. If the Cardinals want to make the NCAA tourney, they had better start producing quality wins. West Virginia is getting Deniz Kilicli next week, so this is the last game for the height-challenged Mountaineers.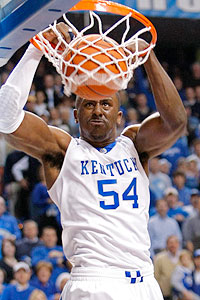 AP Photo/Ed ReinkePatrick Patterson and UK will try to avoid falling two games behind Vandy in the SEC East standings.
Oklahoma State at Missouri, 2 p.m. (ESPN): The Cowboys had an impressive win over Texas A&M and have already knocked off Kansas State in Manhattan. But winning at Missouri is another matter. Mizzou must get this win after a subpar performance at Kansas. I find it hard to believe the Tigers will wilt twice in a week.
Vanderbilt at Kentucky, 4 p.m. (ESPN): The Commodores are one of the hottest teams in the country with 10 straight wins. Vandy's last loss was back on Dec. 11 against Western Kentucky. The SEC East-leading Dores (5-0) can get this one, but it's hard to see Kentucky dropping two straight. Rupp Arena will be revved up once again.
Baylor at Texas, 4 p.m. (ESPN360): The Longhorns were a bit sluggish in the first half against Texas Tech, but they got their mojo back in the second. Baylor comes in after a tough home loss to Kansas State. The Bears could use a stunning win like this one, but once again, it's hard to see the Horns losing this one and dropping two games behind Kansas.
Harvard at Cornell, 7 p.m.: The first of two games of the year in the Ivy. How refreshing it is that Harvard and Cornell are the top two teams and not the same tired Penn and Princeton. This is great for the league to have the Crimson pushing another team. The Ivy League needs more programs rotating at the top, and having Tommy Amaker and Harvard's name recognition pushing for a bid is all good.
UTEP at UAB, 8 p.m.: The Blazers have emerged as the C-USA favorite, winning at Marshall and beating Tulsa at home. UAB still has to play Memphis, but first it has to get past UTEP, which could really use a boost to its NCAA profile. The Miners have more talent from 1 to 5, but the Blazers have the better karma so far this season.
Sunday
Minnesota at Ohio State, 1 p.m. (CBS): The Gophers got the must-needed win over Northwestern at home. Now comes the hard part: finding a way to win at Ohio State with a depleted roster. The Buckeyes are getting more contributions from other players not named Evan Turner. OSU is still three games behind Michigan State, but finishing second ahead of Wisconsin, Illinois and Purdue is realistic.
Florida at Tennessee, 1 p.m. (CBS): Suddenly the Vols are facing a crucial game at home after losing at Georgia and at home to Vanderbilt. Bruce Pearl has had lots of success against the Gators, and he'll need to summon that magic to avoid a third straight loss. Florida is coming in playing some of the best basketball of its season. The pressure is all on Tennessee to win this game.
Cal at Arizona, 3:30 p.m. (FSN): Arizona has quietly made itself a player in the wide-open Pac-10 title chase. The Bears are probably the one team in the league that might be able to get an at-large berth. To do that, Cal would likely have to win the regular-season championship. A win here would be huge for either team.
Maryland at Clemson, 5:30 p.m. (FSN): Clemson held out Demontez Stitt from the Boston College game, which turned out to be a loss, so that he could get his ankle healthy in time for Maryland. Well, here's his shot to go against Greivis Vasquez and the hottest team in the ACC. The Tigers cannot afford to lose this game to the Terps. If Maryland wins here, winning the ACC may actually be within its reach.
Unexpectedly in need of wins
By Mark Schlabach
ESPN.com
Three of college basketball's powerhouses are sitting on the NCAA tournament bubble, and they don't exactly have all season to get things turned around. Just last year, Louisville was the No. 1 overall seed in the NCAA tourney, UConn advanced to the Final Four, and North Carolina won the national championship. As we stand now, all three are 13-7.
Louisville (4-3 Big East) desperately needs a marquee victory after doing essentially nothing during its nonconference schedule (one victory over an RPI top-50 foe). The Cardinals ended a three-game slide by beating Cincinnati 68-60 on Sunday, and they've had extra time to prepare for Saturday's trip to No. 9 West Virginia (noon ET, ESPN).
It might be hard to imagine that No. 19 Connecticut (3-4 Big East) would be left out of the NCAA tournament field, but the Huskies have lost four of their last six games. UConn is in better shape than the Cardinals, especially after upsetting Texas 88-74 on Jan. 23. Connecticut has played the country's toughest schedule, but it's only 1-5 against RPI top-50 opponents and 0-4 in road games. The Huskies can't afford to lose Saturday's home game against Marquette (noon ET, ESPN360.com). After hosting the Golden Eagles, the Huskies play six of their final 10 regular-season games on the road.
Likewise, defending national champion North Carolina (2-3 ACC) can't afford another loss when it hosts Virginia on Sunday night. The Tar Heels ended a three-game losing streak by winning at NC State 77-63 on Tuesday night. The Tar Heels need to hold serve at home, with road games at Virginia Tech and Maryland looming on the schedule.
3-Point Play: Weekend Preview
Viewer's guide
All times ET
Friday
9 p.m.: Butler at Green Bay (ESPNU)
Saturday
Noon: Louisville at West Virginia (ESPN)
1 p.m.: Duke at Georgetown (CBS)
2 p.m.: Oklahoma State at Missouri (ESPN)
4 p.m.: Vanderbilt at Kentucky (ESPN)
4 p.m.: Old Dominion at Northeastern (CSN)
4 p.m.: Baylor at Texas (ESPN360)
7 p.m.: Harvard at Cornell
7 p.m.: Kansas at Kansas State (ESPN)
7 p.m.: Northwestern at Michigan State (BTN)
8 p.m.: UTEP at UAB
Sunday
1 p.m.: Florida at Tennessee (CBS)
1 p.m.: Minnesota at Ohio State (CBS)
3:30 p.m.: Cal at Arizona (FSN)
5:30 p.m.: Maryland at Clemson (FSN)
7:45 p.m.: Virginia at North Carolina (FSN)
Kansas-KSU: Hubert's Keys
I can't wait to see …
Dana O'Neil
I'm looking forward to an Ivy League showdown. Thanks to my roots in the Philadelphia region, I've watched more than my share of Ivy battles in which nothing short of everything is on the line. The jersey names have changed -- from Princeton and Penn to Harvard and Cornell -- but not much else has. With no postseason tournament to offer a second chance and the unlikely scenario of an at-large bid, there will be immense pressure on the Crimson and Big Red when they square off in Ithaca in the first of two conference showdowns. Steve Donahue's two-time defending champ Cornell has experience and talent in the form of Louis Dale, Jeff Foote and Ryan Wittman, but Tommy Amaker has a legit league player of the year candidate in Jeremy Lin. Some folks already are arguing that, based on strong nonconference performances, both teams deserve to be in the NCAA tournament. But you can bet that neither team is willing to count on that, and that both are looking at this game and the Feb. 19 rematch in Massachusetts as the de facto league championship.
Andy Katz
The atmosphere at the Octagon of Doom in Manhattan, Kan., I'm sure, will be as crazed as possible for rival Kansas, which has a chance to move back to No. 1. The Wildcats need this game, but they also have to make KU so miserable that they cannot hear themselves think. Another game I want to see is Duke at Georgetown. These two teams have a shot to get to the Final Four. The Blue Devil bigs will have their hands full with the Hoyas. The matchups of Chris Wright, Austin Freeman and Jason Clark against Duke's trio of Nolan Smith, Jon Scheyer and Kyle Singler should make for a heck of a matinee in the nation's capital.
Pat Forde
How does Kentucky bounce back? Soon after the unbeaten Wildcats assumed the No. 1 ranking Monday, they went out and got beat by South Carolina on Tuesday. Do they respond with ferocity or uncertainty Saturday, when a sneaky-good Vanderbilt comes to Rupp Arena? The assumption is that a laser-focused Kentucky will show up -- but the loss seems to have sent the worst faction of Big Blue Nation off the deep end. Junior forward Patrick Patterson issued an unhappy Facebook request for fans to cease harping on him and his teammates, and other Wildcats have indicated, via Facebook, some frustration with fan criticism. So is it a lovefest and a return to dominant basketball for the Cats, or is this a very bad week in the bluegrass?
Doug Gottlieb
Looking forward to seeing two of the elite scoring senior guards in the country match up as Arizona hosts Cal. Nic Wise has struggled lately, but he can give you 20 in a hurry, and Zona has found its next star in Derrick Williams. The Wildcats must contain Jerome Randle, who had 31 at McKale last year.
Vanderbilt is rolling as Jermaine Beal lit up UT and now has Kentucky in Rupp. Will UK get the ball to Patrick Patterson? Can the Cats find someone to play the 3-spot? Will Vandy try to pressure John Wall? The pressure did not work during some early-season struggles, so let's hope they back off Wall. Because that could get ugly.
How does Duke handle Greg Monroe and Austin Freeman? Georgetown struggled with turnovers and matching up with Andy Rautins. The Hoyas have had a while to think about what went wrong, while Duke is coming off a very physical game against FSU. Georgetown needs to get the ball to Greg Monroe, who loves the ball at the high post. But the Plumlees are much better defensively there than down low.
Finally, Maryland travels to Clemson on Sunday as the Tigers are in their usual January swoon and the Terrapins, as they did last year, are starting to click offensively in ACC play. The Terps gave away their only loss (in OT to Wake), but with Landon Milbourne playing the best ball of his career, Maryland is an ACC team that should be feared right now.
Oh, and there's also Utah at BYU. It's the Holy War. Enough said.
Infiniti Spotlight: Bill Self
Players to watch
Jermaine Beal and John Jenkins, Vanderbilt
Through the Commodores' 10-game winning streak, the backcourt has been a model of consistency. Beal, a savvy and careful point guard, has just 26 turnovers on the season and is coming off a sterling 25-point performance in the win at Tennessee. The sharpshooting Jenkins is knocking down 49 percent from 3 as a freshman. But through Vandy's long winning streak and 19-game season, Beal and Jenkins haven't faced anything quite like John Wall and Eric Bledsoe. How well the Commodores' guard combo can handle (we won't ask them to contain) Kentucky's dynamic duo will go a long way in determining whether Vandy has a chance to take control in the SEC East. -- Dana O'Neil
Infiniti Spotlight: Frank Martin