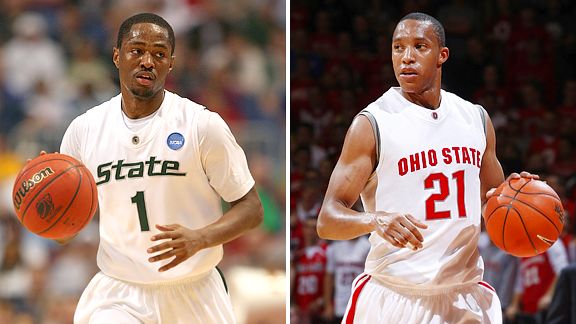 Getty ImagesMichigan State's Kalin Lucas and Ohio State's Evan Turner are the keys to their respective teams.
No. 12 Ohio State at No. 11 Michigan State
When and where: Sunday at noon ET (CBS), Breslin Center
Nobody can guard: Evan Turner, Ohio State. At 6-foot-7, Turner is a wizard with the ball and it is extremely difficult to stay in front of him. He can get into the lane with his size, strength and craftiness with the ball and is very good at distributing the ball. With his size and skill level, Turner is a near-impossible matchup.
Heart and soul: Kalin Lucas, Michigan State. Turner is vital to the Buckeyes, but Lucas is just as vital to the Spartans. Without Lucas, Michigan State has no real leadership at the point of attack. Lucas takes and makes big shots and he is a real shot in the arm to his teammates.
Nobody can box out: Michigan State. The Spartans are again the best rebounding team in the Big Ten and Tom Izzo's team pursues the ball amazingly well. MSU is second in the nation in rebounding margin, outrebounding its opponents by just more than nine rebounds per game.
You cannot leave open: Jon Diebler, Ohio State. One of the best shooters in the nation, Diebler does not need much time to get his feet set and pull the trigger on a 3. He can hit six or seven 3s in the Big Ten, especially with Turner drawing attention.
[+] Enlarge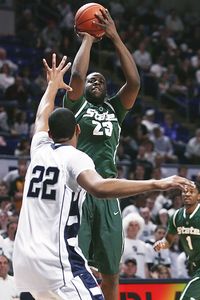 Matthew O'Haren/Icon SMIDraymond Green doesn't need a lot of touches to be effective for Michigan State.
Toughest matchup: Draymond Green, Michigan State. The sophomore forward is one of the best sixth men in the country and can handle, pass, shoot and rebound. He impacts the game in a variety of ways with his versatility and he can score a dozen points with only five shots. Green has to have a big game against OSU and he has to show maturity and discipline throughout the course of the game.
Hot player: Chris Allen, Michigan State. Over his past four games, Allen is averaging almost 15 points per game and he's hit 21 of his 37 shots over that span.
Don't expect: A lot of turnovers. The Buckeyes do not cough up the ball unnecessarily and Michigan State does not force a lot of turnovers.
Watching Michigan State: Check out MSU's helpside defense. The Spartans load up on the elbow and the block and will have gap presence at the nail of the free throw line to load up and try to play 5-on-3.
Watching Ohio State: The Buckeyes have the best starting unit in the league. Watch how efficient Ohio State really is. The Bucks lead the Big Ten in field goal percentage and seem to know very well what a good shot is.
No. 2 Kentucky at No. 19 Vanderbilt
When and where: Saturday at 6 p.m. ET (ESPN), Memorial Gym
Five things Vanderbilt must do to beat Kentucky:

1. Corral and contain John Wall and Eric Bledsoe: Kentucky can be devastating in transition. First, Vanderbilt's offense has to help its defense -- the Commodores cannot afford to turn it over and fuel Kentucky's running game. But after a turnover or an outlet, Vandy cannot let John Wall and Eric Bledsoe get a head of steam in the open floor. Vanderbilt has to get back, be alert to stunt and recover, stop the ball and corral and contain Wall and Bledsoe with more than just one defender. The Dores must force Kentucky to call a set play and run half-court offense.
[+] Enlarge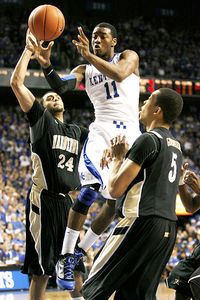 Mark Zerof/US PresswireThe Commodores will have to slow down Kentucky guards John Wall and Eric Bledsoe.
2. Defend the 3-point line and make drivers finish: VU has to stay in front of drivers, angle out drives and not allow straight-line drives and make Kentucky finish over a defender without fouling. Vanderbilt cannot "over help," or UK will kill the Commodores on the offensive glass.
3. Box out on every possession (no second shots): Vanderbilt cannot jump with Kentucky, one of the best offensive rebounding teams in the nation. DeMarcus Cousins averages close to five offensive boards per game and all five defensive players have to make defensive rebounding a priority. Vanderbilt has to make first contact on box-outs, find the ball and pursue it with both hands. It won't matter how good Vandy's first-shot defense is if Kentucky is allowed second shots.
4. Make Kentucky guard: The young Wildcats are incredibly athletic and incredibly long-armed. But Kentucky's youth shows up in its defensive discipline. Oftentimes, the Wildcats are out of a stance, fail to jump to the ball and are out of position on helpside defense, though they make up for such youthful mistakes by blocking shots. VU can involve Kentucky's big men in ballscreen action. Cousins and Daniel Orton do not "stay connected" and the Wildcats' helpside defense can be less than perfect. Vanderbilt needs to involve them in ballscreen action and move them around the court. If a good shot is there early, Vandy needs to take it. If it is not, the Commorodes need to make UK guard.
5. Use shot fakes and ball fakes (and stay down on UK's fakes): Kentucky wants to block shots and it wants to do so in spectacular fashion. The younger players will leave the floor when Vandy players raise their eyebrows. The Commodores need to use shot-fakes and ball-fakes, move the defense and then attack. Vandy must stay down on UK's shot-fakes and make the Cats shoot over you. Kentucky is the better and more talented team, but that doesn't mean that Vanderbilt cannot take the Wildcats at home if the Commodores are disciplined and poised.
Ten to track: Why these games matter
Friday
Cornell at Harvard (7 p.m. ET): Cornell is still tied with Princeton in the loss column in the Ivy League. The Big Red beat the Tigers last week but have to beat Harvard to stay atop the league standings. At 6-2, Harvard is a game behind and can pull itself into a tie with Cornell with a win. This race is far from over.
William & Mary at Iona (ESPNU, 9 p.m. ET): The Tribe, who boast nonconference road wins over Wake Forest and Maryland, are still alive for an at-large bid. Winning another road game is a must to keep William & Mary in front of the selection committee.
Saturday
Siena at Butler (ESPN2, 11 a.m. ET): Siena's fleeting at-large hopes rest on this game. Losing at Niagara took a bit of wind out of the Saints. A win at Butler might force some reconsideration of the team's at-large chances. Butler is a lock and now is working on improving its seed.
Seton Hall at West Virginia (ESPN, noon ET): The Pirates are hanging on by a thread in the at-large pool. The difference with the Big East and other conferences is that there are opportunities to improve one's at-large chances. If the Pirates beat the Mountaineers, then suddenly they will be a major player for a bid. So, who knows?
Morgan State at Murray State (ESPNU, noon ET): Murray State has quietly put together quite a season in the Ohio Valley. The Racers are 16-0 in the league and 25-3 overall. Meanwhile, Todd Bozeman's Morgan State Bears are atop the MEAC with an 11-1 record. This is actually a solid matchup between conference leaders that should provide plenty of good entertainment.
Baylor at Oklahoma State (ESPN360, 1:30 p.m. ET): By my count, Oklahoma State is the one bubble team remaining in the Big 12. Missouri's win over Texas on Wednesday probably put the Tigers in the field. That's why the Cowboys need to beat the surging Bears to improve their stock with the selection committee.
Illinois at Purdue (ESPN, 4 p.m. ET): Purdue is one of the hottest teams in the country after winning at Ohio State on Wednesday. Illinois got hammered at home by Ohio State on Sunday. The transitive property suggests that the Boilermakers should crush the Illini, right? Well, the Illini have been one of the tougher teams to figure this season. They probably need one more marquee win to feel secure.
UCLA at Washington (ESPN, 9 p.m. ET): The Bruins, yes the 12-13 Bruins, are tied for fourth place in the Pac-10. Depending on what happens this weekend, a UCLA win could push the Bruins into a first-place tie in the loss column with Cal, Arizona, Arizona State and USC (if the Trojans and Bears lose and the Wildcats beat the Sun Devils on Sunday). That's how wide open the Pac-10 is. This league will get only one bid to the tourney at this point, but someone is going to claim the regular-season trophy.
Sunday
Villanova at Pittsburgh (CBS, noon ET): Pitt is blazing right now with recent wins over West Virginia and Marquette. Beating Villanova isn't going to help the Panthers win the Big East, but it would improve their seed. As for Nova, the Wildcats have to keep pace with Syracuse in the race for the Big East regular-season title after the Orange won at Georgetown on Thursday.
Virginia Tech at Duke (FSN, 7:45 p.m. ET): Virginia Tech is a game behind Duke in the standings. Beat Duke at Cameron, which seems improbable this season, and the Hokies are in position to win the ACC. Crazy talk? Maybe, but the Hokies are confident they can pull off the upset.
Bubble trouble: Teams that need a win
By Mark Schlabach
ESPN.com
College basketball is hitting the second half of the conference races, and the battle for at-large bids to the NCAA tournament is heating up.
Here are five games to watch this weekend that will affect the NCAA bubble picture:
Friday
Old Dominion at Northern Iowa (ESPN2, 7 p.m. ET): The Panthers have the enviable computer profile; the Monarchs have more high-quality wins. Northern Iowa might need this game more than ODU, which boasts wins over Georgetown (road), Charlotte (home) and William & Mary (home and road). The Panthers' best wins are over No. 32 Siena and No. 52 Wichita State (both at home). The Panthers are 9-2 in true road games.
Saturday
Florida at Ole Miss (noon ET, CBS): The Gators survived a 78-70 win at home over Auburn on Thursday, while Ole Miss fell to Vanderbilt 82-78 at home. The Rebels have lost four of five games and really haven't beaten anybody of consequence since their 86-74 victory against Kansas State on Nov. 20. The Gators' best victories -- over Michigan State (neutral court) and Florida State (home) -- happened in November, too.
Xavier at Charlotte (2 p.m. ET, CBS-CS): The Musketeers seem to be in really good shape with an RPI rating in the top 25 and four wins over RPI top-50 opponents (Dayton, Charlotte, Rhode Island and Cincinnati at home). The 49ers really need a signature win after dropping their past two games, by 28 points at Dayton and six points to Duquesne at home. Charlotte has three victories over RPI top-50 foes, defeating Temple (home), Richmond (road) and Louisville (road), but can't afford many more losses.
Wichita State at Utah State (midnight ET, ESPN2): The Aggies are hanging their hats on one big win: a 71-61 victory over BYU at home on Dec. 2. Other than that, they've beaten middling teams like Nevada, Weber State and Morehead State. Wichita State beat Texas Tech and Northern Iowa, but lost to lowly Evansville last week and then needed overtime to beat the Purple Aces at home on Wednesday night. Both teams could really use a victory of note.
Sunday
Marquette at Cincinnati (ESPN360, 2 p.m. ET): The Golden Eagles missed a chance to pick up another high-quality victory, losing to Pitt 58-51 at home on Thursday. The loss ended Marquette's five-game winning streak. As for the Bearcats, they've lost three of their past four games, including a 65-57 loss at South Florida on Tuesday. Both teams need this one badly.
Viewer's guide
All times ET
Friday
7 p.m.: Old Dominion at Northern Iowa (ESPN2)
7 p.m.: Cornell at Harvard 9 p.m.: William & Mary at Iona (ESPNU)
Saturday
11 a.m.: Siena at Butler (ESPN2)
Noon: Morgan State at Murray State (ESPNU)
Noon: Florida at Ole Miss (CBS)
Noon: Seton Hall at West Virginia (ESPN)
1 p.m.: La. Tech at Northeastern (ESPN2)
1:30 p.m.: Baylor at Oklahoma State (ESPN360)
2 p.m.: Texas at Texas Tech (ESPN)
2 p.m.: Georgia Tech at Maryland (ESPN360)
2 p.m.: Xavier at Charlotte (CBS-CS)
4 p.m.: Illinois at Purdue (ESPN)
4 p.m.: UTEP at Tulsa (CBS-CS)
4 p.m.: Akron at VCU (ESPNU)
6 p.m.: Kentucky at Vanderbilt (ESPN)
8 p.m.: Charleston at George Mason (ESPN2)
8 p.m.: Western Carolina at Kent State (ESPNU)
9 p.m.: UCLA at Washington (ESPN)
Midnight: Wichita State at Utah State (ESPN2)
Sunday
Noon: Villanova at Pittsburgh (CBS)
Noon: Ohio State at Michigan State (CBS)
2 p.m.: Marquette at Cincinnati (ESPN360)
2 p.m.: Northwestern at Wisconsin (BTN)
7:45 p.m.: Virginia Tech at Duke (FSN)
Purdue holds off Illinois
I can't wait to see…
Dana O'Neil
Busters! It's BracketBusters weekend and the undercard is pretty impressive. Let's start with Morgan State versus Murray State. Two red-hot teams go head to head. Todd Bozeman and Morgan State have won 12 of their past 13 and have just one loss in the MEAC; the Racers have lived up to their nickname, sprinting to a 16-game win streak and an undefeated record in the Ohio Valley. Northeastern is equally scorching. After an awful start -- losing seven of nine games -- the Huskies have reeled off 16 wins in their past 18 games and will face a Louisiana Tech team whose fortunes have gone the opposite direction, hot start to up-and-down. Finally there's Ole Miss against Florida, two teams directly on the bubble who need … Oh wait. That's not a BracketBuster?
Andy Katz
The BracketBusters games aren't going to lock up any bids, but they'll at least give plenty of teams the 15 minutes of air time they deserve. I'm also interested in seeing Cornell for the first time in person at Harvard, as well as how North Carolina can possibly be this poor when the Tar Heels play at Boston College on Saturday. But the highlights of the weekend will be seeing if Vanderbilt can beat Kentucky, as well as how Michigan State handles Ohio State on Sunday. The Commodores are a tough out in Nashville. But how will A.J. Ogilvy handle the trio of Patrick Patterson, Daniel Orton and, of course, the man in the middle, DeMarcus Cousins? This could be a preview of the SEC tournament title game.
Mark Schlabach
I'm anxious to see if Virginia Tech can hang with Duke at Cameron Indoor Stadium on Sunday night. The surprising Hokies are only one game behind the Blue Devils in the loss column in the ACC standings, and are getting closer to locking up an NCAA at-large bid. But trips to Durham, N.C., are usually what separate the ACC championship contenders from the pretenders. Tech is playing very well right now, and guard Malcolm Delaney (20.2 ppg) is making a serious push for ACC Player of the Year.
Maryland shocks Georgia Tech
Player to watch
Ryan Wittman, Cornell
With the Big Red's stunning loss to Penn and tight win against Princeton, things have gotten a whole lot more interesting in the Ivy League and will get even more interesting Friday night when Cornell visits Harvard. The Crimson have to find an answer for Ryan Wittman. He's averaging 17 points per game and has hit double figures in 24 of 25 games this season.
-- Dana O'Neil
Dick Vitale picks his Final Four
By the numbers
Five things to know Saturday
• On Tuesday, Northern Iowa clinched its first outright MVC regular-season title since joining the conference in 1991-92. On Friday against Old Dominion, UNI can set the school record for wins (24).
• Of the programs that have participated in BracketBusters at least three times, Old Dominion is the only one that is undefeated (3-0) in the event. • Over the past four seasons, Butler has spent 63 weeks in the ESPN/USA Today coaches' poll. The only three schools with more appearances during that time span are Duke, North Carolina and Kansas. • Kansas has won 56 consecutive home games heading into Saturday's matchup with Colorado. It's easily the nation's longest home winning streak. Siena ranks second at 34 straight. • North Carolina has lost five games by 15 or more points this season. In Roy Williams' first six seasons as the school's head coach (2004 to 2009), UNC lost by 15 or more points only twice: to USC in December 2005 and to Kansas in the Final Four in 2008.
--
ESPN Stats & Information
Coaches' All-America team