No. 6 Pittsburgh (25-3) at No. 16 Louisville (21-7)
When and where: Sunday (CBS, 2 p.m. ET), KFC Yum! Center (Louisville)
Pitt's dynamic duo: Ashton Gibbs and Brad Wanamaker. After missing three games with an MCL injury, Gibbs came back against St. John's and didn't seem to miss a beat. Actually, it looked like the rest of the team had been out. Gibbs scored 26 points against the Johnnies, hitting 8 of 14 shots. Over his past three games, Gibbs has gone 22-of-29 from the floor and averaged 25 points per game. He is an outstanding shooter and is excellent coming of screens. Gibbs has to be forced to dribble the ball, and he cannot be allowed to shoot it from the catch spot. He is certainly capable of making shots off the dribble, but he will kill you with catch-and-shoot opportunities. Wanamaker is Pitt's best all-around player, and does most of his damage off the bounce. He leads the team in assists and steals, and is a good scorer and rebounder. Wanamaker is coming off two games in which he didn't shoot well, hitting only 5-of-15 from the floor.
Louisville's dynamic duo: Preston Knowles and Kyle Kuric. Knowles is one of the most improved players in the Big East. Always a committed defender, he is a very streaky but productive 3-point shooter. He has hit 82 3s on the season, but has made just 10 of his past 36 shots overall over the past three games. Kuric is another improved player who is an underrated athlete. A good rebounder and defender, Kuric has exploded for some big games this season. Over his past six games, he has averaged more than 16 points, just less than six rebounds and has shot better than 51 percent from 3-point range.
Pitt's unsung hero: The versatile Nasir Robinson does all of the little things that a team needs done. He can guard on the perimeter or inside and is a very good rebounder. He's averaging 10 points per game and five rebounds in Big East play. He was outstanding against both West Virginia and Villanova on the road, scoring 15 points in each game. Pitt does not win either game without him.
Louisville's unsung hero: Peyton Siva is one of the better penetrating guards in the Big East. He is an excellent athlete who has played very well at times this season. Over the past seven games, Siva has been up and down, but he remains an important player for Louisville. He must accept the physical challenge presented by Pitt and not let the bumping knock him off of his path. Siva is one of the Big East's leaders in both assists and steals. He can be a big impact for the Cards without scoring.
Pitt's workhorse: Big man Gary McGhee is the engine that runs Pitt's interior attack. He is an outstanding post defender and excellent on the glass. McGhee contests the lane and protects the rim for Jamie Dixon, and does so consistently without complaint. He averages seven points and eight rebounds per game, but his contributions are beyond those numbers.
Louisville's workhorse: Terrence Jennings. This may be a surprise to some, but Jennings is starting to come along as a player. When he is active and really works, Jennings is very good. Over his past eight games, he is averaging 13 points and six rebounds, and he can really run the floor, block shots and rebound when he is engaged and assertive. Jennings will have to be a presence if Louisville expects to beat Pitt.
What to watch for: Pittsburgh has to guard the 3-point line. Louisville averages close to 10 3-point field goals per game and usually forces Pitt to cover ball screens, and forces guys like McGhee to come out on the floor and guard away from the basket. Watch for how UL tries to make the Panthers' big men move out on the perimeter. How the Cards execute ball-screen offense and how Pitt defends it could be a difference in the game. Louisville will try to speed up the Panthers with full-court pressure and multiple defenses, but Pitt is a very methodical offensive team and it is much easier to slow a game down than it is to speed one up.
Key stat: Rebounding. If you want to beat Pitt, you have to hang with the Panthers on the glass. They are second in the nation in rebound margin, and are the best offensive rebounding team in the country. Pitt sends four guys to the offensive glass and its guards rebound and are unafraid of physical contact on the backboards. Pitt averages more than 15 offensive rebounds per game, and gets more than 40 percent of its misses. Louisville is capable of hanging with Pittsburgh on the glass, but it cannot just be Jennings and Rakeem Buckles. Last season, Pitt outrebounded Louisville 40-26. Every Card has to rebound on every play.
Who wins: Pittsburgh is coming off of a win over West Virginia, which was just after a loss against St. John's in the Garden. Usually, Pitt is pretty focused after a loss, and it lasts for longer than just one game. This is not a team that is easily satisfied, and Louisville is better against zone than against man. Pittsburgh's man-to-man defense could very well be the difference. I like the Panthers to win this one.
No. 7 BYU (26-2) at No. 4 San Diego State (27-1)
When and where: Saturday (CBS, 2 p.m. ET), Viejas Arena (San Diego)
BYU's key player: Jimmer Fredette should comprise the majority of the scouting report, and every single Aztec needs to know where he is at all times. Fredette leads the nation in scoring at 27.4 points per game and he is coming off of a 34-point performance in a win over Colorado State. He also had seven turnovers in that game, so you can get to him. On the season, his assists are down slightly and his turnovers are up dramatically. Fredette is averaging more than 31 points per game in Mountain West play, which is ridiculous. The kid can score from anywhere, get his own shot and never seems to tire. In the first meeting, he had 43 points against the Aztecs in Provo on 14-of-24 shooting from the floor. San Diego State needs to make him guard someone on the other end and not allow him anything easy. If he has to work for his points and take a ton of shots, that can be a win for San Diego State.
SDSU's key player: Kawhi Leonard is not well-known by the masses. This guy is a man on the floor and he will bully you into submission. He is isolated all over the floor and can take a big guy outside and a little guy into the post (although he does not do the latter enough for my liking). My favorite isolation for him is off an out-of-bounds play under the basket. Leonard gets a diagonal down-screen to get the ball at the free-throw line and he goes to work. He has huge hands, is a great rebounder and works hard for 40 minutes. Leonard had 22 points and 15 rebounds against the Cougars in the loss, but he also had six turnovers. He will force some things in isolation situations if the defense stays disciplined. Along with Malcolm Thomas, they form the most formidable rebounding tandem in the nation.
[+] Enlarge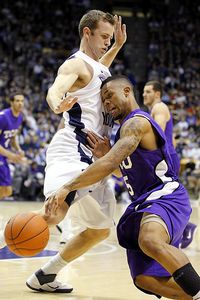 AP Photo/George FreyJackson Emery will not make anything easy for SDSU's guards.
BYU's unsung hero: Jackson Emery is one of the best guards in the country. Fast in the open floor, Emery may very well be the fastest player in the Mountain West. In either man or zone, he is a dangerous weak-side defender who can get steals and deflections and go the other way. (He had four steals against San Diego State.) Emery and Fredette form one of the nation's top backcourts. He really struggled against the Aztecs on the offensive end, missing six of his seven shots and bricking all five of his 3-point attempts.
SDSU's unsung hero: D.J. Gay leads the team in 3-point field goals and while he does not shoot a great percentage, he seems to hit the ones that count. He has quarterbacked a team to a one-loss season and has a low error rate, thinking about winning more than his game. Having guys like Gay and Billy White, who is a good rebounder and went for big numbers against Gonzaga (30 points, nine rebounds), allows San Diego State to work together as a tight unit. Funny how well a team can perform when nobody cares who gets the credit. Gay and White do not seem to care.
How BYU wins: The Cougars have to make San Diego State play in a half-court game. If the Aztecs are able to get out and run, playing ahead of the defense, they will beat BYU. However, if BYU can limit San Diego State in transition and force a five-on-five half-court game, the advantage goes to BYU.
How SDSU wins: The Aztecs have to dominate the backboards and beat BYU down the floor. San Diego State tends to take some questionable shots, most of which are challenged in the half-court. If the Aztecs can limit those and be efficient, they will be in a better position to win. The key for San Diego State is more efficient offense. They cannot put all of the pressure on the defense to get stops.
Key stat: Rebounding and free throws. In the first meeting, BYU gave up a whopping 14 offensive rebounds to San Diego State, nine of which went to Leonard. They cannot repeat that stat and give extra possessions to the Aztecs. San Diego State has to keep BYU off of the foul line. The Cougars shot just 43 free throws against Colorado State.
Who wins: I like San Diego State to win this one in front of a raucous crowd at home. This should be a really fun and competitive game between two good and underrated teams.
A dozen more to track
Saturday
No. 21 Missouri at Kansas State (ESPN, noon ET): K-State continues to rebound nicely, following its win over Kansas by taking down Oklahoma and Nebraska. Meanwhile, Missouri continues to befuddle away from Mizzou Arena, a road win over struggling ISU notwithstanding. A victory here by the Wildcats puts them in pretty solid position for the NCAA tourney.
No. 20 Syracuse at No. 11 Georgetown (CBS, noon ET): The Hoyas will play their first full game without star guard Chris Wright, who broke his left, non-shooting hand. Expect to see Hollis Thompson in the starting lineup and more of freshman Markel Starks and sophomore Vee Sanford in Wright's absence. The timing isn't great as a Syracuse is starting to click again here in the past few games.
Wichita State at Missouri State (ESPN2, 1 ET): The Missouri Valley title is on the line, but it's unlikely either team has distinguished itself enough to warrant an at-large berth -- although a regular-season championship certainly wouldn't hurt. And regardless, whoever wins the Valley tournament in St. Louis is more than capable of winning a first-round game in the NCAA tournament.
No. 25 St. John's at No. 14 Villanova (ESPN, 2 ET): The Red Storm are taking care of business with a five-game win streak that includes home wins over UConn and Pitt and road victories at Cincinnati and Marquette. But this will be a tough task. By taking down Nova on the road, the Storm can start realistically thinking about a 4-seed in the NCAAs.
No. 10 Arizona at UCLA (FSN, 4 ET): This game actually became even bigger after Thursday night's results. The Wildcats' eight-game win streak came to an end at the hands of USC, while the Bruins took care of business against Arizona State. That means UCLA enters Saturday's home showdown just one game behind Zona in a race for the Pac-10 title.
No. 13 Florida at No. 22 Kentucky (CBS, 4 ET): The Gators beat the Wildcats in a thrilling game the last time these teams met. If Florida completes the sweep, it'll push UK further down the seed line and push itself the opposite direction. Kentucky is coming off a disappointing loss at Arkansas, but has yet to lose at Rupp. The Wildcats need to find consistency.
No. 5 Texas at Colorado (ESPN3, 4 ET): My colleague Doug Gottlieb has Colorado as a sleeper to get a bid to the tourney. If that's going to happen, knocking off Texas is pretty close to a must. But the Longhorns may have had their one hiccup by losing at Nebraska. If they want a No. 1 seed, they better hope so.
Duke at Virginia Tech (ESPN, 9 ET): Virginia Tech's NCAA profile is incredibly light. By beating Duke, the Hokies suddenly would be in line with Florida State as a team that could and should get a bid. But fail to beat the Blue Devils with GameDay in town and a national TV audience watching, and the Hokies will need to do work in the ACC tournament.
Sunday
No. 15 Connecticut at Cincinnati (ESPNU, noon ET): The Huskies should have head coach Jim Calhoun back for this game after missing the Marquette loss to attend the funeral of his wife's sister. Cincinnati is suddenly one of the hot teams in the Big East with Wednesday's stunning win at Georgetown. UConn seems to be going in the opposite direction. This has the look of a physical affair as the Bearcats can essentially clinch an at-large bid with a win.
No. 8 Purdue at Michigan State (ESPN, 1 ET): The Spartans are making a push for an NCAA bid. I think they'll get in. Take down Purdue and the Michigan State can book a flight. The Boilermakers, however, are still in contention for the Big Ten title. Should be a great atmosphere.
Xavier at Dayton (ESPN2, 1 ET): The Musketeers are trying to lock in the top seed in the A-10 tournament. Do that and they'll be playing for a decent seed in the NCAAs when they get to the A-10 tournament. Dayton is playing the spoiler role, although a win here and the Flyers might at least enter into the bubble conversation.
Maryland at No. 19 North Carolina (FSN, 7:45 ET): The Terps aren't dead yet. Beat UNC and Maryland would suddenly have life. Lose to the Tar Heels and Maryland may need to get to the ACC tournament final to be taken seriously as a bid contender. Carolina is still seeking to take down Duke for the top ACC tournament seed.
Digger on Duke-Virginia Tech
Viewer's Guide
All times ET

Saturday
Noon: Missouri at Kansas State (ESPN)
Noon: Syracuse at Georgetown (CBS)
1 p.m.: Wichita St. at Missouri St. (ESPN2)
2 p.m.: BYU at San Diego State (CBS)
2 p.m.: St. John's at Villanova (ESPN)
3 p.m.: Memphis at UTEP (ESPN2)
4 p.m.: Kansas at Oklahoma (ESPN)
4 p.m.: Texas at Colorado (ESPN3)
4 p.m.: Arizona at UCLA (FSN)
4 p.m.: Florida at Kentucky (CBS)
9 p.m.: Duke at Virginia Tech (ESPN)
9 p.m.: Texas A&M at Baylor (ESPNU)
Sunday
12 p.m.: Connecticut at Cincinnati (ESPNU)
1 p.m.: Purdue at Michigan State (ESPN)
1 p.m.: Xavier at Dayton (ESPN2)
2 p.m.: Pittsburgh at Louisville (CBS)
6 p.m.: Northwestern at Wisconsin (BTN)
7:45 p.m.: Maryland at North Carolina (FSN)
10 p.m.: Washington State at Washington (FSN)

O'Neil on Florida-Kentucky
I can't wait to see …
Eamonn Brennan
There so many good games this weekend -- including San Diego State-BYU, which promises to be 100 percent awesome -- that a rivalry matchup between two ranked teams in the Big East could easily get lost in the shuffle. But there are a couple of different reasons to watch Syracuse's trip to Georgetown on Saturday. The first is that rivalry element, one of the fiercest in the sport. The second is Big East tournament seeding, which can have a domino effect on a team's conference tournament performance (and thus its NCAA tourney seeding). The third, and most important, is that this game is the first glimpse we'll get of the Hoyas without starting point guard Chris Wright, who broke a finger on his left hand in Georgetown's home loss to Cincinnati on Wednesday. John Thompson III will likely be stuck shuffling his lineup in experimental fashion until either a) he finds something that works, or b) Wright returns. Whatever Thompson does, it won't be ideal. Whether -- and how much -- it will affect Georgetown's once-promising March chances remains to be seen.
Pat Forde
I'm intrigued by the Indianapolis 500. No, not the auto race; the race by bubble teams to secure at least a .500 record in league play before the selection committee convenes in Indianapolis to decide their NCAA tournament fates. There are many teams with a chance to earn the win this weekend that ensures they will not have a losing record in a power-six conference -- and past precedent shows that's an important element in a team's NCAA résumé. Among the teams, and the games: Maryland (at North Carolina Sunday); Clemson (hosting Wake Forest Saturday); Kansas State (hosting Missouri Saturday); Michigan State (hosting Purdue Sunday); Tennessee (hosting Mississippi State Saturday); Kentucky (hosting Florida Saturday); Marquette (hosting Providence Sunday; West Virginia (at Rutgers Sunday); and Connecticut (at Cincinnati Sunday). The Wildcats, Huskies and 'Eers aren't really bubble teams -- but they still haven't cinched .500 in league play.
Andy Katz
I can remember when San Diego State played in the old San Diego Sports Arena with 1976 bicentennial banners and old Clippers banners still hanging from the rafters. That was in the early 1990s. The Aztecs weren't even on the radar in San Diego. The arena was dormant. It probably had its best moment when it was used for the cult-hit movie "Almost Famous." But the Aztecs now play in a packed, true college hoops venue in Viejas Arena and I can't wait to set up shop there Saturday. The atmosphere for hosting BYU and Jimmer Fredette should be positively crazed. This is also the last time the two teams will play in a regular-season matchup with BYU going to the WCC next season. Combine that with the Aztecs seeking revenge, The Jimmer Factor, The Show Factor, the Mountain West title, the jockeying to stay in position for a possible 1-seed … and well, you have a tremendous atmosphere on tap. If BYU can withstand the environment and pull out a victory, it could turn out to be the best road win for any team this season. Let's hope the game lives up to the hype. I'm sure the noise level will.
Dana O'Neil
In a weekend full of big-name big games, I'm actually more curious about an undercard game, Wichita State at Missouri State. At one point, both of these teams looked like at-large contenders, but no more. The Shockers own an RPI of 51 and dropped a critical BracketBusters game to VCU. The Bears, sitting at 50 in the RPI, had just as much trouble in their BracketBusters game, falling to Valparaiso on the road. Which means that the Missouri Valley Conference is, in all likelihood, a one-bid league and there's no guarantee either of these teams will get that bid. The winner, here, however positions itself a little better by claiming the Valley regular-season championship. Both are tied atop the standings right now at 14-3.
Joe Lunardi
The race for No. 1 seeds will come into clearer focus this weekend. Both Pittsburgh (at Louisville) and Duke (at Virginia Tech) face serious upset challenges, which is good news for Kansas and perhaps BYU. Come Monday, the Cougars could be the No. 1 team in the RPI with a season sweep of San Diego State on their résumé.
Mark Schlabach
On Saturday night, I look forward to seeing red-hot George Mason in person. Can GMU replicate its 2006 magic? The Patriots carry a 14-game winning streak -- the longest in the country -- into this weekend's regular-season finale at Georgia State. George Mason hasn't lost since a 69-65 defeat at Old Dominion on Jan. 9 and it has won seven times on the road during its current streak. Jim Larranaga signed most of this team on the heels of the Patriots' improbable run to Indianapolis in 2006. While duplicating that '06 magic might be nearly impossible, this team figures to be a tough early-round out in the NCAA tournament.
Brennan on Mizzou-Kansas State
Player to watch
Will Barton, Memphis

Perhaps no league is harder to predict right now than the confounding Conference USA, in which three teams are locked at the top (Memphis, UAB, Southern Miss) and three more (UTEP, Tulsa, SMU) are just a game behind. And no team is harder to understand than Memphis. The Tigers won four in a row only to be undone by … Rice? Josh Pastner has done as much punishing as he's done coaching this season, trying to make a young team understand that there are consequences to their actions and, at times, their lack of action.
The latest to receive the message: Barton. The team's leading scorer, who also averages 31 minutes per game, played just six minutes and didn't score in Memphis' most recent win against Houston. Pastner wasn't thrilled with the way Barton had practiced nor with how he played in that game, hence the limited time. Will the message be delivered? It needs to be. The Tigers need Barton on task and on the floor to win this messy thing, especially on Saturday when they play UTEP at the Don Haskins Center. The Miners are a game behind Memphis at 8-5 and coming off their own meltdown. They lost to East Carolina, earned five technical fouls and Tim Floyd had to be escorted by a policeman after being ejected from the game.
--
Dana O'Neil
Williams on Texas A&M-Baylor