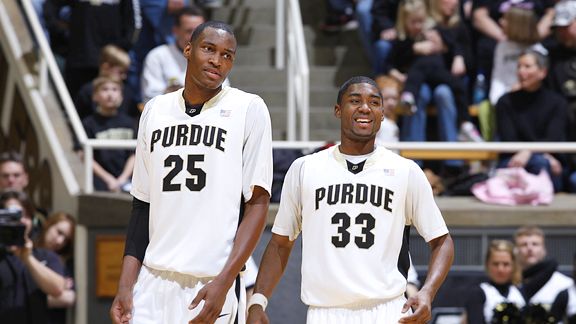 Joe Robbins/Getty ImagesPurdue will need more from the likes of JaJuan Johnson and E'Twaun Moore without Robbie Hummel.
No. 14 Michigan State at No. 3 Purdue
When and where: Sunday at 4 p.m. ET (CBS), Mackey Arena
Worst news: Robbie Hummel's season-ending injury. I was sick to my stomach when I saw Hummel go down against Minnesota on Wednesday night. When I saw him on crutches, I felt even worse. Hummel is a great college player and a great kid. He overcame a painful back injury last year and played through pain, spending his summer playing for USA Basketball and Bo Ryan at the World University Games. He was leading his team toward a Big Ten title and a promising NCAA tournament.
He works his tail off, plays the right way and keeps his mouth shut. I don't like seeing any kid injured, but along with the injuries to Texas A&M's Derrick Roland, Indiana's Maurice Creek, and Texas' Varez Ward and Dogus Balbay, this one was really tough. Purdue is losing almost 16 points per game, plus the versatility and heart of one of the nation's best and most valuable players. One thing I know, though, is that Matt Painter and the Boilermakers will not feel sorry for themselves. They will continue to play and play hard. However, my fear is that the Boilermakers will not have enough to compensate for Hummel's absence in the long run.
Purdue's best players: E'Twaun Moore and JaJuan Johnson. Moore is one of the most underrated stars in the country. He scores, hits big shots and does it all with a great demeanor. He leads the Boilermakers in assists and is second on the team in steals to the Big Ten's best defender, Chris Kramer. Despite all that, he's not the first guy you think about when Purdue is discussed. My guess is, he doesn't really care as long as his team wins.
[+] Enlarge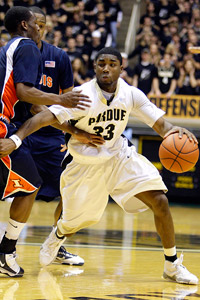 AP Photo/Michael ConroyE'Twaun Moore is often overlooked despite being one of Purdue's most capable and consistent performers.
Johnson is a marvel. He was not on the A team for his AAU program and was not considered to be among the blue-chip recruits. Yet he is like a queen on a chessboard and can move opposing big men all over the floor. He may not have a strong low base to bully defenders in the post, but he can out-run and out-quick them, leaving them in his dust running the floor.
Michigan State's best players: Kalin Lucas and Draymond Green. Lucas is a great college player and is tougher than he gets credit for. He plays hurt and plays hard all the time. While he has not been the perfect player this season, he has had a lot of responsibility on his shoulders and Michigan State goes as he goes. When there is a big shot to be taken, Lucas is the guy to take it and make it.
Green is among the most versatile players in the Big Ten and can handle, pass and score with any big man out there. As he becomes more assertive, he will be a great college player. Green needs to start taking over games more, because he is capable of doing it.
Purdue's underrated attribute: Offensive movement. Purdue is credited with being a great defensive team, and that is certainly fair. But few teams move the ball and themselves as well or as efficiently as Purdue's players. Matt Painter likes to joke that his motion offense looks like "commotion" sometimes, but he is being self-deprecating. Purdue is an outstanding passing team, and when the Boilermakers are making reads, moving the ball and cutting hard, it is beautiful to watch. Except from the vantage point of the opposing defense, which gets cut up.
Michigan State's underrated attribute: Offensive execution after a timeout. Michigan State is an outstanding offensive team and Tom Izzo gets his team great shots. The Spartans do not have low-post scoring, but if you need a shot, Izzo will get you a good one. After a timeout, Izzo is among the best in the game -- college or pro. Watch how often Michigan State scores or gets a great look after a timeout.
Purdue's unsung hero: Keaton Grant. Grant has come in and given Purdue some big moments on the defensive end. In the past month, Grant has stepped forward and hit some really big shots. Against Illinois and Minnesota, Grant was the difference.
Michigan State's unsung hero: Chris Allen. A fine shooter, Allen has hit 50 3s on the season and can be a difference-maker for the Spartans. He is an underrated passer, but his job is to come in and work for open shots and stretch the defense.
Purdue wins if … The Boilermakers get great performances from Moore and Johnson and increased production from Grant, Kelsey Barlow and Kramer. Everyone has to raise his level to compensate for the loss of Hummel.
Michigan State wins if … The Spartans get off to a better start and play a full 40 minutes. Michigan State did not play well in the first half against Ohio State, and if they don't come out and play at a high level from the opening tap, it will get beat by Purdue.
No. 8 Villanova at No. 4 Syracuse
When and where: Saturday at 9 p.m. ET (ESPN), Carrier Dome
Villanova's best players: Scottie Reynolds and Corey Fisher. Reynolds is having a spectacular season. When I asked Jim Boeheim which player has been the toughest challenge for his defense over the years, he replied without hesitation, "Scottie Reynolds." When I followed up asking about players all-time who had given him problems, he replied again, "Scottie Reynolds." The senior from Herndon, Va., has matured into one of the most efficient scoring guards in the country, averaging 19 points and shooting close to 50 percent from the floor, 40 percent from 3-point range, and more than 82 percent from the line. When there is a big shot to take, Reynolds is the one who steps forward to make the play.
Fisher is one of the most courageous drivers in the nation, and he is like a heat-seeking missile searching for body contact and fouls, yet he still is able to finish the play. There is not a more dynamic backcourt in the country.
Syracuse's best players: Wesley Johnson and Andy Rautins. Although his numbers were affected by the fall he took against Providence a couple of weeks ago, Johnson is one of the very best players in the country. He is an outstanding athlete, rebounder and shot blocker and he can do almost anything he wants on the offensive end, save put the ball on the deck and attack off the dribble. He does not require a high volume of shots to be productive.
[+] Enlarge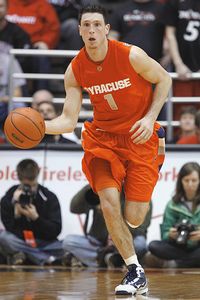 Frank Victores/US PresswireAndy Rautins does a little bit of everything for Syracuse.
Rautins is a rock. He is a great shooter and an underrated passer and ball handler and is one of the best defenders in the country, man or zone. Rautins is not only skilled but also smart. When others look, Rautins sees. Without him, Syracuse would be a middle of the pack team in the Big East.
Villanova's underrated attribute: Rebounding. The Wildcats are small, but they are really tough on the glass. They go after the ball, usually making first contact, and they have real grit to gang rebound because they lack size. Villanova will find seams and creases to get the ball on both ends. In a zone, they present a difficult challenge, and it will be hard to keep them off of the offensive glass.
Syracuse's underrated attribute: Transition. Because of the way the Orange are configured in the 2-3 matchup zone, Syracuse is set up to run. The Orange will run off of a make, a miss or a turnover, and they run hard. Outlets are well positioned, the Orange guards pass ahead, and the bigs run hard to the rim and establish early position.
Villanova's unsung hero: Antonio Pena. The junior big man plays a big role for Villanova and will have his hands full against Arinze Onuaku and Rick Jackson. He is skilled and very good in the low post, and his footwork has gotten better. For Villanova to win, Pena has to play well and has to stay in the game.
Syracuse's unsung hero: Jackson. The big lefty can rebound, block shots and score around the basket. He finishes well and is the Orange's best offensive rebounder and shot-blocker, while shooting over 61 percent from the floor.
Villanova wins if … The Wildcats can defend without fouling. Syracuse does not put opponents on the free-throw line, but Villanova does. In each of the Wildcats' losses, the free-throw line was a major factor. It was a major factor in Villanova's game at West Virginia, one that the Wildcats should have lost. Villanova must defend without putting Syracuse into the one-and-one early and letting the Orange get to the free-throw line often. Otherwise, Syracuse will win.
Syracuse wins if … The Orange can stop dribble penetration. Villanova is the best team in the nation off the bounce and dribble penetration can be very debilitating to a zone defense. The challenge for Syracuse is to stay in front and not allow its defense to be broken down. It is a simple analysis … stop dribble penetration and win, or allow it and increase the chance of losing significantly.
No. 12 New Mexico at No. 11 Brigham Young
When and where: Saturday at 4 p.m. ET (Versus), Marriott Center
BYU's best players: Jimmer Fredette and Jackson Emery. Fredette is the real thing and a future pro. He is strong and has a great crossover. (He prefers left to right but can go either direction.) He also has a great step-back move to create space and is very good off ball screens. Fredette is strong with the ball and can finish at the rim with contact, and if you foul him, he is automatic from the free-throw line. Fredette averages almost 22 points (tops in the Mountain West) and five assists (second in the league) and has canned 66 3s (second in the league), which is almost half the number he's attempted.
Emery is the fastest player in the Mountain West and has really good quickness. He is a strong right driver and loves to pull up going to his left. He plays hard and is a very good guard rebounder and defender that leads the Mountain West in steals. Emery is in the top 5 in the league in steals, 3-point percentage and 3s made.
New Mexico's best players: Darington Hobson and Roman Martinez. Hobson, a lefty, is one of the most versatile players in the MWC. He is 6-7 and long-armed and knows how to play. He's not a great shooter, but he can score (third in the league in scoring at 15.5 points per game). He also leads his team in assists with 4.6 per game, which is third in the league, just behind Fredette. Hobson is the best defensive rebounder in the MWC.
[+] Enlarge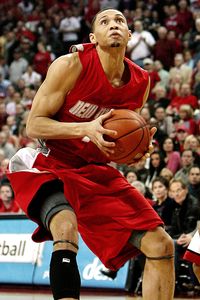 Marc Sanchez/Icon SMIDarington Hobson will try to lead New Mexico to a sweep of BYU on Saturday.
Martinez is an outstanding shooter and guard rebounder who leads the MWC in 3-point field goals made and is second to Fredette in 3-point shooting percentage. He's also one of the top rebounders in the league -- an impressive feat for a wing guard -- averaging 6.3 rebounds per game.
BYU's underrated attribute: BYU leads the MWC in scoring, field goal percentage, 3-point percentage, free-throw percentage, assists and steals. But BYU's transition game is one of its most underappreciated attributes. The Cougars push the ball after a make or a miss and they score very efficiently in the open court. If you do not get back with a purpose, communicate, protect the paint and build out to shooters, BYU will wear you out in transition.
New Mexico's underrated attribute: New Mexico is a good offensive rebounding team, especially Hobson, Martinez and A.J. Hardeman. Those three Lobos average more than seven offensive rebounds per game, and if New Mexico can get second shots against BYU's defense, the Lobos will have a chance to win.
BYU's unsung hero: Jonathan Tavernari. The Brazilian senior is an outstanding shooter who is now coming off the bench to provide the Cougars scoring and rebounding punch. Tavernari is a talented shooter who hunts his shot and loves the corners. He can post and hit a fadeaway jumpshot and is a good passer who can play pick and pop. Tavernari is the type of player who can hit for 20 points or more, and he also works for steals and deflections.
New Mexico's unsung hero: Dairese Gary. Gary is an outstanding point guard who is strong and powerful. He was the first player Steve Alford signed at New Mexico after Alford had recruited the Indiana product when he was head coach of Iowa. Gary does the best job of any point guard in the league of getting to the free-throw line. He leads the Lobos in free throws attempted and made, and free throws account for almost a quarter of his points.
BYU wins if … The Cougars can rebound with New Mexico and limit the Lobos to one shot. If BYU allows extra possessions to New Mexico on the glass, then the Cougars will have a tough time.
New Mexico wins if … The Lobos can get to the free-throw line. BYU is the better free throw shooting team, but New Mexico gets to the line more often. BYU plays both man-to-man and 2-3 zone, but New Mexico has to attack off the bounce and get to the free throw line to win.
Ten to track: Why these games matter
Friday
Princeton at Cornell (7 p.m. ET): If Cornell wins, the Ivy League race is over, and the Big Red become the first team to get penciled into your NCAA tournament bracket. Cornell had a minor scare when it lost at Penn, but subsequent road wins over Princeton and Harvard -- coupled with Princeton's stunning loss to Brown -- have given the Big Red a clear path to the title.
Saturday
Kentucky at Tennessee (CBS, noon ET): I spoke with Tennessee coach Bruce Pearl Thursday night, and he's well aware that the Vols have a shot to knock off a pair of top-2 teams this season. The Wildcats looked quite good against South Carolina on Thursday night. If the Vols are going to win in Knoxville, they'll need a Herculean effort from Wayne Chism inside, and someone like J.P. Prince or Scotty Hopson must have a stellar game.
Notre Dame at Georgetown (CBS, noon ET): The Irish kept their fleeting NCAA hopes alive with a win over Pitt on Wednesday night. Luke Harangody is still out with a knee injury, and it's unclear whether he'll play against the Hoyas. If he doesn't, it's hard to see the Irish winning in Washington, right? Well, that was also the thought when the Irish went to Louisville and pushed the Cardinals to two overtimes before falling.
Cincinnati at West Virginia (ESPN360, 2 p.m. ET): The Bearcats are on the fringe of the bubble and desperately need a marquee win. The Mountaineers are reeling a bit after losing at Pitt in triple overtime and then at Connecticut. It's hard to imagine the Mountaineers losing yet again, especially at home.
Texas at Texas A&M (ESPN, 2 p.m. ET): The Aggies nearly clipped Texas in Austin on Jan. 16, back when the Longhorns were actually playing well. The Aggies also missed out on a chance to knock off Kansas at home. I'm expecting the Aggies to have just as much of a raucous atmosphere at Reed Arena. The big difference is Dexter Pittman. The man in the middle is starting to play large. If that continues, the Aggies may not have an answer.
Maryland at Virginia Tech (ESPN360, 4 p.m. ET): Let's see how much the Hokies care. Virginia Tech played awful in spurts in a 20-point loss at Boston College on Wednesday. If you want to believe in Virginia Tech, let's see the Hokies match one of the hottest teams in the country. Maryland came back to beat Georgia Tech at home and then took care of Clemson in a similar fashion after being down. This game, though, will tell us a lot more about the Hokies. They need to win this game.
Kansas at Oklahoma State (CBS, 4 p.m. ET): Oklahoma State's James Anderson hit a bit of a wall at Texas on Wednesday, but his play during a three-game winning streak before that game might have put the Cowboys in the tournament. The issue here is whether can Kansas run the table in the Big 12. There are only a few chances left for the Jayhawks to lose. After Oklahoma State, the Jayhawks host Kansas State and go to Missouri.
Illinois State at Northern Iowa (ESPN360, 8:05 p.m. ET): Northern Iowa fell flat against Evansville in a 55-54 loss on Tuesday. The stunning loss put the Panthers' at-large hopes somewhat in danger, so can they build some momentum heading into the Missouri Valley Conference tournament? Illinois State has been on fire lately. This is also the return of UNI's Jordan Eglseder, who returns after serving a three-game suspension for a DUI.
Missouri at Kansas State (ESPNU, 8 p.m. ET): The last time these two teams played, Frank Martin was furious with the way the Wildcats finished the game in a classic frenetic affair with Missouri that the Tigers won, 74-68. Kansas State has been on a roll since that game, with only two losses since -- against Oklahoma State and Kansas. The Wildcats should still be in consideration for a No. 1 seed, or a No. 2 seed at the very least.
Sunday
Richmond at Xavier (ESPN2, 1 p.m. ET): Temple may have an argument, but you can make a convincing case that Xavier and Richmond are the two best teams in the Atlantic 10. One thing is clear: The winner will likely have a shot to win the A-10 title, while the loser will be pushed back.
Viewer's guide
All times ET
Friday
7 p.m.: Princeton at Cornell
9 p.m.: Butler at Valparaiso (ESPNU)
Saturday
Noon: Kentucky at Tennessee (CBS)
Noon: Notre Dame at Georgetown (CBS)
2 p.m.: Texas at Texas A&M (ESPN)
2 p.m.: Cincinnati at West Virginia (ESPN360)
3 p.m.: Arizona State at Cal (FSN)
4 p.m.: Kansas at Oklahoma State (CBS)
4 p.m.: New Mexico at BYU (Versus)
4 p.m.: Minnesota at Illinois (BTN)
4 p.m.: Maryland at Virginia Tech (ESPN360)
4 p.m.: VCU at Old Dominion (Comcast)
8 p.m.: Missouri at Kansas State (ESPNU)
9 p.m.: Villanova at Syracuse (ESPN)
Sunday
Noon: Marquette at Seton Hall (ESPN360)
1 p.m.: Richmond at Xavier (ESPN2)
2 p.m.: Louisville at UConn (CBS)
4 p.m.: Michigan State at Purdue (CBS)
5:30 p.m.: Clemson at Florida State (FSN)
I can't wait to see …
Dana O'Neil
The view from section Binghamton. With an assist from Santa and his reindeer to get me through the snow, I'll be at the Carrier Dome on Saturday night for the much-anticipated showdown between Villanova and Syracuse. I'm looking forward to a lot out of this game: Can Scottie Reynolds, Corey Fisher and Maalik Wayns negate the Orange zone with dribble penetration? Can Arinze Onuaku and Rick Jackson negate the Wildcats' backcourt advantage? How will Wes Johnson, still bothered by a hand injury, play? How many ways can a person wear orange? And mostly, what can the people sitting in the seats never before sold for basketball actually see? Will they be able to tell Scoop Jardine from Otto the Orange? Jim Boeheim from Jay Wright?
Pat Forde
What is Purdue's disaster contingency plan? It better be good, with Michigan State coming to town after the devastating news that Robbie Hummel is done for the year with a torn ACL. Bad as it looks on paper, though, I'll give the Boilermakers a chance in this key Big Ten game. Teams have been known to rally in the short term after major personnel losses (see: Tennessee beating Kansas after mass suspensions), and the Spartans frankly haven't played up to expectations at times this season. But beyond winning or losing Sunday, the nation will be watching to see whether this blow takes the fight out of Purdue or puts extra fight in.
Andy Katz
There are two games I have had circled for weeks: BYU hosting New Mexico in a Mountain West showdown and Villanova at Syracuse for the top spot in the Big East. Both games will be played in front of crazed crowds. The Carrier Dome will be bursting at the seams while the Marriott Center should have a bustling atmosphere. What you'll see in both games are four teams that have a legitimate shot to make a deep run in the tourney. Syracuse and Villanova could be in Indianapolis. New Mexico and BYU could be in the Sweet 16. One game is at 4 p.m. ET (UNM-BYU), and one game is at 9 p.m. ET (Villanova-Syracuse), so you have no excuse not to watch both.
Mark Schlabach
All eyes should be on the Big East this weekend, where at least five games will have implications for No. 1 seeds and at-large bids in the NCAA tournament. Syracuse has probably locked up a No. 1 seed, but Villanova can help its chances of getting one by upsetting the Orange at the Carrier Dome on Saturday. Four games will have serious bubble implications. Notre Dame could really use a victory over Georgetown, and Cincinnati desperately needs a win over West Virginia. Marquette and Seton Hall are fighting for their NCAA at-large lives, and Connecticut and Louisville are both trying to move to the right side of the bubble.
Jay Williams
What a roller-coaster year it has been for Texas. The Longhorns started off in great form, winning their first 17 games, including wins over Pittsburgh, North Carolina, Michigan State and Texas A&M. Then the pressure of being the top team in America started to weigh heavily upon their shoulders. After an overtime victory over Texas A&M in Austin, we had an opportunity to do an interview with Damion James. When asked whether he and his team felt the pressure of being the No. 1 team in the county, James replied, "every day." At that moment I knew the journey was going to be difficult for the Longhorns. The mentality of being the No. 1 team in the country should be never to feel as if it is being hunted. The key is always to be the hunter and stay even hungrier than before. The Longhorns went on to lose six of their next nine games. But we all know that this game is a marathon, not a sprint. They have bounced back to win their last two games and look to make it three in a row against the Aggies on the road.
Bubble Trouble
College basketball is hitting the second half of the conference races, and the battle for at-large bids to the NCAA tournament is heating up.
Here are five games to watch this weekend that will affect the NCAA bubble picture:
Saturday
Arizona State at California (FSN, 3 p.m. ET): Both teams won Thursday night, setting up a showdown in Berkeley, Calif., for first place in the Pac-10 standings. The Bears have a much better computer profile (No. 24 RPI and No. 3 strength of schedule), so the Sun Devils might need this game more to help their at-large chances. Arizona State has a middling computer profile (No. 56 RPI and No. 75 strength of schedule) but has won six of its last seven games to at least get in the bubble discussion. Cal beat the Sun Devils 78-70 in Tempe, Ariz., on Jan. 28.
Minnesota at Illinois (Big Ten Network, 4 p.m. ET): The Illini are 10-5 in Big Ten play, but their computer profile (No. 63 RPI) suggests they still have some work to do. The Gophers squandered a great opportunity against Purdue on Wednesday night, losing 59-58 at home. Minnesota is 7-8 in Big Ten play and might have to win its last three regular-season games to have a chance on Selection Sunday.
Sunday
Marquette at Seton Hall (ESPN360, noon ET): The Golden Eagles have won seven of their last eight games to climb into a tie for fifth place with a 9-6 mark in the Big East standings. The Pirates are tied for eighth place with a 7-8 record in league play. Both teams have sub-50 RPI ratings, so neither squad can really afford a loss this late in the season. Marquette plays home games against fellow Big East bubble teams Louisville and Notre Dame to close the regular season; Seton Hall plays at Rutgers and at Providence.
Louisville at Connecticut (2 p.m. ET): Both teams will try to continue their late-season pushes toward an at-large bid. The Huskies have won three of four games since coach Jim Calhoun returned from a medical leave of absence, including upsets of Villanova (road) and West Virginia (home). The Cardinals also have won three of four games, including a 66-60 upset at Big East leader Syracuse on Feb. 14. The Cardinals would really like to improve their 3-6 record in true road games.
Clemson at Florida State (FSN, 5:30 p.m. ET): Both teams seem to be in decent shape, but the winner of Saturday's game in Tallahassee, Fla., might have the upper hand. FSU is tied for third in the ACC standings with an 8-5 record in league play. It has quality wins over Georgia Tech (home and road) and Virginia Tech (home). The Tigers are in sixth place in the ACC standings at 7-6. Clemson has big wins over Butler (neutral court) and Maryland (home), along with a 77-67 win over the Seminoles at home Feb. 10. A sweep of the Noles would really help their at-large chances.
-- Mark Schlabach
Ohio State beats Michigan
Player to watch
Keaton Grant, Purdue
Without Robbie Hummel, Grant -- the Boilers' top threat off the bench -- has to do more, especially against Michigan State on Sunday afternoon. He's scored in double digits in each of Purdue's last three games but even the 12.6 he's averaged there won't be enough. Grant has to be an active player, logging more minutes, scoring more points and generally just doing more if Purdue is going to have a chance against the Spartans and going forward. The guard has only reached double figures six times this season, so it's asking a lot.
-- Dana O'Neil
Doug Gottlieb: Who's in, who's out?