No. 13 Tennessee at No. 3 Pittsburgh
When and where: Saturday (ESPN/ESPN3, 3:15 p.m. ET), CONSOL Energy Center
What Pitt does well: The Panthers are outstanding passers (lead the nation in assists with 20 per game) and run good offensive sets. Pittsburgh runs a set-play offense with box sets, staggers, screen-for-the-screener action and a lot of on-ball screens and hand-offs. Many of Jamie Dixon's plays are to get Ashton Gibbs a shot or to get Brad Wanamaker in a position to make a play. On the defensive end, Pitt plays physical man-to-man defense, with switches and post-doubles, and likes to stand teams up on their cuts and make it difficult to run good offense. The Panthers are disciplined and stay at home on the help side. Watch how Pittsburgh communicates and rotates and makes teams drive through bodies. And this team can really rebound the ball on both ends.
[+] Enlarge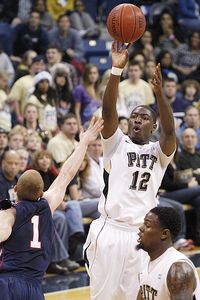 AP Photo/Keith SrakocicPittsburgh will look for its leading-scorer Ashton Gibbs early and often against Tennessee.
What Tennessee does well: The Volunteers run an up-tempo offense and try to get the ball down court quickly to put pressure on transition defenses. Once down the floor, Tennessee runs a wide flex offense, which is a continuity offense that screens along the baseline followed by a down screen. Bruce Pearl has several different entries into the wide flex, and he uses a lot of back screens and on-ball screens. The Vols are good offensive rebounders and play their tails off. On the defensive end, Tennessee loves to press, create chaos and force offenses into quick shots. Pearl will press full-court and trap and get teams playing faster than they practice. Tennessee is primarily a man-to-man team that will switch screens but can also play some 1-2-2 and 2-3 zone.
Key players for Pittsburgh: The two guys defenses have to guard are Gibbs and Wanamaker. Gibbs, who averages 17 points per game and leads the Big East in 3-pointers made, is a great shooter with an unconventional stroke. Defenses have to find him and force him to bounce it. He has pull-up ability and never seems to tire. Wanamaker is the Panthers' best playmaker and can really pass it. He has point-guard skills and will scratch in every category on a stat sheet. Wanamaker averages 5.7 assists per game and has a 2.5-to-1 assist-to-turnover ratio.
Key players for Tennessee: Scotty Hopson and Tobias Harris can put up big numbers for the Vols. Hopson is a long and athletic wing who can slash and shoot it. He has improved his game and his physical and mental toughness. He will have to be at his toughest against Pittsburgh. Harris is a future pro who can rebound and run and score around the basket. He has the complete package and will be the Vols' best player before long.
Key stat: Offensive Rebounding. Pittsburgh grabs a ton of offensive rebounds and gets almost half of its misses, which usually leads to high-percentage shots. The Panthers lead the nation in rebound margin, outrebounding their opponents by more 15 per game. To win, Tennessee has to compete on the backboards and win the battle of the boards.
Who wins: Pittsburgh is playing in its own backyard and will win a close one. Rebounding and toughness will be the difference.
No. 19 UNLV at Louisville
When and where: Saturday (ESPNU, noon ET), KFC Yum! Center
What to watch for: Louisville lost a ton of scoring and offensive firepower from last season, yet this Cardinals team could wind up being better. For the first time since Rick Pitino took the U of L to the Final Four in 2005, Louisville is averaging over 80 points per game (83.7 ppg), which leads the Big East. In addition, Louisville is holding opponents to just 58.4 ppg, which is third in the Big East. The Cards are forcing turnovers, getting deflections, blocking shots and causing havoc with its pressure. Louisville is not a great shooting team but wants to force an up-and-down game with its pressure. UNLV is an athletic team that defends well. Lon Kruger will change defenses, and the Rebels will look to switch most screens. On the offensive end, UNLV will run some screens for the screener continuity and some multiple-option set plays. UNLV plays a lot of people and has interchangeable parts. The Rebels are second in the nation in field goal percentage (to Kansas), shooting over 53 percent from the field.
Key players for UNLV: Chace Stanback is a transfer from UCLA and is having a terrific season. He has toughened up and is scoring almost 15 ppg (even after a bagel against Nevada). Stanback is efficient, shooting over 59 percent from the floor, over 41 percent from 3-point range and over 83 percent from the line. He has a good middle game and has extended his range. He is more of a complete player now. To win, UNLV needs a good performance from Stanback against the Louisville pressure.
[+] Enlarge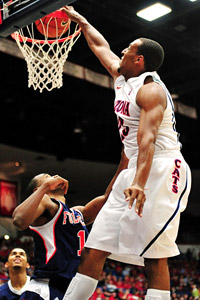 Chris Morrison/US PresswireBYU will have to contend with Arizona's Derrick Williams on Saturday.
Key players for Louisville: Mike Marra on the offensive end and Terrence Jennings on the defensive end. Marra has been a good leader and is among the top 3-point shooters in the Big East. Jennings has been pushed by the Louisville coaching staff because, as good as he has been, he can be much better. He is a junior Ben Wallace and can run the floor, block shots and rebound. If he is active, runs the floor, controls the paint and plays with reckless abandon, he can be the most important player on the defensive end.
Key stat: Turnovers. Ball security will be the key to winning. If UNLV can handle the Louisville pressure and break it to score, it can get easy opportunities. But the Cards are forcing 19 turnovers per game and have a plus-6 turnover advantage. UNLV can press as well, but the Rebels have to be strong with the ball and finish plays to win. Non-handlers cannot make mistakes.
Who wins: Louisville is at home in the brand new KFC Yum! Center, where it took apart Butler in the season opener. The Cards have been having fun, playing hard and sharing the ball. They have no egos and have been getting more deflections than most Pitino-coached teams. The question is will UNLV make Louisville play most of the game against its half-court defense? Both teams have depth, and both teams are well-coached and prepared. I like Louisville to win at home.
Ten more to track
Friday
Utah at Michigan (6:30 p.m. ET): The Wolverines are suddenly playing competitive basketball and are a threat to be a tough out in the Big Ten. The Utes are improved, but don't look for them to pull off this road win.
Saturday
Wisconsin at Marquette (ESPN2/ESPN3, 2:30 p.m. ET): One of the best rivalries that gets little publicity outside of the I-95 corridor. The Golden Eagles play as hard as any team in the country. The Badgers have the best player on the court in Jon Leuer. Expect a tight affair at the Bradley Center.
No. 22 Washington at Texas A&M (ESPN2/ESPN3, 4:30 p.m. ET): The Aggies are playing better since losing on the last possession to Boston College at the Old Spice Classic. But they haven't faced anyone as good as Washington. This is still a rough test for Huskies, though, as they go for a rare, true-road win in nonconference play. Remember, their trip to Texas Tech didn't exactly go as planned last year.
Indiana at No. 16 Kentucky (ESPN/ESPN3, 5:15 p.m. ET): Kentucky and Terrence Jones were really clicking in the second half against Notre Dame. The Hoosiers aren't ready for this type of road game, yet.
Arizona at No. 21 BYU (6 p.m. ET): The Cougars are hosting the Wildcats in Salt Lake City. BYU is coming off the good vibes of the Jimmer Fredette homecoming. But Derrick Williams will be the best player the Cougars have seen so far this season. Don't be surprised if Zona wins this one.
VCU at Richmond (7 p.m. ET): The Spiders went out West and beat Arizona State this past weekend. They went to the Midwest and took out Purdue the weekend before that. But they need to take care of their own backyard and fight off a scrappy VCU squad.
Dayton at Old Dominion (7 p.m. ET): Disappointing Dayton has been offensively challenged this season -- and that's putting it nicely. ODU, save a conference road loss at Delaware, has been excellent. This should be a win for the Monarchs.
Missouri State at Oklahoma State (ESPN3, 8 p.m. ET): The Cowboys continue to be one of the more undervalued Big 12 programs and consistently fly under the radar. Missouri State brought back a lot of talent but hasn't been able to separate itself in early season results.
Gonzaga at No. 23 Notre Dame (ESPN2/ESPN3, 8:30 p.m. ET): On Wednesday, the Irish looked like a top-10 team for a spell against Kentucky but couldn't defend well enough to win the game. But Gonzaga is simply not ready for primetime at this moment, and going to South Bend is not a great recipe after getting whacked by Washington State this week.
Sunday
Boston College at Maryland (4 p.m. ET): The Eagles don't have an inside player to match Jordan Williams, but the Terps may have a hard time keeping Reggie Jackson in front of them. This game will say more about BC than Maryland. If the Eagles pull off the win in College Park, they'll have to be taken seriously in the ACC, despite low preseason expectations.
Viewer's guide
All times ET
Friday
6:30 p.m.: Utah at Michigan (Big Ten Network)
Saturday
Noon: UNLV at Louisville (ESPNU)
Noon: Saint Louis at Duke (CBS)
2:30 p.m.: Wisconsin at Marquette (ESPN2)
3:15 p.m.: Tennessee vs. Pittsburgh (ESPN)
4:30 p.m.: Washington at Texas A&M (ESPN2)
5:15 p.m.: Indiana at Kentucky (ESPN)
6 p.m.: Arizona vs. BYU (BYUtv)
6:30 p.m.: Colorado State at Kansas (ESPN2)
7 p.m.: VCU at Richmond
8 p.m.: Missouri State at Oklahoma State
8:30 p.m.: Gonzaga at Notre Dame (ESPN2)
Sunday
2 p.m.: Villanova at La Salle (ESPNU)
4 p.m.: Boston College at Maryland (FSN)
6:15 p.m.: Clemson at Florida State (FSN)

I can't wait to see …
Eamonn Brennan
There are a bevy of great games this weekend. It's no secret the Tennessee-Pittsburgh matchup is going to be a doozy, but that's not the game I'm most looking forward to. No, that honor goes to Arizona vesus BYU in Salt Lake City. It's ostensibly a neutral-court matchup, but there's no question which team will have homecourt advantage. That presents a major challenge for Arizona. It's also a major opportunity. The Wildcats, led by the nation's most efficient player, forward Derrick Williams, have toiled in obscurity for much of their solid start, thanks an easy nonconference schedule. Zona has two real chances to make national waves in its pre-league slate. The first came on Nov. 27, when Sean Miller's team lost a close game to Kansas in Las Vegas. The second is Saturday in Salt Lake City. If we're to believe the tempo-free numbers, Arizona has been underrated all year. Now, against a quality, experienced team in a hostile environment, it's time for the Wildcats to prove it.
Doug Gottlieb
My under-the-radar game is Fairfield at Siena. Gone from the Saints is Fran McCaffery and so too are four 1,000-point scorers that have graduated the past two years and won three straight MAAC championships. But double-double machine Ryan Rossiter has picked up the slack and will try to defend the Saints' homecourt versus league favorite Fairfield. Last time the Stags played at the Times Union Center, they led by as many as 14 points before losing the MAAC title game in overtime. Siena comes in fresh off a loss to local rival Albany, and this is clearly a rebuilding year. But the Stags must get over the hump by winning in Albany before we can take them seriously.

Andy Katz
The biggest storyline right now is Kyrie Irving's injured toe. Without their star freshmen, the Blue Devils simply aren't as offensively effective from the perimeter. Kyle Singler is still one of the toughest matchups in the country, but who on Duke will be the player who consistently gets in the lane and creates for others? Nolan Smith will have to do more of that, and he's probably the only candidate, with Andre Dawkins and Seth Curry much more shooting guards than creators. Irving's on-the-ball defense was a huge plus for the Blue Devils, who host Saint Louis on Saturday. The Blue Devils should win handily, but how they win and how they look will be intriguing to say the least.

Diamond Leung
I'm most looking forward to watching Arizona play BYU in Salt Lake City, as it'll be interesting to see how the Wildcats try to stop Jimmer Fredette. The Cougars' star guard hung 49 points at Arizona last year, setting a building record and torching the young Wildcats so badly that Miller had to be wondering if there was going to be more days like that one in his first year. But Arizona quickly grew up from that game and is now an emerging team that has only lost to Kansas this season and could be on the verge of a national ranking. For BYU, it's another chance to pick up a quality win coming off an emotional night on Wednesday when Fredette scored 26 points in front of a hometown crowd in Glens Falls, N.Y. Now he'll have to face a team with some extra incentive to stop him.

Joe Lunardi
I'll be watching Gonzaga's visit to Notre Dame on Saturday night with great interest. The Zags barely snuck into our Friday bracket as a "First Four" participant. This is a long way from the lofty preseason aspirations in Spokane and the predictions among those of us who thought the Bulldogs could play all the way to April. Instead the Zags have come up mostly small in their marquee nonconference matchups and were pummeled at Washington State 81-59 in their last outing. Like Gonzaga, the Irish don't smother teams with great defense, so the flow of this game figures to allow the Bulldogs to be at their best. I like the Zags to bounce back in a relatively-high-scoring affair, but expect that we'll be referencing this contest one way or the other come Selection Sunday.

Dana O'Neil
I'm curious to see Tennessee in person. I'm not to proud to admit that I didn't think the Volunteers, with all the negative attention and questions swirling around Bruce Pearl and his program, would be very together this season. I'm also not to proud to admit I was wrong. UT is 6-0, with wins over a good VCU and Villanova, and in the single most ironic twist of the season the coach who won't be around for eight games actually leads the SEC standings. Go figure. On Saturday, I'll be in Pittsburgh's new hockey arena, the CONSOL Energy Center, for Tennessee's toughest challenge of the early season. Pitt is 10-0, ranked third in the country and living up to all of its preseason billing. I'm already a swayed convert to the talents and focus of Tobias Harris and Co. A win against Pittsburgh in the city would make me a full-on believer.
Brennan on Wisconsin-Marquette
Player to watch
Chace Stanback, UNLV

The Runnin' Rebels are one of three undefeated teams in what promises to be an entertaining Mountain West Conference this season and a big reason is Stanback, the recent 76 Classic MVP. While Tre'Von Willis continues to get his legs underneath him, after sitting out three games because of suspension, the one-time UCLA Bruins player has taken charge.
The junior is averaging 14.6 points per game, and outside the Nevada game, when he was saddled with early foul trouble, he has scored in double figures every game. On Saturday, UNLV visits fellow unbeaten Louisville. Rick Pitino has gone back to his roots, pushing the tempo, and the Cardinals have responded with a 7-0 start. Along with scoring, Stanback is a defensive star, and the Rebels will need all his effort to slow down Louisville in the new homecourt palace.
-- Dana O'Neil