No. 6 Kansas State vs. No. 24 Florida
When and where: Saturday (FSN, 3:30 p.m. ET), BankAtlantic Center (Sunrise, Fla.)
The one, big key for UF: No wild swings. The Gators have one of the wildest swings between good and bad performances of any team I have seen this year. In wins, they are giving up 55 points per game. In their loss to Ohio State, the Gators gave up 93 points. A similar kind of swing happened last season in Florida losses. That is not just the Gators' defense; it is also due to the Gators' offense. Bad shots, quick shots and turnovers lead to disadvantage situations for the UF defense. Florida does not shoot it well enough to be loose with shot selection or the ball. If they are strong with it, the Gators can play with Kansas State.
The one, big key for KSU: Efficiency on offense. It is amazing the Wildcats are ranked so high when they are so low in efficiency ratings. K-State has the lowest-rated offense of teams in the top 10 of the coaches' poll. Kansas State has got to be better with the ball, take better shots and hit its free throws. The margin of error is not big enough for the Wildcats to be able to get away with that as the level of competition increases.
Who has to play well for UF: There is no question the Gators' guards have to play well and handle the pressure KSU will lay on them, attack that pressure and break it to score. The Wildcats' defense is physical, disruptive and takes you out of your offensive sets and forces you to make individual plays. Once the guards handle the pressure, big guys like Vernon Macklin and Alex Tyus have to finish plays. Macklin has played his best basketball over the past three games, averaging 17 points, almost seven rebounds (almost half of those offensive) and a 75 percent mark from the field. Macklin is a great kid and has really worked hard and improved his game. The only issue he has is free throw shooting -- he is 6-of-18 from the line on the season. That's too few attempts and too few makes.
[+] Enlarge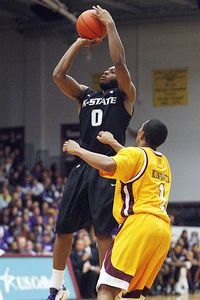 Jerry Lai/US PresswireJacob Pullen is looking to snap out of an early-season shooting slump.
Who has to play well for KSU: Jacob Pullen is the easy answer. And it is the right answer. Of the players that play 20 minutes or more, Pullen is taking one of every three Wildcats shots, and he has taken the most free throws. He is averaging 16 ppg but is shooting just 40 percent from the field and 33 percent from 3-point range. Pullen was 1-of-12 against Duke and 2-of-11 against Washington State. Keep him off the line and make him take tough ones, and you have a chance.
Craziest stat: Kansas State has totaled more turnovers than assists. But so what? The thing you wonder is how K-State can be 9-1 and a title contender while shooting only 54 percent from the free throw line as a team (second-to-last in all of Division I). There is no way the Wildcats can give away points at that rate and win the Big 12 or the national title. The most efficient place from which to score on a basketball court is the free throw line -- and that is where Kansas State is the most inefficient. Crazy.
Watching Florida: The UF press is designed to force quick shots out of transition, and to force Kansas State to make individual plays out of the framework of Frank Martin's offense. Billy Donovan wants to make KSU take long 2s and take away layups in transition and open 3-point shots. Against Kansas State, Florida will not expect too many traps. But the Gators need to take the ball out of the hands of Pullen, Will Spradling and Rodney McGruder and make others handle the ball instead. Because the Cats turn the ball over more than they assist, expect the Gators' press to be an important factor.
Watching Kansas State: Pay attention to how K-State guards people. First, these guys do not want you to play at your preferred pace -- they want you to play at their speed. The Wildcats do not want you be able to shoot the ball from the catch spot. If the Gators shoot the ball from the spot at which they catch it, then Florida will win. Second, the Wildcats want to deny passes when they are defending one pass away, and will play "on the line and up the line." The defenders will stay between their men and the ball on a line in between the two. See if KSU does it for 40 minutes.
Who wins: Florida is a good team that will get better throughout the season, but Kansas State is physically tougher. In this one, I think the tougher team will squeak out a win, and that is Pullen and the Wildcats.
No. 25 Texas vs. North Carolina
When and where: Saturday (CBS, 4 p.m. ET), Greensboro Coliseum (Greensboro, N.C.)
Good news for UNC: The Tar Heels are trending down in turnovers and trending up in offensive efficiency. Although this is not a powerful offensive team like Roy Williams is used to, this team is getting better. North Carolina has good talent, especially inside, and the Heels are getting the ball inside more often and capitalizing on it. Tyler Zeller, finally free of nagging and freak injuries, is developing into a star performer, averaging 16 ppg and 7.7 rpg. John Henson is leading the team in rebounding (9.9) and blocked shots (2.7) and has done a nice job of doing the simple things well. And freshman Harrison Barnes is coming along. We all expect young players to live up to our ridiculous hype and Barnes is a prime example that truly outstanding prospects and players mature at their own rates, not ours. Barnes will be a great player. He is just slower out of the gate than we wanted him to be. Carolina is second in the ACC in scoring (79 ppg) and does a good job on the offensive glass and getting to the free throw line. The Heels will be able to score enough points against Texas to win.
Good news for Texas: The Longhorns guard people. They always have, and apparently, they always will. Through 10 games this season, Texas has held its opponents to 61 points per game and a measly 35 percent from the field, including 29 percent from 3-point territory. Texas has a top-10 defense that makes it tough on teams to run their offense and get clean shots.
Bad news for UNC: The Heels are not a great defensive team and are very inconsistent throughout games. In its last outing, North Carolina gave up 91 points on 51 percent shooting to Long Beach State. Will Carolina stop Texas in transition and in the half-court? UNC defended well against Kentucky, holding the Cradle Cats to 38 percent shooting and outrebounding UK by six. North Carolina did not defend Texas badly last season. The Heels just didn't finish defensive possessions by grabbing rebounds, giving UT high-percentage second chances. Take away transition and rebounds, and Carolina will have a different result.
[+] Enlarge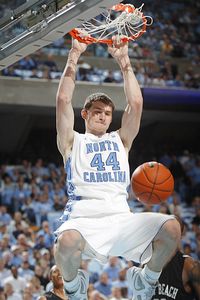 Bob Donnan/US PresswireFinally healthy, Tyler Zeller is emerging as a go-to player for North Carolina.
Bad news for Texas: The Longhorns do not score efficiently and are subject to long droughts. Texas has weapons but is not a smooth-operating offensive team. When these players are functioning well offensively, you wonder how they ever lose. When Texas is struggling offensively, you wonder how they ever scored at all.
Tar Heel to watch: Zeller. Last season, Dexter Pittman took the Tar Heels apart in Arlington, scoring 23 points and grabbing 15 rebounds (12 on the offensive end). Damion James scored 25 points, both inside and outside, and North Carolina was bullied on the glass. This year, it should be Zeller's game. Zeller does a really nice job of locking a defender down in the post, and North Carolina is looking inside and delivering the ball out of the secondary break and in half-court sets.
Longhorn to watch: Jordan Hamilton. The smooth wing scorer has deep range and has great scoring instincts. He is much more efficient this season and has taken better shots. He is averaging 18.9 points and 6.9 rebounds and is shooting 41 percent from 3 and 76 percent from the line. All are great improvements from last season.
Wild cards: Final exams, Barnes and Cory Joseph. Nobody knows how players will react to finals, the lack of routine, sleep and practice time. Barnes has greatness in him and has played very well in spots. He needs to play well against Texas for North Carolina to win. Joseph is the Longhorns' second-most talented perimeter player behind Hamilton, and he has been playing well of late. Joseph has averaged 15 points in his last five games and shot 16-of-30 from 3-point range.
Who wins: North Carolina, in a game decided on the glass.
Ten more to track
Saturday
USC at No. 3 Kansas (ESPN/ESPN3, noon ET): Even with Jio Fontan, no one should expect the Trojans to win this game, but if they can ugly it up, then maybe they can keep it close with the Jayhawks like UCLA did two weeks ago. Regardless of the outcome, how USC plays in this environment (and with Josh Selby in the fold) should tell us a lot more about what this team will become in the Pac-10. Going to Tennessee for its next game may be one of the toughest two-game swings any team has in the country.
Oakland at Michigan (ESPN3, noon ET): The Golden Grizzlies are the new giant killers after nearly beating Michigan State and knocking off previously undefeated Tennessee in Knoxville. No one should be shocked if they beat the Wolverines.
UCF vs. Miami (1 ET): This game is part of the Orange Bowl Classic and serves as a really nice warm-up for Kansas State-Florida. UCF has already beaten Florida on a neutral court. Knocking off Miami would put UCF in the conversation for an at-large bid. But the Canes are playing their best basketball of the season.
South Carolina at No. 2 Ohio State (CBS, 2 ET): The Gamecocks already went to Michigan State and now are heading to Columbus, where the matchup of freshman point guards Bruce Ellington and Aaron Craft should be one of the better ones in this game.
Cleveland State at West Virginia (ESPN3, 2 ET): The Vikings are undefeated but untested at a high level. The Vikings don't need to beat the Mountaineers to prove they are for real but playing well and making the game competitive to the end would help.
Gonzaga vs. No. 9 Baylor (ESPN2, 4:30 ET): The Bulldogs get another quality neutral-site game, this time in Dallas. Gonzaga desperately needs a win like this one. Baylor will get a few more quality nonconference games in Honolulu at the Diamond Head Classic.
No. 18 BYU vs. UCLA (5:30 ET): The signature game of the Wooden Classic is a barometer for the Bruins. Lose here and UCLA will need to finish in the top-2 in the Pac-10 to have a chance at an NCAA tournament bid. Otherwise, the Bruins won't have much that stands out on their résumé.
Virginia Tech vs. Mississippi State (8 ET): The Bulldogs begin their trek from the Bahamas to Honolulu to Las Vegas with this game at the Atlantis Hotel on Paradise Island. This is the debut of Renardo Sidney for Mississippi State. Meanwhile, Virginia Tech needs to get a win that can be deemed quality.
UC Santa Barbara at No. 10 San Diego State (10 ET): The Aztecs better be careful here. They are 11-0 for the first time and are enjoying unprecedented national attention. Granted Kawhi Leonard was sick and didn't play, but the team scuffled quite a bit in a 51-45 scare over Cal Poly earlier this week. The talented Gauchos, led by high-scorers James Nunnally and Orlando Johnson, are coming off a win at UNLV.
Sunday
Arizona at NC State (4:45 p.m. ET): The Wolfpack came in with a lot of promise but haven't clipped any team of note yet. Arizona has had chances and lost to Kansas in Las Vegas and BYU in Salt Lake City. Both teams could use this victory.
What's On Tap
All times ET

Friday
8 p.m.: Oregon at Virginia (Comcast)
8 p.m.: Tennessee at Charlotte (CBS-CS)
Saturday
Noon: USC at Kansas (ESPN)
Noon: Oakland at Michigan (ESPN3)
1 p.m.: UCF vs. Miami (FSN)
2 p.m.: South Carolina at Ohio State (CBS)
2 p.m.: Arkansas vs. Texas A&M (ESPN2)
2 p.m.: Cleveland St. at West Virginia (ESPN3)
2 p.m.: Stanford at Butler (CBS)
3:30 p.m.: Kansas State vs. Florida (FSN)
4 p.m.: Texas vs. North Carolina (CBS)
4:30 p.m.: Gonzaga at Baylor (ESPN2)
4:30 p.m.: BYU vs. UCLA (FSN)
7 p.m.: Iona at Syracuse (ESPN3)
8:30 p.m.: Virginia Tech vs. Mississippi State
10 p.m.: UC Santa Barbara at San Diego State
11 p.m.: Fla. St. at Loyola Marymount (ESPNU)
Sunday
4:45 p.m.: Arizona at NC State (FSN)
10 p.m.: Washington State at Santa Clara

O'Neil on Texas-North Carolina
I can't wait to see …
Eamonn Brennan
What was supposed to be a dead week -- and wasn't, thanks to Oakland, Drexel and UCSB -- ends with a much livelier Saturday slate. There are at least five games with entertaining matchups and tourney implications baked in, and it's going to make for a rather fantastic couch-surf extravaganza. But one game is especially interesting to me because it sits right at the intersection of desperation and skepticism. That game? Gonzaga vs. Baylor. You might not be able to find two teams that have followed more disparate trajectories this season than these two. On one side is Gonzaga, owners of the toughest nonconference schedule in the country (among high-major-ish teams, anyway). On the other is Baylor, owners of one of the worst. Gonzaga has limped to a 4-5 start and is desperate to notch a quality win before the conference season begins. Baylor has cruised through seven cupcake games with nary a challenge. Both teams need this win: one to prove its season isn't over, the other to prove it's as good as we all think. That mutual desperation -- especially from a cornered Bulldogs team -- should create some thoroughly intense basketball in Dallas on Saturday.
Andy Katz
I can't wait to see if the hype is true on USC's Jio Fontan and Kansas' Josh Selby.
The two go against each other Saturday in Lawrence. USC coach Kevin O'Neill said Fontan is the Trojans' best player. If that's the case, should the Trojans be considered a Pac-10 contender with Washington, Washington State and Arizona? The KU coaches have said that Selby is the one player they've been missing, someone who can create good offense out of a bad possession. He won't start but he certainly will get plenty of minutes. Kansas was a Final Four contender without Selby. Could the Jayhawks be a Final Four favorite with him?

Joe Lunardi
For me, the game to watch this weekend is Virginia Tech vs. Mississippi State at the Bahamas Atlantis Resort (Richmond faces Georgia Tech in the other Paradise Island matchup). And location is only part of the attraction. It's almost impossible to type Virginia Tech anymore without including the words "First Four Out." This season was supposed to bring an end to the Hokies' annual angst. Instead, they head to Atlantis at No. 69 on the current S-Curve -- not just "First Four Out," but the very first team to appear on the wrong side of our up-to-the-minute bubble. Burned last year by a sub-300 nonconference slate, Tech has the No. 24 schedule to date and no signature wins to show for it. NCAA locks Kansas State, UNLV and Purdue have all been losses, preceding a home defeat to underdog Virginia in the ACC opener. With the ACC not presenting as many chances as usual for truly big-time victories, the Hokies (5-4) pretty much have to beat Mississippi State (7-2) to stay off the bubble for the foreseeable future. So I'll just duck now and wait for Seth Greenberg's call.

Dana O'Neil
I want to see if Oakland can continue to scare the bejesus out of the BCS schools when the Grizzlies face Michigan on Saturday. The Golden Grizzlies nearly beat Michigan State and did beat Tennessee and now face a Wolverines team that is much improved but still very much a work in progress. If Oakland wins this one, it can officially grab the mantle as "mid-major no one wants to face in March."
Diamond Leung
I'm most looking forward to seeing which player debuting for his new team this weekend makes the biggest splash. Will Josh Selby make a huge impact coming off the bench for Kansas, or will opposing point guard Jio Fontan steal the show for USC and live up to coach Kevin O'Neill's declaration that he's the Trojans' best player? The post players will have their day as well with opportunities to make good first impressions. Renardo Sidney comes off an NCAA suspension and makes his official college debut against Virginia Tech, but is he conditioned enough to play significant minutes? Meanwhile, The Pit welcomes UCLA transfer Drew Gordon in New Mexico's game against The Citadel, and it'll be interesting to see how he adjusts to playing in a new offense.

Player to watch
Jacob Pullen, Kansas State


The preseason All-American has been struggling to find his shooting touch lately. Toss out a rout against lowly Alcorn State and the senior is only 24-of-72 from the floor and 8-of-30 from behind the arc in the past three weeks. He'll need to get on track as the Wildcats face the first of key back-to-back nonconference games when they travel to Sunrise, Fla., to face Florida on Saturday (UNLV is next in Kansas City). Kansas State remains a top-tier team, but its résumé is fairly anemic as wins over Virginia Tech and Gonzaga become less and less impressive over time. Beating the Gators away from home would certainly help.


-- Dana O'Neil
Brennan on Cleveland State-WVU
Unbeaten roll call
Looking to remain unbeaten (12 left): Baylor, BYU, Cincinnati, Cleveland State, Connecticut, Duke, Kansas, Northwestern, Ohio State, San Diego State, Syracuse and UCF.