No. 15 Notre Dame (12-1) at No. 5 Syracuse (14-0)
When and where: Saturday (ESPNU, 3:30 p.m. ET), Carrier Dome (Syracuse, N.Y.)
Where ND is better: The Fighting Irish are older at almost every position and are outstanding passers and cutters. Not only do these guys find assists, they are among the nation's most careful with the ball. Against the Syracuse zone, the Irish have shooters at almost every spot and have the vision and basketball IQ to deliver the ball to the right spot. People often talk about making the "extra" pass. That is an overused phrase. The key is making the right pass at the right time, and Notre Dame does that very well. But the Irish still have to make shots. Syracuse forces opponents into taking more 3-point shots than any other team in the Big East. To beat the Orange, you can't just settle for them, but when you take them, you have to make them. One thing is for sure: Syracuse will not put the Irish at the free-throw line. One of the key players will be freshman point guard Eric Atkins. The youngster plays beyond his years and averages 3.5 assists with a 3-to-1 assist-to-turnover ratio. He has to make the right pass.
Where Syracuse is better: The Orange are not particularly proficient offensively, but Jim Boeheim's team can really guard when it wants to. This season's zone may not be quite as good as last season's version, but it can still be very effective. The Orange are long armed, active and very big and wide along the baseline. If they can clean up the defensive boards and hold Notre Dame to one long, challenged shot, it will be advantage Syracuse.
ND's vital performer: Tim Abromaitis. When Abromaitis gets going early and gets in a groove, he will put up numbers. Abromaitis averages 16 points, 7.5 rebounds, and he can really shoot it. He not only hits from deep, but he can put the ball down and get into your body and draw contact and get to the free-throw line, where he is automatic. After scoring only four points on 1-of-7 shooting, Abromaitis has averaged more than 20 points over the past four games. For Notre Dame to win, Abromaitis has to score.
[+] Enlarge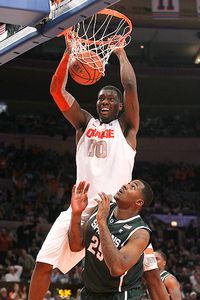 Nick Laham/Getty ImagesRick Jackson is averaging a double-double (13.2 ppg, 11.9 rpg) for the Orange this season.
Syracuse's vital performer: Rick Jackson. The lefty center has improved as much as any big guy in the Big East, and has been very consistent in going to the glass, finishing inside, and controlling the middle. Jackson is averaging 14 points, 12 rebounds (which leads the Big East by three rebounds per game), four offensive rebounds, two blocks and 1.1 steals per game. If he would finish more of his post moves at a higher rate and knock down free throws, you would be talking about the most productive big man in the league.
ND's stumbling block: Jump shooting against the zone. It is easy to say that Notre Dame has to make shots against the Syracuse zone in order to win, but it is really true. The Irish can guard effectively in either man or zone. The deciding factor will be the Irish's ability to knock down shots. Against Kentucky, Notre Dame went ice cold in the second half and got smacked. Hit some shots, and Notre Dame can win in the Dome.
Syracuse's stumbling block: Even though Syracuse shoots 48 percent from the floor as a team, the Orange do not have a powerful or proficient offensive team in the half court. The truth is, Syracuse is a dangerous transition team, and quick shots and turnovers lead to a good deal of the Orange's efficiency on offense. Notre Dame does not allow a lot of transition opportunities, so Syracuse will have to do a good job in its half-court offense.
X factors: Carleton Scott and Kris Joseph. Scott is Notre Dame's most improved player. He is long, athletic, and skilled enough to hit open shots, rebound above the rim and make plays in the zone. Joseph leads the Orange in scoring, but did not start out the season on fire. But he is on fire now. In the past two games, Joseph is averaging 26 points and six rebounds, and is the most explosive player on the Orange's roster. For Syracuse to be a Big East champ, Joseph has to be a first-team All-Big East performer.
Who wins: The Irish are older, but unless Notre Dame's shooters are really in the zone, I think you go with the zone. Syracuse wins.
No. 12 Kentucky (10-2) at No. 20 Louisville (11-1)
When and where: Friday (CBS, Noon ET), KFC Yum! Center (Louisville, Ky.)
Where UK is better: The Wildcats are more talented at most every position and are more explosive offensively. The Cardinals do not have a frontcourt player as talented as Terrence Jones, a backcourt player as talented at Brandon Knight, or a shooter as proficient as Doron Lamb. Kentucky doesn't turn the ball over much, but has not played a team that will turn the game into the chaotic full-court affair that Louisville will. If the Cats play at the Cardinals' pace and take quick shots, Louisville can give them a hard time. Plus, Knight cannot turn the ball over against the UL pressure. Knight averages 3.9 assists, but also 3.7 turnovers per game. He has to be more efficient in this one. The Wildcats have plenty of finishers, but can they get to the finish opportunity?
Where UL is better: Rakeem Buckles' absence will hurt, but the Cardinals are a deeper, play more people and will force the tempo that they want, rather than the tempo that Kentucky wants to play at. Louisville is a blue-collar, no-ego team that works hard and will come at you in waves. The Cards were the only ones this season that were able to speed up Butler and make the steady Bulldogs play at the Louisville pace. They take and make a lot of 3-point shots, but are especially proficient inside the arc, where they make more than 56 percent of their shots. Louisville forces turnovers, and defensive pressure has been an issue for Kentucky. Against UConn, the Wildcats coughed the ball up, but also took a lot of quick and questionable shots. Something to watch for will be how many quick, bad shots Louisville can force Kentucky into.
[+] Enlarge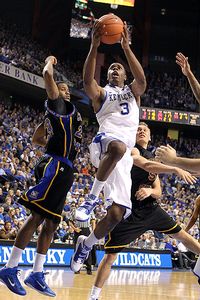 Andy Lyons/Getty ImagesUK's Terrence Jones has been one of the nation's top freshmen during the first two months.
UK's vital performer: Terrence Jones. The big lefty is as talented as any player in the nation and reminds you of a young Lamar Odom. Jones has great hands, vision, and is very skilled. He averages 18 points, 9 rebounds, 2 blocks and gets to the line almost eight times per game. The question is, against Louisville's chaotic pressure, will Jones be able to find opportunities and capitalize on them?
UL's vital performer: Preston Knowles. Coming off of a 31-point performance against Morgan State, Knowles is a competitor who can impact the game without scoring. He is a committed defender who gets deflections and can knock down open shots. Knowles is averaging 15 points per game and has hit a team-high 34 3-pointers on the season.
UK's stumbling block: There is nothing that Kentucky can do about it, but its biggest problem is youth. The Wildcats are very young, and play young against teams that can bring heat and take the young Cats out of their rhythm. With the same level of experience, Kentucky would be the favorite against the Cardinals. The Wildcats will get better and better, but they might not be old enough to be favored in this one. It is not just Louisville's press that will bother the young Cats, it is Rick Pitino changing defenses. Louisville will even change defenses in the middle of a possession.
UL's stumbling block: The Cardinals are not a great rebounding team, and can give up some second shots, but mostly the Cardinals are just plain streaky. The loss of Rakeem Buckles is going to hurt on the boards, so the Cardinals will have to gang rebound against Kentucky and not allow second shots.
X-factor: Doron Lamb. He is instant offense off of the bench, averaging 14 points a game and leading the team with 27 3-pointers for UK. Lamb has taken only 50 3-pointers on the season, and is hitting a sizzling 54 percent of them. He can hit off the catch, off the bounce, and has a very good pull-up game. He does not just spot up in transition, but has the ability to get to the rim and finish. Lamb has a scoring knack and defenders have to find him and stay with him.
Who wins: Louisville. The Cardinals have the ability to force the Cats into turnovers and make this a frenzied and hectic game. That would be to Louisville's advantage.
Don't forget: 10 more to track
Friday
Northwestern at Purdue (ESPN2, noon ET): The Boilermakers had as impressive an opening as any team in a major conference. Michigan had been playing well prior to the Purdue game. Northwestern may still be smarting from losing at St. John's. Not having John Shurna at 100 percent also puts Northwestern at a disadvantage.
Minnesota at Michigan State (4 p.m. ET): The Gophers' brutal slate of Big Ten games continues after opening at Wisconsin. The Spartans need something positive to happen now. It's hard to imagine Michigan State losing another marquee home game.
Florida at Xavier (ESPN2, 4 p.m. ET): On the surface, this should be a win for the Gators. Florida has more experience, and Xavier just lost another key player and is down to nine scholarship players. But X is never an easy out at the Cintas Center and the Gators have hardly been consistent so far this season.
Washington at UCLA (4 p.m. ET): The winner of this game will be atop the Pac-10 at 2-0. If it's UCLA, then the Bruins must be taken seriously in the conference. There's no reason to believe that Ben Howland's group can't be a contender in a league that has been maligned for a reason. Washington survived Wednesday with a gritty road win at USC in overtime, while the Bruins came back on Washington State with perimeter scoring and transition buckets in the second half.
Seton Hall at Cincinnati (ESPN2, 8 p.m. ET): The Bearcats are the only unranked, undefeated team. There's a reason for that. They haven't beaten a ranked team as of yet. The start of the Big East slate is a bit soft, too. Still, the Bearcats are finding ways to win -- and you have to give them credit for that.
Oklahoma State at Gonzaga (ESPN2, 10 p.m. ET): The Cowboys have quietly put together quite a start. Beating Gonzaga on the road would be Oklahoma State's signature win. But Gonzaga bounced back from a rough start with a win over Baylor in Dallas. The Zags can't fall back now.
Saturday
West Virginia at Marquette (ESPN2, 11 a.m. ET):
The Mountaineers and Golden Eagles are coming off tough losses. West Virginia was humbled at home, while Marquette lost in the final possession at Vanderbilt. If the Mountaineers lose this game, they'll be in a serious 0-2 hole in the Big East.
New Mexico at Dayton (2 p.m. ET): The Lobos escaped with a one-point win at Texas Tech in a crucial two-game road trip that concludes with Dayton, a team that has stabilized a bit. New Mexico has been the under-the-radar top-four Mountain West team so far this season, but a sweep of this trip would do wonders for its profile.
Sunday
Wisconsin at Illinois (6 p.m. ET):
The Badgers beat Minnesota at home, Illinois knocked off Iowa on the road. There isn't a comparison in the quality of win. So Illinois needs to come up with an equalizer by protecting its court against the surging Badgers.
Miami at Duke (7:45 p.m. ET): The ACC opens for Duke against a Miami team that has struggled to find consistency. The Hurricanes have the guards to contend and a big man (Reggie Johnson) who can board with the Blue Devils. But the game is in Cameron and it's hard to see Duke losing a game at home this season.
What's On Tap
All times ET
Friday
Noon: Kentucky at Louisville (CBS)
Noon: Northwestern at Purdue (ESPN2)
4 p.m.: Minnesota at Michigan State (BTN)
4 p.m.: Florida at Xavier (ESPN2)
4 p.m.: Washington at UCLA (FSN)
6 p.m.: Washington State at USC (FS West)
6 p.m.: Ohio State at Indiana (ESPN2)
8 p.m.: Seton Hall at Cincinnati (ESPN2)
10 p.m.: Oklahoma State at Gonzaga (ESPN2)
Saturday
11 a.m.: West Virginia at Marquette (ESPN2)
2 p.m.: New Mexico at Dayton (CBS-CS)
2 p.m.: Valparaiso at Butler (ESPN3)
3:30 p.m.: Notre Dame at Syracuse (ESPNU)
5:30 p.m.: Boston College at S. Carolina (ESPNU)
Sunday
1 p.m.: Rutgers at Villanova (ESPNU)
4:30 p.m.: Charleston at Morehead State
6 p.m.: Wisconsin at Illinois (BTN)
7:45 p.m.: Miami at Duke (FSN)
I can't wait to see …
Eamonn Brennan
Saturday's Marquette-West Virginia matchup isn't the sexiest game on the docket. It isn't even the sexiest game in the Big East Saturday; that honor goes to Notre Dame's tilt with Syracuse in the Carrier Dome. But Marquette-West Virginia does carry some sneaky under-the-radar intrigue attached. Marquette came close to notching several marquee nonconference wins. The Golden Eagles took Gonzaga, Duke, Wisconsin and Vanderbilt to the wire, but fell just short in each game. Because of those losses, and no real quality nonconference wins, Marquette's best chance to get in the NCAA tournament is to outperform expectations in the Big East. Saturday's home date with West Virginia should give us a clue whether Buzz Williams' team is up to that task. For West Virginia, the game is a bit of an early gut check: How will the Mountaineers rebound after Wednesday night's ugly home loss to St. John's? Are they still a work in progress, a team whose toughness will increase as the season continues? Or were the losses of Da'Sean Butler and Devin Ebanks in the offseason too much for Bob Huggins' team to overcome? It's pretty early to consider any league game a must-win, as both teams will have plenty of chances to get quality victories throughout the Big East slate. But even if neither team has to win this game, both of them could certainly use the victory.
Andy Katz
Kentucky-Louisville is always an entertaining affair. The game shouldn't disappoint again this season. But I'm more intrigued to see what Michigan State does against Minnesota. The Spartans were run over in the second half by Texas last week in East Lansing. This is a major game for MSU, not just for the Big Ten race but also to see just how tough this team is under Tom Izzo. If they're truly going to be a contender, the Spartans must win this game and play well in doing it. The Gophers would be at a huge advantage in the race if they could split the road swing of Wisconsin-Michigan State. But going 0-2 on this trip wouldn't be a surprise to anyone.
Dana O'Neil
Who is for real in the Pac-10? This conference is about as predictable as a Hollywood marriage. It's either better than we thought, awful or confused. Washington was the overwhelming preseason favorite and then lost to its best three nonconference foes. Arizona had high hopes after a respectable loss to Kansas and then got thumped by BYU. USC looks better than I'd expected, with a narrow loss to Kansas and a win over Tennessee, but how to erase those losses to Bradley, Rider and TCU? UCLA was brutal for two solid weeks (losing four in a row), but has now rallied with a five-game win streak. So one weekend won't straighten out everything, but the second half of the Washington-California swap, with Washington at UCLA and Wazzu at USC, ought to help.
Diamond Leung
I can't wait to see how Kentucky's freshmen react to playing in a hostile environment at Louisville on Friday. Terrence Jones, Brandon Knight and Doron Lamb have already passed numerous tests early on, but playing on the road in the rival's new building is a different animal. We all saw last season how the rivalry game can lead to high emotions, and in that situation, John Wall proved to be a cool customer while DeMarcus Cousins seemed to lose his composure in the Kentucky win. What will this game tell us about John Calipari's current crop of youngsters?
O'Neil on Notre Dame-Syracuse
Player to watch
Kyle Kuric, Louisville

The sharpshooter is sort of like the little girl with the curl -- when he's good, he's very, very good. But when he's bad, the Cardinals are horrid. The junior had a combined 17 points in Louisville's first seven games (two of which Kuric missed with a concussion) and then came on like gangbusters in the Cards' most eye-opening victory, dropping 17 on previously unbeaten UNLV, all of his buckets coming from beyond the arc. And then he disappeared again, with a forgettable 1-for-5 effort against Drexel. Not surprisingly, Louisville lost to the Dragons.
So which Kuric shows up when the Cardinals make like the Hatfields versus Kentucky's McCoy's 12 hours before the new year? He had 25, including 7-of-10 from 3, in UL's stomping of Morgan State. Does that mean he's due to be off? UK fans hope so and Cards fans pray not. Louisville is better than most anticipated and this game, played at the KFC Yum! Center against a still young Kentucky team, looks more competitive than was predicted even two months ago. But the Cards need Kuric to be good -- very, very good -- to win.


-- Dana O'Neil
Brennan on Wisconsin-Illinois
Unbeaten roll call
Looking to remain unbeaten (seven left): Cincinnati, Duke, Kansas, Ohio State, San Diego State, Syracuse and UCF.