No. 6 Missouri (14-0) at No. 22 Kansas St. (11-2)
When and where: Saturday (ESPN3, 1:30 p.m. ET), Bramlage Coliseum (Manhattan, Kan.)
Outlook
: Missouri is riding high, undefeated and playing at a very efficient and high level. Kansas State got off to a good start this season, but is coming off its annual beatdown at Kansas. KU held the Wildcats to a season-low 49 points on a season-low 32 percent shooting. In addition, the Jayhawks outrebounded K-State by 24. Part of that is explainable: When you shoot so poorly, you will usually get outrebounded. But getting pounded on the glass by 24 is more than just poor shooting. KSU got worked over, and Kansas played harder. Under Frank Martin, that hardly ever happens. If Kansas State is to compete successfully against a very good Missouri team, this cannot happen again. Mizzou is an outstanding offensive team. The Tigers may be small, playing four guards around
Ricardo Ratliffe
, but they shoot an incredible percentage from the floor and they do not turn the ball over. This team has several guys who can make shots, but the two to worry about most are
Kim English
and
Marcus Denmon
. They have combined for 85 3-pointers this season. Missouri ranks among the stingiest teams in giveaways, behind only Wisconsin, which is remarkable given how fast the Tigers get the ball up and down the floor. And Missouri shoots either open 3s or layups, and when opponents press up on shooters, they allow Ratliffe high-percentage finishes at the rim.
[+] Enlarge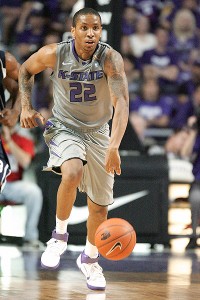 Scott Sewell/US PresswireRodney McGruder and Kansas State look to become the first team to beat Mizzou this season.
The Tigers do a better job of valuing possessions this season, and they play solid defense. They do not foul, yet they are among the top steals teams in the country. The problem is opposing fouls and size. If Kansas State can make it into a half-court, five-on-five slugfest, the Wildcats can win. If any part of this game is pretty, it will be a Mizzou victory.
Key players
: Marcus Denmon and
Rodney McGruder
Denmon is among the most fearless and courageous players in the country. He has NBA 3-point range and attacks in transition and off ball screens. McGruder is the Wildcats' best overall player and best scorer. He is a terrific athlete, but he is not the type of player who will get his own shot or create his own offense.
Key defenders
: Denmon and
Martavious Irving
Denmon is relentless on both ends of the floor. He gets steals and deflections, and he works his tail off. Irving is athletic and strong and can guard multiple spots on the floor. Irving and McGruder form a formidable defensive tandem on the perimeter.
Key leaders
: Phil Pressey and
Will Spradling
Pressey is an outstanding passer and he is so quick that it is nearly impossible to stay in front of him. Spradling, one of the smartest players in the Big 12, is the Wildcats' top shooter and distributor. He may be the most important player on this K-State team.
Key big guys
: Ricardo Ratliffe and
Jamar Samuels
Ratliffe is the most efficient player on Missouri and is shooting a ridiculous 77 percent from the field. Samuels is an excellent post defender and rebounder who can get to the free throw line. Should be fun to watch these two in the paint.
Who wins
: Missouri can score. Kansas State can struggle in that department. I believe Mizzou will win and improve to 15-0, but in a close game.
A dozen more to track
Saturday
Georgetown at West Virginia (noon ET, ESPN3)
: The Hoyas are the surprise team in the Big East and have won at home, on the road and on neutral courts. After losing at Seton Hall, West Virginia got healthy quickly by crushing Rutgers on the road. If the Hoyas can win in Morgantown, we must take them even more seriously as a challenger to finish No. 2 to Syracuse (sorry, just don't see the Orange losing the Big East title). Meanwhile, this will be a huge game for the Mountaineers' mounting NCAA campaign.
Kansas at Oklahoma (2 p.m. ET, ESPNU)
: The Sooners were the surprise team in the Big 12, until they faced Missouri on Tuesday. The defensive meltdown against the Tigers was very un-Kruger-like. Now the Sooners have a chance to show that it was more of an aberration. But Kansas comes in suddenly playing some of its best basketball of the season. If Oklahoma is to be taken seriously for the rest of the Big 12 season, then it must win home games like this.
Ohio State at Iowa (3 ET)
: Are the Hawkeyes for real? After a wildly disappointing nonconference season, Iowa's sudden revival in the Big Ten may come to a screeching halt if Ohio State plays up to its potential. This is not Wisconsin or Minnesota. OSU has the best big man in the country and Iowa doesn't. An upset here would go down as one of the biggest this season.
[+] Enlarge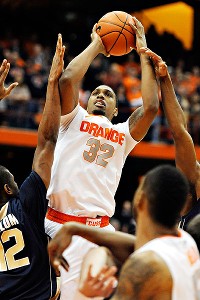 Richard Mackson/US PresswireKris Joseph and his top-ranked Orange are seeking 17-0 as they host Marquette.
Marquette at Syracuse (4 ET, ESPN3)
: In a writers' roundtable last month, I had this as the first time No. 1 Syracuse would lose. I was wrong. I don't see it now at all. The Golden Eagles have been erratic since winning at Wisconsin, while the Cuse continues to get better and has a second unit as good as its first. I'm not sure now when the Orange are going to lose. It might not be until February.
Dayton at Temple (4 ET)
: Expect the top of the Atlantic 10 standings to fluctuate throughout the next two months. Temple's win over Duke should send a strong message to the rest of the league. Dayton's overtime win over Saint Louis proves the Flyers could be back to the way they played in Orlando. The one certainty is that Xavier is no longer the favorite. How will the others respond?
Connecticut at Rutgers (8 ET, ESPN3)
: Jim Calhoun makes his return to the bench after a three-game suspension. The Huskies are coming off a blowout road loss to Seton Hall, while Rutgers followed a win over Florida with a loss at USF and a home rout at the hands of West Virginia. Yes, the RAC is a tough place for opposing teams. But I think it's a safe assumption that the Huskies will be a more intense team after three days of Calhoun practices. The Huskies have also been in New Jersey for a week. They must be anxious to get home with a win.
South Dakota State at Oral Roberts (8 ET)
: The Jackrabbits (my favorite nickname in college sports) won at Washington in convincing fashion. Oral Roberts won at Xavier in convincing fashion. Both stand at 13-4 overall, 5-0 in the Summit League and have confidence they can win a game in the NCAA tournament. But getting there will start with which team wins the league -- and the advantage could come out of this game. With Oakland uncharacteristically down, can the high-scoring
Nate Wolters
lift the Jackrabbits to a road win that would establish them as the league favorite?
Mississippi State at Arkansas (9 ET, ESPN3)
: If the Bulldogs are going to seriously challenge for the SEC title, they will have to win tricky road games like this. Mike Anderson's Razorbacks and the Bud Walton crowd will be revved up to face a top-20 opponent on Saturday night. Will Mississippi State be able to handle it?
Nevada at Utah State (9 ET, ESPN3)
: OK, who was the fool who thought Utah State wouldn't be in the postseason? That would be me. Hey, the Aggies were injured and depleted earlier in the season. But the near-miss at Mississippi State and the win over Fresno State should signal that new favorite Nevada should be on watch. The Wolf Pack still have to go through Logan to win the WAC.
Sunday
Wisconsin at Michigan (1:30 p.m. ET, CBS)
: The Wolverines rallied multiple times Thursday to nearly take down Indiana at Assembly Hall. This is a Michigan team that is experienced in key spots, has youthful talent in others and is in a better place than the Badgers. A Wisconsin win in Ann Arbor would indicate it might be back on track, but that's going to be a tough task.
UMass at La Salle (2 ET)
: That's right -- UMass at La Salle. Dr. John Giannini has the 11-4 Explorers playing much better than expected; the same can be said for Derek Kellogg and his 12-3 Minutemen. La Salle has won nine of its last 10, and its victory over Xavier really gave this team credibility. Massachusetts has won six in a row and is looking for a key road win in the A-10.
California at Oregon (7:30 ET)
: OK Cal, let's see if you're actually going to be a front-runner. The Bears lost at Oregon State on Thursday night and could get swept out of Oregon by the Ducks, who knocked off Stanford on Thursday. If that occurs, the Bears simply fall back with every other team in this incredibly mediocre league. As for now, everyone in the standings is chasing Colorado.
Gulp
.
Viewer's Guide
All times ET
Saturday
11 a.m.: Florida at Tennessee (ESPN2)
Noon: Georgetown at West Virginia (ESPN3)
1:30 p.m.: Missouri at Kansas State (ESPN3)
2 p.m.: Kansas at Oklahoma (ESPNU)
3 p.m.: Ohio State at Iowa (BTN)
4 p.m.: Marquette at Syracuse (ESPN3)
4 p.m.: Notre Dame at Louisville (ESPNU)
7:30 p.m.: Murray State at Austin Peay (ESPNU) 9 p.m.: Mississippi St. at Arkansas (ESPN3)
9 p.m.: Nevada at Utah State (ESPN3)
10 p.m.: Stanford at Oregon State (FSN)
Sunday
1:30 p.m.: Wisconsin at Michigan (CBS)
7:30 p.m.: Cal at Oregon (FSN)
King on Missouri-Kansas State
I can't wait to see …
Eamonn Brennan
Missouri and Kansas State's fascinating clash of styles. The Tigers are up-tempo and tiny, one of the smallest teams in high-major D-I hoops. The Tigers got even smaller this week with the transfer of freshman forward Kadeem Green, so Frank Haith is left with just seven scholarship players, only two of whom are taller than 6-6. Fortunately, this is just the way this Missouri team likes it, preferring to sprint up the floor and space with four guards, including Kim English as an undersized, sharpshooting stretch 4. As a result, their offense has been irrepressible, not to mention entertaining. But Kansas State presents a major challenge. The Wildcats are down-tempo and physical; their strength is their smothering defense. Something's got to give in the Octagon of Doom. Will it be K-State's D and size? Or Mizzou's offense and lack of size?
John Gasaway
I can't wait to see Georgetown take on West Virginia. The Hoyas have climbed into the top 10 nationally by winning 11 straight games, and their epic comeback Wednesday against Marquette showed that John Thompson III's team is nothing if not resilient. But visits to Morgantown are never easy, and in Kevin Jones the Mountaineers might have the 2012 Big East Player of the Year. Bob Huggins' team will try to attack the offensive glass, while Georgetown may be playing the best defense seen from a Hoya unit since Roy Hibbert was in residence. This should be a high-stakes collision and, with West Virginia's impending move to the Big 12, it will be a valedictory collision. I'll be watching.
Jason King
I'm looking forward to Syracuse's game against Marquette. This will be the Orange's last contest against a ranked opponent until Feb. 8. The Golden Eagles looked strong for the first 30 minutes of Wednesday's loss at Georgetown before collapsing down the stretch by losing a 17-point lead. Still, Buzz Williams' team showed some grit in a tough road environment. I certainly don't expect Marquette to cower in this one.
Joe Lunardi
Can't wait to see VCU come to Drexel on Sunday night in Philly. I have TV duty for this marquee CAA matchup, and it is a true clash of styles. The Rams want to gamble on defense and push everything on offense. The Dragons never, I mean never, dance to that tune and are incredibly tough to beat in their tiny campus gym. This could be the night Colonial superiority shifts, however temporarily, from its long-standing Virginia bloc (VCU-ODU-GMU). It would be more than a little ironic if, after two Final Four teams in five years, the CAA banner is carried for this season by untraditional Drexel and even less traditional Georgia State.
Myron Medcalf
Can't wait to see if Iowa is for real. The Hawkeyes should have a lot of confidence entering Saturday's home matchup against Ohio State. They went to Kohl Center and won. Then they overcame a double-digit deficit and defeated the Gophers in Minneapolis. Weird stuff happens once or twice a season at Carver-Hawkeye. Could Saturday be the day that the Big Ten really shifts? If it's just about numbers, then Ohio State should win. But not much has made sense in this league so far. Could get interesting in Iowa City.
Dana O'Neil
Seeing how Missouri does on the road against Kansas State. Three of the remaining unbeatens play on the road this weekend -- Baylor, Missouri and Murray State -- but none faces as difficult a challenge as the Tigers. Though K-State is coming off a dispiriting loss to Kansas, playing in Manhattan is never easy. Frank Martin's team couldn't be much more different than Frank Haith's. The Wildcats have had their share of problems scoring; Missouri is second in the nation in that category. KSU is relentless on the boards, ranked 12th; the undersized Tigers struggle. This will come down to what pace the game is played at, which makes for an intriguing battle of wills.
Miles Simon
The game I can't wait to watch this weekend is Kansas at Oklahoma. KU is coming off a great performance against Kansas State, and Oklahoma ran into a buzz saw versus Missouri. Junior college transfer Sam Grooms of OU does a great job of setting the table for Steven Pledger, one of the Big 12's best scorers. The Sooners also have some size (Romero Osby and Andrew Fitzgerald, both 6-8) to bang with 6-10 Thomas Robinson, who is in the national player of the year discussion with 10 double-doubles in 14 games. Oklahoma is going to apply pressure to the Jayhawk guards, especially Tyshawn Taylor, who has been very turnover-prone. He will need to take care of it for Kansas to win on the road.
O'Neil on Marquette-Syracuse
Player to watch
Thomas Robinson, Kansas


Watch Robinson for the pure enjoyment of it. In order for Kansas to be good this season, Robinson had to be good. Instead he's been great. The junior has more than doubled his averages, from 7.6 points and 6.4 rebounds as a sophomore to 17.5 and 12.3 this season. He is as dominant a player as there is in the game right now, and he has played himself into the national player of the year conversation. The Jayhawks, who made easy work of rival Kansas State on Wednesday, travel to an unexpectedly decent Oklahoma on Saturday. Lon Kruger's Sooners are a work in progress but they are tough inside, especially on the boards.
-- Dana O'Neil
Medcalf on Wisconsin-Michigan