No. 12 UNLV (16-2) at No. 22 San Diego St. (14-2)
When and where: Saturday (4 p.m. ET), Viejas Arena (San Diego)
UNLV take: Under coach Dave Rice, the Rebels are looking to run. And in order to run, you have to play really good defense and get the ball off the backboard. Rice believes that running is about efficiency, not athleticism. So far, UNLV has been a fairly decent defensive team but not spectacular. On the other end, UNLV is a very good offensive team, and when the Rebels put the ball through the net, their defense gets better. In short, UNLV fills its tank on the offensive end. That is not a bad thing. UNLV is a very good basketball team and ranked among the nation's top 15 teams in the Bilas Index. High praise, indeed.
[+] Enlarge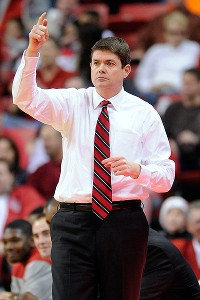 Ethan Miller/Getty ImagesUNLV coach Dave Rice has installed a familiar, faster style of play.
Basically, UNLV wants to spread you and get into pick-and-roll situations. The Rebels will drive, kick, dribble handoff and really look to drive the middle to put you into help situations.
Defensively, UNLV plays primarily man-to-man with an interchangeable perimeter. That allows UNLV to switch screens, which was a staple under Lon Kruger. UNLV does not trap as much and plays more traditional midline help defense.
UNLV does not get to the free throw line or pound the ball inside much. The Rebels win off of the 3-point line. One thing is for certain: The Aztecs will need to force UNLV to take 2-point shots rather than 3-point shots.
SDSU take: The Aztecs are one of the pleasant surprises this season, and coach Steve Fisher has himself another NCAA tournament team. After losing so many seniors and players to the NBA, San Diego State is proving that it has a program instead of just a series of teams. The credit for building that program (from nothing) goes to Fisher. He has done a magnificent job at San Diego State.
San Diego State has new pieces with new responsibilities, and the Aztecs have been consistent in their effort and performance. This is not a great team, but a good one, and one that plays together and gets the most out of its parts. Defensively, the Aztecs contain the ball fairly well, but this is not a team that turns you over. It is a solid rebounding team and does a really good job of limiting opponents to one shot.
On the offensive end, the Aztecs' key player is guard Chase Tapley, who is averaging 17.3 points, 4.2 rebounds and 2.4 assists. Tapley is a good shooter and is unafraid to take big shots. He is shooting 53 percent from the field, including 50 percent on 3s (43-of-86). When point guard and assist leader Xavier Thames missed three games with a strained MCL, Tapley moved to the point guard spot (but Thames played significant minutes in the Aztecs' most recent game against Chicago State). A transfer from Washington State, Thames has run the point all season for Fisher.
San Diego State has won seven straight games, but since beating Cal on Dec. 4 the Aztecs have not played anybody good. Two of the Aztecs' last six opponents were not even Division I.
Key producers: Tapley and UNLV forward Mike Moser. Tapley has to score for San Diego State to win. Tapley is an outstanding shooter who was able to play off Kawhi Leonard last season, but has been able to slide into a primary role with ease. Tapley is the first player discussed in any scouting report and draws the opponent's best defender. Against UNLV, that will likely be Justin Hawkins, who can really pressure the ball and get steals. Meanwhile, Moser is a long-armed and athletic forward who goes after every ball that is on the glass or loose. He is versatile and does everything well without doing anything great. Moser loves to drive it, and when he catches it in the post, he will face, sweep and go. The UCLA transfer has proven to be one of the most productive rebounders in the country.
Best shooters: Tapley and UNLV's Chace Stanback. UNLV has more shooters -- with five guys who have hit 19 or more 3-pointers -- and averages 8.5 made 3s per game. By contrast, San Diego State has only two players who have made 19 or more 3s (the Aztecs average 6.1 made 3s per game). Stanback has made 44 3-pointers, and Tapley has made 43.
Key stat: Rebounding. UNLV has some good rebounders, and one great one in Mike Moser, but this is not a great rebounding team. San Diego State has done a really good job on the defensive glass this season, but UNLV will challenge the Aztecs' defensive rotations and stretch it out, and that could show up on the glass.
Who wins: Despite losses to Wisconsin and Wichita State on the road, I like UNLV to win this one. The Aztecs are good, but UNLV is a bit better. I have UNLV winning in a close one.
No. 8 Indiana (15-2) at No. 5 Ohio State (15-3)
When and where: Sunday (4:30 p.m. ET), Value City Arena (Columbus, Ohio)
Indiana take: The Hoosiers have been a great story this season. Already, coach Tom Crean's team has earned wins in Assembly Hall over ranked teams Kentucky, Ohio State and Michigan, and they have done it in spectacular fashion. Indiana has a very good combination of shooters and drivers, and the Hoosiers space the floor around a quality big guy, Cody Zeller.
[+] Enlarge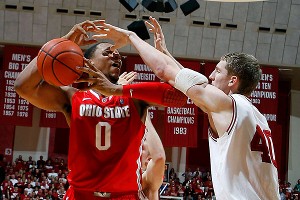 Brian Spurlock/US PresswireThrough five Big Ten games, opponents are shooting better than 48 percent from the field against Indiana, highest in the league.
As opposed to last season, there are usually five guys on the floor who you have to guard, and that has allowed Crean to be more creative. While Indiana has developed a reputation for having a team of great shooters, just three guys have actually lit it up: Jordan Hulls, Christian Watford and Matt Roth. Those three have combined for 87-of-161 shooting from 3-point range, an incredible 54 percent. That is not just good shooting -- it is incredible shooting. Despite a 4-for-18 effort from beyond the arc in Thursday night's loss to Minnesota, Indiana is still leading the league in 3-point field percentage (45.9 percent).
On the defensive end, Indiana is much-improved from last season. Zeller serves as an anchor in the paint and the defense is much more connected this season. However, Indiana has allowed opponents to shoot 48.4 percent from the floor in five Big Ten games, last in the league.
Ohio State take: The Buckeyes have been good lately but certainly not great. Part of that has to do with the health of Jared Sullinger, part of it has to do with the road schedule and part of it has to do with Ohio State's late-game execution. Against both Indiana and Illinois, the Buckeyes did not handle end-of-game situations with poise and efficiency.
Sullinger is the best post player in the Big Ten and, when healthy, the best post player in the country. While I have no specific information about his health, Sullinger does not look completely right yet. He missed time with back spasms and had to sit out two games (three if you count South Carolina, where he played only a few minutes before leaving the game with a foot injury). Sullinger is averaging 17 points and 9 rebounds while shooting over 60 percent from the floor. Sullinger is a basketball player who just happens to be big. But he is not as mobile as he should be (perhaps because of his back) and you can expect Indiana to run him and involve him in as many ball screens as possible.
After five games, Ohio State is second in the Big Ten in field goal percentage (50 percent) and third in field goal percentage defense (40 percent). The Buckeyes are the more dominant rebounding team, leading the Big Ten in rebound margin (plus-12) through five league games.
Key producers: Zeller and Ohio State guard William Buford.

Sullinger is Ohio State's best and most productive player, but Buford is not far behind. Buford is a hungry, aggressive scorer who has a very good middle game. He drives right to finish, although he is better going to his left to shoot. Buford is one of only four Ohio State players with career stats of more than 1,000 points, 500 rebounds and 300 assists (along with Jimmy Jackson, Evan Turner and David Lighty). Zeller has been one of a handful of the best freshmen in the nation. He is strong, has great hands and has a great feel for the game. He doesn't force anything and does whatever it takes to win. Zeller averages 14.7 points and 6.5 rebounds and hits on over 64 percent of his shots.
[+] Enlarge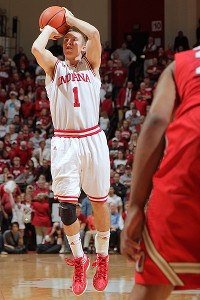 AJ Mast/Icon SMIJordan Hulls is making 55.6 percent of his 3-point attempts this season for Indiana.
Best shooters: Hulls and Ohio State forward Deshaun Thomas.

While Buford is a better overall shooter, Thomas can stretch the floor and pull a big man away from the basket. The lefty is the type of player who can go for 30, and he has range. Meanwhile, if you let Hulls get a clean look and get his feet set, forget it. He has improved the speed of his release and is hitting 56 percent of his 3-pointers (40-of-72). Plus, Hulls is an automatic free throw shooter.
Best defenders: Indiana guard Victor Oladipo and Ohio State guard Aaron Craft.

Oladipo has improved his overall game, and his defense has been an important factor for Indiana. He is athletic and strong, and he works hard. Oladipo leads the Hoosiers in steals, with Zeller just one behind. Craft is the best on-ball defender in the country. He is absolutely relentless on the ball and never seems to tire. Craft leads the Big Ten with 45 steals.
Key stat: Field goal percentage defense and turnovers. Ohio State takes better care of the ball and is a better defensive team. But Indiana is the better shooting team. If Ohio State is allowed to be physical in this game, I give the Buckeyes the edge.
Who wins: The Buckeyes have the rare opportunity to get back at a team that beat them just two weeks earlier. I favor Ohio State in the rematch. My guess is that these teams could see each other again at the Big Ten tournament in Indianapolis.
Andy Katz's Saturday preview
Viewer's Guide
All times ET
Friday
7 p.m.: Cleveland State at Butler (ESPNU)
8 p.m.: Missouri State at Northern Iowa (ESPN3)
8 p.m.: Creighton at Illinois State (ESPN3)
Saturday
11 a.m.: Connecticut at Notre Dame (ESPN2)
Noon: Kentucky at Tennessee (ESPN)
1 p.m.: Texas at Missouri (ESPN2)
1:30 p.m.: Kansas St. at Oklahoma (ESPN3)
2 p.m.: North Carolina at Florida St. (ESPN)
4 p.m.: UNLV at San Diego St. (NCB Sports Net.)
4 p.m.: Alabama at Mississippi State (ESPN3)
4 p.m.: Iowa State at Kansas (ESPN3)
6 p.m.: Providence at Syracuse (ESPN3)
6 p.m.: Tennessee Tech at Murray State (ESPNU)
Sunday
Noon: Georgetown at St. John's (ESPN3)
1:30 p.m.: Indiana at Ohio State (CBS)
•
Katz's dozen games to track this weekend
King on Alabama-Mississippi St.
I can't wait to see …
John Gasaway
I can't wait to see North Carolina take on Florida State in Tallahassee. The Seminoles always seem to play outstanding defense, and this year is no different. In their win at Virginia Tech this week, Leonard Hamilton's Noles recorded 15 blocks. In two ACC games, FSU has held opponents to 42 percent shooting inside the arc. The Seminoles have issues of their own on offense (as in way too many turnovers) and a win would be a tall order, but the collision between Harrison Barnes, John Henson, Tyler Zeller and Kendall Marshall and this defense will be required viewing.
Jason King
I'll be interested to see if Rutgers can sustain its current hot streak and beat West Virginia in Morgantown on Saturday. The Scarlet Knights beat Connecticut 67-60 on Jan. 7 and absolutely embarrassed Pittsburgh in Wednesday's 62-39 road win. Rutgers, though, will face one of its toughest road environments of the season to date on Saturday. And West Virginia's Kevin Jones may be the best player the Scarlet Knights will see all season. West Virginia thumped Rutgers in New Jersey less two weeks ago. Still, anything is possible if freshman guard Eli Carter can continue his hot streak. Carter is averaging 23 points in his last four games. I never thought one of the more anticipated games of a college basketball weekend would involve Rutgers, but hey, kudos to Mike Rice for turning the Scarlet Knights into a competitive team in just his second season.
Joe Lunardi
I can't wait to see if San Diego State is for real. No Kawhi Leonard. No D.J. Gay, Malcolm Thomas or Billy White. Chase Tapley is the only significant returnee from the best team in school history. Yet the Aztecs are 14-2 with decent wins over Long Beach State, Arizona (away) and Cal. They have also lost to the two best teams on their schedule, Baylor and Creighton (home). We'll know a whole lot more after Saturday's conference opener against UNLV. The Rebels are really good and might even be slight favorites in this visit to Viejas Arena. Or maybe San Diego State defies the odds once again.
Miles Simon
A game that I can't wait to watch this weekend is the Mountain West opener, with New Mexico visiting Wyoming. In his second stint as Wyoming head coach, Larry Shyatt has the Cowboys at 14-2 and playing some of the best defense in the country. The Cowboys are giving up 52.3 points per game, good for third in the nation (they've held eight teams under 50 points). Both teams are in the top 10 in field goal percentage defense(New Mexico is seventh at 36.5 percent; Wyoming is 10th at 36.8 percent). It might be tough for the Lobos to score because the "Dome of Doom" will be rocking, but Tony Snell is a sweet-shooting small forward who can fill it up from the 3 (45 percent). He gets a lot of help from Drew Gordon on the inside, where the athletic big man is averaging a double-double (12 points and 10 rebounds per game).
O'Neil on UNLV-San Diego State
Medcalf on Indiana-Ohio State
Player to watch
Anthony Davis, Kentucky


If you haven't watched Davis already, you're missing a show. He is a one-man wrecking crew. The freshman leads the nation in blocked shots (4.6 per game) and is bound to have at least one that will make your jaw drop. What makes Davis intriguing this week is that the Wildcats play at Tennessee. The Vols are in rebuilding mode but managed to use a steady defensive game to upset Florida, and how Davis plays in this game, especially when faced with the bulkier Jeronne Maymon will be interesting.
-- Dana O'Neil
Pickeral on UNC-Florida State