Weekend Roundtable: Burning Questions
Editor's note: ESPN.com writers Eamonn Brennan and Myron Medcalf are joined by ESPN Insider John Gasaway to discuss several burning questions in college basketball.
The weekends that don't look great on paper are usually the ones filled with wackiness. Who should be on upset alert?
[+] Enlarge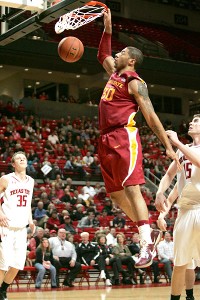 Michael C. Johnson/US PresswireIowa State's Royce White will give Kansas all it can handle.
Eamonn Brennan:
"Upset alert" flows a little bit better than "'top-10 team playing a solid conference opponent on the road' alert," but whatever we want to call it, I'm leaning toward Kansas. The Jayhawks travel to Ames, Iowa, for a Big 12 battle with a solid Iowa State team, and one that just so happens to have its best player -- forward
Royce White
-- matching up with Kansas' frontcourt beast, forward
Thomas Robinson
. Robinson and
Jeff Withey
could make life very difficult for White in the paint, but White's versatility could cause the Jayhawks some issues. A re-energized Hilton Coliseum crowd should be in full voice, and, if the Cyclones can keep it close down the stretch, they might be able to pull off what Texas couldn't the previous Saturday.
John Gasaway: Sound the alarm and batten down the hatches because the upset alert's on full blast for Syracuse. They're welcoming West Virginia to the Carrier Dome on Saturday, and I just can't imagine the Mountaineers playing two consecutive terrible games. (Oh, yeah, they were terrible against St. John's, trust me.) I'm guessing that by now Bob Huggins has spoken to his team and pointed out the flaws in his players' performance in a calm, nonjudgmental and supportive manner. I also think Jim Boeheim's players are a little more freaked about Fab Melo's absence than they need to be -- or at least they're playing like it. I say the Mountaineers win a tight one.
Myron Medcalf: Kansas could fall Saturday in Ames. The last time Iowa State and Kansas faced off, the Cyclones took an early double-digit lead but couldn't maintain it in the Jayhawks' 82-73 win Jan. 14. But Hilton Coliseum will be rocking for an Iowa State team that's due for an upset. Royce White is the key.
It's a little early to be talking about the bubble, but what team has a particularly important game this weekend?
Brennan: BYU. The Artist Formerly Known as Joey Brackets placed the Cougars among his first four out in Monday's bracket update, and that's about right: At 18-5, the Cougars don't have much in the way of quality wins, and they were shellacked at home by Loyola Marymount last week. On Saturday, they'll host Saint Mary's, which beat them soundly (98-82) in the teams' first matchup in Moraga, Calif., on Dec. 29. A victory here would be huge for conference competition, obviously, but it also would go a long way toward improving a résumé that needs improvement amid a schedule that simply doesn't offer many marquee matchups the rest of the way.
Gasaway: It's never too early for bubble talk, particularly in Tuscaloosa, where Alabama is improbably playing its way into this conversation for a second consecutive season. The Crimson Tide were supposed to be a shoo-in for this year's NCAA tournament, but, at 13-7 overall and riding a four-game losing streak in conference, Anthony Grant's team is suddenly looking very bubbly. The Tide would be well advised to win that home game against Arkansas on Saturday.
Medcalf: Middle Tennessee might not need the Sun Belt tourney title to reach the NCAA tournament this year. The Blue Raiders have won 12 in a row, and they have a Top 60 RPI. A win against Vandy this weekend puts this underrated team in at-large contention and the Top 25 discussion.
What player or individual matchup are you most looking forward to this weekend?
Brennan: I'm extremely excited to see West Virginia's Kevin Jones go head to head with Syracuse's vaunted 2-3 zone. If you had to design a player to play against said zone, and that player wasn't a lightning-quick point guard with unimpeachable handles, you'd do pretty well with Jones. Long, active and versatile, WVU's star forward can attack the rim, drain 3s from the perimeter, rough it up on the offensive boards and, perhaps most important, provide a go-to option at the elbow -- the 2-3's most vulnerable spot.
Gasaway: It is so on: Michigan's Trey Burke vs. Ohio State's Aaron Craft, in Columbus on Sunday. As if Wolverines and Buckeyes needed a reason to get up for a game against each other, these two point guards were made to be rivals. This was supposed to be the year we all hailed the sophomore-year development of Craft, who's still a lockdown defender but has added new dimensions to his game on offense. Oops. In the "Big Ten point guard" category, a lot of the ink's been going to a flashy freshman instead (go figure). Burke's been fantastic as the floor general for a Michigan team that thinks it can get the program its first Sweet 16 since 1994. I'll be by my TV for this one, with popcorn.
Medcalf: Thomas Robinson vs. vs. Royce White. Robinson might be the best the player in the country right now. But he rarely picks on someone his own size. Enter 6-8, 270-pound White, who put up 18 points and 17 rebounds the last time Iowa State played Kansas. Should be a war between these two giants.
For more of the weekend roundtable, click here.
Games To Track
Friday

Harvard at Yale (7 p.m. ET): This is where the real Ivy League season begins for the Crimson. Harvard's run to an undefeated regular season in the league and an Ivy title will go through Yale and likely Princeton.
Saturday

[+] Enlarge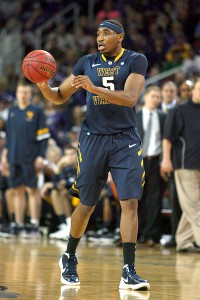 Scott Sewell/US PresswireKevin Jones will need a big game for West Virginia to rebound versus Syracuse.
West Virginia at Syracuse (ESPNU, 1 p.m. ET)
: The Mountaineers were taken out by a young St. John's team in what was one of the most surprising Big East results. Syracuse has played one road game without
Fab Melo
and has found a new rhythm.
Kevin Jones
will have to have a monster effort with plenty of help to pull off the upset.
Texas at Baylor (1 p.m. ET): The Longhorns are still maturing and likely will pull off at least one win against the upper-level teams. But it might be hard to get at Baylor after the Bears were beaten by Missouri at home this past Saturday. The Longhorns don't have the size to match Baylor if the Bears use it to their advantage.
Mississippi State at Florida (ESPN3, 1:30 p.m. ET): The Bulldogs have the size, length and depth inside to cause major issues for the Gators. But Florida's guards are playing at a high clip. The Gators' defense was much better in the second half at Ole Miss in the comeback win. It will need to be on for 40 minutes to beat back the Bulldogs. Mississippi State won at Vanderbilt. A win at Florida and the Bulldogs will be a serious threat to challenge Kentucky. Florida needs to win to stay in step.
Kansas at Iowa State (ESPN, 2 p.m. ET): This could be the upset pick of the weekend if the Cyclone guards win the position battle against Kansas. Royce White must have the game of the season to outplay Thomas Robinson. Hilton Coliseum should be rocking like it once did. Iowa State should knock off someone elite at home. It almost did against Missouri. This could be the one.
Middle Tennessee at Vanderbilt (2 p.m. ET): Middle Tennessee and the Sun Belt aren't in BracketBusters. This is the Blue Raiders' chance for a wakeup win. If it occurs, the selection committee will have to take notice. Vandy can pick up power-rating points for a quality win against a team outside the "power six." Vandy beat Tennessee after losing at home to Mississippi State.
Southern Miss at UCF (7 p.m. ET): The winner of this game is in step with Memphis for the C-USA first-place race. Southern Miss coach Larry Eustachy said he'll know a lot about his team after playing UCF and Memphis in the next week. This could end up being the best game of the conference season.
Virginia at NC State (ESPN2, 8 p.m. ET): The Cavaliers started slowly against Boston College, then they turned up the defense and the offense started to click at a higher clip. NC State got run at North Carolina. Virginia needs a road win after losing at home to Virginia Tech in its quest to stay in the top three in the ACC.
For more games to watch this weekend, click here.
Viewer's Guide
All times ET

Saturday
Noon: St. John's at Duke (ESPN)
1 p.m.: West Virginia at Syracuse (ESPNU)
1 p.m.: Texas at Baylor (CBS)
1:30 p.m.: Mississippi State at Florida (ESPN3)
2 p.m.: Kansas at Iowa State (ESPN)
2 p.m.: Middle Tennessee at Vanderbilt
6 p.m.: Cincinnati at Rutgers (ESPN3)
7 p.m.: Washington at Arizona (ESPN)
8 p.m.: Virginia at NC State (ESPN2)
9 p.m.: Saint Mary's at BYU (ESPNU)
9 p.m.: Marshall at Memphis (CSS) Sunday
Noon: Notre Dame at UConn (ESPN3)
1 p.m.: Michigan at Ohio State (CBS)
8:30 p.m.: Stanford at Cal (FSN)
I can't wait to see …
Eamonn Brennan
Whether Pittsburgh is making real progress. It certainly appeared that way this week when the Panthers finally -- finally! -- got their first win in Big East play, a solid 86-74 home win over Providence. Point guard Travon Woodall and shooting guard Ashton Gibbs combined for 39 points and 13 assists, and one wonders whether getting Woodall back and healthy, which allows Gibbs to play his more natural shooting guard role, couldn't be a significant turning point in this struggling team's season. At the very least, Georgetown has been known to play a close game or two in Big East play, and, if the Panthers can play merely decent defense, perhaps the delayed emergence of Woodall will give them a chance -- just a chance, but hey, at least it's a chance -- to upset the Hoyas in the Pete.
John Gasaway
I can't wait to see Notre Dame visit Connecticut on Sunday. These two teams have already met this season, and the Huskies won with ease in South Bend, 67-53. But that's ancient history now. (It was two weeks ago.) Since then, Mike Brey has been working his customary slow-paced voodoo, putting the hurt on then-No. 1 Syracuse and going to Seton Hall and beating the Pirates. So I guess you can call Sunday's game a tale of two rivals because UConn hasn't won again since beating Notre Dame. Jeremy Lamb is having an amazing year on offense, but Jim Calhoun's defense has been very un-UConn-like in Big East play, allowing opponents more than one point per possession. This sets up as a fork in the road for both teams.
Jason King
I'll be interested to see how Saint Mary's handles itself at BYU. Saint Mary's whipped the Cougars 98-82 in Moraga last month. But things could be different at the Marriott Center, which holds 22,700 fans. A victory in that kind of environment would be a huge momentum boost for the Gaels, who aren't used to playing in front of that many people. It also would move them one step closer to an outright West Coast Conference title. Gonzaga has won at least a share of the league crown for the past 11 seasons. Matthew Dellavedova and the Gaels have a realistic shot at ending that streak.
Myron Medcalf
Whether everything changes for Saint Mary's on Saturday. The Gaels have been extremely comfortable, and good, at home this season. They're the front-runners in the WCC. But they face BYU at Marriott Center on Saturday and will be at Gonzaga on Feb. 9. Saturday's crowd will be nuts. BYU can't get swept by Saint Mary's and expect to stay in WCC contention. The atmosphere will reflect the stakes. Meanwhile, Saint Mary's has a lot to prove, too. The WCC's top teams haven't looked like contenders when they've left their home floors. But Saint Mary's might be a different breed.
Dana O'Neil
I want to see how Harvard does in its first legit road test in the Ivy League. Everyone is busy talking about Murray State these days, wondering what will happen to the Racers if they lose a game or lose in their conference tournament. Well, what of the Crimson? Certainly Harvard has some decent nonconference wins to hang its hat on, but the Crimson's margin for error is not much wider. So far, Harvard has done a home-and-home with Dartmouth, the worst team in the Ancient Eight. Now it goes to rival Yale, probably the second-best team in the Ivies. Remember, it was a road loss to the Bulldogs that put Harvard in the one-game playoff predicament with Princeton a season ago.
Player to watch
Noah Hartsock, Brigham Young

The Cougars forward has been good all season -- doubling his scoring output from a season ago, up to 17.5 points from 8.6 -- but he'll need to be especially good Saturday. BYU hosts Saint Mary's in a huge West Coast Conference tilt. This league is not decided by a long shot, with the Gaels, Cougars and Gonzaga battling up for top honors.
-- Dana O'Neil