At The Watercooler: Weekend Preview
By Eamonn Brennan & Myron Medcalf
ESPN.com
Myron Medcalf and Eamonn Brennan, who gathered Sunday morning at the digital watercooler to review the week's top college basketball games, meet today to look ahead. They kick things off with a discussion of Saturday's matchup between Kansas and Missouri.
Eamonn Brennan: Myron, we're back again for another stop at the proverbial watercooler. Huzzah! Only this time, we're not recapping what was -- we're discussing what soon will be. That makes us sound a little like the three ghosts from "A Christmas Carol," but hey, so be it.
Myron Medcalf: True. They loved our pilot episode so much that they moved us to prime time. I'll take it.
EB: As will I. So let's dispense with the pleasantries and get down to brass tacks: Kansas. Missouri. Who ya got?
MM: I'm going with Missouri and not just because of the venue. I thought Iowa State did a great job of spreading the floor and forcing Withey/Robinson to guard the perimeter, where they weren't comfortable. Déjà vu Saturday. Tigers in a tight game. You?
EB: Yeah, we discussed this on the ol' ESPNU College Basketball Podcast Thursday, and your point is valid: For as much as we've talked about Missouri having matchup issues with bigger, taller frontcourts, Missouri's four-out-one-in style gives teams like that just as many problems on the defensive end. You can't zone the Tigers; they'll carve you up. So who guards Kim English, Power Forward in Name Only? Thomas Robinson? And if so, doesn't that take Robinson too far away from the basket to be of use as a help defender and rebounder? And how does Kansas deal with that?
[+] Enlarge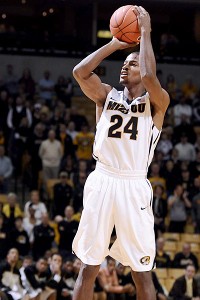 Dak Dillon/US PresswireAfter a disappointing junior season, Kim English has regained his touch, hitting on almost half of his 3-point attempts.
I'm not sure they can. So I'll go with Missouri, too, in a slightly less than close game. Let's say seven or eight for the final margin.
Here I am, always whining when our editors make us predict games, soliciting predictions of my own. Alas.
MM: I think you have to take sides on a weekend like this.
That said, Ohio State and Wisconsin collide in the Big Ten. What do you expect to see in that one?
Other than two teams playing basketball.
EB: That was totally going to be my answer. Thank you for preempting my smart-aleck tendencies.
MM: Haha. Glad I beat you to it.
EB: I expect to see a mostly slow-paced game. That's Wisconsin's deal, and while Ohio State likes to get out and run a bit more than the average Big Ten team -- they're at about 67 possessions per game per Pomeroy's adjusted tempo -- I don't think they'll have a problem in a grind-it-out half court style either. If they acquiesce to the Badger tempo in Madison, Wisconsin will have a much better chance of keeping things close and sneaking off with a win at the end. But I'm leaning heavily toward Ohio State here. You?
MM: Yep, I have to go with Ohio State, too. I don't count the Kansas loss because Sullinger was out. But in their two Big Ten losses, their opponents had to play their best games of the season to beat them. Illinois hit 61 pct of its threes and Brandon Paul scored 43. All five Indiana starters recorded double figures and the Hoosiers forced 17 TOs. Wisconsin has that kind of defense to disrupt the Buckeyes. But I don't believe the Badgers have that next-level offense to beat Ohio State. I pick Ohio State in a close game. Let's say three points.
So many placed I'd love to be this week. Things might get interesting in Tallahassee in Virginia-FSU's matchup. That's going to be a scrappy game.
To read the rest of the Watercooler, click here.
No. 8 Kansas At No. 4 Missouri
When and where: Saturday (ESPN, 9 p.m. ET), Mizzou Arena (Columbia, Mo.)
Kansas breakdown: Despite some depth issues, Bill Self has one of only two teams in the country with a top-10 offense and defense in the KenPom.com efficiency ratings.
[+] Enlarge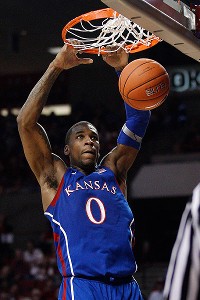 AP Photo/Sue OgrockiKansas' Thomas Robinson is averaging over 17 points and 11 rebounds per game.
Kansas is a good passing team, and is resolute in getting the ball inside to
Thomas Robinson
and
Jeff Withey
. The Jayhawks run a lot of ball-screen action, and a lot of high-low action to isolate their post players and get the ball into the paint, where they are more likely to have high-percentage shots and the opportunity to get fouled.
The Jayhawks are proficient inside the 3-point arc and do a solid, but not spectacular, job on the offensive glass.
When Kansas gets a shot, the Jayhawks are very good. When Kansas turns the ball over or makes a poor decision, the Jayhawks can be had. Kansas turns the ball over at a 20 percent clip, which ranks 123rd in the nation. Against Missouri's pressure and fast-paced defense, Kansas cannot afford to have empty possessions and to give Missouri opportunities to attack the rim in advantage situations.
Without question, Kansas needs production out of its player of the year candidate Thomas Robinson and its senior point guard Tyshawn Taylor.
Robinson is averaging over 17 points and 11 rebounds per game, and he is the best defensive rebounder in the country. Robinson has a great motor, and works hard for deep post position. He moves his defender up the lane, and his guards will throw the ball up near the square from the hashmark on ball reversal to get it to him.
Missouri breakdown: I would pay to see Missouri play basketball.
The Tigers are one of the most fearless, unselfish, fast and dynamic teams in the country, and one of the most efficient offensively. Missouri is second in the nation in offensive efficiency, third in turnover percentage, and first in 2-point field goal percentage.
The Tigers share the ball, space the floor effectively, and really get up and down the court after a turnover, miss or made field goal. Without playing "chuck and duck" basketball, Missouri makes really good decisions on when to pitch it ahead and attack, and when to run half-court offense and exploit its quickness and speed.
The Tigers run a set-play, quick-hitting offense that takes advantage of cutting, ball screens, fade screens and driving closeouts after moving the ball. The Tigers at times appear as if they are tethered on a line. When the ball moves, they space the floor and cut and fill.
Even though Missouri is smaller, it plays bigger, and it gets the matchups in its favor and attacks. And the Tigers make their free throws, which makes them very difficult to come back against late in games.
Everything with Missouri starts with Phil Pressey, the point guard. Pressey is super quick with the ball and is a pass-first, pass-ahead point guard. He reminds you a bit of former Texas guard T.J. Ford, but he is not as potent of a scorer.
Pressey averages over 6 assists and 2.5 steals per game, and he can impact the game without taking a shot. His ball pressure is very good, and it is very difficult to stay in front of him.
To read more of Jay Bilas' breakdown of Kansas-Missouri, click here.
Viewer's guide
All times ET
Saturday
Noon: Syracuse at St. John's (ESPN)
1 p.m.: Marquette at Notre Dame (CBS)
1 p.m.: Vanderbilt at Florida (CBS)
1 p.m.: Virginia at Florida State (ESPN3)
1 p.m.: Xavier at Memphis (FSN)
2 p.m.: Ohio State at Wisconsin (ESPN)
4 p.m.: North Carolina at Maryland (ESPN)
4 p.m.: Middle Tennessee at Denver (ESPN2)
4 p.m.: UNLV at Wyoming (The Mtn.)
5 p.m.: Old Dominion at George Mason (ESPNU)
7 p.m.: Indiana at Purdue (BTN)
9 p.m.: Kansas at Missouri (ESPN)
Sunday
1 p.m.: Michigan at Michigan State (CBS)

More games to track
In addition to the Kansas-Missouri showdown, Andy Katz offers up 12 more games to keep an eye on this weekend, including Ohio State-Wisconsin and North Carolina-Maryland. Story »
I can't wait to see …
John Gasaway
I can't wait to see Virginia take on Florida State in Tallahassee on Saturday. The Seminoles have beaten North Carolina, Duke, and everyone else they've seen in ACC play … well, everyone but Clemson. Now Leonard's Hamilton team is tied for first in the conference, and it did it with typically strong FSU defense and a healthy dose of excellent perimeter shooting. Michael Snaer and Deividas Dulkys have been on fire from outside the arc, but they'll get a tough test from the Cavaliers. Tony Bennett's team has been even better on defense than the Seminoles, and if you don't know that Mike Scott is having an ACC Player of the Year-type year, you just haven't been paying attention. Tune in to see two outstanding defenses colliding in a game that will have major implications for the ACC race.
Joe Lunardi
I can't wait to see the Super Bowl undercard between Michigan and Michigan State. Just as SB XLVI is a fascinating rematch, so is UM-MSU. It's been a long time since both teams were good at the same time, but that time has come. The Wolverines escaped by a single point in Ann Arbor last month, so I look for the Spartans to rebound -- literally and figuratively -- with a vengeance. An injured or limited Draymond Green would make this another toss-up.
Dana O'Neil
I want to see who packs their travel bags well. The road has not been kind to anyone this season. Youth and inexperience have combined into combustible results for good teams when they leave the comfy confines of home. This weekend 13 of the Top 25 teams are on the road, which could make for some rather interesting results if recent history is an indicator. Very soon, good teams are going to have to play in front of neutral, if not altogether hostile, crowds in that lovely March dance we call the NCAA tournament. It's time to see who is built for the road.
Miles Simon
I can't wait to see the defensive matchup between Virginia and Florida State. The interesting thing when you watch their defenses is they play D in different ways. Virginia plays what is called pack-line defense. They will allow passes around the perimeter, guarding at the 3-point line, but won't allow penetrating drives or passes into the lane and try to make you shoot contested 2-point jump shots. This has resulted in a defense that is second in the nation, giving up only 50.6 ppg. On the other hand, FSU is long and athletic, they will pressure in the half court and can funnel you to the basket into their big front line of James, Gibson, White and Kreft, who are ninth in the nation as a team in blocks per game and hold teams to 36.8 percent FG shooting. It will be great to see which team's defense can hold up the longest.
Player to watch
Aaron Craft, Ohio State

The crafty (pun intended) sophomore point guard visits Wisconsin and equally adept point guard Jordan Taylor on Saturday. The deliberate Badgers are about as much fun as a root canal, and it will be up to Craft to keep the Buckeyes' offense in rhythm while also dealing with Taylor.
-- Dana O'Neil