At The Watercooler: Weekend Preview
By Eamonn Brennan & Myron Medcalf
ESPN.com
Editor's note: Myron Medcalf and Eamonn Brennan met at the watercooler Friday morning to discuss what they're looking forward to this weekend in college basketball.
Myron Medcalf: We're back again for another Watercooler, Eamonn. Great action to consider, as always. A lot of weekend games interest me. But I really like Colorado at Kansas on Saturday. The Buffaloes are athletic, they're aggressive at the rim and they won't be intimidated by KU. But it's tough to beat the Jayhawks on any floor. It's really tough to beat the Jayhawks at Allen Fieldhouse. Still, I'm intrigued by this one. You?
Eamonn Brennan: Obviously the best game of this weekend is Monmouth at Syracuse. Hands down. I kid. It's sort of a weird weekend, just before exams and after the organized exempt tournaments, which always leads us to some pretty wacky matchups.
[+] Enlarge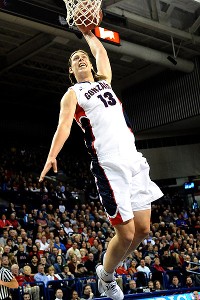 James Snook/US PresswireKelly Olynyk has been a beast for Gonzaga's during the program's first-ever 9-0 start in Division I.
The old Big 12 matchup is a good one. Spencer Dinwiddie is the truth, and Andre Roberson will give that frontcourt some trouble on the glass. And Bill Self has been vocal about how frustrating his team has been at times this season. That said … I don't think Colorado's winning at Kansas. The Jayhawks' offense hasn't been totally pretty, but they're already stout on the defensive end. (Thank you, Jeff Withey.) And I don't think Colorado can stop Ben McLemore.
Let's see, what else? I was going to mention UCLA at Texas, but then I remembered that would mean breaking down UCLA and Texas. Let's … not.
MM: No need to do that … it's already broken and down.
EB: +1.
The most heated rivalry of the weekend will be in Milwaukee, where otherwise polite cheeseheads will get together and scream at each other for two hours. But I'm probably a tad bit more interested in Butler's trip to Northwestern. I have no idea what to make of Northwestern. You?
MM: Yeah, I don't really know what the winner of Marquette-Wisconsin gets other than a minor boost of confidence and bragging rights. … And once again, it's hard to decipher what's happening in Evanston. After the Wildcats were crushed by Maryland and then, lost to Illinois-Chicago, I think a lot of folks were ready to pack up the "This could be our year, finally" caravan. And then they go on the road and beat a Baylor squad that had just knocked off Kentucky at Rupp and messed up that entire theory. Drew Crawford & Co. shook off that two-game losing skid, but I'm definitely not sold. Saturday is a good gut-check for both teams. There must be something in the water in the state of Illinois. I can't figure out the Illini. Are they as good as their record? And how big is Saturday's matchup against Gonzaga?
EB: It is big. The Illini are actually pretty straightforward. They spread the floor, they play a lot faster than they did last season, and they chuck a bunch of 3s. To date, 43.5 percent of their possessions end in long-range heaves, and they're shooting 40.8 percent as a team. They shoot a lot of 3s, they make a lot of 3s, or at least they have thus far.
The question is whether they will remain so hot. I have my doubts -- particularly on the road, at Gonzaga, who I'm sure will try to run Illinois off the line as much as possible.
I doubt Illinois will win, particularly after Gonzaga's gut-check at Washington State this week. If they do, an already surprising Illini team suddenly becomes downright fearsome. We will have no choice but to doff our caps.
MM: I agree. If Illinois passes this test, then it will deserve that praise. But I think the Zags are too tough. And they've passed a few tests already. They could have collapsed against Washington State. They didn't. They handled Davidson with ease. And they opened the season by destroying West Virginia. Kelly Olynyk has really changed projections for that squad. The Bulldogs are effective at all spots and Mark Few has serious depth. A lot to like about Gonzaga. But a loss would spur doubt about its start, too.
But … and I hate this cliche … that's why you play the games. It's a wacky weekend. Not many high-profile matchups. Doesn't mean we won't see an interesting slate though. I'm ready. You?
EB: Always. Until next time, Myron.
No. 13 Illinois (9-0) at No. 10 Gonzaga (9-0)
When and where: Saturday (ESPN2, 10 p.m. ET), The Kennel (Spokane, Wash.)
Illini to watch: Tracy Abrams. The young point guard is tough and steady, and has really improved running the team and leading. Abrams averages 11 points per game and can get by you and get to the rim. And this season he is hitting open shots. Last year, defenses played off of him, but now they have to respect his perimeter shot. Abrams is second to Brandon Paul in assists, but has only four more assists than he has turnovers. He must take care of the ball, distribute it and make the right decisions in Spokane. He must also defend without fouling, as Illinois cannot win with him on the bench.
Zag to watch: Kelly Olynyk. Elias Harris is Gonzaga's best player and Kevin Pangos is the player who can get hot and make several 3s in a row (as evidenced by a tremendous performance against Davidson in Orlando), but Olynyk has the biggest upside. A true 7-footer who can step away and shoot it, Olynyk has gotten bigger and stronger and has parked himself in the post more often. He averages 14 points and 7 rebounds in 24 minutes per game, and shoots over 64 percent from the floor. He is now a more complete player, and will be a matchup problem for Illinois. If he is aggressive, Olynyk can have a big game. Key stat: Rebounding and 3-point shooting. Gonzaga is outrebounding its opponents by almost 13 extra boards per game. That means extra possessions and easier baskets. The Zags are a good offensive rebounding team and have done a nice job of limiting opponents' second-shot opportunities. The Illini are really going to have to gang-rebound to keep up with the Zags on the backboards. Gonzaga is a good 3-point shooting team and its inside-out play can lead to open opportunities for Pangos and Bell Jr. But the key will be Gonzaga's ability to guard the 3-point line and limit open shots behind the arc by the Illini. They can stretch you and drive you, and Gonzaga has to run Illinois off the line. X-factors: Bertrand and Karnowski. Bertrand is the best athlete on the Illinois roster and is excellent in transition, defensively and on the glass. He is very efficient and can guard multiple positions. If Bertrand comes in and plays his best, it provides Groce with some flexibility. Karnowski is huge, and Illinois has no big bodies to match him. Karnowski averages 9 points and hasn't been able to knock down his free throws yet, but he has the size and touch to have an impact in this game.

Editor's Note: To read more of Jay Bilas' breakdown of Illinois-Gonzaga and to see his prediction, click here.
Viewer's Guide
All times ET

Friday
7 p.m.: Harvard at Connecticut (ESPN3)
8 p.m.: Iowa State at Iowa (BTN) Saturday
Noon: Arkansas at Michigan (CBS)
Noon: Long Beach St. at Ohio St. (BTN)
Noon: Portland at Kentucky (ESPN2)
2 p.m.: Colorado at Kansas (ESPN2)
3:15 p.m.: Duke vs. Temple (ESPN)
4 p.m.: Virginia Tech at West Virginia (ESPN2)
5 p.m.: Ole Miss at Middle Tennessee (ESPN3)
5:15 p.m.: UCLA vs. Texas (ESPN)
6 p.m.: Wisconsin at Marquette (ESPN2)
8 p.m.: Arizona at Clemson (ESPN2)
8 p.m.: Butler at Northwestern (BTN)
9 p.m.: Valparaiso at New Mexico (Root Sports)
10 p.m.: Illinois at Gonzaga (ESPN2)
10:30 p.m.: Minnesota at USC (PACN)
Sunday
2 p.m.: Akron at Creighton (ESPN3)
6 p.m.: UNLV at California (ESPNU)
I Can't Wait To See …
Eamonn Brennan
For the sake of avoiding repetition, how about Ole Miss at Middle Tennessee? Kermit Davis Jr.'s veteran team has lost to Florida and Akron, which is forgivable, and this team wasn't all that far away from contending for an at-large NCAA tournament bid last season. Meanwhile, Ole Miss may be one of the sleepiest sleeper teams in the country. On paper, the fighting Admiral Ackbars look great -- they're holding opponents to the second-lowest effective FG percentage rate in the country, and creating a bunch of turnovers, too. But their best win (by far) came at home over Rutgers. This could be a revealing test for both teams.
John Gasaway
I can't wait to see Arizona visit ACC-land on Saturday night to take on Clemson at Littlejohn Coliseum. At first glance this looks like an easy win for a top-10 team against an unranked opponent. Make no mistake, Arizona's earned the ranking. Solomon Hill and Nick Johnson have both been on fire from the field, and no opponent has managed to get closer than an eight-point margin of defeat. The Cats are for real, but they'll be 1,900 miles from home, and anyway, K.J. McDaniels has been very impressive for the Tigers. The 6-foot-6 sophomore is Brad Brownell's co-leading scorer (along with Devin Booker), and he's blocking shots like a 7-footer. Oh, and Milton Jennings">Milton Jennings is back for this one. Expect a close game.
Andy Katz
Wisconsin-Marquette is one of the better in-state nonconference rivalries that gets little national publicity. The two schools have a genuine dislike for one another as the state U versus the private. Bo Ryan doesn't have the same intensity going with Buzz Williams that he did with Tom Crean but there is still a genuine desire to beat the other on the court and in recruiting. Neither team has been easy to figure so far this season. UW can look pedestrian and lose as it did against Virginia and then handle Cal in a dominating fashion. Marquette has the similar pieces to fluster opponents but got overrun by Florida. Expect a late possession game in this one.
Jason King
Undefeated Virginia Tech has been one of the biggest surprises of the college basketball season. But all seven of its wins have come at home. I'll be interested to see how the Hokies, who rank third in the country with 86.1 points per game, fare in a tough road environment at West Virginia. The Mountaineers were one of the nation's biggest disappointments early in the season, but Wednesday's win over Marshall was a step in the right direction for Bob Huggins' squad. The biggest key for WVU will be slowing down Virginia Tech guard Erick Green, who is averaging 24.9 points. The Hokies seems legit, but we'll know for sure after Saturday.
Myron Medcalf
I can't wait to see whether the Illini are legit. I think John Groce is changing the culture in Champaign, but I'm not sure they've proved much with this 9-0 start. A win at Gonzaga, however, would legitimize everything Brandon Paul & Co. have done to date. But the truth is that they've been living and dying by the 3-ball (239 attempts, second in the country). And that's a high-risk, high-reward strategy. Let's see if it works in Spokane.
Dana O'Neil
Can Khalif Wyatt help Temple pull off an even bigger upset of Duke? A year ago, the Owls guard torched the Blue Devils with 22 points, stopping Duke's nine-game win streak in its tracks in Philadelphia. This Blue Devils team isn't that Blue Devils team -- Duke is more sound and solid, and Mason Plumlee is making an early argument for national player of the year. But this Temple team isn't the same, either. Wyatt, who has been just as good this season as he was last, doesn't have to do it alone. He's got assistance in the form of Scootie Randall, who missed all of last year, and Anthony Lee and Rahlir Hollis-Jefferson have been a solid frontcourt tandem.
Robbi Pickeral
Can that other undefeated ACC team continue its roll? First-year Virginia Tech coach James Johnson and league leading scorer Erick Green (24.9 ppg) take their surprising 7-0 start on the road to West Virginia on Saturday night, where they hope to build off last weekend's 81-71 upset of No. 15 Oklahoma State. The Hokies were picked to finish 10th in the league, but their new up-tempo offense has them off to a fast, fun start.