At The Watercooler: Weekend Preview
By Eamonn Brennan & Myron Medcalf
ESPN.com
Editor's note: Myron Medcalf and Eamonn Brennan met at the watercooler Friday morning to discuss what they're looking forward to this weekend in college basketball.
Eamonn Brennan: Hola again, Myron, and welcome back to our weekly mini-Watercooler here in the Weekend Watch. Finals week, man. It's finally over. Nothing quite so satisfying as walking to the front of the class and handing in that blue book. Now we celebrate with a solid slate of Saturday games. What's your favorite?
Myron Medcalf: What's up, Eamonn? Well, I'm pumped for Florida-Arizona. Probably because I enjoy the phrase "Somebody's 'O' has to go." The Gators have smashed a bunch of decent opponents, but this will be their toughest test to date. The Wildcats looked shaky until Mark Lyons went off late against Clemson last weekend. Should be a great matchup, right?
EB: I thought you'd go for Florida-Arizona. I have to agree. In a weekend of really great matchups, it is the best. It's going to be a great game, Florida has been good on the road thus far -- yeah, yeah, yeah. But more than anything, it gives us our first chance to really evaluate Arizona as an aspiring elite team this season. I know it's just one game, but after Saturday we'll know a whole lot more about a young but really exciting bunch.
[+] Enlarge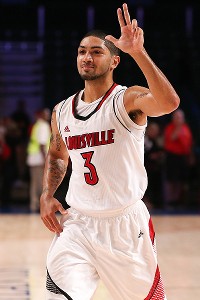 Kevin Jairaj/US PresswirePeyton Siva and Louisville face what should be a tough test in a hostile environment at Memphis.
Remember how weird and sort of bad last week's Saturday games were? (OK, yeah, Illinois-Gonzaga, sure.) This weekend is not similarly afflicted. Kansas State-Gonzaga is a great game! Louisville-Memphis is a great game! Michigan-West Virginia is … a pretty good game! Indiana-Butler could be either a blowout or a very close game, and I'm leaning toward the latter.
MM: I'm with you, man. I love this weekend's menu. Gonzaga needs to recover from last weekend's whipping and Bruce Weber needs a win that means something. l really like Memphis-Louisville and West Virginia-Michigan (the Beilein Bowl), too. But I'm most intrigued by Indiana-Butler. Something -- not the numbers, necessarily, or personnel -- tells me that you'll want to be in front of your TV for that one. Fireworks. The Bulldogs love to turn these "predictable" matchups into classics. No more motivation than a meeting with the in-state powerhouse.
This weekend also features a few sleepers. We'll know a lot more about Creighton after Saturday's road trip to Cal. I like the New Mexico State-New Mexico rivalry game, too. And I can't wait for Belmont at Kansas. Am I crazy to think that the Bruins and their potent offense (15th in efficiency per KenPom.com) can pull off the upset in Allen Fieldhouse?
EB: Yes. You are crazy. Don't get me wrong, I ride for Rick Byrd, but did you see what Kansas did to Colorado? Ain't happenin'.
One other minor disagreement: At this point I'd say we've got as good a read on Creighton as any team in the country, no? Incredible offense. Doug McDermott. Grant Gibbs. A defense that let them down last season but has improved this season. If they defend at a top-50 rate, as opposed to last season's sub-100 per-possession performance, Creighton will be fine, right?
MM: I'll take the crazy tag for Byrd & Co. Not saying it'll happen, but it's possible … maybe. The Jayhawks knew that they couldn't mess around with Colorado, so they punched Tad Boyle's squad early. Will they have the same early fire for a 6-2 Belmont squad? Doubtful. Could be a 20-point blowout, I agree. Could be interesting. … On Creighton, it's only the Bluejays' second real road game of the season. Plus, they're facing the most complete backcourt of their nonconference slate. Creighton is better defensively. But chasing Allen Crabbe and Justin Cobbs around all night will not be fun, especially on the road. … Here's the good news: We don't have to do anything to hype up this weekend's slate. Check the schedule. So many good options. In the words of Terrell Owens, get your popcorn ready, right?
EB: I did not think we would get to a T.O. quote by the end of this exchange. What were the odds on that?
In any case, you're right. It's a great slate and I can't wait, and I know I say that every Saturday, but it's more true this Saturday than most.
MM: So true, man. So true.
No. 5 Florida (7-0) at No. 8 Arizona (7-0)
When and where:No. 5 Florida (7-0) at No. 8 Arizona (7-0) at 10 p.m. ET Saturday on ESPN.
Gators outlook: The difference for Florida this season is defense. Last season, UF gave up 40 percent shooting from 3-point range and got hurt by being overextended. This season, the Gators are staying home more and packing it in. Instead of playing out in passing lanes and denying, they are playing off more, not playing as far up the line, and showing their chests to the ball and building a wall to protect the lane and the rim. That has meant fewer help rotations and better defensive rebounding, limiting opponents to one challenged shot (outrebounding opponents by 10.7 per game). The results are obvious. Florida has a top-five defense, and has done it with both man-to-man and zone. The Gators still press, speed the game and make you play at a speed you don't practice. And they have done a great job of not just forcing turnovers, but converting off turnovers. Florida has scored more than twice as many points off turnovers as its opponents (21.3 to 9.9).
On the offensive end, UF is a ball-screen team that can really stretch out a defense, and really attacks and gets to the free throw line. Florida has made more free throws than its opponents have attempted. Four Gators average between 14.4 points and 10.3 points per game. This is a team that scored 74 points against Wisconsin, a team that gave up only 53 points per game last season, and blasted Marquette and Florida State. Florida has good, experienced guards in
Kenny Boynton
,
Mike Rosario
and
Scottie Wilbekin
, a strong presence in
Patric Young
(an interior player who, when he keeps it simple, can be really effective), and an elite and versatile defender in
Will Yeguete
, who can defend multiple spots, get offensive rebounds and affect the game without scoring.
[+] Enlarge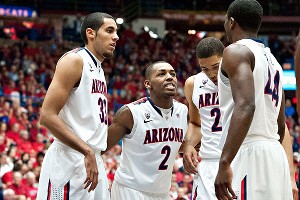 Casey Sapio/USA TODAY SportsArizona is unbeaten, but will face its toughest test by far against the fifth-ranked Gators.
Wildcats outlook:
Last season, Arizona was not a great shooting team but could not compensate for it with second-shot opportunities or post-ups because Sean Miller did not have the personnel. This season, he has the personnel. The Wildcats have great size up front and very good depth. (But don't listen to those who suggest that having big-guy depth gives you extra fouls to waste, which is silly. You don't waste fouls, which puts your opponent at the free throw line for common fouls and leads to losses). With freshmen
Kaleb Tarczewski
and
Grant Jerrett
, Miller has two big men who can affect the game. Tarczewski is a traditional low-post banger who seeks out contact and can score around the goal, and is the team's top rebounder. Jerrett is a long-armed big man who can step away and knock in an open 3-point shot. Arizona has good guards, good size and good balance. Another frontcourt player to watch is
Brandon Ashley
, a freshman who has a terrific understanding of the game, can really hit the glass and can go off the bounce. Ashley has been up and down, but he put up 20 points and 10 rebounds against Long Beach State, and just had nine points and six rebounds at Clemson. With Xavier transfer
Mark Lyons
, Miller has an experienced, big-game guard who is unafraid of anything but takes some criticism for being loose with the ball. Lyons has more turnovers than assists, but he is hardly a turnover machine. He can attack pressure and score or get fouled, and that will be an asset against Florida.
Nick Johnson
is leading the Wildcats in scoring, assists and steals, and is a tremendous athlete with explosiveness, transition ability and the ability to defend. Johnson can shoot it and can get to the rim and finish. He has been the Wildcats' best player in the first month and a half. A key player against Florida will be
Solomon Hill
, a versatile and skilled wing who can see the floor and handle the ball. He will be vital in the press offense. Hill has not shot the ball well this season and is coming off a 2-for-16 night at Clemson, but he is UA's most versatile and most valuable player.
Gators go-to:
Kenny Boynton.
An outstanding defender who has been doing a very good job getting into the lane and getting to the free throw line, Boynton is one of the best senior guards in the country. He is averaging 14.4 points and 4.1 rebounds per game, and is shooting 90 percent from the free throw line. He can get hot in a hurry and is rarely rattled. Boynton needs to play well for Florida to win on the road.
Wildcats wonder:
Lyons. He is an attack guard who can really score and is willing to take on any challenge. Lyons is averaging 13 points per game, yet is third on the team in shots taken, and is coming off a 20-point game against Clemson. Against the full-court pressure of Florida, expect Lyons to be on the attack and to look to score against pressure.
Gators X-factor: Erik Murphy. The most impressive individual performance I have seen all season was Murphy's 24-point perfect game against Wisconsin in which he did not miss a single shot. Murphy can really shoot it and is a terrific pick-and-pop big man. He is skilled and can score in the post or step away. He will provide a tough matchup for any Arizona big man, but I expect Hill to take him on, which will be a great matchup. Hill is an underrated defender, and he was terrific this summer at the Nike Skills Academies. Wildcats X-factor: Kevin Parrom. This strong senior wing has been through a lot in his career and has come through stronger. He originally signed with Xavier, was the victim of a gunshot wound in his own home in New York, yet has been an efficient offensive player who excels in transition, can drive the ball, hit open 3s and find the open man. Parrom also is a willing defender. In a high-level game with young teammates, his toughness and ability can make a big difference. Key stats: Three-point field goal defense and points off turnovers. Florida feeds off turnovers and can turn a mistake or a bad shot into a layup or opportunistic 3 on the other end. And the Gators are not shy about pulling the trigger on a 3 in transition. The Wildcats cannot turn the ball over and expect to win. Turnovers take away a shot opportunity but also take away a chance for an offensive rebound or foul while putting your defense at a disadvantage. Arizona does not defend the 3-point line as well as the rim, and Florida will involve the young big men in ball screens high and flat and on the sides. How the Cats guard those screens and rotate will be a key factor in the game. Who wins: Arizona has to get out in front of Florida early and stay in front. The Gators have trailed only twice this season and have not trailed a single second after the first five minutes of any game. This game will be about making decisions and completing plays. The Wildcats have to guard ball screens with a plan, handle pressure in full-court situations, and then handle both man and zone with both aggressiveness and patience. Florida is the better team, but this is the toughest environment the Gators have faced this season. I favor the Gators in this one, but not by much. Florida wins 76-72.
Viewer's Guide
All times ET

Friday
7 p.m.: Charlotte at Miami (ESPN3)
9 p.m.: LSU at Boise State Saturday
2 p.m.: Indiana vs. Butler (CBS)
2:30 p.m.: Louisville at Memphis (FSN)
2:30 p.m.: Iowa vs. Northern Iowa (BTN)
4 p.m.: Alabama at VCU (CCS)
4:30 p.m.: Notre Dame vs. Purdue (ESPN2)
7 p.m.: Belmont at Kansas (ESPNU)
8 p.m.: Michigan vs. West Virginia (ESPN)
9 p.m.: Kansas State vs. Gonzaga (ESPN2)
10 p.m.: Florida at Arizona (ESPN)
11 p.m.: Creighton at Cal (PACN) Sunday
3 p.m.: Western Kentucky at Murray St. (ESPN3)
6 p.m.: Eastern Kentucky at Illinois (ESPNU)
I Can't Wait To See …
Eamonn Brennan
I can't wait to see whether Memphis is ready to make that leap. The Tigers -- and especially their coach, Josh Pastner -- were pilloried by an intense local fan base after their 1-2 showing in the brutal Battle 4 Atlantis. Their three games since then have been all wins. Two were guaranteed routs against UT-Martin and Austin Peay. But sandwiched in the middle was an 84-58 drubbing of a good Ohio team, easily the best Memphis has played all season. This weekend, Louisville comes to town. Not only is this a heated old rivalry, not only is it the Tigers' last truly marquee nonconference game and absolutely crucial to their NCAA tourney credentials, it is also a chance for the team and its coach to prove -- not only to media types, but their own fans -- they're destined for more than a ho-hum first-place CUSA finish and a first-weekend NCAA tourney exit. Memphis won't play a more important game all season.
Fran Fraschilla
I am pumped about Florida hooking up with the Arizona Wildcats in the McKale Center on Saturday night. Both teams come in 7-0 and and will be heard from nationally all season long. Billy Donovan has "the whole is greater than the sum of its parts" type of team with no lock NBA guys on his roster but a slew of quality upperclassmen. Sean Miller has an interesting blend of old and new with versitile 6-foot-6 senior Solomon Hill leading the way and freshman Brandon Ashley providing toughness around the basket. Kenny Boynton and Mark Lyons are an interesting matchup of seniors who probably thought they'd be playing at the next level by now.
John Gasaway
I can't wait to see Belmont pay a visit to Allen Fieldhouse to take on Kansas. Since losing to Michigan State a month ago, Bill Self's team has reeled off six straight wins thanks to Jeff Withey's superb post defense and Ben McLemore's prolific and efficient scoring. You may not expect Withey and McLemore to lose at home to a 6-2 Ohio Valley team. Well I don't either, but Belmont's actually a much tougher opponent than you might think. Rick Byrd's team already has a win at Stanford and smoked Middle Tennessee this week, and to this point in the season 6-3 senior Ian Clark has been perhaps the nation's most efficient featured scorer. If this game stays close for too long, old-timers in Lawrence will start thinking back to November 2006, when Kansas lost in Lawrence to Oral Roberts. Not likely, but stranger things have happened.
Andy Katz
I can't wait to see if my upset pick of Memphis over Louisville occurs. It has nothing to do with some made-up bias against Louisville (I don't have one). This is all about Memphis. The Tigers have been propped up by many of us in the media, but they haven't won a big-time game like this in a long while, and they'll be at home and the Cardinals aren't healthy. If Memphis is ever going to take the next step under this current crew, this is the opportunity. Geron Johnson and Shaq Goodwin are playing well for Josh Pastner. This is the test Memphis must pass. If the Tigers lose, they will fade from relevance until the Conference USA tournament. If the Tigers win, they can be part of the national discussion for quite some time.
Myron Medcalf
I can't wait to see Kansas State versus Gonzaga in Seattle on Saturday. It's obviously a big game for both teams, but I think it's bigger for Gonzaga. Yes, Bruce Weber is still searching for his first signature victory as K-State's new head coach. The Bulldogs, however, need to shake off last weekend's home loss to Illinois. They were embarrassed in their own arena, and they couldn't deal with the Illini's athleticism and aggression. They'll face another talented backcourt, anchored by Rodney McGruder and Angel Rodriguez. How will the Zags respond? Since Gonzaga will play Baylor and Oklahoma State in the coming weeks, we'll find out if they are legit or if they can't deal with dynamic backcourts and were simply overhyped. That's why Saturday is such a significant test for Mark Few's program.
Dana O'Neil
I can't wait to see the country's mid-major darling, Butler, against Indiana's favored sons, the Hoosiers. I have no doubt that candy-striped pants will be more in fashion than Butler Blue in Indianapolis -- the Bulldogs have been a nice distraction while IU got its act together, but there is no doubt whom the state roots for. More than the entertaining atmosphere, I'm anxious to see the actual game. Only Illinois, Marquette and North Carolina have been able to score more than 70 points against Butler -- and we all know that the final score against UNC is something of a misnomer, what with the Tar Heels' 27-point deficit at one point. Indiana, on the other hand, leads the nation in scoring, averaging a torrid 89 points per game and outscoring opponents by an average of 30.5 points per game. Can Butler, then, force IU into a more methodical game and make this one interesting?
Robbi Pickeral
I can't wait to see if Charlotte remains undefeated after playing at Miami on Friday night. There were modest expectations for the 49ers this season -- they were picked to finish 12th in the A-10 during the preseason -- but they are getting it done with defense, as foes have shot only 36.1 percent. Charlotte faces a big test, though, in trying to slow 6-foot-10, 292-pound Hurricanes center Reggie Johnson, who is averaging a double-double (12.8 ppg, 10.8 rpg), as well as Shane Larkin (16.3 ppg, 52 percent 3-point shooting) and Durand Scott (15 ppg). Miami has won four in a row but hasn't played since Dec. 1.
Miles Simon
What I'm looking forward to most is the matchup between Florida and Arizona, which is only the fourth meeting between top-10 teams this season. Billy Donovan is mixing up his defenses well, applying full-court pressure along with man-to-man defense, but he's also playing zone twice as much as he did last season and it's causing teams a ton of problems. The Gators are second in the nation in scoring defense at 48 ppg and seventh in field goal percentage defense (.349). Kenny Boynton has matured into a leader and Erik Murphy has added strength. Patric Young is a player to watch in this one, as he ripped the Wildcats for 25 points and 10 rebounds in last season's meeting. The Wildcats counter with a deep team led by their three perimeter players Solomon Hill, Nick Johnson and Mark Lyons, who make the Cats a constant 3-point threat. Arizona finally has some size inside to match anyone in the country with freshman Kaleb Tarczewski, Brandon Ashley and Grant Jerrett. They will be relied upon heavily to limit the experienced front line of the Gators and they will need to play well on the biggest stage of their young careers.