Pressure's on Ohio State in Ann Arbor Saturday
By Eamonn Brennan & Myron Medcalf
ESPN.com
Editor's note: Myron Medcalf and Eamonn Brennan chatted Thursday night and looked ahead to the Ohio State-Michigan matchup on Saturday.
Eamonn Brennan: It's rapid-fire chat time, Myron. Big game in the Big Ten Thursday night, but the result -- a Michigan State blowout over Wisconsin -- was about what we expected. Next up? Ohio State at Michigan. The Buckeyes need to turn the page quickly if they're still interested in taking home another Big Ten title. Spoiler alert: I think they do. What say you of Michigan's chances?
[+] Enlarge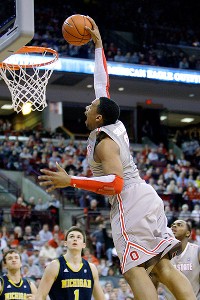 AP Photo/Jay LaPreteHow Michigan handles Jared Sullinger will be a key factor in its bid to knock off Ohio State.
Myron Medcalf: I like Michigan's chances. Ohio State has looked vulnerable in February. The Wolverines haven't lost at home this season. Although the Buckeyes whipped them by 15 points Jan. 29, they were tough on Jared Sullinger. If they can play solid D on Sully again and hit 3s, get solid production from Tim Hardaway Jr. and Trey Burke, I could see an upset. You?
EB: Yeah, you have to love the way Michigan holds serve, to use a brutal sports cliche, in its own building. It's about team defense for the Wolverines in this one. No one player in their frontcourt can match up with Sullinger, obviously. But if they can provide good help, but also rotate well enough to make things difficult for the perimeter players, they might just keep him in check.
It'll be interesting to see how much zone John Beilein uses. It's usually not much, except out of timeouts and such. But Michigan might be better off using a lot of 2-3 or 1-3-1 to keep the big man out of the paint and away from pure one-on-one matchups.
The other issue, though, is defense. Ohio State's is still the best in the league (and on a per-possession basis still the best in the country, though I might argue Kentucky's is getting there). Can the Buckeyes shut down UM's attack in Ann Arbor?
MM: I think they can. The Buckeyes have to be in attack mode right now. And they were too diverse, too big and talented for Michigan in the first meeting. They've held Big Ten opponents to 59 points per game. And right now, the Bucks don't have any guarantees in terms of the Big Ten title. It's crowded on the top of the league right now. So I think OSU will come out in Beast Mode. At the same time, Michigan is a different monster at home. How important will Hardaway be in this game?
EB: Somewhere between "very important" and "very very very important," I'd say. But arguably more important is the play of Burke. Aaron Craft does so much to disrupt opposing point guards -- the way he slaps at everything, the way he uses his body to push players into traps and corners, the way he draws fouls, all of it. If Craft takes Burke out of the game, Michigan's offense becomes far less dynamic, and that might be your game right there.
MM: I agree. He's a freshman. But he has to be the leader for this squad. He had five turnovers in the first meeting. My guess is that another five-turnover game for Burke would result in another loss. He has had four or more turnovers in three Big Ten games; the Wolverines lost all of them. They have to play controlled basketball. They have to hit 3s. And while I think Burke is key, can't underestimate Jordan Morgan's role, too. Is he the second-most-important player in this game?
EB: Sure. The ability to check Sullinger, or at least slow him down, without the whole defense being forced to collapse would go a long way toward keeping this thing in striking distance. And some inside buckets on the other end would help, too. Otherwise, Michigan is going to be firing up 3s most of the evening. That's not necessarily bad -- the Wolverines like to shoot 3s, and they're pretty good at it -- but OSU has a way of making your attack one-dimensional. Once you get there -- once the Buckeyes start extending out -- you're pretty much done.
MM: Exactly. Let's look into the future. It's March 4. Will Ohio State and Michigan State be playing for the Big Ten title in East Lansing that day?
EB: I say yes. This works regardless of the outcome tomorrow, actually, because Michigan State still has to go to Indiana. Obviously, there are other potential losses in there for both teams. But I think Michigan has roughly the same chance of beating Ohio State as Indiana has of beating Michigan State at home, and so, you know, yeah: March 4, in East Lansing, Big Ten title on the line. What could be better than that?
MM: Nothing. I'd love to see that.
No. 16 Saint Mary's At No. 14 Murray State
When and where: Saturday (ESPN, 6 p.m. ET), CFSB Center (Murray, Ky.)
Saint Mary's breakdown: The Gaels are coming off their first home loss of the season, to Loyola Marymount, perhaps the most athletic team in the West Coast Conference and finally healthy. Randy Bennett's team has had a terrific season, but has lost two of its past three games (at Gonzaga and at home to LMU).
Saint Mary's is a very skilled team that lacks size, but has players who can spread the floor and a "big guy" in Rob Jones who plays inside and out, and plays much bigger than he is listed. Bennett has several very efficient players, including Jones, Matthew Dellavedova and the ultra-efficient Clint Steindl. But this team will definitely miss defensive ace Stephen Holt, who was injured against LMU and did not make the trip to Kentucky after a partial tear to his MCL. Holt is one of the most complete players in the WCC and the West Coast, and is a terrific player. That's a big loss.
But Dellavedova is dynamic off the bounce and in transition and is in attack mode all the time. Stendl is an excellent perimeter shooter who does not make mistakes. The Gaels play a bend-but-don't-break style of defense, and do not force a lot of turnovers.
[+] Enlarge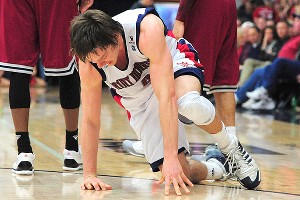 Kyle Terada/US PresswireMatthew Dellavedova and Saint Mary's will look to pull themselves off the mat in their BracketBusters showdown with Murray State after a loss this week.
But they do not give up extra possessions via turnovers or offensive rebounds, either. It is unusual to play ahead of the Saint Mary's defense. This is not a super-athletic team or a big team, and it is not a team that shoots a ton of 3s. But it is a team that moves the ball, cuts hard, drives it, and plays with tremendous heart and a great understanding of how to play. I love watching Saint Mary's play, and it would be a great bunch of guys to play ball with.
Murray State breakdown: The Racers are very well coached, and have really good guards and solid interior players who play really hard and well together. Murray State ripped off 23 straight wins, and although this team did not play a Big Ten schedule, it did not have a letdown or slip and fall, either. Wins against Southern Miss, Dayton and Memphis prove this team is legit and should be taken seriously.
The backcourt with Isaiah Canaan and Donte Poole can compete with any backcourt in the country. Both can give you 30 points in a game, and both are hard to contain in transition and off ball screens.
Canaan is the best player, but Poole (a product of Las Vegas) often steps forward and has big games when Canaan is not dominating. Inside, Ed Daniel and Ivan Aska do a good job, and Jewuan Long is the heart and soul of the team.
Murray State has a lot of positives, but the weaknesses are pretty glaring at times. The Racers can be, and often are, loose with the ball. They cough it up far too often. Murray State turns the ball over almost 21 percent of the time, and that is in the bottom half of Division I.
In addition, Murray State has solid "first-shot defense," but allows far too many second shots, and those high-percentage second opportunities put the Racers at a disadvantage.
To read the rest of Jay Bilas' Gaels-Racers breakdown, click here.
Viewer's guide
All times ET

Friday
7 p.m.: Northern Iowa at VCU (ESPN2)
7 p.m.: Brown at Harvard
9 p.m.: Valparaiso at LMU (ESPNU) Saturday
11 a.m.: Drexel at Cleveland State (ESPNU)
Noon: Marquette at Connecticut (ESPN)
Noon: Wichita State at Davidson (ESPN2)
1 p.m.: UNLV at New Mexico (CBS)
1 p.m.: Florida State at NC State (ESPN3)
1:45 p.m.: Kansas St. at Baylor (ESPN3)
2 p.m.: Missouri at Texas A&M (ESPN)
2 p.m.: Akron at Oral Roberts (ESPN2)
3 p.m.: Arizona at Washington (FSN)
4 p.m.: Ole Miss at Kentucky (ESPN3)
4 p.m.: Clemson at North Carolina (ESPN)
4 p.m.: Seton Hall at Cincinnati (ESPN3)
4 p.m.: Nevada at Iona (ESPN2)
6 p.m.: Saint Mary's at Murray State (ESPN)
6 p.m.: Florida at Arkansas (ESPN)
7 p.m.: Yale at Harvard
9 p.m.: Ohio State at Michigan (ESPN)
9 p.m.: Wyoming at Colorado State (The Mtn.)
10 p.m.: Long Beach St. at Creighton (ESPN2)
Sunday
1 p.m.: Syracuse at Rutgers (ESPN)
1 p.m.: Michigan State at Purdue (CBS)
7:30 p.m.: Oregon at Stanford (FSN)
Player to watch
Casper Ware, Long Beach State

So many good choices this week but I'm going with the 49ers guard. He hasn't gotten the press of some other mid-major stars, but now going head-to-head against Doug McDermott, Ware will have a chance to show off his game. And it's a very good game. He's averaging 17 per game and just a week ago went for 38 against Pacific. This is a great battle between two very good teams and two terrific players.
-- Dana O'Neil
Ohio State-Michigan preview
I can't wait to see …
John Gasaway
I can't wait to see Long Beach State visit Creighton for a BracketBusters showdown on Saturday night. The 49ers are the best team the Big West has produced in years, and Casper Ware and his teammates proved their prowess on both sides of the ball against one of the toughest nonconference schedules in the nation. But they'll be the road team against a group of Bluejays who are shooting lights out -- literally. You know all about Doug McDermott, but did you know Creighton's 78-percent shooting performance against Southern Illinois this week ranks as the best shooting from the field recorded by a D-I team in years? This should be a great game between two mid-majors that can definitely bust some brackets next month.
Miles Simon
I can't wait to watch Arizona versus Washington in Seattle. Hec Ed is one the toughest places to play in the Pac-12. It's loud and the student body is on your every move. These two teams played a great game in Tucson in which it took a Tony Wroten blocked shot of Josiah Turner's layup to preserve a two-point win. The Wildcats are playing their best basketball of the season, winners of five in a row and suddenly in contention to win the league and go to the NCAA tourney. The Dawgs are tied with Cal for first place. They are led by perimeter players Abdul Gaddy, Terrence Ross, C.J. Wilcox and Wroten, which makes them a dangerous team because of their ability to get in transition and score a lot of points. This will be an uptempo, high-intensity game with a lot on the line.
Dana O'Neil
Along with all of the terrific BracketBusters -- including one that I find particularly interesting between Long Beach State and Creighton -- I'm looking forward to seeing Notre Dame in person against Villanova. I am as surprised as anyone with the success that Mike Brey's team is having this season and am curious to see the Irish in action, particularly big man/Luke Harangody look-alike Jack Cooley, who has been absolutely tearing it up lately.
Joe Lunardi
With some of the bloom off the Saint Mary's-Murray State rose, the key BracketBusters matchup is now Long Beach State at Creighton. The Bluejays don't seem nearly as invincible after taking a home court beating from Wichita State last Saturday, and the 49ers can all but clinch an at-large bid if they pull off the Omaha upset. So there's drama on both sides of this contest. Creighton wants to restore its optimal NCAA seeding, and Long Beach needs a Big West tournament insurance policy.