At The Watercooler: Weekend Preview
By Eamonn Brennan & Myron Medcalf
ESPN.com
Editor's note: Myron Medcalf and Eamonn Brennan met at the watercooler Friday morning to discuss what they're looking forward to this weekend in college basketball.
Myron: What's up, Eamonn? Another great weekend of college hoops ahead. Assuming the Mayans were wrong, of course. If they were, then we'll see a variety of must-watch matchups. None bigger than Kansas at Ohio State. We were in New Orleans for the Final Four when these two teams produced an epic game. Will we see a repeat Saturday?
Eamonn: I think the Mayans made up their prophecy just so they could trend on Twitter. I'll give them credit for foresight, though.
Kansas-Ohio State is a repeat in so far as many of both squads' same pieces are still there. But the actual composition of the teams is pretty different. Deshaun Thomas has taken over as OSU's lead scorer, and the Buckeyes don't have quite the inside-out presence they have had in recent seasons. Jeff Withey is still dominating the defensive interior, but KU's attack is less about a versatile post player (Thomas Robinson) and more about breakout guard Ben McLemore and the variety of capable perimeter players/tweener forwards who surround him and Withey.
I'm not sure either team is quite as good as last season's editions. But they aren't far off. I wrote this for Can't Wait to See, but I'll repeat it here: It seems to me as though Ohio State has sort of gotten a raw deal, perception-wise, primarily because its schedule has been so bad. But the Buckeyes nearly knocked off Duke in Durham! Meanwhile, Kansas is rightfully highly regarded. Is that what you're feeling too, Myron?
[+] Enlarge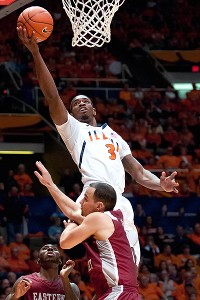 Bradley Leeb/US PresswireBrandon Paul and the Illini look to stay unbeaten, but face a stiff test against rival Mizzou.
Myron: I agree. And I'll admit that I've been one of the doubters, man. They played tough at Duke. And that's worth something. But you look at the rest of the Buckeyes' slate and what can you really use as another measuring stick? Meanwhile, Kansas has faced some high-major contenders (MSU, Colorado, Saint Louis) and a feisty mid-major (Belmont). So it's just easier to offer that early praise.
But Ohio State isn't alone. Illinois beat Gonzaga on the road and you ask someone about the Illini and you get an "ehh" response. Will a win over Missouri on Saturday finally give John Groce's squad the street cred it has sought all season?
Eamonn: Excellent segue. Here's my thing with Illinois: You have to respect the Illini right now. How can you not? They've played great. I understand the reasons for skepticism, namely the way they score (shoot a lot of 3s, make a lot of 3s), but right up until we see the Illini go completely cold in a sample size that means something, you have to give them credit.
The same goes for Brandon Paul. Do I know if a guy who has struggled with efficiency his entire career can sustain a suddenly POY-level performance? No. But if he does, at some point we have to stop asking the question.
In any case … that game is tough to predict. Jabari Brown represents a major X factor for Missouri. Frank Haith has been singing his praises already.
Myron: You're right. The Illini have haters (I've been called one many times this season) because we still think this is last season's team. Early promise, but the big letdown is coming, right? That is unfair. But I think the Illini will quiet every critic if they win this weekend. For Missouri … At some point, we're going to view this midseason eligibility deal like we look at the NBA's February trade deadline. "Hey, Missouri … you're already pretty good … How would you like to add an elite wing just days before SEC play?" What a boost for Mizzou with a fan base that might soon forget about Michael Dixon's absence if Brown lives up to the hype. Can't wait to see what he does on the big stage of this rivalry.
I wish we had more rivalry games. (Paging Indiana and Kentucky). But we don't, so I'll settle for Texas at Michigan State for a few reasons. 1. This is Texas now. With Myck Kabongo reportedly suspended for the season, there's no more waiting for news, good or bad. The Horns have to roll with what they have. 2. They're coming off an important win over UNC. 3. Sheldon McClellan is making this his squad. Will an inspired/frustrated Texas team have a chance in East Lansing?
[+] Enlarge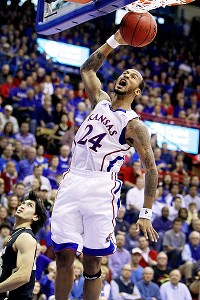 Icon SMIJay Bilas thinks Travis Releford is an X factor in KU's game at OSU.
Eamonn: I think they do, if only because of that defense. In every game except against Chaminade, Rick Barnes has had this team playing legitimate lockdown defense -- believe it or not, Chaminade is the only team to score more than 0.94 points per possession against the Horns.
The problem obviously has been offense. There were some really positive signs in that regard Wednesday night. I don't know if what Barnes has right now on the offensive end is good enough, or whether a final decision on Kabongo will help the Longhorns shake it all off and start taking care of the ball, but it looks promising. For as bad as this team looked in November, don't count them out just yet. Which is not to say they'll win in East Lansing. Easy now. But there's a chance. (Meanwhile … how bad is UNC?)
Myron: You're right about Texas. And I guess most of us were wrong about North Carolina? I was. (So far.) Ugh. But there's this faulty theory that you can always replace four of five pros with four or five future pros. It doesn't work like that. Kentucky has experienced that this season. Carolina, too. But that's why Syracuse has been so impressive. The Orange lost some very talented players from last season's rotation (Dion Waiters, Fab Melo), and they're still a very good squad thanks to Michael Carter-Williams' 85 assists per game (15 for alley-oops). OK, his numbers aren't that high (it's actually 10.7 apg), but he has been one of the nation's best players. Kudos to coach Jim Boeheim for reaching 900 wins. With this team, he'll add many more by season's end, I think.
Syracuse at Temple. I like that matchup. I like Kansas-Ohio State. Missouri and Illinois will answer some questions I've had all season about both squads. There's a lot of potential this weekend again, Eamonn. Why leave the couch? (Cool to end here?)
Eamonn: I foresee no reason to leave the couch, either. See you there, dude.
No. 9 Kansas (9-1) at No. 7 Ohio State (9-1)
When and where: Saturday, 4 p.m. ET on CBS
KU's rock: Ben McLemore. The young wing is blossoming into a star. McLemore has to be kept out of transition, where he glides to the rim and explodes to finish, and he must be challenged at the 3-point line and forced to drive the ball into active help. The freshman has averaged 19 points and 5 rebounds per game over his past four and is averaging 15.9 points per game. Expect Ohio State to be physical with him, and players such as Smith, Sam Thompson and Craft could spend time on him.
OSU's baddest man: Thomas. The lefty is a drop-dead scorer. The best way to deal with a scorer is to make it tough on him on both ends. Kansas has to run him and make him guard people. Thomas prefers to score rather than defend, as do most scorers. Getting a foul on him is a big play. On the season, Thomas is averaging 20 points and 7 rebounds per game, and has made 27 3s in only 10 games. He leads the team in rebounding and offensive rebounds, and to limit him, Kansas cannot allow him open 3-point attempts, free throw opportunities or offensive rebounds. Thomas must be forced to shoot difficult, contested 2-point shots. He can hit those, but must take more of them in order to get his usual points.
Kansas X factor: Travis Releford and Kevin Young. Releford has been incredibly efficient and is playing the way an experienced senior should play. An outstanding individual defender, Releford leads the Jayhawks in steals, can guard Thomas some and also knock down open shots. Young brings great energy and activity and uses his quickness and bounce to beat bigger, stronger opponents to the ball. Perhaps these two don't have to score big, but they have to play big roles for KU to win on the road.
Ohio State X-factor: Craft and Scott. Craft's defense and leadership will be there, but he also has to be able to score more. He struggled to score at Duke, going 3-of-15, and he has to provide some offense for Ohio State to win. Scott is a different player this season. Confident and in control, he leads the team in steals and is second in assists, sporting a near 5-1 assist-to-turnover ratio. The defense of Craft and Scott can be a major factor.
Stats to watch: Offensive rebounds, free throws and Thomas' defensive matchups. For Ohio State, getting second shots will be important. Kansas defends the rim and paint, and OSU needs to find extra possessions through offensive rebounding. The free throw line can be a factor, but neither team gets to the line frequently. The team that gets there more often, and hits, will have an advantage. Lastly, who Thomas guards will be important, as he has to make Thomas work and defend. And who guards Thomas will be important. Young and Releford probably will spend time on him. Remember, Thomas went 3-for-14 against Kansas in last season's Final Four and will be looking to redeem himself.
Editor's Note: To read more of Jay Bilas' breakdown of Kansas-Ohio State and to see his prediction, click here.
Viewer's Guide
All times ET

Friday
7 p.m.: Florida Atlantic at Indiana (ESPN2)
9 p.m.: BYU at Baylor (ESPN2)
9 p.m.: Middle Tennessee at Vanderbilt (ESPNU) Saturday
12 p.m.: Syracuse vs. Temple (ESPN2)
12 p.m.: Murray State at Dayton (CCS)
2 p.m.: Texas at Michigan State (ESPN2)
2 p.m.: Florida St. vs. Charlotte (CCS)
2:30 p.m.: So. Dakota St. at New Mexico (Root)
3 p.m.: Saint Mary's at Northern Iowa
4 p.m.: Kansas at Ohio State (CBS)
4 p.m.: Marshall at Kentucky (ESPN2)
6 p.m.: Illinois vs. Missouri (ESPN2)
8 p.m.: Florida vs. Kansas State (ESPN2)
8 p.m.: Southern Miss at Wichita State
8:30 p.m.: W. Kentucky vs. Louisville (ESPNU) Sunday
5:30 p.m.: Diamond Head Classic semis (ESPNU)
11:30 p.m.: Diamond Head semis (ESPN2)
I Can't Wait To See …
John Gasaway
I can't wait to see Wake Forest play at UNC Greensboro on Saturday afternoon. I know what you're thinking: Wake? UNC Greensboro? Yes. This lines up as a game of intrigue. The ACC tournament will be held at Greensboro Coliseum in March, and as a result teams from the league have proved more than willing to play a true road game against the Spartans. But you may have noticed things aren't going terribly well for the Demon Deacons this season. In theory, an ACC program shouldn't have a problem beating a 2-7 UNCG team, even in Greensboro, but a win for the Spartans here is not out of the question.
Andy Katz
Kansas has looked awfully good of late. With a young cast led by Ben McLemore, the Jayhawks have dominated their opponents -- and not a bunch of creampuffs either. But how will KU handle its first true road game of the season? This should be a precursor to what may occur in the Big 12. There is no opponent in the Big 12 as good as Ohio State, but Kansas is the top draw and always gets a Super Bowl atmosphere wherever it goes. The Buckeyes have to deal with KU's ability to board and score in the post. The Jayhawks' guards are big, long and effective. OSU had its hands full at Duke a few weeks ago and will so again against Bill Self's team.
Jason King
I can't wait to see if Illinois can finish its nonconference season without a loss, because that's what is going to happen if the Illini defeat Missouri in St. Louis (lowly Auburn awaits). So Saturday is the money game for the No. 10 Illini, who have been one of the nation's most pleasant surprises. Missouri is an excellent team with tons of experience and depth, but so was Gonzaga, and John Groce's group beat the Zags on the road. The Butler team that touts wins over Marquette, UNC and Indiana? Yep, Illinois walloped that squad, too. I have no idea who will win Saturday, but I know one thing: This won't be a mismatch.
Myron Medcalf
I can't wait to see if this Texas squad has some new life now that Myck Kabongo will reportedly be suspended for the rest of the season. The Longhorns finally played with a sense of desperation against North Carolina. And you have to wonder how much of that was tied to Kabongo's status. They've waited so long, but now they know that they have to roll without him. It's never good to lose a potential star, but at least Texas can move forward. It's tough to win at Michigan State. But the squad that Tom Izzo's team will see Saturday might not resemble the group that has lived on a stubborn defense but struggled because of its subpar offense (174th in efficiency, per KenPom.com). The Longhorns scored 85 points against a solid North Carolina defense. Let's see if this is the start of a new chapter for Texas.
Dana O'Neil
I can't wait to see the showdown in St. Louis. With cross-conference rivalries disappearing annually, I'm just glad to see that Illinois and Missouri are continuing to play one another. The fact that this should be a great game only adds to the fun. The Illini have to rank as one of the biggest surprises of this early season, undefeated and unchained under new coach John Groce. Brandon Paul and D.J. Richardson have been terrific, but if the Illini have an Achilles' heel, it's on the boards. Illinois, which has lost its past three to Mizzou, is outrebounding its opponents by a measly 3.8 per game. That's a big problem against Missouri. Frank Haith's amalgamated roster of players -- with its final piece, Oregon transfer Jabari Brown, finally in the fold -- leads the nation in rebounding and ranks fourth in margin, beating opponents by 13.2 boards per game.
Robbi Pickeral
How much longer will NC State forward Richard Howell continue on his double-double roll? And how much longer will he be overshadowed? The senior recorded his fourth straight double-double (and fifth in six games) against Stanford on Tuesday, this time pulling down 12 rebounds to go along with 17 points. The No. 25 Wolfpack is dotted with talent and more recognizable names -- including fellow returning starters C.J. Leslie, Lorenzo Brown and Scott Wood -- but Howell (who leads his team in scoring and rebounding) has become invaluable for his consistency and physical play. Next up: St. Bonaventure on Saturday, when Howell will help try to push the Pack's win streak to five.
Greenberg On Kansas-Ohio State
Diamond Head Classic Primer
Christmas doesn't have to mean the end of college basketball viewing. Arizona, San Diego State, Miami and Ole Miss headline a field in Honolulu that will begin play on Saturday and continue until the title game on Christmas night. For a full primer on the Diamond Head field, read Eamonn Brennan's preview.
Brennan On Diamond Head Field