Is Vanderbilt Poised To Upset Kentucky?
By Eamonn Brennan & Myron Medcalf
ESPN.com
Editor's note: Myron Medcalf and Eamonn Brennan chatted Thursday, and looked ahead to the Vanderbilt-Kentucky matchup Saturday and other games this weekend.
Myron Medcalf: Another day, another dollar, another Watercooler convo. You like how I said "convo" instead of "conversation," don't you, Eamonn?
What's up?
Eamonn Brennan: That's how we keep it hip and relevant for the kids. Turn up the Skrillex on your Zunes, you rascals! Here comes the freshness!
MM: Word. I'm excited for the weekend on the hardwood. I actually think Vandy-Kentucky will be a great game. It was a great matchup when they met Feb. 11. Vandy held its own and even secured a late lead. And the Wildcats haven't looked invincible over their past three games. Do you smell an upset?
[+] Enlarge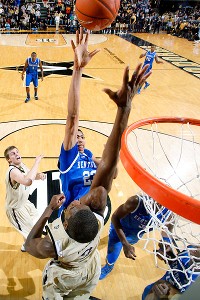 Joe Robbins/Getty ImagesAnthony Davis towered over Vandy in their first matchup. How would the Wildcats adjust if Davis got into foul trouble?
EB: I do not. Sure, Vandy hung around with Kentucky in Nashville. Sure, the Commodores made a late push. And yeah, Kentucky was tested. But it passed with flying colors. That last four minutes, UK flipped some sort of crazy-defense switch. It was like the Wildcats all looked at each other and said, "This team isn't scoring again." And Vanderbilt didn't. Other than an unlikely barrage of 3s, I don't know how Kevin Stallings' team solves the UK riddle. It's very difficult to imagine.
MM: True. The Wildcats have that switch. It's like they just wait to use it when necessary. Vulnerable is probably the wrong word. They've just looked bored during their past three games. It's like they're waiting for a big challenge. Vandy, like Ole Miss and MSU, put up a fight for a stretch. And then, boom! The Wildcats took off. Good or bad, in terms of national title hopes, that Kentucky is cruising like this? Would it be better served by a tough game right now to get ready for March?
EB: I'm sure the Wildcats' coach would prefer that each of the rest of their games be like Mississippi State -- a team that came out guns blazing with an upset in mind, forcing Kentucky to react and overcome in the second half. At this point in the season, UK doesn't need confidence boosts or dominant, wow-we're-awesome, 40-point victories. There's a lot more value to hard-fought games, because in the tournament, you have to win six increasingly difficult ones. Better to get this young team used to that now.
In fact, if I'm John Calipari, I'm hoping Anthony Davis gets in foul trouble Saturday. Not because I want to lose, of course. But because I want my team to learn how to play without him, in case such a scenario arises in the tournament. It very well could.
MM: I agree. That's the scenario that terrifies Kentucky fans. Sweet 16 game versus Wichita State, and AD picks up two fouls in the first 10 minutes of the game. Speaking of the Shockers, they're playing Drake this weekend, and the last time these two teams met, we had a triple-overtime game. That's one of my sleeper picks for game of the weekend along with Colorado State-SDSU and Purdue-Michigan. What game are you most excited about excluding Vandy-UK and Mizzou-KU?
EB: Love the Purdue-Michigan pick. Huge game for the Boilers.
To read the rest of Eamonn and Myron's conversation at the Watercooler, click here.
No. 3 Missouri at No. 5 Kansas
When and where: Saturday (CBS, 4 p.m. ET), Allen Fieldhouse (Lawrence, Kan.)
The setup: Kansas and Missouri are coming off less than stellar performances. The Jayhawks won an ugly game against Texas A&M, while the Tigers are coming off perhaps their worst conference game of the season, a home loss to Kansas State. But in a happy place or not, this game is not for those who are ready to play. This game is for those who are prepared for a fight. Saturday at The Phog will be the Big 12's top two scoring teams, with Missouri leading the league in scoring (73.7) and second in field goal percentage (48.1), while Kansas is second in scoring (73.5) and leads in field goal percentage (48.4).
Kansas leads the Big 12 in scoring defense (60.8) and field goal percentage defense (38.1), and also tops every Big 12 team in scoring margin (+12.1), perhaps the most important indicator of a team's strength and efficiency (and, predictably, a metric that is completely ignored by the RPI). Missouri is second in the league in scoring margin (+7.0), but is a shaky fifth in the Big 12 in scoring defense (66.7), and dead last in the Big 12 in field goal percentage defense (46.9).
Kansas leads the league in rebound margin (+5.7 to Missouri's -1.0), blocks, assists and steals. The Jayhawks might not be deep, but they are rock solid. The Tigers might not be deep, but they are dynamic and fearless. This is one of the great games of the season, and has the chance to be a memorable spectacle. The game needs more matchups like this one.
[+] Enlarge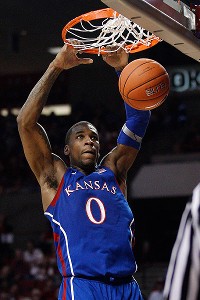 AP Photo/Sue OgrockiKansas' Thomas Robinson had 25 points and 13 rebounds in the first meeting against Missouri.
Neither team can rely upon significant bench production. Kansas, in my judgment (and as reflected in The Bilas Index), is the better team because the Jayhawks have size and the ability to get the ball inside where they have higher percentage shots and more opportunities to get fouled. If you recall from the first meeting, Kansas seemed to have the game in its win column with three minutes to go and an eight-point lead, but the Jayhawks made a couple of mistakes, and the fearless Marcus Denmon made the Jayhawks pay for every one of them and willed Missouri to the home win.
After the game, I was walking down the hallway to the locker rooms and passed Kansas star Tyshawn Taylor using the wall to hold himself up. Anyone who believes these players don't care is simply incorrect. They care deeply, and Taylor showed how much he had invested in that game. He was mentally and physically spent, and devastated about the loss.
That game was incredible in its solid play. Both teams shot better than 50 percent from the floor, a rarity in today's bump and grind games. Missouri hit 10 three-point field goals and doubled up the Jayhawks in free throw attempts. One thing is certain, the Jayhawks cannot get a bagel from Jeff Withey and expect to win, even at home. In Columbia, Withey played 23 minutes and did not score, grabbing four rebounds.
After that first game, it was clear to me that both Kansas and Missouri are capable of reaching a Final Four, and fully capable of winning this thing with a good draw and some good fortune. Kansas is probably better suited for it, because of its inside strength and ability to get the ball inside and get to the free throw line. Missouri will cause problems because of its style differences and match-up problems it poses, but the Tigers are vulnerable to a lot of teams on bad shooting nights.
To read the rest of Jay Bilas' Tigers-Jayhawks breakdown, click here.
Viewer's guide
All times ET
Friday
7 p.m.: Butler at Valparaiso (ESPNU)
9 p.m.: Marquette at West Virginia (ESPN)
9 p.m.: Fairfield at Iona (ESPNU)
Saturday
Noon: Vanderbilt at Kentucky (CBS)
1:30 p.m.: Iowa St. at Kansas St. (ESPN3)
4 p.m.: Missouri at Kansas (CBS)
4 p.m.: North Carolina at Virginia (ESPN)
4 p.m.: Memphis at Marshall (FSN)
4 p.m.: Drexel at Old Dominion (CSN)
6 p.m.: Mississippi St. at Alabama (ESPN)
6 p.m.: George Mason at VCU (ESPN2)
6 p.m.: Purdue at Michigan (BTN)
7 p.m.: Temple at Saint Joseph's (ESPNU)
7 p.m.: Penn at Harvard (ESPN3)
9 p.m.: Syracuse at Connecticut (ESPN)
10 p.m.: Colorado St. at SDSU (the Mtn.)
Sunday
Noon: Cincinnati at South Florida (ESPN3)
1 p.m.: Indiana at Minnesota (ESPN)
4 p.m.: Wisconsin at Ohio State (CBS)
5:30 p.m.: Cal at Colorado (FSN)
6 p.m.: Florida State at Miami (ESPNU)
8 p.m.: Akron at Ohio (ESPNU)
Player to watch
Shabazz Napier, Connecticut

The Huskies point guard has made headlines recently. First he called out his teammates and questioned their heart. Then he drained a circus-style 3-point buzzer-beater in overtime to beat Villanova. Now Napier and UConn, sitting on a very precarious bubble, host Syracuse. Must-win? Potentially. UConn's final two games, against Providence and Pitt, aren't going to move the needle. So this game is big and for the Huskies to win it, Napier has to be big. He has to shoot the ball well but he also has to handle it wisely against the Orange's zone. He has brought the spotlight on himself. Now it's time to shine.
-- Dana O'Neil
I can't wait to see …
Dana O'Neil
Who wants in? That's the only question these days and a group of bubble dwellers have a chance to prove their worth this weekend: Disappointing Connecticut hosts Syracuse; roller-coaster Purdue is at Michigan; Saint Joseph's has a big chance when it hosts Big 5 rival Temple; Miami can increase its measure with a win against Florida State; suddenly rising Colorado State can pad its résumé at San Diego State; and South Florida, still needing to show it can handle the best of the Big East, gets Cincinnati. So I want to see who wants in.
Jason King
I can't wait to see if Virginia can finally beat a good team. The Cavaliers have managed to stay in the Top 25 for most of the season despite touting just one victory over a high-level opponent (Michigan). Tony Bennett's squad also has a trio of embarrassing losses to TCU, Virginia Tech and Clemson. By no means am I saying Virginia is a bad team. It isn't. The Cavaliers tout a surefire first-team all-conference pick in forward Mike Scott and they do a great job of controlling the tempo and muddying up the game, which almost helped them defeat Duke and Florida State on the road. Virginia lost both games by three points. Eventually, though, Virginia needs to beat a decent opponent if it wants to be taken seriously as a Top 25 team. The Cavaliers will have that chance Saturday when they host North Carolina.
John Gasaway
I can't wait to see Syracuse visit Connecticut on Saturday night. This one will feature the defending national champions fighting for an NCAA tournament bid on their home floor against the team that many people expect to represent the Big East in this year's Final Four. UConn head coach Jim Calhoun may be sidelined with back problems, but the real issue with the Huskies this season's been on the floor. With the Big East's No. 10-rated offense, Jeremy Lamb, Shabazz Napier, and company have limped to a 7-8 mark in the league. They'll try to turn things around against a Syracuse D that's been the Big East's best, allowing just 0.94 points per possession in conference play. These are two storied programs colliding on the cusp of March, and I'll be watching.
Miles Simon
The matchup I can't wait to watch is Iowa State going on the road to play Kansas State. The Wildcats were a struggling team just four games ago, losing two in a row and having to go on the road to Baylor and Missouri -- where they pull back-to-back upsets. K-State did it with defense, holding both teams to 38 percent field goals and 30 percent from the 3-point line. They will have to be solid again against Iowa State, which beat them on a last-second shot by Royce White in Ames. The Cyclones are a tough matchup for two reasons: They are one of only two teams in the country that have four players who have made 45 or more 3-pointers, and they have White, who is one of the most unique players in the nation. White can play point guard or power forward and he leads the team in points, rebounds, assists, steals and blocks.
Joe Lunardi
Can't wait to see if more bubble teams play their way "out" than "in" this weekend. It's up to the likes of Xavier (vs. Richmond), Northwestern (at Penn State), Texas (at Texas Tech), Colorado State (at San Diego State), NC State (at Clemson), Miami (vs. Florida State), Central Florida (vs. UTEP), South Florida (vs. Cincinnati), Minnesota (vs. Indiana) and Dayton (vs. Massachusetts) to disprove this annual late-season occurrence.