At the Watercooler: Weekend preview
By Eamonn Brennan & Myron Medcalf
ESPN.com
Editor's note: Myron Medcalf and Eamonn Brennan met at the watercooler to discuss what they're looking forward to this weekend in college basketball.
Myron Medcalf: What's up, Eamonn? I hope Santa treated you well, man. Mr. Claus overlooked college basketball fans. Again. Another uninspiring post-Christmas selection. The overall picture isn't pretty (I'm looking for an online feed for South Dakota versus Nebraska-Omaha), but we have a few headliners. None bigger (perhaps all season … considering the history and the return of Mr. Gorgui Dieng) than Louisville-Kentucky. Thoughts on that matchup?
Eamonn Brennan: A very jolly holiday to you, good sir. I don't care how bad the rest of the slate is this weekend (and it's not that bad; I'll give it a B-minus) because Louisville-Kentucky is just a massive game.
It's massive because … it's massive. That is a weird thing to say but it feels right, so let's go with it. It's Louisville-Kentucky. On Thursday, Dana O'Neil did a great job of summing up what makes that rivalry so intense and so special. It's always been that way, and it's only better with both of these coaches and both of these teams succeeding on a yearly basis. The atmosphere around the game, the way fans treat it -- it's really good.
As for on the court, I think Louisville is a pretty clear favorite. Dieng is going to play, Rick Pitino said this week -- that seems like a super-fast turnaround from a scaphoid fracture, but I'm no doctor. Russ Smith is playing great offense and All-American-level defense. Louisville is deeper, more experienced and probably the best defensive team in the country. And while Kentucky may be improving, we haven't seen it play anyone decent since its struggles against Notre Dame and Baylor. I think the Cardinals are a huge favorite.
Which leads to my next question: Say by New Year's Day we're looking back at a Kentucky win. How will we be explaining it?
Myron: A Kentucky win? … I guess it never really crossed my mind. But if it happens, it will be because Louisville found itself in another nail-biter and just couldn't make late buckets. Northern Iowa. Five-point win for Louisville. Illinois State. Three points. And even though they had a great recovery against Memphis, the Cards won't climb out of every 16-point hole.
In this rivalry, weird things happen that advanced stats can't always predict. This young Kentucky team knows it has something to prove. I think Kentucky will come within striking distance (whatever that means) if Ryan Harrow continues to improve (he looked great against Marshall) and the Wildcats pressure Smith all afternoon. They'll have to go shot-for-shot with Louisville down the stretch and just play tougher in the final minutes. Other teams have come close to knocking off Louisville this season. But it won't be easy. Especially at home.
[+] Enlarge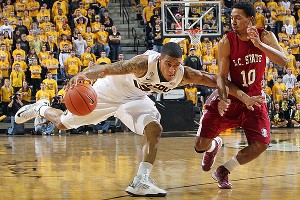 Zuma Press/Icon SMIJabari Brown is averaging 15 points in his first two games with Missouri.
Missouri might not have an easy weekend, either. UCLA and Kentucky are in similar positions. The Tigers are hot. But UCLA has so much more to prove. I have no logical explanation for a potential Tigers loss against the Bruins. But is it possible, Eamonn? Could the Bruins pull off the upset?
Eamonn: But of course!
First of all, the Bruins have been a bit under-the-radar since their start. And rightfully so. The home loss to Cal Poly was enough to scare me away for good. But they are playing some really nice offense these days, and if they can manage even a so-so defensive effort, they have a definite chance to win at home.
The problem is it's not quite that simple, obviously. UCLA is still sort of figuring out that zone defense Ben Howland was forced to try, with mixed returns. I'm not sure how that offense manages to keep Phil Pressey out of the lane, or closes out on Jabari Brown in time to keep him from getting good looks. It could get shredded.
Myron: True. That's why I say there's no logic to the possibility. While I agree that UCLA has been better in recent weeks, the Bruins have improved against teams that aren't in Missouri's league. Pressey and Brown … they might put up fantasy league numbers against that inconsistent defense. Just as important … Alex Oriakhi and Laurence Bowers are pushing folks around these days. They were so physical against the Illini. Not sure how UCLA's bigs will handle that. But it's possible, I guess. I'm definitely intrigued.
I'm more intrigued, however, by UNLV at North Carolina. I think UNLV will get the win. But the Rebels have been so-so on the road this season. UTEP gave them trouble. Came down to the final minutes. But I can't shake UNC's loss against Texas from my memory. I see Anthony Bennett and Khem Birch (Birch Bennett … they should just go by one name, I think) giving the Tar Heels a pair of double-doubles Saturday. What can UNC do, if anything, to avoid another loss?
Eamonn: I like the Birch Bennett thing. It sounds like a luxury shoe company for women, or maybe a maker of fine leather goods.
To me, it seems UNC's problem is that it isn't quite the sum of its parts just yet. I am a fan of Marcus Paige and James Michael McAdoo and Leslie McDonald and Reggie Bullock and P.J. Hairston; I'd take any of those guys on my team. But they aren't cohesive.
UNLV seems to have a better balance of sheer talent and backseat senior leadership in the backcourt, and I think it's served them well so far. Plus at some point you look at Bennett and just say, "OK, let's all just get out of this dude's way."
Another couple of games to keep an eye out for: Baylor at Gonzaga; Northern Iowa at Wichita State to kick off the Valley season; and my personal favorite, your boy Nate Wolters up against what looks like the best team in the Dakotas, North Dakota State.
Myron: I wouldn't go to Brookings talking like that. Not that you'll ever be in Brookings. But you're right. All good matchups. A lot to see. I can't wait to reach Louisville. Man, we're pretty lucky. Until next time, Eamonn …
P.S. I'm going to wear a pair of Birch Bennetts to Saturday's game.
Eamonn: Birch Bennett on a hundred thousand trillion. Until then, Myron.
Kentucky (8-3) at No. 4 Louisville (11-1)
When and where: Saturday, 4 p.m. ET on CBS
Kentucky outlook: Kentucky is perhaps the most overanalyzed team in the country. Most coaches, if they had nothing but freshmen and first-year players, would be pleased with an 8-3 record and a team that has a positive assist-turnover ratio, is shooting 49 percent from the field and outrebounding its opponents.
[+] Enlarge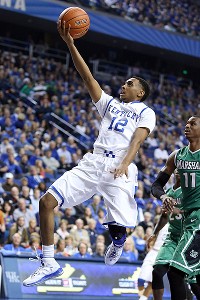 Andy Lyons/Getty ImagesRyan Harrow has gotten off to an uneven start to his Kentucky career but is coming off a 23-point performance against Marshall.
Not Kentucky.
Although the Wildcats are rated in the top 10 in defensive efficiency and in the top 30 in offensive efficiency, John Calipari is not happy because UK has been inconsistent and, at times, rudderless in difficult situations. Still, this team is good and getting better.
On the offensive end, much depends upon the point guard position. When Ryan Harrow is in control and plays in a mentally tough fashion, others are freed up to do what they do best without concern. When Harrow is scattered, it affects everyone. Archie Goodwin is the best scorer; Alex Poythress is the best wing offensive rebounder and most ferocious in attacking the rim; and Nerlens Noel is the best interior offensive rebounder and shot-blocker and is most active on both ends.
Kentucky does not have many perimeter threats, with only Julius Mays (16) and Kyle Wiltjer (26) hitting more than seven 3-point field goals on the season. Louisville has four players who have hit 15 or more 3s.
One issue that has plagued the Wildcats is that they don't get to the free throw line enough, which means they settle too often. On the defensive end, Kentucky plays hard and can block shots. For the most part, the Cats have limited their lesser opponents to one shot, but there have been times when Kentucky has been beaten up on the offensive glass.
The best defense against Louisville is solid offense by Kentucky. If the Wildcats can take care of the ball and force UL to inbound it (by scoring, or at least giving it back to the Cardinals with a dead-ball turnover), Kentucky can be in a position to win. If they turn it over and allow UL to score in advantageous situations, it will be advantage Louisville.
Louisville outlook: The Cardinals are all about defense and the ability to disrupt an opponent's offensive rhythm and take the other team completely out of its normal pace. Coaches talk all the time about simulating an opponent in practice. There is no way to simulate the quickness of UL's guards, which is one of the keys to the Cards being the best defensive team in the nation.
Peyton Siva (2.3 steals per game) and Russ Smith (2.8 spg) are incredibly quick and fast, both with the ball and on defense. Louisville leads the nation in turnover margin, forcing over 21 miscues per game, 12 of those being steals, and scoring 35 percent of its total points -- or 27 points per game -- off its defense.
Louisville also leads the nation in turnover percentage, forcing even more turnovers than VCU's vaunted "havoc" defense. The Cardinals will press full-court, limiting the touches of primary handlers and making non-handlers bring it up and have to make decisions they're not accustomed to making.
Rick Pitino also makes use of a confusing and tough half-court matchup zone defense that takes away many of the man-offensive sets most teams run and forces them to run zone offense. Kentucky has been a team that hasn't shot the ball well from the perimeter (neither team shoots the ball particularly well from deep). Louisville's defense will test that as well as the Wildcats' ability to drive gaps and get the ball in the middle of the defense and make a play.
On the offensive end, Louisville has weapons and depth, but the Cardinals are not a great shooting team. If you can limit Louisville in two areas -- turnovers and offensive rebounds -- you have a shot to win. The Cards generate a lot of offense off opponents' miscues and second shots.
[+] Enlarge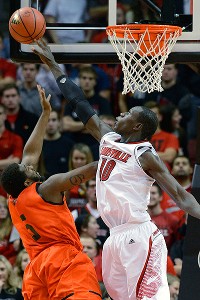 AP Photo/Timothy D. EasleyLouisville center Gorgui Dieng's defensive presence will once again be crucial against Syracuse.
Kentucky's go-to player: Archie Goodwin
The super-athletic wing leads the Wildcats in scoring and free throws made and attempted. Goodwin is terrific in the open floor and has a knack for scoring. He averages 16 points, 5.5 rebounds, 4.2 assists and a steal per game and has the ability to be the best player on the floor. If he is in attack mode and is able to get into gaps and be strong with the ball, Goodwin can have a big game.
Louisville's go-to player: Russ Smith
The ultra-quick shot-maker has required a lot of shots lately. He's averaging almost 20 points per game (the best average for a Cardinal since Reece Gaines) but in his last three games, Smith has made 13 of his last 37 attempts from the floor and just 4 of his last 19 from deep. A key with Smith is keeping him out of the lane and keeping him off the free throw line. Over the last three games, Smith has shot 25 free throws, making 23. Smith had 30 points in the first meeting between Kentucky and Louisville last year, but UK limited him to 4-of-15 shooting in their Final Four matchup. He can impact the game on both ends of the floor and requires a dedicated defender that does not leave him.
Kentucky's X factor: Ryan Harrow
It has become almost cliched to put UK's troubles on the shoulders of Harrow and blame him for the Wildcats' shortcomings. When he plays strong, Kentucky can be very good; when he does not, the Wildcats are less than their talent suggests they should be. Harrow is in a good place right now, coming off of a 23-point game against Marshall. Against Louisville, Harrow will face two outstanding defensive guards in Siva and Smith, both of whom will be out to test him at every turn. Louisville's pressure is like consistent body shots in a boxing match. It is cumulative and wears you down, paying dividends in the latter stages of the game. How Harrow handles the pressure will be a big factor in the outcome of this game.
Louisville X factor: Gorgui Dieng
Talk about a true X factor. Pitino has said he'll play, but we don't know how effective he can be. The big man has been out of the lineup since the Cardinals played in the Battle for Atlantis in late November. He was averaging 8.2 points, 8 rebounds and 2 blocks per game. Last year, Dieng blocked 10 shots in two games versus the Wildcats and can be a threatening interior presence against the likes of Noel and Poythress around the goal. With him, Louisville is formidable in the middle; without him, Kentucky will be more aggressive attacking the rim.
Key stats: Points off turnovers and offensive rebounds
In many respects, basketball is about generating easy baskets, and Louisville is a good example of that. Against good teams, no coach is going to diagram anything to "outsmart" or "fool" the other guy. It rarely happens like that, because good teams are usually very well-prepared. In order to generate "easy baskets" you have to do really difficult and tough things, like defend intelligently and patiently, get loose balls and generate second opportunities on the offensive glass. For Kentucky to win, the Cats cannot simply expect to outshoot or outscore the Cardinals. Kentucky has to starve the Louisville offense by limiting its easy transition baskets, opportunistic 3s in transition and offensive rebounds, while at the same time generating some of its own.
Who wins: For the first time in several years, Louisville is the better team. If Dieng is able to provide meaningful minutes, the Cardinals win. I'll go 67-62, Louisville.
Viewer's Guide
All times ET

Friday
8 p.m.: Jacksonville at Indiana (BTN)
8 p.m.: Baylor at Gonzaga (ESPN2)
10 p.m.: Missouri at UCLA (ESPN2)

Saturday
Noon: Santa Clara at Duke (ESPN2)
Noon: Western Michigan at NC State (ESPNU)
2 p.m.: Tulsa vs. Florida State (FSN)
2 p.m.: Rice at Texas (Longhorn Network)
2 p.m.: Virginia Tech at BYU (ESPNU)
2 p.m.: UNLV at North Carolina (ESPN2)
2:15 p.m.: Auburn vs. Illinois (BTN)
4 p.m.: Kentucky at Louisville (CBS)
4:30 p.m.: Chicago State at Ohio State (BTN)
4:30 p.m.: Air Force vs. Florida (FSN)
6 p.m.: Xavier at Tennessee (ESPNU)
7 p.m.: Central Michigan at Michigan (BTN)
7 p.m.: George Mason at USF (ESPN3)
7 p.m.: Alcorn State at Syracuse (ESPN3)
7:30 p.m.: Washington at Connecticut (ESPN2)
8 p.m.: American at Kansas (ESPN3)
8 p.m.: Harvard at Cal (PACN)
8 p.m.: Butler at Vanderbilt (ESPNU)
8:05 p.m.: Evansville at Creighton (ESPN3)
Sunday
6 p.m.: Tulane at Alabama (ESPNU)
6 p.m.: Northern Iowa at Wichita State (ESPN3)

I Can't Wait To See …
Eamonn Brennan
I can't wait to see what UCLA has for Missouri. The Tigers are still something of a work in progress -- they are still gluing all of those very talented transfer pieces, particularly guard Jabari Brown, into place -- but we have a pretty good idea of what this team will look like as it all comes together.
UCLA, on the other hand, remains a mystery. Since their inauspicious start (in which they lost to Georgetown, at home to Cal Poly and to San Diego State in Anaheim), the Bruins have been under the radar, playing efficient offense and totally mediocre defense, besting a hobbled Texas and beating up on Prairie View, Long Beach State and Fresno State.
What will UCLA look like now that it's had a few weeks to try itself on? How will Ben Howland's new zone defense hold up against a sharp Mizzou attack? How will those talented UCLA freshmen respond to a crucial nonconference challenge, this time on their own floor?
The results should be fascinating.
Andy Katz
I can't wait to see UNLV-North Carolina in Chapel Hill. If this game were in Las Vegas then it wouldn't be a question whether UNLV would be heavily favored to win.
This is a true test of the Runnin' Rebels' toughness and mental stamina. UNLV may not be at full strength, but it's a ranked team from a strong Mountain West Conference. This is the type of game the Rebels should win if we are to take them seriously as true national contenders.
If North Carolina were to win, it would give the Tar Heels new life as they head into ACC play. Their talent level is still high, if raw and inexperienced.
The Mountain West is still constantly looking for respect. If UNLV is the team it thinks it is, the Rebels should win this game.
Jason King
I can't wait for Saturday's Kentucky-Louisville game. I'm interested to see how much better Kentucky looks since its Dec. 1 home loss to Baylor. The Wildcats have won four straight since falling to the Bears, but all of the victories were against mid-tier opponents. John Calipari's squad defeated Samford, Portland, Lipscomb and Marshall by an average of 31.5 points.
Louisville, an NCAA title contender whose only loss is to top-ranked Duke, will provide a whole new challenge. That this is a road game for Kentucky makes the situation even more intriguing. I'm guessing the Cardinals' depth and experience will be too much for the Wildcats.
Louisville's backcourt of Russ Smith and Peyton Siva would seem to have a considerable edge over Ryan Harrow and Archie Goodwin.
Myron Medcalf
I can't wait to see how UCLA competes in its most important game of the season. Sure, the Bruins have not lived up to the preseason hype. Their young stars aren't exactly stars yet. And they've lost some veterans who wanted more playing time. But they've quietly put together a four-game winning streak -- albeit against mediocre competition -- in recent weeks.
While the Bruins are getting better, Missouri will be a huge upgrade from the teams they've beaten this month. Shabazz Muhammad (ranked 16th in Ken Pomeroy's ratings [113.5] for players who've used a minimum of 28 percent of their respective team's possessions) is in much better shape than he was a month ago. And that's crucial on defense, whether Ben Howland plays man-to-man or sticks with the zone that's worked in spurts.
UCLA has a lot to prove. Do the Bruins recognize the significance of Friday's game? That will be determined by their effort.
Dana O'Neil
I can't wait to see Russ Smith play this weekend. Big games call for players who embrace big stages. No nonconference game is bigger than Saturday's bitter rivalry between Louisville and Kentucky, and no player likes the stage better than Russdiculous.
The creative Smith has learned this season how to temper his shot selection without ruining his spontaneity and in Louisville's last four games is averaging 21 points while shooting 45 percent from the floor. With the exception of Memphis, where Smith struggled from the floor but made up for it with 12 perfect trips to the free throw line, the Cardinals and Smith haven't faced the sort of defense or talent that Kentucky is going to bring to the KFC Yum! Center.
But then again, the Wildcats haven't faced anyone quite like Russ Smith yet this year.
Robbi Pickeral
I can't wait to see how -- and if -- North Carolina handles Anthony Bennett. UNLV's breakout forward is averaging 19.5 points and 8.5 rebounds for his 20th-ranked team, and is being touted not just as one of the best freshmen but one of the best players in the country. While the Tar Heels have struggled, dropping out of the rankings after a loss at Texas, the Rebels have won nine in a row. A 10th straight victory, led by Bennett, would be another attention-getter for both the player and his team.
Conference power rankings
Each week, ESPN.com writers rank the teams in the following conferences:

Only one more week of tune-ups before Atlantic Coast Conference play begins. Here are this week's ACC Power Rankings, based on myriad factors, including how teams have performed lately and the foes they've faced.
Robbi Pickeral
Greetings from the post-Festivus edition of the Atlantic 10 power rankings! While the reads on many teams will remain the same -- college hoops mostly takes a break during the holidays -- this is also the post-Temple-upsetting-Syracuse edition of the A-10 power rankings, and I got a lot of problems with you people. Eamonn Brennan

A few weeks ago, Kansas coach Bill Self tried to calm the folks who were panicking about the downtrodden state of the Big 12. "By the time January gets here," Self said, "our league will be as good as it's been." I couldn't have disagreed more when he uttered that statement, and I'm still not ready to say he was 100 percent correct. This clearly isn't as good a league as it has been in the past. But it may not be nearly as bad as we thought, either. Just ask Florida, North Carolina, Ohio State, Kentucky and NC State -- all of whom have lost to Big 12 schools. Maybe the league season won't be so bad, after all. Here are this week's power rankings. Jason King

It was a noisy quiet week for the Big East. With plenty of teams enjoying some holiday downtime, two of the best played -- and lost their first games of the season.
Both Syracuse and Cincinnati dropped from the ranks of the unbeatens, but neither is going to be punished too heavily here because both lost to good teams and are clearly, along with Louisville, the cream of this conference's crop as league play opens. Dana O'Neil

This is the final time I will construct a Big Ten power rankings post out of nothing more than nonconference games; Big Ten play begins Monday.
That is good news for power rankings purposes, sure -- it is easier to rank teams when you have some head-to-head results to look at, obviously. But that's not why I'm excited. I'm excited because, you guys, how good is this league? How much fun is it going to be on a nightly basis? I vote "really good" and "a lot." Let's see where we stand before the voice actor from "Mortal Kombat" yells "FIGHT!" Eamonn Brennan
The Mountain West continues to shine when the spotlight is on with quality performances and, at times, breakthrough wins. The MWC may very well end up with the highest percentage of bids to the NCAA tournament. Andy Katz

The Pac-12 is far from the best league in college basketball, but it will certainly be one of the most competitive. The difference in teams ranked between No. 2 and No. 12 isn't all that huge, which should definitely make for some entertaining games over the next few months. Here's a look at the Pac-12 power rankings entering conference play. Jason King

Well, here we go again. My latest attempt to rank SEC teams. Enjoy. Or cry. Either would be appropriate with this conference right now.
Myron Medcalf