Ready For The Season's Biggest Day Yet
Editor's note: Rece Davis is host of "College GameDay," which makes its road season debut Saturday (11 a.m. ET, ESPN) at historic Hinkle Fieldhouse, site of Gonzaga-Butler.
College basketball needs a big opening day. A day when the sporting public's attention is largely focused on our game. Several have advocated pushing the season back until after championship week in college football. I'm on board with that idea. But because that's still in the probably-will-never-happen stage, I give you midseason mania. A Super Saturday that might not start the season but could command more attention than any other non-March day in the regular season.
Five games match ranked teams. Two more involve a ranked team against a dangerous conference foe boasting two or fewer losses and ranked in the top 28 of the Basketball Power Index. Where to start? With "College GameDay" at Hinkle Fieldhouse, of course.
Butler and Gonzaga are now more than inspiring underdog stories. They are legitimate Final Four contenders. Every year we say the tournament is wide open, and, to a degree, it is. Just notice the highly ranked teams toppling with regularity to realize that there are a lot of good teams out there, but no dominant team like Kentucky was last season. I had coaches tell me last season that they could narrow the field of eventual national champions to a handful of teams. This season, most say they have no idea.
Should it really surprise us if Saturday's prime-time clash in Indy is a Final Four preview? Only if you've given up on Gonzaga in the postseason. For all of their success, the Zags haven't been past the Sweet 16 this century. By making two national championship games, Butler has assumed the throne previously owned by Gonzaga as the pre-eminent mid-major team. A January win by Mark Few's team wouldn't change that, but losing to Butler, which will be without Rotnei Clarke, would give skeptics more ammunition.
[+] Enlarge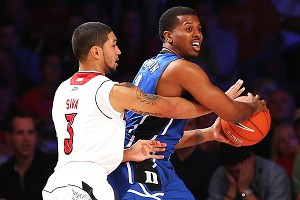 Kevin Jairaj/USA TODAY SportsPeyton Siva and Louisville can make life difficult for opposing offenses.
Doubters beware. The Zags are in the top five in offensive efficiency largely because Kelly Olynyk looks like a different guy after sitting out last season. OK, his hair looks a lot different. Maybe it's the flowing locks putting the flow in his game. He's more efficient. He can step out and make shots, but he doesn't just settle for 3s as he once did. Olynyk is scoring 18 points per night and has combined with Elias Harris to form one of the most imposing front lines in the country. By the way, take a look at Ken Pomeroy's stat profile for Harris. His efficiency stats compare favorably to Tyler Hansbrough's in 2008-09 and Matt Howard's in 2010-11. Both of those guys led their teams to the Final Four.
Butler is expected to be without leading scorer Clarke, which is too bad. He might be the nation's best shooter and had just busted out of a mini-slump with a six-3s, 28-point performance against St. Joe's when he took the nasty spill against Dayton that will keep him out against the Zags. Ingrained in the Butler Way is a next-man-up philosophy. As much as Clarke contributes as a shooter, the way he's run the team from the point might be the biggest revelation in his game so far. Brad Stevens' team might be a little outmanned without him Saturday night, but we know better than to be fooled by that right now. It's a big stage. While the Bulldogs look like an underdog, they probably have the Zags right where they want them.
Meanwhile, No. 1 Louisville jumps with Syracuse in the marquee game of the day. The Cardinals are emerging as the top defensive team in the country. They lead the nation in defensive efficiency rankings and are second in turnover percentage, forcing opponents to cough it up on nearly 29 percent of their possessions. Russ Smith even got a handmade sign from my Big Monday partner Jay Williams touting him as a Wooden Award guy. If anyone knows how to solve the Cards' D, it would be Syracuse, but the Orange are minus a big offensive weapon in the suspended James Southerland. Jim Boeheim says Southerland's issue could be resolved at some point. That point would not appear to be Saturday. Getting points from the perimeter without him is also an issue that needs resolution.
Syracuse is a salty lot on defense, too. The Orange lead the nation in block percentage. They're fourth in defensive efficiency. They steal the ball at a rate close to Louisville. How each attacks the other's zone will be key. As my other Big Monday running mate, Seth Greenberg, points out, pay attention to where Louisville gets its points. If it's from Chane Behanan & Co. inside, the press can be much more disruptive. The pressure after made jumpers is more passive. If Syracuse breaks the press, Southerland is great making spot up 3s in transition. Can the Orange find someone to pick up that slack?
Cuse won both meetings last season. Neither game got out of the 50s. We'll hope for a little more offense Saturday, but all points are likely to be hard-earned.
How did Ohio State and Michigan State avoid top billing? The Buckeyes should be brimming with confidence after beating the Wolverines. Sparty hopes to show some fight with the opponent after Adriean Payne and Branden Dawson scuffled at the team hotel and dented a wall. Now we'll see whether they can put a dent in the Buckeyes.
All of the praise the SEC has earned during football season is matched by equally well-earned criticism so far in basketball. Florida and Missouri are the only ranked SEC teams. The Gators have a rare blend of experienced talent. Kenny Boynton, Patric Young, Erik Murphy and Mike Rosario give the Gators as many different players capable of taking over a game as anyone. They have let Final Four berths slip away in the regional final each of the past two years. The Gators should be hungry.
Short of an episode of "Swamp People," you won't see this many Gators nicked up. Billy Donovan's team is being held together with ankle tape, knee braces and a flak jacket. Murphy is wearing one while playing with a broken rib. Missouri, meanwhile, is trying to weather the storm until Laurence Bowers returns from his knee injury. Frank Haith isn't certain whether he'll have his leading scorer back for Saturday's trip to the O-Dome. Former UConn big man Alex Oriakhi is thriving in his only season as a Tiger, but Mizzou got buzz-sawed by Ole Miss in its last road trip. It'll find Gainesville to be an inhospitable place.
Creighton and Wichita State is a huge matchup in the Missouri Valley. The Bluejays are ranked 12th behind scoring machine Doug McDermott (24.0 ppg). At least, he's a scoring machine when he doesn't play the Wheatshockers. (I still like to call them that.) In four career games against Wichita State, McDermott has never scored more than 13 points. Granted, this is a different cast for WSU, but Gregg Marshall has had the formula for slowing McDermott. The Shockers, ranked 17th in the BPI, have won 17 straight at home.
And don't forget the two key Mountain West matchups: Wyoming at Colorado State and UNLV at Colorado State. The first two are coming off losses and the last two are coming off wins. In what should be an incredible MWC race, games like these are already vitally important.
So a pretty solid Saturday without football, eh? "College GameDay" goes to the house that inspired the movie "Hoosiers." We are looking forward to our first trip to Hinkle. I'll probably have to get Gene Hackman's tape measure to show the guys the set is the same. They just have to talk their game. I wonder, if somebody hits a buzzer-beater, whether Digger will jump up and down in a bathrobe like Shooter. Don't get caught watching the paint dry. "College GameDay" rolls on the biggest day of the season so far.
Journey to the Tourney: Syracuse at Louisville
By Eamonn Brennan
ESPN.com
When and where:Saturday, 4 p.m. ET, ESPN
Scouting Louisville: The Cardinals reached the Final Four last season not only through timely plays and Russ Smith's overcaffeinated brilliance, but because Rick Pitino unleashed the frightening power of the nation's best defense for five straight games. Louisville hasn't let up since. The Cardinals once again wield the best defense in the country, one that holds opponents to just .81 points per trip this season, and it has begun Big East play by locking down Seton Hall (58 points, 70 possessions), South Florida (38 points, 65 possessions, ouch), and UConn (58 points, 68 possessions).
What makes the Cardinals so hard to play? Ball pressure. Smith, Peyton Siva and rotation guard Kevin Ware pick up opposing ball handlers in the full court, mixing token pressure man-to-man with real press action. Once the ball is across half court, Louisville often stays in a tight man, but it also mixes in an extended zones. The entire defensive M.O. is to force opposing guards to do something -- to make a dribble move they don't want to make, to enter an area of the court where they can be easily trapped, to collapse and swat and ball-hawk at all times. This constant pressure, and the impressive harassment skills (there's a new NBA draft totem: "is an expert harasser") of Louisville's guards, has forced opponents to cough the ball up on 28.8 percent of their possessions this season, second only to VCU in Division I hoops.
Of course, the work doesn't stop on the perimeter. When defenders do get by the first line of defense, center Gorgui Dieng, a shot-blocking force, is waiting there for them. As SI's Luke Winn showed (in handy chart format, of course) this week, Louisville has been much better before and after the scaphoid wrist injury that caused Dieng to miss seven games. Plus, not playing like "13 Michael Jacksons" -- Pitino's words, not mine -- probably helps, too.
The real difference between this year's Louisville team and last year's is offense. In 2011-12, the Cardinals were an occasionally watchable, often abysmal offensive team. This season, Smith is shooting just as often but playing much more efficiently, Siva is hitting more threes than ever before and, according to Synergy, the Cardinals are playing in transition on 19.5 percent of their possessions. When those turnovers equal easy buckets, and the Cardinals really get rolling, look out.
Scouting Syracuse: There have been plenty of surprises this season -- Illinois' first two months, Wichita State picking up right where it left off, Pittsburgh losing early Big East games at home, Minnesota morphing into the nation's best offensive rebounders, that time I went almost 48 hours without caffeine -- but for my money, Michael Carter-Williams has to be up there.
Don't get me wrong: I'm not surprised that he's good. A highly touted prospect who couldn't break into a loaded backcourt last season, Carter-Williams was one of the more hyped players in the country this summer -- everyone within a 100-mile radius of Syracuse shouted from the rooftops about how good he was going to be now, look out world, etc etc. And he is. But Carter-Williams was supposed to be a shooting guard. He's 6-foot-6 and lanky, and he carries himself on the court like he grew up watching Tracy McGrady in his hey. But Carter-Williams isn't a shooting guard. He's a point guard. In fact, he's one of the two or three best points guard in the country.
Carter-Williams is currently fourth in the nation in assist rate; he finds a teammate for a finish on 46.9 percent of his possessions. He is not a tantalizing future-pro wing scorer, though that would be plenty. Instead, he is the undisputed engine of the Syracuse offense. Everything runs through him.
That, I think it's fair to say, is a surprise.
But for as good (and surprising!) as Carter-Williams has been, Syracuse's offense is not the true strength of the team. As usual, the Orange are at their best on the defensive end, where they've allowed just .82 points per trip -- second best in the country behind Louisville. Carter-Williams has been excellent in this regard, too -- he forces 5.4 steals every 100 possessions, the 12th-highest rate of any player in the country. Like Louisville, Jim Boeheim's team extends its zone to challenge shooters, create havoc in passing lanes, and convert easy buckets on the break.
In the long term, this is good news for Syracuse for reasons beyond the obvious. On Saturday, the school announced that forward James Southerland was indefinitely suspended (with reports later confirming the suspension was due to academics). Southerland was the Orange's most reliable scorer, a 6-foot-8 senior making 62 percent of his twos and 38 percent of his threes. Without him, Carter-Williams loses a favorite target, Syracuse loses its most versatile finisher, and the Orange may come to rely on their defense to grind out wins more than they would obviously prefer.
Editor's note: To read more of Brennan's breakdown of Syracuse-Louisville and to see his prediction, click here.
Viewer's Guide
All times ET

Friday
7 p.m.: Stony Brook at Vermont (ESPNU)
Saturday
12 p.m.: Maryland at North Carolina (ESPN)
12 p.m.: Connecticut at Pitt (ESPN2)
12:30 p.m.: Harvard at Memphis (FSN)
2 p.m.: Missouri at Florida (ESPN)
2 p.m.: Kansas at Texas (CBS)
2:30 p.m.: Arizona at Arizona State (FSN)
4 p.m.: Syracuse at Louisville (ESPN)
4 p.m.: Creighton at Wichita State (ESPN2)
4 p.m.: Oklahoma at Kansas State (ESPN3)
4 p.m.: Florida State at Virginia (ESPN3)
4 p.m.: Oregon at UCLA (CBS)
6 p.m.: Ohio State at Michigan State (ESPN)
6 p.m.: Texas A&M at Alabama (ESPN3)
6:30 p.m.: Utah State at Denver (ROOT)
7 p.m.: Marquette at Cincinnati (ESPNU)
7 p.m.: UNLV at Colorado State (NBCN)
7 p.m.: Charleston at Davidson (ESPN3)
7:30 p.m.: SDSU at Wyoming (Time Warner)
8 p.m.: Wisconsin at Iowa (BTN)
9 p.m.: Gonzaga at Butler (ESPN)
Sunday
1 p.m.: Indiana at Northwestern (BTN)
6 p.m.: Clemson at NC State (ESPNU)
Katz Korner: Mizzou's Phil Pressey
Brennan On Ohio St.-Michigan St.
I Can't Wait To See …

Eamonn Brennan

I can't wait to see Louisville host Syracuse, and not just because it's a battle between the two clear Big East favorites. The bonus is that we get to see the nation's best defense, which thrives on constant harassment of ball handlers, try to neutralize Syracuse's Michael Carter-Williams, one of the nation's best point guards. Will the 6-foot-6 Carter-Williams' size allow him to brush off pressure from Russ Smith and Peyton Siva? Or will those two buzz gnatlike around the Orange point guard all day, cutting Syracuse off at the point of attack?
I'd lean toward the latter, but Carter-Williams has proved himself up to the task more than a few times this season. Meanwhile, don't sleep on Syracuse's defense -- the Orange are second in the country in points allowed per possession (to Louisville, naturally), and they force turnovers and get easy buckets on the break at nearly as high a rate. This is going to be a great game and a really great matchup out front.

Andy Katz

Oregon at UCLA on Saturday. Arizona is the favorite in the Pac-12, but unless Arizona State makes a serious move to be a consistent contender, the winner of this game likely will have the inside track on being the Wildcats' true challenger. Oregon already knocked off Arizona, and UCLA gets a shot next week in Tucson.
I'm looking forward to seeing how Shabazz Muhammad handles the size and length of Oregon's bigs or deals with E.J. Singler. Larry Drew II has been a solid playmaker for the Bruins, but he'll have his hands full with Dominic Artis and Damyean Dotson of Oregon. This should be a late-possession game and set up an intriguing three-team run toward the Pac-12 title. Of course, if ASU beats Arizona this weekend, expand that group to four.

Jason King

The most underrated game of the weekend is Creighton at Wichita State. The Bluejays and Shockers are easily the class of the Missouri Valley Conference, and I expect both to earn NCAA tournament bids. In the meantime, a league title means a ton to both of these schools. Creighton is undefeated in MVC play, while WSU is still stinging from its loss to Evansville on Sunday. Leading rebounder Carl Hall didn't play in that contest because of an injured thumb, but he's scheduled to return Saturday after missing seven games.
Hall and his teammates will be charged with stopping All-American Doug McDermott, the leading candidate for the Wooden Award. McDermott is averaging 24 points on the season and 35 points in his past two games. Wichita State lost to Creighton at home last season but ended up winning the MVC title outright. Koch Arena is one of the toughest places to play in the country.

Myron Medcalf

I can't wait to see Wisconsin at Iowa on Saturday. Why? Because the Big Ten is a gauntlet. There aren't many reasons to pick Iowa in this one, but how many folks chose Wisconsin to beat the Hoosiers on the road Tuesday night? It happened. This is the best league in America, but it's also one of the most unpredictable: The Badgers' win in Bloomington proved as much. Iowa, however, hasn't been dominated at home all season (four-point loss to Indiana, three-point loss to Michigan State). The Hawkeyes need quality wins in the Big Ten to crash the NCAA tourney at-large conversation, so they'll have plenty of motivation for Saturday's game. And now, Wisconsin is the target. A team that many had essentially dismissed in the Big Ten title conversation is suddenly the top squad in the league. But it's tough to hold on to first place in the Big Ten. That's why I can't wait to see it.

Dana O'Neil

I can't wait to see my first game at Hinkle Fieldhouse. While I can appreciate the amenities of new palaces like Louisville's Yum! Center, my heart belongs to the old barns. Give me fans in the corners at the Palestra and some Rock Chalk at Allen Fieldhouse. I've visited Hinkle plenty of times but have never actually seen a game there, and now not only do I get a game, I get a doozy -- the ultimate mid-major throwdown between Butler and Gonzaga.
Certainly the Bulldogs will have a tougher go of it without leading scorer Rotnei Clarke, who is out with a neck sprain, but anyone who thinks Butler is putting up the white flag hasn't met Brad Stevens or paid attention to the Bulldogs over the years. Butler is all about toughness and grit, and I suspect this game will still be a terrific one, enhanced by the "College GameDay" atmosphere and the ambience that only Hinkle can create.

Robbi Pickeral

Who would have thought Miami would be the final undefeated team in ACC play? And without big man Reggie Johnson? While the Hurricanes, who survived at Boston College by a point on Wednesday night, have the weekend off, I'm curious to see how the rest of the ACC jockeys for position. Can UNC work its way back to .500 in league play, or will Maryland push the Tar Heels to 1-3? How will NC State bounce back from its midweek loss to the Terps? How will Duke continue to fare without Ryan Kelly? And when Virginia hosts Florida State, will the Cavs look more like the team that beat the Tar Heels -- or the one that lost to Wake Forest and Clemson? In this conference so far this year, your guess is as good as mine.
Bilas: Nation's Best Shooters