Some Once-Hot Teams Seek Rebounds
Editor's note: Rece Davis is host of "College GameDay," which will broadcast from Raleigh, N.C., this Saturday, starting at 10 a.m. ET on ESPNU.
Last Saturday delivered thriller after thriller. Five games matched ranked opponents and delivered in thrilling fashion with three of the games coming down to the final possession.
The schedule is not as imposing this weekend. There are no games between ranked teams Saturday. That doesn't mean the thrill is gone. The momentum might not be gone but it's plotting an exit strategy for several formerly sizzling teams who have hit a couple of potholes.
[+] Enlarge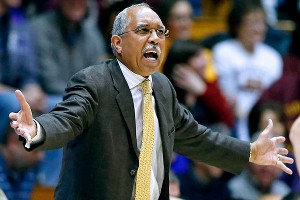 AP Photo/Nam Y. HuhTubby Smith is trying to get Minnesota back on track following a three-game losing streak.
Wisconsin was the toast of the Big Ten after a 4-0 start and a win at Indiana. The Badgers haven't won since. It seems as if they haven't made a free throw since. The Badgers were 7-of-18 from free throw line in a loss to Michigan State. True, Wisconsin is the worst free throw shooting team in the conference, but even the normally reliable Jared Berggren made just 2 of 8.
While trying to end its two-game stumble, the Badgers welcome Minnesota. The Gophers are still ranked 12th in the country, but that's not going to last. Tubby Smith's team is on a three-game skid and he is ripped about it. He'd already scolded his starters after the Michigan loss, questioning their attitude. The Gophers' Rodney Williams tweeted about being thrown under the bus. He quickly recanted, saying the tweet wasn't aimed at his coach.
There was no mistaking Tubby's intent. His piercing glare was locked on his team after the debacle at Northwestern. He decided they could use a dose of "under the bus" therapy. Said Smith, "When you're losing, people point the finger. That's the way it starts, instead of being, 'My fault.' Then, you look at the refs. You look at the coach. Somebody's not doing something. That's what losers do."
It was a "come to Tubby" sermon that the Gophers would do well to heed. Minnesota desperately needs something to feel good about. Wisconsin will be desperate too. Bo Ryan's team has trips to Ohio State and Illinois coming up next. If the Badgers can't beat the Gophers, their 4-0 conference start could spiral into a losing Big Ten record before the first week of February is done. Such is life in the nation's toughest conference.
Louisville has squandered two straight games. Their free throw shooting against Villanova made Shaq and Dwight Howard look like Mark Price and Ray Allen. OK, so that's slightly hyperbolic. There's no need to hit the panic button for the Ville. After all, when does it really help to panic. ($1 to Jay Bilas.) The Cardinals face Georgetown on the road. The Ville hasn't beaten the Hoyas since 2009. Both teams rank in the top 10 in defensive efficiency. Louisville is most effective in forcing turnovers and getting steals. They're second in the nation in steal percentage and turnovers forced percentage. Georgetown can be a little loose with the ball. The Hoyas have thrown up some clunkers on offense too, but they looked sharp against Notre Dame. No one will ever confuse the Irish defense with Louisville's, but Georgetown will arrive confident.
[+] Enlarge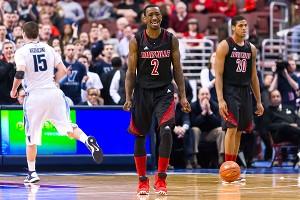 Howard Smith/USA TODAY SportsRuss Smith and Louisville would like to put this week behind them.
Otto Porter has scored 19 or more in four straight games. He has improved his perimeter game. He doesn't take a lot of 3s, but he has been judicious and effective, hitting 45 percent from behind the arc. He will be priority 1 for that stifling Louisville defense. The Cardinals will be a Final Four contender regardless of the outcome of one road game, but given the choice of rediscovering momentum or a three-game losing streak, coach Rick Pitino will take the former.
"College GameDay" goes to Raleigh, N.C., for the first time Saturday just in time to see if North Carolina State can regain its mojo against rival North Carolina. The Wolfpack have lost two of three since beating Duke, including a particularly demoralizing loss to Wake Forest. A late 12-0 run for the Demon Deacons doomed the Pack. Which team are the Fighting Gottfrieds? The team that gave Duke its first loss or the team that couldn't close at Maryland and Wake.
NC State is inconsistent on defense. Reggie Bullock and James Michael McAdoo can get points quickly. The Pack can give them up in a hurry. But at least they will score and they will run. The Wolfpack gets out in transition on nearly 25 percent of their plays. That's tops in the nation. In a season that's seen far too many games look like a cross between Greco-Roman wrestling and shooting the warped, overinflated ball at the tiny carnival hoop, seeing two teams that want to push it will be fun.
Don't miss the Ole Miss-Auburn game Saturday. That might be the first time in the history of the Internet anyone has ever written that. But Marshall Henderson makes you break the old molds. Henderson is a guy who knows the fine print on transfer papers. He has filled out a few of them. But he has settled in with Andy Kennedy in Oxford. He leads the SEC in scoring. If you haven't seen him, think Jimmer Fredette meets Eminem. He's got range. He's got swagger. He has been hot enough to melt Hades … to paraphrase Marshall Mathers. Ole Miss plays Kentucky and Florida next week. The Rebels' Cinderella Man could have them staking claim to being the best team in the SEC if they can keep riding the fickle wave of momentum.
Journey to the Tourney: UNC at NC State
When and where: Saturday, Raleigh, N.C. (ESPN/WatchESPN.com, 7 p.m. ET)
Outlook: The painfully young Tar Heels started ACC play 0-2, and the world began to fall off its axis in Chapel Hill. NC State started ACC play 3-0, and parade routes were being planned. Fortunes turn quickly in conference play, and can and will again before this is all done. The Heels have one of the youngest rosters in the country, ranking 308th in experience.
[+] Enlarge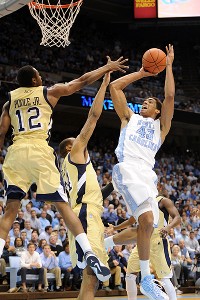 AP Photo/Cal Sport MediaJames Michael McAdoo's game has been inconsistent, much like North Carolina's season.
North Carolina has a non-traditional team for baby blue, as it is primarily a perimeter team. Usually, the UNC attack starts and ends with big guys who run, get the ball in the post, wear you down and foul you out. The Heels' primary break and secondary break were feared, and even though you knew they were coming, you couldn't stop them.
This year, North Carolina's big men are young and unpolished. Frankly, none of them are completely ready yet. And James Michael McAdoo is having a normal progression for an outstanding player, but he is not where we expected him to be, whether those expectations were fair or not. McAdoo is productive but not efficient, and has been up and down, as North Carolina's team has been.
Carolina's strength is still transition, but its running game is not as powerful as it was last year (how could it be, with four first-round picks gone?), and the Heels get to the offensive glass for second shots.
On the other bench, NC State has been excellent at times, but has had a few slip-ups. This is an elite offensive team that is the only team in the nation with six players averaging 12 points per game or more. The Wolfpack are more dynamic in transition and score off makes, misses, turnovers, free throws, you name it. This team is fast and runs. Rodney Purvis is a speed merchant and Lorenzo Brown is as fast with the ball as most any point guard in the country. Scott Wood runs to the 3-point line, and Richard Howell and C.J. Leslie run to the rim and drag the defense with them, putting tremendous pressure on opposing big men to run the floor.
T.J. Warren is also terrific in transition and really takes off the other way at conversion. In the halfcourt, NC State runs nine or 10 sets out of the UCLA high post offense, and keeps it very simple, which is very smart. With so many options to score, why complicate things? Mark Gottfried is smart not to. The key for NCSU to get to the next level is to defend and do it consistently. Against Wake Forest, the Pack didn't guard and just tried to outscore the Deacons. The most important player is Leslie, who, when he guards people, inspires everyone to defend better.
Editor's note: To read more of Bilas' breakdown of North Carolina-NC State and to see his prediction, click here.
Pearl's Weekend Predictions
I Can't Wait To See …

Eamonn Brennan

I can't wait to see how Louisville recovers from its first adverse week of the season as the Cardinals prepare for Saturday's visit to Georgetown. Last Saturday, just five days after earning the No. 1 ranking, the Cardinals were toppled in their own building by Syracuse. On Tuesday, Louisville suffered an even more disappointing defeat, a 74-63 loss to a mediocre Villanova team in Philadelphia. Player of the year candidate Russ Smith had his worst offensive game of the season, the Cards missed free throws down the stretch, and the postgame atmosphere was one of recrimination and doubt. For as much as Georgetown has struggled on the offensive end these past two months, the bottom line is the Hoyas still defend, still have star forward Otto Porter, and still make things very difficult for opponents in their own building. This is a major gut check for Louisville -- lest it drop three Big East games in a row.

Andy Katz

I'm looking forward to seeing if Rotnei Clarke returns to the Bulldogs' lineup against Temple on Saturday. If he does play, how will he be affected by the long layoff? This is the only time Temple and Butler play this season. Temple has an elite win over Syracuse but the Owls have looked rather pedestrian at times. Their loss at home to St. Bonaventure seemed to zap some of the energy out of their campaign to win the Atlantic 10. VCU and Butler are the favorites, even with Xavier's hot start. If Temple wants to win the league it better take down the Bulldogs -- with or without Clarke. This should be one of the better strategic matchups over the weekend, as Brad Stevens and Fran Dunphy almost never disappoint.

Jason King

I can't wait to see if San Diego State can shave New Mexico's lead in the MWC standings by defeating the Lobos at the Viejas Center. New Mexico is 17-2 overall and 4-0 in conference play. Every other team has at least two league losses. San Diego State entered the season as one of the MWC favorites, but the Aztecs lost at home to UNLV and scored only nine points in the first half of a road loss to Wyoming three days later. Steve Fisher's squad will have to bring its A-game to beat a New Mexico team that is led by Kendall Williams, who is averaging 14.1 points and 4.6 assists. The Lobos continue to be the conference's most consistent program.

Myron Medcalf

I can't wait to see how No. 25 Miami follows its Wednesday night win over No. 1 Duke during a home matchup against Florida State on Sunday. No. 1 squads have been tied to multiple stumbles in recent weeks. North Carolina State snatched Duke from its No. 1 slot and then lost to Maryland in its next game. Syracuse squeezed by Cincinnati days after upsetting No. 1 Louisville on the road. The Seminoles have been a mess for the past month. They scored 36 points in a road loss to Virginia last weekend. But now that the Hurricanes are legit contenders for the ACC title, there's a larger target on their backs. They entered the Duke game on Wednesday night as David. But they're Goliath to Florida State. And sometimes it's difficult for programs to adjust to that role. NC State has lost two of its past three games since beating the Blue Devils on Jan. 12. Miami has to prove that it's not going to follow that path in its first game since a lopsided victory over No. 1.

Dana O'Neil

I'm excited to be seeing the remade version of UCLA. The last time I saw the Bruins they were losing to Georgetown, struggling against Georgia, trying to get Shabazz Muhammad into the swing of things and generally playing like a mess. Since then, Ben Howland has shelved his own defensive philosophy to cater to this team's talents and it has worked. UCLA has won 11 of its past 12. I covered the win over No. 6 Arizona in Tucson on Thursday night and will follow the Bruins to Tempe for Saturday's tricky game against Arizona State, which probably will be a better indicator of how much this team has (or hasn't) changed.

Robbi Pickeral

I'm interested to see how well the traffic is flowing between Durham and Raleigh at about 4:30 p.m. ET on Saturday. It's a big basketball day in the Triangle, with Maryland taking on Duke at 1 p.m., followed by North Carolina at NC State at 7 p.m., so I'll take the I-40 trek to see both. I'm curious to see how angry -- and accurate -- the Blue Devils will be after their 27-point shellacking at Miami on Wednesday; how Terps big man Alex Len fares against Wooden Award candidate Mason Plumlee; whether NC State can bounce back from its upset loss at Wake Forest to finally end its 13-game losing streak against the Tar Heels; and if UNC, winner of three straight, can continue its pattern of improvement. Buckle up ….
Michigan State-Indiana Preview