Supersized Regular-Season Bout In Bloomington
Editor's note: Rece Davis is the host of "College GameDay," which will be in Bloomington, Ind., on Saturday for No. 3 Indiana versus No. 1 Michigan.
When two teams have already faced each other in the national championship game, no regular-season meeting will approach the realm of being their biggest matchup ever. But Saturday's clash between No. 1 Michigan and No. 3 Indiana feels plenty big.
No matter when it's played, it's a treat to get a clash like Saturday night's meeting between the Wolverines and Hoosiers, with ESPN's "College GameDay" in attendance.
The Wolverines return to the top perch for the first time since the Fab Five era. The Hoosiers have knocked off a No. 1 six times, but none of those teams were the Wolverines.


Four No. 1 teams have fallen from the top spot this season. Three No. 1s have been taken down when "College GameDay" was in town. Twice, No. 1 has been beaten by Tom Crean's Hoosiers.
Oh, woe is Michigan. Fate and the numbers are aligning against the Wolverines. (Please note the sarcasm.)
In an offensively challenged season, Michigan's execution on offense stands out even more. This is a remarkably skilled offensive team, led by the guy who might be the eventual Wooden Award winner, Trey Burke. Burke is magic with the ball in his hands. Statistically, he might be mini-Magic. The Michigan point guard averages 17 points and seven assists per game.
The last guy to do that for a season in the Big Ten was Magic Johnson at Michigan State.
How sharp are the Wolverines right now? They had only two turnovers in Wednesday night's win against Northwestern. That's hard to do against air, much less an actual opponent.
Burke has been fantastic, but the key to this team is how well the young guys have filled their roles. Freshman Nik Stauskas shoots 49.5 percent from 3 and has at least one triple in every game this season except one: the Wolverines' lone loss -- perhaps not coincidentally, by three points -- at Ohio State.
Stauskas and classmate Glenn Robinson III (can we call him GR III?) have given Michigan consistent scoring production.
The Wolverines are the current No. 1. Indiana had that tag for the first six weeks of the season.
Cody Zeller faced lofty expectations after arguably handling Kentucky's Anthony Davis better than anyone in two meetings last season. Now, some folks are picking apart Zeller's game, but he still leads the Hoosiers in scoring and rebounding. Victor Oladipo leads the nation in true shooting percentage, a stat that takes into account 2s, 3s and free throws.
There are all kinds of numbers to throw at you, but this game can be a showcase for the season. Nothing can top the intensity and tradition of a Duke versus North Carolina game, but for this regular season, Michigan versus Indiana is the must-see game.
It's fitting that they're playing on Super Bowl weekend. We'll check out the Crean-Harbaugh brothers connection in a unique way Saturday morning on "College GameDay."
[+] Enlarge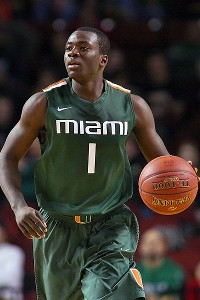 Cal Sport Media/AP ImagesDurand Scott and Miami are still unbeaten in ACC play. Will that still be the case after Saturday?
This weekend's ACC headliner matches the team picked to win the conference against the team that might actually do it. There's no greater juxtaposition between North Carolina State and Miami than how each dealt with its midweek trip to Virginia.
The Wolfpack couldn't make enough winning plays down the stretch to beat UVa. The Hurricanes' veteran squad had enough to hold off Virginia Tech and remain perfect in conference play. Shane Larkin, who dropped 25 on the Hokies, said of his dagger 3 late: "It's always fun to shush a home crowd."
Shushing NC State's home crowd is much different. It seems the Pack's transition game hits a higher gear in Raleigh. Both Jay Bilas and Seth Greenberg love the way NC State outlets the ball when running the break. Keep an eye out to see if the Canes can take away those passes and keep the Wolfpack from running.
On Saturday, North Carolina will have to deal with the nation's leading scorer, Virginia Tech's Erick Green (25 PPG). He's raised his average nearly 10 points per game from last season. His shooting percentage is up about six points to just under 50 percent.
An improved field goal percentage isn't the only reason Green has turned into a scoring machine. The Hokies are playing at a quicker tempo this season. They're among the top 50 in number of possessions per game. More possessions mean more shots for Green, whom the Hokies rely on heavily to score. The explosive guard is getting to the free throw line more often on those possessions. He's making four more free throws per game this season than he did last.
This isn't adding up to a lot of wins for the Hokies, but when we have teams ranked in the AP Top 25 scoring 34 points (hello, New Mexico), maybe watching a guy who is getting 25 per night by himself would be fun.
Plus, I'm going to put our "College GameDay" researcher, "The Bull," on the case to see if we've ever had a senior lead the nation in scoring after averaging fewer than three points per game as a freshman.
If you think Kentucky brought Ole Miss down a notch or two, wait until the Rebels see what Florida throws at them. The Gators are going to lose an SEC game. Sometime. I guess. Well, the odds say they'll stumble somewhere. And that's what it would be. A stumble.
Florida is easily the class of the SEC, although this season that could be considered a backhanded compliment. Billy Donovan's team looks like much more than just a bully beating up on overmatched foes. The Gators are second in the nation in offensive efficiency rating, and offense might not even be their strong suit.
The Gators clamp down their defensive jaws and choke the life out of offenses. They can silence Marshall Henderson -- figuratively speaking, of course.
For the Rebels to have a chance, Henderson will have to be hot enough to melt Hades; burn the devil, too; fry his tail and put his ashes back together with glue. It's Jimmer meets Eminem in Oxford these days.
I'll be surprised if Henderson's rap includes a Cinderella (Man) story in Gainesville.
Journey to the Tourney: Michigan at Indiana
When and where: Saturday, Bloomington, Ind. (ESPN/WatchESPN.com, 9 p.m. ET)
Outlook: Michigan goes into Assembly Hall as the No. 1 team in the nation and the best offensive team in the country. Although the Wolverines play at a pace that is among the slower ones in the country, this is an excellent transition team that scores opportunistically. When Michigan runs, it finishes and scores at a high rate and is devastatingly efficient.
The 3-point field goals the Wolverines hit in transition are deflating. Michigan is smart, runs the lanes hard and takes advantage of open space. Michigan has the best point guard in the nation and dynamic wings who can attack the rim, and shooters who can space to the 3-point line.
Trey Burke is a complete guard who does absolutely everything for Michigan. Tim Hardaway Jr. is an outstanding spot-up shooter and can really run the lanes on the break. He is at his best curling off his left shoulder, as a right-hand driver, and going left to pull up.
Freshman Nik Stauskas is one of the best standstill shooters in the country, shooting close to 50 percent from 3-point range. Glenn Robinson III is another dynamic wing finisher and an improving defender who can affect the game with his athleticism and energy.
Jordan Morgan, out recently with an ankle injury; Mitch McGary, a lefty freshman big man; and Jon Horford all can play the pivot, but none are shooters who can screen and space -- they all get theirs near the basket.
On the defensive end, Michigan is better than last season, and does a solid but not spectacular job in slowing down, containing and challenging shots. The Wolverines are good defensively, but not great. They Wolverines switch a lot of screens, and a prepared team can take advantage of that. Their ball-screen defense is OK, but the Wolverines can be vulnerable on the glass and off the dribble.
If Michigan is the best offensive team in the country, Indiana is not far off. Cody Zeller leads the way as the top scorer and top rebounder, but the sophomore big man is also a solid steals guy who runs the floor better than any big man in the nation.
Freshman point guard Yogi Ferrell hasn't shot the ball as well as he can, but he is a good shooter who has been very good on the ball defensively, and has done a good job leading at the point. Will Sheehey is one of the toughest players in the Big Ten, and can score, pass and rebound his position and defend it, too.
Zeller is the best running big man in the country. He sprints downcourt and puts an enormous amount of pressure on opposing big men. Zeller sets drag ball screens and stays flat on the baseline, and still chases down the most offensive rebounds. Indiana runs a lot of dribble handoffs, ball screens and does a good job of penetrating defenses off the dribble.
On the defensive end, Indiana plays mostly man-to-man, with some 2-3 zone and the occasional 1-2-2 or 1-2-1-1 press to slow the opposing team and get key turnovers. Indiana is among the top scoring and shooting teams in the country, and has a defensive heart and soul in Victor Oladipo, a player who makes himself special with his defensive energy and prowess.
Michigan's best: Burke
No player in the nation is better in transition and with the ball in his hands. He is a one-man break, and balances attacking the defense with dishing it to teammates in the position to make a play. Burke has an outstanding step-back move and shooting stroke. To slow Burke, you have to make him work for everything, and to take nothing but tough 2s instead of kick out or open 3s off dribble penetration. To slow Burke, Indiana will have to use a big man to corral him in transition, and stick with shooters on the perimeter.
Indiana's best: Zeller
The sophomore big man may not excite some draft observers, but he is an outstanding runner with a great motor. Zeller has some areas that need improvement, including hitting a perimeter shot and rebounding productivity. He is coming off a really good outing against Purdue after consecutive struggles against Penn State and Michigan State. But despite the questions of certain scouts, Zeller is Indiana's best player and the one the Hoosiers can't afford to lose.
Editor's note: To read more of Bilas' breakdown of Michigan-Indiana and to see his prediction, click here.
Greenberg On Michigan-Indiana
I Can't Wait To See …

Eamonn Brennan

Can anyone touch Florida in the SEC? In their first six conference games, the Gators put opponents away at an insane efficiency pace -- an efficiency margin of 0.42 points per possession (according to ESPN Insider's John Gasaway). For context, Kentucky, which went undefeated in the SEC in 2012, finished the season with an efficiency margin of 0.26. And that was before the Gators beat South Carolina 75-36 Wednesday night. In short, they're burying people. On Saturday, Ole Miss -- which is coming off a loss at home against Kentucky -- has a chance to at least pressure the Gators in Gainesville, or at least the best chance of any team other than the Wildcats. Can anyone do it? I have my doubts, but maybe we'll be surprised.

Andy Katz

The obvious answer is Michigan at Indiana. Who wouldn't pick that game? But to add some diversity to the answers I'll go with Duke at Florida State on Saturday. Michael Snaer has been the late-game shooter for Florida State. He did it again Wednesday night against Maryland. Duke escaped Wake Forest with a road win Wednesday night. But Duke has a history of struggling in Tallahassee. The Seminoles have gotten up to play Duke and North Carolina more than any other pair of teams (like everyone else in the ACC). If it gets into a late-game situation, how will Snaer get free and if so will he win another game?

Jason King

Forget about the Super Bowl. The game I'm most looking forward to watching is the tilt on the hardwood between Marquette and Louisville at the KFC Yum! Center. Marquette leads the Big East with a 6-1 record. Louisville is 5-3 after beating Pittsburgh Monday and ending a three-game losing streak. Buzz Williams' Marquette squad certainly has a flair for the dramatic. Three of its seven conference games have gone to overtime and another was a one-point victory over Georgetown. Louisville entered Big East play as a Final Four favorite but has struggled in recent weeks. So there are two storylines here: The Golden Eagles' unlikely quest for a conference title a year after losing Jae Crowder and Darius Johnson-Odom, and Louisville's attempt to regain some confidence -- and credibility -- after a surprisingly rough stretch.

Myron Medcalf

I can't wait to see if Boise State and Wyoming escape their recent funks, which have threatened their chances of earning an at-large bid on Selection Sunday. Both teams entered Mountain West conference play as intriguing programs. Wyoming won its first 13 games, a stretch that included a win over Colorado. That streak was ended by a Boise State squad that beat Creighton and pushed Michigan State in a four-point loss during the nonconference portion of its season. But the Cowboys and Broncos have each lost four of their past five games. They're struggling to remain relevant in the league. Wyoming, which continues to compete without suspended top scorer Luke Martinez, kicks off a three-game trip with a matchup at Colorado State on Saturday. On the same day, Boise State will host UNLV. They're borderline must-wins for both programs. They'd both need major turnarounds to contend for the MWC crown. But right now, they need wins to preserve their at-large aspirations.

Dana O'Neil

I can't wait to see exactly who is for real in the ACC. This league is more confounding than it has been in a long time. That's not entirely a bad thing. It's way more interesting than one of the two usual suspects marching to the title. But we need a little clarity. This weekend we could get it and not just to help explain who is the best in the ACC but who is legitimately March worthy. Duke plays at Florida State, Miami is at NC State, North Carolina hosts Virginia Tech, Maryland is home against Wake Forest and Virginia is at Georgia Tech. You could argue that the first two are more up in the air than the other three, but if you're willing to concede automatic victory for the Tar Heels, Terrapins and Cavaliers, Godspeed. This is the time to put up or shut up. I need a little show me.

Robbi Pickeral

After scoring a career-high 26 points to lead his team to a see-what-we-are-capable-of win over No. 16 Ole Miss, Kentucky's Kyle Wiltjer called his team's performance "a huge step" in the right direction. Question is: Can the Wildcats take another step forward this weekend at Texas A&M, rather than taking two back? Remember: After routing Auburn on the road Jan. 19, Kentucky was held to a season-low 55 points the very next game in a loss at Alabama. And the Wildcats have already lost to the Aggies once this season, by a dozen points. Which way, UK?
CBB Live Extra: Michigan-Indiana
IU's Challenge: Michigan's Offense
By Eamonn Brennan, ESPN.com
Indiana fans haven't had a lot to complain about this season. Their team is 19-2, 7-1 in the Big Ten, playing some of the best basketball in the country, and coming off a 37-point demolition of hated rival Purdue in Mackey Arena. Life in the land of candy stripes is, as they say, good.
But in the rare moments when IU fans have gotten grumpy this season -- after the Butler loss or during Sunday's harrowing win over Michigan State or (especially) after the home loss to Wisconsin -- the root of the concern has been Indiana's defense.
If you take the long view, this concern is somewhat silly. In less than a year, after all, Indiana has morphed from a so-so defensive team into one of the 15 stingiest efficiency defenses in the country, all without sacrificing the top-five offensive brilliance that led them back to prominence in 2011-12. Coach Tom Crean has accomplished too much to enumerate in a breathtakingly short time at IU, but that might be his greatest accomplishment -- turning an average D into one capable of anchoring a national title in the matter of one offseason.
Still, with a national title as the established expectation, there are bound to be minor freakouts from time to time, and I never hear from IU fans more than when the Hoosiers line up in a zone and that zone doesn't work or doesn't seem to work.
That's a crucial distinction, because the fact of the matter -- one contrary to my own assumptions -- is that Indiana's zone does work.
To read the rest of Brennan's analysis of Michigan-Indiana, click here.
Wooden Candidates In UM-IU