Connecticut, Zags' Bouldin take home honors

By Andy Katz
ESPN.com
Archive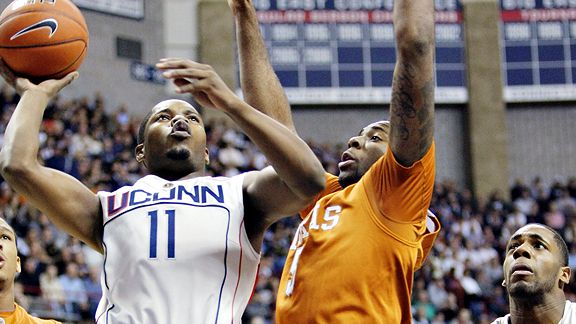 David Butler II/US PresswireJerome Dyson scored 32 points to help Connecticut upset top-ranked Texas on Saturday.
Editor's note: This edition is for games played from Monday, Jan. 18, through Sunday, Jan. 24.
Team Of The Week: UConn
Last week: Beat St. John's 75-59; beat No. 1 Texas 88-74
No team was facing more turmoil this week than Connecticut.
The Huskies had no idea what was happening with their Hall of Fame coach, Jim Calhoun, after he had to suddenly take a medical leave of absence on Tuesday for a temporary condition.
Losing to St. John's would have been disastrous for a squad searching for signature wins. The Huskies were naturally sluggish to start but then blitzed past the Red Storm in the second half and found out just how well they can run.
Associate head coach George Blaney had to challenge the squad in the Texas game, to remind them just how good they could be. And they listened. I'm not sure I've seen as complete an in-game turnaround this season (maybe Illinois' 23-point comeback at Clemson). Connecticut wasn't handling Texas well defensively and couldn't get out on the break or turn many turnovers into scores. The first play of the second half was a turnover and a bucket for Texas.
And then Blaney called a timeout, got the Huskies to refocus and it was over. The Huskies outscored Texas 54-32 in the second half. UConn forced 19 turnovers as the Longhorns couldn't handle the runouts or the pressure from Jerome Dyson and Kemba Walker, and Texas certainly couldn't stay with the high-flying Stanley Robinson.
Connecticut found its identity again: defend and get out in transition. The Huskies relied on their big four (Dyson, Walker, Robinson and Gavin Edwards) and won the game they needed to after failing in games against Kentucky, Michigan, Cincinnati and Georgetown when the outcome was in doubt.
This is definitely an NCAA tournament team, but the Huskies needed a win to prove themselves to the selection committee. They got the one they needed when it mattered most.
Other Contenders
Wake Forest: The Demon Deacons couldn't hang with Duke at Cameron late in the second half last weekend, but rebounded with an impressive week by beating depleted North Carolina in Chapel Hill and then taking out upstart Virginia to improve to 4-2 in the league.
Kentucky: I know it was Arkansas. But it was hard not to watch the Wildcats absolutely crush the Hogs and not see Kentucky as a team of the week candidate.
Michigan State: The Spartans look like they might run away with the Big Ten two seasons in a row after an impressive 13-point rally at Minnesota. The 7-0 Spartans have a two-game lead on Wisconsin and a three-game lead on Purdue, Ohio State and Illinois.
Oklahoma State: After dropping back-to-back games to Oklahoma and Baylor, the Cowboys looked like just another team in the Big 12. Then they went out and dropped 90 on improving Colorado and stunned red-hot Kansas State on the road just a few days later.
Purdue: The Boilermakers won games they had to this week by taking out Illinois on the road and defeating a Manny Harris-less Michigan behind JaJuan Johnson's 21 points and seven rebounds.
Player Of The Week: Matt Bouldin, Gonzaga
Why did I choose Matt Bouldin? He has had a stellar season in leading the Bulldogs to the top spot in the West. He continues to push nearly 40 minutes a game. Every opponent keys on stopping him, even with Elias Harris in the backcourt.
Yet he continues to produce. Bouldin lit up previously WCC-unbeaten Pepperdine with a career-high 32 points, converting a high percentage of shots (10-of-16 FGs, 9-of-10 FTs, 3-of-5 3s). He finished up the homestand with 19 points in a win over Loyola Marymount. If he hadn't been shut down against Duke (four points), he would be a serious contender for first-team All-American status. He should have a real shot for a second-team spot.
The Bulldogs are cruising toward a 10th straight WCC title and even more importantly could be a top seed (in the four-range and be a host) in Spokane.
The Rest Of The Rotation
[+] Enlarge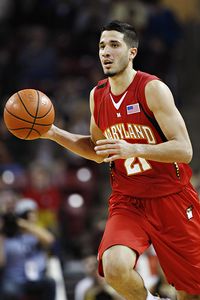 Greg M. Cooper/US PresswireGreivis Vasquez has helped Maryland move into a first-place tie in the ACC.
Greivis Vasquez, Maryland: He led Maryland to a much-needed home win over NC State, scoring 19 points, including three 3s, to keep the Terps atop the ACC.
Jerome Dyson, Connecticut: He scored 32 points, made four 3s and converted 12 of 23 shots in the come-from-behind win over top-ranked Texas. Dyson was scorching hot in the second half against the Longhorns. He wasn't too bad against St. John's earlier in the week with 21 points.
Cole Aldrich, Kansas: The junior big man, for some reason, was getting a bit lost in the star structure at Kansas behind Sherron Collins, Xavier Henry and even Marcus Morris. But Aldrich reasserted himself with 19 points and 11 boards in an efficient 8-of-11 shooting game in a road win at Iowa State.
Kalin Lucas, Michigan State: It's amazing to watch how coach Tom Izzo is making Lucas into a leader. He has challenged Lucas throughout the season and Lucas has continued to respond when needed. He hit the game-breaking 3-pointer at Minnesota with 1:27 remaining to give the Spartans their first lead of the game. Michigan State won 65-64 for its first 7-0 Big Ten start since 1977-78. Lucas finished with 22 points.
Off To The Races
• Temple took out Xavier at home to emerge as the league favorite in the A-10 at 5-0.
• Maine moved to 5-1 in the America East. Not sure anyone had that one in the preseason. Ted Woodward should be coach of the year in the league (although Mark Macon provides stiff competition -- how about Binghamton knocking off Vermont on Sunday?).
• Northeastern has won 11 straight games (the third-best streak in the nation) after taking down VCU to move into a tie for first place in the CAA.
• Villanova continues to win by swatting away teams as if they were gnats. The Wildcats are 18-1 for the first time since 1950-51.
• Butler continues to knock down every challenge, racing out to a 9-0 Horizon record and looking like it won't lose in the league.
These Guys Can Play
Dominique Jones, South Florida: Jones, a 6-foot-4 junior, scored 46 points in 45 minutes -- that's right all 45 minutes -- in a 109-105 overtime win at Providence. Jones scored nine of the 14 overtime points for the Bulls. He also had 10 boards, eight assists and three steals.
Adrian Oliver, San Jose State: The 6-4 junior guard lit up one-time league favorite Louisiana Tech with 39 points in an 11-point win over the Bulldogs. He then scored 22 in an upset win over New Mexico State to push the upstart Spartans to 4-3 in the WAC.
Anatoly Bose, Nicholls State: The native of Australia played 50 minutes Saturday in a 99-98 double-OT loss at Northwestern State, scoring 46 points and grabbing 14 rebounds.
Keion Bell, Pepperdine: The 6-3 sophomore guard dunked over a handful of players during midnight madness, and then flushed one over Gonzaga 7-footer Robert Sacre in a game. But he can also score at a high clip, going for 37 in a loss to the Zags and then 21 in a loss at Portland.
Places To Be This Week
Lawrence, Kan., Monday: Don't care that this game is at Allen Fieldhouse. Missouri will push hated Kansas with its frenetic pace and will provide plenty of entertainment.
Syracuse, N.Y., Monday: The best rivalry in the Big East has meaning this season as Georgetown makes its attempt at the title through Syracuse.
Columbia, S.C., Tuesday: I'm not buying that this is where Kentucky loses. But the Cats are undefeated and it's a road game at South Carolina, so you have to pay attention.
Waco, Texas, Tuesday: Baylor has put together quite a season, and Kansas State is heading to Waco at the wrong time -- after a loss to Oklahoma State and in advance of hosting Kansas.
[+] Enlarge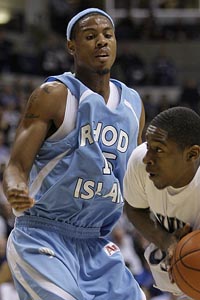 AP Photo/Al BehrmanRhode Island could really use a win against Dayton to stay in the thick of the A-10 race.
Dayton, Ohio, Tuesday
: Rhode Island has to split the road trip to Xavier and Dayton to be considered a contender, right? Well, the Rams already lost to the Musketeers.
Birmingham, Ala., Tuesday: Tulsa and UAB have emerged as the two front-runners in Conference USA. Both are undefeated. Winner has the edge. UAB has to get through this game and host UTEP on Saturday.
Minneapolis, Minn., Tuesday: Minnesota has to beat Northwestern at home to start an NCAA-bid campaign. Lose and look for the NIT dates.
Albuquerque, N.M., Wednesday: Behind Kentucky, BYU might be the hottest team in the country. New Mexico needs to stop the Cougars in order to stay in the MWC race.
Knoxville, Tenn., Wednesday: Suddenly Tennessee might not be the team to beat in the Volunteer State. It might be Vanderbilt, winner of nine in a row. The teams meet in the first of two this season.
Philadelphia, Wednesday: A pair of the Big East's headline players will be on display as Notre Dame's Luke Harangody and Villanova's Scottie Reynolds add to their Big East player of the year campaigns.
Atlanta, Thursday: Wake Forest's win over North Carolina and then against Virginia has thrust the Demon Deacons into the ACC race. Beating Georgia Tech would keep them there.
West Lafayette, Ind., Thursday: Purdue looks to have steadied the ship after an unexpected three-game losing streak. A win against second-place Wisconsin would go a long way in proving the Boilers are back.
Boston, Saturday: Old Dominion was the preseason CAA favorite. But Northeastern enters the week tied for first with the Monarchs and winners of 11 straight, the third-longest streak in the country.
Manhattan, Kan., Saturday: Kansas State had Bramlage Coliseum at jet-noise levels for the win over Texas. Expect the same when rival Kansas and College GameDay arrive.
Washington, D.C., Saturday: Duke proved it has a deep-March toughness with the road win at Clemson. Win at Georgetown and the Blue Devils' credibility will climb even higher.
Ithaca, N.Y., Saturday: Cornell and Harvard, two of the best Ivy teams in years, square off in the first of two meetings. Ryan Wittman and Jeremy Lin are sure to put on quite a show.
Clemson, S.C., Sunday: Maryland entered the week just a possession away from being undefeated in the ACC. The Terps have to get past Miami at home before going to Clemson. Stealing a win at Littlejohn would put the Maryland in step with Duke for the league title.
Viewer's Guide
All times ET
Monday
7 p.m.: Georgetown at Syracuse (ESPN)
9 p.m.: Missouri at Kansas (ESPN)
Tuesday
7 p.m.: Michigan State at Michigan (ESPN)
7 p.m.: Rhode Island at Dayton (Cox Sports)
8 p.m.: Kansas State at Baylor (ESPN360)
8 p.m.: North Carolina at NC State (ESPN360)
8 p.m.: Tulsa at UAB
9 p.m.: Kentucky at South Carolina (ESPN)
Wednesday
7 p.m.: Notre Dame at Villanova (ESPN)
7 p.m.: Vanderbilt at Tennessee (ESPNU)
7 p.m.: Temple at Charlotte
7:30 p.m.: Texas A&M at Oklahoma St. (ESPN2)
9 p.m.: Texas Tech at Texas (ESPNU)
9 p.m.: Florida State at Duke (ESPN)
10 p.m.: BYU at New Mexico (the mtn.)
Thursday
7 p.m.: Wisconsin at Purdue (ESPN)
7 p.m.: Wake Forest at Georgia Tech (RSN)
7 p.m.: Oakland at IUPUI
Friday
9 p.m.: Butler at Green Bay (ESPNU)
Saturday
Noon: Louisville at West Virginia (ESPN)
1 p.m.: Duke at Georgetown (CBS)
2 p.m. Oklahoma State at Missouri (ESPN2)
4 p.m.: Vanderbilt at Kentucky (ESPN)
4 p.m.: Old Dominion at Northeastern (CSN)
4 p.m.: Baylor at Texas (ESPN360)
7 p.m.: Harvard at Cornell
7 p.m.: Kansas at Kansas State (ESPN)
8 p.m.: UTEP at UAB
Sunday
1 p.m.: Florida at Tennessee (CBS)
3:30 p.m.: Cal at Arizona (FSN)
5:30 p.m.: Maryland at Clemson (FSN)
Highlights: Ga. Tech-Florida State
That's Impressive
• Duke went into Clemson, shut down the Tigers in the second half and muted the Littlejohn crowd. The Blue Devils proved they have deep March potential with that effort.
• Syracuse continued to roll along after losing to Pitt at home. The Orange have won three road games since and are 6-1 in the league.
• Coach Mark Fox continues to do wonders at Georgia with a breakthrough win over Tennessee. You knew this was coming with near-misses at Kentucky, against Ole Miss and at Mississippi State. The Dawgs have talent. Don't let anyone say they don't, with Trey Thompkins and the best dunker in the biz this season in Travis Leslie.
• West Virginia's comeback against Ohio State was impressive. The Mountaineers were down 12 at the half and then raced out past the Buckeyes, who made one field goal in the final 8:35 of the game.
• West Virginia's Devin Ebanks didn't let Ohio State's Evan Turner convert a field goal in the second half. Impressive.
• Florida State got a season sweep of Georgia Tech with Sunday's win. Keep that in mind since it could prove to be an ACC tiebreaker in March.
• If you're waiting for Brigham Young to slip up on the road, you'll have to be patient. The Cougars survived a late surge from San Diego State.
• Oklahoma State went into Kansas State and got a win after the Wildcats had just beaten Texas. James Anderson went for 30 in one of the most impressive road wins of the season.
• Vanderbilt has quietly put together quite a season -- it has a 4-0 SEC mark, a 15-3 overall record and is getting quality play from Jeffery Taylor (all 18 points in the second half against Auburn).
• Don't look now, but Seton Hall has recovered a bit from its 1-4 Big East start with three-point wins over Louisville and Pitt. With a win at USF on Thursday, the Pirates can move back to .500 in league play.
• Josh Pastner handled the C-USA streak with class, never said it was his, but rather always had praise for John Calipari. The streak ended at 64 in a home loss to UTEP.
• Wichita State proved it has one of the best home courts in the Missouri Valley with its home victory over Northern Iowa. The conference tourney in St. Louis should be a treat.
• Cal and UCLA: Yes, the Bears did what they were supposed to do by sweeping the Oregon schools and looking like the real favorite again in the maligned Pac-10. The Bruins swept the Washington schools to emerge as a potential contender. Oh, and one-time favorite Arizona State got rocked at home by Arizona. So for now the Bears and Bruins are the teams to beat.
Highlights: Pittsburgh-Seton Hall
Stunner
NC State over Duke: Still hard to wrap my mind around that win. But it was quite a display for the Wolfpack to dominate the game.
Highlights: South Carolina-Florida
Not Shocked ...
That Texas lost twice this week. Winning at Kansas State was likely not going to happen. Connecticut was clearly primed to beat No. 1. The Horns will be fine once they trim the bench, keep
Dexter Pittman
out of foul trouble and ensure that
Dogus Balbay
can stay on the floor at the point.
Damion James
,
Avery Bradley
and
Jordan Hamilton
are too talented to let this team wilt.
Highlights: Oklahoma St.-Kansas St.
Money Ball
Chandler Parsons, Florida: Parsons hit the 75-foot shot to beat NC State. Then Parsons hit the 3-pointer to knock off South Carolina. Stay with this kid -- he's obviously got some good karma going.
Mustafa Abdul-Hamid, UCLA: The former walk-on hit the shot that saved UCLA's season. Taking down Washington at Pauley Pavilion was easily the Bruins' best win of the year and pushed them toward a sweep of the Washington schools. And yes, it kept them in the race for the Pac-10 title.
UAB: Mike Davis has a good thing going this season with the Blazers. UAB, 17-2 overall, 5-0 in Conference USA, has won in the final possessions at SMU, over Southern Miss and at Marshall and that's just in the past three games. Prior to that, the Blazers beat Arkansas on the road on a dunk. UAB didn't need the final possession to beat Butler or Cincinnati at home. Those games were well over before the final possession.