Fighting Irish, MSU's Varnado earn honors

By Andy Katz
ESPN.com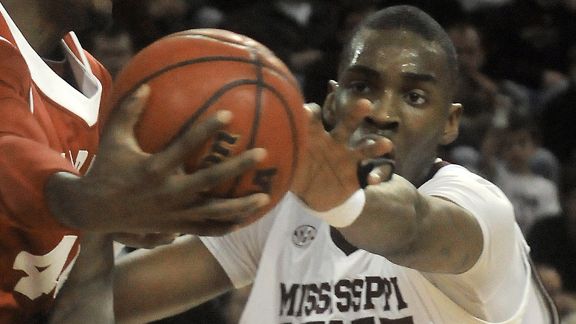 AP Photo/Jim LytleJarvis Varnado has been a force in the middle for his entire MSU career.
Editor's note: This edition is for games played from Monday, Feb. 22, through Sunday, Feb. 28.
Team Of The Week: Notre Dame
Last week: Beat Pitt 68-53; won at Georgetown 78-64
The Irish weren't on the bubble a week ago, but as coach Mike Brey said, a week in the Big East can change everything.
The Irish are proving to the NCAA tournament selection committee that they can win without Luke Harangody, who, according to Brey, might be done for the season with a hyperextension/bone bruise in his right knee. The Irish are playing better defensively and admittedly are more patient offensively as they try to limit the defensive possessions by using more of the offensive shot clock.
It's pretty simple now: If the Irish split their last two games against Connecticut and at Marquette, it might be hard to keep them out of the Dance.
A year ago, the Irish were one of the country's bigger disappointments after they lost seven straight in the middle of the season. This season, they could be one of the most surprising teams to earn a bid. Let me reiterate that if the Irish get in, they will have earned the bid without Harangody.
Other contenders
[+] Enlarge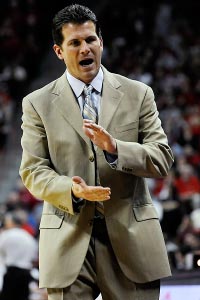 Ethan Miller/Getty ImagesSteve Alford has won a career-best 27 games this season at New Mexico.
New Mexico: Unless you've lived in the state, it's hard to comprehend how much the Lobos mean to its residents. UNM is the pro team for the majority of the state. Winning the league title, especially on the road against rival BYU, is quite an accomplishment that was not expected during the preseason. The Lobos also historically have been a poor road team, but not this season, with seven conference road wins.
Syracuse: The Orange crushed a defensively challenged Providence team earlier in the week, then took a few shots from Villanova in the first half Saturday before running away from the Cats in the second half. No one in the country is playing better basketball than Cuse right now. Get your tickets to Buffalo for the first and second round and then likely Houston for the regionals.
Maryland: The Terps made sure Wednesday's game at Duke is relevant to the ACC title. Maryland came back from 15 points down to beat Clemson and then won in double overtime at Virginia Tech. The Terps could get a piece of the ACC title if they beat Duke.
Cal: Enough Pac-10 bashing for now. The Bears deserve props for winning the Pac-10 title for the first time in 50 years. Mike Montgomery, who engineered one of the more remarkable program-building jobs ever at Stanford, proved yet again why he's one of the most respected coaches. He took a team that had talent, and even though it dipped at times, it still won what it was supposed to -- the Pac-10 title with a sweep of the Arizona schools.
Marquette: The national coach of the year race could easily start and end in the Big East. Sure, UNM's Steve Alford will be in the mix, but it's hard to argue against the jobs done by Syracuse's Jim Boeheim, Pitt's Jamie Dixon and Marquette's Buzz Williams. The Golden Eagles coach has taken a team that was supposed to be down this season but continues to win games it must to earn a tournament bid. They have won three straight overtime games on the road against Cincinnati, St. John's and Seton Hall. The Eagles next face Louisville and Notre Dame at home and have a real shot to end their season with 12 Big East wins. No one predicted that finish in the preseason.
Player Of The Week: Jarvis Varnado
Let's get this straight: When a player says he is withdrawing from the NBA draft because he wants to return to school, most of the time it's because he wouldn't be a first-round pick.
That wasn't the case with Jarvis Varnado. Someone would have taken a chance on him because of his size and shot-blocking ability. NBA teams don't pass up on size the way they do with guards and wings who aren't special talents at the next level.
Varnado didn't stay in the draft because he didn't think he was ready for the challenge. So he pulled out quickly, signed up to play for USA Basketball and won bronze with the World University Games team in Serbia in July.
He continued to be an unselfish player by giving up his scholarship so the Bulldogs could add another player. (It turned out to be Renardo Sidney, who never was eligible this season.) But karma would reward Varnado.
Know this about Varnado: He has a knack for blocking shots that you can't teach. He understands how to play the angles, keep shots in play and ensure he plays the team game defensively. His nickname, "Swat," is perfect.
Varnado set the NCAA record for blocked shots this past week against Alabama with his 536th block. (Wojciech Mydra had set the previous mark at Louisiana-Monroe from 1998 to 2002.) Varnado also scored 17 points and had 10 rebounds to give the Bulldogs their 20th win of the season.
He never got the help inside he was promised in the form of Sidney, but he has kept plodding along and putting the Bulldogs in position to possibly earn a bid.
Varnado finished with eight blocks in that Alabama game, one more than the seven he swatted at LSU on Feb. 20. He finished up the week with a 19-point, 12-rebound, 1-block effort in a win at South Carolina on Saturday.
The Rest Of The Rotation
[+] Enlarge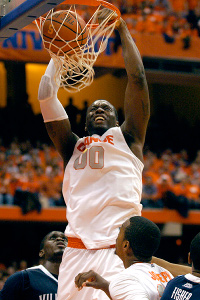 AP Photo/Kevin RivoliRick Jackson is averaging 10 points, 7 boards and 2 blocks this season for Syracuse.
Rick Jackson, Syracuse: If you're looking for yet another reason the Orange could win the national title, it lies inside. Jackson has been a force in the middle for the Orange this season, and this past week was no different. Jackson scored 28 points and had nine boards in the Orange's win over Providence, then registered 19 points and eight boards in their win over Nova, shooting 22-of-32 from the field for the week.
Anthony Johnson, Fairfield: He lit up Iona for 28 points and 12 boards, then followed with 24 points and 23 rebounds in a win over Niagara on Sunday. Why highlight the 20-9 Stags? Because if you're looking for a team that could upset Siena and send the Saints sweating into Selection Sunday, it is Fairfield, which finished second in the MAAC at 13-5.
Hassan Whiteside, Marshall: Marshall coach Donnie Jones has quite a find with Whiteside and will be fortunate to keep him for more than a season. Whiteside scored 19 points and grabbed 17 boards in a win over Rice, then registered his third triple-double of the season in a triple-overtime win over Central Florida with 14 points, 11 rebounds and 13 blocks.
Greivis Vasquez, Maryland: Last week's player of the week made another case to be the ACC player of the year. He scored 41 points with 7 boards and 6 assists and went 10-of-10 at the free throw line in the double-overtime win at Virginia Tech. He scored 15 points and had 13 assists (4-of-4 at the line) in the win over Clemson.
Five Coaches Who Deserve Praise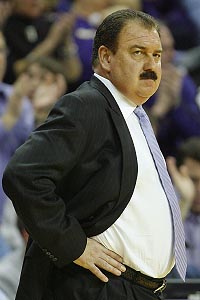 AP Photo/Matthew PutneyBlaine Taylor has taken Old Dominion to the NCAA tournament twice in his tenure.
Blaine Taylor, Old Dominion: The Monarchs won earlier in the season at Georgetown and were the preseason pick to win the CAA. It was a grind, but the Monarchs did what they were supposed to do by claiming the conference title with a win over VCU on Saturday. Taylor has flown under the radar for years.
Bill Coen, Northeastern: Unless you've been to Northeastern, seen college hoops in Boston and understood the lack of interest in the CAA, you have no idea how difficult a job Coen has with the Huskies. Yet Coen has done a superb job keeping the Northeastern near the top of the CAA the past two seasons. The Huskies finished second to ODU and are a legitimate contender for the league's automatic bid or an NIT berth.
Todd Bozeman, Morgan State: Bozeman has dealt with injuries, illnesses and players having to handle rough personal problems this season. But he has the Bears atop the MEAC again. Bozeman went to resurrect his career and has quietly done a remarkable job.
Scott Drew, Baylor: The Bears fumbled away their chance in the Big 12 last season but still rallied to make the NIT final. They weren't supposed to contend for a bid out of the Big 12 this season but have consistently won on the road to share a third-place standing with Texas A&M and Missouri through 14 games. Drew's Bears are a threat to win in Kansas City in the Big 12 tournament and a game or two in the NCAA tournament. Drew has always recruited well and now should be applauded for his coaching, too.
Herb Sendek, Arizona State: Sendek always has been one of the most respected coaches in the business. No one doubts his intellect or ability to adjust. But Sendek might have done his best coaching job in his lengthy career this season after losing James Harden and Jeff Pendergraph to the NBA. The Sun Devils went into Saturday's game at Cal with a chance to win the Pac-10. They lost, but they still can finish second above Washington. Sendek won't win national coach of the year, but he should claim the Pac-10 honor.
Places To Be This Week
Morgantown, W.Va., Monday: Let's see whether Georgetown can finally start a consistent streak. The Hoyas were out of sync against Notre Dame on Saturday. Morgantown isn't exactly the place to find yourself, but the Hoyas must try.
Gainesville, Fla., Tuesday: Florida probably won't win at Kentucky on Saturday, which means beating Vanderbilt at home is somewhat important to securing a berth.
[+] Enlarge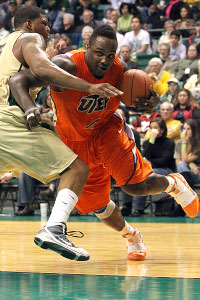 AP Photo/ Butch DillUTEP's Derrick Caracter will have his hands full with Marshall freshman Hassan Whiteside.
Huntington, W.Va., Tuesday: The center matchup with UTEP's Derrick Caracter and Marshall's Hassan Whiteside should be one of the best we'll see this season. UTEP is also mounting a strong seed campaign, not just a bid.
Lawrence, Kan., Wednesday: If Kansas State wants to make any kind of campaign for a No. 1 seed, it must win at Kansas.
College Park, Md., Wednesday: Maryland has a chance to turn back the clock to 2002 and challenge Duke for the ACC title by beating the Blue Devils.
Salt Lake City, Wednesday: I don't care what Utah's record is at this time of the season. The BYU-Utah game is always one of the most competitive and fiercest rivalry games of the season.
South Bend, Ind., Wednesday: Notre Dame and Connecticut are on the bubble but continue to look stronger each week. The loser won't be out.
Birmingham, Ala., Wednesday: UAB still has the win over Butler to shout about, and beating Memphis at home would be another notch to promote.
Akron, Ohio, Friday: The MAC regular-season title is on the line between two schools separated by just 14 miles: Akron and Kent State are both 12-3 in league play and 22-8 overall.
Durham, N.C., Saturday: For the same reason the BYU-Utah game stands out, don't dismiss North Carolina in the Duke game. This rivalry is too good to be caught up in records.
Louisville, Ky., Saturday: Cue the memories for Freedom Hall. Syracuse will help Louisville close its building. Cardinals coach Rick Pitino said the 1987 NCAA tournament wins over Alabama and Georgetown with his former Providence team are his favorite moments.
Columbia, Mo., Saturday: Guarantee you that Mizzou will be rocking for Kansas on this date. The Jayhawks could go to Kansas City for the Big 12 tournament wobbling a bit or strengthened by yet another tough road win.
Philadelphia, Saturday: West Virginia-Villanova will be another grinder game with both teams vying for important seeding in the Big East tournament.
Starkville, Miss., Saturday: Tennessee is safely in the field now, but Mississippi State might need to win this game to earn a bid.
El Paso, Texas, Saturday: UAB concludes a brutal week at league leader UTEP, which already has clinched the top spot in the C-USA tournament.
Atlanta, Saturday: I don't think it's a reach to say Virginia Tech might need to win at Georgia Tech to feel better about its chances for a bid.
Lexington, Ky., Sunday: The Rupp fans will get a chance to say thank you to John Wall, DeMarcus Cousins and Patrick Patterson because they all might bolt to the NBA draft after the season. Florida will be the sacrificial lamb here.
Champaign, Ill., Sunday: Illinois' home loss to Minnesota has given this game against Wisconsin even more importance. The Illini probably need to win to feel they have a bid locked up.
Viewer's Guide
All times ET
Monday
7 p.m.: Georgetown at West Virginia (ESPN)
9 p.m.: Oklahoma at Texas (ESPN)
Tuesday
7 p.m.: Vanderbilt at Florida (ESPN)
7 p.m.: Villanova at Cincinnati (ESPN2)
7 p.m.: UTEP at Marshall
8 p.m.: Georgia Tech at Clemson (ESPN360)
9 p.m.: Illinois at Ohio State (ESPN)
9:30 p.m.: Louisville at Marquette (ESPNU)
Wednesday
7 p.m.: UConn at Notre Dame (ESPN)
7 p.m.: Wake Forest at Florida State (ESPN2)
7 p.m.: Charlotte at Rhode Island (Cox Sports)
8 p.m.: Kansas State at Kansas (ESPN360)
8 p.m.: Temple at Saint Louis (FS Midwest)
8 p.m.: Kentucky at Georgia (ESPN360)
9 p.m.: Duke at Maryland (ESPN)
9 p.m.: Oklahoma State at Texas A&M (ESPN2)
Thursday
7 p.m.: Dayton at Richmond (CBS-CS)
8:30 p.m.: USC at Arizona State (FSN)
9 p.m.: Providence at Pittsburgh (ESPN)
Friday
8 p.m.: Kent State at Akron (ESPN2)
Saturday
Noon: West Virginia at Villanova (CBS)
Noon: Cincinnati at Georgetown (ESPN360)
2 p.m.: Kansas at Missouri (CBS)
2 p.m.: Syracuse at Louisville (ESPN)
2 p.m.: Richmond at Charlotte
2 p.m.: UConn at South Florida (ESPN360)
2 p.m.: Notre Dame at Marquette (ESPN360)
4 p.m.: Texas at Baylor (ESPN)
4 p.m.: Virginia Tech at Georgia Tech (ESPN360)
4 p.m.: Big South final (ESPN2)
6 p.m.: Atlantic Sun final (ESPN)
6 p.m.: Tennessee at Mississippi State (ESPN)
7 p.m.: Saint Louis at Dayton
8 p.m.: Ohio Valley final (ESPN2)
9 p.m.: North Carolina at Duke (ESPN)
9 p.m.: UAB at UTEP
9 p.m.: New Mexico State at Utah State
Sunday
Noon: Florida at Kentucky (CBS)
Noon: Wisconsin at Illinois (ESPN)
2 p.m.: Missouri Valley final (CBS)
6 p.m.: Clemson at Wake Forest (FSN)
Highlights: Villanova-Syracuse
Settle Down On These Five
• Kansas: Losing at Oklahoma State is hardly a cause for alarm. Did you really think the Jayhawks would go undefeated in the Big 12? I didn't. If their first loss wasn't at Oklahoma State, it could have come at Mizzou on Saturday. Kansas is still one of the three best teams in the country.
• Kentucky: The Wildcats lost at Tennessee. OK, so they weren't able to make 3-pointers (two) and went through offensive droughts before needing John Wall to bail them out. But this was a true SEC road game against an opponent that plays extremely well at home in Tennessee. No reason to sweat this game, either. Everyone already knew the Wildcats aren't a great 3-point-shooting team.
• Villanova: The schedule has been daunting, as the Wildcats have played a desperate Connecticut, at a hungry Pitt and in front of a crazed Orange crowd at Syracuse. The Cats' decision-making hasn't been as sharp, and they do look a bit worn. But they are hardly fading for the tournament. Villanova's schedule has been rough, but don't sleep on it in the Big East tournament or in the NCAA tournament. This team still can get to Indy.
• BYU: The Cougars lost at home to New Mexico in a terrific Mountain West game. But the Cougars didn't have a healthy Jimmer Fredette (stomach issues). The outright conference title shifts to Albuquerque for the first time since 1994. But once the Cougars get to the MWC tournament in Las Vegas and then the NCAA tournament, this team has the shooting, the basketball sense and the patience to win a game or two in the Dance.
• The A-10: Sure, Rhode Island, Charlotte and Dayton are playing their way out of the NCAA tournament. But did you watch the Richmond-Xavier game Sunday? The double-overtime affair was yet another example of why these teams can advance in the NCAA tournament. The game, won by Xavier, showed two teams that have poise, can make key shots and can come up with stops. Toss in Temple, and the A-10 has three solid teams that can be first-round winners.
Highlight: Richmond-Xavier
Five Who Never Got Their Due
• James Anderson, Oklahoma State: He was left off the preseason Wooden Watch List. Yet all he has done is score, score and score for a Cowboys team that continues to find ways to earn key wins. Anderson scored 27 points in the win over Kansas on Saturday and is averaging 22.6 points a game on the season. The Cowboys couldn't make the tourney field without him.
• Darington Hobson, New Mexico: Jimmer Fredette has received plenty of love outside the MWC, and deservedly so, throughout the season. But Hobson's play has been special to give the Lobos the MWC title. His block of Noah Hartsock on Saturday in Provo was one of the best I've seen this season. Hobson scored 20 points and had 14 rebounds for his 11th double-double of the season.
• Donald Sloan, Texas A&M: Sloan has carried himself with class throughout the season after his best friend, Derrick Roland, went down with a horrific broken leg at Washington. Sloan continues to come up large in key wins for the Aggies, including 19 points in the win over Texas. He has averaged 19.3 points in his past nine games.
• Kris Joseph, Syracuse: Coach Jim Boeheim continues to say Joseph is the best sixth man in the country. He is. Andy Rautins is this team's MVP, Wesley Johnson is the headline star, Rick Jackson is the beef inside and Joseph is the undervalued glue. Joseph had 16 points and nine boards in Saturday's win over Nova.
• Tim Abromaitis, Notre Dame: The junior forward has helped put the Irish on the bubble and quietly been a major addition to this squad's offensive production all season. He didn't play last season but has made the most of this season in complementing and then replacing Luke Harangody's production. Abromaitis scored 17 and 19, respectively, in the wins over Pitt and at Georgetown.
Five Teams That Teased
• Rhode Island: The Rams lost at Saint Bonaventure to drop to 20-7 overall and 8-6 in the A-10. The Rams were once 19-3 and 7-2. Remember, the Rams were picked to finish low in the A-10, so this shouldn't be a huge shock.
• Charlotte: The 49ers were once 8-1 in the A-10, 18-5 overall. Charlotte is now 9-5 and 19-9. The 49ers were still finding their footing in the A-10 and might have overachieved a bit early.
• Virginia: The Cavs were 3-0 to start ACC play and beat UAB to look like a surprise NCAA tournament team. But youth and inexperience caught up to the Cavs, who lost eight of their next 10 ACC games before hosting Duke on Sunday night.
• Cincinnati: The Bearcats swept Connecticut, beat Maryland and Vanderbilt in the Maui Invitational and were looking like one of the Big East teams that could earn a bid. But a loss at West Virginia on Saturday dropped the Bearcats to 7-9 in the Big East, 16-12 overall.
• Northwestern: Maybe it was expecting too much of the Wildcats once Kevin Coble went down with a season-ending foot injury. But the Wildcats did look strong before 2010 with a one-loss nonconference record that included wins over Notre Dame and Iowa State. However, a tough opening slate in the Big Ten pushed the Wildcats into a hole, and losing at Iowa and getting swept by Penn State pushed the Wildcats to 7-10 in the Big Ten and 18-11 overall. NU is NIT-bound.
Five To Avoid On The First Weekend
• Cornell: With the ability to shoot 3s (especially Ryan Wittman) and a big man in the middle who can finish and pass (Jeff Foote), the Big Red can cause big trouble.
• Butler: The Bulldogs will get a high seed. But they still don't get enough high praise, and Gordon Hayward has as much basketball sense as any player in the country. He finds the nooks within seams of a defense. This team is unselfish and has interchangeable parts. Butler will be a tough out for anyone.
• Connecticut: The Huskies still could make the NCAA tournament field after beating West Virginia earlier in the week and losing at home to Louisville on Sunday. And assuming they do, let's remember they have a point guard who is tough to chase down in Kemba Walker, a shooter who can go on a tear in Jerome Dyson and a pair of forwards who are hard to keep off the glass in Stanley Robinson and Gavin Edwards.
• Texas: I know the Longhorns are struggling and have lost seven of their past 12 games after starting the season 17-0. But the pieces are still in place to win games in the Dance on a neutral court. Dexter Pittman is still a load to move, Damion James is arguably one of the best players in the country and the talent of Avery Bradley, Jordan Hamilton and Gary Johnson can't be disputed. The main issue now is that the once-stocked point guard position is depleted with injuries to Varez Ward, Dogus Balbay and J'Covan Brown, putting Jai Lucas in the forefront.
• UTEP: The Miners have a high-major post man in Derrick Caracter, who is experiencing a renaissance to his career in El Paso, and a big-time scoring guard in Randy Culpepper. This collection of players has played mostly as a unit, save Caracter for two seasons, and will be one of the toughest outs come the first weekend of the tournament. This team can shoot and rebound, and it has been poised and handled pressure well.