College basketball offers up an early feast
By Robbi Pickeral
ESPN.com
We were teased with a true opening day. We got mesmerized by the 24-hour Marathon. And if that, in these pre-conference college basketball days of wacky matchups and could-be upsets, isn't enough to be thankful for: This week, we get to feast. No, I'm not (just) talking about that can-shaped cranberry log, Mama Kay's marshmallow-topped yams or your second cousin's turducken (do people actually eat those?), but about dazzling dunks and missed free throws and that highlight play from some bench guy you've never heard of but won't soon forget. From Alaska to Maui, from Vegas to Orlando, from the Bahamas to South Padre Island, basketball teams will be carving out some early-season storylines this week. Here are some issues/teams/players to chew on while you're defrosting the bird, pecaning the pie or making reservations because of last year's deep-fryer incident:
[+] Enlarge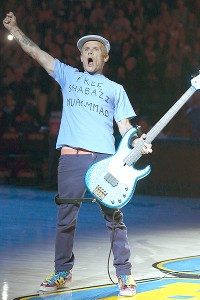 Stephen Dunn/Getty ImagesFlea of the Red Hot Chili Peppers got what he wanted -- Shabazz Muhammad will suit up for UCLA.
THE BAZZ EFFECT
Whether you agree or disagree with the NCAA's decision to finally declare superfreshman
Shabazz Muhammad
eligible to play (after repaying $1,600 in impermissible benefits and sitting out three games),
he is finally eligible to play
. We will find out what this much-anticipated UCLA team can be. Without the left-handed wing, the 13th-ranked Bruins posted blowout victories against Indiana State and James Madison, but they needed overtime to escape UC Irvine. But with Muhammad -- the consensus national high school player of the year last season -- many think UCLA's return to prominence could take a Final Four turn. The 6-foot-6 playmaker from Las Vegas is already projected to be a top-10 NBA draft pick should he choose to go one-and-done. He will make his season debut Monday against Georgetown in the Legends Classic, joining a heralded freshman class that also includes
Kyle Anderson
,
Jordan Adams
and
Tony Parker
. No. 1 Indiana or Georgia will be next on the docket, meaning Muhammad has a chance to have a fast impact. It will be interesting to see how Muhammad's college debut compares to other highly ranked rookies in his class.
Nerlens Noel
, the only player in ESPNU's Top 100 who was ranked ahead of Muhammad, went 2-for-6 with nine rebounds, three blocks and three missed free throws in a three-point win over Maryland in his first start for Kentucky. Baylor center
Isaiah Austin
, ranked No. 3, shot 10-for-12 for 22 points in his first start, a 22-point win over Lehigh. And No. 4
Kaleb Tarczewski
finished 2-for-4 with four points and four rebounds in his debut with Arizona, a victory over Charleston Southern.
HANDLE THIS, ROOKIES
Indiana's Yogi Ferrell and North Carolina's
Marcus Paige
don't match up until Nov. 27 in the ACC/Big Ten Challenge, but this week should set up both freshmen -- as well as a few other rookie point guards -- for the spotlight. While Ferrell and the Hoosiers face Georgia, then UCLA or Georgetown in the Legends Classic, Paige will be playing three games in three days (with potential matchups against Butler, Marquette and/or Texas) in Maui. How will two of the top three ball handlers in ESPN's 2012 Top 100 handle the pace, the spotlight and some pretty good foes? Pittsburgh's
James Robinson
, the fourth-ranked point guard in his class, also will be in action at Madison Square Garden in the NIT Season Tip-Off, and
Tyler Lewis
, an NC State reserve ranked the fifth ball handler in his class, can be seen Sunday night during the finals of the Puerto Rico Tip-Off.
FLIP-FLOP
During halftime of Kentucky's loss to Duke last week, coach John Calipari accused the Blue Devils of "flopping all over the place. In the NBA, they'd all be suspended." After the game, he said it was a joke. But to those who don't like the physicality of the game -- or the instances of pretend physicality that dot every conference -- it's no laughing matter.
[+] Enlarge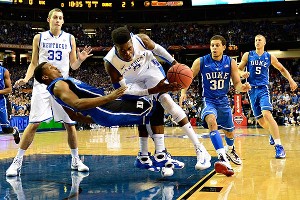 Paul Abell/US PresswireJohn Calipari fanned the flames when he brought up the block-charge subject during the UK-Duke game.
Try this. Flip on your tube (or 70-inch flat-screen, should you be luckier than most of us) during one of the tournaments this week and time how long it takes you to see this: Some little guy will be driving to the basket. A big guy will step in front. And despite only a whisper of contact (if that), the bigger guy will fall theatrically to the ground, forcing officials to make a split second call (or no-call) that will be debated for days in the Twitterverse. The NBA now can fine its players for such repeated, flopping antics. Perhaps, then, the NCAA should reconsider enforcing an old rule that allows officials to call a technical foul if a player repeatedly flops. It's not the physical nature of the game that bothers me; it's the players who only act like they're trying to make a physical play -- and who give actually taking a charge a bad rep.
NOVEMBER CINDERELLAS
The reason so many fans love the NCAA tournament in March is the underdog factor. So is it all that wrong to hope for a November Cinderella as well? Remember: This year marks the 30th anniversary of tiny Chaminade's upset over Ralph Sampson's top-ranked Virginia team on Dec. 23, 1982. The stunner by the then-NAIA school (in what was supposed to be an easy stop-over game for the Cavaliers on their way home from Tokyo) spurred creation of the Maui Classic, now known as the EA Sports Maui Invitational. Chaminade, now a Division II school, still serves as host -- and hopeful spoiler. So keep an eye out for the Silverswords, as well as the Quinnipiacs and Longwoods of the world in various tournaments. During Feast Week, you never know who might give your chosen team heartburn.
Team of the Week: Duke
The Blue Devils beat third-ranked Kentucky 75-68 at the Champions Classic in Atlanta. The win sent a strong message to the ACC and the rest of the nation that the Blue Devils will be a factor in the chase.
Seth Curry
proved he can be a leader who isn't shy about taking a big shot, and
Mason Plumlee
was the more dominant big man among the more touted Kentucky bigs. Duke doesn't have the depth of many of its fellow contenders, but it has the experience and competitiveness to make this a tough out. How the Blue Devils handle the neutral court at the absolutely loaded Battle 4 Atlantis will be just as intriguing and an even better clue as to how this season will go for Mike Krzyzewski's group. Duke opens with Minnesota, then faces either Memphis or VCU and possibly Louisville or Missouri in the third game. If the Devils are in this space a week from now, they will be a true national title contender.
-- Andy Katz
Editor's note: This edition is for games played from Sunday, Nov. 11, to Saturday, Nov. 17.
Five more that impressed us
Alabama: Bama won the 2K Sports Classic with a late-possession win over Oregon State and then a hammering of Villanova at Madison Square Garden. The Crimson Tide aren't really highly skilled in some key spots, but they are extremely athletic and play with confidence in late-game situations. Trevor Lacey is emerging as a star, and bringing Trevor Releford off the bench has proved beneficial as his productivity increases.
Florida State:
The Seminoles looked downright awful in a season-opening loss to South Alabama. So there was every reason to give up on Florida State. But the Noles played up to their potential and won the Coaches vs. Cancer Classic in Brooklyn with consecutive wins over BYU and Saint Joseph's. Leonard Hamilton was convinced he had an ACC title team, and now FSU is starting to play with that potential. Perhaps the opening debacle will prove to be a fluke.
[+] Enlarge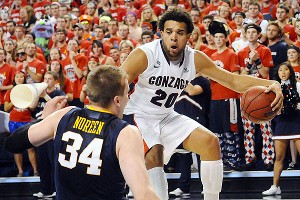 James Snook/US PresswireElias Harris and Gonzaga gave West Virginia a knockout punch at The Kennel.
Gonzaga:
The Bulldogs put on the most dominating performance of the Tip-Off Marathon by pounding West Virginia by 34 points in Spokane, handing the Mountaineers their worst season-opening loss ever. Gonzaga wasn't even at full strength with
Kelly Olynyk
suspended. That's scary. I said it before the season, and I'll say it again now: The Zags are a legit Final Four contender.
SMU:
Larry Brown
took over what was supposed to be a major rebuilding job. But it's three games into the season (two on the road), and the Mustangs haven't lost. This young SMU team has really defended well, giving up only 61 points to rival TCU and 58 to Loyola Marymount. It's hard not to credit Brown with the turnaround. It's a long season, and some struggles are still likely, but this is a promising start.
Xavier:
The Musketeers were supposed to be in a major rebuilding mode. And perhaps they still are. But now they are doing it without missing a beat. Xavier completely took apart Butler during the Tip-Off Marathon and is 3-0 on the young season. Chris Mack's group was picked ninth in the preseason A-10 poll. There's no way that will happen.
Shoutout-worthy:
Albany, Bucknell, Cal State Northridge, Colorado, Florida, Florida Gulf Coast, Michigan State, Santa Clara, Wichita State
-- Andy Katz
The Weekly Starting Five
Five players who stood out during the week that was:
Keith Appling, Michigan State: The MSU guard led his Spartans to a 67-64 upset over No. 7 Kansas in Atlanta. He scored eight points in the last seven minutes of the game, a flurry that included a crucial layup with 16 seconds to play. The victory helped Appling (19 points, 3 assists) and the Spartans bounce back from a season-opening loss against Connecticut.
Seth Curry, Duke:
The senior guard gave the Blue Devils 23 points, 3 rebounds and a steal in a 75-68 upset against No. 3 Kentucky during the Champions Classic. Curry was 4-for-4 from the free throw line in the final two minutes of the game. And his late buckets and free throws preserved Duke's lead.
[+] Enlarge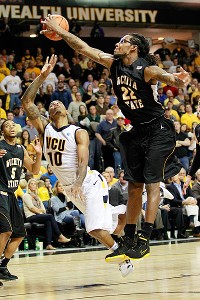 Geoff Burke/US PresswireCarl Hall and WSU were supposed to be rebuilding. Maybe not?
Carl Hall, Wichita State:
WSU lost the bulk of its starters from last season, but Hall & Co. are off to a 4-0 start. The senior had 12 points, 11 rebounds and 3 blocks in the Shockers' 53-51 road win over VCU. He followed that performance with 17 points, 13 rebounds and 3 blocks in a 71-57 victory over North Carolina Central.
Mike Muscala, Bucknell:
Bucknell, not All-American
C.J. McCollum
's Lehigh squad, looks like the best team in the Patriot League right now. Muscala, a 6-11 senior, has led the Bison to a 4-0 start. He was the anchor in Tuesday's 61-56 win over George Mason (16 points, 15 rebounds, 3 blocks), Friday's 88-71 victory at Niagara (18 points, 16 rebounds, 7 assists, 3 blocks) and Saturday's 62-49 win over New Mexico State (24 points, 9 rebounds, 2 blocks). Remember, this team that opened the season with a win at Purdue.
Marcus Smart, Oklahoma State:
Smart has lived up the hype thus far, although turnovers (nine total) have been a challenge. The Oklahoma State freshman has led the Cowboys to a 3-0 start. In the Puerto Rico Tip-Off, Smart had 16 points, 9 rebounds, 4 steals and 4 assists in a 69-65 overtime win versus Akron. On Friday, he pushed OSU into Sunday's tourney title matchup against North Carolina State with 17 points, 9 rebounds, 3 assists and 2 steals in a 62-45 win against Tennessee.
Other performances of note:
Askia Booker, Colorado:
16 points, 4 rebounds and 4 assists in 67-57 win against Dayton; 19 points, 3 assists and 3 steals in 60-58 upset over No. 16 Baylor
Jackie Carmichael, Illinois State:
27 points, 10 rebounds and 2 blocks in 100-72 win over UC-Santa Barbara; 21 points, 3 rebounds and 4 blocks in 86-84 overtime win against Drexel
C.J. Fair, Syracuse:
17 points, 10 rebounds and 2 steals in 62-49 win against San Diego State
Kevin Foster, Santa Clara:
30 points, 5 assists and 7 steals in 74-62 win at Saint Louis
Erik Murphy, Florida:
24 points on 10-of-10 shooting and 8 rebounds in 74-56 win over Wisconsin
Alex Poythress, Kentucky:
20 points, 8 rebounds in 75-68 loss to Duke; 22 points, 5 rebounds in 101-49 victory against Lafayette
Trevor Releford, Alabama:
14 points in 80-49 win against West Alabama; 14 points, 5 assists and 2 steals in 65-62 victory against Oregon State; 25 points in 77-55 win against Villanova
-- Myron Medcalf
Sunday Showcase
Puerto Rico Tip-Off Finals:
Oklahoma State 76, NC State 56
North Carolina State is not a top-10 team right now. And Oklahoma State, the team that dismantled the Wolfpack Sunday, can compete for the Big 12 title if it plays the way it did against NCSU (no guarantee) throughout the season. Those are the two conclusions I reached after watching this matchup in the Puerto Rico Tip-Off championship. Yes, the teams played indoors, but mentally, NC State was on a Puerto Rican beach sipping mango smoothies and building sand castles. The Wolfpack was not in that gym. Mark Gottfried's squad looked listless. The knock against C.J. Leslie throughout his career? He's great when he wants to be, average if he's not focused. And Leslie didn't look focused. T.J. Warren (15 points) was the only NC State player who seemed to recognize the moment. But overall, the Pack didn't bring it. Now, I'm not going to call Oklahoma State the best team in the Big 12 (it will certainly crack the Top 25), but I think the Cowboys proved that they belong in the Big 12 title conversation after this performance. They stifled a North Carolina State team that was bigger, stronger, deeper and more experienced. Why? Well, Google "Marcus Smart."
To read Myron Medcalf's full analysis of the Puerto Rico final, click here.
Charleston Classic Title Game:
Colrado 81, Murray State 74
While it may too early to declare that the Pac-12 is back, it's safe to say the Colorado Buffaloes certainly are. Tad Boyle's squad capped off what could be a season-changing road trip by defeating Murray State 81-74 in the championship game of the Charleston Classic. Beating a quality team like the Racers would've been impressive on its own. Murray State went 31-2 last season and touts a preseason All-American in point guard Isaiah Canann. But pair the victory with Friday's upset of No. 18 Baylor, and it's easy to see why the Buffaloes have a legitimate chance to break into the Top 25 rankings for the first time since the 2005-06 season, when they spent two weeks in the ESPN/USA Today poll.
To read Jason King's full analysis of the Charleston final, click here.
Three Things That Surprised Me
The Big 12's rough start
All conferences go through transition years, and it may be the Big 12's turn. The three teams that some consider the league's best (Kansas, Baylor and West Virginia) all had rough weeks. KU lost to Michigan State and then had to rally from an eight-point halftime deficit to defeat Chattanooga at home. Baylor made a number of bad decisions down the stretch and got outhustled in a 60-58 loss to Colorado -- and the game would've been much more lopsided if the Buffs hadn't missed 14 free throws. No team looked worse than WVU, which got manhandled in a 34-point loss at Gonzaga. I didn't expect the Mountaineers to win the game, but who could've predicted that score? I realize it's early and things likely will change, but the Big 12 has been the least impressive of the power conferences thus far. Texas had to eke out a victory over Fresno State. Same with Oklahoma against UT-Arlington. The only semi-impressive win is an Oklahoma State victory over Tennessee.
Wichita State's win
He hasn't had as much NCAA tournament success (yet) as Shaka Smart, Brad Stevens or Mark Few. But I'm still convinced that Wichita State's Gregg Marshall should be mentioned in the same breath as those outstanding mid-major coaches. The Shockers' road win at VCU last week was mighty impressive. Wichita lost four starters from last season's 27-6 squad. VCU, meanwhile, returns seven of the top eight players from a team that came within one shot of getting to the Sweet 16. So for WSU to go on the road and defeat the experienced Rams in their home gym said as much to me about Marshall as it did his team. His players may be green, but they were prepared. Marshall may rub some people the wrong way, but the man can coach.
Purdue's struggles
It wasn't hard to see that Purdue may be down a bit this season following the loss of players such as Robbie Hummel, Lewis Jackson and Rhyne Smith. But I still never thought I'd see the day when a Boilermakers team coached by Matt Painter got off to a 1-3 start. I've always thought Painter was one of the most underrated coaches -- and one of the best defensive coaches -- in America, which is why Purdue's record is so surprising. It's not as if the Boilers are toting losses against a trio of heavyweights. They fell to Bucknell (at home, no less) to open the season and then lost to Villanova and Oregon State at MSG. Less than two weeks into the season, a seventh straight NCAA tournament berth doesn't even seem very likely. At this point I'm wondering if the Boilermakers will even make the NIT.
-- Jason King
Three Things I Learned
The Pac-12 is bound to be better
As off as the league was last season, this wasn't a guarantee. Coming into last week, there were still too many questions to be sure this conference was officially on its way back. And, sure, there is a lot of season left to be played. Still, signs of recovery are eminent: Colorado's win over No. 16 Baylor gave the Pac-12 its first regular-season win over a ranked team in two years, while freshman
Shabazz Muhammad
's sudden eligibility should make UCLA the feared force everyone expected. Throw in Arizona, one of the nation's most talented teams, and it's clear this season's Pac-12 will have at least a bit of bite. (You stay out of this, Washington.)
North Carolina will be just fine
That's not to say I think the Tar Heels are again one of the best teams in the country or a guarantee to push for the national title (barring injury, that is). There is only so much excitement one can express about beating a young and revamped Long Beach State team. Even so, Dan Monson's team is legit, full of athletes and quick guards, and on Friday night UNC went to the Pyramid in a (gasp!) true road game and handled the 49ers with impressive ease.
James Michael McAdoo
is every bit worth the hype,
Marcus Paige
looks and plays like mini-Kendall Marshall and
P.J. Hairston
appears to have found his 3-point stroke. There's still a lot of talent in Chapel Hill.
So maybe Wake Forest hasn't improved?
No one was expecting Wake Forest to suddenly contend for the ACC title, but many were expecting these guys to, you know, not be terrible. Was that expectation too optimistic? The Demon Deacons looked solid in a 77-71 first-round Paradise Jam loss to UConn. But on Saturday, they allowed Iona to make 18 of its first 25 shots, including 8 of 9 3-pointers, while allowing the stripped-down Gaels to open up a -- get this -- 41-5 first-half lead. 41-5! Some freakish poor shooting helped doom Wake, to be sure, but even so, losing 94-68 to Iona on a neutral court is not exactly a sign your program is on the way out of the cellar. Yikes.
-- Eamonn Brennan
They Said It
"The first thing I think we need to do is we've got to find out who really wants to play and who doesn't. We don't compete."
-- West Virginia coach Bob Huggins after his team's 84-50 loss at Gonzaga
"I don't even know who that is. What is that? & That was before me. I don't keep up with it."
--
Kentucky freshman Willie Cauley-Stein when reporters asked him about former Duke star Christian Laettner's famous buzzer-beater in the 1992 Elite Eight win over Kentucky
"We're just going to mark it down as a win. We know we're a team that can get better each and every day."
--
Deshaun Thomas after Ohio State's 69-58 victory over Rhode Island, which featured early struggles for the Buckeyes
-- Myron Medcalf
Rick Majerus Won't Return