Team of the Week: Indiana
The Hoosiers picked up a significant win when they were able to beat NC State in Raleigh during the Big Ten/ACC Challenge. But it was fair to wonder whether Indiana could pull off a victory over the top-ranked team in the country, Kentucky.
[+] Enlarge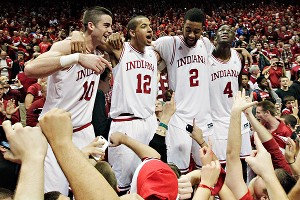 AJ Mast/Icon SMISaturday's postgame scene at Assembly Hall is something Indiana fans will not soon forget.
Well, the IU fans produced a tremendous atmosphere at Assembly Hall, and their Hoosiers came up with a thrilling 73-72 victory at the buzzer -- one that reminded me of unbeaten Stanford beating Arizona in 2004 when Nick Robinson buried a 3-pointer at the buzzer. The court storm in Bloomington after Christian Watford's 3 looked very much like the one at Maples Pavilion after Robinson's 3.
So the Hoosiers have officially turned the corner under Tom Crean. That much we know. This team should be in position for an NCAA tournament at-large berth come March -- and maybe much, much more. Bravo to the Hoosiers fans who showed patience to see an event like that Saturday. Now the hard part will be maintaining the excellence going forward. But this past week was one heck of a start.
-- Andy Katz
Editor's note: This edition is only for games played from Monday, Dec. 5, to Sunday, Dec. 11.
More teams that impressed us
Murray State
: I went out on a limb on our ESPNU "1st and 10" college basketball show and predicted the Racers would win at Memphis. Then they went out Sunday night and backed it up. At 10-0, Murray State should now be ranked. Steve Prohm is doing a wonderful job replacing Billy Kennedy as coach.
Saint Joseph's: The long rebuilding project is finally turning a corner, as the Hawks beat a ranked nonconference opponent (No. 17 Creighton) for the first time in eight years on Saturday. St. Joe's should not be ignored in the Atlantic 10.
Missouri: The Tigers continue to be the surprise elite team this season. Missouri dispatched Villanova rather easily at Madison Square Garden and is now 9-0. Frank Haith has done a marvelous job with this crew so far.
Marquette: The Golden Eagles survived a late rally by Washington in the Jimmy V Classic. Marquette continues to find ways to win and is clearly one of the three best teams in the Big East.
Nevada: After starting out 0-2, the Wolf Pack have won seven of their past eight -- including a pair of road wins last week at Arizona State and at Montana. A game after torching Washington, Deonte Burton did it again versus a Pac-12 foe, scoring 21 of his 28 points in the second half against the Sun Devils.
[+] Enlarge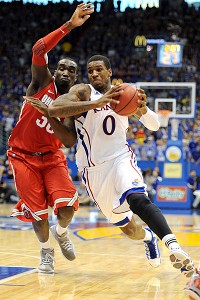 Peter G. Aiken/US PresswireThomas Robinson made all but six of his 23 shots last week.
Kansas: The Jayhawks listened to Bill Self ripping the team's offense after a poor showing in a victory against Long Beach State. Then they went out and beat second-ranked Ohio State. Jared Sullinger or no Jared Sullinger, there's still plenty of talent on the Buckeyes. That was a great win.
West Virginia: The Mountaineers picked up two solid wins: beating Kansas State in double overtime in what was essentially a road game in Wichita, then taking care of business at home against Miami. West Virginia is finally getting go-to play from Kevin Jones, who had 27 against KSU.
Idaho: The Vandals could emerge as a WAC contender after beating Oregon State handily on the road and following that up with a road win at Seattle. Senior Deremy Geiger torched the Beavers for 27 points.
Washington State: If we're going to mention the Vandals, we have to include the team that beat them at the last second in Moscow early last week -- the same team that followed it up with a stunningly easy 93-55 win over Santa Clara, shooting 67 percent and getting a career-high 27 from Brock Motum. Nice week for the Cougars.
Oklahoma: Quietly, Lon Kruger is working his magic in Norman. The Sooners had zero expectations heading into the season but find themselves at 7-1 after an impressive week that included a 14-point win over Summit contender Oral Roberts and a 15-point win over Mike Anderson and Arkansas.
Austin Peay: When you start out 0-9 and go 2-0 in a week, including your school's first win against in-state foe Tennessee, you earn your way onto this list.
-- Andy Katz
After posting his typical 14 and 9 in a home victory over Central Connecticut State, Green exploded in the team's 74-67 victory at No. 22 Gonzaga, scoring a career-high 34 points while making 11 of his 13 shots (also 4-of-5 from 3 and 8-of-9 from the FT line) -- he even added three steals just for good measure. It was a remarkable performance in an extremely tough place to play.
Green has had his chances to emerge as the Spartans' leader. He's clearly the most vocal in the locker room and needs to be Tom Izzo's go-to guy when the Spartans need to step up in big-time environments. The Kennel is a big-time environment, and this was a significant win for MSU. If Green can follow up this performance with something close to it in the coming weeks and months, the Spartans will again be in the thick of the Big Ten race.
-- Andy Katz
More performances that wowed us
Marcus Denmon, Missouri: Combined for 50 points in wins over Villanova and Navy. Against the Wildcats at the Jimmy V Classic, scored 28 and made 6 of 10 from 3, 10 of 16 overall.
Will Barton, Memphis: Made 12 of his 20 shots in a 17-point win at Miami, totaling 27 points, 14 boards and 4 steals.
Thomas Robinson, Kansas: In victories over Long Beach State and Ohio State, combined for 47 points and 18 rebounds, shooting a remarkable 74 percent (17-of-23) from the field.
Alex Young, IUPUI: Racked up 43 points (14-of-20 FG), 9 rebounds and 3 steals in a win over Western Kentucky. Was the most points in IUPUI's 14-year Division I history and the most given up by WKU since 1971.
[+] Enlarge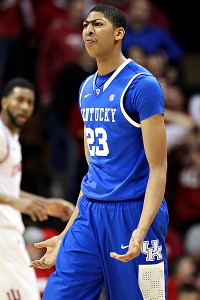 Andy Lyons/Getty ImagesIt was a frustrating day for Anthony Davis and his young UK teammates against Indiana.
Jeffery Taylor, Vanderbilt: The Commodores had to hold off Davidson on the road, and they did so in large part because of Taylor, who scored a career-high 30 points (12-of-17 FG, 3-of-4 from 3).
Kevin Jones, West Virginia: Had a quiet 12 and 9 against Miami but was spectacular two days earlier in a quasi-road game in Wichita against K-State, contributing 30 points and 12 boards in WVU's double-overtime victory.
Damier Pitts, Marshall: Let's stay in West Virginia, where Pitts totaled 25 points and 5 assists in the Thundering Herd's impressive 82-63 blowout of mid-major darling Iona on Sunday.
Jamelle Hagins, Delaware: In a road victory at rival Delaware State, contributed 21 points (9-of-12 FG), 19 rebounds and 5 blocks. Now that's a difference-maker.
Kendall Marshall, North Carolina: Dished out 16 assists against Long Beach State, becoming just the second player in the past 15 years to accumulate four career games with 15-plus assists. The other? Our very own Doug Gottlieb.
D.J. Cooper, Ohio: Scored a team-leading 18 points in a nice win at Oakland, which was worthy enough. But then went out and posted a triple-double at Portland with 14 points, 10 assists, 10 boards and even 5 steals.
-- Brett Edgerton
They Said It
"I've had many honors come my way, the ultimate was going into the Basketball Hall of Fame, but having a court named after you is an incredible honor, and I'm emotionally spent about it."
-- Dick Vitale, after Detroit unveiled Dick Vitale Court before a 69-63 win over St. John's.
"That's my guy. I'll row with that cat no matter where he goes when his career is over. We don't win that game without the character of our group, and Jae and D.J. [Darius Johnson-Odom] have done a great job leading our guys on a daily basis."
-- Marquette coach Buzz Williams after Jae Crowder hit a game-winning 3 in a 79-77 win over Washington in the Jimmy V Classic.
"It felt great. You can't really tell if it's going in. But I got it off, it felt great, it looked like I got enough rotation on it and it went in."
-- Indiana's Christian Watford, who hit a 3-pointer at the buzzer to give the Hoosiers a 73-72 win over No. 1 Kentucky.
"There's no excuse for any of them, on our side, on their side. Guys need to grow up. There is zero excuse for that in basketball. You've got to learn how to win on one side, you've got to learn how to lose on the other side."
-- Cincinnati coach Mick Cronin following a brawl at the end of his team's 76-53 loss to crosstown rival Xavier.
"I love Spokane."
-- Michigan State's Draymond Green, who scored a career-high 34 points in a 74-67 road win at Gonzaga.
-- Myron Medcalf
Observations from the week that was
Eamonn Brennan

1. Indiana is back. Consider this statistic: IU hasn't been ranked since March 10, 2008. That's, count 'em, 1,372 days -- the longest stretch in school history -- that the Hoosiers have existed outside the realm of college basketball relevance. Those days appear to be over. For IU fans, the inclusion will be deeply symbolic: Since 2008, when Kelvin Sampson's disgraced exit left Indiana with a crater where its basketball program once was, those fans have dealt with frustration and angst and nearly constant failure, at times wondering if the program would be relevant again. After Saturday's win over Kentucky, it is.
Is it just one win? Sure. But whatever happens with the rest of Indiana's season -- an NCAA tournament berth looks like a lock now -- IU still has a daunting Big Ten schedule to fight through first. It's clear Tom Crean has not only rebuilt this program but also reinvigorated a long-dormant fan base. It's been a long time coming, more than 1,300 days, to be exact, but IU fans finally have something tangible to get excited about.
2. Kentucky will be fine. If you examined the game closely, there were plenty of reasons to be concerned with UK's performance. Its young players seemed genuinely rattled by IU's hyped-up home environment. Forward Anthony Davis committed a series of silly fouls and missed most of the game in return. Forward Terrence Jones mentally checked out. Guard Marquis Teague was shaky for much of the first half. All of these are valid mini-criticisms, but if Big Blue fans are feeling slightly freaked out, they shouldn't be. This Wildcats team is still very, very talented, and right now its mistakes -- dumb fouls, lack of focus, turnovers, broken set plays -- are of the youthful variety.
Few teams in the country would have played a composed, controlled game in Saturday's atmosphere, and when you consider that Kentucky was able to come back and nearly win the game on a day in which Davis rarely played and Jones was never his typical self, well, that's impressive in its own right. The Cats may lose a few games on the road. They may make a few dumb mistakes here and there. But don't worry too much, UK fans. This team will be just fine.
3. Ohio State might still deserve to be No. 1. That might seem unfair to Syracuse, which was ranked No. 3 in the poll last week and didn't lose in the week that followed. But it's hard to take too much out of OSU's loss at Kansas for a variety of reasons. For one, it was at Kansas -- one of the most difficult places to play in the country. Second, and most important, the Buckeyes were forced to play without star forward Jared Sullinger, who missed the game thanks to back spasms. For those reasons, it's hard to count this game against Ohio State. When at full strength, the Bucks have looked as good as, or better than, any team in the country.
For more of Brennan's observations, click here.
Andy Katz

1. Seton Hall's Herb Pope is a survivor. Pope continues to have an amazing recovery from collapsing last year in a life-or-death scare. As of right now, he's the comeback player of the year with his play. He led the Hall with 26 points and 14 boards in a 14-point win over Wake Forest this past weekend and is averaging 21.9 points and 11.3 rebounds for the surprising 8-1 Pirates.
2. Northern Iowa is back to being relevant. Just two years after that stunning defeat of Kansas in the NCAA tournament, the Panthers have lost just once, and that was a late-night game at Saint Mary's after an arduous travel schedule to begin the season. UNI has won eight in a row since, including an easy sweep of Iowa and Iowa State and a blowout of previously 8-1 Milwaukee on Saturday. Ben Jacobson's group looks like a strong contender with Creighton, Wichita State and Indiana State for the Missouri Valley Conference title.
3. First-year coach Larry Shyatt is making Wyoming play defense. And as a result, the Cowboys are surging in the Mountain West in his second stint as head coach in Laramie. Wyoming has played a relatively soft slate so far, but the Pokes are 9-1 with a solid 11-point road win over rival Colorado during the weekend. There's no reason to think Wyoming can't put itself into postseason contention with this strong start.
For more of Katz's observations, click here.
What's On Tap
All times ET
Tuesday
8 p.m.: Wisconsin at Milwaukee
9 p.m.: Central Michigan at Minnesota (ESPN)
Wednesday
3 p.m.: Iona at Richmond
7 p.m.: Cincinnati at Wright State (ESPN2)
Friday
10 p.m.: UC Santa Barbara at Washington (FSN)
Saturday
Noon: Ohio State at South Carolina (ESPN)
Noon: Mississippi State at Detroit (ESPN3)
2 p.m.: Baylor at BYU (BYUtv)
2:30 p.m.: Temple at Texas (ESPN2)
3:30 p.m.: Texas A&M vs. Florida (FSN)
4 p.m.: Memphis at Louisville (CBS)
4 p.m.: Arizona vs. Gonzaga (CBS)
4:30 p.m.: Notre Dame vs. Indiana (ESPN2)
5 p.m.: UNLV vs. Illinois (BTN)
5:30 p.m.: Indiana State at Vanderbilt (CSS)
6:30 p.m.: Syracuse at NC State (ESPN2)
10 p.m.: Kansas State vs. Alabama (ESPNU)
10:30 p.m.: New Mexico vs. Okla. St. (ESPN2)
Sunday
1 p.m.: Oral Roberts at Xavier (FS Ohio)
5:30 p.m.: Virginia at Oregon (FSN)
Medcalf on Texas A&M-Florida
O'Neil on Memphis-Louisville
O'Neil: Three questions
•Is Indiana really back?
The Hoosiers' wild win against No. 1 Kentucky prompted most people to declare the hard days over for Tom Crean & Co. So is that the case? Was this victory really a sign that IU is back in business or more the byproduct of an emotional Assembly Hall? I favor the former. Indiana didn't play textbook basketball but the Hoosiers took what Kentucky gave them and took it right at the top-ranked Wildcats. The Hoosiers scored more points than anyone else has against UK this season and pressured the Cats into 16 critical turnovers and those four crucial Anthony Davis fouls. The real proof, of course, will come as the season progresses. Indiana can ill afford to lay an egg on Saturday against a struggling Notre Dame team.
• When did coaches lose their nerve?
Not all of them, of course, but so many of them. Ben Howland practically needed
Reeves Nelson
to publicly thumb his nose at him before finally saying, "Enough." And now we have the Cincinnati-Xavier postfight brush-off. Like a lot of people, I was impressed by Mick Cronin's immediate postgame reaction. He talked about how it is a privilege to earn a scholarship and a privilege to represent a university, a fact that too often gets lost. He was right. He talked about how this isn't about basketball. He was right.
And then the sanctions came out -- six games each for Yancy Gates, who frankly is lucky not to be facing assault charges, the stomping Cheikh Mbodj and Octavius Ellis. Meantime, across town Xavier doled out mighty punishments of one and two games to Tu Holloway and Mark Lyons and four for Dezmine Wells and Landen Amos. Where's the message in all of that? It is one thing to say there are more important lessons to be taught than basketball and another to teach them. It's hard. It's scary. Losses would be likely for both teams, but sometimes the price to pay for doing the right thing is steep. Gates and Holloway are seniors. Holloway, in fact, was my national player of the year pick, a pick I'd admit I'd like to rescind. Statistics alone don't tell the worth of a player. Actions speak loudly, and so do words. Unfortunately, coaches are saying a lot and doing very little.
•
Is it time to remember the Spartans?
Used to be that having faith in a Tom Izzo team was easy. It was like counting on Christmas. Eventually, the Spartans came around. Last season, of course, that never happened. Michigan State spiraled its way out of the top 25 and into obscurity, a perplexing run that is nothing shy of atypical for Izzo's teams and served as the backdrop for the hesitancy surrounding the Spartans this year. Yes, Michigan State has good players, but the Spartans are young and could easily implode again.
Except here we are. MSU has won eight in a row, including handing No. 22 Gonzaga only its seventh home loss since 2004. Draymond Green has been sensational. The senior not only has provided statistics -- he's averaging 16.3 points and 9.7 boards per game, including 34 against Gonzaga -- he's provided leadership. He promised good things would come even after State lost its opening two games to Duke and North Carolina on opposite coasts. Looks like he could be right.
-- Dana O'Neil
Places to be this week
Tuesday
Milwaukee (Wisconsin at Milwaukee): Marquette-Wisconsin is this state's best basketball rivalry, but you'd better believe UW-Milwaukee -- the program that was the top seed in the 2011 Horizon League tournament and one with another quality squad in 2011-12 -- will relish the chance to upset the Badgers on their home floor. Could a court-storming be in order?
Wednesday
Dayton, Ohio (Cincinnati at Wright State): Cincy will play its first game after Saturday's ugly brawl with Xavier, and that means playing without suspended forward Yancy Gates as well as Cheikh Mbodj, Octavius Ellis and Ge'Lawn Guyn. Whatever you think of UC's punishments (far too light, in my opinion), this team will be hobbled for its next six games. If the Bearcats lose too many of them -- like it could Wednesday at Wright State -- their chances of making the NCAA tournament might fade long before the suspended players have a chance to return.
Saturday
Provo, Utah (Baylor at BYU): Baylor was impressive in its first road game, a dominant thrashing of a physically outmatched Northwestern team. BU gets another chance to impress Saturday, and while the Cougars aren't anywhere near the levels they reached with Jimmer Fredette last season, the raucous Marriott Center will present a whole new challenge for the Bears to overcome.
Indianapolis (Crossroads Classic): These games will be as much fun for the atmosphere and culture surrounding the event -- a showcase of this state's four marquee basketball programs -- as for the games themselves. In all reality, Purdue and Indiana should handle their struggling respective foes Butler and Notre Dame with relative ease. May the in-state bragging-rights competition commence.
Austin, Texas (Temple at Texas): If for no other reason, tune in to this one to see Texas guard J'Covan Brown match up with Temple's defensive-minded backcourt combo of Ramone Moore and Juan Fernandez, who notched a nice (and relatively unsung, given the histrionics in Bloomington and Cincinnati) win over city rival Villanova on Saturday.
Sunrise, Fla. (Texas A&M vs. Florida): Aggies forward Khris Middleton returned to action this past weekend after missing much of the season thus far thanks to injuries, and his return couldn't come at a better time for Texas A&M. If the Aggies want any chance of winning this quasi-road game versus Florida, they'll have to have all hands on deck.
Louisville (Memphis at Louisville): No one can accuse Memphis of scheduling lightly. That's what Josh Pastner said after his team's struggles in Maui, and he's right: This is an absolutely brutal road game against an old rival and a very tough and well-coached team. Not exactly an ideal spot for a disjointed team that's coming off a home loss to Murray State.
Seattle (Arizona vs. Gonzaga): The annual Battle in Seattle should, as usual, be at the very least interesting. Arizona is coming off a solid road loss at Florida, in which the Wildcats' defense stymied UF's streaky perimeter shooters, while Gonzaga will look to recover from Saturday's home loss to Michigan State with a solid but unspectacular high-major win.
Chicago (UNLV vs. Illinois): This is another chance to check in on Illinois, which remains unbeaten and looking like a much tougher, if occasionally less polished, team than the one that massively underachieved in 2010-11. UNLV, meanwhile, will at least be used to the challenges of a Midwest road trip by now: Two of the Rebels' past three games (both losses) came at Wichita State and Wisconsin.
Raleigh, N.C. (Syracuse at NC State): Hallelujah, hallelujah -- Jim Boeheim's team is finally going on the road. The Orange have yet to leave the state of New York this season, so it will be interesting to see how they handle a game they should win, but one whose location presents distinct challenges this particular team has yet to face.
Sunday

Eugene, Ore. (Virginia at Oregon): Just how good are the Cavaliers? We'll get a decent idea Sunday, when UVa travels to Oregon. The Ducks aren't world-beaters this season, but they are improving under Dana Altman and have made the sparkling Matthew Knight Arena a difficult road environment for opposing teams.
-- Eamonn Brennan
Upset pick of the week
BYU over Baylor, Saturday: I got one right last week, sensing Dayton could pull off the upset of Alabama. Well, I'm sensing a possible upset by the Cougars. Baylor has more talent, no question. And the Bears did dispatch Northwestern on the road and hold a decided advantage in the frontcourt. But BYU is suddenly playing really well with a win over Oregon in Salt Lake City as the highlight of the four-game win streak. The Cougars are getting solid play out of Noah Hartsock inside and Charles Abouo on the perimeter. If BYU is going to get national attention prior to the WCC schedule, it will have to occur with a win over the Bears in what should be a crazed Marriott Center. I think the Cougars will get it.
-- Andy Katz
Brennan on Crossroads Classic