Team of the Week: Georgetown
[+] Enlarge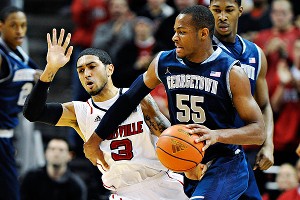 Jamie Rhodes/US PresswirePicked 10th in the Big East in the preseason, the Hoyas continue to rack up big wins.
The Hoyas had quite a week. Georgetown handed Louisville its first loss of the season, and it was the most significant road win of the week by a contending team. The Cardinals had continually found ways to escape the KFC Yum! Center with a victory and almost did it again, but the Hoyas showed the fortitude to withstand a late rally, much as they had done at Alabama. This young and surprising team, picked to finish 10th in the Big East, continues to show late-game poise. The Hoyas' offense went south against Providence on Saturday, but they still held on for a 49-40 win in their Big East home opener. Georgetown has already beaten projected preseason NCAA tourney teams Memphis (twice) and Alabama on the road. The only loss was by four to Kansas in Maui. The mix of familiar names
Jason Clark
,
Hollis Thompson
and the improved
Henry Sims
with
Markel Starks
and outstanding freshman
Otto Porter
has worked without a hitch. Syracuse and Connecticut now have company in the Big East title chase.
-- Andy Katz
Editor's note: This edition is only for games played from Monday, Dec. 26, to Sunday, Jan. 1.
More teams that impressed us
Baylor: The Bears won their showdown against Mississippi State in Dallas. The game wasn't pretty, but it was another test for Baylor and another test it passed. The Bears have done exceptionally well with each challenge this season whether at home, on the road or on a neutral court.
Cincinnati
: While Xavier has struggled since the brawl, the Bearcats are 6-0 since then. Granted, the first four games were against weaker competition. But then the Bearcats beat a solid Oklahoma team in downtown Cincinnati, then held off Pitt on the road for a 1-0 start in the Big East. The three suspended players, including center Yancy Gates, are due to come off suspension Wednesday against Notre Dame.
Creighton
: The Bluejays dropped a midweek home game to Missouri State, but that made Saturday's road win at Wichita State all the more impressive and important. Not many teams win at Koch Arena. Creighton remains the favorite in the Missouri Valley Conference.
[+] Enlarge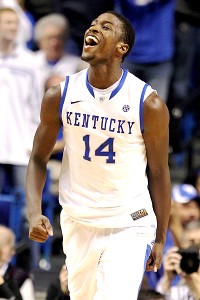 Andy Lyons/Getty ImagesMichael Kidd-Gilchrist had 24 points and 19 boards in UK's win over UL.
Gonzaga
: The Zags crushed Portland to start the WCC race, then won at Xavier behind a stellar effort from
Sam Dower
. Gonzaga has come a long way since losing back-to-back games to Michigan State and Illinois. It's getting tremendous floor balance on the offensive end and played well enough defensively to win a key road game.
Harvard
: If the Crimson want to remain in the Top 25, they have to win the games they're expected to win. They did just that this past week, beating downtrodden Boston College again, then rallying against a surging Saint Joseph's team at home.
Indiana
: The Hoosiers knocked off Ohio State for their second win over a top-two team this season. As impressive as that was against a full-strength Buckeyes team, Indiana couldn't be our team of the week: The main criterion is for the team of the week to win all its games, and IU lost its Big Ten opener at Michigan State.
Iowa
: After playing well in a close loss to Purdue earlier in the week, the Hawkeyes stunned Wisconsin for Fran McCaffery's biggest win since taking over the program in 2010. Iowa became just the second unranked Big Ten team to win in Madison during the Bo Ryan era.
Missouri State
: New coach Paul Lusk continues to impress in Springfield. The Bears rebounded from a tough two-game stretch in Las Vegas against West Virginia and Saint Mary's to open the MVC with a 12-point win at No. 19 Creighton. And they didn't let down against Drake in their next game. The Bears now have to be taken seriously as a threat to win the Valley.
New Mexico
: The Lobos avenged a home loss earlier in the season to rival New Mexico State, then completed the week with an impressive victory over Saint Louis at the Pit. The Lobos were pushed down to the final possessions by the Billikens, but UNM has matured and is playing with much more poise at this juncture in the season after a disappointing loss to Santa Clara in the 76 Classic.
Saint Mary's
: The Gaels sent a strong message to BYU that they are still the team of record when it comes to challenging Gonzaga in the WCC. The Cougars won't be going away, but Saint Mary's was the aggressor on Thursday and ran right past BYU in spoiling the program's conference debut.
Vanderbilt
: By any measure, the preseason No. 7 Commodores -- with three home losses already under their belt -- have been a disappointment this season. But can one result turn it all around? Kevin Stallings sure hopes so. His team looked every bit like No. 7 in a dominant win at Marquette, a game in which they led 36-8 right out of the gate and never looked back.
Shoutout-worthy
: Princeton, Notre Dame, Washington, Purdue, Syracuse
-- Andy Katz
[+] Enlarge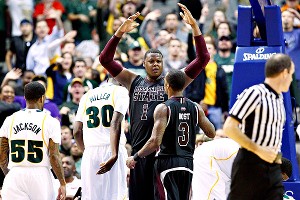 Kevin Jairaj/US PresswireMississippi State's Renardo Sidney has improved but still has his "moments" for the Bulldogs.
I was in the studio Saturday night, and every time we ran through the Kentucky-Louisville highlights, MKG was in the middle of an offensive play. Kidd-Gilchrist was really something special in UK's rivalry win. He played 39 minutes, scored 24 points and grabbed 19 -- yes, 19 -- rebounds in the Cats' 69-62 victory over the Cardinals. Kidd-Gilchrist also scored 18 points in limited time against Lamar earlier in the week. Kentucky coach John Calipari has plenty of options offensively but doesn't always know what he's going to get from each player. He knows what he's going to get from Michael Kidd-Gilchrist. The freshman forward, a constant bundle of energy, continues to be one of the toughest matchups at his position with his length and ability to put the basketball on the floor. The races for SEC player of the year and SEC and national freshman of the year are just beginning. MKG is making his case to be included in both of them.
-- Andy Katz
More performances that wowed us
Moe Harkless, St. John's: 32 pts, 13 rebs, 4 asts, 4 stls, 13-of-17 FG in 91-67 win over PC
Darryl Bryant, West Virginia: career-high 34 pts in 83-69 win over Villanova
Samme Givens, Drexel: 31 pts, 9 rbs, 13-of-16 FG in 77-69 win over Fairfield
Kyle Weems, Missouri State: career-high 31 pts (25 after half) in 77-65 win at Creighton
Keith Appling, Michigan State: 25 pts, 7 asts, 6 rebs, 7-of-12 FG in 80-65 win over Indiana
Drew Gordon, New Mexico: 23 pts, 19 rebs, 9-of-15 FG in 89-69 win at New Mexico State
Fab Melo, Syracuse: 12 pts, 7 rebs, SU-record 10 blks in 75-49 win over Seton Hall
Cameron Moore, UAB: 19 pts, 24 rebs, 8-of-12 FG in 56-49 win at George Washington
Eli Carter, Rutgers: 31 pts, 7 rebs, 7 asts in 85-83 2OT win vs. Florida
Keegan Bell, Chattanooga: 10 pts, 9 rebs, 16 asts in 85-50 win over Longwood
Matthew Dellavedova, Saint Mary's: 18 pts, 6 rebs, 12 asts, 4 stls in 98-82 win over BYU
Ryan Pearson, George Mason: 35 pts, 14 rebs, 15-of-25 FG in 84-76 win at Charleston
Thomas Robinson, Kansas: 30 pts, 21 rebs, 4 asts, 10-of-14 FG in 84-58 win over UND
Brandon Davies, BYU: 21 pts, 22 rebs, 4 asts, 8-of-13 FG in 88-52 win over San Diego
Chris Jones, North Texas: 21 pts, 9 rebs, 10 asts, 4 stls in 87-65 win over Troy
Anthony Davis, Kentucky: 18 pts, 10 rebs, 6 blks, 12-of-13 FT in 69-62 win over Louisville
Colt Ryan, Evansville: 29 pts, 7 rebs, 5 asts, 14-14 FT in 76-65 win at Northern Iowa

-- Brett Edgerton
They said it (or tweeted it)
"Give credit when credit is due. IU basketball is back everybody...Tough basketball team."
-- Ohio State's Jared Sullinger (@Jared_Sully021h) after his team's loss to Indiana
"I'm very shy, but I'm getting better. I just relax on the basketball court."
-- Kentucky's Michael Kidd-Gilchrist after scoring 24 points and grabbing 19 boards in a 69-62 win over Louisville
"If you hit shots, it's amazing how much better your defense looks."
-- Wisconsin's Bo Ryan after his team's 72-65 loss to Iowa
"I was sure that I was like in a mirage or something, just seeing things. I tried to stop looking."
-- Vanderbilt's Kevin Stallings after his team's 74-57 win at No. 13 Marquette
"It was a very good, big win against a very good team in a difficult place to play. We aren't worrying about validation right now."
-- Georgetown's John Thompson III after his squad handed No. 4 Louisville its first loss of the season
-- Myron Medcalf
King's observations from the week that was
1. As long as Indiana doesn't implode, Tom Crean should win national coach of the year honors. The job Crean has done in Bloomington this season has been nothing short of miraculous -- mainly because, for the most part, he's winning with the same players who lost a ton of games in the past two or three years. I'm talking about guys like Verdell Jones, Matt Roth, Christian Watford and Derek Elston. Indiana has defeated two of the top four teams in the country in Kentucky and Ohio State. And Saturday's victory over the Buckeyes came without Will Sheehey, who averages 10.7 points. I don't care that those victories came at home. That shouldn't minimize the accomplishment. It's a phenomenal job by Crean either way.
2. Renardo Sidney is still a work in progress. I know most of you are probably thinking, "Duh!" But I had thought Sidney was turning the corner in terms of maturity. After watching him pick up a ridiculous technical foul in the waning minutes of a tight game against Baylor -- he cursed at an official -- I realized the Mississippi State forward still has a long way to go. I also can't understand why Sidney isn't in better shape. He's at least 30 pounds overweight. Is no one monitoring what he eats? I'll say this, though: The guy can play. And even at about 70 percent, he's one of the main reasons the Bulldogs are 13-2. 3. Seton Hall looks like a completely different team. Remember the past two years when Jeremy Hazell would fire up an ill-advised shot nearly every time he touched the ball? Sure, Hazell scored a lot of points, but the Pirates still lost most of their games. With Hazell no longer in the picture, Seton Hall is playing a more team-oriented game under second-year coach Kevin Willard. The approach has made stars out of forward Herb Pope and point guard Jordan Theodore while thrusting the 12-2 Pirates into the NCAA tournament picture. Two days after getting blown out by Syracuse, Seton Hall bounced back with a 19-point victory over West Virginia on Friday. 4. Brady Heslip needs to play at least 30 minutes a game for Baylor. Heslip is averaging 10.8 points and is shooting 49 percent from 3-point range for the undefeated Bears. He's also averaging 25 minutes a game. He needs to play more, and not just because of his ability to score. Heslip is a coach's son who understands the nuances and X's and O's of the game better than anyone else on a Baylor squad that often lacks discipline. He's also a vocal leader who serves as a calming presence when his teammates get sped up or rattled. Things just seem to run more smoothly when Heslip is in the game. 5. Rutgers' victory over Florida was the biggest upset of the season thus far. I still can't believe that possibly the worst team in the Big East defeated the second or third-best team in the SEC. I knew Florida may have been a little overhyped; I'm as guilty as anyone of talking up the Gators. But there's absolutely no excuse for losing that game. How did Rutgers respond to its big win? It went out and lost to South Florida three days later.

--Jason King
What's On Tap
All times ET

Monday
7 p.m.: Texas A&M at Baylor (ESPNU)
7 p.m.: Virginia at LSU (ESPN3) Tuesday
7 p.m.: Michigan State at Wisconsin (ESPN2)
7 p.m.: Connecticut at Seton Hall (ESPN3)
8 p.m.: Oklahoma at Missouri (ESPN3) Wednesday
7 p.m.: Duke at Temple (ESPN2)
7 p.m.: Marquette at Georgetown (ESPNU)
8 p.m.: Kansas State at Kansas (ESPN3)
8 p.m.: Tennessee at Memphis (FSN)
8 p.m.: Saint Louis at Dayton
9 p.m.: Syracuse at Providence (ESPN3) Thursday
9 p.m.: Michigan at Indiana (ESPN2)
9 p.m.: Stanford at Oregon (CSN)
11 p.m.: Arizona at UCLA (FSN) Saturday
Noon: Georgetown at West Virginia (ESPN3)
1:30 p.m.: Missouri at Kansas State (ESPN3)
2 p.m.: Kansas at Oklahoma (ESPNU)
4 p.m.: Marquette at Syracuse (ESPN3)
7:30 p.m.: Murray State at Austin Peay (ESPNU) Sunday
1:30 p.m.: Wisconsin at Michigan (CBS)
7:30 p.m.: Cal at Oregon (FSN)
King on Kansas State-Kansas
O'Neil: Three questions
• Is there life on the West Coast?
As it turns out, there is, and it's that team that everyone loves in November and December but tends to forget about in the dead of winter: Gonzaga. Mark Few's team started the season ranked 23rd and climbed to 18th before tumbling out of everyone's affections and memories with back-to-back losses to Illinois and Michigan State. Neither of those, of course, is a horrific loss, but that always seems to be the way for the Zags' and Few's love affair with tough nonleague schedules. Now that the new year is here, however, it seems Gonzaga is back in fashion. Although everyone has been bemoaning the dearth of good basketball on the West Coast, the Zags have quietly won six in a row, including Saturday's road victory at Xavier. The WCC should be interesting -- how about BYU's inhospitable welcome to the league, courtesy of Saint Mary's? -- but Gonzaga is both the class of the conference and the class of the West.
• Who has the best home-court advantage?
Indiana may not win the contest in the all-time category, but this season there is no place more frightening for opponents than Assembly Hall. Kentucky lost its No. 1 ranking there, and Ohio State kissed goodbye to its hold on the No. 2 position in Bloomington on Saturday. Credit the crowd with a huge assist in both games. That's not to say the Hoosiers aren't good. They are. Indiana is talented and relentless, and that's a lethal one-two punch that will make IU a tough out no matter where it plays. But the fans, who have waited so long to celebrate, give the Hoosiers the extra push whenever they need it. Take note, Michigan. •
With conference play in full swing, which is the most interesting?
There are good battles shaping up all over the country -- from the West Coast Conference to the Atlantic 10, the Missouri Valley to the Big East -- but the most interesting could be the Big 12. Missouri and Baylor lead the way and have been terrific, but the gap between those two and Kansas and Kansas State isn't exactly a chasm. Mizzou showed some unsettling flashes of its old self in its past two games, and Baylor has been sorely tested in its past two victories. Mix in the fact that Oklahoma is better under Lon Kruger, A&M can never be counted out and an athletic Texas team could give teams fits, and you have the makings of a fight to the league title finish.
-- Dana O'Neil
Medcalf on Michigan St.-Wisconsin
Places to be this week
Monday
Baton Rouge, La. (Virginia at LSU)
: Don't look now, but thanks to some surprisingly stifling defense, LSU has quietly built a 10-3 record, upsetting Marquette at home along the way. If the Tigers can topple a ranked (and impressive in its own right) Virginia team in Baton Rouge, Trent Johnson's sudden turnaround will start garnering even more attention.
Tuesday
Newark, N.J. (UConn at Seton Hall)
: Speaking of turnarounds, Seton Hall forward
Herb Pope
is in the midst of a renaissance senior season, averaging 18.6 points and 10.9 rebounds. But can Pope lead the Pirates to Big East contention? Seton Hall looked out of place in Wednesday's 75-49 loss at Syracuse, but then came back two days later to defeat what had been a hot West Virginia team. We'll see whether Pope and the Pirates can raise their game against one of the nation's biggest, most athletic frontcourts.
Madison, Wis. (Michigan State at Wisconsin)
: Remember when the Kohl Center used to be impenetrable? That wasn't the case Saturday, when Iowa -- Iowa! -- came to Madison and stole a shocking win over the Badgers. Wisconsin will look to get its home front in order with a much tougher challenge in the streaking Spartans, who just handled Indiana at home a few days before the Hoosiers toppled Ohio State. And so the Big Ten race takes shape.
Columbia, Mo. (Oklahoma at Missouri)
: Lon Kruger's surprisingly solid OU squad -- whose only December loss came by one point at Cincinnati -- has the chance to raise some eyebrows in Columbia on Tuesday, but doing so will require stopping Mizzou's incredibly efficient, guard-oriented offense. Can the Sooners slow Missouri down? And if not, can they keep up?
Wednesday
Philadelphia (Duke at Temple)
: We haven't had much occasion to check in on Duke since the Big Ten/ACC Challenge; the Blue Devils have quietly handled the latter, lesser portions of their nonconference schedule with relative ease. A rare true road trip at Temple isn't likely to trip them up, not unless the Owls fix their uncharacteristically forgiving defense in time to halt Duke's dynamic guard-oriented attack.
Lawrence, Kan. (Kansas State at Kansas)
:
Thomas Robinson
is coming off a 30-point, 21-rebound effort against North Dakota, but he may find things much more difficult against hated Kansas State, a surprising bunch that defends the low block and rebounds as well as any team in the country. Throw in the rivalry aspect and a raucous Allen Fieldhouse crowd, and this promises to be a good one.
Thursday
Bloomington, Ind. (Michigan at Indiana)
: After Saturday's impressive win over Ohio State, these Hoosiers became the first team in program history to upset a No. 1 and No. 2 team in the same season -- in three weeks' time, no less. Both wins came at Assembly Hall. In other words, Michigan will have a bear of a challenge trying to stop Indiana's offense, which especially thrives in Bloomington.
Eugene, Ore. (Stanford at Oregon)
: If Stanford plans to turn its surprisingly solid nonconference performance into a Pac-12 title campaign -- if it wants to separate itself from the wide-open mediocrity in the middle of this league -- it will have to get difficult road wins like this trip to Eugene. The Cardinal's ability to do so, or lack thereof, could tell us much about this team's bona fides going forward.
Saturday
Morgantown, W.Va. (Georgetown at West Virginia)
: Georgetown has been one of the better road teams in the country so far this season, beating both Alabama and Louisville on their home floors. Can it replicate that feat at WVU? The easy answer is yes, especially given this Mountaineers team's difficulties in a 67-48 blowout to Seton Hall. But wins in Morgantown are never quite that simple.
Manhattan, Kan. (Missouri at Kansas State)
: Big week for Kansas State. First is the aforementioned game at KU; second is this opportunity to tackle the efficient, lightning-quick offensive juggernaut that is Missouri. The latter is especially big, because K-State will have the Octagon of Doom (also known as Bramlage Coliseum) on its side, and it just might have the right combination of interior force and defensive pressure to do something few teams have managed to date: make the Tigers uncomfortable.
Syracuse, N.Y. (Marquette at Syracuse)
: Sometimes you just don't shoot the ball well, and that happened to Marquette in its strange blowout loss to Vanderbilt in Milwaukee last week. The Golden Eagles will have to find their touch by Saturday, because a trip to the Carrier Dome to play this Syracuse team -- undefeated, ranked No. 1, with one of the lankiest and most disruptive 2-3 zones in Jim Boeheim's career -- will require precision offense from start to finish.
-- Eamonn Brennan
Upset pick of the week
Kansas State over Missouri, Saturday: The Tigers had a solid comeback win at Old Dominion on Friday, but it seems the Tigers will still be vulnerable to rugged teams. And Kansas State qualifies. The Wildcats certainly can get rough in a hard-nosed way that could push Mizzou in front of what will be a rowdy crowd in Manhattan. Losing on the road in the Big 12 is acceptable, and this could be the first of a few potential hiccups along the route to a possible Big 12 title for the Tigers.
-- Andy Katz
Brennan on Michigan-Indiana