Team of the Week: Dayton
The Flyers took advantage of rival Xavier's struggles by sweeping through two of the toughest teams in the league. Dayton beat fellow Atlantic 10 contender Saint Louis in overtime Wednesday and then won at Temple after the Owls had just taken down Duke earlier in the week. It was Temple's first home loss in more than two years.
[+] Enlarge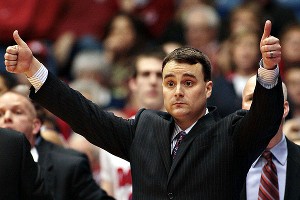 Tony Tribble/US PresswireArchie Miller has Dayton an A-10 contender in his first season as a head coach.
The Flyers entered the season as a bit of an unknown. Brian Gregory left for Georgia Tech in the offseason and he left a team that had underachieved the past couple of years. But Archie Miller hired an excellent staff and has navigated this team through some bumpy spots after November losses to Miami (Ohio) and Buffalo (losses to Murray State and Seton Hall seem quite OK now). Dayton won a weakened Old Spice Classic field, notched home wins over SEC teams Alabama and Ole Miss and then really found itself this week by beating the Billikens and Owls. Miller could end up as the coach of the year in the Atlantic 10 if he continues this upward trajectory. A strong start to the A-10 should be a signal that the Flyers are in the A-10 title chase for the long haul, but they still need to show some consistency. Wednesday's game at St. Bonaventure is the type that UD has dropped in the past. Win that one and it will be tough to deny that Dayton is in this race for the long haul.
-- Andy Katz
Editor's note: This edition is only for games played from Monday, Jan. 2, to Sunday, Jan. 8.
More teams that impressed us
Arkansas: The Razorbacks had one of the most significant conference wins this past week by scoring 98 points on Mississippi State in a 10-point win in the SEC opener. Might the Hogs challenge for a tourney bid in Mike Anderson's first season?
Charlotte:
The 49ers' rebuilding job is on the fast track. Charlotte beat Richmond at home and then won at previously surging Saint Joe's for a 2-0 start in the Atlantic 10.
Colorado:
The Buffaloes lost their two best players and yet the Buffaloes are atop the muddled Pac-12 with a 3-0 record after sweeping three home games, including over the Washington schools this week. The road trip to the Bay Area this weekend will tell a lot about the development of this team.
[+] Enlarge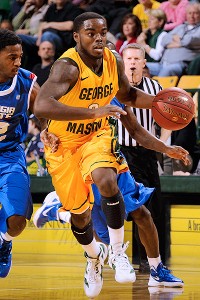 Rafael Suanes/US PresswireIs George Mason the Colonial favorite? It sure looks like it after a stellar week.
George Mason:
The Patriots were supposed to be one of the favorite in the CAA, but they got off to a slow start under Paul Hewitt, losing games early on to Florida International and Florida Atlantic. But GMU is now 4-0 in league play after winning at Old Dominion and beating previously CAA unbeaten Georgia State this week.
Iowa State:
Fred Hoiberg needed time to get the transfers settled. That time has come. The Cyclones swept through Texas and Texas A&M for a 2-0 start in the Big 12. They've got a huge home game against Missouri on Wednesday.
Kansas State:
The Wildcats wasn't the team of the week after losing at Kansas, but it's hard to deny the impressive nature of the beatdown they delivered to previously undefeated Missouri on Saturday. K-State is a Big 12 title contender, plain and simple.
La Salle:
Don't look now, but the Explorers have won 10 of their past 11. La Salle's 10-point win over Xavier at home may have been the most significant of John Giannini's career. Perhaps just as crucial was Sunday's follow-up victory over a quietly successful UMass team.
Nevada:
The Wolf Pack had the most talent returning in the WAC and winning at Utah State by seven this weekend (after a road victory at Idaho earlier in the week) should signal that the conference titles goes through Reno this season.
Oral Roberts:
Last month's resounding win over Xavier might have an asterisk since the Musketeers were down four suspended players. But ORU is now off to a 6-0 Summit League start after winning at Oakland and beating contenders North Dakota State and South Dakota State.
Seton Hall:
The Pirates dominated Connecticut at home and then won at Providence for a solid 3-1 Big East start. This has the look of a Top-25 team headed for the right side of the bubble.
West Virginia:
The Mountaineers are finally getting consistenly impressive play out of
Kevin Jones
and
Darryl Bryant
at the same time. They played a huge part in beating Rutgers on the road and Georgetown at home.
Shoutout-worthy:
Illinois State, Lipscomb, Memphis, Michigan, Northern Iowa, Notre Dame, St. John's, Southern Miss, Syracuse, Virginia
-- Andy Katz
Murray State's Isaiah Canaan made all seven of his 3s in the first half at Austin Peay and finished with 35 points. Creighton's Doug McDermott scored a career-high 44 points against Bradley. But Releford's contributions in two key Kansas wins were the most significant for a contending team this week. The Jayhawks desperately needed to find another reliable scorer next to Thomas Robinson. Releford may be the answer in KU's quest to brush back Baylor and Missouri in a quest to win yet another Big 12 title.
In Wednesday's decisive victory over red-hot rival Kansas State, Releford set career-highs in both points (16) and rebounds (11) in the first double-double of his career. Then at Oklahoma on Saturday, the junior matched that career-high in points in the
first half
. He finished with a career-high 28 points, making three 3-pointers and an efficient 9-of-13 shots as the Jayhawks broke open a close game in the second half. This Kansas team is short on depth, but long on potential development. Releford is a prime example of the possibilities.
-- Andy Katz
More performances that wowed us
C.J. Aiken, Saint Joseph's: 15 pts, 9 blks, 7 rebs in win at Duquesne
O.D. Anosike, Siena: 27 pts (12-15 FG), 14 rebs in win over Niagara; 11th straight double-double
Carlon Brown, Colorado: 28 pts (6-12 3-pt FG), 7 rebs in win over Washington State
Darryl "Truck" Bryant, West Virginia: 49 pts (20-24 FT, 6-12 3-pt FG), 5 stls in wins over Rutgers and Georgetown
Isaiah Canaan, Murray State: 35 pts (10-15 FG, 7-8 3-pt FG), 5 asts in win at Austin Peay

[+] Enlarge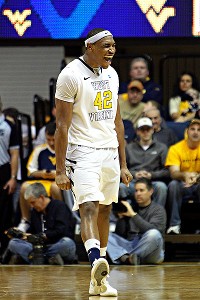 AP Photo/David SmithKevin Jones was all smiles after his monster game helped defeated Georgetown on Saturday.
Anthony Davis, Kentucky
: 24 pts (14-21 FG), 26 rebs, 10 blks in wins over UALR and South Carolina
Kevin Dillard, Dayton
: 34 pts (13-13 FT), 16 asts in wins over Saint Louis and Temple
Kenny Gabriel, Auburn
: Triple-double (24 pts, 13 rebs, 10 blks) in win over Bethune-Cookman
Justin Glenn, Lipscomb
: 14 pts (5-6 FG), 10 rebs, 6 asts, 5 blks, 4 stls in win over Belmont
Jamelle Hagins, Delaware
: 21 pts, 18 rebs, 5 blks in win over Hofstra
Kevin Jones, West Virginia
: 36 pts (13-21 FG), 30 rebs in wns over Rutgers and Georgetown
Devoe Joseph, Oregon
: 30 pts (5-7 3-pt FG), 7 rebs in win over Stanford
Kenny Kadji, Miami (Fla)
: 30 pts (10-15 FG), 12 rebs in win over UNC Greensboro; double-double in loss at Virginia
Damian Lillard, Weber State
: 68 pts, 12 rebs, 10 asts in wins over E. Washington and Portland St.
Doug McDermott, Creighton
: 68 pts, 15 rebs in wins over Drake and Bradley; shot 77 percent (27-35)
Tony Mitchell, North Texas
: 34 pts (11-14 FG), 16 rebs in win at South Alabama
Dominique Morrison, Oral Roberts
: 38 pts (11-15 FG, 5-8 3-pt FG), 7 rebs in win over South Dakota St.
Garrett Stutz, Wichita State
: 29 pts (12-14 FG), 10 rebs, 4 asts in win at Evansville
Jordan Theodore, Seton Hall
: 19 pts (8-8 FT), 11 asts in win over Connecticut
Royce White, Iowa State
: Triple-double (10 pts, 18 rebs, 10 asts) in win at Texas A&M
Khalif Wyatt, Temple
: 22 pts (8-12 FG), 5 stls in win over Duke; 28 pts in loss at Dayton
-- Brett Edgerton
They said it (or tweeted it)
"I got three Europeans. They don't know where New Jersey is."
-- Seton Hall coach Kevin Willard to @adamzagoria on what his players knew about the team's history of losing to UConn before beating the Huskies
"If half that talk about ball could actually ball … I'd appreciate y'all comments and criticism more but y'all can't do [so you're] stuck to being a fan." … "Once again I repeat … If you can't go out there and lace 'em up.. I'll accept the constructive criticism..but since y'all can't well..yeah."
--
@_tee_y (Kansas guard Tyshawn Taylor) in response to critics via Twitter on Friday night
"It just takes its toll -- physically, emotionally, psychologically. We've got to get past that. I'm usually over these by the end of 'Saturday Night Live,' but this one might go a little later than that.''
--
Oregon State coach Craig Robinson to OregonLive.com after his team's 103-101 loss to Stanford in quadruple overtime
"Um, I mean, I was open, and my teammates found me." Then he paused before adding: "Honestly, I don't remember."
--
Georgetown's Hollis Thompson told the AP on his game-winning 3-pointer in a 73-70 win over Marquette
"This program is the best basketball family there is in college basketball, and has done it for years and years and years and has never backed up. I'm proud to be involved … except for when I was going down to the [Monmouth] bench to shake hands, because it doesn't feel good. That's King, a guy I recruited, and I was almost apologizing because we made so many shots in the first half, because you feel for that other guy."
--
North Carolina Roy Williams to the AP after his team's 102-65 victory against Monmouth, a team coached by former UNC point guard King Rice
-- Myron Medcalf
King's observations from the week that was
1. Kevin Jones should be in the discussion for first-team All-American honors. No one in the Big East is playing better than the West Virginia forward, who is averaging 19.8 points and 11.9 rebounds. Jones had 22 points and 16 boards in Saturday's victory over Georgetown and has recorded a double-double in all but five games this season. The senior is also shooting a career-best 74.1 percent from the foul stripe.
[+] Enlarge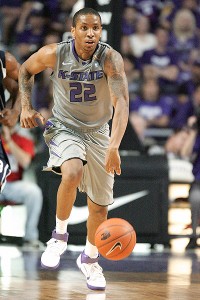 Scott Sewell/US PresswireKansas State became the first team to beat Mizzou this season.
2.
Kansas State is a legitimate threat to win the Big 12 title.
Yes, the Wildcats were thumped by rival Kansas at Allen Fieldhouse. But a lot of good teams look bad in Lawrence. Saturday's victory over Missouri was much more indicative of how good Frank Martin's squad truly is. Along with its trademark defense, the Cats have been incredibly unselfish on offense. They take good shots and have one of the deepest benches in the Big 12. Bramlage Coliseum is also an incredibly tough place to play, as Baylor will find out Tuesday. 3.
Mike Rice can coach.
In less than two years, Rice has taken Rutgers' downtrodden program and turned it into a middle-of-the-pack Big East team. Already this season the Scarlet Knights have defeated a pair of top-10 teams (Florida and defending national champion Connecticut) with a roster that features 10 freshmen and sophomores. It's a good time to be a Rutgers fan, and it's only going to get better. 4.
Vanderbilt just might be the second-best team in the SEC after all.
Vandy was ranked No. 7 in the preseason (the only SEC school ahead of the Commodores was No. 2 Kentucky) before losses to Cleveland State and Indiana State knocked it out of the poll completely. Kevin Stallings' squad is quietly making a comeback. Saturday's 65-35 shellacking of Auburn marked the fifth straight win for VU, which also touts a huge road win at Marquette. With some of the other highly projected SEC teams struggling -- Florida lost at Tennessee on Saturday while Mississippi State fell at Arkansas -- the Dores may soon be tagged as one of league's top teams once again. 5.
I'm glad I'm not Eamonn Brennan.
My ESPN.com colleague has the unenviable task of ranking the Pac-12 teams each week. I don't see how he does it. The conference is impossible to figure out. At this point, I can't see how the NCAA tournament selection committee could award an at-large berth to any school from that league. Other than the automatic qualifier, I don't think any Pac-12 school will be extended a bit. Somewhat incredibly, the 12 schools went a combined 1-24 against the RPI top 50 in nonconference play. And they're certainly not going to enhance their reputations during conference play.
--Jason King
Brennan's observations from the week that was
1. A cold Wisconsin offense isn't a Wisconsin offense at all. In late November, the Badgers throttled BYU and hung tough for 40 minutes at North Carolina. They were among the most efficient teams in the country on offense, and even better on defense. Same old Bo Ryan, same old Badgers. The past nine days revealed a much different team. In that span, Wisconsin lost three times, and in wildly uncharacteristic fashion. The Badgers lost twice at home -- to Iowa and Michigan State -- and again on the road Sunday, flailing about helplessly in a 59-41 loss at Michigan.
It's not hard to pinpoint the reasons behind the losses. The common denominator in all three has been simply poor shooting. The Badgers' effective field goal percentage figures in this 0-3 stretch were as follows: 37 percent, 38 percent and 38.2 percent. Even worse, many of those misses have come from star guard
Jordan Taylor
, who last season was one of the most ruthlessly efficient, dead-eye shooters in the game. Taylor has struggled with his shot for much of 2011-12, to the point where we all said "well, Jordan Taylor is slumping, but he'll get back on track eventually." He hasn't -- and it's Jan. 8. If Taylor doesn't regain the form that propelled him to stardom, this UW offense will continue to post anemic shooting percentages and ugly offensive performances. Given the Badgers' self-imposed style, one that eschews offensive rebounds and trips to the foul line in favor of the last, best shot in any given possession, Wisconsin can't afford to shoot the ball poorly. If it does, look for more of what we saw this week. Only this time, we won't be quite so surprised. 2.
The Pac-12 is a one-bid league.
On Friday, before this weekend's games, ESPN Stats and Information guru Jeremy Lundblad passed along the following statistics: • The Pac-12 is 0-20 in true road games against the RPI top 100
• The Pac-12's "best" road win? Arizona at New Mexico State (RPI: 110)
• At 48, Cal has the highest RPI of any Pac-12 school. Interesting to note who is just ahead of them at No. 47: Norfolk State. Cal's best win this season is over Denver (RPI: 71)
• In nonconference play, the Pac-12 is 0-9 vs RPI Top 25 and 1-24 against RPI Top 50. The "best" win: Stanford over Colorado State (RPI: 43).
• Pac-12 teams are 3-11 against the Mountain West.
[+] Enlarge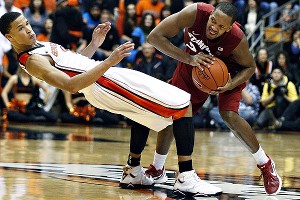 AP Photo/Rick BowmerStanford and Oregon State somehow managed to put together a hard-to-watch 4-OT thriller.
If there was some hope the start of conference play would yield more definitive answers to which of this league's teams could emerge from the fray, well, that hope was dashed when these teams actually took the floor. None of the Pac-12's putative title contenders -- Stanford, Cal, Washington, Arizona, and on down the line -- did anything to separate themselves from their mediocre contemporaries. Chances are, then, that the Pac-12 will begin its conference tournament in March with a strange and unusual dynamic: Everyone's tournament hopes will be on the line. This promises to be very entertaining, albeit in a surreal way, but more than anything it's a testament to how ugly this league has been in 2011-12. Yikes. 3.
Winning on the road in conference play is just plain hard.
Indiana was lucky to escape Penn State with a win Sunday afternoon. This weekend, many of their ranked comrades were far less fortunate. Florida lost at Tennessee. Duke barely survived an upset at the hands of Georgia Tech. Missouri got housed in the Octagon of Doom. Georgetown, a tough road team with wins at Louisville and Alabama, fell at West Virginia. Mississippi State gave up 98 points at Arkansas. UConn lost at Rutgers. The list goes on and on. Of course, there were some good road wins in the mix Saturday -- Kansas and Ohio State handled their business, and Notre Dame pulled off a rather stunning overtime upset at Louisville -- but the net takeaway was, as always, a reminder of just how difficult life on the road in conference play can be. At this stage of the season, nothing is guaranteed. 4.
Murray State just keeps on winning
. Speaking of tough road wins, the Racers had one of their own Saturday, outlasting a frisky Austin Peay team -- which trailed by just three points with six minutes to play -- 87-75. This was one of the trickier fixtures on Murray's remaining docket, but the Racers survived it to move to 16-0 on the season. Can the Racers go the distance? Chances are, one of these paltry OVC teams will sneak up and steal a win over Murray State eventually. But with each passing road victory, the odds that this team could go all the way to March without losing just keep getting better and better. Should be fun. 5.
Syracuse just keeps on winning, too
. The balance of the Orange's schedule set up very nicely these first few months, transitioning from an almost entirely home-oriented nonconference schedule to a first month of Big East play that includes no truly frightening road games. Still, much like with Murray State, we should give Jim Boeheim's team credit where it is due: The Orange can only beat the teams on their schedule, and they've done that 17 times in a row now. That's impressive any way you slice it. And when you look at how this team's schedule is lining up through the rest of January -- the road games are at Villanova, at Notre Dame and at Cincinnati -- well, we might not see this team lose for quite some time.
-- Eamonn Brennan
What's On Tap
All times ET
Monday
7 p.m.: West Virginia at UConn (ESPN2)
9 p.m.: Cincinnati at Georgetown (ESPNU)
Tuesday
7 p.m.: Georgia at Florida (ESPN)
8 p.m.: Baylor at Kansas State (ESPN3)
8 p.m.: Illinois State at Wichita State
9 p.m.: Ohio State at Illinois (ESPN)
9 p.m.: Miami at North Carolina (ESPN3)
9 p.m.: No. Iowa at Creighton (ESPN3)
Wednesday
7 p.m.: Syracuse at Villanova (ESPN2)
7 p.m.: Southern Miss at Memphis
8 p.m.: Missouri at Iowa State (ESPN3)
9 p.m.: Temple at Saint Louis (CBS-SN)
9 p.m.: Texas A&M at Texas (ESPN2)
9 p.m.: LSU at Alabama (ESPN3)
Thursday
7 p.m.: Wisconsin at Purdue (ESPN3)
9 p.m.: Virginia at Duke (ESPN3)
11 p.m.: Gonzaga at Saint Mary's (ESPN2)
11 p.m.: Colorado at California (CSN)
Friday
7 p.m.: Cleveland St. at Butler (ESPNU)
Saturday
11 a.m.: UConn at Notre Dame (ESPN2)
Noon: Kentucky at Tennessee (ESPN)
1:30 p.m.: Kansas St. at Oklahoma (ESPN3)
2 p.m.: North Carolina at Florida St. (ESPN)
4 p.m.: UNLV at San Diego St. (NCB Sports Net.)
4 p.m.: Alabama at Mississippi St. (ESPN3)
6 p.m.: Providence at Syracuse (ESPN3)
Sunday
Noon: Georgetown at St. John's (ESPN3)
1:30 p.m.: Indiana at Ohio State (CBS)
King on Baylor-Kansas State
O'Neil on UNLV-San Diego St.
O'Neil: Three questions
• What's the second-best team in the Big East?
After the one sure thing (Syracuse), the league could be at its most wildly unpredictable in years. There are a lot of good teams here -- Georgetown, Marquette, West Virginia, Cincinnati, Louisville, Connecticut, Seton Hall -- but they can't seem to distinguish themselves from one another. Georgetown looks good and then loses to West Virginia. West Virginia gets smoked by Seton Hall. Seton Hall gets trounced by Syracuse but obliterates UConn. UConn loses to Rutgers. Marquette rallies but falls short. Help! There are some obvious answers here -- the Hoyas, Huskies and Mountaineers are young; the Bearcats have had to shake off the aftereffects of the brawl; the Pirates are still learning to be a good team -- but from positions 2 through 16, the league is hard to pin down. What remains to be determined is if this is a byproduct of a tough conference or average teams.
• Was Missouri's trouncing at Kansas State a fluke or something to worry about?
That, of course, is a tune-in-tomorrow sort of question. The Tigers could easily bounce back and win their next game at Iowa State and restore order. But there's no doubt some fans will start hand-wringing, wondering if this hot start was real or fiction. Here's the issue: Mizzou lost at Manhattan and folks will remember that the Tigers a year ago struggled mightily to win in unfriendly environments, going 1-7 on the road in the Big 12. The other concern: The Wildcats were really the first good team that exposed Missouri's interior problems. The Tigers were smoked on the glass, 36-22, and had problems with KSU's hard-nosed defense. This could easily be little more than a blip on the radar, but people will be watching closely when the Tigers travel to Ames this week. •
What league has two coaches flying under the radar in Coach of the Year convos?
How about the Mountain West, where both Dave Rice (UNLV) and Steve Fisher (SDSU) have done outstanding jobs. Rice, taking over for the departed Lon Kruger, has uptempoed the Runnin Rebels to a 16-2 record, bringing back the glory days of old. The Rebs are averaging a blistering 81 points per game. For Fisher, this was supposed to be a rebuilding year. Last season, the Aztecs were the new kids on the top-25 block, garnering the old Michigan coach all sorts of new attention. But with four of his leading scorers gone, including Kawhi Leonard and D.J. Gay, Fisher wasn't supposed to have another great year. Instead the Aztecs are back in the top 25 and 13-2. The two will square off this week in what's sure to be a great game in San Diego.
-- Dana O'Neil
Medcalf on Indiana-Ohio State
Places to be this week
Monday
Hartford, Conn. (West Virginia at UConn):
WVU forward
Kevin Jones
is finally playing like the star he was once purported to be, and the Mountaineers look like a team on the rise. But are they talented enough to hang with UConn in Hartford? It's a big ask, to be sure, but the Huskies are struggling in their own right, playing uncharacteristically shoddy defense and rebounding far worse than any team with this sort of interior talent should.
Tuesday
Manhattan, Kan. (Baylor at Kansas State):
Baylor has tested itself on the road more often than at any time in the Bears' recent scheduling history, and Scott Drew will hope experiences like the close win at BYU will serve his team well in conference play this season. The Bears will have to be focused and ready Tuesday night, because as Kansas State proved in throttling Missouri, it is going to be very difficult to get points against this big, tough, physical K-State interior.
Champaign, Ill. (Ohio State at Illinois):
A fantastic interior matchup between two of the Big Ten's best big men -- Ohio State's
Jared Sullinger
and Illinois's
Meyers Leonard
-- is the true attraction here. But the play in the low block could, as has often been the case this season, be overshadowed by an Illinois backcourt that rarely plays through its talented sophomore as much as it should. If the Illini guards try to do too much, toppling this deep, balanced Buckeyes team will be nigh impossible.
Wednesday
Memphis, Tenn. (Southern Miss at Memphis):
After dominating rival Tennessee, Memphis got off to a solid C-USA start Saturday, leaving a close, hard-fought game at UAB with a win. Handling business in the conference will be this season's big key for the Tigers, who disappointed in nonconference play and can't afford an equally ugly C-USA performance. Watch out for Southern Miss, though. The Golden Eagles are 15-2 and getting impressively balanced offensive play from
Darnell Dodson
,
LaShay Page
and
Maurice Bolden
.
Ames, Iowa (Missouri at Iowa State):
We may have seen this Missouri team's ceiling in their blowout loss at Kansas State, and it wasn't a pretty picture: With so little size and depth, the Tigers are going to struggle against any Big 12 team with a viable post presence. Iowa State has that in the form of
Royce White
, a big-time rebounder and low-post finisher who has quickly returned the Cyclones to respectability -- proven most recently by ISU's 74-50 win at Texas A&M this weekend.
Thursday
Durham, N.C. (Virginia at Duke):
Duke's defense is very un-Duke in 2011-12, and as a result the Blue Devils spent much of the past week struggling against markedly inferior teams like Temple (a road loss) and Georgia Tech (a road win). Virginia, meanwhile, has one of the most efficient forwards in the country in
Mike Scott
. On a neutral court, you might even take the Cavaliers to win. But Duke's woes will be much harder to expose in that unforgiving Cameron Indoor Stadium environment.
Moraga, Calif. (Gonzaga at Saint Mary's):
Very little separates these two teams on the court of late, as Saint Mary's -- after a few early struggles -- has rounded into one of the most efficient offensive teams in the country and matches up well with Gonzaga's versatile attack. When you throw in the WCC title implications, the introduction of BYU to this league, and the good old-fashioned hatred between these two rivals, well, this one will be worth staying up for.
Friday
Indianapolis (Cleveland St. at Butler):
Butler lost handily at Detroit on Sunday, which followed its near-misses against Green Bay (53-49), Milwaukee (54-50) and Wright State (63-62) in late December and early January. If Butler's young players didn't realize how hard life in the Horizon League can be, they know now. It won't get any easier Friday when
D'Aundray Brown
and new league favorite Cleveland State come to town.
Saturday
San Diego (UNLV at San Diego State):
After 2011's dream campaign, this season was supposed to be the Aztecs' wake-up call. Instead, SDSU has just kept winning. Can this team really win the Mountain West? We're about to find out, as the Aztecs host apparent title favorite UNLV on Saturday before traveling to New Mexico to play Steve Alford's quietly impressive Lobos in the Pit. By next Thursday, we'll know if this surprisingly sound MWC race can go three teams deep.
Starkville, Miss. (Alabama at Mississippi St.):
Is Mississippi State a mirage? The ranked Bulldogs have looked impressive at times this season, but their defense -- which somehow yielded 98 points in 40 minutes at Arkansas this weekend -- has the potential to hold this otherwise promising team back. Alabama, meanwhile, plays some of the meanest defense in the country, and it was right around this time last season that the nation began to take notice of the Crimson Tide's stout efforts in SEC play.
Sunday
Columbus, Ohio (Indiana at Ohio State):
The Hoosiers got the win over No. 2-ranked OSU at Assembly Hall on New Year's Eve, but this will be another beast entirely. The Hoosiers have looked far less coherent in recent efforts, particularly on the road (nearly collapsed down the stretch at Penn State on Sunday). They'll have to be much better than they were in the home matchup to take down this Buckeyes team for a second time in three weeks.
-- Eamonn Brennan
Pickeral on Virginia-Duke
Upset pick of the week
Virginia over Duke, Thursday: The Blue Devils rarely ever lose at Cameron Indoor Stadium. There is only one non-UNC team in the ACC that has a chance to force Duke to play to its style: Virginia. The Cavaliers have a chance to make this game a low-scoring affair and Mike Scott will be the best big man on the floor. The pressure will be on the UVa guards to keep Duke out of the lane, notably Austin Rivers. Virginia has had plenty of experience this season in winning/finishing close games. Duke's defense was porous at Georgia Tech on Saturday. Unfortunately for the Cavs, this is the only time the two teams play this season. I think the Cavs will take advantage of the opportunity.
-- Andy Katz
Brennan on Gonzaga-Saint Mary's