Team of the Week: Florida State
The Seminoles absolutely crushed North Carolina by 33 points behind Deividas Dulkys' career-high 32 points. Even after FSU notched a decent win earlier in the week at Virginia Tech, no one could have seen this sort of destruction coming.
[+] Enlarge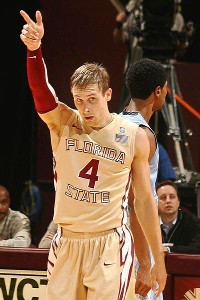 Phil Sears/US PresswireDeividas Dulkys hit nearly everything en route to a career-high 32 points vs. UNC.
Florida State dominated from the opening moments in what turned out to be the worst UNC loss ever under Roy Williams. FSU coach Leonard Hamilton said that the Seminoles needed time to mature into new roles and that they weren't comfortable until last week. That was evident in the medicore results up to this point. Now, what comes next? Hamilton said he wants to see how his team responds against Maryland on Tuesday and at Duke on Saturday. If the Noles are still playing at a high level after those two games, they have a chance to have a strong ACC season. Florida State should have been the third-best team in the ACC with the talent returning and this team's stingy defense. But the Seminoles were offensively challenged against Harvard, Princeton and Clemson. This team, coming off a Sweet 16 berth, simply had done nothing to distinguish itself the first two months of the season. After this stunning performance, however, you'd have to say FSU is right back in the top four of the ACC and in the running for an NCAA tourney bid.
-- Andy Katz
Editor's note: This edition is only for games played from Monday, Jan. 9, to Sunday, Jan. 15.
More teams that impressed us
Akron: The Zips disposed of fellow MAC contender Ohio after a one-point win at Bowling Green and now are likely the league favorite. This is a team that won at Mississippi State and Marshall and has only one bad loss.
Baylor:
The Bears won at Kansas State, a place where Missouri fell hard. Then Baylor hit the century mark and obliterated Oklahoma State. This team goes to Kansas on Monday night in a titanic matchup. Regardless of what happens, the Bears have established themselves as one of the best teams in the country.
Boston College:
Steve Donahue deserves credit for persevering through a major rebuilding situation. There is complete apathy at the Heights, and the talent pool is as weak as it has been in years. Yet the Eagles are 2-1 in the ACC after home wins over Clemson and Virginia Tech.
Cincinnati:
The Bearcats proved their last-second home loss to St. John's was more of a fluke than indicative of how much this team has changed since the Dec. 10 brawl with Xavier. Cincinnati won at Georgetown by four, then held off Villanova by the same margin to put itself at 4-1 in the Big East.
Drexel:
The Dragons were the preseason pick to win the CAA, but were short-handed and struggled mightily early on. But beating George Mason and UNC Wilmington gave Drexel a four-game winning streak within the league and put it right in the mix.
[+] Enlarge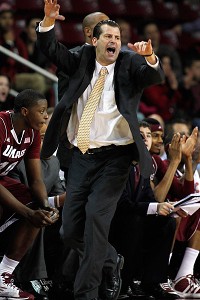 Greg M. Cooper/US PresswireDerek Kellogg has the Minutemen 14-4 and contending in the A-10.
Illinois:
The Fighting Illini had only one game this week, and they made it count. Fueled by Brandon Paul's historic 43-point performance, Illinois knocked off Ohio State for a signature win it desperately needed.
Massachusetts:
Derek Kellogg has an infusion of transfers and finally some maturity on this team. The Minutemen are atop the standings in the A-10 with Dayton and Xavier after dropping Charlotte and Saint Joseph's.
Minnesota:
The Gophers were left for dead after an 0-4 start in the Big Ten, but then all of a sudden they hit the road and won back-to-back games at Indiana and Penn State. Withstanding a late Hoosiers rally in a frenzied atmosphere was especially impressive.
Missouri:
The Tigers' win at Iowa State was crucial after the no-show at K-State. That was a very losable game, and Mizzou took care of business. An easy win over Texas was a nice follow-up.
Oregon:
The Ducks went on the road and swept through the Arizona schools in the muddled Pac-12. At this point, the Ducks have to be taken as seriously as anyone as a threat to win the conference.
Saint Mary's:
The Gaels held serve at home in the WCC, crushing hated rival Gonzaga 83-62.
Matthew Dellavedova
was the best guard on the floor that night with 26 points. SMC then beat Portland by nine to remain the only unbeaten team in the WCC.
San Diego State:
The Aztecs opened up the Mountain West season with a thrilling home win in the final second over UNLV.
Jamaal Franklin
didn't let a turned ankle disrupt him from converting the game-winning bucket. And if you watched this game, you have to appreciate Viejas Arena, one of the best environments in the country.
Shoutout-worthy:
Connecticut, Kentucky, Manhattan, Marshall, Memphis, Mississippi State, New Mexico, Northwestern, Valparaiso, Weber State
-- Andy Katz
The Illini played only one game last week, but it will last them a season because of Brandon Paul. The junior guard had the game of his life in a 79-74 victory over Ohio State on Tuesday in Champaign. Paul scored 43 points in 36 minutes, making 11 of 15 shots, 8 of 10 3-pointers and 13 of 15 free throws. He also had eight rebounds and four blocks.
[+] Enlarge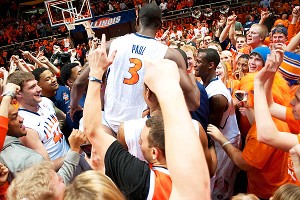 Bradley Leeb/US PresswireBrandon Paul was the toast of Champaign after having the night of his life against Ohio State.
According to ESPN Stats & Information, Paul is only the third college basketbal player in the past decade to post at least 40 points, 8 boards and 4 blocks in a game. He's also the first player in the past 15 years to score 43-plus points on 15 or fewer field goal attempts. Remarkable. Paul was defended well at times by the Buckeyes, but it didn't matter one bit. The Illini have been desperately searching for a variety of consistent scorers and have found them from
Meyers Leonard
to
Joseph Bertrand
to now Paul. No one can expect him to duplicate this performance, which was the game of the season by anyone in college basketball thus far. But it sure is an encouraging sign for Paul and the Illini.
-- Andy Katz
More performances that wowed us
Matthew Dellavedova, SMC: 53 pts (19-29 FG, 11-20 3-pt FG) in wins over USF, Gonzaga
Sean Kilpatrick, Cincinnati: 27 pts (10-16 FG), 4 stls in win at Georgetown
Kadeem Batts, Providence: 27 pts (9-13 FG), 10 rebs in win over Louisville
Vincent Council, Providence: 15 pts, 14 asts, 8 rebs in win over Louisville
Andrew Nicholson, St. Bonaventure: 30 pts, 13 rebs, 6 blks in win over Dayton
Langston Galloway, Saint Joseph's: 30 pts (10-14 FG, 7-9 3-pt FG) in win over Fordham
Phil Martin, UC Riverside: 33 pts (8-8 FT), 11 rebs in win over UC Santa Barbara
Maalik Wayns, Villanova: 39 pts (6-13 3-pt FG), 13 rebs, 6 asts in loss at Cincinnati
Deividas Dulkys, Florida State: 32 pts (12-14 FG, 8-10 3-pt FG), 4 stls in win over UNC
Kevin Olekaibe, Fresno State: 32 pts (6-11 3-pt FG) in win over San Jose State
Antonio Williams, Coppin State: 12 pts, 21 rebs in win over Hampton
T.J. Robinson, Long Beach State: 14 pts, 19 rebs in win over Pacific
Royce White, Iowa State: 18 pts, 17 rebs in loss at Kansas
Kevin Jones, West Virginia: 24 pts, 14 rebs in win over Rutgers
Arnett Moultrie, Mississippi State: 25 pts (10-14 FG), 13 rebs in win over Alabama
Davante Gardner, Marquette: 22 pts (8-13 FG), 15 rebs in win over St. John's
Phil Pressey, Missouri: 18 pts, 10 asts, 0 TOs in win over Texas
Alec Brown, Green Bay: Horizon-record 11 blks in win over Wright State
Keith Wright, Harvard: 18 pts (8-11 FG), 15 rebs, 6 blks in win over Monmouth
Jamaal Franklin, San Diego State: 24 pts, 10 rebs, GW shot in win over UNLV
Lenzelle Smith Jr., Ohio State: 28 pts (10-12 FG, 4-5 3-pt FG), 7 rebs in win over Indiana
Terrence Ross, Washington: 30 pts (6-12 3-pt FG), 14 rebs in win over Washington State
-- Brett Edgerton
They said it (or tweeted it)
"Is there a song that says "I got a feeling that tonights gonna be a good night.... #wondering #gophers #wholetthedogsout"
-- Tweet from Minnesota assistant Joe Esposito (@Coach_JEsposito) hours before his squad's 77-74 upset of host No. 8 Indiana.
"I enjoyed having my name trending nationally for an hour! #blessed"
"S/o to Volnation and my teammates for helping me perservere! We will continue building chemistry and getting better! Those are my guys."
-- Tweets from Tennessee's Jarnell Stokes (@JarnellStokes), who scored nine points in a 65-62 home loss to No. 2 Kentucky. It was his first collegiate game.
"We're a family. If my ankle's broke, if they want me out there, I'm out there. It was a big tweak, but it didn't really hurt. The adrenaline was going. Chase [Tapley] was the first person there; James [Rahon], my other teammates were there pushing me, telling me to get up. When you hear words of encouragement like that, you have to get up."
-- San Diego State's Jamaal Franklin after hitting the game-winning basket in his squad's 69-67 victory over No. 12 UNLV.
"Every little kid has a dream when you're playing on a big stage like I did today. I guess today was my day."
-- Florida State's Deividas Dulkys after scoring a career-high 32 points in his team's 90-57 win over No. 3 North Carolina.
"I was laughing a couple times. After the first couple 3s, I just said I was going to keep shooting. That's the mindset that I've got to have."
-- Illinois' Brandon Paul after his 43-point performance (8-for-10 from 3-point line) in a 79-74 upset over No. 5 Ohio State.
-- Myron Medcalf
King's observations from the week that was
1. North Carolina got complacent. Before Saturday's debacle at Florida State, the Tar Heels had won their previous nine games by an average of 27.8 points. And they hadn't played outside of Chapel Hill since Dec. 3. It's easy to lose fire and energy when you spend six weeks beating inferior opponents in front of a fawning fan base. Playing good teams -- or even mediocre ones -- on the road requires a different level of intensity and focus. The Heels didn't have it Saturday in the worst loss of Williams' UNC career.
[+] Enlarge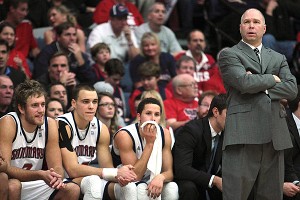 Kelley L Cox/US PresswireRandy Bennett and perennial WCC contender Saint Mary's already have wins over BYU and Gonzaga.
2.
Randy Bennett is one of the country's most underrated coaches.
The Saint Mary's Gaels' resounding victory over Gonzaga wasn't a total shocker. But to beat the nation's 23rd-ranked team by 21? Wow, that turned some heads. Year after year, Bennett's squad is one of the top mid-major teams in the country. Even after stars such as Patrick Mills, Mickey McConnell and Omar Samhan have graduated or moved on to the NBA, there's been little if any slippage. The Gaels have averaged 26.5 wins the past four years under Bennett and are 17-2 overall and 6-0 in the WCC this season. 3.
Perry Jones III is Baylor's best player, but Pierre Jackson is the most important.
Jackson has completely changed the vibe in Waco. Anyone who watched the Bears play last season saw how sorely they needed a point guard. Jackson, though, has done more than just spark Baylor with his scoring (12.3 ppg) and passing (5.1 apg). Jackson's biggest contribution has been the energy and passion and fire he displays on the court and the leadership he provides. His swagger has been infectious to his teammates, who are playing with a newfound toughness and fight. 4.
South Florida is actually decent.
I never thought I'd say that after watching the Bulls play multiple times over the past two seasons. But it'd be irresponsible to ignore the strides Stan Heath's squad has made in the past few weeks. Friday's win over surging Seton Hall marked the third victory in four games for the Bulls, who also have defeated Big East counterparts Villanova and Rutgers. And USF lost by only three points against Connecticut. The Bulls aren't an upper-tier Big East team, but they're not in the cellar anymore, either. 5.
You thought predicting Pac-12 games was tough? Try picking the Big Ten.
The league is impossible to figure out. Ohio State seemed like a shoo-in to win the conference title. But the Buckeyes already have two league losses. Michigan State knew its win streak -- which stretched to 15 games -- would come to an end at some point. But the Spartans probably didn't think it would happen against Northwestern. Indiana lost to undermanned Minnesota and was blown out by OSU. Wisconsin and Purdue are up and down, and who knows what to make of Iowa? What a mess.
--Jason King
Katz's observations from the week that was
1. Mississippi State's Arnett Moultrie could be the SEC Player of the Year. Kentucky's Anthony Davis and/or Michael Kidd-Gilchrist have done enough so far to warrant serious consideration for the award. They're also leaders for freshman of the year. If there is a split vote for POY, the beneficiary will be Moultrie. The UTEP transfer has been special this season. He scored 25 points and put up 13 rebounds in a four-point win over Alabama and was impressive in a win over Tennessee, as well.
2.
The woofing and taunting by players after big buckets has to stop.
Oregon State's
Jared Cunningham
was wrong when he shoved Arizona's
Kyle Fogg
. Cunningham and Fogg should have been ejected. Fogg had every right to celebrate when his bucket helped ice the overtime win for Arizona. He should celebrate. But there is no need to get in someone's face. That's not sportsmanship, and there has been a serious decline of that quality for too long. Officials need to do a better job of policing, but coaches and athletic directors also need to let players know it won't be tolerated.
3. Tennessee's Jarnell Stokes had quite a debut for the Vols. He scored nine points and had the crowd revved up against Kentucky on Saturday. Stokes was 17 and in high school a few weeks ago. I've seen players who have come in at midseason and flopped. I covered Winfred Walton's debut at Fresno State in the mid-'90s when the Bulldogs went to Minnesota and Walton, a one-time Syracuse recruit, was supposed to be a savior. He hadn't practiced, and he flopped. He wasn't in shape, and the expectations were too high. Stokes appears to be ready to handle things, and UT coach Cuonzo Martin vows to handle his newcomer's minutes appropriately. The Vols will be an intriguing team to watch from this point forward, not just because of Stokes but for how Martin continues to get this team to play tough. 4. Murray State will have to deal with the burden of being undefeated. The Racers are going to get every Ohio Valley team's best shot, and many of the games will be close. Not having Ivan Aska inside is an issue. Donte Poole has been special for the Racers in complementing Isaiah Canaan. But Murray State will have to deal with being the team to beat, including whoever is the BracketBusters opponent next month. 5. Not enough credit is given for how difficult it is for a team to go through league play undefeated. Keep an eye on Middle Tennessee State (Sun Belt), Weber State (Big Sky) and Oral Roberts (Summit). All three teams are the favorites to win their respective conferences. If they do run the table, it will greatly help their seeding. But, as Davidson coach Bob McKillop and Gonzaga coach Mark Few can attest, it is a grind to go undefeated through a conference slate. The crowds swell when you're in town, and these teams will get everyone's best shot. How they handle it will be an indicator of whether they can escape out of the single-elimination conference tournament to get the automatic bid, let alone pull off a win in the NCAA tournament. -- Andy Katz
What's On Tap
All times ET
Monday
3:30 p.m.: Louisville at Marquette (ESPN)
7:30 p.m.: Pitt at Syracuse (ESPN)
9:30 p.m.: Baylor at Kansas (ESPN)
Tuesday
7 p.m.: Michigan State at Michigan (ESPN)
9 p.m.: Arkansas at Kentucky (ESPN)
Wednesday
7 p.m.: Cincinnati at Connecticut (ESPN2)
7 p.m.: Saint Joseph's at Xavier (Comcast)
7:30 p.m.: Marshall vs. West Virginia (ESPN3)
8 p.m.: Creighton at Missouri State
9 p.m.: Texas at Kansas State (ESPN2)
10 p.m.: San Diego State at New Mexico (CBS Sports Net.)
Thursday
7 p.m.: Vanderbilt at Alabama (ESPN3)
7 p.m.: Charleston at Davidson (ESPN3)
8:30 p.m.: Cal at Washington (FSN)
Saturday
Noon: Alabama at Kentucky (CBS)
1 p.m.: Xavier at Dayton (ESPN2)
2 p.m.: Missouri at Baylor (ESPN)
2 p.m.: Michigan at Arkansas (CBS)
3 p.m.: Cincinnati at West Virginia (ESPNU)
4 p.m.: Florida State at Duke (ESPN)
4 p.m.: UConn at Tennessee (CBS)
4 p.m.: Kansas at Texas (CBS)
4 p.m.: UCLA at Oregon (FSN)
6 p.m.: Syracuse at Notre Dame (ESPN)
7 p.m.: Mississippi State at Vanderbilt (ESPN2)
10 p.m.: New Mexico at UNLV (CBS Sports Net.)
Sunday
2 p.m.: Wisconsin at Illinois (BTN)
Medcalf on SDSU-New Mexico
O'Neil: Three questions
• Do road losses matter?
The statistics say no. The past four national champions lost 21 games combined, 15 of them on the road. The NCAA tournament, after all, is never played on someone's home court. But to totally discount the abysmal and the shaky road performances by some of the nation's top teams would be foolish. Great teams have a sort of built-in swagger, an arrogance that allows them to come into a visiting gym like they own it. UNLV had it in a losing effort, giving San Diego State all it and The Show could handle before losing a taut and entertaining game. There was no such swagger from the Tar Heels on Saturday. Instead there was a collective fetal position from a team that is long on talent but always seems a bit short on the chutzpah. Who is the firebrand guy for North Carolina, the one who is going to be so insulted and angry at losing that he'll fire up the troops? How critical is such a guy? Ask Kentucky. The ridiculously talented Wildcats twice allowed lower-level SEC teams (Auburn and Tennessee) to make things interesting. It is a dangerous line to walk for a team that has a light-up bull's-eye on its back, no matter what gym it's in. But here's what the Wildcats have -- Michael Kidd-Gilchrist, a player who takes offense at losing and isn't afraid to light a fire under his teammates. It was Kidd-Gilchrist, a freshman who plays with the maturity of a senior, who lit in to his teammates at halftime and put his play where his mouth was, with 17 points, 12 rebounds and 3 steals.
• What do we make of the Atlantic 10?
Is the league really good or truly average? The jury is still out. Xavier lost to La Salle, which lost to Dayton, which lost to St. Bonaventure, which lost to Duquesne, which lost to Saint Joseph's, which lost to Charlotte, which lost to Saint Louis, which lost to Temple, which lost to Richmond. Who's on first? I don't know, third base? OK, actually it's a three-way tie atop the standings with UMass, Dayton and Xavier all at 3-1. The Musketeers, who have reeled off three in a row after their gigantic skid, seem to be finding their footing. But the question for the league is what to make of everyone else. Perennial tourney entrant Temple is all over the map. Saint Louis, which appeared to be making strides under Rick Majerus, has lost three of its past five. And UMass, winner of eight of nine, is finally turning things around under Derek Kellogg but doesn't have much to hang a nonconference résumé on. •
Is this the season for Northwestern?
An entire campus just yelled "Jinx!" simply because the question was posed. Yet the annual query of whether Northwestern will get off its program-long NCAA tournament schneid is definitely worth asking today, on the heels of the Wildcats' win against streaking Michigan State. Northwestern is in the best league in the country, which will afford the Wildcats bonus points for any victory. Of course, it could make for some punishing losses, too. And that is the curse of Northwestern fans everywhere. The opportunity is there for the taking for the Cats. A few more good wins and Northwestern can make its own case. A few tough losses and it's NIT all over again.
-- Dana O'Neil
O'Neil on Cincinnati-Connecticut
Places to be this week
Monday
Lawrence, Kan. (Baylor at Kansas)
: Your early favorite for game of the week. Baylor appears to be the best and most talented team in the Big 12, but, to take the conference title, it'll have to unseat the league's longtime big boys, the
Kansas Jayhawks
. There's nothing to dislike about this game, which features fantastic, talent-rich matchups, huge stakes and a chance to see arguably this season's best road team play in one of the nation's most treacherous venues. In every way, this is must-see stuff.
Tuesday
Ann Arbor, Mich. (Michigan State at Michigan)
: In the unlikely event Baylor-KU disappoints, don't fret: We get another really good one Tuesday night. Michigan State suffered its first loss since mid-November this weekend at Northwestern, and the Spartans' tough, physical frontcourt -- led by star forward
Draymond Green
-- will be eager to go to work against its hated rivals, who also are coming off an upset loss.
Wednesday
Storrs, Conn. (Cincinnati at UConn)
: Cincinnati has quietly played some of the better basketball in the Big East since its Dec. 10 brawl with rival Xavier, culminating in a strong 68-64 win at Georgetown last week. Meanwhile, Connecticut is one of the nation's most talented but frustrating teams; Jim Calhoun is desperately searching for someone to fill the massive leadership void left behind by Kemba Walker. Will the Bearcats' brand of solid, methodical hoops be enough to make him extend that search?
Charleston, W.Va. (Marshall vs. WVU)
: The Thundering Herd have been sneaky good for most of the season, and lately they've shown a specific talent for winning close games. Their past three wins (over Rice, UAB and UCF) came by a combined margin of five points. But Mountain State headliner West Virginia is one of the more improved teams of the past month, and forward
Kevin Jones
has begun earning national POY chatter thanks to some massive performances. This is a tough task for Marshall, but rest assured Tom Herrion's team won't be backing down.
Springfield, Mo. (Creighton at Missouri State)
: On Dec. 28, when these two teams clashed at the CenturyLink Center in Omaha, Neb., Missouri State forward and 2011 MVC Player of the Year
Kyle Weems
posted 31 points and 7 rebounds in a 12-point road win for the underdogs. Greg McDermott and son -- national POY candidate
Doug McDermott
-- will be out for revenge in Springfield on Wednesday night.
Albuquerque, N.M. (SDSU at New Mexico)
: San Diego State got the win of its season this weekend, a thrilling 69-67 victory over fellow Mountain West contender UNLV. The Aztecs' surprising MWC title candidacy appears to be very real. But there's another test on deck this week, a road trip to play a very solid New Mexico team (13 straight wins) in its brutal home venue, The Pit.
Saturday
Dayton, Ohio (Xavier at Dayton)
: Xavier is slowly righting the ship. Meanwhile, first-year Dayton coach Archie Miller is seeking to maintain his team's solid but occasionally inconsistent start in the hopes of waging an upstart A-10 title campaign. If the Musketeers have begun to figure things out and are ready to assert their authority in the league they so often dominate, Saturday is a great time to showcase as much.
Waco, Texas (Missouri at Baylor)
: Baylor and Kansas appear to be the Big 12 favorites, but the Tigers will hardly accept that state of affairs lying down. The only problem? Missouri's all-guards-plus-
Ricardo Ratliffe
formulation struggled in its only loss this season, which came on the road (like this game) against a Kansas State team that specializes in length and physicality. Baylor has those qualities in spades.
Durham, N.C. (Florida State at Duke)
: For all 40 minutes of their shocking blowout of North Carolina on Saturday, the Seminoles looked like the team -- OK, they looked way, way better than the team -- many predicted would finish third behind UNC and Duke in the ACC this season. But was it a fluke? Can FSU's hot-shooting
Deividas Dulkys
take his show on the road?
Nashville, Tenn. (Mississippi State at Vandy)
: Perhaps neither of these teams has what it takes to unseat Kentucky at the top of the league, but both have displayed plenty of upside as solid SEC contenders. We'll learn much about Vanderbilt's recent run of success this week: The Commodores travel to Alabama on Thursday before returning home for this Saturday matchup.
-- Eamonn Brennan
Brennan on Michigan St.-Michigan
Upset pick of the week
Arkansas over Michigan, Saturday: The definition of an upset is different for everyone. You can go with rankings if you'd like. Going strictly with the Las Vegas point spread is another option. Missouri State might knock off ranked Creighton at home; New Mexico certainly can take down ranked San Diego State at The Pit; and Tennessee has a legit shot to beat ranked Connecticut at home. But my pick for the week is Arkansas over Michigan. The Wolverines lost at Iowa and have to host Michigan State on Tuesday. Arkansas has been understandably erratic in Mike Anderson's first season, especially without Marshawn Powell. The Hogs ran up Mississippi State to start the SEC, lost at Ole Miss but then came home and beat a solid LSU team this past weekend. Arkansas should have Bud Walton Arena rocking for Michigan. This is a dangerous game for John Beilein's crew. One I believe it'll lose.
-- Andy Katz