The right chemistry can make all the difference
By Myron Medcalf
ESPN.com
I recognized it weeks ago. During Missouri's 76-69 win at Iowa State on Jan. 11, I could see the camaraderie from media row. The Tigers, engaged in a tougher-than-anticipated matchup against the Cyclones and seeking to erase the memory of a recent loss at Kansas State, demanded more from one another. During one second-half timeout, Michael Dixon stormed to the sideline and spewed profanity as though he'd just watched Eddie Murphy's "Raw."
[+] Enlarge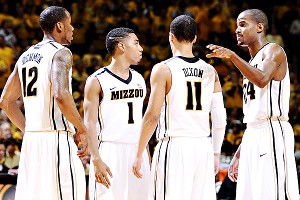 Dak Dillon/US PresswireWith essentially the same team as last season, Missouri is playing at an entirely different level.
But it wasn't anger. It was motivation. He couldn't stand to see his team struggle. And there it was again Saturday. The undersized, undermanned Tigers -- supposedly coached by the wrong man, according to early doubters -- were down eight points against Kansas with just over two minutes to play. And just like their other efforts, they just pushed for one another, as their critics continued their search for reasons to doubt their postseason potential. It's essentially the same crew from last season, an average season that ended with blowout losses in the Big 12 and NCAA tourneys. But there's just a different level of chemistry with Frank Haith's squad this season. The bond between the top-five team -- the same connection that's fueled its impressive start and that stunning rally over Kansas -- is just as significant as its talent. Throughout the nation on Saturday, the latter asset carried the day in some of the games. But chemistry remains the critical undercurrent to the continued turbulence in college basketball. And it's going to dictate the buildup to Selection Sunday, too. The lack of it has turned UConn into a Big East afterthought. An abundance of togetherness, however, has made Notre Dame one of the season's most surprising success stories. If talent alone guaranteed accomplishment, then the Huskies -- who boast two players (Andre Drummond and Jeremy Lamb) with NBA lottery potential -- would not have entered the weekend spiraling their way toward the bubble. The Huskies' pregame players meeting, prompted by interim coach George Blaney, seemed to inspire the team during its victory over Seton Hall. But connectedness in spurts won't reverse the program's current mess. Meanwhile, the Fighting Irish's youngsters have climbed onto the backs of junior Jack Cooley and senior Scott Martin. They don't have UConn's future NBA millionaires, but their solidarity contrasts UConn's leadership void. The Huskies are still searching for Kemba Walker. They need his spirit, not just his talent. His Pied Piper qualities helped Connecticut win the national title a year ago. The remaining group has rarely looked that fluid without him. Sometimes, the cohesive characteristic of a key player isn't immediately recognized until he's gone. Fab Melo's absence changed Syracuse's entire defensive prowess, but the Orange looked like a Final Four contender in his first game back Saturday. Travon Woodall's return has revitalized Pitt, too. Ohio State's young squad possesses more talent than last season's team. But ask Thad Matta how much this group has missed former captain David Lighty. The Buckeyes' win at Wisconsin was impressive. For the first time this season, the Buckeyes stayed poised in a tight road game against a Big Ten contender, something they failed to do in previous losses to Illinois and Indiana. When asked about Ohio State's earlier struggles, Matta is quick to reflect on his squad's youth and the time it takes sometimes to get young players on the same page. It's a delicate balance -- between talent and chemistry -- that often determines a program's ceiling. Coaches recruit skilled athletes who will work within their systems. And then they try to create an atmosphere that spurs bonding. If they don't find the right formula, then they set up a platform for disappointment. Fred Hoiberg signed a bunch of transfers who'd missed the mark at their former schools. Now the Cyclones have won three straight and they've made their case as a top-4 squad in the Big 12 and an NCAA tourney team. Few questioned the talent that Hoiberg had assembled. Many wondered how he'd put all of the puzzle pieces together. But Hoiberg has found the right elixir for an Iowa State squad that began to develop chemistry during a preseason trip to Italy. The challenge with chemistry is that it's not instant. Those without it in early February may never secure it. The teams with the rapport that bolsters contenders can't necessarily articulate how they've attained it. But they know it's vital for their ambitions. Kentucky is America's No. 1 basketball program based on a talent pool that's rich enough to send five or more players to the NBA next season. Anthony Davis' stat line (22 points, 8 rebounds, 8 blocks and 2 steals against South Carolina on Saturday) seems exaggerated on paper. But John Calipari's team also enjoys a certain solidarity that's rarely so obvious with young teams. The Wildcats' on-court familiarity suggests that they've played together for more than three months. Davis' Dizzy Gillespie blends with Michael Kidd-Gilchrist's Miles Davis, creating basketball jazz every time they step onto the floor. Yeah, they're talented. But they're also aligned. And as Missouri, Notre Dame, Kentucky and others proved again this weekend, good teams tend to excel when players are unified. This season has also shown -- and the rest of the college basketball season will confirm -- that gifted rosters usually fall short of their potential when they don't have that togetherness.
Team of the Week: Arizona
By sweeping the Bay Area teams, the Wildcats took down one-time Pac-12 favorites (hasn't half the league held that moniker this season?) Cal and Stanford in a three-day stretch that very well might've saved Arizona's season.
[+] Enlarge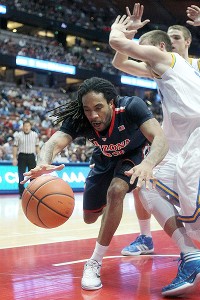 Stephen Dunn/Getty ImagesJesse Perry has been one of Arizona's main contributors.
Zona showed more grit on the road swing than it has all season. And this came after a disheartening home loss to Washington the previous weekend. The sweep of the Bears and Cardinal moved the Cats to 7-4 in the league, two games behind Washington for first place and a game behind Cal and Colorado. Arizona gets CU at home Thursday in a huge rematch, and doesn't have to play Cal again with the league's unbalanced schedule. The schedule is favorable with the toughest game remaining at Washington. The Wildcats finish with four of seven at home and two of the road games are at depleted Washington State and downtrodden Arizona State. The final three home games after Colorado are against Utah, UCLA and USC. Arizona is down on depth, but the play of Kyle Fogg, Jesse Perry, Nick Johnson and Solomon Hill is carrying this club. Sean Miller has found a way to motivate the Wildcats to get through stretches of inconsistency. The ceiling is still higher for this crew than most Pac-12 teams, save maybe Washington. At this point in early February, dismissing Arizona's chances of being an NCAA team would be a mistake. If this past weekend is any indication, the Cats might just have a run in them after all.
-- Andy Katz
Editor's note: This edition is only for games played from Monday, Jan. 30, to Sunday, Feb. 4.
More teams that impressed us
Florida: The Gators won two home games against South Carolina and Vanderbilt to set up a showdown for first place with Kentucky on Tuesday night. The latter established UF as the clear top challenger to UK in the SEC. Florida is shooting the ball as well as it has all season, getting great spacing and balance on the floor.
[+] Enlarge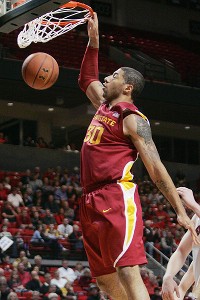 Michael C. Johnson/US PresswireIowa State is getting in position for an NCAA bid.
Iowa State:
ISU has clearly established itself as the fourth-best team in the Big 12 after wins over Kansas State at home and then a road win at Oklahoma with its best player Royce White taking and making just one field goal. The Cyclones still have to play Baylor twice and go to Mizzou and Kansas State, but they're in position to earn an NCAA bid.
Miami (Fla.):
The Hurricanes are a late entry onto this page after stunning No. 5 Duke on the road in Sunday's final college bsaketball game. With a 78-74 overtime victory in Durham, Miami got itself right into the bubble hunt and has now won five of its last six games. The Canes needed a defining victory. They got just that at Cameron Indoor.
Missouri:
After winning at Texas, the Tigers beat Kansas in one of the most thrilling games ever between these two longtime rivals. Mizzou scored the final 11 points in a 74-71 victory that might've been the last game in Columbia between the two teams for a long time. Whoever wins the Big 12 has a legit shot to be a No. 1 seed in the Midwest and possibly play in St. Louis for a regional.
Northern Iowa:
The Panthers played surprisingly well early in the season, bolting to a 10-1 start before faltering to a 4-7 beginning to Missouri Valley play. Are they ready to turn it around? After dismissing Southern Illinois, UNI pulled off one of the highlights of the college basketball season when it capped a furious final minute with a buzzer-beating shot to end Creighton's 11-game winning streak.
Notre Dame:
The Irish had one game during the week and smashed Marquette on Saturday for yet another surprising victory. Freshman Pat Connaughton was the latest ND player to stand out with 23 points. Notre Dame has a legit shot to finish second in the Big East. Stunning.
Ohio State:
Jared Sullinger can't be dismissed as a player of the year candidate. He's right there with Anthony Davis, Thomas Robinson and Doug McDermott. Sullinger scored 24 points and grabbed 10 boards in a critical road win at Wisconsin, a place the Buckeyes had lost nine straight.
Saint Louis:
Just when it looked like the Billikens were going to take a step back with a humbling double-digit defeat at UMass last weekend, SLU came home and beat St. Bonaventure handily and took out Dayton by eight. Saint Louis is now a half-game behind Temple in the A-10 standings, tied with UMass, La Salle and Xavier at 6-3.
Southern Miss:
The Golden Eagles had one last shot to topple Memphis and assume the top spot in Conference USA after losing earlier in the season to the Tigers, who had defeated USM 18 straight times. The atmosphere in Hattiesburg was tremendous and the Eagles responded and took down Memphis to stand atop the league and in position for the first tourney bid under Larry Eustachy.
South Dakota State:
Must confess I love the nickname Jackrabbits and also enjoy it when a state or a school comes on the scene from a non-traditional area (see: North Dakota State). But SDSU is legit in the Summit League after knocking off favorite Oral Roberts by 15 at home and then taking down Southern Utah by 10. The Jackrabbits finish with four at home after a two-game road trip this week. Nate Wolters led the Jackrabbits with 24 points in the win over ORU. Remember, this squad pounded Washington 92-73 in Seattle back in December.
VCU:
The Rams were supposed to go through a major rebuilding effort this season, but that got sped up and suddenly the Rams are tied with Drexel and George Mason at 11-2 in the CAA. VCU won at William & Mary and beat Northeastern by three to extends its winning streak to nine.
Shoutout-worthy:
Colorado, Delaware, Duquesne, Florida State, Kentucky, Northwestern, Pitt, Syracuse, Tulsa, Wyoming
-- Andy Katz
Two performances were so worthy this week that I simply couldn't pick one over the other.
Davis is as dominant a player as the SEC has seen since Shaquille O'Neal. He blocked 15 shots in two games against Tennessee and South Carolina, while scoring a combined 40 points with just one turnover. He was efficient offensively by making an incredible 15 of 17 shots in the two games and converting 10 of 12 free throws while grabbing a total of 16 boards. The Wildcats easily won both games and had plenty of other contributors, notably Terrence Jones. But Davis' presence is the difference for UK. Kentucky has him and no one else does. He is a game-changer at both ends with his stretch-Armstrong build. Davis will be the No. 1 player in the NBA draft, assuming he comes out in June. But he could also end up being the SEC and/or national player of the year as well.
[+] Enlarge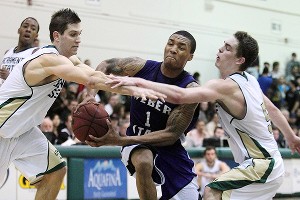 Kelley L Cox/US PresswireDamian Lillard's playmaking skills could help him reach the NBA.
As for Lillard, he may end up being the top playmaker taken in the NBA draft if he leaves after his junior season. And before June, there's a chance he'll be more of a known commodity if Weber State wins the Big Sky Conference tournament and plays in the NCAAs. Lillard has the capability to dominate the ball and will his Wildcats to a tourney upset. The 6-foot-3 guard scored 75 points in two games this past week. He scored 40 in a 92-79 win over Portland State and then followed that up with 35 against Northern Colorado. He made 25 of his 36 shots (69 percent) -- 11 of 17 from long range -- and also found time to dish out 10 assists. Lillard certainly fills up the stat box with his nation-leading 25.5 ppg, 5.4 rpg and 3.8 apg for the Wildcats, who sit in first place in the Big Sky at 10-1. Montana is lurking just behind and Weber is certainly no guarantee to win the conference tourney. In a way, that would be a shame. Lillard deserves the national stage, even if it is only for one game.
-- Andy Katz
More performances that wowed us
Kevin Murphy, Tennessee Tech: 50 pts (16-21 FG, 6-9 3-pt FG), 7 rebs in win over SIUE; 35.3 ppg, 59.3 FG pct, 54.5 3-pt FG pct in three games)
Zack Rosen, Penn: 28 pts (10-18 FG), 5 asts in win over Princeton
Tray Woodall, Pitt: 53 pts (15-24 FG, 6-11 3-pt FG) in win over West Virginia, Nova
Markel Brown, Oklahoma State: 30 pts (13-13 FT), 7 rebs win at Texas Tech
Kendrick Perry, Youngstown State: 30 pts (9-16 FG) in win at Milwaukee
Julian Mavunga, Miami (Ohio): 19 pts, 19 rebs, 8 asts in win over Eastern Michigan
Orion Outerbridge, URI: 29 pts, 11 rebs, 3 blks in win over UMass
Cameron Moore, UAB: 25 pts, 13 rebs, 5 blks in win over Houston
Durand Scott, Miami (Fla.): 24 pts (11-14 FG), 8 rebs, 7 asts in win over Maryland
Lamont Jones, Iona: 43 pts (16-23 FG), 3 stls in win over Canisius
Isaiah Canaan, Murray St.: 32 pts (6-11 3-pt FG), 5 rebs in win over SEMO
John Fraley, Austin Peay: 31 pts (10-13 FG), 17 rebs, 4 blks in loss to Tennessee Tech
Reggie Hamilton, Oakland: 40 pts (9-14 3-pt FG) in win at Western Illinois
Kwame Vaughn, CS Fullerton: 37 pts (11-15 FG), 6 rebs, 6 asts in win over UCSB
Dominique Morrison, Oral Roberts: 36 pts (10-17 FG) in win at North Dakota State
Nick Barbour, High Point: 34 pts (7-10 3-pt FG) in win over Gardner-Webb
Marcus Denmon, Missouri: 29 pts (29 pts, 6-9 3-pt FG), 9 rebs in win over Kansas
Chris Udofia, Denver: 27 pts (10-14 FG), 9 rebs, 4 blks in win over MTSU
Daniel Broughton, UAPB: 20 pts, 19 rebs, 4 blks in win over Alabama A&M
Pierce Hornung, Colorado St.: 23 pts (8-10 FG), 17 rebs in win over Air Force
Chris Cooper, Old Dominion: 22 rebs in win over James Madison
Thomas Robinson, Kansas: 45 pts (20-29 FG), 30 rebs versus Oklahoma, Missouri
Tyler Zeller, North Carolina: 18 pts, 18 rebs in win at Wake Forest
Kendall Marshall, North Carolina: 16 asts in win at Maryland
Denver Holmes, Evansville: 23 pts (10-14 FG), 11 asts in win at Bradley
Garrett Stutz, Wichita St.: 49 pts, 26 rebs, 6 blks in wins over Missouri St., Indiana St.
Brandon Davies, BYU: 18 pts, 13 rebs, 8 asts, 4 stls in win at Portland
Darryl Bryant, West Virginia: 32 pts, two clutch shots in win at Providence
Draymond Green, Michigan State: 14 pts, outrebounded Michigan 16-15 in win over UM

-- Brett Edgerton
King's observations from the week that was
[+] Enlarge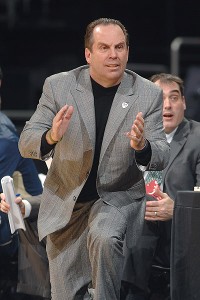 Mitchell Layton/Getty ImagesMike Brey has developed a young Irish team that wasn't expected to contend.
1.
It's time to throw Notre Dame's Mike Brey into the national coach of the year conversation.
The Fighting Irish lost Ben Hansbrough, Tyrone Nash and Carleton Scott from last season's squad, and All-Big East candidate
Tim Abromaitis
suffered a season-ending knee injury in November. Early on, Brey's team looked terrible in losses to schools such as Georgia and Maryland. Heck, less than three weeks ago, the Fighting Irish dropped back-to-back games against Connecticut and Rutgers. Then some how, some way, Notre Dame turned it around. Saturday's 76-59 win over No. 15 Marquette was the fourth straight for the Fighting Irish. The stretch also includes victories over then-No. 1 Syracuse and previously ranked Seton Hall and Connecticut. Not many coaches are doing so much with so little as Brey, whose team is 15-8 overall and 7-3 in the Big East. 2.
The Big 12 features the country's most exciting race for a league title.
Missouri's 74-71 victory over Kansas on Saturday forced a three-way tie atop the league standings, where the Tigers, Jayhawks and Baylor are all 8-2. Each team is ranked in the top 10, and each has one game remaining against the other two schools. We'll know a lot more about Baylor's chances after this week. The Bears host Kansas on Wednesday and travel to Columbia Saturday. Baylor's two losses are against the Jayhawks and Tigers. 3.
Mississippi State is impossible to figure out.
I'm high on the Bulldogs' talent.
Dee Bost
,
Arnett Moultrie
and
Renardo Sidney
are a scary trio, and
Rodney Hood
is one of the nation's most underrated freshmen. But it's hard to take the Bulldogs seriously when they nearly lose to one of the country's worst major-conference teams (Auburn) in their home gym. Mississippi State defeated the Tigers 91-88 on Saturday. Defense is clearly an issue for Rick Stansbury's squad, as four of the Bulldogs' last five opponents have eclipsed the 70-point plateau. And Arkansas scored 98 points in a victory over Mississippi State last month. 4.
West Virginia's Truck Bryant turned in one of the most clutch performances of the season in Sunday's 87-84 overtime victory at Providence.
Bryant forced the extra period with a layup that made it 76-76 at the end of regulation. Then, with 5 seconds remaining in overtime and the score knotted at 84-84, Bryant swished a 3-pointer to catapult his team to victory. Bryant finished with 32 points on 11-of-22 shooting. 5.
Colorado could win the Pac-12.
The thought may have sounded crazy entering the season, but at 8-3, the Buffaloes and Cal are just one game behind league leader Washington (9-2) in the league standings. Colorado and Washington each play five of their final seven games on the road. The Buffaloes, though, get the toughest two teams remaining on their schedule (Cal and Stanford) at home. Colorado touts one of the nation's top rebounders in
Andre Roberson
, who averages 11.2 boards per game. Guard
Carlon Brown
, who began his career at Utah, leads the Buffaloes in scoring with 12.9 points per game.
--Jason King
Editor's Note:
For Myron Medalf's five observations, check out the
Nation blog
.
They said it (or tweeted it)
"I apologized for being selfish, for worrying about minutes. I told them I'd give up my minutes, I didn't care anymore. I just want to win. … And I told them, 'If you're angry now, angry about minutes, wait until you're watching the [NCAA] Selection Show and you're not picked.' "
-- Connecticut's Alex Oriakhi on what he told his teammates during a meeting that preceded the Huskies' 69-46 over Seton Hall on Saturday.
"Hubert Davis said arena was rockin and #UNC games are 'wine and cheese' ppl. I told him #Mizzou fans are 'Bud light and Beef Brisket' ppl."
-- Tweet from Missouri's Kim English (@Englishscope24) after Tigers' come-from-behind win against Kansas Saturday.
"Someone brought it up to the refs, I think one of the coaches. I'm not trying to make excuses. I missed those free throws, I shouldn't be missing those shots." (
Brandon Paul
)
"When the shots go up, I just say, 'Please, God, let it go in.' Some of the shots just sat in there and then popped out." (Bruce Weber)
--Illinois standout Paul and head coach Weber on Tuesday's sloppy 42-41 home win against Michigan State.
"They [teammates] stay on me all the time for situations like these so when they come down to games like these and you see all the great numbers, I try to give them all the credit because they prepared me for situations like this to go out and do things like this. Ivan and the rest of the teammates were just saying, `let's go' and it went on from there and I started knocking down a few shots and we started getting aggressive in the defense like we should have been in the first half and things turned out for the best."
-- Murray State point guard Isaiah Canaan after he scored 24 points in the second half of his team's come-from-behind win against Southeast Missouri State Tuesday.
"Young made a great shot to tie the ball game up, and I just took a quick glance at the clock and seen that we had time to dribble the ball up the court and get a decent shot. The shot went down."
-- Northern Iowa's Anthony James on his buzzer-beating game-winner against Creighton Saturday.
-- Myron Medcalf
Andy Katz's weekend preview
What's On Tap
All times ET

Monday
7 p.m.: Connecticut at Louisville (ESPN)
7 p.m.: Missouri at Oklahoma (ESPNU) Tuesday
7 p.m.: Florida at Kentucky (ESPN)
9 p.m.: Purdue at Ohio State (ESPN) Wednesday
7 p.m.: Georgetown at Syracuse (ESPN)
7 p.m.: Kansas at Baylor (ESPN2)
8:30 p.m.: Saint Louis at Saint Joseph's
9 p.m.: Duke at North Carolina (ESPN)
9 p.m.: Notre Dame at West Virginia (ESPNU) Thursday
7 p.m.: Wisconsin at Minnesota (ESPN)
7 p.m.: Valparaiso at Cleveland State
8 p.m.: Illinois at Indiana (BTN)
8 p.m.: Tennessee St. at Murray St. (ESPN3)
9 p.m.: Colorado at Arizona (ESPN)
11 p.m.: Washington at Oregon (FSN)
11 p.m.: Saint Mary's at Gonzaga (ESPN2) Friday
7 p.m.: Iona at Loyola (ESPNU)
7 p.m.: Harvard at Penn Saturday
Noon: Louisville at West Virginia (ESPN)
1 p.m.: Connecticut at Syracuse (CBS)
1 p.m.: Virginia at North Carolina (ESPN3)
1 p.m.: Miami at Florida State (ESPN3)
1:30 p.m.: Baylor at Missouri (ESPN3)
2 p.m.: VCU at Old Dominion (Comcast)
3 p.m.: Cincinnati at Marquette (ESPNU)
3:30 p.m.: Wyoming at New Mexico (The Mtn.)
4 p.m.: San Diego St. at UNLV (NBC Sports Net.)
5 p.m.: Wichita State at Creighton (ESPN2)
6 p.m.: Michigan State at Ohio State (ESPN)
9 p.m.: Kentucky at Vanderbilt (ESPN)
9 p.m.: Xavier at Temple (ESPN2) Sunday
1 p.m.: Illinois at Michigan (CBS)

Brennan on Florida-Kentucky
Pickeral on Duke-North Carolina
Places to be this week
Monday
Louisville, Ky. (UConn at Louisville):
UConn bounced out of a four-game losing streak -- and a six-losses-in-eight-games slide -- with a definitive home win over Seton Hall on Saturday. Is that an illusion for this talented but struggling team? Or a sign of real progress? How will the health-related absence of coach Jim Calhoun affect this team, if at all? We'll see if the Huskies can take another step forward this week against a Louisville team that has quietly won its past four games -- and will play at West Virginia and vs. Syracuse following Monday night's tilt with the Huskies.
Tuesday
Lexington, Ky. (Florida at Kentucky):
Can anyone stop the runaway train that is the
Kentucky Wildcats
? With a dominant
Anthony Davis
-- the SEC's new all-time single-season leader in shots blocked -- surrounded by so much still-improving talent, the prospect doesn't seem likely. If anyone can derail this group, it might be Florida, perhaps the only team in the conference with a recognizably similar collection of blue-chip talent.
Patric Young
,
Bradley Beal
and
Kenny Boynton
all have to bring their best if they hope to hang in, especially in Rupp Arena.
Wednesday
Syracuse, N.Y. (Georgetown at Syracuse):
Georgetown fans worried about a typical late-season slide had their concerns somewhat assuaged Saturday, when the Hoyas put a precocious 6-3 South Florida team in its place. But does John Thompson III's multifaceted team have enough to upset Syracuse in the Carrier Dome? The Orange were awfully good Saturday, too, and the return of sophomore center
Fab Melo
from academic suspension makes this team the fearsome force we saw in its 20-0 start.
Waco, Texas (Kansas at Baylor):
What a two-game road trip for Kansas, huh? First it was Saturday's heated rivalry matchup with Missouri -- an eventual KU loss after
Marcus Denmon
's late-game heroics (and at least one questionable charge call). Then, just four days later, Kansas will travel to Waco to face off with fellow Big 12 contender Baylor. All three teams are tied atop the league standings at 8-2; this game, as well as Baylor's trip to Mizzou on Saturday, could decide the regular-season conference title.
Chapel Hill, N.C. (Duke at North Carolina):
These two programs, and their respective fan bases, do not like each other very much. I'm guessing you know this already. Duke-UNC is always big, and always important, but in this case the stakes -- ACC superiority among three one-loss teams, a group that surprisingly includes Florida State -- are even higher for the Blue Devils. They'll be playing their hated rival on the road just three days after losing an OT slugfest to Miami in Cameron Indoor Stadium, their second home loss in three games after a 45-game home winning streak. The Dean Dome is hardly the best place to cure what ails this Duke team, namely its thoroughly mediocre defense.
Morgantown, W.Va. (Notre Dame at WVU):
West Virginia escaped from Providence with an 87-84 overtime win Sunday, which prevented a fourth-straight loss in Big East play. The Mountaineers will have to be just as wary Wednesday night when the Irish come to town. Notre Dame is one of the most improved teams of the past two months; a seemingly mediocre, rebuilding bunch now sits at 7-3 in the Big East after four straight wins over over Syracuse, Seton Hall, Connecticut and Marquette.
Thursday
Spokane, Wash. (Saint Mary's at Gonzaga):
Saint Mary's can lose this game on the road and still be in the command position in its quest to unseat perennial WCC bully (and hated rival) Gonzaga. But you can rest assured the Gaels -- who are unbeaten in conference play to this point -- would very much like to earn their 2012 coronation in the most symbolic and affecting way possible. What could be better than this?
Saturday
Columbia, Mo. (Baylor at Missouri):
As referenced in the Kansas-Baylor blurb above, this week's two huge Big 12 games are the two of the three most important fixtures (alongside Missouri's rematch at Kansas Feb. 25) remaining on the conference calendar. In the first meeting, Missouri's quick offense shredded Baylor's taller bigs; the Bears will have to be much better on the defensive end if they want to hold this brilliant offense in check in the comfortable confines of Mizzou Arena.
Las Vegas, Nev. (San Diego St. at UNLV):
San Diego State took the first meeting of these two teams in Viejas Arena on Jan. 14, and since then the Aztecs have only maintained their shockingly good play throughout their MWC schedule. UNLV is still the most talented team in this league, but the loss it suffered at Wyoming on Saturday put the Rebels into a two-team tie for second in the MWC race. In other words, this game -- in what is sure to be an insanely loud Thomas and Mack Arena -- is a must-win.
Omaha, Neb. (Wichita St. at Creighton):
It took one of the craziest finishes of the 2012 season -- UNI's bang-bang 3-point buzzer-beater Saturday -- to hand Creighton its second Missouri Valley Conference loss, and the only team happier about that result than Northern Iowa had to be Wichita State. The Shockers are now tied with Creighton in MVC play, and have a major chance to prove what those of us who follow tempo-free stats already know: This team is very good, perhaps even better than Creighton (minus the individual star power of
Doug McDermott
), and every bit the MVC title contender.
Columbus, Ohio (Michigan St. at Ohio State):
If there is any team capable of dropping the buzzsaw that is the
Ohio State Buckeyes
in Columbus (or anywhere, really), it's Tom Izzo's. The Spartans had that ugly 42-41 loss at Illinois this week, but they bounced back with a nice home win over Michigan on Sunday afternoon, and they have the combination of big men and perimeter guards to give OSU forward
Jared Sullinger
and his coterie of talented teammates issues on the offensive end. But will OSU's nation-leading defense be too much?
Nashville, Tenn. (Kentucky at Vanderbilt):
'Dores fans, start your sign-making engines: Kentucky and ESPN's "College GameDay" are coming to Nashville this weekend. If UK survives Tuesday's home matchup with Florida, Vanderbilt will have the best crack at handing Kentucky its first loss in conference play. Kevin Stallings's team doesn't have the top-end talent of UK (or even Florida, probably) but it does have experienced players and a difficult home-court environment that can give new visitors plenty of issues. We'll see.
-- Eamonn Brennan
O'Neil: Three questions
• Is the cream starting to rise in the confusing Atlantic 10?
It would appear so. Temple dismantled what had been a rising Rhode Island with ease on Saturday for its sixth consecutive win. The emergence of
Khalif Wyatt
as a solid and reliable scorer plus the addition of Michael Eric, back from injury, has the Owls atop the league standings. Saint Louis has bounced back from its loss to UMass with wins against St. Bonaventure and Dayton.
• And in the Pac-12, too?
Although the cream might be a little more curdled in the West Coast, Washington is taking over the beleaguered conference and that makes sense. The Huskies have by far the most talent with
Tony Wroten
,
Terrence Ross
and
Abdul Gaddy
. Finally Washington, with five wins in a row and eight of its last nine, is starting to play like it. Now if only Cal could get its topsy-turvy act together, the league could make a legit case for an at-large bid. •
Are the tides turning in the ACC?
They very well could be. While Duke and North Carolina enjoy their annual tussle in Chapel Hill this week, realize it will not be for definitive conference bragging rights. Instead the loser will have a further climb to the top. That's because Florida State, your current ACC clubhouse leader, won a defensive slugfest against Virginia to remain atop the standings. The Seminoles beat Virginia at its own game, slowing down
Mike Scott
in the second half to take the victory. Florida State is still new enough to this that you can't say any of their games are guaranteed wins but down the stretch, the Seminoles should be the favorite in most. They only have Duke to contend with at home and Virginia again on the road.
-- Dana O'Neil
O'Neil on Georgetown-Syracuse
Upset pick of the week
Auburn over Alabama, Tuesday: The Tide won both home games last week over Arkansas and Ole Miss, but there were still offensive droughts and Bama had to go to double OT to hold off the Rebels. Alabama's defense was good in spots, but it will have to be even better on the road in what could be a critical game for this team's NCAA chances, as Bama is locked in a muddled SEC middle at 4-4.
Meanwhile, Auburn is coming off its best offensive performance in SEC play, scoring 88 points in a narrow three-point loss at Mississippi State. It was a good sign -- along with the defensive slugfest against Georgia earlier in the week -- that the Tigers are starting to turn the corner. A victory Tuesday would put the Tigers in a tie in the win column with Alabama and clearly signal that it is on the way up under Tony Barbee, while severely hampering its arch-rival's at-large candidacy.
-- Andy Katz
Medcalf on Michigan St.-Ohio St.