Virginia Tech's infusion of 'fun'
By Robbi Pickeral
ESPN.com
Basketball practices at 6 a.m. aren't usually considered "fun."
But somehow in Blacksburg, Va., first-year head coach James Johnson has made them so.
"When he walks into the gym, he'll start singing Biggie, Kanye West, just different songs that you wouldn't think a coach would sing,'' senior guard Erick Green said, chuckling during a phone interview last week. "He'll sing a verse, then another player will sing a verse, and then it goes back and forth for a little while. It just makes you laugh, it makes you smile. ... It's been a while since we've had this much fun."
[+] Enlarge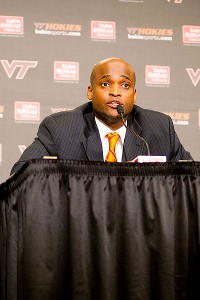 Kyle LaFerriere/US PresswireJames Johnson has introduced a new hoops culture to the Hokies.
Or this many wins, this early.
The Hokies lost 68-67 at West Virginia on Saturday to drop to 7-1, halting their best beginning since the 1982-83 season. But they still have wins over Iowa and then-No. 15 Oklahoma State on their résumé.
Not a bad opening for a team picked to finish 10th in the 12-team ACC during the preseason.
Or for a first-time college head coach who boasts only eight scholarship players on his team.
"No, no, I couldn't have imagined this, couldn't have dreamed it,'' Johnson said in a phone interview with ESPN.com last week. "A 7-0 start, beating a nationally ranked opponent -- the 15th-ranked team in the country -- I couldn't have dreamed it. Again, it's a tribute to the kids that are here, the type of guys I have in the locker room. They've made the transition smooth."
But then again, so has he.
Johnson, 41, was an assistant coach under Seth Greenberg in Blacksburg for five seasons when he left to become an assistant at Clemson last April -- only to return in the head job three weeks later when Greenberg was fired.
Forward Dorian Finney-Smith opted to transfer and top recruit Montrezl Harrell asked for his release in the wake of the change, but the coaching choice solidified Green's decision to stay (he was recruited by Johnson).
"I didn't know they were going to give him a chance, since he's never been a head coach,'' Green said. "And coming into the ACC, I thought it might be someone that had experience, just an older guy. But then, when he got the job -- I found out by Twitter, actually -- I was excited. ... I thought there would be a new energy."
And there is. When individual workouts began July 1, Johnson quickly put an energetic theme into place: work hard, play hard, have fun. He sang in practice. He chest bumped his players. He made them laugh as they ran and sweat and ran some more.
"I don't know if they were changes or not, but I wanted this group to take pride in being at Virginia Tech," Johnson said. "I wanted them to have a positive attitude and a positive outlook every day, whether it be positive about going to class, positive about the weather, positive about going to practice, positive on going to the weight room."
And positive about what they could become this season.
For years, Johnson knew if he ever became a head coach, he wanted to instill a fast-paced attack; that's the way he played at Ferrum College, and that, in his experience, is the way most athletes like to play, as well.
Hokies players grumbled about the extra conditioning at first. But after years of playing a slower, more grinding offense, they started buying in once they realized the freedom that Johnson's up-tempo approach (and upbeat personality) would bring.
"When we make a mistake, he doesn't say nothing -- he's really calm, he just encourages us to make another play,'' said Green, whose team entered Saturday's game leading the ACC in offense (86.1 ppg). "'Do the same thing: drive to the hole' -- it may bounce off your leg and you turn it over, and he'll tell you, 'Go again.' And I think that builds confidence, beyond if someone is just yelling."
The approach has made for a tighter, more trusting team, Green said. Although he entered Saturday's game among the top scorers in the country (and tops in the ACC, with teammate Jarell Eddie ranked third), the senior guard said he is no longer thinking about his individual numbers, but his squad's stats. And he credits his coach for the change.
"For years, he talked to me about leadership, and it's finally clicked,'' Green said. "I honestly, for the first time, am not being selfish. I don't care about my points, I don't care about anything that has to do with me. I'm putting the team in front of me, and making sure these guys are happy and making sure I do whatever I can for these guys, just being a leader.
"I'm just having fun, I'm smiling, I feel like a whole new person. And a lot of that is because of [Johnson]."
For his part, Johnson deflects praise, crediting his team for buying into his style. He said he's picked up a potpourri of philosophies at assistant coaching stops that included Old Dominion, Elon, College of Charleston, Penn State and George Mason. And he is happy that the way he's meshed them has been successful, so far.
"They're playing with a lot of confidence, they're playing unselfish, they're playing together, they're playing for each other," he said of his players. "And just as important: they're having fun out there."
Losing, as the Hokies did Saturday night in Morgantown, won't be considered "fun."
But somehow, expect Johnson to get his team back to it.
Other fast-starting first-year college coaches around the nation
• John Groce, Illinois: After the Illini lost 12 of their last 14 games last season, it was hard to know what to expect in 2012-13. But under new coach Groce, they are Maui Invitational champions and ranked in the Top 25, and they staved off some close calls before beating Gonzaga on Saturday to move to 10-0. At least one factor in the turnaround: Groce's combination of positivity and accountability.
"He's a really, really positive guy, and I think his team feeds off of it," Gardner-Webb coach Chris Holtmann, who was a member of Groce's staff at Ohio, told The Associated Press. "His kids are going to play with great confidence, they're going to play really loose and aggressive, they're going to be in attack mode."
• Johnny Jones, LSU: The Tigers lost five of their eight top scorers from last season, but are 5-0 -- including a 16-point rally against Seton Hall. The competition ratchets up beginning Friday, when they hit the road for three games. But Jones, a former LSU player, wants to build the Tigers back to their Final Four glory days. It will take time, but this is a good start.
[+] Enlarge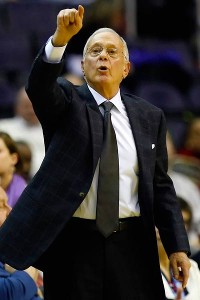 Geoff Burke/US PresswireLarry Brown likes the direction and potential of his team at SMU.
• Larry Brown, SMU: The 72-year-old Hall of Famer -- the only coach in history to win both an NCAA championship and an NBA title -- has his Mustangs off to an 8-1 start. This from a team that won only 13 games last season.
"They better get us this year, because we're gonna be pretty good pretty quickly," Brown told ESPN.com last weekend after his team routed Hofstra 73-47.
They already are.
• Bruce Weber, Kansas State: After last year's late-season letdown at Illinois (see above), 7-1 has got to feel pretty good for Weber, whose lone blip on the schedule at his new school so far has been a 14-point loss to top-5 Michigan. The Wildcats returned an experienced roster that lost only one starter, so they're probably right where they should be. But Weber has helped make sure of it.
• Kevin Ollie, UConn: Taking over for legendary coach Jim Calhoun was bound to be a challenge. Taking over for Calhoun when the Huskies are ineligible for the postseason because of APR penalties -- plus losing Alex Oriakhi and Roscoe Smith, who opted to transfer -- was bound to make it even tougher. Yet Ollie and the Huskies have risen to the challenge, notching a 7-2 record that includes a win over Michigan State. After two previous seasons as a Huskies assistant, the solid start has some already pushing for UConn to extend the former NBA player's single-season contract.
Michigan slashing through early foes
By Michael Rothstein
ESPN.com
ANN ARBOR, Mich. -- Michigan's LaVall Jordan will turn to his fellow assistant coach, Bacari Alexander, during practices and say he is making a list.
Every time one of the Michigan players does something unexpected, Jordan makes a mental note, and it is becoming a pretty long list.
This Michigan team is unlike any other in John Beilein's six-year tenure at the school, and really, many of the teams in his career. The Wolverines under Beilein used to shoot 3-pointers by the dozen, a bunch of shooters who understood their coach's system.
[+] Enlarge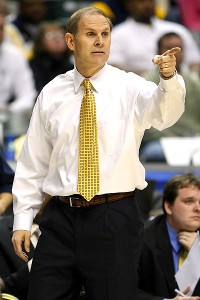 Jonathan Daniel/Getty ImagesJohn Beilein has tailored his system to UM's array of talent.
Which is why this season may be so jarring. Michigan, now 9-0 for the first time since the national-title season of 1988-89, has evolved from a 3-point-reliant team to a group of slashers with the ability to find their shots inside and out.
"That's a strength of ours, taking 3s," Michigan point guard Trey Burke said after Saturday's victory over Arkansas. "But last year we obviously took too many 3s. Now we have guys who can put the ball on the ground and get to the rim."
That starts with Burke, whose advanced understanding of Beilein's offense has boosted his efficiency with the ball this season. It continues with an improved Tim Hardaway Jr., a wing who can find his own shot and added a better handle to his game.
Then Michigan added a gaggle of freshmen, including one of the top shooters in the country who can also drive to the basket (Nik Stauskas), a high-energy big man (Mitch McGary), a remarkably efficient wing with an offensive rating of 128 and a true shooting percentage of 62.6 (Glenn Robinson III) and two emerging players in point guard Spike Albrecht and wing Caris LeVert.
"[Former Michigan guard] Zack Novak could tell you straight up, there's a lot more talent," Hardaway said. "Got freshmen coming in that are playing a lot of minutes and are playing like vets out there. That's very key, freshmen are playing a lot of minutes and not making too many mistakes.
"That really helps our team out."
That talent overhaul -- the team also has three legitimate Big Ten big men in McGary, Jordan Morgan and Jon Horford -- has taken Michigan from being an almost exclusive ball screen team to one with more offensive versatility as well.
The ball screen is still there and used often, but Michigan, between its new players and coaching staff seeing new things every day, is still evolving.
"We're discovering new things each week with our players," Alexander said, "that we had no idea they could do."
Which goes back to Jordan's mental list. And to another scary thing: As good as Michigan is now, there's a chance the Wolverines could be even better by March.
Team of the week: Illinois

The Illini shocked Gonzaga with quite a comeback in the first half to tie the game at 41, then took over in the second half for a convincing win. Brandon Paul scored 35 and was unguardable in what was his school's first top-10 road win in nonconference play since 1986.
Illinois' 85-74 win over the unbeaten, 10th-ranked Zags may go down as one of the most impressive nonconference wins of the season. Paul's performance will have plenty of shelf life as well.
If you were like me, you had some doubt about the Illini, even after they won the Maui Invitational with wins over USC, Chaminade and Butler. But they are no joke. This team is for real. Illinois is a bit challenged in the paint, but the trio of Paul, D.J. Richardson and Tracy Abrams is as good a perimeter as any in the country. The Big Ten could end up being the toughest, deepest conference in the country, and part of that is the development of teams like Illinois and Minnesota.
Bruce Weber left talent, but John Groce has provided the right voice, spark and energy. Illinois showed great resolve in handling the adverse situation of The Kennel. This win can give the Illini the confidence to go into any road venue in the Big Ten and compete.
If there is room on the bandwagon bus, I want a seat. I'm in.
Five others to note:
1. UIC: Howard Moore has done a phenomenal job in his third season with the Flames. UIC already won at Northwestern this season, then followed it up with a home win over Colorado State on Saturday. The Flames' only loss was to New Mexico.
2. Middle Tennessee State: The Blue Raiders had quite a homestand with wins over UAB and an Ole Miss team that was starting to think top-three SEC finish. The Rebels still may get there, but this was an eye-opening experience. Middle Tennessee is no joke and is building a quality résumé.
3. Florida: The Gators are playing as well as any other team in the country. The balance and versatility of their scoring has been consistent. They destroyed rival Florida State in Tallahassee and have the look of a Final Four team. Next weekend at Arizona is a big test.
4. Duke: The Blue Devils have taken on anyone who would ask to play them this season and done it handily, for the most part. They handed Temple its first loss of the season, and it wasn't close in the second half. Duke is getting tremendous balance from Mason Plumlee, Seth Curry and Quinn Cook and is playing in February form in early December.
5. Wyoming: The Cowboys came back from 19 down to win at Illinois State and remain undefeated. Wyoming handed Colorado its first loss the previous week. Larry Shyatt's crew is doing a sensational job on defense and has figured out how to score after being a bit offensively challenged last season. The Pokes are the surprise team in the MWC so far.
-- Andy Katz
Editor's note: This edition is for games played from Sunday, Dec. 2, to Saturday, Dec. 8.
Three observations

1. I couldn't believe that only 2,797 fans -- and that's being generous -- showed up for Saturday's game between UCLA and Texas at Reliant Stadium in Houston. I know neither team is very good, but it's not as though there were a ton of college football games that day. And Texas has a massive fan base in that city. I honestly felt bad for the players. That crowd could've fit into a high school gym.

2. Kansas' victory over Colorado was hardly a shock. But never in a million years would I have picked the Jayhawks to win by 36 points. This is probably the best team Colorado has had in more than a decade -- and yes, I realize that's not saying much -- and Kansas had struggled to defeat mediocre opponents. That shows you just how intimidating Allen Fieldhouse can be for an opponent.

3. Everyone knew Florida would be good, but I'm not sure I would've guessed the Gators would be this dominant. Billy Donovan's squad is absolutely crushing its opponents. Florida is 7-0, with the wins coming by an average of 23.5 points. The Gators, whose last game was a 72-47 victory at Florida State, don't play again until Dec. 15, when they travel to face unbeaten Arizona in Tucson. Kenny Boynton is averaging a team-high 14.4 points.
-- Jason King
Three things I learned

1. Kansas' ceiling remains high. The Jayhawks don't have the risk-reward point guard play of Tyshawn Taylor anymore. The interior dominance and athletic prowess that was Thomas Robinson is gone, too. With longtime role players Jeff Withey, Elijah Johnson and Travis Releford stepping to the fore, in the preseason it felt like this might be a more workmanlike, less exciting -- though no less effective -- KU team.
Boy, was that wrong. Not only did Kansas utterly destroy a good Colorado team at home Saturday, but the country also got to see the breadth of sophomore guard (and well-hidden partial qualifier) Ben McLemore's dynamic ability. His combination of shooting ability and athleticism are rare. He's already one of the most exciting players in the country. When he puts it all together, he'll be one of its best, too.

2. Winning ugly is apparently just Georgetown's thing. It's one thing to grind slow-paced wins with winning in the 60s. Sometimes you score 64 points and beat Texas by 23, you know? (That's because, hint, Texas is terrible.) And, yes, sometimes you beat Tennessee without having to score 40 points, because a 37-36 win gets the job done.
But by far the ugliest win of Georgetown's season -- and that is a phrase that means something -- came Saturday, when the Hoyas beat lowly Towson 46-40. John Thompson III's team scored just 17 points in the first half but overcame that start to eventually beat a team that finished 1-31 last season. (That said -- Towson is already 4-5. Pat Skerry's actually rebuilding that thing! I guess we can say we learned that, too.)

3. Duke will enter conference play undefeated. We probably could have said this before Saturday's win over Temple in East Rutherford, but the win and its convincing nature (90-67) sealed the deal. Temple is a good team -- totally in the A-10 title discussion -- but Duke throttled it from start to finish.
It is not unusual for a team as good as the Blue Devils to head to ACC play with an undefeated record; combining skill and creative scheduling usually does the trick. But Duke played one of the toughest nonconference schedules in recent memory and emerged unscathed, looking more than ever like a Final Four favorite. What a start.
-- Eamonn Brennan
This week's starting five
The Starters
Brandon Paul (Illinois): The senior guard had a ridiculous stat line in the No. 13 Illini's 85-74 win at No. 10 Gonzaga on Saturday. He finished with 35 points, 4 rebounds, 3 assists, 2 blocks and 3 steals. It was a monster effort in the 10-0 Illini's biggest win thus far. He scored 14 points in Tuesday's 72-64 victory over Western Carolina.
Geron Johnson (Memphis): The Tigers junior came on strong this week. He recorded 14 points, 7 rebounds, 6 assists, a block and 4 steals in his team's 83-65 win over Austin Peay on Saturday. He had 21 points (8-for-11), 3 assists and 3 steals in Wednesday's 84-58 victory over Ohio.
Cody Zeller (Indiana): Indiana hasn't been challenged lately, and that's largely due to the sophomore's dominance. On Saturday he recorded 19 points, 19 rebounds, 2 assists and 2 blocks in Indiana's 100-69 victory against Central Connecticut State.
Russ Smith (Louisville): The junior guard registered a career-high 31 points (12-for-18) in Louisville's easy 99-47 victory against UMKC on Saturday. He also recorded 7 rebounds, 5 assists and 5 steals in that game. He had 13 points, 4 assists and 4 steals in Louisville's 80-38 win at Charleston on Tuesday.
Michael Carter-Williams (Syracuse): The nation's assists leader willed the Orange to three more wins this week. He finished with 11 points, 11 assists, 7 rebounds and 3 steals in Syracuse's 84-48 victory against Eastern Michigan on Monday, and three days later, he recorded 15 points, 10 assists, 3 rebounds and 3 steals in his squad's 84-53 win over Long Beach State. He finished with 15 points, 16 assists, 5 steals and 4 blocks in the Orange's 108-56 win over Monmouth on Saturday.
The Bench
Ryan Nicholas (Portland): 15 points, 19 rebounds and 6 assists in 68-60 loss to UNLV on Tuesday; 15 points and 13 rebounds in 74-46 loss at Kentucky on Saturday.
Ben McLemore (Kansas): 24 points (6-for-16, 10-for-11 from the free throw line) and 5 rebounds in 90-54 win over Colorado on Saturday.
Matt Hunter (Central Connecticut State): 40 points (13-for-25) and 7 rebounds in 100-69 loss at Indiana on Saturday; 18 points and 8 rebounds in 87-84 win at New Hampshire on Wednesday.
Briante Weber (VCU): 8 points, 9 rebounds, 10 assists and 5 steals in 83-70 win at Old Dominion on Saturday.
Jordan Bachynski (Arizona State): 13 points, 12 rebounds and 12 blocks in 87-76 win over Cal State Northridge on Saturday; three blocks in 71-63 win over Hartford on Wednesday.
-- Myron Medcalf