For some transfers, Christmas comes early
By Robbi Pickeral
ESPN.com
Missouri guard Jabari Brown isn't quite sure whether he'll be able to sleep Sunday night.
"I know I'll have a little bit of jitters, but I also know I'll be mostly excited,'' he said late last week. "I haven't played for a long, long time, but I know I'm ready."
[+] Enlarge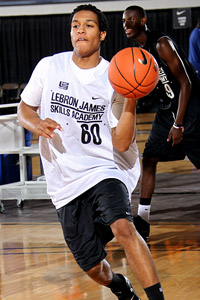 Kelly KlineJabari Brown will bring an offensive boost to the Missouri Tigers.
Monday (sleepless night before or not), the 6-foot-5, former four-star prospect is scheduled to play in his first college basketball game since he started twice, and scored 12 points, as a freshman at Oregon last November.
He's one of a large number of men's college basketball players who opted to transfer last season. But he's also part of a smaller subset of that group that left their previous schools by the end of the first semester of 2011-12. After sitting out the NCAA-mandated year, many are allowed to play again beginning this week.
Finally.
"It's an amazing feeling, counting down these days,'' said Georgia Tech's Stacey Poole, who decided to transfer from Kentucky after last season's blue/white game and should be available to play next Saturday, after his fall semester grade becomes official. "It's kind of like Christmas when you were little, when you thought there was a Santa Claus, and you don't know what gifts you're going to get. It's that exciting feeling."
Adding a player 8-to-10 games into a season can be a boon to a team, especially because that player has already had that transfer year to practice, and learn, with his new squad. But it can also be tricky. As ESPN.com's Andy Katz wrote last week, the player has to find the right fit as far as minutes, position and chemistry -- and the entire team has to make that fit work.
"It's always difficult to join the rotation midseason,'' UNLV coach Dave Rice told Katz. "It usually works out, just not as quickly as you would like.''
No. 20 UNLV looks to have a pretty good "fit" for Pittsburgh transfer Khem Birch -- as well as a need to fit him into the rotation fast. With leading rebounder and second-leading scorer Mike Moser out for an indefinite period of time after dislocating his elbow last weekend, Rebels fans are hoping the former McDonalds High School All-American forward (who started six of 10 games before opting to transfer) can immediately pick up some of the slack.
The same goes for Brown at No. 12 Missouri, which will be looking for some extra offense after Michael Dixon Jr. -- who had been suspended since the beginning of the season -- announced last month that he would transfer.
"I try not to look at it as pressure; I just look at it as more reason for me to step up,'' said Brown, who averaged 23.8 points as a senior in high school and was ranked No. 26 among ESPN's top 100 recruits in 2011. "He was a great player here. I just want to ease the blow of him leaving."
[+] Enlarge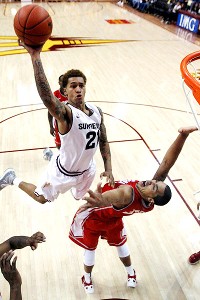 AP Photo/Rick ScuteriKeala King will help a Long Beach State backcourt that's been hit with injuries.
And although Long Beach State coach Dan Monson has never had more than one player added to his team after the holidays, he's looking forward to getting guard Keala King and forwards Tony Freeland and Edgar Garibay -- formerly of Arizona State, DePaul and Loyola Marymount, respectively -- eligible as early as Tuesday's game at UCLA. The 49ers have been shorthanded with injuries to guards Branford Jones and Jerramy King.
Providence's Sidiki Johnson is another midseason transfer who could immediately slide into the frontcourt mix when he makes his debut against Colgate on Tuesday. San Diego State forward James Johnson, a transfer from Virginia, is expected to make his Aztecs debut, also Tuesday, against NAIA school Point Loma Nazarene.
And La Salle guard Tyrone Garland, a midseason transfer from Virginia Tech, played 22 minutes off the bench and scored nine points in his first game for the Explorers on Saturday night.
Some midseason transfers, such as Poole at Georgia Tech, may have a little more work to do in order to make an immediate impact. After all, he joins a rotation that is already two-deep on the wings, and coach Brian Gregory has said Poole will have to earn his place and minutes.
Even so, Poole said transferring first semester last season -- even though it meant not earning an NCAA title with the Wildcats -- was worth it.
"I could have stayed, I could have had a ring ... but I kind of knew my time would be limited and stuff like that,'' he said. "And going into my second year, I thought it was time for a change.
"I wish I could have started earlier with [Tech] and played that first game this season. And I know I have to blend in, probably coming off the bench. But once I get my feet wet, I should be fine. I know how to play the game, just sitting out and watching, I know where I can strive to fit in. I just can't wait to get in there."
Brown said the key to making the last two semesters fly by quickly -- and to fitting into the mix midseason -- was focusing on improving his overall game and not thinking about the next game in which he'd get to play. Which is why, now that he's finally allowing himself to think about it, Monday's matchup with South Carolina State can't get here fast enough. It may be late December already, but he knows he can make a difference.
"Will I sleep Sunday night? That's a good question,'' he said. "I don't know. But I do know I'm ready to get back there."
Five other teams that impressed
Butler earned Team of the Week honors by knocking off No. 1 Indiana. Here are five other teams that stood out this week:
[+] Enlarge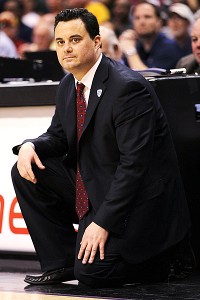 Stephen Dunn/Getty ImagesSean Miller and the Wildcats earned a defining win against Florida.
1. Arizona: The Wildcats had to claw back to beat previously undefeated Florida in the final seven seconds Saturday night, and the win caps off a tremendous week for the Wildcats after they won a week ago at Clemson. Arizona is the clear favorite in the Pac-12 and now must be taken seriously as a national title contender.
There are plenty of flaws with this squad, but one of the most pressing is youth inside. That will improve over time. Arizona showed plenty of grit in its win over Florida. The Wildcats head to Hawaii for the Diamond Head Classic, and wins there over San Diego State, Ole Miss or Miami would continue to prove this team's growth.
2. Louisville: The Cardinals won their toughest road game to date, holding off a Memphis team that desperately needed this win. The Cards are still playing without Gorgui Dieng, but they didn't need him to beat Memphis on the road.
A diversity of scoring from Russ Smith, Peyton Siva and Chane Behanan combined with defensive pressure provided enough to give Louisville the edge. The Cards are certainly a title contender, and once they get Dieng back, they will be whole again.
3. VCU: The Rams will join Butler to shake up the A-10 race. VCU beat Alabama handily at home for its fourth straight win. The Rams are defending exceptionally well and have figured out how to score effectively since being a bit more challenged in the Battle 4 Atlantis. VCU is 7-3 and looking like it won't lose again prior to the start of the A-10 schedule.
4. Creighton: The Bluejays had quite an impressive week, knocking off Akron at home (behind Doug McDermott's 30 points) and then winning by 10 at Cal (sparked by McDermott's 34 points and nine boards).
The Bluejays are making their home loss to Boise State look like a fluke. This Creighton team is clicking in March form and should be feared by any team that draws it in conference play or the NCAA tournament.
5. Michigan: The Wolverines will likely push up to No. 2 in the country after Indiana's loss. For months, we have penciled in the Hoosiers as Big Ten champs, but Michigan continues to improve and has a high ceiling with the development of Mitch McGary complementing Trey Burke, the best point guard in the country.
This is a team that understands coach John Beilein and is a good watch. Beilein beat his former employer, West Virginia, on Saturday in Brooklyn to improve to 11-0 this season. The Wolverines aren't invincible, but have proved they won't be easy to beat.
Team of the week: Butler

The Bulldogs have improved more in a month than any other team in the country. Butler was completely out of sync and looking like it was not in the same league as Xavier when it mustered a meager 47 points on Nov. 13. Since then, Butler has been, well, Butler. The Bulldogs pulled out a thrilling win over Marquette on a Rotnei Clarke buzzer-beating 3-pointer, then dominated North Carolina for 30 minutes before losing in the Maui Invitational final to Illinois, the hottest team in the country that wasn't named Duke, Michigan or Florida.
Butler then reeled off five straight wins, culminating with a road win at Northwestern a week ago. But to earn team of the week honors, Butler had to pull off the win of the season so far. And it did.
The Bulldogs beat top-ranked Indiana 88-86 in overtime on Saturday in Indianapolis, outrebounding the Hoosiers by six. Butler made winning plays and got contributions from everywhere, including 19 points from Clarke, 16 from Roosevelt Jones and a late jumper from former walk-on Alex Barlow. Butler won this game despite the fact that three key players (Jones, Andrew Smith and Erik Fromm) fouled out.
Butler is now the favorite in the A-10 and a team that, once again, can't be taken lightly for anything in March.
-- Andy Katz
Editor's note: This edition is for games played from Sunday, Dec. 9, to Saturday, Dec. 15.
Three observations

1. I never thought I'd see the day when North Carolina surrendered 61 points in a single half -- especially at home. It happened Saturday. Not against Duke or NC State, but against East Carolina. Coached by former Tar Heel Jeff Lebo, the Pirates shot 53 percent after intermission, going 6-of-13 from 3-point range. North Carolina watched its 16-point lead dwindle to four in the final 30 seconds before pulling away to win 93-87. It's tough to feel good about the Tar Heels' long-term prospects with a defense that performs that poorly against a mediocre team.

2. Entering the season, I didn't expect Oregon to contend for an NCAA tournament berth -- not after losing two of its three leading scorers (Devoe Joseph and Garrett Sim). But at 9-1, the Ducks look like the second-best team in the Pac-12 behind Arizona. They beat then-No. 18 UNLV last month, and on Saturday, the Ducks thumped Nebraska 60-38. Dana Altman's squad has still played a relatively weak nonconference schedule, but the gaudy win total should give Oregon loads of confidence entering Pac-12 play.

3. I didn't expect Kansas State to beat Gonzaga, but I'm a little surprised the Wildcats aren't playing better nine games into the season. Yes, K-State has a new coach in Bruce Weber, but this is also a squad that returns almost every key piece from last season's team. Rodney McGruder made just one field goal in Saturday's 68-52 loss, but the bigger overall problem has been a lack of production from forward Thomas Gipson and center Jordan Henriquez, both of whom looked promising in 2011-12. Neither scored Saturday against the Zags.
-- Jason King
Three things I learned

1. Indiana has to get better on the front line. For as much credit as Butler deserves for Saturday's incredible win -- and it deserves a lot -- it's difficult to come away without emphasizing just how much Indiana was outplayed on its own defensive boards. The Bulldogs snagged 48.5 percent of their available misses Saturday; they usually hover around the (already good) 40 percent mark. For a team with an NBA lottery lock at center, up against a team with Andrew Smith as the only real forward, that's simply not good enough for Indiana. The arrival of forward Hanner Mosquera-Perea will help, but senior forward Christian Watford's zero-rebound performance was concerning. The Hoosiers are very much a title contender, but their improvements on the defensive end are not yet complete.

2. Arizona can at least play with the big boys. It's not all that often that a team loses and your opinion of it isn't diminished in the slightest, but that's how I felt about Florida after Saturday night's thrilling Arizona comeback in Tucson. Despite a raucous Arizona crowd, the Gators controlled the game much of the way, though they never pulled away. Arizona looked impressive in its own right, not only because it managed that lightning-round comeback, but because it stayed with UF -- which has basically handled everyone it's played -- throughout. The Wildcats are talented and versatile, and they appear to be very real.

3. It's too early to brush Memphis aside. The Tigers had their last best shot at a marquee nonconference win Saturday, and their defense let them down, allowing 1.16 points per possession to the visiting Louisville Cardinals despite leading for much of the game. Fans booed the finish, but Memphis has improved since November and is the obvious favorite to win C-USA and go to the NCAA tournament. The Tigers might not be seeded much more favorably than last season when their nonconference losses caused a drastic underseeding (at least by per-possession terms) that led to a first-round loss to Rick Majerus and St. Louis. But if/when the Tigers get to March, they're totally capable of advancing. Perhaps that will calm the boo-birds some.
-- Eamonn Brennan
This week's starting five
The Starters
Mark Lyons (Arizona): The point guard scored the game-winning layup with 7.1 seconds remaining in Arizona's 65-64 victory over No. 5 Florida on Saturday night in Tucson. He drove past Patric Young for the decisive basket, finishing with 14 points and two assists.
Peyton Siva (Louisville): The No. 6 Cardinals were down by 16 points in the first half against Memphis on Saturday. But Siva led the charge in the second half, as the Cardinals scored a critical 87-78 road win against their rivals. Siva finished with 19 points, seven assists, four rebounds and one block.
Rotnei Clarke (Butler): Before Saturday's 88-86 win over Indiana in Indianapolis, Butler had never beaten a No. 1 team. The Bulldogs guard finished with 19 points (7-for-19) and two assists in one of the program's most significant victories.
Kelly Olynyk (Gonzaga): The 7-footer led the Zags to a 68-52 win over Kansas State on Saturday in Seattle. The junior scored 20 points (10-for-13) and grabbed three rebounds, and he did it in just 19 minutes of action.
Doug McDermott (Creighton): The 6-8 forward for the No. 16 Bluejays was a monster in Saturday's 74-64 win at Cal. He scored 34 points and grabbed nine rebounds. He also went 10-for-10 from the free throw line and 4-for-7 from the 3-point line.
The Bench
Anthony Drmic (Boise State): 34 points (6-for-10), one steal and a block in an 89-70 win over LSU on Friday.
Matthew Dellavedova (Saint Mary's): 31 points, six rebounds and eight assists in a 120-67 win over Jackson St. on Tuesday.
Jonathon Williams (Wagner): 33 points, 17 rebounds and three steals in a 77-65 overtime win over Coppin State on Saturday.
Chris Obekpa (St. John's): Four points, seven rebounds, five assists and nine blocks in a 77-60 win over St. Francis (NY) on Saturday.
Brandon Davies (BYU): 33 points, eight rebounds and a block in a 78-68 win at Weber State on Saturday.
-- Myron Medcalf