Time to see what's under the tree
Admit it: You've already clandestinely shaken a couple of the smaller packages under the tree, eyed that "hidden" box at the back of the hall closet and hinted about those last few pieces of fun you'd love to find stuffed in your stocking come Tuesday morning.
In the spirit of all that anticipated holiday gift-giving, we figured, "Why wait?"
After watching Syracuse coach Jim Boeheim join the 900-win club, Duke beat three top-five teams in the span of a month, Doug McDermott and C.J. McCollum take the "mid" out of mid-major performances and a Butler walk-on upset top-ranked Indiana in a Hollywood moment -- all gifts themselves for those who love college basketball -- hoops junkies will now get a much-needed break.
So our not-so-secret Santas have been busily pondering what early presents -- and/or holiday wishes -- they'd like to bestow on some particular college basketball teams in need. (No coal allowed.)
As we unwrap our choices, we also wish you and yours a wonderful holiday.
--Robbi Pickeral
To: Baylor

From: Andy Katz

The Bears can win games in the airport, during warm-ups and certainly when you watch them run the floor. But I'd like to give this Baylor team a prescription for defense, intensity and toughness.
Baylor has enough talent on the perimeter with Pierre Jackson and Brady Heslip to score against anyone on its schedule.
But the inexperience inside, despite having overwhelming length and talent, is a question mark. How can a team beat Kentucky at Rupp Arena but lose at home to the College of Charleston and Northwestern?
Well, it would help if the Bears played every game with the same intensity they showed in Lexington. Baylor lost quite a bit from last season's Elite Eight team, notably an enforcer in Quincy Acy. The Bears don't have a player who can duplicate his efforts, but there is enough talent to be the second-best team in the Big 12.
Whether they become that or not will ultimately be up to the frontcourt players who need to max out their abilities in the coming months.
To: Kansas

From: Myron Medcalf

My gift to Kansas is not cheap, but it's necessary. For around $400, you can purchase a high-quality safe that can protect documents from a fire that burns for an hour at 1,700 degrees. Bill Self needs this for the blueprint that details his secret formula for assembling a program that's managed to win eight consecutive Big 12 titles and enter conference play in 2012-13 as the favorite again. I know there's a document somewhere in Lawrence.
Even in today's one-and-done culture, which allows elite teams to stack talent and leave the rest of the country searching for the right combo of vets and youth to compete, the best programs go through occasional slumps. But Kansas has found a way to win eight consecutive titles with talented big men, savvy guards and in-your-face defense. And there's no team in the Big 12 that appears to be equipped to stop the Jayhawks from winning their ninth in a row this season.
They lost Thomas Robinson and Tyshawn Taylor but kept rolling. Jeff Withey enhanced his inside game during the offseason. Kevin Young and Perry Ellis have added depth in the post. And Ben McLemore continues to prove that last season's rumors about his exploits in practice were legit. Self is the king of the reload. Just when you think Kansas has lost too much and will finally finish the season without a slice of the Big 12 crown, it wins another one. The Jayhawks reboot as well any team in the country. It's time for Self to put that blueprint in a safe place.
To: Kentucky

From: Dana O'Neil

To the Big Blue Nation and John Calipari, I offer a collection of Legos -- those complex, 4,000-piece creator sets my 11-year-old daughter loves to build.
When she pulls the pieces out of the box, they're all separated in little plastic bags. Bag No. 1 builds the base, No. 2 the roof and No. 3 the decorations.
The pieces are shiny and pretty, because they're new but separate from one another. Without my daughter's care and patience to painstakingly fit them all together, they don't amount to much. Eventually, though, with time and hard work, she builds something pretty miraculous -- a building, an airplane or even a perfect replica of a Volkswagen van.
Perhaps over the holiday break, Big Blue Nation, Calipari and even the Wildcats themselves can each grab a Lego kit, pour out the pieces and remember how hard it is to build something from scratch, how long it takes and how sometimes you've got to try a few pieces together incorrectly before you realize your mistake.
To: North Carolina

From: Robbi Pickeral

To Roy Williams and North Carolina, let me present the FrankenCenter.
It morphs the three big men who have been rotating at starting center -- Brice Johnson, Joel James and Desmond Hubert -- into one Transformer-like player, combining all of their strengths (and leaving their weaknesses on the bench).
Hubert, a sophomore, adds the defensive component and experience (he's the best blocker of the trio and has been on the team a season longer than the others). James, a 6-foot-10, 260-pound freshman, provides the power and upside (he's been playing since he was only a sophomore in high school, so think of the improvement to come). And then there's Johnson, a freshman who seemingly scores a bucket every minute and is fifth on the team in points. He adds the offense.
Thus, the FrankenCenter gives the the Tar Heels just what they need entering the ACC season: a wide-bodied 5 who never fails to grab offensive rebounds (a la the East Carolina game, when no post player did), who battles for position on the block so often that teammates can't fail to find him and who consistently gets to the free throw line. Oh, and he swats shots, scores and is only going to continue to get better, too -- meaning Williams no longer has to answer the question, "Have you decided on a starter at center yet?"
To: Pac-12 commissioner Larry Scott
From: Jason King

To Pac-12 commissioner Larry Scott, I offer a set of defibrillators to shock some life back into his struggling conference. Or maybe 11 truckloads of Red Bull to use as wake-up potion at every institution other than Arizona, which is the only school keeping the league relevant. The Pac-12 has been down for a few years now, but this was supposed to be the season when things began to turn. Instead, UCLA's high-profile players are still searching for chemistry, Kevin O'Neill is learning the Land-of-Misfit-Toys approach won't work at USC and Cal is still, well ... Cal, which isn't much. Arizona State was supposed to be better, but the Sun Devils just lost to DePaul. Oregon is the only team in the nation to beat UNLV, but instead of capitalizing on the momentum, the Ducks lost to UTEP. Colorado made a name for itself by beating Baylor and Murray State -- and by escaping in overtime against 1-10 Texas Southern, losing to Wyoming and getting smacked by 36 points against Kansas. Here's hoping the holiday season brings a jolt of energy to the Pac-12.
To: Pittsburgh

From: Eamonn Brennan

This Christmas, I would like to get the Pitt Panthers a time machine. Why? Because it would be nice to go back in time, "Looper" style, and prevent their nonconference schedule from ever happening in the first place.
The Panthers are one of the nation's 10 best teams to date. They rank No. 2 in adjusted offensive efficiency, per KenPom.com; they score, rebound and prevent turnovers at top-10 rates; and they are clinically effective finishing inside the 2-point line. Talib Zanna, Tray Woodall, Lamar Patterson, James Robinson and Dante Taylor are all having hyper-efficient seasons so far, and star 7-foot freshman Steven Adams is right there with them.
The trouble? No one has seemed to notice. And while it would be easy to rail about how people just don't understand per-possession statistics and how wrong the polls are every week (I've been there), it's hard to blame it on the voters. Pittsburgh had one marquee nonconference game on its schedule -- against Michigan in Madison Square Garden. It played well and lost. The rest of the schedule has been bunk, and no, I am not awarding credit for playing Lehigh and Detroit at home.
If a Pitt fan tells you his team is underrated, he has a seriously good case. At which point you tell that Pitt fan: OK. Beat someone first, then I'll believe you. That is not an unfair response.
Which is why I'd like to give the Panthers a noncon-schedule time machine just in time for Christmas. We can invent one of those, right?
A stocking full of coal for the SEC
By Myron Medcalf
ESPN.com
Every week, I handle the SEC in ESPN.com's conference power rankings. This week, I'll probably go with Missouri at No. 1, Kentucky at No. 2, Florida at No. 3 ... and an 11-way tie for last place. There's limited, if any, separation after the top three or four teams in this subpar assembly.
Sure, the SEC is the prince of college football. But the conference is college basketball's pauper right now.
[+] Enlarge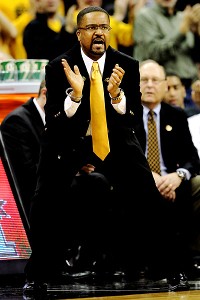 Jamie Squire/Getty ImagesThe SEC should send a holiday card to Frank Haith and Missouri.
The league's lackluster Saturday proved its mediocrity. Missouri, the new resident that some of the conference's supporters booed when it announced its move to the SEC, actually saved the day with an 82-73 win over No. 10 Illinois in St. Louis.
The rest of the conference, however, did little to boost its overall rep.
Southern is ranked 248th in Ken Pomeroy's rankings, but the Jaguars were sharp enough to beat Texas A&M 53-51 on the road. Alabama's recent string of injuries -- Carl Engstrom and Andrew Steele are both out -- has clearly taken its toll. Still, Mercer shouldn't have outscored Bama 44-32 in the second half of a 66-59 win -- in Tuscaloosa.
And don't believe the margin in LSU's 84-80 loss at Marquette. The Tigers were down 43-22 in the first half against a Golden Eagles squad that lost to UW-Green Bay last week.
The same Winthrop team that lost to James Madison and Wofford by a combined 25 points managed to beat Auburn by seven.
Plus, Ole Miss -- a team that's averaged more than 80 points per game against one of the nation's weakest nonconference schedules -- lost to Indiana State 87-85 in overtime. The Sycamores, much like Middle Tennessee State, put up a fight, and the Rebels ultimately lost. That's just Ole Miss basketball, right?
I still believe Florida is an elite team even though the Gators stumbled in the final minutes of their Dec. 15 loss at Arizona, and they couldn't handle a hungry Kansas State squad in Kansas City. But they haven't looked like the dominant squad they were in November and the first half of December.
Saturday's SEC wins -- Kentucky over Marshall, Arkansas over Alabama A&M, Georgia over USC, South Carolina over Manhattan and Mississippi State over Central Arkansas -- didn't resolve anything, either.
There are far more questions than answers about the SEC right now.
Last season, the Pac-12 was the nation's target, as average teams beat other average teams in pursuit of the league's championship. The SEC deserves the same scrutiny right now. Once you move past the conference's best three or four teams, there's just not much substance.
Missouri and Florida are potential contenders. Kentucky could evolve into a national power again. And Tennessee has improved in recent weeks. As for the rest of the conference? Ugh.
Per ESPN.com's RPI ratings, only five SEC teams have a nonconference strength of schedule in the top 100, and the league is 1-9 against teams in the top 25 (RPI).
So every week, it seems, I end up with the same list. I put Missouri, Florida and Kentucky -- not necessarily in that order -- at the top of my conference power rankings. And then, I struggle with the other 11 teams, because they're all so ordinary.
Saturday's performances confirmed as much.
Well, at least the SEC can count on Missouri now. Fans around the league should thank the Tigers for accepting the invite.
Team of the week: Kansas State

Bruce Weber had to make his mark at some point with Kansas State and its faithful, and the schedule provided his Wildcats three opportunities to do so.
Florida was the last chance, and Weber didn't miss.
Kansas State knocked off the Gators 67-61 in Kansas City, a season-changing win for the Wildcats and an exclamation point on a tremendous day for the Big 12.
K-State lost to Michigan handily in New York in the NIT Season Tip-Off, got smacked in the second half at Gonzaga and barely won at George Washington.
Taking down Florida behind Will Spradling's 17 points will be one of the most significant wins of the season for the Wildcats. There is no team that has established itself behind Kansas in the Big 12 so far. Oklahoma State and Baylor have a chance, but Kansas State can no longer be dismissed. This win did wonders for the perception of this team, let alone its confidence.
Five others worthy of mention
Kansas: If you had any doubts about whether Kansas could get back to the Final Four, erase them now. KU destroyed Richmond at home Tuesday and then won a true road game at Ohio State. Ben McLemore scored 22 points as the Jayhawks proved they're a legit titel threat. This team's confidence and execution may be as good as that of any team Self has had at Kansas.
Missouri: The Tigers won the Braggin' Rights game with a stellar performance out of Laurence Bowers, who scored 23 points and had 10 boards and four blocks in a win over Illinois. Mizzou has established itself as an SEC title contender. With Florida losing its second straight game away from home and Kentucky still needing to win a high-profile game, it's not a reach to look at Mizzou as a possible regular-season champ. This week's trip to UCLA will prove if the Tigers can maintain the momentum.
Cincinnati: The Bearcats looked unorganized and out of sync in the first half against Xavier. They were turning the ball over and getting beaten off the dribble, but they flipped the script in the second half and sealed a quality win over their archrival. The Bearcats then had to claw to put away Wright State. Cincinnati ended the week as the Big East's only undefeated team after Temple knocked off Syracuse.
UTEP: Conference USA is wide open, and someone needs to step up as a legitimate challenger to Memphis, if we are to assume the Tigers are still the team to beat. Well, the Miners, who looked awful at the Old Spice Classic, are on a bit of a roll. UTEP nearly took out UNLV last week before beating Oregon in three overtimes and beating Arkansas-Pine Bluff. The Miners have plenty of work to do with no rest on the schedule anytime soon.
Illinois State: The Redbirds were a preseason Missouri Valley title contender, but three straight losses -- to Northwestern in South Padre Island, Texas, at Louisville and to Wyoming -- may have made some pause. It shouldn't. Illinois State found itself this past week with wins at Dayton and against Austin Peay. Jackie Carmichael was sensational with 25 and 18 points in the two wins, respectively. The Missouri Valley doesn't mess around, with Illinois State hosting Creighton in the second game of the conference schedule on Jan. 2.
-- Andy Katz
Editor's note: This edition is for games played from Sunday, Dec. 16, to Saturday, Dec. 22.
Three observations

1. Maybe the Big 12 isn't so bad after all. The much-maligned conference picked up a handful of notable victories last week. Kansas looked like a legitimate NCAA title contender in Saturday's 74-66 victory at Ohio State, which was easily one of the top road wins by any team all season. Hours later, K-State and first-year coach Bruce Weber upended No. 8 Florida 67-61 in Kansas City. Those two wins overshadowed Texas' somewhat shocking blowout of North Carolina on Wednesday in Austin. Even though it didn't come against a ranked opponent, Baylor played its best game of the season in a 79-64 shellacking of BYU.

2. Kyle Anderson and Shabazz Muhammad are starting to heat up at UCLA. The twosome combined for 47 points in Saturday's victory over Fresno State, and Anderson added 17 rebounds. Muhammad, who has been working out with private trainers to drop weight and get into better shape, has scored more than 20 points in his past three contests. Arizona is clearly the class of the Pac-12, but the rest of the league is so mediocre that I can still see the Bruins -- who received a ton of criticism early in the season -- finishing as high as second.

3. USC's Kevin O'Neill has a reputation as one of the game's top X's and O's coaches -- especially when it comes to defense -- at any level. When O'Neill isn't coaching in college, there's always an NBA franchise eager to snatch him up as an assistant. But for the life of me, I can't figure out why O'Neill would schedule so many tough nonconference opponents for a program that's trying to rebuild itself following NCAA sanctions. USC has already played Illinois, Texas, Marquette, Minnesota, New Mexico, Long Beach State, Nebraska and San Diego State. The Trojans are a much more talented team than Georgia and UC-Irvine, but they lost to both of those schools this week, likely because of mental and physical fatigue. If USC (4-8) doesn't find enough energy to regroup, O'Neill could lose his job.
-- Jason King
Three things I learned

1. No one will go undefeated. OK, so we didn't exactly "learn" this; it's something everyone knows to be true, because it has been true every season since 1975-76. Even our best modern teams -- Kentucky 2011-12 or Kansas 2007-08 or North Carolina 2008-09 -- are destined to take a loss or three along the way. We lost three unbeatens Saturday: Syracuse, Illinois and New Mexico. All three have had excellent starts to the season -- especially Illinois, which has notched impressive wins in Maui and played a talented Missouri tough on Saturday -- but it was only a matter of time until someone knocked the Orange off. Unbeatens remaining: Duke, Michigan, Arizona, Cincinnati and ... wait for it ... Wyoming. It is safe to say the Cowboys will not end the season unbeaten, either.

2. Texas is going to present problems. The Myck Kabongo thing is a disaster. The last thing a team thus far ruined by its copious turnovers needed was to learn its point guard would miss 23 games for misleading the NCAA in a silly illegal benefits investigation involving a summer workout in Cleveland. Without Kabongo, Texas has been turning the ball over constantly and has been unable to build or sustain a lead against even mediocre opponents. But Texas' S is actually one of the best in the country. As we saw midweek, it can shut down decent offenses (North Carolina), and as we saw Saturday, it can present some major issues for good teams on the road (Michigan State). Without Kabongo, Texas is not a Big 12 contender. But it is a team that few will enjoy facing.

3. Kansas State is of a similar ilk, but the Wildcats can also score. When Bruce Weber left for KSU, I thought it was the best match of new coach and personnel in the country. Frank Martin had built the type of team -- big, strong, defense- and rebounding-oriented, unafraid to win ugly -- that Weber had tried and failed to build at Illinois in recent seasons. Instead, his teams always came a little undercooked, a little soft. Not the Wildcats. Saturday's 67-61 "upset" of Florida probably shouldn't have come as major surprise, because the Wildcats are capable of physically dominating a more skilled team and leveling the playing field with brute force. And hen Will Spradling gives you 17 points, six rebounds and five assists, and you defend like K-State, you can beat just about anybody.
-- Eamonn Brennan
This week's starting five
The Starters
Khalif Wyatt (Temple): The senior guard powered the Owls' 83-79 upset over No. 3 Syracuse on Saturday in the Gotham Classic at Madison Square Garden. He finished with 33 points (8-for-17), four assists and three rebounds. He was also 15-for-15 from the charity stripe. Wyatt had 17 points in a 72-62 loss to Canisius on Wednesday and 20 points in a 63-46 win over Alcorn State on Monday.
Ben McLemore (Kansas): The redshirt freshman's rise continued on Saturday when he scored 22 points (3-for-6 from the 3-point line) in a 74-66 win at No. 7 Ohio State. He had 14 points and seven rebounds in an 87-59 victory over Richmond on Tuesday. He's emerged as the go-to scoring option for the Jayhawks.
Laurence Bowers (Missouri): Bowers missed all of last season, including Missouri's annual rivalry game with Illinois in St. Louis. He made up for that lost time, however, when he finished with 23 points, 10 rebounds, four assists and a block in No. 12 Missouri's 82-73 win over No. 10 Illinois on Saturday. He was also 10-for-20 from the field. He had 11 points in a 102-51 win against South Carolina State on Monday.
Mike Muscala (Bucknell): The senior center has been one of the most potent under-the-radar players in the country. He finished with 17 points, 11 rebounds, two assists and two blocks in a 79-67 loss at Princeton on Saturday. He had 26 points, 13 rebounds, five blocks, four assists and three steals in a 71-65 victory over Marist on Wednesday. Muscala finished with 12 points, seven rebounds, four assists and two blocks in a 76-49 win over St. Francis (Pa.) on Monday.
C.J. Leslie (North Carolina State): The Wolfpack star has been stellar in December. On Saturday, he recorded 33 points, eight rebounds, three blocks and two assists in a 92-73 win over St. Bonaventure. He had 16 points, six rebounds and two blocks in an 88-79 win over Stanford on Tuesday.
The Bench
Will Spradling (Kansas State): He had 17 points, six rebounds and five assists in a 67-61 upset over No. 8 Florida on Saturday in Kansas City and eight points, five assists and four rebounds in a 78-69 win over Texas Southern on Tuesday.
Nate Wolters (South Dakota State): He had 28 points, seven assists and four rebounds in a 70-65 win at No. 16 New Mexico on Saturday and 13 points, eight rebounds and three assists in a 76-49 loss at Belmont on Wednesday.
Kyle Anderson (UCLA): The freshman had 20 points, 17 rebounds, seven assists, two blocks and three steals in a 91-78 win over Fresno State on Saturday and eight points, five rebounds and four assists in a 89-70 win over Long Beach State on Tuesday.
Khem Birch (UNLV): Birch had 20 points, eight rebounds, six blocks, three assists and a steal in an 89-74 win over Canisius on Saturday and 11 points, nine rebounds, two steals and a block in a 73-59 win over Northern Iowa on Wednesday.
Manny Arop (Indiana State): Arop recorded 27 points and seven rebounds in an 87-85 overtime win over Ole Miss on Saturday.
-- Myron Medcalf