Dishing out conference-play superlatives
"Best Dancer?"
"Top Shining Moment?"
"Most Likely To Return For Another Try?"
Those distinctions won't be awarded (or debated) until April, when the NCAA tournament has concluded and a new national champion has been crowned.
But as college basketball officially prepares to graduate from nonconference play this week -- flipping its tassel from a bunch of strange nonleague blowouts to some familiar intraleague rivalries -- it seems like a good time to pause for a few midseason superlatives, based on what we've witnessed in these first two months of warm-up games and what we expect the rest of the (frenetic? fantastic?) season.
Most Likely to Disappoint? Biggest Overachiever? Top Choice to Burst the Bubble? Feel free to weigh in. But here are our choices for some of the top conferences:
[+] Enlarge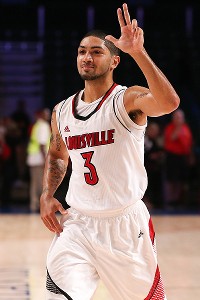 Kevin Jairaj/US PresswirePeyton Siva and Louisville remain one of the top Final Four favorites.
Most likely to succeed
The pick: Big Ten and Big East (tie)
As of the beginning of last week, these leagues had a stranglehold on the rankings, making up six of the top 10 (Michigan, Indiana, Ohio State, Louisville, Cincinnati, Syracuse) in the Associated Press Top 25 -- and with two more teams (Minnesota, Illinois) ranked Nos. 11 and 12.
The big question: Which -- and how many -- of these teams will make the Final Four?
Most unpredictable
The pick: Pac-12
Although only one team is currently ranked in the Top 25 -- No. 3 Arizona -- it's hard to know what you're going to get from teams 2 through 12, because they're all certainly capable of beating each other on any given night.
Superfreshman Shabazz Muhammad has been coming on strong of late, averaging 25 points over his past four games (including 27 during UCLA's Friday win over No. 7 Missouri). Washington had won four straight before losing to UConn on Saturday. And despite being only 4-8, USC (which has lost to four currently ranked teams) has the talent to wrestle with anyone in the league.
Who's the best? The worst? Expect the unexpected.
Best party crasher
The pick: Atlantic 10
Credit first-year member Butler for this distinction. Not only did the Bulldogs expose then-ranked (and now unranked) North Carolina in the Maui Invitational, they also toppled top-ranked Indiana on a last-second shot by a walk-on.
And who knows who might crash whose shindig from game to game come conference play? Saint Joseph's, which currently stands at 6-4, was picked to win the league. But VCU, Saint Louis, Temple and the Bulldogs are among those who have distinguished themselves so far. Heck, even Charlotte (predicted to finish 12th) stands at 11-2.
[+] Enlarge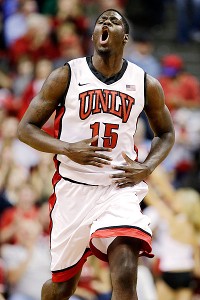 AP Photo/Julie JacobsonWith Anthony Bennett, UNLV can do some damage in March.
Wallflower most likely to crash the NCAA tournament party
The pick: Mountain West
New Mexico ... San Diego State ... UNLV ... Wyoming ... Colorado State ... even Boise State?
More than half of the teams in this league could very well earn NCAA berths. How far will they go in March?
Most shallow
The pick: SEC
Three good teams. Several question marks. And not much left after that.
(Can you figure out which is which is which?)
Most likely to be famous (in March)
The pick: The Patriot League race
Lehigh's one-point loss to Bryant on Saturday was a surprise, but both the Mountain Hawks and Bucknell have looked like they could be legitimate sleepers in March. Why?
Because they have legitimate stars: senior guard C.J. McCollum for Lehigh, senior forward Mike Muscala for the Bison. Small conference, big competition.
Not to be forgotten
The pick: Horizon League
Even without Butler, this conference is managing to make some waves. On Saturday, Loyola snapped DePaul's seven-game win streak, and Valparaiso picked up a really nice win at Murray State.
UIC won at Northwestern earlier, Detroit has Ray McCallum, and even Green Bay and Milwaukee, with the two worst records in the conference, have nice wins over Marquette and Davidson. League play should be fun.
Prom king (again)
The pick: Kansas, Big 12
Is there anyone to waylay the Jayhawks en route to their ninth straight conference crown?
I think we all know the answer to that.
Most eyebrow raising
The pick: ACC
On a positive note, still-undefeated and top-ranked Duke has been impressive, beating three top-five teams in a span of 16 days. And still-unranked Maryland hasn't lost since its season opener against Kentucky.
But the rest of the league has been somewhat depressive, what with formerly ranked Florida State and UNC falling all the way out of the Top 25, and preseason top-10 NC State tumbling to the 20s (although the Wolfpack, winner of six straight, have looked a lot more impressive of late). Even Virginia Tech, the surprise team of the league with a 7-0 start, has succumbed to reality, losing four of its past six.
What will league play bring? We shall see.
Brett Edgerton and Jason King contributed to this report. Before Monday's league openers, make sure to read Dana O'Neil's Big East primer and Eamonn Brennan's Big Ten primer.
The best from Saturday's games
Here are a few things that caught my attention while watching games on Saturday:
[+] Enlarge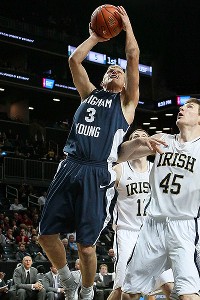 Alex Trautwig/Getty ImagesTyler Haws brought back the type of scoring that's been missing at BYU since Jimmer Fredette.
1. Saturday's top performance was turned in by BYU's Tyler Haws, who did his best Jimmer Fredette impersonation by scoring 42 points in the Cougars' 97-71 victory over Virginia Tech in Salt Lake City. Haws had 29 points in the first half, when he went 9-of-13 from the field and connected on six of eight 3-point attempts. BYU's defense also deserves praise for holding Hokies guard Erick Green to 12 points on 4-of-17 shooting. Green entered the game averaging 25.4 points for a Virginia Tech squad (9-4) which has fizzled after a 7-0 start that included a victory against Oklahoma State.
2. I don't understand the people who say Duke has hit its ceiling and that the Blue Devils aren't going to get any better. Um, why not? Rasheed Sulaimon is a freshman who has played 12 college basketball games. Sophomore Quinn Cook, who saw limited action last season, is seven weeks deep into his first season as the Blue Devils' point guard.
Why would anyone think those players wouldn't improve as the season progresses? With Cook and Sulaimon trending upward and with Mason Plumlee increasing his lead in the national player of the year race -- he had 22 points, 13 boards and 5 assists in Saturday's 90-77 win over Santa Clara -- I think Duke will continue to get better. And that's scary.
3. I'm sure most people would agree with me, so this may not be a very bold statement, but if the season ended today, I'd vote Louisville's Russ Smith as a first-team All-American. And I wouldn't hesitate. Smith had 21 points, 7 rebounds and 3 steals in Saturday's 80-77 victory over Kentucky and was especially huge down the stretch. If Smith continues to perform at a high level -- and there's no reason to believe he won't -- I think Louisville will be the team to beat in March and April.
Chane Behanan is playing like a beast, Gorgui Dieng will be back in rhythm within a week or two, Wayne Blackshear will continue to improve and, defensively, the Cardinals will be as good as any team around. Throw in a Hall of Fame coach on the sideline and one of America's best floor leaders (Peyton Siva) at point guard and it's hard to be anything but optimistic about Louisville's future.
4. Kentucky showed some encouraging signs in Saturday's loss, mainly at the point guard spot, where Ryan Harrow finished with 17 points on 8-of-15 shooting. He did not commit a turnover in 39 minutes. But he also had just three assists. Even when Harrow is playing well, it's clear that this UK team doesn't have much of a shot to repeat as NCAA champions. Even winning an SEC title will be a challenge.
The Wildcats don't have a true scorer in the post, they lack an elite level point guard, have zero depth in the backcourt and don't have a leader. That doesn't mean this team can't be very, very good. I just don't expect to see Kentucky in Atlanta come March. Enjoy it while you can, Big Blue haters. The Cats won't be down for long.
5. Nice win for North Carolina against UNLV, but this Tar Heels team still looks soft to me, both physically and mentally. Maybe I'm still having trouble shaking the memories of that Texas loss when the Longhorns made UNC -- particularly its guards -- look foolish.
To read the full post on observations from the final Saturday of 2012, click here.
Team of the week: New Mexico

The Lobos scored one of the most significant nonconference victories of Steve Alford's tenure. This isn't his most talented team, but it may be his biggest overachiever. New Mexico was smarting after a home loss to South Dakota State. The Lobos were facing the prospects of spinning out of the Top 25 and into the abyss with a possible three-game losing streak. No one would've been surprised had UNM dropped two straight on the road at Cincinnati and then at Saint Louis on New Year's Eve.
Instead, the Lobos -- after a ridiculous travel day with flights from Albuquerque to Denver to Chicago to Louisville and then a bus ride to Cincinnati -- handed the No. 8 Bearcats their first loss of the season with a 55-54 win. New Mexico managed the final UC possession efficiently, using the two timeouts it had to force Cincy into a poor final possession that ended with the star of the game, Alex Kirk, blocking Sean Kilpatrick's shot at the buzzer.
The Lobos now can come out of the trip either with a sweep or a split and feel mighty good about themselves heading into what should be one hell of a Mountain West race.
Five others worthy of mention

Arizona: The Wildcats won the Diamond Head Classic in thrilling fashion on Nick Johnson's block of Chase Tapley's potential game-winning shot. At 12-0, Arizona is one of just three unbeatens remaining as it opens up its league schedule next week against Colorado and Utah.

Harvard: The Crimson have consistently picked up significant nonconference wins under Tommy Amaker. Add a road win at Cal to the list. Harvard held the lead for most of the game and got a balanced scoring effort from Laurent Rivard and Wesley Saunders. This is a team that lost starters Brandyn Curry and Kyle Casey before the season began, casting doubt on whether an Ivy repeat was realistic. No more. Columbia beat Villanova and Brown beat PC, but no team looks as prepared to withstand the conference grind as Harvard.

Louisville: The Cardinals survived a hard-fought victory over rival Kentucky to move to 12-1 on the season. The return of Gorgui Dieng (20 minutes) should bolster Louisville going forward. Having Russ Smith continue to deliver and Chane Behanan put together a 20-point effort makes this team even more difficult to beat.

North Carolina: Until this weekend, UNC had nothing to show for itself in the nonconference season. The Heels were also down Reggie Bullock (mild concussion). Yet it was clear from the opening tip which team was more prepared for this game. Carolina withstood a rally by UNLV and put itself back into the relevant category heading into ACC play. This was a season-changing victory for UNC.

UCLA: The Bruins had one task this week: beat Missouri for a legitimate nonconference win that would carry them into the Pac-12. The overtime victory was one of the more entertaining games of the season thus far. It wasn't the best played, but there was plenty to enjoy in watching two teams deliver comparable buckets while pushing the tempo as much as possible. UCLA is now suddenly a good watch, something that hadn't been said about the Bruins under Ben Howland for quite some time.
-- Andy Katz
Editor's note: This edition is for games played from Sunday, Dec. 23, to Saturday, Dec. 29.
Three observations

1. The Louisville-Kentucky game was much closer than I anticipated. I actually expected the Cardinals to win by double digits, simply because Kentucky's freshmen hadn't encountered a road environment like the one they experienced Saturday. I also wondered whether sophomore point guard Ryan Harrow, whose toughness has been questioned, could handle the stress. Harrow finished with 17 points and didn't commit a turnover, and the Wildcats were still in it with less than a minute remaining. Louisville is clearly the better team, but there are reasons to be encouraged in Lexington.

2. After a masterful 37 minutes in which he dished out an SEC-record 19 assists, Missouri point guard Phil Pressey had a miserable finish in the Tigers' 97-94 overtime loss at UCLA on Friday. Pressey had four turnovers in the final three minutes of regulation and the extra period combined. And he was 0-for-3 from the field during that span. One of the misses came on a 3-pointer with Missouri trailing 88-86 with 32 seconds remaining in regulation. Pressey misfired on another 3 that would've forced a 97-97 tie with six seconds left in overtime. Pressey's crunch time meltdown was surprising considering how brilliant he'd been up until that point.
3. I was shocked to see what I thought were two of the Pac-12's better teams lose at home. Cal fell to Harvard 67-62 despite shooting 47.2 percent and winning the rebounding battle 33-27. The Golden Bears haven't beaten a good team all season and have virtually zero chance of earning an NCAA tournament bid. Oregon State's 67-66 overtime loss to Towson was even worse. The Beavers blew a 19-point lead against a squad that went 1-31 last season. That can't be good for Craig Robinson's job security. OSU has made significant strides, but this was a major step back.
-- Jason King
Three things I learned

1. Connecticut got it together. It's a weird time for UConn athletics -- the monolithic legend (Jim Calhoun) has retired, the future of the program's conference is questionable, and to rub salt in the wound, athletic director Warde Manuel seemed determined not to give new basketball coach Kevin Ollie anything more than a seven-month tryout. Ollie has since proved himself in spades, the perfect successor to Calhoun in talk and temperament, and earned a five-year extension.

2. Kentucky is making strides. Honestly, based on what we saw earlier in the season, I assumed UK was going to get worked over at Louisville on Saturday -- the Cards are bigger, faster, stronger, smarter, more experienced and more tested. But Kentucky played them close for 40 minutes and looked like a much different, more cohesive team than at any point during the Wildcats' early-season swoon. It wasn't a win, but it was impressive stuff nonetheless.
3. Don't schedule a wedding during the middle of college basketball season. Priorities, people.
-- Eamonn Brennan
This week's starting five
UCLA's Shabazz Muhamma won ESPN.com's Player of the Week (see video at the top of this page). Who else stood out?
The Starters
Russ Smith (Louisville): The Cardinals guard was the hero in an 80-77 home win over Kentucky on Saturday. Smith finished with 21 points, seven rebounds, three assists and three steals. He helped Louisville preserve its advantage, via multiple buckets in transition, as Kentucky cut its rival's 17-point lead to two in the final minutes of the game.
Tyler Haws (BYU): The 6-foot-5 sophomore missed last season while on a mission in the Philippines, but he hasn't shown any signs of rust. On Thursday, Haws finished with 15 points, four rebounds and four assists in an 84-54 win over Northern Arizona. He followed that performance with an explosive 42-point performance (plus three steals) in Saturday's 97-71 victory over Virginia Tech. His total marked a season high for a Division I player.
P.J. Hairston (North Carolina): After a 10-3 start, the Tar Heels needed a meaningful victory as they prepare for ACC play. Hairston (15 points, four steals, four rebounds) provided a boost in Saturday's 79-73 win over No. 20 UNLV in Chapel Hill. He was 5-for-10 from the field.
Solomon Hill (Arizona): The senior scored just eight points in last Sunday's 69-50 win over Miami, but he recovered well. Check out this stat line from the unbeaten Wildcats' 68-67 win over San Diego State on Christmas Day: 21 points, six rebounds, three assists and a block.
Kevin Pangos (Gonzaga): The sophomore was in a bit of a scoring slump but then exploded at just the right time, scoring 31 points after making 10 of 13 shots in a 94-87 win over Baylor. He was 7-of-10 from beyond the arc.
The Bench
Seth Curry (Duke): Had 31 points, three rebounds and a steal in a 90-77 win over Santa Clara.
Carl Jones (Saint Joseph's): Registered 32 points, five rebounds, four assists and four steals in a 96-91 victory over Iona. He was 12-of-19 from the field.
Jerrelle Benimon (Towson): Scored 20 points and grabbed 21 rebounds in a 67-66 overtime win at Oregon State, becoming the first Division I player to record 20 points and 20 rebounds this season.
Darren White (Campbell): Made 14 of 22 shots while posting a line of 32 points, 11 rebounds and four steals in a 72-60 win over UNC-Wilmington.
Troy Taylor (Evansville): Posted 10 points, 10 rebounds, 10 assists and two steals in an 87-70 loss at Creighton, marking just the second triple-double in school history.
-- Myron Medcalf