Feast Week an appetizer to Challenge duels
By Robbi Pickeral
ESPN.com
Ohio State guard
Shannon Scott
figures the Blue Devils have been thinking about this one. A year after OSU dismantled Duke 85-63 -- exposing the Blue Devils' lackadaisical defense by shooting 59 percent and dominating so overwhelmingly that coach Mike Krzyzewski said he was left just trying to figure out a way not to lose by 30 -- it's rematch time Wednesday night at Cameron Indoor Stadium in the ACC/Big Ten Challenge. "We know we're probably circled on their calendar," Scott, who is averaging 7.3 points for the 4-0 Buckeyes, told reporters Friday night. "We're just going to be there and be ready for them." Duke's players may indeed have a neon asterisk next to this week's showdown, but unlike the Buckeyes, they haven't had a whole lot of time to look forward to it. At least not yet. While this will mark No. 3 Ohio State's first matchup against a ranked opponent and its first game this season on a foe's home court, the fifth-ranked Blue Devils have already been tested (and passed) on multiple occasions. They beat top-5 Kentucky in the Champions Classic in Atlanta, then topped potential March foes in Minnesota and VCU before toppling No. 2 Louisville 76-71 on Saturday night to take the Battle 4 Atlantis crown. "We're hungry," Duke point guard
Quinn Cook
told ESPN.com's Jason King after the Devils' latest victory "I don't think we're satisfied. We've got to keep getting better." Here are four more matchups to circle on your viewing calendars this week:
[+] Enlarge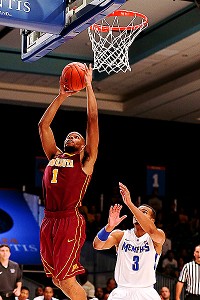 Kevin Jairaj/US PresswireAgainst his hometown school, Andre Hollins scored 41 points. It was the most by a Minnesota player in 41 years.
Minnesota at Florida State, Tuesday, 7:15 p.m. ET, ESPN2
This one features a couple of sharpshooting guards in Gophers sophomore
Andre Hollins
(who scored a career-high 41 points against Memphis at Atlantis on Friday) and Seminoles senior
Michael Snaer
(MVP of the Coaches vs. Cancer Classic). And it features a couple of teams looking to prove they are, perhaps, a bit underrated. Minnesota is coming off a 66-63 win over Stanford in the Bahamas, where Hollins came up big again (scoring three free throws with 0.4 seconds left to win the fifth-place game). An 18-point defeat by Duke in the opening game of that tournament remains the only L on the Gophers' record. Meanwhile, the Seminoles have won four straight -- including the CVS Classic title -- and it looks like they have recovered from their shocking season-opening loss to South Alabama, which pushed them out of the Top 25. This is a barometer game for both.
NC State at Michigan, Tuesday, 7:30 p.m. ET, ESPN
According to ESPN Stats & Information, the Wolfpack have defeated a team ranked in The Associated Press top 5 on 46 occasions in their history -- but not since 2007, when they beat then-No. 3 UNC in Raleigh. Adding a 47th to their books this week would be a much-needed résumeé- and confidence-builder. After watching NC State get embarrassed by Oklahoma State in Puerto Rico a week ago, and then survive UNC Asheville by only two points Friday, there are a lot of early questions about whether this once top-10 team, which was picked to win the ACC, was overestimated early. The undefeated Wolverines, winners of the 2012 NIT Season Tip-Off, pose a stiff challenge. Not only do they feature the talented sons of two former NBA All-Stars (forward Glenn Robinson III and guard
Tim Hardaway Jr.
), but they're led by a preseason All-American in sophomore guard
Trey Burke
, a speedy headache for any opposing foe. Can NC State rebuild their expectations, or will the Wolverines play up to theirs?
North Carolina at Indiana, Tuesday, 9:30 p.m. ET, ESPN
Talk about turnabout. The last time these two teams met in Bloomington, Ind., the Sean May-Raymond Felton-Rashad McCants-led Tar Heels won en route to the 2005 NCAA championship. But this time around, it's the Hoosiers who are ranked No. 1 -- and it's the Heels who are trying to pull the upset. While Indiana passed a huge test last week, outlasting a confident Georgetown team to win the Legends Classic, No. 9 UNC failed to even make it to the Maui Invitational championship game, trailing by as many as 29 points (and ultimately losing) to Butler. There will be a lot of eyes on the lane in this one, as Carolina's mostly inexperienced post players try to slow favorite-to-win-All-Everything
Cody Zeller
. But the battle of the backcourt should be interesting, too, as freshman point guards Yogi Ferrell and
Marcus Paige
(teammates in the McDonald's All-America Game, and two of the top three ball handlers in the rookie class) go at it.
[+] Enlarge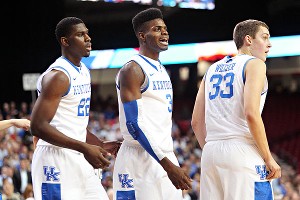 Daniel Shirey/US PresswireThe young Wildcats will face their first road test with Thursday's game at Notre Dame.
Kentucky at Notre Dame, Thursday, 7 p.m. ET, ESPN2
The Fighting Irish got dropped from the rankings last week after losing to Saint Joseph's in overtime during the CvC Classic, but they should pose a sturdy test for the Wildcats, who have played a relatively light schedule since surviving Maryland by three points then losing to Duke by seven (both on neutral courts). In its first true road game of the season, youth-packed Kentucky plays a Notre Dame team in the SEC/Big East Challenge that returns the same five starters from last season -- including 6-foot-9, 246-pound
Jack Cooley
, who is averaging a double-double (14.8 ppg, 11.3 rpg). Star freshman
Nerlens Noel
is averaging 12.4 points and 8.6 rebounds for the Wildcats, who are awaiting the return of starting point guard
Ryan Harrow
. He's missed four games because of illness, and then to tend to a family issue.
Team of the Week: Duke
The Blue Devils, who continue to be the masters of the neutral court, have a legitimate claim to be the No. 1 team in the country when the polls come out Monday. No other team has knocked off two top-five squads this season, as Duke followed up a win over Kentucky at the Champions Classic with a win over Louisville at the Battle 4 Atlantis. Give coach Mike Krzyzewski credit for this: When his team is in these tournaments, he always wants the high-level opponents. He doesn't request softer openers like plenty of other coaches. The Blue Devils opened with a blowout of a talented Minnesota team that won its other two games in Atlantis, and then beat a VCU team that had just taken apart Memphis. Indiana may have more of a ceiling and certainly hasn't done anything to deserve falling off its No. 1 perch. But polls are snapshots from week to week, not projections to March. And so far, Duke has done more on the court to be considered the top team in the country.
-- Andy Katz
Editor's note: This edition is for games played from Sunday, Nov. 18, to Saturday, Nov. 24.
Five more that impressed us
Indiana: The Hoosiers won the Legends Classic with a gritty overtime win over Georgetown after falling behind in the second half (as well as beating Georgia the previous night despite being down at the half). Indiana is still not whole with Hanner Mosquera-Perea and Peter Jurkin not eligible yet. But IU dealt with foul trouble and found other ways to score in Brooklyn, even relying at times on Jordan Hulls, which worked out quite well.
[+] Enlarge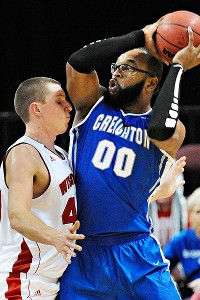 AP Photo/David BeckerCreighton is off to a 6-0 start after winning the Las Vegas Invitational.
Michigan:
The Wolverines won the NIT Season Tip-Off by taking down the two toughest teams in the field in New York with wins over Pitt and Kansas State. Michigan showed it can play at multiple speeds with the fleet
Trey Burke
leading the break with
Tim Hardaway Jr.
as a running mate and the beef inside from
Jordan Morgan
,
Mitch McGary
and
Glenn Robinson III
.
Creighton:
Out in Vegas, the Bluejays won the Las Vegas Invitational by taking out Wisconsin and much-improved Arizona State. Creighton showed it isn't a one-man team, but still that one man --
Doug McDermott
-- is pretty darn good and a legit national player of the year candidate.
Illinois:
The Illini shocked the Maui field by winning the tournament in what was supposed to be a rebuilding situation for John Groce. Those expectations now must be adjusted. Illinois took out USC handily, coasted past Chaminade and then notched a 17-point win over a Butler team that had just blown out UNC and certainly will be in the mix in the A-10. The Big Ten just got deeper, folks.
Oklahoma State:
Our week goes from Sunday to Saturday now, so we have to include the Cowboys on this list after they knocked off then-No. 6 NC State to win the Puerto Rico Tip-Off in convincing fashion. OSU showed poise and put on display arguably one of the best players in the country in freshman
Marcus Smart
. If Oklahoma State doesn't let the newfound hype get to its collective head, this team could have a special season.
Shoutout-worthy:
Cincinnati, New Mexico, Kansas, Charleston, Northwestern, Butler, Minnesota, Charlotte
-- Andy Katz
The Weekly Starting Five
As Andy Katz denotes in the video at the top of this page, Brandon Paul of Illinois was our Player of the Week. Here are five more players who stood out during the week that was:
[+] Enlarge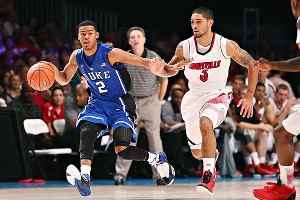 Kevin Jairaj/US PresswireQuinn Cook scored Duke's final eight points as the Blue Devils held off No. 2 Louisville in the Bahamas.
Quinn Cook, Duke:
The sophomore guard emerged this week at the Battle 4 Atlantis. He was named tourney MVP after registering 17 points and four assists in a win over Minnesota on Thursday, nine points and nine assists in Friday's victory against VCU and 15 points (6-for-6 from the charity stripe) and six assists in Saturday's 76-71 win against No. 2 Louisville. Cook scored Duke's final eight points in the title game.
Andre Hollins, Minnesota:
The sophomore scored a career-high 41 points -- the most points by any Minnesota player since 1971 -- in the Gophers' 84-75 win over No. 19 Memphis in the Battle 4 Atlantis. He struggled in Saturday's 66-63 win over Stanford, but his three free throws with 0.4 seconds to play broke a tie and won the game for Minnesota.
Doug McDermott, Creighton:
McDermott continued his bid for national player of year honors with another impressive week. After early struggles, the junior finished with 30 points and eight rebounds in Friday's 84-74 victory over Wisconsin in the Las Vegas Invitational. The Bluejays won the event the next night after McDermott dropped 29 points and nine rebounds in his team's 87-73 win against Arizona State.
Jack Taylor, Grinnell:
OK, so this space is usually reserved for Division I players. But Taylor established an NCAA record Tuesday when he scored 138 points in a victory over Faith Baptist Bible. He was 52-for-108 from the field, including 27-for-71 from beyond the 3-point line. The rest of the team took just 28 shots.
Jeff Withey, Kansas:
Withey led the Jayhawks to the CBE Classic title with 25 points, five rebounds and seven blocks in Tuesday's 73-59 win against Saint Louis. The 25 points matched his career high. He played only 19 minutes in Monday's 78-41 victory over Washington State, but he scored eight points, grabbed six rebounds and swatted five shots.
Other performances of note:
Rotnei Clarke, Butler:
20 points and a game-winning 3-pointer in win over Marquette; 17 points in upset of North Carolina; 27 points in loss to Illinois in Maui Invitational title game.
Tim Hardaway Jr., Michigan:
16 points and four rebounds in win over Pitt on Wednesday; 23 points and seven rebounds in win over Kansas State to take home NIT Season Tip-off title.
Elias Harris, Gonzaga:
16 points and 18 rebounds in win over South Dakota; 13 points, nine rebounds and four assists in victory against Clemson; 18 points and four rebounds in victory over Oklahoma.
Jordan Hulls, Indiana:
14 points (4-for-6 from 3-point line) in victory over Georgia; 17 points (3-for-6 from 3-point line) in overtime win against Georgetown.
Mason Plumlee, Duke:
20 points and 17 rebounds in 89-71 win over Minnesota; 17 points and 10 rebounds in win against VCU; 16 points and seven rebounds in victory over Louisville to win Battle 4 Atlantis tourney.
Cashmere Wright, Cincinnati:
28 points in win over Campbell; 14 points and three steals in win against Iowa State; 17 points in Saturday's 77-66 win against Oregon in Global Sports Classic title game.
-- Myron Medcalf
Sunday Showcase
Old Spice Classic Title Game:
Gonzaga 81, Davidson 67
Gonzaga is good. The No. 17 Bulldogs won their second Old Spice Classic title Sunday with an
81-67 victory
over Davidson, a talented opponent that was relentless the entire night. But they never panicked after they dug out of an early hole. Clearly, this is not just a team that will give WCC opponents fits. With their depth, star power and size, they can contend with the nation's best. Upcoming tests against Baylor, Kansas State and Oklahoma State will tell us a lot more about Gonzaga's future. But right now, this team continues to justify the early chatter about its ability to make a run in March.
For Myron Medcalf's full analysis of Gonzaga's win over Davidson, click here.
Three Things I Took Note Of
Missouri might be the most intriguing team in the country
The Tigers lost to Louisville but left Atlantis 2-1 with wins over VCU and Stanford.
Phil Pressey
made key shots late to beat the Rams and Laurence Bowers continued to be a dominant presence in the paint. All of this occurred without starting guard Michael Dixon Jr. If he returns, the Tigers will be even more formidable offensively. And the bench scoring has a chance for an even bigger lift when Oregon transfer Jabari Brown is eligible next month. Second-year coach Frank Haith has a chore ahead to blend so many transfers together for one significant run. So far he's off to a solid start, even with the distraction of Dixon's suspension.
Oregon is a team to watch in the Pac-12
The Ducks aren't a great defensive team -- that's safe to say. But this team can get up the court and produce. And it's hardly a finished product. There are still a lot of moving parts, as Dana Altman is trying to get
Arsalan Kazemi
fully engaged after becoming eligible. He had 15 boards in the tournament title loss to Cincinnati on Saturday night. The trio of guard/wings
Carlos Emory
,
Damyean Dotson
and
Dominic Artis
will continue to mesh. They were the more poised group in Oregon's upset of UNLV in Vegas. The Pac-12 is deeper than it was a year ago, and the Ducks have every reason to believe they can be a factor in the race.
UCLA has a lot of work to do
The Bruins have the pieces in place with loads of talent. But the sense of urgency has to increase on a daily basis from practice to games.
Shabazz Muhammad
will continue to feel comfortable in the offense.
Kyle Anderson
is still finding his footing as a point-forward who plays multiple positions (he brings up the ball quite a bit).
Larry Drew II
has fit in well and does seem to be leading this crew.
Josh Smith
should be used in short bursts for full effectiveness.
Jordan Adams
can be a star for this group.
Tyler Lamb
isn't himself yet, due to an injury. The main thing is for this group to play with purpose and passion. If that happens, UCLA can be a major player during the season.
-- Andy Katz
Three Things I Learned
Duke is still Duke
There was some talk before the season that the Blue Devils were about to suffer a rare slide into something resembling mediocrity, or at the very least, they were outclassed by more talented NC State and UNC teams. If you bought into this, be advised: It was wrong then, and it looks especially so now. Duke is still Duke, which means the Blue Devils still have a talented, versatile group of players, with a bunch of really good guards (including freshman
Rasheed Sulaimon
, who is as adept a scorer as Austin Rivers without needing to dominate the ball for huge stretches), glue guys such as
Ryan Kelly
, bench bodies and a much-improved
Mason Plumlee
on the interior. The Devils are smart, they run their stuff, they're defending better than in 2011-12 and they just win games. There is no reason to expect anything else this season.
VCU is the nation's best 3-3 team, and it's not even close
Thus far, the Rams have played Wichita State -- a 53-51 loss to an underrated team that is already getting great things from
Malcolm Armstead
-- Memphis, Duke and Missouri. They toppled the Tigers with relative ease, pushed Duke for all 40 minutes and (thanks to Flip Pressey) just missed their chance to upset No. 13 Missouri in a 68-65 loss Saturday night. That is a brutal schedule, but the Rams look great -- probably more talented and versatile than the legendary Final Four team, with even more ball pressure and interchangeability. It's going to be fascinating to see what that team can do in the Atlantic 10. I'm anticipating big things.
UNLV is a work in progress
Like the two items above it, this is not some new revelation. It's an affirmation of something we already assumed to be true, as borne out by facts on the ground throughout Feast Week. Entering the season, UNLV appeared set to field one of the most talented frontcourts in the country. But it wouldn't be available right away -- center Khem Birch won't be eligible until late December -- and even then it would require some rejiggering. Guards
Anthony Marshall
and
Justin Hawkins
are taking on a much larger share of the load than ever before, forward
Mike Moser
will play less around the rim than last season, and freshman forward
Anthony Bennett
will come along eventually. The result is that you'll get stretches like we saw this week, when UNLV lost to Oregon on its own court but followed it up with a pretty resounding win over Iowa State. The Rebels' ceiling remains very high, but it may take a while before we start to see it.
-- Eamonn Brennan
They Said It
"We don't know if [his wrist is] broken yet. If it's broken, you'll get me disappointed. I don't want to know. I want to stay in an upbeat mode. Just tell me tomorrow."
-- Louisville coach Rick Pitino when asked about the status of injured center Gorgui Dieng following his team's 76-71 loss to Duke.
"This definitely [is] a great feeling. It is my hometown team. I won two state championships with a couple of the other guys on Memphis. It was a great feeling to win against guys I used to play with."
-- Andre Hollins, who scored 41 points in Minnesota's 84-75 victory over Memphis in the Battle 4 Atlantis. Hollins grew up in Memphis.
"I just saw a little opening and took it. It's just a learning process this early in the year. Most of our guys never had that much experience."
-- Georgetown's Otto Porter after he scored a layup in the final seconds of regulation in his team's 82-72 overtime loss to Indiana.
"It was really exciting to get down to the court for the first time. I just finally was getting the jitters out and playing college basketball for the first time and hopefully I'll get better. I think a lot better. I didn't do a lot well tonight."
-- UCLA freshman Shabazz Muhammad after his first collegiate game, a 78-70 loss to Georgetown. He registered 15 points.
-- Myron Medcalf