Duke's Curry among the nation's lucky ones
RALEIGH, N.C. -- Duke guard Seth Curry doesn't know the actual medical name of his lingering right shin injury. He just knows it tweaks or twinges or pains him every time he runs -- meaning, for a college basketball player this time of year, pretty much every day.
He hurts. But the only thing that would hurt worse is not playing at all.
"I wanted to play my senior year; that's what's driving me pretty much,'' the Wooden Award finalist said last week, before his top-ranked Blue Devils suffered their first loss of the season at No. 20 NC State. "I still feel like I can be a top player in the ACC and contribute to my team with the injury. So I don't want to just sit out and let a year go by."
[+] Enlarge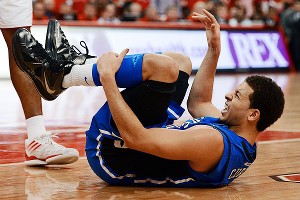 Chuck Liddy/Raleigh News & Observer/Getty ImagesSeth Curry was hurt late in Saturday's loss to NC State, adding to the physical issues he's faced this season.
Duke fans got a scare Saturday when, with about three minutes left in Raleigh, Curry slipped on a wet spot on the court and crumpled to the ground in obvious pain. He rolled his left ankle, and although he didn't return to the game -- stymieing Duke's chances at a rally, considering he scored 22 points -- early indications are that the injury is mild.
But it's another illustration of how important Curry's decision to compete despite the hurting shin has been for the Blue Devils -- and may also be as his team tries to bounce back.
Think about it: Had Curry (who hurt his lower leg during the offseason) had to sit out some or all of 2012-13, it likely would have put more pressure on freshman wing Rasheed Sulaimon, among others, to score more and more often. The ACC Rookie of the Year candidate has shown nice flashes, but not with the savvy of the senior who is averaging 16 ppg and 41.3 percent 3-point shooting.
And with forward Ryan Kelly now sidelined indefinitely with a right foot injury, it would have left two senior leaders watching from the bench.
Uh-oh.
"It is frustrating,'' Curry said of the injury, "but it would be more frustrating if I were sitting out of a bunch of games."
As it is, Curry -- son of former NBA standout Del and brother of current NBA guard Stephen -- sits out most workouts. He said he practices only about 15 percent of the time in order to rest his leg; this is something his teammates, he added, have kindly understood -- especially when he continues to contribute so much.
Such as his 23 points against Kentucky earlier this season. Or his 25 against Minnesota. Or his 31 against Santa Clara.
Or the layup followed by a 3 in the second half Saturday that cut NC State's lead to one.
"I kind of shock myself sometimes,'' said Curry, who has missed only one game -- a win over Delaware -- and that was because of a left ankle injury. "But that's just the thing about being a fifth-year senior. I know what I do, and my teammates know what I do."
Between games, when he isn't practicing, what he does is get treatment and go to class and study, all in a walking boot. Trainers have told him his shin seems to be improving, although it doesn't really feel like it.
"It's kind of a tricky situation,'' Curry said. "I think the only way to heal it is to rest it, and I can't do that right now. I'll probably do it for a month or two after the season."
After, he hopes, a long NCAA run. The thought and goal of that makes all the discomfort worth it.
"When it first happened … and I sat out the whole month before the season started, I didn't know if I was going to be able to play, have surgery or what. It was scary, it was real scary.
"I'm just so happy to be out there playing."
Teams and players that haven't been so lucky:
C.J. McCollum, Lehigh
[+] Enlarge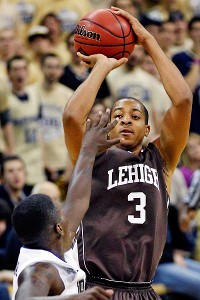 AP Photo/Keith SrakocicC.J. McCollum was an elite scorer when he was sidelined.
The senior guard who helped stun Duke in the NCAA round of 64 last season broke his left foot earlier this month in a loss to VCU. The best-case scenario is that he could return in early March, although he may not return at all. He was averaging 23.9 ppg at the time of his injury.
Reggie Johnson, Miami
The Hurricanes are 4-2 (2-0 in the ACC) without the wide-bodied big man, who was averaging a double-double before he fractured his thumb last month. Sixth-year senior Julian Gamble has been filling in admirably, but they're still hoping for a mid- rather than late-February return.
Tim Frazier, Penn State
There weren't huge expectations for the Nittany Lions this season, but what there were centered around point guard Frazier, who was averaging 16.3 points and 3.8 assists before he ruptured his left Achilles tendon in November. PSU is 6-5 without him this season heading into Sunday's game, but at least a medical redshirt is a possibility.
Drew Crawford, Northwestern
Here's another senior who will be looking for a fifth year after having surgery to repair a torn labrum in his shoulder last month. He was his team's leading scorer through the first 10 games; the Wildcats are 3-3 since.
Jeronne Maymon, Tennessee
Even after a setback in his recovery from offseason arthroscopic knee surgery, it was thought the senior (who averaged 12.7 points and 8.1 rebounds last season) would be able to play this season. But the team announced earlier this month it would redshirt the forward. The 8-6 Vols miss his offense, averaging just 65.2 ppg.
Ryan Kelly, Duke
The hope is that Kelly, who missed three postseason games last year because of the same foot, is sidelined only a couple of weeks. The Devils are 0-1 without him.
Laurence Bowers, Missouri
The Tigers' leading scorer will miss at least one more game after spraining the MCL in his right knee last week. No. 10 Missouri lost at Ole Miss without him Saturday and shot only 36.8 percent. Bowers missed all of last season with a torn ligament in his left knee.
Carl Hall, Wichita State
The forward was averaging 13.9 points and 7.6 rebounds when he broke his right thumb after falling on it in practice in mid-December. He was expected to miss a month. His team has won six straight without him heading into Sunday.
Luke Martinez, Wyoming
The senior guard is sidelined indefinitely after reportedly breaking his right ring finger in a Dec. 30 bar fight. The Cowboys are 2-1 without him, including their first loss of the season last week to Boise State.
Observations from Saturday's games
By Myron Medcalf
ESPN.com
[+] Enlarge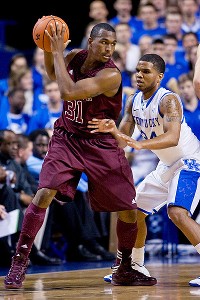 Mark Zerof/USA TODAY SportsElston Turner's 40 points were too much for Kentucky.
Southern (SWAC) might be better than Kentucky: I'm not one to get into a transitive discussion, but the truth is that Kentucky just lost to a Texas A&M program that suffered a 53-51 home loss to Southern on Dec. 22. I know it doesn't work like that.
And you can't ignore the fact that Elston Turner (40 points, 6-for-10 from the 3-point line) played like Jesus Shuttlesworth ("He Got Game") in the 83-71 win.
But entering this game, the Aggies -- like the majority of the SEC -- were a mediocre squad. But the Wildcats are moving toward mediocrity with every poor performance.
Remember when Rupp Arena was special? The Wildcats had won 55 consecutive games there before Baylor stopped that streak last month. This group managed to win five in a row. That's decent, I guess. I've hyped the Wildcats' potential all season. I'm done with that.
This young group is a mess -- a lot of talent, no substance.
The Bruins are coming: UCLA can officially put its Nov. 25 loss to Cal Poly behind it. This is not the same team. The Bruins' 78-75 victory over Colorado in Boulder was their ninth in a row. What's changed?
Well, Shabazz Muhammad (18.5 ppg) is in shape now. And he certainly looks the part of the elite recruit that many expected to carry the program in 2012-13.
But it was Travis Wear (23 points) who came up big against the Buffaloes. That was a crucial road win for a UCLA team (51.7 percent from the field) that has played its way into the Pac-12 title picture and evolved into a program that could be one of the nation's best in the coming months.
The Bruins' defense is improving. (Colorado committed 14 turnovers and shot 5-for-17 from the 3-point line.) And their offense (19th, according to Ken Pomeroy) is jelling. Watch out for UCLA.
Welcome to the SEC title conversation, Ole Miss: Andy Kennedy's program was an enigma as SEC play began. The Rebels' numbers have been impressive (83.7 points per game, top 40 in Ken Pomeroy's offensive and defensive efficiency ratings) all season.
But their nonconference strength of schedule was so mediocre (242nd, per ESPN.com's RPI) that it was difficult to know if those stats were valid indicators of their potential. Losses to Middle Tennessee State and Indiana State only complicated the assessment process. But Saturday's 64-49 home victory over No. 10 Missouri was a statement victory for the program.
The Rebels are legit. Yes, Laurence Bowers' absence (knee injury) affected the Tigers, but they lost because Ole Miss' defense pressured them into costly mistakes (19 turnovers, 2-for-18 from beyond the arc and a season-low 49 points). And they couldn't stop Murphy Holloway (22 points, 8 rebounds, 4 steals and a block).
Ole Miss is officially an SEC contender.
Colorado State overcomes 18-point halftime deficit in overtime thriller: I know No. 16 San Diego State's 79-72 overtime victory over Colorado State says a lot about its standing in the Mountain West. It's tough to argue that the Aztecs aren't the best team in this deep league.
They have one of the best defenses in the country (22nd in Pomeroy's ratings). Plus, Jamaal Franklin leads SDSU's talented and versatile offense. But I loved this game because of the heart that the Rams showcased.
Colorado State was down 41-23 at halftime in this matchup. Colton Iverson (18 points, 11 rebounds and 2 blocks), however, helped his team close the gap in the second half. He sent this one into overtime with a putback in the final seconds.
CSU's surge was more evidence of the depth in the MWC. And I actually thought this was the game of the day.
So much action. Such an amazing comeback.
Indiana and Minnesota win: No. 5 Indiana and No. 8 Minnesota did plenty to boost their respective national reputations in the Hoosiers' 88-81 win over the Gophers in Bloomington.
For the bulk of the game, Indiana proved that it is one of the best teams in the country with a dominant performance that nearly KO'd Minnesota. The Hoosiers were 7-for-11 from the 3-point line and led 52-29 at halftime. It was an amazing performance.
A lot of teams would have been resigned to defeat if trailing by 23 points at the half, especially against a Hoosiers squad that had won 18 in a row at Assembly Hall. Not Minnesota.
This gutsy crew, by far Tubby Smith's most skilled, scored 52 points and held the Hoosiers to a 1-for-8 clip from beyond the arc in the second half. They kept fighting and had a legitimate shot at the upset late.
That's what matters for a program that could face the No. 1 team in the country Thursday when it welcomes Michigan in to Minneapolis. The Gophers can feed off that finish.
North Carolina prevails in must-win over Florida State: The Tar Heels needed this one. They'd lost their first two ACC games (against Virginia and Miami) and had to avoid an 0-3 start in the ACC.
They hadn't cracked 60 points since that 79-73 win over UNLV on Dec. 29. They entered Saturday's matchup at Florida State without Leslie McDonald, who tweaked a knee prior to the game.
Yet the Tar Heels competed like a team that understood the stakes in their 77-72 victory over the Seminoles.
P.J. Hairston led the way with a career-high 23 points (4-for-9 from the 3-point line).
Marcus Paige sealed the game with a pair of late free throws.
I was impressed with their relentlessness, especially since they were playing on the road.
To read all of Myron's observations from Saturday's games, click here.
Team of the week: NC State

The Wolfpack were the preseason pick to win the ACC. Yet NC State had trouble establishing itself as a favorite prior to Saturday. It struggled in Puerto Rico, losing to Oklahoma State. It lost on the road to Michigan -- one of the ACC-Big Ten Challenge's toughest assignments. NC State barely beat UConn in New York and also struggled in a win over UNC-Asheville.
Had NC State whiffed on beating a depleted Duke at home, then it would be fair game to question whether the Wolfpack were ACC-title worthy. Instead, they held on for an 84-76 victory over the previously undefeated and No. 1-ranked Blue Devils, after beating Georgia Tech to start the week.
It was only the Wolfpack's third ACC game, and therefore a wee bit early to put a "must-win" tag on the game. But had NC State blown this chance, the conviction in whether it was truly a title-contending team -- in the conference, let alone in the country -- would have been frayed.
NC State plays essentially six players, but it has the necessary parts with an anchor inside in Richard Howell, a more than capable point in Lorenzo Brown, two scoring and athletic wings in Rodney Purvis and C.J. Leslie, a shooter in Scott Wood and an energy scorer off the bench in T.J. Warren.
The Wolfpack could easily lose at Maryland on Wednesday, which is why they had to beat Duke at home.
Five others worthy of mention

Texas A&M: The Aggies lost to Southern at home a few weeks ago, yet they are now 2-0 in the SEC after beating Arkansas in College Station and stunning Kentucky at Rupp Arena behind Elston Turner's 40 points. Even though this Kentucky team is hardly the Kentucky we've come to know, this season this may go down as one of the most surprising early conference results. The Aggies' start in the SEC could not have been better.

UCLA: The Bruins have gone through some struggles this season, but the eligibility and transfer issues are behind them and so, too, are their offensive problems. UCLA is now 4-0 in the Pac-12 after sweeping the mountain road swing by winning at Utah and at Colorado. Beating the Buffaloes in Boulder may be one of the hardest wins for any other team to accomplish in the conference. The Bruins have officially turned the corner.

UConn: The Huskies are 2-1 in the Big East, and had it not been for a last-second 3-pointer at Marquette, they would be 3-0. Beating DePaul earlier this week was no surprise, but beating Notre Dame in South Bend was one of the most significant victories in Kevin Ollie's brief career as a head coach. The Huskies continued to play every possession and were simply the more sound and effective team down the stretch against the Irish. UConn is a legitimate top-four Big East contender this season. That alone is a remarkable feat.

Ole Miss: The SEC is going through a brutal season, yet Ole Miss may end up being one of the top three teams in the league. Coach Andy Kennedy believed he had a contender prior to the season, but the Rebels hadn't shown much prior to this week. Ole Miss lost in overtime to Indiana State in the Diamond Head Classic and missed out on opportunities to play Arizona, San Diego State or Miami. The Rebels, though, are off to a 2-0 start in the SEC after convincing wins at Tennessee and over a Missouri team missing Laurence Bowers. The Rebels didn't let their opportunities go to waste, and with Marshall Henderson and Murphy Holloway playing up to their potential, Ole Miss has every right to believe it can contend in the SEC.

Boise State: Broncos coach Leon Rice suspended four players -- Derrick Marks, Darrious Hamilton, Mikey Thompson and Kenny Buckner -- for the MWC opener at Wyoming. But that didn't stop Boise State from handing the Cowboys their first loss of the season. Hamilton, Thompson and Buckner are now cleared to play against New Mexico on Wednesday, giving Boise State a chance to stay at the top of the MWC in the first week of the season. The Broncos have a respectable at-large résumé two weeks into January.
Upset prediction for this week

Colorado State over UNLV, Saturday: Once again, I have no idea if this will be deemed an upset judging by who will be favored, but the Rams have proved to possess one of the toughest home courts in the MWC recently. CSU pushed San Diego State in San Diego, and UNLV struggled to beat Air Force at home in overtime. The Runnin' Rebels are ripe to be beaten in Fort Collins. It doesn't mean UNLV won't win the MWC or go further in the NCAA tournament, but this will be one of its toughest road games of the season. The Rebels must rebound well against a CSU team that makes rebounding its staple.
-- Andy Katz
Editor's note: This edition is for games played from Sunday, Jan. 6, to Saturday, Jan. 12.
Three observations

1. Missouri needs Laurence Bowers back -- fast. The Tigers looked lost without their leading scorer in Saturday's 64-49 blowout loss to Ole Miss in Oxford. Frank Haith's squad still has some nice pieces, so I was a little surprised that no one else really stepped up and took charge. Missouri is good enough to contend with Florida for the SEC title, but only if it gets Bowers back soon and learns to toughen up on the road.

2. Minnesota shouldn't drop in the polls. Heck, I know it won't happen, but I wouldn't even mind if the Gophers moved up a spot following Saturday's 88-81 loss to an outstanding Indiana team in Bloomington. Tubby Smith's squad showed a ton of toughness by fighting back from a 23-point deficit in the second half. Minnesota trailed by only three with 19 seconds remaining before Indiana closed out the win.

3. Colorado is in a world of hurt. The Buffaloes are one of the Pac-12's better teams, but they're just 1-3 in league play following Saturday's 78-75 loss to UCLA in Boulder. You have to wonder if losing to Arizona in such controversial fashion in its league opener had a mental effect on Tad Boyle's squad, which plays at Washington (11-5, 3-0) on Wednesday.
-- Jason King
Three things I learned

1. Indiana is locked in. I know the Hoosiers struggled down the stretch Saturday. They do, too. In fact, they were the first to admit it after their 88-81 win over Minnesota. Jordan Hulls and Victor Oladipo spent the lion's share of their media availability discussing missed free throws, bad fouls and the ways they can improve going forward. Considering they had just beaten one of the best teams in the country, it was almost kind of funny. (Only Cody Zeller, in his typically chill fashion, would admit that a Big Ten win like that is nothing to hang one's head about.) But all that self-flagellation serves a larger purpose. IU is trying to get better, a lot better, because its sights are set as high as a college team's can be. Nervy late collapse or no, IU fans have to feel pretty good about that.

2. Minnesota is who we thought they were. Had IU continued its thrashing of Minnesota in the second half -- it was on pace for a 104-58 win, mind you -- we could have asked whether the Gophers were truly ready to compete at the highest levels this season. That would have been pretty silly, but still, it would have been there. Instead, Trevor Mbakwe and company acquitted themselves incredibly well, fighting a battle of attrition to pull within striking distance in the second half. Tubby Smith said his team could have folded it up in the second half, and he's right. But the fact that they were one possession away during the last 30 seconds -- and would have had a chance to tie or win the score but for a brilliant Cody Zeller rebound-tip to Jordan Hulls -- tells you all you need to know.

3. UCLA is going places. Sure, sure: The Bruins may have had that ugly start (word to Cal Poly!), and Josh Smith may have transferred, and the whole Shabazz Muhammad eligibility saga may have been a sideshow, and we may have been ready to dismiss another disappointing Ben Howland team. I know I was. But the Bruins have now won eight in a row, the latest of which was Saturday's win at Colorado. The Buffs are in a bit of a slump (they've lost three of their last four), but you can't take any credit away from UCLA for holding onto a 78-75 win in Boulder, where Tad Boyle has worked hard to build an impressive hoops atmosphere. Meanwhile, though Muhammad had a so-so outing Saturday, he had played very well throughout UCLA's recent revival and could work himself onto some awards lists by the end of the season. Two months ago, the Bruins were a punch line. I'm not laughing now.
-- Eamonn Brennan
This week's starting five
Cleanthony Early (Wichita State): The 6-foot-8 forward scored 39 points (5-for-9 3s) in Wichita State's 82-76 win against Southern Illinois on Wednesday. It was the most productive scoring effort in 27 years for the Shockers (Xavier McDaniel recorded 44 points in 1985).
Elston Turner (Texas A&M): The senior guard finished with 40 points (6-for-10 from beyond the arc) in the Aggies' 83-71 win at Kentucky on Saturday. It was the first conference home loss in John Calipari's tenure as the Wildcats' head coach. Turner had 15 points and eight rebounds in a 69-51 win over Arkansas on Wednesday.
C.J. Leslie (NC State): The junior forward stepped up in his team's 84-76 win over No. 1 Duke on Saturday in Raleigh. It was the program's sixth win over a No. 1 squad. Leslie finished with 25 points (9-for-16) against the Blue Devils. He had 19 points and seven rebounds in his team's 83-70 win over Georgia Tech on Wednesday.
Doug McDermott (Creighton): The national player of the year candidate finished with 39 points and 10 rebounds in a 74-52 road win over Missouri State on Friday. He had 16 points, seven rebounds and three assists in a 91-61 victory over Drake on Tuesday.
Cody Zeller (Indiana): The sophomore was one of five Hoosiers in double figures in an 88-81 win over No. 8 Minnesota in Bloomington on Saturday. Zeller finished with 18 points, six rebounds, three blocks, two assists and two steals. He had 15 points and four steals in a 74-51 win over Penn State on Monday.
The Bench
Lorenzo Brown (NC State): He had 12 points, 13 assists and one steal in an 84-76 win over No. 1 Duke on Saturday. Brown also put up 21 points, 10 assists, five rebounds and three blocks in an 83-70 win over Georgia Tech on Wednesday.
Devon Saddler (Delaware): He had 29 points (10-for-14), six rebounds, three assists and a game-winning 3-pointer in Delaware's 86-83 win at Georgia State on Saturday, to go along with 29 points and five rebounds in a 69-54 victory over Hofstra on Wednesday.
Ian Clark (Belmont): He scored 32 points (5-for-8 from beyond the arc) in a 90-53 win over Tennessee-Martin on Saturday and added 30 points and three steals in a 107-72 victory over Southeast Missouri State on Thursday.
Keith Clanton (Central Florida): He had 36 points, eight rebounds and two blocks in an 88-85 overtime loss at East Carolina on Saturday and 12 points, 13 rebounds and five blocks in a 64-48 win over UAB on Wednesday.
Anthony Bennett (UNLV): The freshman had 22 points (2-for-3 from the 3-point line) and 16 rebounds in a 76-71 overtime victory over Air Force on Saturday and 12 points and six rebounds in a 65-60 road loss at No. 25 New Mexico on Wednesday.
-- Myron Medcalf