The art of hitting game-winning daggers
As Illinois forward Tyler Griffey was being hoisted atop shoulders Feb. 7 in the aftermath of his game-winning layup over top-ranked Indiana, teammate Brandon Paul was watching the replay, giddy but still a little stunned about how it had all come together.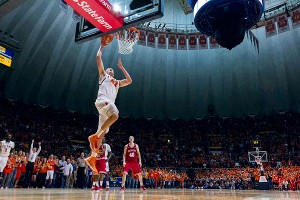 Damen L. Jackson/AP PhotoTyler Griffey's open layup knocked off Indiana.
"With only 0.9 seconds left, I had made up my mind beforehand,'' said the senior guard who threw the game-winning inbounds pass. "Rather than look for a desperation 3, I'd look more toward the basket, hoping that a player would bust a switch or something like that. I didn't expect Tyler to get as open as he did, but he did.
"We practice that [inbounds play] every day in practice, and it's something we do at a high level."
But never quite that high.
For the mere seconds of highlight film borne from a game-winning jumper, tip-back or layup -- and there have been plenty of all of those this season -- there are days, weeks, even months of preparation that go into that moment.
Florida State associate head coach Stan Jones -- whose team has won three games this season on last-second shots from senior guard Michael Snaer -- calls prevailing in those nail-biting situations "more of an art than a science."
Practice may not always make perfect in these cases, but it's still key.
"There's not a coach or a program of any merit that doesn't spend time every week, almost every day, working on those last-second situations ... so players have some kind of recognition of how to handle it,'' Jones said.
At FSU, that means spending time during the offseason evaluating personnel and determining which players the team would want on the court if it needs a last-second 2 or 3.
The Seminoles then practice all sorts of situations -- full-court, from the sideline, after a made basket, out-of-bounds under the basket -- in the days leading up to each game.
And if a contest is close, you'll likely see Jones whip out an index card that lists multiple options of down-to-the-wire scenarios, in case he and head coach Leonard Hamilton need to draw something up on a timeout grease board.
Every once in a rare while, one of those plays might turn out just like it's drawn up -- like at Duke last season, when FSU forward Bernard James' just-right screen in the backcourt freed up point guard Luke Loucks to run the floor, draw defenders and find Snaer in the just-right place for the game-winning 3.
"Just like we practiced it,'' Jones said.
More often, though, coaches count on players to read the situations they've prepped for and make clutch decisions.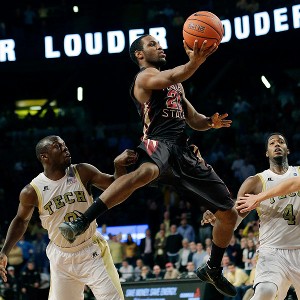 AP Photo/John BazemoreLast-second shots have become a habit for Florida State's Michael Snaer.
Like when Snaer caught the ball going the wrong way on an inbounds pass, misused a screen, but still buried a 25-foot game winner against Clemson on Jan. 24.
Or when UCLA point guard Larry Drew II ignored clapping teammate Shabazz Muhammad and instead buried a fall-away jumper of his own to beat Washington 59-57 on Feb. 7.
Or when Butler's Roosevelt Jones stole an inbounds pass with 3.5 seconds left and drove into the lane for a buzzer-beating floater to beat then-No. 8 Gonzaga 64-63 on Jan. 19.
"I do think the biggest thing is, some guys really love that moment and excel in that moment,'' said Butler coach Brad Stevens, whose team has won on three last-second shots this season (against Marquette, Indiana and the Zags), and lost on another (at La Salle). "But I think for most, it's more about, 'This is the job, this is the task at hand,' and I feel like the reason we've had three guys make those shots, instead of one guy make all three, is we have a pretty task-oriented team.
"We talk about this all the time: Sometimes you have to give everything you have for 40 minutes, one possession at a time, just to have a chance to win. In those three games, because of the level of competition, because of our complete and total focus on trying to win that game, I just think you play that possession like all the other possessions, you're just trying to figure out a way to win and win that possession. So your work, the 39 minutes and 58 seconds before that, kind of prepares you for those moments."
Usually at the end, the shooter gets most of the credit if his shot swishes through, but so many others often deserve kudos for making it happen.
Like Wisconsin's Mike Bruesewitz, whose on-the-money pass put teammate Ben Brust in position to hit a running 3-pointer that forced overtime, and an eventual win, over then-No. 3 Michigan on Feb. 9.
"Without that, the shot doesn't get off,'' Brust told ESPN.com's Andy Katz after the game. "If that thing gets tipped, then that's the game. Mike put it right where I needed it.''
Or Paul, who knew exactly what he needed to look for with 0.9 seconds left against the Hoosiers -- and found it.
Just before the crowd closed in.
"Everyone had a hand in that play, from Coach calling it, to everyone running it, to Tyler getting open,'' Paul said. "That's what we prepare for, and [we] pretty much did it to perfection."
---
It's been a crazy season chock full of last-second shockers. Five favorites so far:
Alex Barlow's floater: All three of the Bulldogs' game winners have been fun to watch, but two things put Barlow's spinning 6-footer with 2.4 seconds left in overtime on Dec. 15 over the top: It came against No. 1 Indiana, and Barlow is a walk-on.
Matthew Dellavedova's heave: Who doesn't love a near-midcourt shot? With fewer than three seconds left, St. Mary's senior guard Matthew Dellavedova took a long outlet pass and buried a 3-pointer on the run from waaaay out to beat BYU 70-69 on Jan. 16.
Reggie Johnson's tip-in: The Miami big man kept his team undefeated in ACC play on a tip-back at NC State with 0.8 seconds left on Feb. 2. And he did it with his left hand, the same hand that had been encased in a cast just three weeks before because of a broken thumb.
Griffey's layup: Seriously, how did he get that open?
Snaer's drive: Just when you thought the FSU senior couldn't hit one more game-winning 3-pointer -- he didn't. On Feb. 5, he made a driving layup just before the buzzer to win at Georgia Tech.
College Basketball
ESPN.com UNC basketball blogger
Joined ESPN.com in 2011
Wrote for Raleigh News & Observer
Kentucky's hole gets even deeper
Just last week, NCAA tournament selection committee chair Mike Bobinski hosted the first of a handful of teleconferences heading toward Selection Sunday. It was just a day after Nerlens Noel tore his anterior cruciate ligament, so naturally Bobinski was asked how the loss of Kentucky's best player would affect the Wildcats' chance at an NCAA tourney berth.
Here's what he said:
"The reality is we have about 4 1/2 weeks of basketball left to be able to watch Kentucky play and see how they perform without him in the lineup now, and that will really tell the story I think of how we ultimately judge and view Kentucky."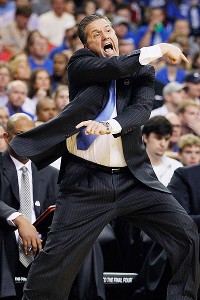 Kevin C. Cox/Getty ImagesIt's been that kind of season for John Calipari and the Wildcats.
Well, here's what the committee saw:
Tennessee 88, Kentucky 58. Tied for the fourth-worst loss for UK in the past 80 years. John Calipari's worst loss since Feb. 18, 1989. That was a lifetime ago, in his first season at Massachusetts, when the Minutemen lost to Duquesne by 31. He didn't have quite as many McDonald's All Americans on that roster.
If this were an audition for the tourney bracket, the director would be yelling, "Next!"
Just barely on the bubble to begin with -- Kentucky has zero top-50 RPI wins now that free-falling Ole Miss has dropped to 51 -- the Wildcats were quickly dumped to the First Four Out by Joe Lunardi on Saturday afternoon (remember, even before Noel got hurt, UK was getting essentially run out of the gym by Florida).
There is no question that losing Noel is a huge blow, but it is not just in terms of X's and O's.
That Tennessee loss -- and give the Vols credit for playing a near-flawless game (especially point guard Trae Golden) -- exposed the real crux of the problem for Kentucky sans Noel.
For most of the season, he has been the only one playing with a combination of consistent ferocity and passion. The rest of the team tends to disappear frequently, lollygags on defense often and shows such dispassionate body language at times that you have to wonder whether the players are clock-watching.
In Noel's absence, his freshman classmates Willie Cauley-Stein, Alex Poythress and Archie Goodwin combined for 13 points, 13 fouls and nine turnovers.
A year after coaching one of the best collections of hard-working, unselfish players, Calipari has a group he cannot cajole, bullwhip or beg into cohesion.
It has gotten so bad that the coach spent the week before the Florida game talking about his team's need to find love. Not the Valentine kind, but the bromance of basketball.
Thanks to the cottony soft bubble, Kentucky isn't dead yet. But the Grim Reaper is standing by. The Wildcats have six regular-season games left -- four that can only hurt them (against Vanderbilt, Mississippi State, Arkansas and Georgia) and two that will mean everything (visits from Missouri and Florida).
Noel, of course, won't be there for any of them, but for Kentucky right now, it's more about channeling the way he played.
Some other observations from Saturday afternoon:
1. Opportunity knocked ... And North Carolina answered. Oklahoma couldn't unlock the door. Stanford didn't hear the doorbell. In what might go down as an ACC bracket-buster game, the Tar Heels topped Virginia, 93-81.
That doesn't officially seal either team's fate, but certainly it's a feather for UNC and a glancing blow for the Cavaliers.
Meanwhile, in the Big 12, Oklahoma blew an 11-point lead and lost 84-79 in overtime at Oklahoma State, which has won seven consecutive league games for the first time in nearly a decade. It's a body blow for the rival Sooners, who have a confusing NCAA résumé -- an RPI of 20 but a 3-5 record against the RPI top 50.
As for Stanford, Bill Walton quite naturally put it best. Somebody, the analyst said, needs to start watering the roots of the Tree. Just two weeks ago, the Cardinal looked like the team that promised to capitalize on its NIT run from last season, winning three games in a row, including one against hot Oregon.
Now, Stanford has lost three of four, blowing show-me opportunities against both Arizona and now UCLA.
2. Pay attention to Marcus Smart: The Oklahoma State guard might be the most unheralded player in the country right now. Seriously. The reason might be that on their own, none of his numbers jumps off the stat line -- he averages 14.4 points, 5.8 rebounds, 4.5 assists and 3.0 steals per game -- but then go back and look at that list collectively.
He's good at everything. Offense, defense, scoring and sharing, he is the consummate individual player and the consummate teammate.
In the victory against the Sooners, he had 28 points, seven rebounds and four assists. Just another day at the office. He's also the reason the Cowboys are poised for their first NCAA tournament bid since 2010.
Oklahoma State has won seven in a row. In that stretch, Smart is averaging 19.1 points, 6.1 rebounds, 4.3 assists and 3.4 steals.
3. What would happen if ... Arkansas and Missouri played on a neutral court? Would the game ever end? Or better yet, would it ever start?
Would both teams be turned into pillars of salt, frozen in fear by the unfamiliar, away-from-home surroundings?
Give the Hogs credit -- they're now 15-1 at home after squeaking past Mizzou, 73-71. But neither team can win on the road, which is something the selection committee kind of likes to see every once in a while.
4. Can a player win national player of the year and not make the NCAA tournament? It has never happened with a Wooden winner, but Doug McDermott might be on the verge of rewriting history in a decidedly twisted way.
McDermott is continuing to put up huge numbers -- he is averaging 23 points per game and just eclipsed the 2,000-point plateau -- but his team isn't doing much to prove it belongs in the field of 68.
The Bluejays rallied from a double-digit deficit to win 71-68 at Evansville and end their three-game skid. Feel free to celebrate the end of the losing streak, but then realize that Evansville is 14-13 overall and just 7-8 in the league, so skating to a three-point win doesn't exactly inspire a lot of confidence, does it?
In the latest player-of-the-year straw poll of actual voters, collected by Michael Rothstein, McDermott was second behind Michigan's Trey Burke. He had 118 points and 21 first-place votes to Burke's 136 and 30 (the poll is done every two weeks), and the next-closest vote getter, Mason Plumlee, wasn't even in the neighborhood, with 35 points and only four first-place votes.
Numbers matter in player of the year ballots, but don't think for a minute winning isn't (and shouldn't be) a factor. If Creighton doesn't right the ship well enough soon, it will be interesting to see whether McDermott is part of the collateral damage.
5. Watch out for Providence: No, I'm not joking. Done in by injuries and down to five scholarship players early, the Friars appeared destined for their annual bottom-third-of-the-Big East finish. Not so fast.
Coach Ed Cooley has talent -- Bryce Cotton, Kadeem Batts, Vincent Council and Kris Dunn -- and now he's getting something out of it.
Providence has won four consecutive Big East games for the first time since 2004, including wins against Cincinnati and today's 71-54 victory over Notre Dame, which snapped a nine-game losing streak to the Irish.
I'm not sure whether the Friars are good enough to keep that streak going -- they go to Syracuse next -- but after too many lean years to count, Cooley has this team headed in the right direction.
In a confusing Big East -- explain Villanova, please? -- Providence is good enough to make things even more confounding.
ESPN Senior Writer
College basketball reporter.
Joined ESPN in 2007.
Graduate of Penn State University.
Player of the week: Allen Crabbe
Team of the week: Detroit
The Titans had a remarkable comeback win at Valparaiso, allowing them to keep pace with the Crusaders for the Horizon League title. They were down 15 but went on a 36-11 run to win by 10, capping a strong week that included hammering Cleveland State. Detroit (10-4) is now a half-game behind Valpo (10-3) with two league games left. I wouldn't rule out the Titans causing some issues as a possible bubble team if they could win their final two nonconference road games against Wichita State and Temple.
A year ago, Detroit shocked Valparaiso on the road to win the Horizon League tournament title. A win by the Crusaders on Saturday would have given them a season sweep against Detroit, likely knocking the Titans out of the title chase. Now it's a dead sprint over the final weeks of the season. This could be one of the more significant February road wins in any regular-season league title chase. Detroit now has a chance to set itself up for a return to the NCAA tournament at Valparaiso's expense.
Five other teams of note:
Cal: The Bears put themselves back on the bubble and into Pac-12 title consideration with a win last Sunday at Arizona and a midweek trouncing of UCLA in Berkeley. The Bears are suddenly in a strong position, hosting USC on Sunday night and visiting Oregon on Thursday night with a chance to sweep the Ducks in the season series.
Michigan State: The Spartans had a Big Ten title-contending home win over Michigan and then avoided a trap game collapse at Nebraska to set up a showdown against Indiana on Tuesday night. The Spartans have the look of a potential Big Ten title champ.
Georgetown: The Hoyas are in a tie for first place, and it's because they have figured out how to score again. The Hoyas beat Marquette and then won at Cincinnati on Friday night. Georgetown is as tough an out on the road as it is at home.
Gonzaga: The Zags got through their toughest week of the season by running past rival Saint Mary's in Moraga on Thursday and then surviving at San Francisco, which has become a recent road nemesis. It's hard to see the Zags losing again in the WCC.

Colorado State: The Rams beat San Diego State by six and then won at pesky Air Force, despite 45 points from Michael Lyons. CSU is now in a great position to make a move toward first if it can sweep this week (at UNLV and at home against New Mexico). It's a tall order, but it's doable.
Three observations
1. Kansas State is resilient. Monday's lopsided loss to Kansas hardly affected the Wildcats in Saturday's game against Baylor. Bruce Weber's squad played arguably its best game of the season in an 81-61 rout of the Bears. Here's what impressed me the most: Baylor shaved KSU's 14-point lead to two midway through the first half, but the Wildcats hardly flinched, instead fighting back with a 16-4 march to put the game out of reach. K-State is one of the few teams in America that has yet to suffer an upset. The Wildcats' five losses are to Kansas (twice), Michigan, Gonzaga and Iowa State (on the road). They are more than deserving of their No. 10 ranking. I will likely vote them even higher this week.
2. Mason Plumlee's chances of winning the Wooden Award have all but disappeared. His struggles against one of the country's other top big men (Maryland's Alex Len) are going to be difficult for voters to forget when ballots are due next month. Plumlee had just four points and three rebounds against Len in Sunday's loss to the Terps -- and that was in 33 minutes of action. Plumlee has certainly had a terrific season, and everyone is entitled to a few bad games. But it's going to be tough to tab Plumlee as the best player in America when he was outplayed so convincingly in a head-to-head matchup with another top big man.
3. There may not be a ton of great teams in the Pac-12, but good gosh, that league is entertaining. Two schools (Arizona State and Oregon) claimed overtime victories on the road Saturday. And UCLA won at Stanford 88-80. No lack of excitement there. Only two games separate the top six teams in the league. Oregon, which leads the conference with a 10-3 record, has the easiest schedule the rest of the way, so my guess is that the Ducks will win the regular season title. Still, no matter what, the Pac-12 tournament should be a ton of fun.
Three things I learned
1. Indiana's bench is getting deeper. Among the traits that separate Indiana from much of the country this season -- besides stars Cody Zeller and Victor Oladipo and two of the nation's best shooters, Christian Watford and Jordan Hulls, hunting for 3s in the same lineup -- is the do-everything sixth man play of small forward Will Sheehey. The rare times IU has struggled this season have typically coincided with substandard Sheehey performances. When he plays well, IU succeeds. Saturday, Sheehey shot 9-of-9 from the field and scored a career-high 22 points in Indiana's rout of rival Purdue. Sheehey isn't going to shoot perfectly from the field every game (obviously), but as long as he's making shots and playing with that unique edge, he's a major asset.
2. Maryland can make a push. That was probably the biggest question before the Terps' upset win over No. 2 Duke on Saturday. After all, it's not like the Terps lack the talent; plenty of coaches would take Alex Len, Dez Wells and Shaquille Cleare as their three-pronged interior attack. And it's not like we wondered whether Terps fans would bring the noise in their final matchup with their favorite foil. The question was whether Maryland could put it all together in a performance good enough to knock off the Blue Devils. They did. Now, as the Terps sit squarely on the bubble, the next question is whether that level of play can be sustained.
3. Get to know Marquette's Vander Blue and Davante Gardner. Three years ago, Blue arrived at Marquette as one of the program's more highly touted recruits in recent memory, a departure from the junior college ranks Buzz Williams has mined so effectively in his tenure in Milwaukee. It took Blue a while to realize that potential, but he's finally there. Blue's scored in double figures in every game in the 2013 calendar year except against Georgetown. Gardner came in as a much-less-heralded recruit, but you could see the preternatural soft hands and quick feet stashed in a frame bogged down by baby fat. Gardner has shed weight, honed his footwork and become Marquette's most efficient offensive option in the low block. (Memo to Josh Smith: This could still be you.) Both players were instrumental in Saturday's win over Pittsburgh, one of the more impressive of the Golden Eagles' season.
This week's starting five
The Starters
Michael Lyons (Air Force): The senior guard scored 45 points in Air Force's 89-86 loss to No. 24 Colorado State on Saturday. That's the third-highest tally for a Division I player this season (South Dakota State's Nate Wolters' 53 points on Feb. 7 is the season high). He also tied Wolters' season high with 17 field goals. Lyon scored 27 points in Wednesday's 71-56 win over UNLV.
Trae Golden (Tennessee): The 6-foot-2 junior led the Vols in the program's most lopsided win over Kentucky. Golden was just that in the 88-58 victory, Kentucky's first game without injured star Nerlens Noel. He recorded 24 points (11-for-12 from the charity stripe), eight assists and zero turnovers in the win. He scored 16 points in last Sunday's 66-61 road win over South Carolina and 12 in Wednesday's 58-46 victory at Vanderbilt.
Will Sheehey (Indiana): The junior was flawless in No. 1 Indiana's 83-55 win over rival Purdue on Saturday. He scored a career-high 22 points and went 9-for-9, a team record. He'd scored just 14 combined in Indiana's previous two games.
Alex Len (Maryland): In three previous losses, the sophomore from Ukraine failed to register double figures. It was clear that the Terps needed a big night from him to pull off a win over No. 2 Duke. Len delivered with 19 points, nine rebounds and three blocks in Saturday's 83-81 win over the Blue Devils, a crucial victory for the Terrapins' NCAA tourney hopes.
Vincent Council (Providence): The senior guard recorded a double-double in the Friars' 71-54 win over No. 21 Notre Dame. But it wasn't the usual double-double for a guard. Council finished with seven points, 11 assists, 11 rebounds and two steals. He recorded 11 points, eight assists and three steals in Wednesday's 76-66 victory versus South Florida. Providence has won four consecutive Big East games.
The Bench
D.J. Covington (VMI): 31 points, 15 rebounds, four steals and a block in an 87-78 loss Campbell on Saturday; 16 points, four blocks in an 82-79 loss against Radford on Wednesday.
Angel Rodriguez (Kansas State): 22 points, 10 assists and three steals in an 81-61 win over Baylor on Saturday; 17 points, six assists and three steals in an 83-62 loss at Kansas on Monday.
Brandon Triche (Syracuse): 29 points, six rebounds, five assists and two steals in 40 minutes of a 76-65 win at Seton Hall on Saturday; nine points and three turnovers in a 66-58 loss at UConn on Wednesday.
TaShawn Thomas (Houston): 31 points, 15 rebounds, three blocks and three steals in a 101-92 triple-overtime loss at Tulsa on Saturday; 24 points, 11 rebounds, seven assists and a steal in a 79-61 win against UTEP on Wednesday.
Jeff Withey (Kansas): Withey became the Big 12's career blocks leader in Saturday's 73-47 win over Texas. He finished with 15 points, 11 rebounds, four steals and two blocks and had 17 points, 11 rebounds, five blocks and two steals in Monday's 83-62 victory over rival Kansas State.