March is the season for lions and lambs
This is it: That month, in the world of college basketball, known for both Madness and the miraculous, for big shots and busted dreams.
This is it: That month when teams want to be peaking, clicking and building momentum entering postseason play -- or else.
They say March comes in like a lion and out like a lamb. So with a week to go in the regular season, let's take a little liberty with that old weather adage and eye which squads are roaring and which are mewling as tournament time approaches:
THE LIONS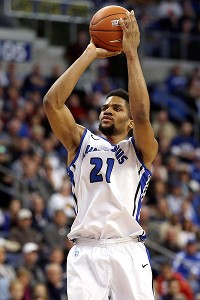 AP Photo/Jeff RobersonDwayne Evans has helped fuel Saint Louis' run.
Saint Louis: The Billikens' winning streak isn't just impressive because of the number (11) -- but because of the number of ranked teams it has beaten during the streak (three). Led by junior Dwayne Evans and senior Cody Ellis, Saint Louis is now 4-1 against top-25 teams this season, ranked No. 18 in the AP poll and leading in the standings in the competitive Atlantic 10.
Cal : Allen Crabbe (18.8 ppg) continues to lead a Golden Bears team that has won seven in a row, including victories over ranked Arizona and Oregon. But another key has been the renewed confidence of junior guard Justin Cobbs. After making only 12 of his 40 shots in his first three conference games (when his team went 1-2) and attempting only two shots in his fourth league outing, he's worked out the kinks, averaging 16.4 points during this winning streak. Cal remains in contention for the Pac-12 crown.
Kansas: After losing three straight in early February, Jeff Withey & Co. have now won six in a row to push their way back into the top 10 and title contention. Victories have included a home blowout over then-No. 10 Kansas State and a double-overtime thriller over then-No. 14 Oklahoma State. The Jayhawks look well prepared to grab their ninth straight conference title -- and maybe more.
Georgetown: The Hoyas found themselves out of the rankings after losing three of five games in January. But since then, they've come roaring back -- winning 11 games, including three against ranked teams -- to push their way back into the top 10. Sophomore forward Otto Porter has been key during this stretch, posting seven games with 19 or more points.
North Carolina: "NIT!" chants started popping up in opposing arenas after UNC got beaten handily by Butler, Indiana and Texas and then started out 0-2 in the ACC. But since going to a four-guard starting lineup in mid-February, the Tar Heels have gone 4-1, including winning four straight. There still are things to work on (such as rebounding and consistent aggression), but it looks like this team might finally be putting the right pieces together at the right time.
THE LAMBS
Baylor: Remember when the Bears were picked to finish second in the Big 12 by the league's coaches? And ranked No. 19 in the preseason Associated Press poll? Since winning six of seven to begin the new year, Scott Drew's squad has gone 3-7, with the latest loss coming via a buzzer-beating 3-pointer on Saturday by Kansas State. The three wins during that stretch? Versus teams in the bottom half of the Big 12.
Cincinnati: No doubt, the Bearcats' 61-56 victory over UConn on Saturday was a win in the right direction. But they've still lost five of their past seven games, failing to score more than 55 points in four of those defeats (and scoring 66, in overtime, in the other). A big reason for their offensive woes: the offensive woes of guard Cashmere Wright, who sprained his right knee in mid-January and has been in a shooting slump ever since. In the past seven games, he's made only 18 of his 77 shots (23.3 percent).
Syracuse: It might seem a little unfair to be on this list when your first three-game losing streak of the season is against three top-25 teams (including a disheartening loss to Georgetown that snapped the Orange's 38-game home winning streak), but it's more than that. Since beginning the season 18-1, the Orange are now 4-6 and they still have one more ranked team (No. 7 Georgetown) left on the schedule. They're still a top-15 team, still have won 22 games and will still make the NCAA tournament -- but this is not exactly the way you want to push into the postseason.
Maryland: Expectations for Mark Turgeon's team rose when Xavier transfer Dez Wells was cleared to play just two days before the regular season. And then those expectations kept growing when the Terps began the season 13-1. But they've struggled to win on the road in ACC play. And since beating then-No. 2 Duke at home on Feb. 16, Maryland has gone 2-2 -- against four teams in the bottom half of the ACC standings.
Grambling State: Picked to finish second-to-last in the SWAC, expectations were low for the Tigers. But not quite like this. They lost 74-62 to Alabama State on Saturday night in their regular-season finale -- finishing 0-27 for the season. Ouch.
College Basketball
ESPN.com UNC basketball blogger
Joined ESPN.com in 2011
Wrote for Raleigh News & Observer
Bubble Watch: Saturday winners and losers
In addition to plenty of just-plain-great games -- Louisville's win at Syracuse, Marquette's big home win over Notre Dame, that amazing Duke-Miami thriller at Cameron Indoor Stadium -- Saturday was also filled with bubble action, from the start of the day to its finish.
That's typical, of course; this is the time of year when NCAA tournament at-large selection very rapidly shifts from the theoretical to the concrete. What isn't so typical is the level of carnage wrought on this Saturday, the sheer number of teams with bubble hopes that suffered losses -- some of them devastating.
How do I know Saturday was a bubble massacre? Your Tennessee Volunteers -- a new bubble entity this week after their victory over Florida -- managed to lose at Georgia (RPI: 142), 78-68, and, according to our own Joe Lunardi, moved into the bracket. Yeah. That happened.
That is one of the things worth remembering about the bubble, of course: It's all relative. We need to get to 68 teams somehow.
And if everyone falls apart, maybe, in the end, no one does.
Here is your Saturday Bubble Watch update:
WINNERS
Creighton: For months, Creighton had no place in the bubble conversation. It was assumed, and not unfairly so, that the Bluejays and star forward Doug McDermott would rather effortlessly coast through Missouri Valley Conference play, maybe suffer an upset or two, and not have to worry much or at all about locking up an at-large bid in case "Arch Madness" proves to be exactly that.
And then things came apart. Creighton dropped a game at Drake. McDermott's scoring dried up in a hard fall at Indiana State, which was followed by a close home loss to Illinois State and a 61-54 upset at Northern Iowa.
The Bluejays barely got past Evansville -- a fourth straight loss would have started a major panic -- and last Saturday's trip to Moraga, Calif., for a BracketBusters matchup with Saint Mary's didn't go so well, either. All of a sudden, Creighton, a lock in our Bubble Watch since the month-old first edition, was at semi-serious risk of missing the NCAA tournament.
Its fans can breathe easier now. McDermott's 15-of-18 shooting, 41-point masterpiece led the Bluejays to a 91-79 win over Wichita State -- another surefire tournament team in its own right -- Saturday afternoon.
If there was any doubt in the selection committee's mind, having your All-American reclaim his status with a Bill Walton-esque shooting performance over the best competition your league has to offer should just about shore everything up. Finally.
Boise State: Boise State will be just as thrilled about the aforementioned Bluejays' big win -- all season, Boise State's best bubble credential has been its surprising late-November win at Creighton. That win looks much better now.
But Boise State should mostly thank itself, and by "itself," I mean Derrick Marks. Marks had a McDermott-like day: 38 points on 13 of 18 from the field with five rebounds, three assists and two steals.
Most importantly, he did it in a 78-65 win over Colorado State, a top-20 RPI team and a very good one to boot. (It's worth making a distinction, as teams ranked in the top 20 in the RPI aren't always actually good, but CSU definitely is.)
Marks put his team on his back, to steal a phrase from that awesome Marshawn Lynch YouTube video, and the combination of a win over Colorado State and Creighton's big win will put Boise back into the serious at-large conversation -- the fifth team from the nine-team Mountain West to deserve such talk.
Oklahoma: The Sooners snuck up on us this season. It's OK to admit it: No one really expected much in Lon Kruger's second year in Norman, and if there was any expectation at all, it was to keep getting better and maybe surprise a few people in an otherwise-down Big 12. But Kruger's group of unheralded, workmanlike guys has done much more than that. By now, the Sooners have all but locked up an NCAA tournament bid.
Sure, sure: There was that loss at Texas earlier in the week, but Oklahoma's convincing win over bubble-stuck Iowa State on Saturday was huge, and the Sooners' computer numbers -- a No. 29 RPI, a No. 9-ranked SOS, a No. 28 nonconference schedule figure -- and big wins over Kansas and Oklahoma State make them impossible to ignore. They have West Virginia and TCU left. If they handle business, they're in.
Massachusetts: It is worth noting, of course, that even after beating Memphis at home this week, Xavier's RPI is still just No. 87. It is also worth noting that the Minutemen's only top-50 win came at La Salle, which, while a decent team, is nobody's idea of a season-defining power.
But even after noting all that, we should also note that UMass won at Xavier on Saturday, something the touted Memphis Tigers were unable to do just a few days prior. That definitely counts for something. With a home game against Butler next on the docket, Derek Kellogg's team still has time to make some noise -- or at least reverse the damage of last week's loss at St. Bonaventure.
Arkansas: So, what's a home win over Kentucky worth these days, anyway? It's a good question: The Wildcats beat Missouri in their own building just seven days ago, but that's their only top-50 win of the season, and it's safe to say the selection committee won't hold John Calipari's team in vaunted regard with injured forward Nerlens Noel out.
So it's hard to know how much this victory can aid Arkansas' late push toward the bubble finish line. But I do know this: It can't hurt. On a day when so much of the rest of the bubble, particularly the SEC versions, seemed intent on imploding, a win over a fellow bubble team counts as a totally positive development. (A win at Missouri on Tuesday would be even better.)
California: Hey, remember when Cal was kind of bad? It happened this season, I swear it did -- it was just Dec. 29 when a depleted Harvard toppled the Bears in Berkeley, after all. You can be forgiven if you don't quite remember, because it hasn't been the case for weeks.
On Saturday, Cal rattled off its seventh consecutive win, a 62-46 destruction of visiting Colorado. This stretch began with a win at Arizona and included a home victory over UCLA and a win at Oregon. With no bad losses weighing them down, I'm not sure how the Bears could miss out on the tournament now.
UCLA: The Bruins completed their season sweep of Arizona Saturday night at Pauley Pavilion. UCLA wasn't really on the bubble -- not like some of these other poor, desperate souls -- but even so, it's safe to say sweeping the Wildcats makes you a lock. This file is officially closed.
LOSERS
Kentucky, Tennessee and -- gulp -- Ole Miss: Does anyone from the SEC actually want to go to the NCAA tournament? Is everybody already thinking about spring football? What on Earth is going on?
We talked about Kentucky in the Arkansas blurb; the Wildcats remain one of the more intriguing at-large cases for the committee to handle, but I'm not sure their status as a just-above-the-bubble squad was totally damaged by a loss at Arkansas.
And Tennessee, as we mentioned in the intro, managed to lose at Georgia and still move into the bracket. Wait, what? Huh? How does that happen?
The answer brings us to Ole Miss.
On Saturday, Ole Miss lost to Mississippi State. It's a little bit difficult to explain how bad this loss is without sounding a little bit mean to the Bulldogs, but I don't live in the South, so I don't have to couch my insults with the written equivalent of "Bless your heart": Mississippi State is horrible. Awful.
The Bulldogs were riding a 13-game losing streak, to no real fault of theirs or their coach's, as -- thanks to injuries and being at the start of a rebuilding process -- Rick Ray has just seven scholarship players at his command this season. Mississippi State's RPI is No. 236.
It began Saturday ranked No. 277 in the KenPom.com efficiency rankings, just one spot below mighty Samford. Many fans believe this to be not only the worst Mississippi State team, but the worst Southeastern Conference team of all time.
That team beat Ole Miss on March 2.
Not only is it a disaster for the Rebels, who have lost in recent weeks at Texas A&M and South Carolina and have turned a 17-2 start into a 21-8 mess, it's also a disaster for coach Andy Kennedy, who began the season on the proverbial hot seat and needed this Ole Miss team to be the redeemed group that got back to the NCAA tournament. It looks less likely than ever that is going to happen. And why?
Mississippi State. It doesn't get much worse than that.
Arizona State: Speaking of stalled redemption songs, it's been hard to not root this season for the Sun Devils, who soaked up freshman point guard Jahii Carson's dynamic skill like a sponge en route to a very legitimate spot in the at-large conversation, a far cry from the depths of the let's-just-pretend-it-never-happened 2012 campaign. But Herb Sendek's team appears to be fading a bit late: It fell at home to Washington last Saturday, missed a close one at UCLA on Thursday, and suffered an absolutely brutal 57-56 loss at USC on Saturday.
The Washington loss was easily the worst, but because USC began the season so poorly (before it fired coach Kevin O'Neill), a one-point loss looks worse for bubble purposes than it actually is (as USC has been playing really good basketball for about a month). Just tough breaks here.
St. John's: This week, the Red Storm suspended D'Angelo Harrison, one of its most gifted and frustrating players. Whether that departure can be blamed for Saturday's loss is questionable; what I do know is a loss at Providence for a team with an already very shaky bubble case is not a good thing. You probably know that, too.
Failing two wins in its final two regular-season games -- at Notre Dame, versus Marquette, good luck -- Steve Lavin's team may well miss the tournament.
To read more from Eamonn Brennan, click here.
ESPN Staff Writer
Covers college basketball
Joined ESPN.com in 2009
Graduate of Indiana University
POW: Ryan Kelly, Doug McDermott
Team of the week: Minnesota
The Gophers saved their season with a home win over Indiana, followed by a raucous court-storming at the Barn, on Tuesday night. Minnesota then did what it was supposed to Saturday by knocking off Penn State to move to 8-8 in the Big Ten, 20-9 overall. The Gophers end their season at Purdue and at Nebraska, two winnable games but ones that could still derail their momentum. Minnesota should make the tournament with home wins over Michigan State, Wisconsin and Indiana. But the Gophers weren't trending in the right direction until the Indiana win.
Trevor Mbakwe
played his most effective game of the season when it mattered most against Indiana. His block against
Cody Zeller
sent a strong message to the Big Ten that he's up for the challenge of ensuring the Gophers are a factor in the final two weeks of the season. Minnesota can still be a Sweet 16 team if it continues to limit turnovers and play smarter down the stretch. This is a team to watch that will finish in the middle of a major conference but could win at least two games in the NCAA tournament.
Five other teams of note:
Kansas:
The Jayhawks had a tremendous week by beating Iowa State in overtime and then routing West Virginia. Kansas had two memorable performances:
Elijah Johnson
's 39 against the Cyclones and
Ben McLemore
's 36 against the Mountaineers.
Louisville:
The Cardinals dispatched DePaul during the week and then won at Syracuse on Saturday. They split the season series with the Orange and proved that they may just be the team to beat in the Big East tournament in New York.
Creighton: At one point this season, the Bluejays looked like they were behind Indiana State and then Wichita State in the battle for the Missouri Valley title. Nope. Creighton clinched the Valley this week, beating Bradley on Wednesday and taking down Wichita State on Saturday behind 41 points from Doug McDermott. Creighton has the momentum going into the Valley tourney needed to get a decent seed in the NCAAs.
Virginia:
The Cavaliers had been erratic during the season, losing to three CAA teams and Georgia Tech. But Virginia avenged that Tech loss last Sunday and then beat Duke in the biggest game of the season Thursday in Charlottesville behind 36 points from
Joe Harris
. Virginia should be in the NCAAs.
Boise State:
The Broncos are making a late push to make the NCAA tournament with a resounding win over Colorado State at Taco Bell Arena on Saturday behind 38 points from
Derrick Marks
. The Broncos have won four in a row and are in position in the final two games (at UNLV and at home against San Diego State) to make the NCAA tournament.
Three observations
1. It's time to put Doug McDermott back into the discussion for the Wooden Award. Creighton entered last week needing two big wins to secure its first MVC title since 2001. McDermott responded by scoring 32 points in a win over Bradley and 41 points in Saturday's victory over a Wichita State squad that boasts the league's top defense. Even more impressive was that McDermott's effort Saturday came on 15-of-18 shooting. There is not a better pure scorer in America than McDermott, who averages 23.4 points.
2. Ole Miss suffered what may have been the most embarrassing loss of the college basketball season Saturday when it fell at Mississippi State. This one may have been even worse than Kansas' loss at TCU. Mississippi State is one of the worst teams in recent SEC memory, and it has nothing to do with first-year coach Rick Ray, who has had to deal with numerous injuries and suspensions. It's hard to imagine that Ole Miss was 17-2 a month ago and ranked No. 16 in The Associated Press poll. Since then, the Rebels have lost six of their past 10, including setbacks to the SEC's two worst teams, South Carolina and MSU. Saturday's loss will keep Ole Miss out of the NCAA tournament -- again -- and it may cost Andy Kennedy his job. Kennedy has been at Ole Miss for seven seasons and has yet to take his team to the NCAA tournament.
3. Iowa State is one of the biggest Jekyll and Hyde teams I've seen all season. The Cyclones are brilliant at home but can't seem to get things together on the road. Fred Hoiberg's squad is 2-6 in Big 12 games away from Hilton Coliseum. Sure, Iowa State has had some bad luck on the road, losing to Kansas in overtime after Ben McLemore banked in a 3 with one second remaining in regulation and falling at Oklahoma State when Marcus Smart made a layup with three seconds left. But there have also been some inexcusable losses. Iowa State lost to Texas Tech and Texas -- two of the Big 12's worst teams -- on the road. And on Saturday, the Cyclones were manhandled by Oklahoma 86-69 in Norman. The Sooners are a solid team, but there's no way Iowa State should've lost that game by 17 points. What happened to the Iowa State squad that almost beat Kansas five days earlier?
Three things I learned
1. Apparently, no one wants to play in the tournament. Is the tournament not as cool as it used to be? Is the NIT the new hip thing -- the Brooklyn to the NCAA tournament's Manhattan? These are silly questions, obviously; of course everybody wants to play in the tournament. But you could be convinced otherwise Saturday. Seemingly every bubble team with the most on the line Saturday lost: Arizona State, Baylor, St. John's, even Indiana State and Akron. Ole Miss lost to Mississippi State, one of the worst teams in SEC history. It got so bad that Tennessee -- which lost at Georgia -- moved up into Joe Lunardi's projected bracket anyway. Go figure.
2. Miami is going to be fine. You could argue the Hurricanes were let down a bit by their defense Saturday night, and that they could have checked
Ryan Kelly
at the 3-point line before he hit those early shots and really started to feel it (and himself). But that would be unfair: Kelly had the game of his career, and one of the best performances in Duke history, in his first game back from a significant foot injury that sidelined him for months. How are you supposed to stop that? No, Miami will be OK: When Ryan Kelly does that, and you still have a chance to win the game in the final minute at Cameron Indoor Stadium, you're good. It's really just that simple.
3. Cal is on a roll. Saturday's 62-46 win over Colorado was the Bears' seventh in a row. That would be impressive enough were those just any old wins, but that winning streak began with a victory at Arizona and has included wins over UCLA and (at) Oregon along the way. Throw in Colorado, and it's safe to say each of the Pac-12's best teams have fallen under Cal's thumb in recent weeks. Forget the bubble; Cal's in. The question is how long this can last, and how high its ceiling really is.
This week's starting five
The Starters
Darius Theus (VCU): The senior guard recorded this stat line in his team's 84-52 win over No. 20 Butler on Saturday: eight points, nine assists, five steals and two blocks. Theus averages almost one steal every 10 minutes (70 steals in 706 minutes).
Derrick Marks (Boise State): The sophomore guard recorded 38 points (five rebounds, three assists and two steals) in a crucial 78-65 win over Colorado State on Saturday. He recorded eight assists in a 73-47 victory over Nevada on Wednesday.
Ben McLemore (Kansas): After watching teammate Elijah Johnson score 39 points in a 108-96 overtime win over Iowa State on Monday, the freshman nearly matched that effort when he finished with 36 points, seven rebounds, four assists and a steal in Saturday's 91-65 victory over West Virginia. McLemore scored just seven points in the win over the Cyclones.
Doug McDermott (Creighton): McDermott led the Bluejays to the Missouri Valley Conference title when he scored 41 points in a 91-79 victory over Wichita State on Saturday. He was 15-for-18 from the field. McDermott recorded 32 points and 11 rebounds in Creighton's 80-62 win at Bradley on Wednesday.
Ryan Kelly (Duke): The 6-foot-11 forward scored a career-high 36 points in No. 3 Duke's 79-76 win over No. 5 Miami on Saturday. Kelly had missed 13 games with a foot injury. In his return, however, he was phenomenal, connecting on 7 of 9 3-pointers.
The Bench
Keith Rendleman (UNC-Wilmington): Rendleman registered 24 points and 10 rebounds in a 62-46 loss to Drexel on Saturday. It was his 20th double-double of the year, which leads Division I.
Stan Okoye (VMI): He posted 34 points and 16 rebounds in a 94-80 win over Longwood on Saturday; 32 points and 11 rebounds in an 83-66 victory over Liberty.
Jamal Olasewere and C.J. Garner (LIU-Brooklyn): The duo combined for 63 points in a 96-90 win over Quinnipiac (Olasewere scored 33, Garner 30) on Saturday, becoming the second duo to score 30 apiece in the same game this season.
Aaron Anderson (Kennesaw State): Anderson registered 22 rebounds (a school record), eight points and two steals in a 67-49 loss to Florida Gulf Coast on Saturday.