As Madness arrives, top teams face questions
At this time last year, Kentucky seemed invincible. Well, the Wildcats weren't really invincible, but they'd concluded the 2011-12 campaign with such a furious tone that it seemed nearly certain they'd whip the field in New Orleans. They were just better than the rest. And they proved it once the Final Four began.
This season's list of contenders does not include a similar overlord.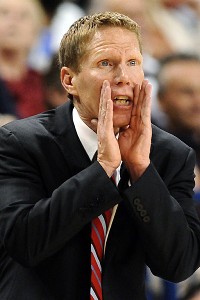 James Snook/USA TODAY SportsMark Few's Gonzaga Bulldogs are ranked No. 1, but even they still have questions.
Gonzaga is certainly talented but difficult to assess based on the competition it has faced in recent months. Indiana suffered multiple questionable losses in the past two weeks. Duke, like Michigan, is one of the nation's best offensive teams, but its defense could be a problem in the postseason.
Skim the top 15, and you'll find 15 schools with the ability to reach Atlanta and compete for the national title. You'll also find multiple programs in contention for No. 1 seeds as the remaining conference tournaments commence this week.
Miami, Duke, Georgetown, Kansas, Indiana, Michigan, Gonzaga and Louisville will battle for those slots as the conference tournaments unfold. It's a beautiful uncertainty that defines the month of March in college basketball. Yet, it's rarely so unpredictable toward the top.
The bubble teams, however, always enter this week seeking some clarity for their postseason fates. This year is no different.
The bulk of the SEC, it seems, will play for an at-large bid once that league's tournament begins this week in Nashville, Tenn. The second meeting between Boise State and San Diego State in a matter of days -- Wednesday in the quarterfinals of the MWC tourney in Las Vegas -- could have postseason implications. Seeding will be the most pressing issue for the Pac-12 squads that have probably secured berths as the conference tournament commences. The Big Ten has been so chaotic in recent weeks that a team such as Iowa could make a run in the Big Ten tournament in Chicago.
The bottom line is that we have more questions than answers entering this week. And that should add to the drama that March Madness usually entails.
Rundown (8 teams with something to prove)
Minnesota: With victories over Memphis, Michigan State, Wisconsin and Indiana, the Gophers should make the field of 68. So what? They haven't looked like a tourney team in a month. They're 5-10 in their past 15 games. Sure, they boast a top-25 RPI and BPI.
But they certainly don't look like a team that could win an NCAA tournament game for the first time in Tubby Smith's tenure at Minnesota. One early loss in the Big Ten tourney could change the Gophers' postseason fortunes. And even if they crack the field, they won't exactly enter the NCAA tournament with momentum unless they rally in Chicago.
Michigan: The Wolverines are led by one of the top candidates for national player of the year honors. Trey Burke is a star, and he's carried this program to the brink of a Big Ten title. He deserves every honor. But Michigan's inconsistency is worrisome, especially as it pertains to its defense.
Since 2003, every national champion finished its season in the top 20 in adjusted defensive efficiency per Ken Pomeroy. Michigan is ranked 59th in adjusted defensive efficiency right now. Its offense is special. But the Big Ten tournament will give the Wolverines a chance to prove that their defense is capable of corralling multiple Top 25 teams -- the same scenario they'll face in the NCAA tournament -- at a neutral site. The Wolverines are obviously a good team, but are they national championship/top-seed material? We'll have a better idea once they reach Chicago.
Tennessee: Cuonzo Martin's squad has been one of the hottest teams in the country in recent weeks. The Vols have won eight of their past nine games, defeating Missouri, Florida and Kentucky in that stretch. Joe Lunardi placed Tennessee in his "Last Four In" category on Saturday evening.
But an early loss in the SEC tournament for the fifth-seeded Vols could spell trouble on Selection Sunday. Their strong finish to the regular season, however, proved that Tennessee is not only capable of a run but could also win it all in Nashville. That might not be necessary for its at-large hopes, but it's feasible for a team that hopes to end all doubts about its postseason status next week.
Kentucky: The Wildcats won the most significant matchup of their tumultuous 2012-13 season when they toppled Florida at Rupp Arena. It was a great win for a program that's re-entered the bubble conversation. For every high, this program has endured a low, though. Saturday's victory over Florida certainly helped Kentucky's cause. But it will enter the SEC tournament with an uncertain future. An early stumble for the 2-seed could lead to an NIT bid. So John Calipari's program will certainly have something to prove in Nashville.
Arizona: After Arizona defeated Florida in December, the Wildcats appeared to be the team to beat in the Pac-12. They had everything any coach would want: an experienced point guard in Mark Lyons, a talented (albeit young) frontcourt and trustworthy veterans such as Solomon Hill. What's happened since then? Well, the Wildcats finished the regular season in a three-way tie for second place in the Pac-12. They're 4-4 in their past eight games. The Wildcats had an argument for a 1-seed two months ago. Now, they're barely holding onto a 4/5/6 slot. A lukewarm showing in the Pac-12 tournament in Las Vegas this week could drop Zona (38th in adjusted defensive efficiency per Pomeroy), which could ultimately result in a short stay in the Big Dance.
San Diego State: The Aztecs returned the bulk of their key contributors from 2012-13 and added some size in the offseason. Yet they finished 9-7 (four games behind first-place New Mexico) in the Mountain West Conference race. And they've lost their past five road games. They boast a top-50 RPI, and they have wins over UCLA, Colorado State and New Mexico.
But their resume isn't that sexy, and they're not playing great basketball off campus. Let's say their NCAA tourney hopes are safe regardless of what happens in the MWC tourney next week. Fine. Qualifying, however, wasn't the standard for this veteran crew. But they haven't played like a squad that will make a run in the NCAA tournament, even though that's been the expectation at different points this season. Maybe I'll change my mind after the MWC tournament.
Syracuse: After James Southerland returned from his suspension, I figured Syracuse would soar. The Orange finally had their full roster. But Jim Beoheim's squad is 4-5 since Southerland returned, and it has lost four of its past five games. Just two weeks after standing atop the Big East, the Orange looked lifeless in a lopsided loss at Georgetown on Saturday. Boeheim talked about playing golf, not competing in the postseason, following that game.
Perhaps Syracuse is done. Maybe the Orange have quit. The Big East tournament -- the final Big East tournament in its current, traditional format -- will provide the answers to all doubts about Syracuse. This squad is talented enough to rally and win multiple games in the NCAA tournament. Let's see if it erases this funky finish at Madison Square Garden.
North Carolina: A few weeks ago, Roy Williams switched to a smaller, quicker starting rotation. The change fueled a six-game winning streak for the Tar Heels. And then Duke happened again. The Tar Heels 16-point home loss against Duke on Saturday suggests that they will face trouble when they're matched up against elite teams. Their six-game rally was impressive, especially since North Carolina lacked the size to match some of the opponents they managed to defeat. The ACC tournament will give the Tar Heels a chance to prove that Saturday's loss at Duke was just a bad night and not evidence that they'll struggle with Top 25-caliber squads in the NCAA tournament. The Tar Heels need to regain the mojo that they may have lost in a lopsided loss to their chief rivals.
ESPN Staff Writer
Covers college basketball
Joined ESPN.com in 2011
Graduate of Minnesota State University, Mankato
Bubble Watch: Saturday's winners and losers
Well, well, well. Apparently, a few teams want to go to the tournament after all.
OK, so of course everyone wants to play in the NCAA tournament. But watching the past week or so of college hoops, you could have been convinced otherwise. Why, it was just last Saturday that basically every SEC bubble team lost a bad game, while Arizona State, St. John's, Iowa State, Indiana State and Akron, just to name a few, suffered the kind of losses that can cost you a bid in the tournament.
The weekdays since haven't been much better. Virginia spent all week undoing the résumé boost earned with its victory over Duke. Kentucky lost at Georgia. Baylor flopped against Texas. It got so bad we had to begin considering the fringiest of the fringe -- Southern Miss, Iowa, Providence, Maryland -- even though it was almost physically painful to imagine most of those teams in the tournament.
And then, finally, mercifully, some of these teams started acting like they wanted to play meaningful basketball in March. Kentucky, Tennessee, Boise State and Baylor all got huge wins at home. Iowa State held on at West Virginia. Even Cincinnati, which had been quietly slipping toward the bubble in recent weeks, avoided a brutal loss to South Florida.
It wasn't all good news. Oklahoma lost at TCU. Arizona State fell flat at Arizona. Xavier, Providence and St. John's all missed chances to get somewhere near reality in this thing. There were, as there always are, a handful of head-scratchers -- how Louisiana Tech goes three months without losing once and then drops back-to-back games in the matter of two days is beyond this humble bubbleologist.
But the end effect is clear: The bubble is just a little more firm than it was at the start of the day, a little tougher to crack. Good things happen when players play like they actually care about making the tournament. Who knew?
WINNERS
Kentucky: The biggest bubble story of the day, and almost certainly the most impactful, Kentucky's win over Florida put the Wildcats back on the right side of the bubble in their final regular-season opportunity. Considering where UK was after its loss at Georgia just two days ago -- all self-recrimination and disbelief -- it was a bit remarkable to stand up at the last possible moment, once and for all.
I won't spend a whole lot of time here, because you can read my reaction from this afternoon instead. Long story short: UK is no lock to make the tournament, and it still has to navigate a tangle of prospective bad losses in the SEC tournament, but right now, compared to much of the rest of the bubble, the Cats are closer to being in than not.
Baylor: I am not above making a tired and dumb bodysnatchers joke -- see pretty much anything I've tweeted about Keith Appling for the past three weeks -- but rare is the opportunity to do so in regards to a team that plays inexplicably well. Today, Baylor is that team.
I mean, how else do you explain the Bears not just beating Kansas in Waco, but blowing Kansas out, 81-58, the program's most lopsided loss in seven years? When in the past seven days we've seen a) Baylor lose at home to K-State on one of the most heartbreaking (and poorly executed) final seconds of the season and b) lose 79-70 at Texas? That team -- a team that was admittedly still playing hard but looking utterly lost in doing so -- turned around and beat the Jayhawks by 23 points in the penultimate game of the regular season. How does that happen?
Complete shock aside, the bad news for the Bears (sorry) is that they're just 2-10 against the RPI top 50, 5-10 against the top 100, and still have a prohibitively high RPI (No. 73 entering Saturday). As nice as this win was, and for as much as it helped the Bears, the damage they did in recent weeks isn't so easy to overcome in one fell swoop. They still need more -- and a first-round Big 12 tourney shot against Oklahoma State is an awfully good place to start.
Boise State: In case you're not up to speed on the Broncos -- and no, they don't play their home games on blue hardwood -- they established their potential tournament case all the way back on Nov. 28, when they shocked Creighton (then the No. 11 team in the country) on its home floor. (Eight days earlier, they had pushed Michigan State 74-70, and we all wondered what was wrong with the Spartans. Go figure.)
Since then, they've trucked along in the Mountain West in almost exactly the fashion you'd expect: They've beaten some of the league's toughest teams (UNLV, Colorado State) at home and fallen to some of the league's lesser squads (Air Force isn't a bad loss; Nevada is) on the road. In other words, today's win over San Diego State wasn't exactly revolutionary; it was a realistic get, and the Broncos got it. The one thing really setting Jeff Elorriaga & Co. apart from the rest of the bubble dregs is their quality wins. Add one more.
To read about all the bubble winners and losers from Saturday, click here.
ESPN Staff Writer
Covers college basketball
Joined ESPN.com in 2009
Graduate of Indiana University
Player of the week: Gorgui Dieng
Team of the week: Duke
The Blue Devils are 18-0 with a healthy
Ryan Kelly
in the lineup. Kelly didn't have to dominate during Saturday's win over North Carolina as the Blue Devils popped Carolina early and never looked back. They had an impressive week, beating Virginia Tech at home and then dispatching the rival Tar Heels for a season sweep of the series. Duke is a lock for a No. 1 seed now, despite not winning the ACC regular-season title. The Blue Devils are playing better than any other team in the country. The big three of Kelly,
Mason Plumlee
and
Seth Curry
will lead this team deep into the ACC and NCAA tournaments.
Five other teams of note:
Marquette: The Golden Eagles got a share of the Big East title with a last-second win over St. John's (after defeating Rutgers earlier in the week). Marquette was picked to finish in the bottom half of the conference and yet ended up with the title.
Louisville: The Cardinals knocked off Cincinnati and Notre Dame to get a piece of the title with Marquette and Georgetown. Louisville is playing as well as any team in the country. The Cardinals head to New York with momentum, like they did a year ago, when they won the tournament.
Denver: The Pioneers beat Louisiana Tech on Saturday to get a piece of the WAC title in their only season in the conference. Denver, which is off to the Summit next season, heads to the WAC tournament in Las Vegas with a chance to get a bid.
Harvard: The Crimson got swept at Princeton and Penn last week and looked like they were going to wait for the Penn-Princeton game next week to see if they had to play in a playoff game for the second time in three years. Instead, Harvard swept a homestand with Cornell and Columbia and Princeton lost to Brown and Yale, giving the Crimson the AQ out of the Ivy for the second straight season.
Memphis: The Tigers won a gritty game at UTEP and then beat Central Florida to finish Conference USA undefeated. I don't care what conference you're in -- if you run the table, that's quite an accomplishment. And winning at UTEP is no easy chore.
Three observations
1. Pressure is a powerful thing. I was shocked by how many good teams cracked in high-stakes games. All Oregon had to do to win the Pac-12 title outright was beat Utah, the 10th-place team in the league. The Ducks lost by 10 points. Kansas had a chance to win the Big 12 outright by beating Baylor, an NCAA tournament bubble team. Instead, the Jayhawks were humiliated in a 23-point blowout that marked KU's worst loss in seven years. Marquette claimed a share of the Big East title by beating St. John's at the buzzer, but the Golden Eagles needed overtime to squeak by a depleted Red Storm squad that was without leading scorer D'Angelo Harrison and assists leader Sir'Dominic Pointer. Maybe all three teams will get better from Saturday's experiences.
2. Memphis deserves props. Say what you want about Conference USA, but going undefeated in any league is difficult, which is why Tigers Nation should feel lucky to have Josh Pastner as its coach. Hired at age 31 to replace John Calipari, Pastner has been "learning on the go" the past few seasons, and the strides he's made have been obvious. His players are becoming more and more disciplined, they're playing tougher defense and their on-court temperament has improved. It's clear the Tigers are listening to Pastner and his assistants. Twenty-two of the 30 field goals Memphis scored in Saturday's win over UAB came on assists. That's a sign of good coaching, because it shows Pastner has gotten a group of talented players to care more about the success of the team than their individual stats.
3. I'm worried about Florida. Don't get me wrong: I won't be surprised if Billy Donovan's team ends up in the Final Four. But I'm concerned that playing in the mediocre SEC may have caused the Gators to lose a little bit of the edge we saw in them early in the season. Florida lost four of its final five conference road games, because it didn't have that killer instinct to close things out down the stretch. Only five of Florida's 30 games have been decided by single digits. The Gators have lost all five. Does that mean they're not mentally tough? Or are they just unlucky? We'll find out in the NCAA tournament, but the vibe right now is not good.
Three things I learned
1. The bubble is finally firming up. It took a while, and it looked like we might never get there, and I suppose anything can happen in the final pre-Dance week of the season. But after a week in which basically every bubble team did more harm than good to its chances of making the tournament, Saturday finally provided a group of bubble teams that went out and got a big win. Outside of Belmont's thrilling win over Murray State in the Ohio Valley tournament, Kentucky was probably the biggest story of the day: Its win over Florida gave it a huge boost in the bubble consideration, and was a total reversal of the soft, uncertain Wildcats team we've seen since Nerlens Noel tore his ACL. Boise State knocked off San Diego State in its own building; Tennessee held on to beat Missouri; Iowa State avoided a tough road trap at West Virginia; and Baylor -- of all teams! -- blew the roof off against Kansas. Some of these resumes are more precarious than others, but all are on the bubble, and each helped themselves Saturday. Finally.
2. Duke appears to be back. It feels like a lifetime ago now, but remember that first Duke-UNC game? You know, the one they played at Cameron? It wasn't a blowout. In fact, it was one of the tightest home games Duke has played all season, and if the more athletic Tar Heels had made a few more plays down the stretch, they could have very easily knocked off Duke at home. And that was back when the Tar Heels weren't very good. Now that they're playing well, imagine what they could do at home! Yeah. Not so much. Duke destroyed North Carolina on Saturday, sprinting to a 14-0 start and never looking back, and it is safe to say that when Mason Plumlee and Seth Curry combine to shoot 18-of-28 from the field, the Blue Devils are not going to lose very often. With Ryan Kelly back, they really do look complete.
3. Louisville is ramping up for a run, too. The last time we saw the Cardinals play Notre Dame, we saw a final-minute collapse, five overtimes, Garrick Sherman's remarkable 17-point overtime, and approximately 8,530 boneheaded plays by Russ Smith. Granted, Saturday's rematch was in Louisville's building, with the added emotional impact of Senior Day -- Rick Pitino teared up during his speech about Peyton Siva -- but it was an impressive accounting all the same. Much like it did last year, Louisville appears to be putting it all together at the right time. And last season's struggles -- a blowout loss at Providence, some truly ugly offense pretty much all season -- were vastly worse than this season's. After Saturday's win, Pitino told reporters: "We are going in [to the postseason] on a high, going in with everyone feeling good about themselves." If that's really true, everybody look out.