One bad weekend for college basketball
This was not the weekend that college basketball needed or deserved, especially now.
The Super Bowl hangover finally abated, this is typically the time that college basketball steps out of its shadows and into the spotlight.
Instead we got this:
• A grown man at Texas Tech admitting to calling a college kid, Oklahoma State's Marcus Smart, a "piece of crap," because the college kid dove into the stands to chase down a basketball.
• A great college player, Smart, a one-time national player of the year candidate, his reputation in tatters, suspended for three games while his team's season implodes around him.
• One assistant coach and a trainer at Oregon claiming that an opposing fan at Arizona State spit on them as they headed to the locker room at halftime.
This isn't merely the TMZ-ization of the news cycle, where nothing is more interesting than the salacious and the titillating. These are real incidents, troubling ones, that merit the attention they received. The athlete-fan relationship is precious and critical, and quickly deteriorating.
More from ESPN.com

What's the latest bracket look like? It's time to see which teams stand where, courtesy of Joe Lunardi. Bracketology

---

Incidents with Marcus Smart and a fan, along with trouble between fans and staff at Oregon, marred college basketball's weekend, writes Dana O'Neil. Story

---
• DW: Smart's punishment
• Goodman: Smart's draft stock
• Taylor: Orr should be banned
• Gasaway: Rule changes


• Nation blog
Maybe it's social media and a 24/7 news cycle that have demystified our heroes, maybe it's just boredom, but certainly people are less easily pleased and amused, more quick to anger, action and entitlement.
It's not just in college basketball, of course. Every sport in every country has suffered its inglorious moment of fan-player interaction gone bad, but the timing here especially stinks.
There is so much good in college basketball right now, so much to celebrate and enjoy and this should be the time we start to celebrate it.
Instead we are stuck talking about shovers, spitters, boors and bullies.
In the same weekend that Smart shoved a Texas Tech fan and an Arizona State fan allegedly spat at an Oregon coach and trainer, a few other things happened worth mentioning.
Such as ...
With barely a month before Selection Sunday, two teams continue to chase perfection.
Wichita State beat Northern Iowa on Saturday night. Sandwiched with a Wednesday win at Indiana State, the Shockers now have survived a road trip week that many thought might be the likeliest to trip them up. Now Gregg Marshall's team is 25-0 with six games to go before the Missouri Valley Tournament. Syracuse, meanwhile, overcame an injury to Baye Moussa Keita, foul trouble for Rakeem Christmas and Clemson to run its record to 23-0. The Orange has a slightly tougher road ahead -- beginning with a trip to Pittsburgh this week -- but hasn't shown many weaknesses.
Here's another good nugget worth noting: Two coaches who ought to be collecting Social Security are instead basking in the winning spotlight.
No one thought much about or talked much about Steve Fisher's team at San Diego State back in October. There were no obvious superstars, no real reason for high expectations.
Now the Aztecs are No. 5 in the country and haven't lost since Nov. 14. Fisher might have more in common with his players' grandfathers, but the man's coaching credentials have proved timeless and ageless.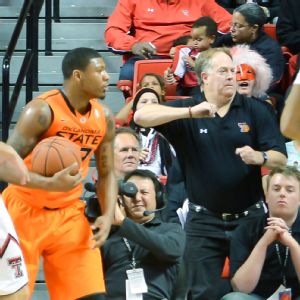 John Weast/Getty ImagesTexas Tech fan Jeff Orr directed anger at Oklahoma State's Marcus Smart. A quick shove later and a weekend was lost.
When Fisher's Golden Years colleague, Larry Brown, took a gig at Southern Methodist two years ago, the general reaction fell between bewilderment and bemusement. The peripatetic Brown, most figured, was headed to Dallas out of boredom while the Mustangs' administration was going for the easy PR hit.
On Saturday, SMU flat-out smothered No. 7 Cincinnati, its third win against a ranked opponent in its past 11 games. The Mustangs played in front of a jammed crowd at a newly remodeled Moody Coliseum, delivering a mood not seen on campus since the mid-1980s, back when Brown was working his magic at a little school called Kansas.
Back East, the Big East got a big boost from an original member. St. John's upset Creighton for its third consecutive win and its sixth in the past seven games. Wildly talented, the Red Storm has frustratingly failed to deliver on that talent but suddenly looks as though it may have figured something out.
Down the turnpike a bit, the saints marched all over Philadelphia, with Saint Louis beating La Salle and Saint Joseph's topping VCU. The Atlantic 10, once left for dead amid conference realignment, instead looks just fine, with a bundle of teams chasing the Billikens and angling for NCAA bids.
The Big Ten is a big mess, but an entertaining one.
A kid named Andrew Wiggins -- maybe you've heard of him? -- dropped 19 on West Virginia; and another kid named Jabari Parker -- maybe you've heard of him, too? -- had 29 against Boston College.
No one from Tobacco Road is in the top three in the ACC. Arizona is reconfiguring and reconfiguring well without the injured Brandon Ashley. And the SEC, well, Florida and Kentucky play this week. In other words, there is a lot to talk about beyond the ugly.
Fortunately, there's also plenty of time still to talk about it all.
If the salacious and the titillating have proved anything, they have a short shelf life. Someone else will do something foolish or say something clueless. You can, sadly, count on that.
The game, though, has staying power.
It will be here today and tomorrow and through the shining moments of early April.
Hopefully we can all exhale and enjoy it.
ESPN Senior Writer
College basketball reporter.
Joined ESPN in 2007.
Graduate of Penn State University.
Andy Katz's Weekly Honors
Monday's Game Plan
Game Plan is our Monday morning primer, designed to give you everything you need to know about games that were and the games that will be in college hoops this week. Send us feedback and submissions via email and Twitter.
So, Marcus Smart pushed a guy. Maybe you heard a little bit about this? Maybe your entire Sunday was dominated by it! I hope not, for your sake.
Still, folks will be talking on this Monday morning -- although not nearly as much after that other far more important thing that happened in sports Sunday night -- so you may want to get caught up.
To read all of Monday's Game Plan, complete with ICYMI, state of the week and games you need to see, click here.
Freshman Focus
ARIZONA
• Friday at Arizona State, 9 ET, ESPN
DUKE
• Wednesday at North Carolina, 9 ET, ESPN
• Saturday vs. Maryland, 6 ET, ESPN
KANSAS
• Monday at Kansas State, 9 ET, ESPN
• Saturday vs. TCU, 4 ET, ESPN3
KENTUCKY
• Wednesday at Auburn, 8 ET, ESPN3
• Saturday vs. Florida, 9 ET, ESPN
SYRACUSE
• Wednesday at Pittsburgh, 7 ET, ESPN
• Saturday vs. NC State, 3 ET, ESPN3
Freshman Tracker
We've got a new No. 1 this week. Well, actually it's an old No. 1 who moves back to the top spot.
Here is our updated ranking of the 10 best freshmen in college basketball.
1. Jabari Parker, G, Syracuse Orange 6-foot-8, 235 pounds
Parker went through a rough stretch early in ACC play, but that's ancient history. The skilled Chicago native had 21 points and eight boards in a win over Wake Forest on Tuesday and then went for career highs of 29 points and 16 rebounds in a victory at Boston College.
This week: Wednesday at North Carolina; Saturday vs. Maryland
Stats: 19.2 PPG, 8.5 RPG, 48 percent FG, 37 percent 3-pointers | Previous rank: 2
To see the entire top 10 in this week's Freshman Tracker, click here.

MONDAY
• Iowa State at West Virginia, 7 ET, ESPNU
• Miami at Florida State, 7 ET, ESPN
• Kansas at Kansas State, 9 ET, ESPN
• Maryland at Virginia, 9 ET, ESPNU
TUESDAY
• Florida at Tennessee, 7 ET, ESPN
• Oklahoma State at Texas, 7 ET, ESPN2
• Wake Forest at NC State, 7 ET, ESPNU
• Michigan at Ohio State, 9 ET, ESPN
• Ole Miss at Alabama, 9 ET, ESPNU
• San Diego State at Wyoming, 11 ET, ESPNU
WEDNESDAY
• Syracuse at Pittsburgh, 7 ET, ESPN
• South Florida at Connecticut, 7 ET, ESPN2
• Baylor at TCU, 7 ET, ESPNU
• Kentucky at Auburn, 8 ET, ESPN3
• Texas Tech at Oklahoma, 8 ET, ESPN3
• Duke at North Carolina, 9 ET, ESPN
• UCF at Memphis, 9 ET, ESPNU
• Stanford at Washington, 9 ET, ESPN2
• California at WSU, 11 ET, ESPNU
THURSDAY
• Louisville at Temple, 7 ET, ESPN
• Arkansas at Missouri, 7 ET, ESPN2
• Tenn. State at Belmont, 9 ET, ESPNU
• Colorado at UCLA, 9 ET, ESPN2
• Minnesota at Wisconsin, 9 ET, ESPN
• San Diego at Saint Mary's, 11 ET, ESPNU

FRIDAY
• Detroit at Oakland, 7 ET, ESPNU
• Arizona at Arizona State, 9 ET, ESPN
• Canisius at Niagara, 9 ET, ESPNU
SATURDAY
• Saint Joseph's at La Salle, 11 a.m. ET, ESPNU
• Memphis at Connecticut, noon ET, ESPN
• Virginia at Clemson, noon ET, ESPN2
• Iowa at Penn State, 1 ET, ESPNU
• Texas Tech at Iowa State, 1:45 ET, ESPN3
• Oklahoma at Oklahoma State, 2 ET, ESPN
• VCU at Saint Louis, 2 ET, ESPN2
• NC State at Syracuse, 3 ET, ESPN3
• Houston at Cincinnati, 3 ET, ESPNU
• Indiana at Purdue, 4 ET, ESPN
• Tennessee at Missouri, 4 ET, ESPN2
• TCU at Kansas, 4 ET, ESPN3
• LSU at Arkansas, 5 ET, ESPNU
• Georgia State at Troy, 6 ET, ESPN2
• Maryland at Duke, 6 ET, ESPN
• Kansas State at Baylor, 7 ET, ESPNU
• West Virginia at Texas, 8 ET, LHN
• BYU at Saint Mary's, 8 ET, ESPN2
• Florida at Kentucky, 9 ET, ESPN
• Northern Iowa at Missouri State, 9 ET, ESPNU
• San Francisco at Santa Clara, 11 ET, ESPN
SUNDAY
• Wichita State at Evansville, 5 ET, ESPN3
• Rutgers at Louisville, 6 ET, ESPN2
• Notre Dame at Boston College, 6 ET, ESPNU
• Colorado at USC, 8 ET, ESPNU