Five offseason storylines
1. The end of the Memphis era: And what an era it was. Since 2003, Memphis has won six regular-season titles, six conference tournament titles, made eight NCAA tournaments (including the NCAA-vacated 2008 season, but, you know, whatever) and generally lorded over the rest of the league, only occasionally halting to quench some rebellion or another. Since 2003, when then-coach John Calipari resurrected a proud program from a decade of irrelevance, this has been Conference USA's marquee attraction. After this season, that neon sign will go dark. In 2013-14, the Tigers will complete their conference realignment to the survivalist Big East. The departure is a double-edged sword for the conference. It will open the floodgates for other contenders while almost single-handedly robbing the league of much of its national cachet.
[+] Enlarge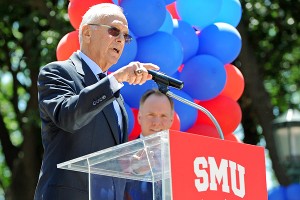 Cal Sport Media/AP ImagesLarry Brown is tasked with making SMU competitive ahead of the Mustangs' move to the Big East next year.
2. Is that … that's Larry Brown's music! Have clipboard, will coach: This is the undying unofficial motto of Larry Brown, who returned to the college ranks to take a job at -- wait for it -- Southern Methodist. Why would one of basketball's historic figures, a Hall of Famer, the only coach to win a national championship and an NBA title, return to the college game?
Blame it on the love. Or blame it on the tidy sum SMU -- which is eager to build a competitive (read: relevant) program before its 2013-14 foray to the Big East -- shelled out for the hire. Details of the contract were not disclosed by the private school, but SMU is spending $40 million on an arena renovation, has built a practice facility and hired Illinois State coach Tim Jankovich (plus a coterie of well-regarded recruiters as assistant coaches) to a coach-in-waiting position when the 71-year-old Brown decides, as he so often does, to leave.
With a legendary coach, a band of connected assistants, a new practice facility and a newfound enthusiasm, where does SMU go from here? The first season will be a holdover, a transition until the real fun begins in the Big East, but even so, admit it: It's going to be fun to see Brown on a collegiate sideline once more.
3. Danny Manning takes Bill Self's old job: Tulsa's head-coaching position -- which has produced Arkansas legend Nolan Richardson, Kansas coach Bill Self and Minnesota coach Tubby Smith and counts Billy Gillispie, Flip Saunders, Kevin O'Neill, Tom Izzo and Mike Anderson as former assistants -- comes with a certain pedigree and a certain expectation of success. In seven years, former coach Doug Wojcik led the Hurricane to several solid seasons but never quite got over the hump. Replacing him is former Kansas legend and Self assistant Danny Manning, who coincidentally took Jankovich's old job at Kansas and won a national title with Brown at Kansas. Whether Manning can get Tulsa back to the NCAA tournament after a nine-year drought remains to be seen, but for sheer name recognition, it's hard to do better than the guy whose collegiate surname was "and the Miracles."
4. Turmoil at Central Florida: Any day now, the NCAA is going to rule on the case UCF brought in front of the NCAA committee on infractions in April related to Chicago-area "mentor" Ken Caldwell's alleged habit of working with an agent to steer players to UCF and giving those players some $16,000 in benefits along the way. UCF has already self-imposed strict penalties, including three years of probation, the vacancy of men's basketball victories for 2008-09, 2009-10 and 2010-11 and reductions in scholarships and recruiting days. UCF coach Donnie Jones also received a three-game suspension. Meanwhile, UCF star Marcus Jordan (son of you-know-whom) was arrested July 1 following a disturbance outside an Omaha, Neb., hotel. It has not been a banner summer for the Knights, that's for sure.
5. Conference tournament relocation: Memphians eager to watch their Tigers go for one more C-USA tournament crown before their Big East defection must have been sorely disappointed by the league's June decision to relocate the conference tournament to Tulsa. Why? Because Memphis is leaving, and the league wanted to punish it, at least symbolically; it did not like the idea of giving the Tigers a conference tourney home-court advantage in their final season of membership. The ticket sales in Tulsa aren't likely to match what Memphis fans would have shelled out, but all's fair in love and realignment.
Best-case/worst-case scenarios
East Carolina

Best-case scenario: The Pirates appear to be locked in a holding pattern. Coach Jeff Lebo welcomes back much of last season's 15-16 team, most of whom were upperclassmen already. This will be an experienced team composed primarily of seniors, led by point guard Miguel Paul, who ranks among the best players in the country at facilitating his teammates. Experience and cohesion have never hurt a basketball team, and they could be the secret ingredients to a positive 2012-13 campaign.
Worst-case scenario: Another forgettable .500 season. That seems like the most likely projection. It's never bad to return so many of the previous season's minutes, but without a little fresh blood, why are we to think the Pirates won't be essentially what they were a year ago?
[+] Enlarge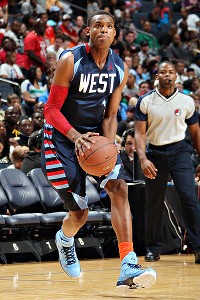 Ned Dishman/Getty ImagesDanuel House, the No. 19 recruit in 2012, headlines a stellar recruiting class for Houston.
Houston

Best-case scenario: Houston's recruiting class may be aberration, or it may be the start of something lasting. Whatever the case, having recruits like Danuel House and Chicken Knowles always portends good things. Houston had plenty of flaws last season. Those won't go away overnight, but inserting at least one hyperathletic future NBA draft pick into the lineup can mask all manner of deficiency. This is the sexy C-USA sleeper pick, perhaps the only team that comes close to matching Memphis in sheer talent.
Worst-case scenario: House and Knowles are talented freshmen. But they are still freshmen, and some freshmen come more prepared for Division I basketball than others. I'd wager that House is borderline dominant from the get-go, but will he and Knowles be lockdown defenders? If not, can Houston improve 2011-12's No. 260-ranked efficiency defense enough to compete for the league crown?
Marshall

Best-case scenario: The Thundering Herd's lack of quality wins cost them an at-large tourney bid last season, but 2012-13 qualifies as a legitimate second chance. DeAndre Kane, Dennis Tinnon and Robert Goff are the core returners. If sophomore Jamir Hanner and a decent batch of incoming talent make major strides, there's no reason Marshall can't earn a spot in the NCAA tournament, even if it has to sweat things out on the bubble beforehand.
Worst-case scenario: How much will Marshall miss its seniors? Guards Damier Pitts and Shaquille Johnson were major participants on Tom Herrion's solid 2012 squad, and it's not clear their absences can be filled in one offseason. Even so, the worst-case for this team is probably a season like last year's -- which, all things considered, is not so worst-case after all.
Memphis

Best-case scenario: On paper, the Tigers have as much talent as any program in the country. That's the product of Josh Pastner's back-to-back loaded recruiting classes. With No. 6-ranked power forward Shaq Goodwin joining Joe Jackson, Adonis Thomas, Chris Crawford, Tarik Black & Co. in 2012, this is, as usual, Memphis' conference to win. The Tigers will make the tournament; that much seems guaranteed. The real question is how far they can go.
Worst-case scenario: One of the great challenges of recruiting so well -- which Calipari has long since mastered -- is in getting waves of disparate talents to play together, as a team, on both ends of the floor. Memphis hasn't always done that in the past few seasons. Meanwhile, don't sleep on the loss of forward Will Barton to the NBA draft. Barton quietly submitted one of the five or six best individual performances in college basketball last season. If Thomas doesn't step into that role and excel right away and Jackson doesn't (finally) put a star season together, this Memphis team could again prove mercurial.
[+] Enlarge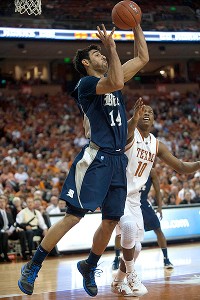 Brendan Maloney/US PresswireRice's Arsalan Kazemi has been one of the best rebounders in the nation during his three seasons with the Owls.
Rice

Best-case scenario: Rice lost senior starters Connor Frizzelle and Lucas Kuipers, but those losses are far from devastating. The rest of the team is back, including Iran's Arsalan Kazemi, who has toiled -- and produced, to the tune of two straight seasons averaging a double-double -- in relative obscurity. He has help in the form of senior guard Tamir Jackson and a group of freshmen who should step into large roles in 2012. Sleeper alert.
Worst-case scenario: Kazemi has been one of the nation's best rebounders for three seasons, and Rice has steadily improved throughout, going from eight wins in 2009-10 to 19 in 2011-12. A pessimist would say the Owls have come up against their improvement threshold -- unless coach Ben Braun can find someone to score efficiently.
SMU

Best-case scenario: Sit back and enjoy the Larry Brown show. That's my plan for the upcoming season, as Brown will inherit the leftovers of Matt Doherty's disappointing tenure plus raw freshman center Blaise Mbargorba, whose promise is as unlimited as his development curve is steep. This is a foundational season before the Mustangs make the leap to the Big East. Any on-court success is a bonus.
Worst-case scenario: Brown has been known to leave jobs (and wear out his welcome) quickly. That's putting it politely. I'm not saying that's going to happen this season -- I'm sure it won't -- but that may be the only nightmare scenario for a program so laser-focused on its future.
Southern Miss

Best-case scenario: Another NCAA tournament berth? Larry Eustachy got Southern Miss into the tourney last season with a handy assist from a generous RPI, a huge sign of progress for a school lacking in the way of hoops tradition. Can Donnie Tyndall carry on the success? If so, he will have to get a big junior-year performance from point guard Neil Watson and even better board work from active 6-foot-6 forward Jonathan Mills.
Worst-case scenario: By usage rate, four of Southern Miss's top six players last season were seniors, leaving a lot of personnel gaps for Tyndall to fill in his first season. The Golden Eagles shouldn't fall totally flat -- Watson is capable of a big season -- but a significant regression is not unlikely.
Tulane

Best-case scenario: Tulane struggled mightily on offense in 2012, averaging 0.96 points per possession (adjusted rank: No. 238), but it has a chance to improve immediately thanks to the development of guard Ricky Tarrant, who was impressive as a freshman and could blossom into a multidimensional offensive force as a sophomore. If swingman Kendall Timmons submits a big season, Ed Conroy's team that won three league games in 2011-12 should handily eclipse that mark.
Worst-case scenario: Another 3-13, or worse, conference season. The personnel remains largely the same, save for some barely touted newcomers, which is why Tarrant's development looms so large. But sometimes sophomores regress; if Tarrant has a merely OK season, any hopes of breaking into the top half of the league (perhaps ambitious and created in my own head, but still) go out the window for another season.
Tulsa

Best-case scenario: Had leading scorer Jordan Clarkson stayed, new coach Danny Manning would have had much more to work with in his first season at the program. Clarkson is gone -- with no small amount of transfer chicanery on Tulsa's part -- and Manning is in a rebuilding situation.
Worst-case scenario: Tulsa won't be bad. Even without Clarkson, the Golden Hurricane have some solid players in the mix. An 8-8 record in the league feels like the right projection, but we don't know much about Manning's ability as a head coach yet -- whether his first season on the sideline will be a challenge, a discovery or something in between.
UAB

Best-case scenario: Did Mike Davis deserve to be fired? From Indiana? Probably. From UAB? Doubtful. The Blazers made the NCAA tournament one year ago -- albeit thanks to shaky circumstances -- and the 2011-12 season, though disappointing, wasn't a total disaster. New coach Jerod Haase has some talent to work with, including a group of sophomores who could create a solid core. Same as Tulsa, this is still a rebuilding year, so the best-case indicators are as much about off-court progress as anything else.
Worst-case scenario: A major collapse to the back of Conference USA would qualify, but that doesn't seem likely. The risks are low. UAB will probably be average or just below it, what you'd expect from a program in the midst of a coaching transition.
UCF

Best-case scenario: This is tricky. Other than perhaps Marshall, no team is more likely to contend with Memphis for the 2012-13 C-USA title than Central Florida. UCF brings back a solid group, including Marcus Jordan, Keith Clanton and Isaiah Sykes, and brings in two transfers who should compete for the graduated A.J. Rompza's point guard position: Oklahoma's Calvin Newell and Bethune-Cookman's C.J. Reed. That competition will give coach Donnie Jones the luxury of options, and either player could excel distributing to the aforementioned trio of scorers. A legitimate run at the league title and an NCAA tournament berth should be the Knights' goals.
Worst-case scenario: What's so tricky, then? The NCAA still has to weigh in on UCF's fate. The chances of a season-changing punishment -- a postseason ban, say -- are slim, but it's a distraction weighing over Jones as he prepares to field what could be the best team of his tenure. Meanwhile, Jordan's offseason run-in with the law isn't a big deal in and of itself, but combined with other sporadic behavioral issues and since-squelched rumors he would leave UCF, one wonders if Jordan is all that focused on basketball. There is no greater risk-reward proposition in the 2012-13 edition of this league than UCF.
UTEP

Best-case scenario: Usurping Rice's spot as the league's midtable sleeper pick. Tim Floyd lost two starters, but the 2011-12 Miners were young. Floyd gave marginal or significant minutes to no fewer than five freshmen and two sophomores, and if that batch of freshmen makes a collective sophomore leap, UTEP could be a tough out for the Marshalls, UCFs and Memphises of the world.
Worst-case scenario: Another season like the last. Improvement should be the baseline requirement of a team this young, which is why another forgettable year -- .500 or so in league play, efficiency rankings near the middle of Division I, etc. -- would qualify as a letdown.
Most Important Player

East Carolina: Miguel Paul
Paul ran the show in effective fashion for ECU last season, posting a 108.8 offensive rating while leading his team in usage and submitting the ninth-best assist rate in the nation (40.6). He'll be just as crucial in his final season.

Houston: Danuel House
House is the most talented recruit the Houston men's basketball program has landed in a long time. He could have chosen just about any destination for college ball, but he chose to stay in Houston and play for third-year coach James Dickey. House could be a star on a previously irrelevant team from day one.

Marshall: Dennis Tinnon
Marshall didn't miss the NCAA tournament by much last season, but miss the tourney it did. If that changes, it will be in part because Tinnon -- who posted a 120.2 offensive rating and ranked in the top 50 nationally in defensive and offensive rebounding rate -- takes on an even larger share of the offense.

Memphis: Joe Jackson
The lightning-quick Memphis native carries the weight of a city on his back every time he plays. Through his first two seasons, Jackson has often displayed why those childhood expectations started in the first place -- even if it feels like we haven't seen him put it all together just yet.

Rice: Arsalan Kazemi
One of the nation's unknown stars is Rice's best player and its most important, a rebounding force who needs to command double-teams to help the Owls improve last season's putrid offense.

SMU: Jalen Jones
Speaking of putrid offense, SMU was awful on that side of the floor in 2012, but freshman guard Jones showed plenty of potential along the way.

Southern Miss: Neil Watson
The 5-foot-11 guard was former coach Larry Eustachy's second-most-used offensive option last season, when he shot 37.5 percent from the 3-point line and posted a 30.7 percent assist rate. Both of those figures should improve in 2012.

Tulane: Ricky Tarrant
It has been a tough decade or so for Tulane hoops, but Tarrant, who averaged 14.9 points, 3.6 rebounds and 3.3 assists, and efficiently so, as a freshman last season, will give the Green Wave at least one go-to option going forward.

Tulsa: Scottie Haralson
Losing leading scorer Jordan Clarkson to an unflattering (for Tulsa) transfer scenario was a major blow, which is chief among the reasons why Haralson must step up as a senior.

UAB: Preston Purifoy
The Blazers are in rebuilding mode after firing coach Mike Davis, so all personnel bets are off. That means Purifoy, by far the team's most efficient player last season, could get more opportunities to show his skills.

UCF: Marcus Jordan
Keith Clanton is the more obvious pick, but he and Isaiah Sykes form a nice rebounding tandem on the low block. Jordan will have the ball in his hands more often and will have to be far more consistent to live up to the flashes of excellence we've seen in his time at UCF.

UTEP: Julian Washburn
Junior John Bohannon is a known quantity, a solid post man and an active rebounder who converts his opportunities well. Washburn, a 6-7 sophomore, has tons of upside, but he will have to become much more efficient in his second season.
-- Eamonn Brennan
Five freshmen to watch
1. Danuel House, Houston: The highest-ranked incoming recruit in the conference, House is the No. 19-ranked overall player in the Class of 2012, described as a "high-flying, super-athletic combo wing" by RecruitingNation's scouting report. He could star right away.
2. Shaq Goodwin, Memphis: Josh Pastner's 2012 recruiting class doesn't match up with his star-studded recent efforts, but it doesn't need to. Pastner still has many of those players, including breakout candidate Adonis Thomas, in the program. Goodwin is the No. 6-ranked power forward in the 2012 class and should add some immediate interior depth alongside Tarik Black.
3. Danrad Knowles, Houston: Your eyes are not deceiving you. The Cougars have not one but two top-100 recruits signed up for service in 2012. Knowles doesn't come as highly touted as House, but he will start right away. He also has one of the great nicknames in recent college hoops history: Chicken.
4. Blaise Mbargorba, SMU: The No. 20-ranked center in the Class of 2012 may be a project -- RecruitingNation's report says he is improving but "undeniably raw" -- but over the long term, he could be the big-bodied centerpiece of SMU's plans.
5. Twymond Howard, UTEP: Howard's athleticism and end-to-end ability have drawn raves from scouts, but his assessments have been held back by his utter lack of a jump shot. If he develops one sometime before November, look out.
-- Eamonn Brennan
Cannon: Best Outside Big Six
ESPN Insider Drew Cannon took a shot at ranking the top 10 teams outside the Big Six conferences, including programs from Conference USA, the Mountain West, West Coast, Atlantic 10, Missouri Valley and Southern Conference.
How many WCC teams made the cut? To find out, click here

.
Katz: Tyndall's Tall Task

Southern Miss and Conference USA are a step up from Morehead State and the Ohio Valley Conference, but there are still inherent struggles at a program that is off the national grid.
At the latter, Donnie Tyndall took the Eagles to the NCAA tournament twice and produced a first-round pick, Kenneth Faried, who helped upset Louisville in the Big Dance. At the former, Tyndall looks to continue the momentum built by Larry Eustachy, who took USM to the NCAA tourney for the first time in 20 years before heading off to Colorado State.
Neither stop is along the main road. Like he had to do at Morehead, Tyndall has to be creative to make Southern Miss relevant. He had a number of issues to tackle when he took over in Hattiesburg and discussed them in detail with ESPN.com this week.
To read the rest of Andy Katz's story on the Cyclones, click here.