Five offseason storylines
[+] Enlarge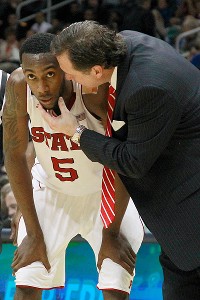 AP Photo/John BazemoreNC State brings back C.J. Leslie and welcomes a strong recruiting class, ensuring Mark Gottfried's Wolfpack will have their say in the ACC race this season.
1. Expectations at NC State: The last time the ACC media picked the Wolfpack to finish first in the league standings was 1988-89. But after a run to the Sweet 16 last March, forward C.J. Leslie's decision to return for another season, the arrival of a heralded recruiting class and so many departures from the other top conference teams, expect Mark Gottfried's club to top the ballots come fall. Point guard Lorenzo Brown needed knee surgery late last month, but is expected to practice before NCSU leaves for an August trip to Spain.
2. Departures at North Carolina: Losing so many stars to the NBA in one swipe (this time, Tyler Zeller, John Henson, Harrison Barnes and Kendall Marshall) is nothing new in Chapel Hill. The question is, how will the Tar Heels respond? In 2005-06, after losing seven of its top eight players, a young UNC team exceeded preseason expectations by making it to the second round of the NCAA tournament. But in 2009-10, after losing four of five starters, the Tar Heels didn't make it to the NCAA tournament at all. Returners such as James Michael McAdoo, Reggie Bullock, Leslie McDonald and Dexter Strickland still make UNC a top-15 favorite this time around.
3. Decisions at Duke: The Blue Devils' jaw-dropping defeat to 15th-seeded Lehigh in the NCAA tournament was followed by a couple of other spring surprises: the announcement that guard Andre Dawkins will redshirt his senior season, and that forward Mason Plumlee will return for another year. The latter is particularly key for Duke, which will boast sizeable frontcourt options in Mason and Marshall Plumlee, Ryan Kelly, Alex Murphy and late signee Amile Jefferson. But without Dawkins, how Seth Curry, Quinn Cook, Tyler Thornton and freshman Rasheed Sulaimon perform on the perimeter could determine how far the Blue Devils go.
4. Personnel changes at Virginia Tech: Seth Greenberg is gone. But so, now, are rising sophomore Dorian Finney-Smith and recruit Montrezl Harrell, who opted for new schools after Greenburg was fired. Former Greenberg assistant James Johnson -- who left Blacksburg, Va., for the same position at Clemson, only to return weeks later after he was hired to replace Greenberg in the head-coaching job -- has some talent to build around. But not all he could have hoped for.
5. Don't forget about Florida State: After losing six players in their rotation (including fan favorite forward Bernard James, who went No. 33 overall in the NBA draft), it would be easy to overlook the chances of the Seminoles, who won their first ACC tournament last season. But don't. The Noles return four of their top five scorers, including guards Michael Snaer and Ian Miller, who both buried game winners last season. Plus, coach Leonard Hamilton has proven that defense wins.
Best-case/worst-case scenarios
Boston College

[+] Enlarge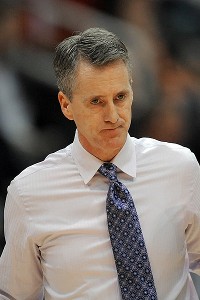 Bob Donnan/US PresswireSteve Donahue's Boston College team will still be young, but can the Eagles climb out of the ACC's basement in 2012-13?
Best-case scenario: All signs point to another down year for BC, where third-year coach Steve Donahue is attempting to build a young team into a competitor, almost from scratch. Donahue doesn't have a star waiting in the recruiting wings, but eight of the nine most-used players from last year's team were freshmen. A bunch of coalescent improvement -- or at least more efficient offense from a more experienced team -- could give this team an outside shot at the NIT.
Worst-case scenario: More likely, it's another difficult rebuilding year for the Eagles. This team finished No. 259 in Ken Pomeroy's adjusted efficiency rankings last season, and they were the third-worst team in the country (!!) in offensive rebounding percentage. Unless that changes -- and there are few obvious personnel-related reasons to think it will -- it will be another long year.
Clemson

Best-case scenario: Jaron Blossomgame lives up to his name. The incoming freshman outplays all expectations -- he is a four-star prospect ranked No. 23 in his class at small forward, according to RecruitingNation -- leads Clemson out of the gate and becomes one of the ACC's best young talents. Forward Milton Jennings cleans up his oft-inefficient offense, as the Tigers finish in the top half of the ACC en route to a surprise NCAA tournament bid.
Worst-case scenario: Clemson, already a rough offensive unit, really misses the only marginally efficient scorers (seniors Andre Young and Tanner Smith) the team had in 2012. Blossomgame shows promise but isn't ready to make a serious impact, and Clemson has another quiet season in the 14-to-16-win range.
Duke

Best-case scenario: Whatever (or whomever) Seth Curry was referring to when he said Duke "didn't like each other" in 2012 (cough, Austin Rivers, cough), those issues don't carry over into 2012. Freshman guard Rasheed Sulaimon and freshman power forward Amile Jefferson give Duke some much needed dynamism in both the backcourt and the front. Curry raises his point guard game, Mason Plumlee finally puts it all together, and the Blue Devils take advantage of a wide-open ACC and an even-wider national landscape.
Worst-case scenario: See: 2012. It wasn't like Duke had a bad season, all things considered, but even before the first-round loss to Lehigh, that was never going to be a vintage Duke team. In a worst-case scenario, this team will still have a very good year -- 26 or 27 wins -- but it will be maddeningly similar to 2012, held back by a young, defensively suspect perimeter, so-so rebounding and no consistent low-post scoring threat.
Florida State

Best-case scenario: Not only do the Seminoles defend -- because the Seminoles always defend -- but in 2012-13, they learn to harness their trademark on-and-off offense. The losses of senior guards Luke Loucks and Deividas Dulkys do wonders for Florida State's league-high turnover rate, forward Okaro White uses his gifted athleticism and length to become Chris Singleton 2.0, and the Seminoles finish among the best two or three teams in the conference.
Worst-case scenario: The loss of six seniors from the rotation -- including defensive anchor and team leader Bernard James -- proves too much to overcome in just one summer. The addition of shooting guard Montay Brandon, who excels in the paint but still needs to learn to stretch the floor, proves a work-in-progress, and FSU's young guards don't clean up the turnover woes after all. In the end, the Seminoles play very good defense while struggling to score even a point-per-possession on the offensive end. We've seen that movie before.
Georgia Tech

Best-case scenario: Brian Gregory is beginning to put his program's pieces in place, and that process begins to bear fruit as early as this season. The dismissal of Glen Rice Jr. proves a blessing in disguise, as it creates more minutes for a host of sophomores and a pair of promising freshmen, power forward Robert Carter and small forward Marcus Hunt. Even in a perfect world, Georgia Tech probably doesn't make the tournament -- but the 2012-13 Yellow Jackets acquit themselves well and build strong rebuilding momentum for 2013-14.
Worst-case scenario: The loss of Rice Jr. cripples what was already one of the ACC's worst offenses, and the players around guard Mfon Udofia (Brandon Reed, Jason Morris, Kammeon Holsey) fail to post a plus-100.0 offensive rating between them for the second straight season. The freshmen need more time. The offense grinds to a halt. Gregory finds his team struggling to break last season's 11-win barrier. Unfortunately, this seems more likely than the best case. But we'll see.
Maryland

Best-case scenario: Terrell who? Stoglin, the ACC's leading scorer in 2012, also owned the nation's third-highest shot rate. Without him, the court opens up, and promising players like Nick Faust, Pe'Shon Howard and 7-foot center Alex Len all find themselves enjoying better ball movement, crisper passing, and the added touches it creates. Freshman center Shaquille Cleare provides a one-two frontcourt punch on the glass, and Mark Turgeon gets Maryland back where its fans so desperately want it to be: In the ACC title mix. Or at least the NCAA tournament.
Worst-case scenario: Stoglin's I'm-suspended-for-a-year-so-I-might-as-well-go-pro-anyway departure proves to be every bit as devastating to Maryland's attack as his 2012 numbers imply. Without him, a merely mediocre offense takes a step back. Faust and Len prove unready to be go-to players yet, and Cleare, Jake Layman and Charles Mitchell don't make a real impact as freshmen. Impatient Maryland fans begin to ever-so-gently grumble.
Miami

Best-case scenario: Reggie Johnson makes the leap. The big-bodied forward is a load on the low block, and finally turns that gift into a menace for opposing ACC defenders, few of which will be able to match his sheer physicality. Meanwhile, fellow senior Durand Scott submits an all-ACC-type performance in the backcourt, sneakily efficient swingman Rion Brown has a breakout sophomore season, and Miami not only finishes among the best four or five teams in the ACC but makes the tournament -- and makes some noise, too.
Worst-case scenario: Injuries. That's true of every team, I suppose, but injuries essentially derailed Jim Larranaga's team before it had a chance to leave the station in 2012, and this year's team -- which features only one incoming freshman -- again lacks the depth to make the injury bug less perilous.
[+] Enlarge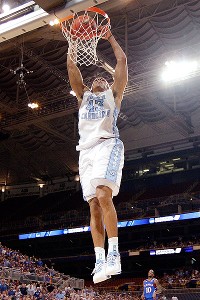 Andy Lyons/Getty ImagesNorth Carolina's fortunes in 2012-13 will rest largely on James Michael McAdoo's transition from a bit part as a freshman to featured contributor as a sophomore.
North Carolina

Best-case scenario: The anti-Marvin Williams, power forward James Michael McAdoo, proves that leaving for the NBA draft even when you're a lottery pick isn't always the smartest play. Combining limitless talent with another summer of gym-rat work, McAdoo submits an All-American-worthy season, alleviating North Carolina's interior losses (Tyler Zeller, John Henson, Harrison Barnes) in one fell swoop. P.J. Hairston becomes a lights-out shooter (to say nothing of the return of Leslie McDonald), touted point guard Marcus Paige picks up where Kendall Marshall left off, and No. 8-ranked power forward Brice Johnson is ready to crash the glass on Day 1. The Tar Heels win the ACC and make a run at the Final Four, just another season of business as usual in Chapel Hill.
Worst-case scenario: McAdoo emerges from the summer looking less like a transformed talent and more like the often-tentative role player he was as a freshman. Without effective scoring and rebounding on the low block, and the Tar Heels still suffer from the shooting woes that were their only obvious flaw last season.
NC State

Best-case scenario: The best-case scenario for this team is, quite simply, the kind of season NC State fans have been desperate for for a decade, if not longer. Sure, the Wolfpack were uninspiring for much of 2011-12, but they turned it on in time to get to the NCAA tournament and didn't waste their opportunity to impress once there. Now, with that bit of business behind them, talented forward C.J. Leslie returns with the most versatile and honed mid-post games in the country. Mark Gottfried's class of top-10 positional talents shows up ready to contribute on day one; Rodney Purvis steps into a starring role right away, T.J. Warren adds creativity and size on the wing, and Tyler Lewis provides junior point guard (and undisputed team leader) Lorenzo Brown with a more than capable replacement off the bench. And don't forget Scott Wood, one of the country's deadliest shooters. If it all comes together as expected, NC State won't just be the favorite to win the ACC title. They'll have a deep tournament run well within their sights.
Worst-case scenario: Leslie has been a mercurial player throughout his two-year career, and if his attitude and productivity don't remain consistent, it will be hard for the Wolfpack to be truly elite. Likewise, any optimistic projection relies on unproven freshmen, particularly Purvis, as well as on the hope that Brown feels no lingering effects from an offseason injury. There is a lot of boom here, but there is also the potential for bust -- a 24-win-ish season that simultaneously marks a major improvement for the program while also proving somewhat of a disappointment. We'll see.
Virginia

Best-case scenario: Is there life after Mike Scott? A trio of Virginia freshmen will have much to say about that. Coach Tony Bennett landed three top 100 players in the class of 2012: No. 12- and No. 13-ranked small forwards Justin Anderson and Evan Nolte and No. 17-ranked center Mike Tobey. A corp of young players (Joe Harris, Malcolm Brogdon, Akil Mitchell) will return with experience and a taste for success. Meanwhile, Bennett's pack-line defense -- which made Virginia the nation's sixth-best per-possession defense in 2012 -- and slowed-down tempo will continue to make life difficult for even more talented opponents, and the Cavaliers find themselves back in the NCAA tournament for the second straight season.
Worst-case scenario: Scott was one of the nation's most underrated players in 2012. He scored efficiently, rebounded (especially the defensive boards) like crazy, rarely turned the ball over, drew fouls -- you name it. Without that anchor in the middle, the Cavaliers find themselves a bit adrift, and the crew of arriving freshmen aren't ready to split those responsibilities just yet. If that's the case, Virginia will almost certainly take a step back -- not a big one, but big enough to keep them from challenging the ACC elite and big enough to put them on the bubble in the first two weeks of March.
Virginia Tech

Best-case scenario: Erick Green and Jarell Eddie become stars. If this seems like a long shot, it probably is, but the experienced duo is undoubtedly Virginia Tech's best chance at making 2012 something more than a total rebuilding effort.
Worst-case scenario: Every time SI writer Jack McCallum talked to one of the 1992 Dream Team's opponents (for his excellent book "Dream Team," which I highly recommend) about their "strategy," the answer was always some version of "just don't get embarrassed." So it is for the Virginia Tech Hokies in 2012, it seems, where new coach James Johnson was hired for continuity's sake but quickly found himself releasing ACC All-Freshman teamer Dorian Finney-Smith, as well as top incoming freshman Montrezl Harrell, from their scholarships. That leaves big holes in a team that already struggled for much of 2012. The best case here is to fight valiantly, keep Tech fans interested, and build on some glimmers of hope for the future.
Wake Forest

Best-case scenario: The Demon Deacons find strength in numbers. Wake Forest coach Jeff Bzdelik's 2012 recruiting class comprises seven commitments, ranging from RecruitingNation No. 14-ranked point guard Codi Miller-McIntyre to two-star project center Andre Washington. The best hope is that Miller-McIntyre shines while Bzdelik scours the incomers for at least one underrated gem. If junior Travis McKie makes a leap and guard C.J. Harris has a solid senior season, Wake Forest should at the very least improve on last season's 13-win total, perhaps even to a .500 season and an NIT appearance.
Worst-case scenario: Bzdelik has won a total of 21 games in two seasons at the school. His first team won eight, arguably the worst season in the school's proud hoops history. A lot of players are joining up this season, but quantity does not guarantee quality, and it's just as likely Bzdelik continues his ignominious and widely-derided tenure for another season. If that happens, the worst case for Bzdelik is he might be out of a job. For Wake fans, that might sound like the best possible outcome.
Most Important Player

Boston College: Ryan Anderson
The forward was a unanimous All-ACC rookie selection last season after leading his team with 11.2 points and 7.4 rebounds. But the freshmen-laden Eagles averaged only 59.1 points and 40.8 percent shooting. So as Anderson's numbers build, so perhaps will BC's.

Clemson: Milton Jennings
Remember when the senior forward was touted as the first McDonald's All-American signed by the Tigers since 1991? With Andre Young and Tanner Smith having graduated, Clemson needs Jennings to finally live up to that potential. Last season, he served two suspensions and averaged 9.7 points and 5.6 rebounds.

Duke: Seth Curry
Austin Rivers was Duke's go-to guy last season, but his early departure makes Curry, a senior, Duke's leading returning scorer (13.2 ppg). Coach Mike Krzyzewski has said he wants Curry to be able to concentrate more on scoring this season, and it helps that he won't be asked to play point guard, like last season.

Florida State: Michael Snaer
The 6-foot-5 senior isn't just key because he's the team's leading scorer (14 ppg), but because he's the Seminoles' leader, period. His two ACC game winners gave the Seminoles a fearless attitude last season that should carry over to this season, too, even with so many of last season's players gone.

Georgia Tech: Mfon Udofia
No returning Yellow Jackets averaged double figures last season, but the closest is Udofia (9.9 ppg at point guard). His senior leadership will be as important as his stats, as Tech will continue to try to rebuild after an 11-win season. Perhaps making things a bit easier for the young team: Udofia and the Jackets will open at their new arena, McCamish Pavilion, in November.

Maryland: Nick Faust
With last season's ACC leading scorer, Terrell Stoglin, gone, Maryland needs some offense, and this sophomore looks like a good candidate. Although the guard averaged 8.9 points last season (third on the team), that jumped to 13.4 over his last nine games. And the Terps would like to see it jump even more.

Miami: Reggie Johnson
At 6-10 and 284 pounds, this senior is an exhausting load for most big men to contend with. With veterans Kenny Kadji and Durand Scott also back, expect second-year coach Jim Larranaga to try to get more of everything out of Johnson (10 points, 7.2 rebounds), who got a late start last season after knee surgery.

North Carolina: James Michael McAdoo
Questions linger about who's going to get the sophomore forward the ball (Will Dexter Strickland be healthy? Will Marcus Paige be ready?), but with little experience in the frontcourt, McAdoo is going to be counted on to be UNC's go-to big guy. He came on strong at the end of the last season, averaging 10.6 points and 4.8 rebounds over his last seven games.

NC State: C.J. Leslie
The 6-8 forward averaged a team-best 14.7 points, plus 7.3 rebounds last season and helped the Wolfpack to a late surge that pushed them to their first NCAA berth since 2006. State isn't very deep in the frontcourt, so his decision to return bolstered the Wolfpack as a top-10 favorite.

Virginia: Jontel Evans
It's going to be difficult for the Cavs to replace forward Mike Scott's offense, but Evans, a senior guard, returns with defensive intensity and consistency. Last season, Evans became the first Cavalier since 2001 to be named to the ACC's All-Defensive team, and coach Tony Bennett will expect him to set the stick-to-itive tone, again.

Virginia Tech: Erick Green
New head coach James Johnson is expecting the senior to lead the Hokies on and off the court, and to that end, Green attended Chris Paul's CP3 Elite Guard Camp and the Deron Williams Skills Academy this summer. The second-team All-ACC selection averaged 15.6 points last season, and his consistency will be key to a team that features a single-digit number of scholarship players.

Wake Forest: Codi Miller-McIntyre
After the transfer of Tony Chennault, the freshman point guard will likely have to play 30-plus minutes from the get-go. How well, often and consistently he can get the ball to veterans C.J. Harris and Travis McKie will impact how much the Deacons improve on last season's 13-18 finish.
Bilas: ACC Power Rankings

The 2011-12 season can be termed a "down year" in the ACC only when judged by the performance of the league from top to bottom and a "disappointing year" when judged by the performance of its top teams in the NCAA tournament. Five ACC teams reached the NCAA tournament, but 10 of the 12 teams in the conference lost 10 or more games, and eight of the 12 teams lost at least 13.
North Carolina was the ACC's best team in 2012, but it was tripped up by injury in the NCAA tournament. Duke bowed out of the NCAA tournament in the Round of 64, becoming just the sixth No. 2 seed to lose an opening game. The bright spot was NC State, which found its way to the Sweet 16 before losing to NCAA runner-up Kansas.
The 2012-13 season appears to be a promising one for the ACC, with nationally competitive teams at the top and more competitive teams in the middle and bottom of the league. Here is how the teams rank, from best to worst.
To read Jay Bilas' ACC Power Rankings, click here

.
Five freshmen to watch
Marcus Paige, North Carolina: With Cousy Award winner Kendall Marshall now playing in the NBA, senior shooting guard/backup point guard Dexter Strickland returning from a knee injury and last season's third-stringer, Stilman White, away on a Mormon mission, the left-handed Iowan is going to play a lot of minutes. But he's coming off a summer foot injury, so how quickly he has healed and how fast he adapts will be key for the Tar Heels.
Rasheed Sulaimon, Duke: The wing from Houston won the 3-point shooting contest in the McDonald's All-American game and averaged 27.4 points as a high school senior. Now that Austin Rivers is gone to the NBA, Duke needs some more perimeter scoring -- and the 6-3 Sulaimon is a strong candidate to do provide it. Freshman forward Amile Jefferson, a late signee, will be a key piece of the Blue Devils' puzzle, as well.
Rodney Purvis, NC State: One of three new McDonald's All-Americans on the Wolfpack's roster, the 6-4 combo guard should add athleticism and depth to the wing. And although he's expected to make an instant impact, he'll have the bonus of being able to adjust without the burden of carrying the full load, thanks to the return of Leslie and Brown, among others.
Robert Carter, Georgia Tech: Yellow Jackets fans are hoping the big Georgia product will help turn around a program that hasn't had a winning conference record since 2004. The 6-8, 250-pounder was ranked the No. 7 power forward prospect in the nation by RecruitingNation.
Justin Anderson, Virginia: The 6-5 wing is a strong defender with scoring potential -- and the Cavaliers need both after the losses of Mike Scott, Sammy Zeglinski and Assane Sene. Anderson is from Spotsylvania, Va., and is ranked the No. 12 small forward by RecruitingNation.