Five offseason storylines
1. UCLA's late recruiting surge: Less than two months after a Sports Illustrated story threatened to damage the reputation of coach Ben Howland and his program, the Bruins added a pair of standout freshmen who could make UCLA a top-10 staple this season. Shooting guard Shabazz Muhammad -- the No. 2-ranked prospect in the class of 2012 -- announced his intentions during a live telecast on ESPNU in May. Center Tony Parker, who is ranked No. 26, followed suit soon after. Mix in fifth-ranked Kyle Anderson, a small forward who signed in the fall, and it's easy to see why UCLA's haul was ranked No. 1 in the country by RecruitingNation.
[+] Enlarge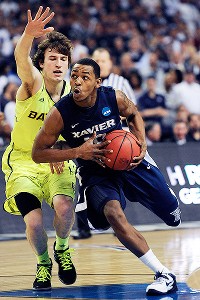 Richard Mackson/US PresswireXavier transfer Mark Lyons will reconnect with his former Musketeer coach Sean Miller at Arizona.
2. Mark Lyons transfers to Arizona: The Wildcats' list of newcomers became even more impressive with the addition Lyons, who scored nearly 1,200 points in three seasons at Xavier. Arizona coach Sean Miller signed Lyons when he coached the Musketeers and had a chance to reconnect with him when Lyons decided to transfer for his final season. Lyons will provide a huge boost to a squad that also welcomes the country's third-ranked recruiting class. Mix in returnees such as Solomon Hill and Nick Johnson and there will be no excuses for the Wildcats missing the NCAA tournament, which they've done two of the past three seasons.
3. USC's bounce back: Could a team that finished 6-26 overall and 1-17 in Pac-12 play last season actually make the NCAA tournament in 2013? Trojans coach Kevin O'Neill says yes, and there appears to be validity to his optimism. Last year's squad lost four starters to season-ending injuries and was down to six scholarship players by the end of the season. Now USC is preparing to welcome back team captain Jio Fontan and NBA prospect Dewayne Dedmon along with newcomers such as Wake Forest transfers J.T. Terrell and Ari Stewart. Tissue-thin a year ago, the 2012-13 Trojans will be the deepest team of O'Neill's tenure.
4. Washington hurt by NBA draft: The Huskies' chances of repeating as Pac-12 champions took a major hit when sophomore small forward Terrence Ross and freshman point guard Tony Wroten left school early to turn pro. Both players became instant millionaires when they were selected in the first round. Ross was picked eighth by Toronto; Memphis nabbed Wroten with the 25th selection. The early departures will put additional pressure on players such as C.J. Wilcox, Abdul Gaddy and Aziz N'Diaye. Even with Ross and Wroten in the lineup, Washington missed the NCAA tournament last spring. Can they make it this season without them?
5. Can Jahii Carson make Arizona State relevant again?: The Sun Devils experienced their worst season under Herb Sendek when they went 10-21 last season. But let's face it: Arizona State hasn't had a quality point guard since Derek Glasser graduated two years ago. Carson was supposed to fill that void as a freshman last season, but he was ruled academically ineligible and never played a game. Luckily, he was able to practice with his teammates, which should help him adapt to the college game more quickly when he takes the court for the first time this fall. Arizona State has missed the NCAA tournament the past three seasons.
Best-case/worst-case scenarios
Arizona

Best-case scenario: Everything goes according to plan. That means a few things. It means Sean Miller's three marquee recruits arrive on campus ready to play big minutes for a Pac-12 and national title contender. It means shooting guard Nick Johnson steps out of a late freshman slump from last season to make freshman shooting guard Gabe York a useful sub off the bench. It means senior guard Mark Lyons is not only effective at the point guard spot but brings the right attitude, facilitates his teammates and balances the lineup. It means Sean Miller takes all these talented disparate parts, sells them on team defense, and mixes them in true Caliparian fashion. If that happens, Arizona is capable of just about anything -- including a trip to the Final Four.
Worst-case scenario: A close reading of that best-case scenario reveals a lot of if-then premises, and that's the risk for this team: A lot of things have to go right for it to succeed. The opposite outcome is not entirely unlikely. Lyons could prove to be a questionable teammate, a reputation he earned at Xavier. The freshmen could disappoint off the court (see: Turner, Josiah) and/or on it. Miller could struggle to bring so many new talents together, as many coaches do. Arizona will be talented no matter what, but if the Wildcats struggle around the margins, the risk of a merely mediocre season remains high.
Arizona State

Best-case scenario: Jahii Carson is a legitimate star. Carson, a highly touted hometown prospect, will finally get on the court this season. If he can produce at a high level right away -- and part of that production includes controlling the ball and bringing down ASU's conference-worst 25.7 percent turnover rate -- the Sun Devils could improve to .500, and maybe a bit better.
Worst-case scenario: Much will be left on Carson's shoulders, but even if he is good right away -- and that's a definite "if" -- it isn't clear if he can get enough help from the rest of the Sun Devils to make a dent in what may be another shallow edition of the Pac-12.
California

Best-case scenario: There is plenty of reason to believe the Bears can pick up where they left off last year. Cal returns its three most efficient offensive players -- junior guards Allen Crabbe and Justin Cobbs and freshman forward David Kravish -- as well as solid interior depth in less-used forwards Richard Solomon, Robert Thurman and Bak Bak. If those forwards can defend the low block and rebound effectively, Cobbs and Crabbe should be able to shoulder much of the scoring load, and Cal should at least present UCLA and Arizona with a credible Pac-12 title challenger.
Worst-case scenario: The loss of Jorge Gutierrez shows up in ways the score sheet doesn't quite encapsulate; the Bears miss his unique intensity and his leadership (not to mention his willingness to mix it up with opposing benches) as well as his defense at the point of attack. If so, the Bears' strength in 2011-12 -- a No. 26-ranked per-possession defense -- could morph into a weakness. This could be a solid but mostly unexceptional team, and Mike Montgomery is surely hoping for more.
[+] Enlarge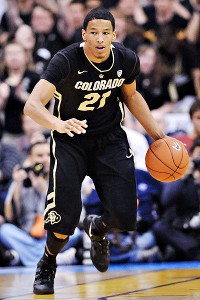 Jayne Kamin-Oncea/US PresswireCan Andre Roberson and Colorado build upon last season's strong finish?
Colorado

Best-case scenario: The Buffaloes take the Pac-12 by storm, this time for longer than one weekend. Colorado's 2012 NCAA tournament appearance came thanks to their title in the wide-open Pac-12 tournament, a bonus outcome that masked many of this team's regular-season flaws. Those flaws in turn masked some of the positives, especially the development of forward Andre Roberson, who as a sophomore posted 11.1 rebounds per game and the nation's second-best defensive rebounding rate (29.6 percent). If Roberson improves his offensive touch, he has the talent to be one of this league's true stars. If he does, the Buffaloes -- who will also welcome two top-100 recruits this summer -- will be a top-half squad, if not better.
Worst-case scenario: Those two incoming recruits are Josh Scott, the No. 9-ranked center, and Xavier Johnson, the No. 18-ranked small forward. In other words, there is no guarantee they will be impact players in their freshman seasons. The Buffaloes lost three seniors from last year's starting rotation. Without much depth, the Buffaloes could be a one-trick pony featuring Roberson and, well, not much else.
Oregon

Best-case scenario: In a perfect world, senior forward E.J. Singler does his best impression of brother Kyle, while freshman point guard Dominic Artis shows up ready to take over for the departed Devoe Joseph on day one. From there, it will take a menagerie of contributions to get this team to the NCAA tournament, but it's hardly out of the question.
Worst-case scenario: Artis has an OK but not great season, the kind you'd expect from a player with his recruiting rankings. More than anything, Oregon has to be better defensively; it posted the No. 14-ranked offense but the No. 158-ranked defense last season. If that side of the ball doesn't improve, neither will Dana Altman's Ducks.
Oregon State

Best-case scenario: Devon Collier gets his moment in the sun. Collier averaged 13.2 points and 5.2 rebounds on 61 percent shooting (with a very tidy offensive rating of 122.0) as a sophomore and should now get the lion's share of his team's touches. If Beavers coach Craig Robinson can design a Collier-heavy system that includes an experienced supporting cast (Ahmad Starks, Joe Burton, Angus Brandt) and intriguing young players (Roberto Nelson, Eric Moreland), the Beavers might be better off than at any time during 2011-12.
Worst-case scenario: Collier's emergence never really happens, and instead of a team built around a versatile offensive threat, the Beavers show up as a ragtag group of misaligned parts, with no clear defining principle to their attack. That's been the case more often than not during Robinson's tenure, unfortunately.
Stanford

Best-case scenario: Newly hired assistant coach Mark Madsen dances frequently and with gusto, primarily because coach Johnny Dawkins' program is finally beginning to show green shoots of long-term sustainability. Chasson Randle, a 2012 Pac-12 Freshman of the Year candidate, makes a big-time frosh-to-soph leap. Four juniors (Aaron Bright, Dwight Powell, Anthony Brown and Josh Huestis) continue the defensive excellence that characterized last season's team. Two top-100 recruits (Rosco Allen and Grant Verhoeven) provide offensive versatility. Stanford isn't a Pac-12 contender just yet, but it should be among the conference's four or five best teams, and the long-term progress will continue.
Worst-case scenario: Randle fails to emerge as a sophomore, and the loss of star senior Josh Owens -- without question the team's best defender last season -- weakens Stanford's defense considerably. The freshmen are merely freshmen, the junior class doesn't improve, and Dawkins, even with a crop of average-or-better talent, has yet another mediocre-or-worse season in Palo Alto.
UCLA

Best-case scenario: A Pac-12 title, national title contention, and a full-on personal Ben Howland exorcism. The talent is obvious. In the best-case scenario, the top-five-ranked incomers (Shabazz Muhammad and Kyle Anderson) perform like the stars they are touted to be, while junior forward Josh Smith returns not as an overweight project but as a low-block terror. The team takes the lessons of Howland's recent near-downfall to heart, and the Bruins rediscover not only their defense but what it really means to be a team. If that happens, look out. The ceiling is ridiculously high.
Worst-case scenario: Much like Arizona, it's hard to predict anything but a very good season for the Bruins, but the worst case isn't all that hard to envision, either. UCLA's veterans bristle against the attention focused on Muhammad and Anderson. Or those two can't coexist in the same backcourt. Or Smith returns without following through on his offseason promises. Or Howland mismanages -- as he has before -- the team dynamic. UCLA has no reason not to be good next year, but Howland still has much to prove. And if things get bad, they could get really, really bad.
USC

Best-case scenario: How does a team as bad as USC was in 2011-12 -- remember, this team went 1-17 in a league that contained Utah, Arizona State and Washington State -- make a credible NCAA tournament case the following season? Returns and imports. Point guard Jio Fontan and 7-foot center Dewayne Dedmon will return from knee injuries and coach Kevin O'Neill will welcome two Wake Forest transfers in J.T. Terrell and Ari Stewart. If the new (and old) faces improve an offense that ranked 326th in efficiency (yes, you read that right) it's hard to see USC being anywhere near as bad as it was last season.
Worst-case scenario: More injuries devastate O'Neill's newfound depth or, more likely, the Trojans simply can't find the offense they need to remain competitive. It's a lot to ask of a team -- even one with so much new talent -- to go from one of the nation's worst Division I offenses to one good enough to hang with the UCLAs and Arizonas (or even the Cals and Stanfords) of the world. The Trojans will defend. They'll be better than last year. But unless they score semiregularly, the improvement may be minimal at best.
Utah

Best-case scenario: What's the best-case scenario for a team that finished No. 303 overall in Ken Pomeroy's adjusted efficiency rankings last season -- the only high-major team to rank lower than No. 300? It's all about the long term. Coach Larry Krystkowiak has seven prospects inbound this fall, including top-100 small forward Jordan Loveridge and coveted Brazilian juco forward Renan Lenz. Best case includes tossing those two into the deep end immediately, finding another long-term rotation player or three in the mix, and rebuilding the program's standing among its dedicated fan base. This is a major project. Baby steps.
Worst-case scenario: See: 2011-12. It doesn't get much worse than that.
Washington

Best-case scenario: For as much as Tony Wroten impressed NBA scouts with attacking athleticism last season, let's not forget that Wroten posted a 95.5 offensive rating on the 13th-highest usage rate (32.2 percent) of any player in the country. Maybe losing Wroten to the NBA draft isn't that bad, after all. If Abdul Gaddy and C.J. Wilcox form a more efficient backcourt, and Aziz N'Diaye can add to his low-post repertoire, this team might be a better -- or at least more cohesive -- offensive unit.
Worst-case scenario: The Wroten departure may not hurt, at least compared to last season, but the loss of versatile swingman Terrence Ross is a definite downer. Ross wasn't just productive, he was efficient. Even with him, the Huskies couldn't manage to make the NCAA tournament. Without him, and without Lorenzo Romar's typical recruiting haul, the Huskies could struggle to get close.
Washington State

Best-case scenario: Brock Motum goes from "best big man you've never heard of" to just the Pac-12's best big man, full stop. After a 2011-12 season that saw him emerge as the centerpiece of Wazzu's attack (and a rebounding force) he's arguably there already. Now he needs help. It could come from sophomore guard DaVonte Lacy, who could improve on his impressive freshman season with more minutes, touches and long-range touch. Others -- Reggie Moore, Mike Ladd, D.J. Shelton, Dexter Kernich-Drew -- will have to step up, too.
Worst-case scenario: Motum is a near-guarantee. The rest of this team -- which lost three seniors, including de facto team leader Faisal Aden -- is far from it. Nor does the recruiting class offer much obvious hope. The best player in the class, Demarquise Johnson, is ranked No. 28 at his position (shooting guard); the next best, Richard Longrus, is an under-the-radar small forward ranked No. 71. Even with Motum's unlikely leap, Ken Bone's team has as many holes as it did last year, and no clear respite is on the way.
Most Important Player

Arizona: Nick Johnson
The shooting guard tapered off at the end of his freshman season, when he averaged just 6.1 points in his last seven games. It will be interesting to see if the presence of highly touted freshman Gabe York and Xavier transfer Mark Lyons will cause Johnson to step up his game.

Arizona State: Jordan Bachynski
The 7-foot-2 center was a bright spot for the Sun Devils during an otherwise frustrating season in 2011-12. Don't be fooled by his ho-hum statistics (6.0 points; 4.0 rebounds). In Arizona State's last 13 games, Bachynski averaged 10.1 points, 6 boards and 2 blocks. He'll be one of the top post players in the league this season.
California: Richard Solomon
The 6-foot-10, 220-pound forward was averaging 6.8 points and 6.2 rebounds when he was declared academically ineligible after 13 games last season. It was a huge loss for the Golden Bears, who are a much better team when Solomon is anchoring the defense down low.

Colorado: Andre Roberson
The forward ranked third in the nation in rebounding last season with 11.1 boards per game. Most NBA mock drafts predict that Roberson will be a first-round pick next summer. For now, the biggest question is whether Roberson can lead the Buffaloes to the NCAA tournament for the second straight season.

Oregon: Tony Woods
The 6-foot-11, 250-pound Woods put up modest numbers (6.3 points, 3.7 rebounds) after transferring to Eugene last season. Still, the former Wake Forest post player has yet to live up to the lofty expectations that have hovered over him since high school. Oregon will be a different caliber team if Woods takes that "next step" in his final season.

Oregon State: Devon Collier
With Jared Cunningham now in the NBA, the spotlight will shine on Collier. The 6-foot-7 forward averaged 13.2 points and 5.3 rebounds as a sophomore last season, when he shot 61.5 percent from the field. He also blocked an average of 1.3 shots per contest.

Stanford: Aaron Bright
The point guard should be full of confidence after averaging 16.8 points and 4.2 assists during Stanford's march to the NIT title. Bright's performance earned him tournament MVP honors. If he plays that way in 2012-13, the Cardinal will be back in the NCAA tournament.

UCLA: Larry Drew
The Bruins' recruiting class has generated a ton of offseason buzz, and rightfully so. But a strong performance by Drew at point guard will be vital if the Bruins hope to be a mainstay in the top 10. Drew was North Carolina's starter before walking out on his team midway through the 2010-11 season.

USC: J.T. Terrell
The shooting guard averaged 11.1 points as a freshman at Wake Forest in 2009-10. He withdrew from school last fall after he was arrested for driving while impaired. Terrell played last season at Peninsula Junior College. Trojans coach Kevin O'Neill said Terrell is one of the most talented players he's ever signed.

Utah: David Foster
The 2009-10 Mountain West Defensive Player of the Year missed all of last season with a broken foot. Foster, a 7-foot-3, 243-pound center, will return this season and try to help the Utes bounce back from the worst season in school history. Foster holds Utah's all-time record for blocked shots with 219.

Washington: Scott Suggs
C.J. Wilcox and Abdul Gaddy are the most recognizable names on the roster. But don't forget about Suggs, a sharpshooter who averaged 7.4 points and shot 45 percent from 3-point range as a junior two years ago. The 6-foot-6 Suggs, who redshirted last season because of a foot injury, could be one of the X factors for the Huskies.

Washington State: Reggie Moore
The Cougars might be decent if Moore can keep his head on straight. The point guard was suspended in January 2011 following his arrest on marijuana-related charges. Last season, he played in all 37 games and averaged 10.2 points and 5.2 assists. Moore is one of the most underrated players in the country at his position. His leadership this season will be key.
-- Jason King
Gottlieb: Pac-12 Power Rankings

On Monday, Insider began its conference Power Rankings series for the upcoming season with a look at the pecking order in the Atlantic Coast Conference.
Today, we'll tackle the Pac-12.
To read Doug Gottlieb's Pac-12 Power Rankings, click here

.
Five freshmen to watch
Shabazz Muhammad, UCLA: Bruins fans are hoping the 6-foot-6, 215-pounder will change the fortunes of their struggling program. Muhammad will likely spend just one season in Westwood, as he could be potentially be the top overall pick in next summer's NBA draft.
Kyle Anderson, UCLA: The 6-foot-7 Anderson is versatile enough to play all three positions on the perimeter. As a "point forward," he'll be a huge matchup problem for opposing defenders. A New Jersey native, Anderson was the fifth-ranked player in the Class of 2012.
Kaleb Tarczewski, Arizona: The Wildcats beat out Kansas, Kentucky and North Carolina for the 7-foot, 240-pound center. Tarczewski runs the floor extremely well for a player of his size and is an explosive finisher around the rim.
Grant Jerrett, Arizona: Jerrett, who stands 6-foot-10, will team with Kaleb Tarczewski and freshman Brandon Ashley to form one of the most imposing frontcourt rotations in the Pac-12, if not the country. Recruiting analysts have been taken aback by his improvement over the past few years. Jerrett, the ninth-ranked player in the Class of 2012, can score from multiple areas.
Brandon Ashley, Arizona: The 16th-ranked player in the Class of 2012 chose the Wildcats over Kentucky, Oregon and UCLA. Ashley is a 6-foot-8, broad-shouldered power forward who has good quickness and timing around the basket.
-- Jason King
Katz: Colorado on the rise

Colorado had the most boisterous contingent at the Pit during the NCAA tournament.
The black and gold fans in Albuquerque were loud, proud and committed to ensuring the Buffaloes were well represented. I was there. I heard it. It was obvious to anyone in the arena.
The Buffaloes were rewarded with an NCAA tournament win over UNLV -- their first such victory in 15 years -- before losing to Baylor in the round of 32.
This was Colorado, and the sport they were cheering was men's basketball. Now that's progress.
The CU fan base had rarely been known as well traveled (or loud) during its days in the Big 12. Yet something has changed in Boulder -- for the better -- since Colorado's move in the Pac-12.
Now the fan base has something to cheer about: a team that isn't going to shy away from its newfound success under Tad Boyle, who is entering this third season with the Buffs.
To read the rest of Andy Katz's story on the Buffaloes, click here.