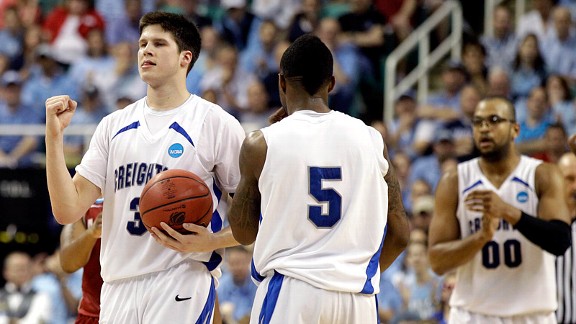 AP Photo/Chuck BurtonCreighton returns almost every contributor from a 27-win team that won the Valley tourney title.
Five offseason storylines
Doug McDermott's ceiling: When McDermott decided to come back for his junior season, Creighton regained the services of a star forward who will crack every legit preseason All-American team in the country. But his father and coach, Greg McDermott, expects even more from Doug next season, especially with talented point guard Antoine Young gone. McDermott's multiple stops this summer, including last week's LeBron James Skills Academy in Las Vegas, will help. Few players have experienced McDermott's growth. He was set to redshirt as a freshman. Two seasons later, he was an All-American after averaging 23.2 points and 8.2 rebounds a game for a squad that ranked fifth in Ken Pomeroy's adjusted offensive efficiency rankings. He's already a strong national POY contender who's capable of leading the Bluejays on an NCAA tournament run this season. With a few offseason tweaks to his game -- especially on the defensive end (0.1 blocks, 0.2 steals per game) and off the dribble on offense -- Creighton might have to set its sights even higher.
[+] Enlarge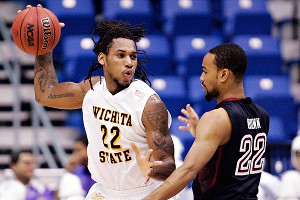 AP Photo/Ricardo ArduengoCarl Hall returns, but graduation hit WSU hard.
Wichita State reloading: Last season, the Shockers won the Missouri Valley regular-season title and earned a No. 5 seed in the NCAA tournament. But the program lost five seniors who averaged a combined 57.2 ppg. Joe Ragland was one of the league's most versatile players and Garrett Stutz was a 7-footer who wasn't afraid of the 3-ball. The rebuilding effort will start with 6-foot-8 senior Carl Hall, the team's top returning scorer, and the seven prospects WSU signed, including 5-11 point guard Fred Van Vleet from the ESPN 100. Coach Gregg Marshall has assembled a talented recruiting class. And if every player in that group is available next season, the Shockers will have a strong, young core. But they've lost as much as any team in the country.
Barry Hinson to Southern Illinois: In 2007, SIU earned a trip to the Sweet 16. In four of their past five seasons since that run, however, the Salukis have failed to finish above .500 in conference play. Those challenges led to Chris Lowery's dismissal and Hinson's arrival. Hinson understands the pressures of sustaining success. He had a strong start during his first tenure in the MVC at Missouri State. But he was dismissed in 2008. In recent seasons, he served as Kansas' director of basketball operations. That connection to one of the country's top programs and his familiarity with the MVC created a favorable situation for Southern Illinois and Hinson. The Salukis finished with an 8-23 record in 2011-12. Hinson told reporters in June that he's establishing a "new way of doing things." The Salukis return four of their top five scorers from last season. Now he just needs them to buy in.
Rayvonte Rice goes to Illinois: Rice averaged 16.5 ppg and 5.7 rpg for Drake last season. In April, the talented guard chose to leave the school and transfer to Illinois. Rice played at Centennial High School in Champaign, Ill. "Illinois, I think it's a good fit," Rice told ESPN Chicago. "The coaches really made me feel comfortable. I get a chance to play in front of my friends and family. It's going to be great." Well, it won't be great for everyone. Rice's transfer creates a major void for the Bulldogs, who finished 9-9 in conference play last season and struggled offensively during the 2011-12 campaign.
New regime at Illinois State: After Tim Jankovich resigned to become the coach-in-waiting at SMU, Illinois State turned to a former player and Vanderbilt assistant. Dan Muller, who played for ISU in the mid-'90s, inherits a program that should compete for the MVC title next season. Other than Nic Moore, who decided to transfer, every significant Redbirds player will return. That includes the team's top scorer and rebounder, Jackie Carmichael (13.9 ppg, 9.7 rpg). Carmichael reportedly wowed observers during the recent LeBron James Skills Academy in Las Vegas. He leads a team that lost an overtime thriller to Creighton in the MVC tournament title game and reached the second round of the NIT. The loaded roster should ease Muller's transition back to the MVC.
Best-case/worst-case scenarios
Bradley

Best-case scenario: Geno Ford inherited a massive rebuilding project last season, and it showed on the court. The Braves finished 7-25 overall and 2-16 in the Missouri Valley. This season, Ford is adding just two players (unranked recruit Ka'Darryl Bell and little-touted juco transfer Tyshon Pickett) to a roster missing obvious breakout candidates or young talent. Still, Ford will have had an entire season and the summer to work with his players. This best-case scenario is less about wins and losses than about establishing a system and building positive steps for the future. It's a long way up from here.
Worst-case scenario: Bradley's offense fails to improve. Per Ken Pomeroy, the Braves ranked No. 301 in the country in adjusted offensive efficiency, No. 321 in effective field goal percentage, No. 318 in offensive rebounding rate and Nos. 300 and 320 in 2-point and 3-point field goal percentage. All of those things have to improve, and significantly so, to fend off an ugly repeat of 2012.
Creighton

Best-case scenario: A deep NCAA tournament run. That's the expectation, and it should be, because Creighton returns 2012's most lethal offensive player, forward Doug McDermott. McDermott was peerless as a sophomore, averaging 22.9 points and 8.2 rebounds on 60.1 percent from the field and 48.6 percent from beyond the arc. The rest of the Bluejays' supporting cast (except point guard Antoine Young) is back, and there's no reason to expect 2012's fifth-most efficient offense to regress now. If anything, it's going to improve, and Creighton will be the MVC title favorite and an Elite Eight-type threat come March.
Worst-case scenario: The defense doesn't improve. We know CU is going to score; we know McDermott is going to pour in the points. What we don't know is whether the Jays can stop anyone. They didn't last year, ranking No. 178 in adjusted defensive efficiency overall and eighth in Valley play. That weakness held this high-flying offense back last season, and the worst case scenario in 2012-13 is another year of brilliant scoring with little in the way of defense to back it up. "Defense wins championships" is a cliché because it's true.
Drake

Best-case scenario: The Bulldogs have quietly hovered around the .500 mark in the four years since Mark Phelps took over for Keno Davis. Will 2012-13 be the year they get over the hump? The transfer of Rayvonte Rice (who averaged 16.5 points and 5.7 rebounds per game last season) sure didn't help, but versatile forward Ben Simons (a 6-8 42.5 percent 3-point shooter) does return, supported by a cast of capable returners and seven newcomers, including two juco transfers.
Worst-case scenario: It's easy to see this team taking a step back without Rice. If Simons and Jordan Clarke have similar seasons to 2012, that's all well and good, but it's not clear that that will be enough to lift Drake out of the 18-win region and into legitimate MVC contention. The worry is that Drake simply is what it is.
[+] Enlarge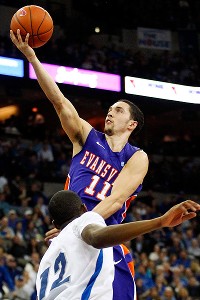 Matt Ryerson/US PresswireColt Ryan quietly put up a stellar season at Evansville in 2011-12.
Evansville

Best-case scenario: The name Colt Ryan might not mean much even to most die-hard fans, but Ryan had a very good junior season for the Purple Aces both as an efficient scorer and a turnover-averse assist man. The 2012-13 season will be Ryan's last, so he'll need help from junior guards Ned Cox and Troy Taylor as well as 6-8 forward Ryan Sawvell, who scored at a tidy pace and rebounded the ball effectively in limited minutes as a freshman. The most optimistic projection involves a big coming-out party for Sawvell as a sophomore, which helps lift Evansville out of last season's 16-win, 9-9 MVC territory.
Worst-case scenario: Even slight improvement from the aforementioned regulars isn't enough to vault the Aces out of the middle of the MVC chase. It's hard to see this team regressing, but there is no guarantee it can live in the same neighborhood as Creighton and Wichita State.
Illinois State

Best-case scenario: The last time Illinois State went to the NCAA tournament (1998), its new coach, longtime Vanderbilt assistant Dan Muller, was completing his still-standing record of 128 consecutive starts for the program. Now he's back to build on former coach Tim Jankovich's sporadic progress, and he has a chance to succeed right away. Leading scorer Jackie Carmichael (who finished fifth in the nation in defensive rebounding percentage, by the way) is back, as is impressive sophomore Jon Ekey, along with the rest of a starting five that went 9-9 in the MVC and 21-14 overall. If Muller can get his new charges on the same page from day one, there's good reason to expect ISU to contend for an NCAA tournament bid.
Worst-case scenario: Adapting a group of veteran players to a new head coach is always a murky proposition. When the process goes well, you get the 2012 Missouri Tigers. When it doesn't, things can degenerate quickly. This will be the defining challenge of Muller's first season.
Indiana State

Best-case scenario: In case it isn't clear by now, the 2012 MVC had two truly bad teams (Southern Illinois, Bradley), two truly good teams (Creighton, Wichita State), five teams that finished 9-9 in the league and one that finished 8-10. The Sycamores are that 8-10 team. The goal for that entire .500-or-just-below-it group is to get into the elite mix. To do so, ISU will have to improve its offense to a level much higher than 2012, when it scored just less than a point per possession (adjusted) and ranked No. 312 in offensive rebounding rate. Good news: The incoming class is led by two power forwards (T.J. Bell, Rhett Smith) so the Sycamores will at least have more bodies to throw at the glass.
Worst-case scenario: Of the six .500-ish MVC teams looking to break through, Indiana State arguably has the toughest road ahead. The Sycamores lost three of their top four rotation players (including three starters) to graduation this spring, and with the exception of forward Jake Kitchell (who posted tidy numbers in very limited time as a freshman) it isn't clear whether ISU's supporting cast is ready to step up. That could very well result in a merely mediocre year. Or worse.
Missouri State

Best-case scenario: After a spotlight 2011, Cuonzo Martin's final year with the program, star swingman Kyle Weems couldn't keep new coach Paul Lusk's team from taking a step back into familiar 16-16 territory. To be honest, with Weems and two fellow starters lost to graduation, a 16-16 season might be the best Lusk can hope for, at least in the short term.
Worst-case scenario: Weems and forward Caleb Patterson were not only this team's most frequent contributors but also its heart and soul, and even with rising senior Anthony Downing back, replacing that duo will be incredibly difficult -- especially with Jarmar Gulley's summer ACL injury. Worst case is a drop all the way back to this league's bottom rung. It may not get quite that bad, but a step in the wrong direction feels likely.
[+] Enlarge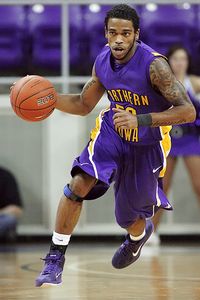 Ray Carlin/Icon SMIAnthony James led a balanced UNI team in scoring last season.
Northern Iowa

Best-case scenario: A return to the top of the MVC standings and a trip to the NCAA tournament, and then some. Coach Ben Jacobson agrees, which is why he scheduled UNI to play in the loaded Battle 4 Atlantis as well as games at George Mason and at UNLV and a neutral-court game against Iowa. If the Panthers get off to a rousing start in those challenging early months, they'll get quality competition in the league from Creighton, Wichita State and Illinois State, and they may not have to worry about winning the conference tournament title when March rolls around. That's really the best case here: Handle business early, keep that RPI high and save the sweat on Selection Sunday.
Worst-case scenario: That early-season schedule can be a blessing, or it can be a curse. If Northern Iowa disappoints in the Battle 4 Atlantis and fails to get a quality win or two out of the weekend, and can't manage to beat George Mason or UNLV on the road, the Panthers could find themselves very much in need of help come the conference season. This will almost certainly be a quality team, a return to form for the Panthers after a so-so 2012. But that brutal schedule is truly fraught with risk.
Southern Illinois

Best-case scenario: Remember when Chris Lowery was the toast of the mid-major coaching ranks? It feels longer ago than it really was (2007). In 2012, Lowery's team lost the most games (23) in Salukis history, and as expected, he was relieved of his duties. Into this breach bravely steps Barry Hinson. Really, this first year is all about the rebuild, about playing hard and making fans proud and setting a foundation for future success. That's the most any Saluki fan can really ask for, I'd wager.
Worst-case scenario: Is it possible to lose more than 23 games? Because that's the worst-case scenario.
Wichita State

Best-case scenario: Another trip to the NCAA tournament. Make no mistake: It will be very difficult to replicate Wichita's excellent 2012 season, which ended with a 27-6 overall record and a 16-2 mark in Valley play, thanks primarily to a group of seniors comprising four starters and the team's top five players in usage rate. Not only are the shoes in need of filling large, there's simply a lot of shoes. But Gregg Marshall does have a rare sight in the Valley -- a top-100 recruit (No. 15-ranked point guard Fred Van Vleet) -- en route to the starting lineup as early as this fall, and the Shockers have a nice mix of under- and upperclassmen ready to step in to big roles. It's hard to forecast another 16-2 run, but in the most optimistic view, this fresh-faced team is back in the NCAA tournament in 2013.
Worst-case scenario: A brief regression to mere mediocrity. This team isn't going to be bad -- Van Vleet can really play, there are lots of role players on the rise and Marshall will have them defending like crazy, bet on that -- but still, the loss of five seniors, including stars like Toure' Murry and Garrett Stutz, really is a high hurdle to overcome. If you're being pessimistic, you could see Wichita State missing the tournament and falling into a slightly uncomfortable position just below the top tier of the Valley. But I'd argue that's as low as their projection should go.
Most Important Player

Bradley: Dyricus Simms-Edwards
Bradley finished 2-16 in Missouri Valley play and 7-25 overall. The Braves were ranked 306th (out of 345 teams) in Ken Pomeroy's adjusted offensive efficiency ratings. They need help in many areas. But they'll finish at the bottom of the league again without an improved offense. That's why the program needs guard Simms-Edwards to play more efficient and consistent basketball. He took 333 shots last season, but made just 35 percent of those attempts. He scored 17 or more eight times, but also recorded single digits in 15 games.

Creighton: Grant Gibbs
Antoine Young was the facilitator for Creighton's potent offense. Now, Greg McDermott needs to find a replacement. Austin Chatman is just a sophomore, so it's Gibbs who will most likely man the point guard slot for the Bluejays. Doug McDermott is a great college player. One of the best in the country. But he's not a creator. He's the kind of talent who excels mostly within the flow of Creighton's offense. And Gibbs will be the catalyst of that group, one that shot better than any team in the country last season (51 percent).

Drake: Ben Simons
The Bulldogs finished 9-9 in the MVC, part of a five-way tie for third place. And they looked like a dark horse for this season before Rice's transfer changed expectations. Simons (16.0 ppg) was equally effective for Drake's offense, but that one-two punch of Rice and Simons would have been the league's best. Simons now anchors Drake's offense alone. He was ranked fifth in the league in offensive efficiency per Pomeroy among players who accounted for 20 percent of their team's possessions (113.6). Losing Rice hurts the entire program, but Simons' return is a boost.

Evansville: Colt Ryan
McDermott was the most recognizable player in the MVC last season, but Ryan nearly matched his offensive output. As a junior, he averaged 20.2 ppg, second behind McDermott. He scored 43 points in a one-point overtime loss to the Bluejays in February and scored 30 or more four times last season. He's an exciting player who's probably McDermott's greatest threat for MVC Player of the Year honors. Defense is key in any league. But with Creighton's high-potent offense controlling the conference right now, teams need offense to keep up with the Jays. Evansville, ranked 57th in Pomeroy's adjusted offensive efficiency ratings last season, has it with Ryan returning.

Illinois State: Jackie Carmichael
The standout wowed during the LeBron James Skills Academy, a coming-out party to those who'd never heard of the Illinois State star. But MVC rivals know all about Carmichael, a 6-foot-9 forward who recorded 15 double-doubles last season. The Redbirds fell short of the conference tournament title, but the bulk of their significant players return. Carmichael has the skill set to help Illinois State challenge Creighton for the MVC title, especially if he cuts back on his turnovers (2.2 per game). This is a talented roster. New coach Dan Muller, however, needs Carmichael to lead the way.

Indiana State: Jake Odum
The junior guard is not just Indiana State's most important player because of his production (10.9 ppg, 5.8 rpg, 4.9 apg). Yes, he's one of the league's most versatile performers. But he has to play with more discipline next season to give the Sycamores an edge. He recorded five or more turnovers in six games and averaged 3.0 per game in 2011-12. The MVC should be a top-heavy conference again next season. But Indiana State could be in the mix, especially if Odum fulfills his potential. He's also healthy. He was hobbled by plantar fasciitis last season.

Missouri State: Anthony Downing
In a few weeks, Missouri State will take a trip to Costa Rica, marking the first international trip for the program. And it's good news for a team that hasn't received much of it in recent months. Top players Kyle Weems and Caleb Patterson have graduated. And Jarmar Gulley, a senior who averaged 10.4 ppg and shot 37 percent from the 3-point line last season, tore his ACL in a summer league game last week and is expected to miss the entire 2012-13 season. Downing is the top returning scorer on the roster. The departures and Gulley's injury make him an even more significant player for a program that hopes to stay relevant within the MVC.

Northern Iowa: Anthony James
James (12.9 ppg) went viral in February after he hit a buzzer-beating 3-pointer to defeat nationally ranked Creighton. The Panthers will rely on James for more highlights next season, a promising one for the program, as they lost just one senior, Johnny Moran. Northern Iowa was the MVC's top scoring defense (61.9 ppg allowed), but it was seventh in scoring offense (65.2 ppg). The Panthers scored 41 points in a road loss to Saint Mary's last November and managed just 51 points in a road loss to Missouri State in January. So they'll definitely need James, the squad's leading scorer last season, to maintain his offensive prowess.

Southern Illinois: Dantiel Daniels
The sophomore led the MVC in blocks per game last season with 1.6. He also led the league in Pomeroy's block percentage ratings (7.90), a more accurate barometer of a rim protector's effect on a game. To climb out of the MVC's basement, the Salukis must enhance a defensive unit that allowed 69.2 ppg and finished No. 202 in Pomeroy's adjusted defensive efficiency ratings. Daniels (8.3 ppg, 4.9 rpg) proved to be a talented defender in his first season of college basketball. If he continues to evolve, he might become a frontcourt star for the SIU.

Wichita State: Carl Hall
No player in the league faces a greater transition than Hall. He earned newcomer-of-the-year honors in the MVC last season. It was the perfect situation for the junior college transfer, who played with a group that was anchored by five seniors. But they've graduated, and now Hall is the new leader for a team that will add seven new players. This is definitely a rebuilding year for Marshall's program. Hall, who was second in the MVC in offensive rebounding percentage per Pomeroy, will be the key component in Wichita State's effort to avoid a major fall -- the Shockers won 27 games and earned a 5-seed in the Big Dance.
-- Myron Medcalf
Cannon: Best Outside Big Six
On Monday, Jay Bilas kicked off Insider's conference Power Rankings series by looking at the ACC, and Doug Gottlieb examined the Pac-12 on Tuesday.
We continue by ranking the top 10 teams outside the big six conferences, including programs from Conference USA, the Mountain West, Atlantic 10, Missouri Valley and Southern Conference.
How many MVC teams made the cut? To find out, click here

.
Five freshmen to watch
Kori Babineaux, Drake: Mark Phelps touted Babineaux's maturity during last month's MVC media teleconference. The 6-4 shooting guard, who scored 48 points in a playoff game last season, attracted multiple scholarship offers to play football in college. With Rice transferring, Babineaux could play big minutes for the Bulldogs.
Aaron Simpson, Illinois State: ISU is stacked so he might not play right away. But Simpson is a capable scorer (22.5 ppg in North Chicago) who could help the Redbirds.
Gavin Thurman, Missouri State: Thurman had offers from Iowa, Colorado State and Wichita State following his high school career in Wichita, Kan. The 6-7 forward played next to Kansas signee Perry Ellis last season at Wichita Heights, which won a state title.
Fred Van Vleet, Wichita State: The 5-11 point guard was named first team all-state by the Associated Press in Illinois last year. The Shockers have lost their five top players, including Ragland, so Van Vleet will be asked to step in and make an immediate impact. He's the only ESPN 100 player in the Missouri Valley's 2012 class.
Isaiah Zierden, Creighton: He's a pure shooter, as evident by his second-place finish at the nationally televised high school Slam Dunk & 3-Point Championships during the Final Four. The 6-1 Zierden, son of former Washington Wizards assistant and Minnesota Lynx coach Don Zierden, was one of the top shooters in Minnesota throughout his prep career. That touch could help him crack Creighton's rotation.
-- Myron Medcalf
Katz: Redbirds turn to Muller

Tim Jankovich agonized over his decision to become Larry Brown's coach-in-waiting at SMU. It took so long that it could have put Illinois State's 2012-13 season, which could end with an NCAA tournament bid, in jeopardy.
But the Redbirds saved face by finding an alumnus who was ready to become a head coach in Vanderbilt assistant Dan Muller.
Muller's first head coaching job, at his alma mater no less, has eased plenty of angst. But his May 8 start date has been a challenge.
Here are five key issues he has had to deal with:
To read the rest of Andy Katz's story on the Redbirds, click here.