Five offseason storylines
1. Eight straight Big 12 titles -- and counting -- for Kansas: The Jayhawks' mind-blowing streak of consecutive regular-season conference crowns is one of the most impressive in college basketball history. Not since UCLA won 13 straight from 1967-79 has a school from a major conference claimed this many league championships in a row. Bill Self's squad will be favored once again, although it certainly won't be a shoo-in for another trophy. The Jayhawks return starters Jeff Withey, Elijah Johnson and Travis Releford, but the roster also features eight freshmen, many of whom will have to contribute.
[+] Enlarge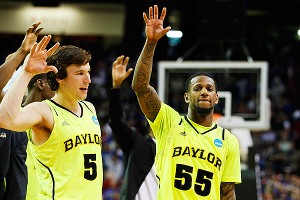 Kevin C. Cox/Getty ImagesBaylor's backcourt should be solid this season with Brady Heslip, left, and Pierre Jackson returning.
2. Can Baylor challenge the Jayhawks? Perhaps. The Bears tout one of the deepest backcourts in the nation. Point guard Pierre Jackson is a Big 12 Player of the Year candidate and Brady Heslip may be the top 3-point shooter in America. A.J. Walton, Gary Franklin and Deuce Bello all played significant minutes last season. The biggest question mark for Baylor involves its youth down low, where the Bears lost starters Quincy Acy, Perry Jones III and Quincy Miller. Cory Jefferson, who averaged 10.5 minutes off the bench last season, will have to step up along with freshmen Isaiah Austin and Ricardo Gathers. Austin, a 7-footer, is expected to be a top-five pick in next summer's NBA draft.
3. Two new additions: West Virginia and TCU have replaced SEC defects Missouri and Texas A&M. Neither school, however, will be a factor in the Big 12 race. The Mountaineers lost their two leading scorers (Kevin Jones and Truck Bryant) and will depend heavily on transfers Aaric Murray and Juwan Staten. TCU will be playing its first season under coach Trent Johnson, who spent the past four years at LSU. Johnson will have a difficult time keeping this team out of the Big 12 cellar.
4. What's next for Texas? The Longhorns are one of the biggest enigmas heading into the 2012-13 season. Rick Barnes' squad would have been a sure bet for a 15th straight NCAA tournament appearance had leading scorer J'Covan Brown opted to return for his senior season. Instead, Texas is looking for someone to replace Brown's 20.1 points per game. Freshman Cameron Ridley is one of the highest-rated players in the Class of 2012, and Barnes expects returning starters Myck Kabongo (point guard) and Sheldon McClellan (winger) to make significant leaps.
5. Kansas State welcomes Bruce Weber: The former Illinois coach inherited an excellent situation when he was hired in March to replace Frank Martin. The Wildcats return nearly every key piece of last season's 22-win team. Weber has proved in the past that he can win with other people's players. In 2005, he led an Illini squad recruited largely by Self to the NCAA title game. It may be far-fetched to think he can take this season's K-State team that far, but there is plenty of reason for optimism in Manhattan.
Best-case/worst-case scenarios
Baylor

Best-case scenario: Whatever your final appraisal on the Perry Jones III era is -- relatively successful but ultimately disappointing is what I'd probably go with -- said era is decidedly over. Jones left for the NBA draft, as did freshman forward Quincy Miller. Senior forward Quincy Acy is gone too. And guess what? The Bears will be every bit as talented in the frontcourt. That's thanks to the arrival of 7-foot center Isaiah Austin, the No. 3-ranked player in the Class of 2012, and power forward Ricardo Gathers, the No. 10-ranked power forward. Meanwhile, Baylor brings back guards Pierre Jackson and Brady Heslip as well as touted 2011 recruit Deuce Bello and former transfer Gary Franklin. Based on the sheer talent Scott Drew has managed to bring to this once-downtrodden program, Baylor should be targeting the Big 12 title -- not to mention a deep NCAA tournament run.
Worst-case scenario: ESPN's recruiting scouts call Austin the most talented player in the class. Part of this assessment has to do with his ability to handle the ball on the perimeter, not to mention knock down 3s and block shots. This is all well and good, but one can't help but think that appraisal sounds dangerously similar to Jones, who could have dominated college post defenders but maddeningly elected to play midrange offense more often than not. In other words, sure, the Bears are crazy-talented again, but will they be structured? Will Austin float, a la Jones? If not, will Gathers pick up that interior slack? How do these disparate pieces fit, and if the learning curve is large, will Drew be able to put it all together in time for a conference title run? Despite its talent, Baylor has lacked that certain cohesive je ne sais quoi in recent seasons. The worst-case is a repeat.
Iowa State

Best-case scenario: After resurrecting the career of once-troubled forward Royce White and ending Iowa State's seven-year NCAA tournament drought, what can the Mayor conjure in his third season? It doesn't need to be a huge step back. Continuing the transfer trend in Ames, former Michigan State point guard Korie Lucious and former Utah swingman Will Clyburn will take up the reins in 2012-13. A host of last season's contributors (Melvin Ejim, Chris Babb, Tyrus McGee, Anthony Booker, Percy Gibson) are back, and if No. 14-ranked power forward Georges Niang -- touted for his versatility and range out to the 3-point line -- can replace some of what made White so dangerous, this team could look very similar to last season's breakout crew.
Worst-case scenario: Then again, hoping that Niang can replicate even some measure of White's performance is setting an awfully high bar for a freshman ranked No. 56 overall in the incoming class. White was key to everything this team did on offense; it's a big ask. Meanwhile, this team's two main 3-point sharpshooters (Chris Allen, Scott Christopherson) have graduated. It wouldn't be surprising to see Iowa State take a step back this season and flirt more tenuously with the NCAA tournament bubble than it ever had to last season.
[+] Enlarge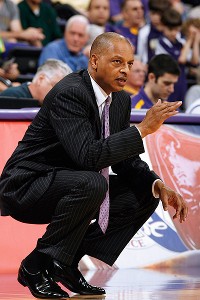 Tyler Kaufman/US PresswireTCU not only has a new conference, but a new coach as well in Trent Johnson of LSU.
Kansas

Best-case scenario: A Big 12 regular-season title and a deep NCAA tournament run. KU's best-case scenarios are always easily calculated, because Bill Self so often achieves them. The Jayhawks have won at least a share of the past eight regular-season conference titles. Projecting them to do anything less than that seems like folly -- irrespective of personnel.
Worst-case scenario: With that said, the 2012-13 season will be a personnel challenge, even by Self's frequently reloaded standards. Thanks to the partial qualifier status of 2011 freshmen Ben McLemore and Jamari Traylor, Self essentially has eight freshmen on his bench this season. Three of the 2012 additions -- power forward Perry Ellis, small forward Andrew White and power forward Landon Lucas -- will hunt for minutes in a lineup whose most experienced players are shot-blocking center Jeff Withey and strong guards Elijah Johnson and Travis Releford. Thomas Robinson is gone. Tyshawn Taylor is gone. Conner Teahan is gone. Those departures leave a lot of question marks: how Self will plot his rotation, how quickly he'll feature McLemore, Ellis, Naadir Tharpe and others and whether those players have enough to maintain the Big 12 dominance. At this point, we really don't know.
Kansas State

Best-case scenario: The best-case is pretty straightforward. New coach Bruce Weber, one of the nation's best man-to-man defensive coaches, takes over Frank Martin's big, physical, ugly defensive team -- which returns basically everyone, save Jamar Samuels -- and the combination is a match made in heaven. After years of struggling with barely committed Illinois defenders, Weber relishes the ethos of this bunch, and the Wildcats become of the nation's least-relished matchups in turn.
Worst-case scenario: This team and Weber were as close to a perfect match as K-State fans could possibly hope. But there may be a bit of worst-case in that too. Weber's teams have struggled to score in the past, and the Cats were turnover prone and inaccurate from the field in 2011-12, relying on dominant offensive rebounding for the majority of their attack. Perhaps the worst-case is that this dynamic repeats itself and Kansas State is merely decent as a result.
Oklahoma

Best-case scenario: Considering the crater this program found itself in after an NCAA investigation and the departure of coach Jeff Capel, a 15-16 finish in Lon Kruger's first season must be seen as something of a success. At the very least, he knows how to get the most out of his guys. The entire rotation is back in 2012, joined by at least one recruit (shooting guard Buddy Hield) who could earn minutes right away. But until Kruger has time to develop his young guys and replenish the recruiting ranks, it will be difficult to expect much more than what we saw last season.
Worst-case scenario: When you're rebuilding, you just want to (A) get (or keep) fans excited, (B) develop young players and (C) make positive, program-wide steps toward a more promising future. Whatever the won-loss record in 2012-13, a failure to do those things would count as the worst-case scenario. The bar is not high, at least not right now.
Oklahoma State

Best-case scenario: On their face, LeBryan Nash's freshman-season stats -- 13.3 points, 5.0 rebounds, 1.5 assists per game -- look promising enough. But Nash posted a rather putrid offensive rating (89.2) in accumulating them, which means, during his 29 percent of possessions, he was just as often hurting his team as helping it. That has to change in 2012-13. If it does, Nash, who was a top-10 recruit in the Class of 2011, has a chance to not only live up to his hype but also to lead a young, talented team joined by the No. 1 shooting guard prospect in the Class of 2012, Texas native Marcus Smart. With Nash, Smart, Markel Brown, Brian Williams and Michael Cobbins, this team has a chance to make a collective leap, one that could end with a trip to the NCAA tournament.
Worst-case scenario: Every player is different. Development from freshman to sophomore year is hardly guaranteed. If Nash merely repeats, or only marginally improves on, his freshman season -- if he is still using a lot of touches to inefficient effect -- then a team this young and talented can turn from promising to combustible in a hurry.
TCU

Best-case scenario: TCU is not a traditional basketball powerhouse. (That is an understatement.) Given that context, Jim Christian's team did have a fairly praiseworthy 2011-12, finishing 18-15 and notching wins over Virginia, UNLV and New Mexico along the way. The Horned Frogs weren't doormats, at least. It will be much tougher sledding in the Big 12 for new coach Trent Johnson, but there's at least a chance TCU won't be the ugly hoops stepchild in its first season in the new conference.
Worst-case scenario: Unfortunately, the newly minted Big 12 Horned Frogs lost their most efficient player (J.R. Cadot) and their most-used (Hank Thorns) from a lineup that was only sporadically competitive in the Mountain West. This will be a tough transition, but that's to be expected.
Texas

Best-case scenario: The 2012-13 Longhorns will be talented. This we know. After steady improvement as a freshman, point guard Myck Kabongo will be back, as will Sheldon McClellan, Julien Lewis, Jonathan Holmes and Jaylen Bond -- all sophomores-to-be. Meanwhile, Rick Barnes did what Rick Barnes does, landing a six-commit 2012 class that includes four players ranked in the top 100: centers Cameron Ridley and Prince Ibeh, power forward Connor Lammert and point guard Javan Felix. This group will give the Longhorns more options in the low block than they have had in years, and the emerging leadership of Kabongo could be just what these talented underclassmen need.
Worst-case scenario: Ridley is seen as something of a raw player, if not an outright project, an athletic rebounder who needs to polish his play on the low block. Ibeh is indisputably a project. With scoring force J'Covan Brown gone, it remains to be seen where Texas -- other than Kabongo, who is more of a facilitator anyway -- will get the lion's share of its offense and whether all these young players will need a year to get their feet wet.
Texas Tech

Best-case scenario: Billy Gillispie's first season in Lubbock was an outright disaster, an 8-23 campaign that included just one win in 18 Big 12 tries. The good news? Gillispie has, count 'em, nine new players on the way in 2012-13, including four junior college transfers, and a menagerie of sophomores coming back. It's hard to know what to expect, but a five- or six-win improvement seems like the right target.
Worst-case scenario: You saw it last season. Anything better than eight wins will an improvement.
West Virginia

Best-case scenario: West Virginia's first year in the Big 12 will be an adjustment not only in the travel department but also on the court. Star forward Kevin Jones and senior point guard Truck Bryant are gone, the only incoming recruits are of the three-star variety, and the majority of the minutes will fall to a group that coach Bob Huggins described in March (and I'm paraphrasing) as not being altogether clued in. Still, Jabarie Hinds and Gary Browne earned vital starting experience last season, forward Deniz Kilicli is a man on the block and will be joined by La Salle transfer Aaric Murray, and if the team makes major strides this offseason, a Huggins-crafted finish near the middle of the Big 12 table is certainly in play.
Worst-case scenario: More likely, this ends up becoming a transition year in more ways than one, as Huggins moves away from the Jones-centered attack of recent seasons to a new batch of players yet to earn their stripes. Even with Jones, this team finished 19-14 last season. It could very well drop to the .500 level without him.
Most Important Player

Baylor: Cory Jefferson
The 6-foot-9, 210-pound forward would have started for almost every Big 12 team last season. Instead, he averaged just 3.6 points playing behind the Quincys (Acy and Miller) and Perry Jones III. The Bears need the junior to come up huge, especially early in the season while freshmen Isaiah Austin and Ricardo Gathers are adapting to the college game.

Iowa State: Melvin Ejim
As was the case last season, the Cyclones will be undersized in the paint. It will be up to the 6-6 Ejim to do the dirty work down low. He ranked second on the team in rebounds last season (6.6) while averaging 9.3 points per game, making him the team's leading returning scorer.

Kansas: Ben McLemore
The redshirt freshman is receiving a quite a bit of buzz for a guy who has yet to play a single minute in college. Coach Bill Self has said McLemore is as talented of a player as he has ever recruited, and his teammates have compared him to former KU standout Brandon Rush. The Jayhawks desperately need another scorer after losing Thomas Robinson and Tyshawn Taylor.

Kansas State: Rodney McGruder
The small forward is one of the five best players in the Big 12 and has the potential to an All-American. Still, there are times when he becomes passive, which can be maddening to a coach. McGruder went nearly a month without a 20-point game during conference play last season but still averaged 15.8 points per game.

Oklahoma: Romero Osby
The 6-8, 232-pound Osby did a little bit of everything for the Sooners last season, when he averaged 12.9 points and a team-high 7.3 rebounds. Osby's versatility will be vital once again for an Oklahoma squad that has realistic hopes of making the NCAA tournament under second-year coach Lon Kruger.

Oklahoma State: LeBryan Nash
Nash entered college last season burdened with what proved to be unfair expectations. He wilted under the spotlight early in the season before showing flashes of brilliance as he became more comfortable. If Nash develops into a consistent player -- he needs to work on his defense and shot selection -- the Cowboys could blossom into a top-15-caliber team.

TCU: Garlon Green
The 6-7 forward, who averaged 9.9 points as a junior, is the leading returning scorer from a squad that finished 18-15 last season. First-year Horned Frogs coach Trent Johnson will depend heavily on Green to help keep TCU out of the league cellar during its first season in the Big 12.

Texas: Myck Kabongo
The Longhorns point guard shot just 39 percent from the field and 32 percent from 3-point range as a freshman last season. He also averaged three turnovers a game. Those numbers won't cut it if Texas has hopes of making a 15th straight NCAA tournament appearance. Look for Kabongo, an NBA draft prospect, to significantly improve his game. He is an excellent vocal leader.

Texas Tech: Jordan Tolbert
With most of last season's team either graduated or transferred, Tolbert will be one of the few veterans on the Red Raiders' roster. And he's only a sophomore. The 6-7 forward led Texas Tech in scoring (11.5) and rebounding (5.7) last season. This season, he will be surrounded by more talent thanks to the arrival of freshmen Josh Gray and Wannah Bail.

West Virginia: Aaric Murray
The 6-10 center, who is considered an NBA prospect, averaged 15.2 points, 7.7 rebounds and 2.3 blocks for La Salle in 2010-11. He and forward Deniz Kilicli should form a strong tandem in the paint for a team that lost leading scorers Kevin Jones and Truck Bryant.
Fraschilla: Big 12 Power Rankings

The new Big 12 finally has some stability after a wild ride through conference realignment the past two years.
It now has 10 teams, including newcomers West Virginia and TCU. And while Kansas and Texas will miss longtime rivals Missouri and Texas A&M, respectively, the league should continue to be a very strong basketball conference with the new rivalries.
TCU will start at the bottom but should integrate quickly into the Big 12, especially if it follows its football program's formula of mining the Dallas metroplex for its outstanding high school talent.
West Virginia's Bob Huggins has proven he can win in any league and already has done it once in this conference when he was at Kansas State. He'll make trips to Morgantown problematic for conference foes.
As usual, Kansas will lead the way as it shoots for a ninth straight Big 12 title under Bill Self. Texas, after a year hiatus, has reloaded and should be in contention as well.
To read Fraschilla's Big 12 Power Rankings, click here

.
Five freshmen to watch
Isaiah Austin, Baylor: RecruitingNation has tagged Austin as the most-talented player in the Class of 2012. The 7-foot, 210-pounder is an elite shot-blocker on defense and incredibly versatile on the offensive end, with the ability to bring the ball up the court, make 3-pointers and drive to the hoop. It's doubtful he'll be at Baylor for more than one season.
Perry Ellis, Kansas: A Wichita native, Ellis is one of eight freshmen on the Jayhawks' roster. Look for him to start immediately alongside Jeff Withey. While the 6-8 Ellis excels in the paint, he is also a strong ball handler and outside shooter, which makes him a tough matchup for opposing forwards. It's rare the Jayhawks are able to find a player this good in their home state.
Ricardo Gathers, Baylor: The Bears got a gem when they landed Gathers in the late signing period. At 6-7 and 240 pounds, Gathers should be able to fill the "banger" role that was occupied by graduated senior Quincy Acy. Gathers, though, is more than a thick body down low. He handles the ball away from the basket and has a nice touch from midrange. His high school coach said Gathers could blossom into as good of a rebounder as former Kansas star Thomas Robinson.
Cameron Ridley, Texas: Much like Tristan Thompson did two seasons ago, Ridley will need to have an immediate impact for the Longhorns, which lack size and depth down low. The eighth-ranked prospect in the Class of 2012 plays with great energy and takes pride when it comes to pounding the glass. He needs to work on his passing, as he'll likely be double-teamed often.
Marcus Smart, Oklahoma State: Much of the Cowboys' success will depend on how quickly Smart, a McDonald's All-American, adapts to the college game. The 6-3 Smart is listed as a shooting guard, but he can play all three perimeter positions. ESPN recruiting analysts have described Smart as relentless when it comes to attacking the basket.
Katz: More than Transfer U

Iowa State became Transfer U under Fred Hoiberg, and it still is to some extent, with Michigan State senior transfer Korie Lucious trying to fill the void left by Royce White last season.
But if the Cyclones are to build upon the momentum gained from last season's NCAA tournament win, they have to blend freshmen with their second-chance transfers.
Hoiberg is confident his incoming class will give ISU the right mix to remain relevant.
Freshman Georges Niang has been the most impressive of the new lot, according to Hoiberg, but he's been pleased with the impact of the other three as well in Nkereuwem Okoro, Sherron Dorsey-Walker and Naz Long. Iowa State has commitments for its 2013 class from Matt Thomas out of Wisconsin and Monte Morris from Michigan to shore up the perimeter.
"I love this group and with the two new commits and the guys coming in, we're excited about our future, the future is bright," Hoiberg said. "We've got a good mix right now. Five seniors and the young guys are very good players."
To read the rest of Andy Katz's story on the Cyclones, click here.