Five offseason storylines
1. Life is good in Lexington: At any other program, with any other coach, when you win a national title and send your six best players to the NBA draft, you are not supposed to compete for a national title 12 months later. But this is not any other program, or any other coach. This is Kentucky as led by John Calipari, a finely tuned college hoops machine.
[+] Enlarge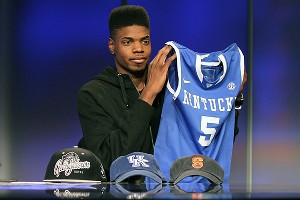 Kelly Kline/Getty ImagesNerlens Noel is the latest super recruit to arrive at Kentucky. The Wildcats hope he can fill the void left by No. 1 pick Anthony Davis.
After harnessing the insane talents of Anthony Davis and the team-first ethos of Michael Kidd-Gilchrist -- the NBA draft's No. 1 and No. 2 overall selections -- Calipari has cleared the "one-and-dones can't win a title" hurdle, if it existed in the first place. So now what? Naturally, Calipari reeled in another talented recruiting class -- the No. 2 class in the country, according to RecruitingNation, the first time in four years Kentucky hasn't been ranked No. 1 -- that includes the No. 1-ranked player in the class, center Nerlens Noel, and top-15 recruits Alex Poythress and Archie Goodwin. Sophomore power forward Kyle Wiltjer, a top-20 recruit in 2011, will take on a much larger role, and former NC State transfer Ryan Harrow will step in at point guard.
Is Calipari's latest refresh as good as Davis & Co.? Doubtful. Then again, few teams are. What's certain is that the Wildcats will again be ranked in the top five to start the season, will defend like crazy and are a clear threat -- if not the outright favorite -- to repeat as national champions. Indeed, the state of Big Blue Nation is strong.
2. Missouri and Texas A&M deepen SEC hoops: Few realignment moves have driven as much discussion (read: vitriol) as Texas A&M and Missouri's respective decisions to leave the Big 12 and join the SEC. The 2012-13 season will be the first for both under the new banner, and the Tigers are more likely to make an immediate impact. In addition to returning guards Michael Dixon and Phil Pressey, a big-time breakout candidate, coach Frank Haith has assembled a transfer-heavy team (Alex Oriakhi, Jabari Brown, Keion Bell, Earnest Ross) that should compete for the SEC title right away. Texas A&M coach Billy Kennedy has a more protracted rebuild on his hands, but if A&M continues the program growth it experienced in the past decade, the SEC -- where basketball has always been football's little brother -- will be much stronger for it.
3. South Carolina lands … Frank Martin. Huh? South Carolina is not a basketball school, but the Gamecocks made the best -- and most surprising -- hire of the offseason when they persuaded Kansas State coach Martin to leave his budding program behind. Martin has relentlessly denied rumors that his departure stemmed from untenable disagreements with K-State athletic director John Currie, particularly involving senior Jamar Samuels' NCAA-imposed ineligibility debacle in March. For his part, Martin sounds sincere when he says he felt embraced by South Carolina and that he relishes the chance to build something from scratch in Columbia. It will take a while, but Gamecocks fans have every reason to be thrilled.
4. Other new faces in new places: Martin wasn't the only offseason coaching change in the SEC. At LSU, Trent Johnson -- whose final three seasons never came close to his debut 2008-09 campaign -- was replaced by former North Texas coach Johnny Jones. Meanwhile, after two turbulent seasons that capped a 14-year career at the school, Mississippi State coach Rick Stansbury retired. Former Purdue and Clemson assistant Rick Ray, who was an applied mathematics major and Chicago-based actuary before deciding to take a chance on coaching, gets his first crack at a head-coaching gig in Starkville.
5. Vanderbilt starts fresh, to say the least: Did any team in the country lose as much this offseason as Vanderbilt? The Commodores waved farewell to their top six players, including all five starters: All-SEC guard John Jenkins, Jeffery Taylor, Festus Ezeli, Lance Goulbourne, Brad Tinsley and backup forward Steve Tchiengang. That's the entire core of coach Kevin Stallings' excellent four-year run in Nashville. With few proven reserves waiting in the wings, the 2012-13 Commodores are the biggest mystery in the league.
Best-case/worst-case scenarios
Alabama

Best-case scenario: The most impressive thing about Alabama's season was not just that Anthony Grant had the onions to suspend his two best players down the stretch but also that Alabama played so well after he did. That bodes well for the upcoming season, in which Grant will incorporate talented freshman small forward Devonta Pollard with essentially the same team that finished 7-3 down the stretch. If Alabama can find some outside shooting to go with its typically stingy defense, it should be in the NCAA tournament yet again.
Worst-case scenario: The Crimson Tide shot 28.9 percent from 3 last season, good for 328th in the country. That was the main cause of Alabama's offensive struggles, and Pollard is unlikely to alleviate it this season. If the defense slips even a bit from its top 10 efficiency perch, Alabama will take a step back.
[+] Enlarge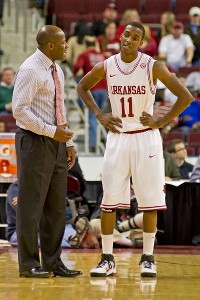 AP Photo/Brian ChilsonB.J. Young was one of the best freshmen in the SEC last season. What can we expect of him during his second season with Mike Anderson?
Arkansas

Best-case scenario: B.J. Young is a highly talented player and a prime candidate for breakout stardom, but he isn't the only talented sophomore on the roster. When Mike Anderson took over at Arkansas, he managed to keep all of John Pelphrey's last-ditch 2011 recruiting class, including guard Rashad Madden and forward Hunter Mickelson. With a season in Anderson's demanding system under its belt, this program appears set to vault itself to NCAA-tournament-bubble relevance once more.
Worst-case scenario: I'm not sure how this team won't improve, given the increase in experience and the time spent learning on the fly last season. But for all that talent, the Razorbacks have to improve on the defensive side of the floor. Anderson's teams are at their best hassling opponents 90 feet from the rim, but the 2011-12 edition was far too permissive to be a consistent winner.
Auburn

Best-case scenario: Tony Barbee has raved about the talent he has accumulated this offseason. That's not exactly a high bar, but he has a point. Auburn brought in two top-100 recruits, four-star shooting guard Brian Greene and two junior college transfers who could contribute right away. This will be a whole new squad, and while an NCAA tournament berth is still a season or two away, the Tigers are almost certain to improve over their ugly, sub-.500 season.
Worst-case scenario: Barbee will have to rely on his newcomers, because almost no one else is left. This young team could take its lumps early and may finish in the bottom of the SEC yet again. But the fresh start is what really matters.
Florida

Best-case scenario: Guard Kenny Boynton should have a big senior season, forward/human mountain Patric Young may finally unleash a consistent low-post game, forward Erik Murphy will stretch the floor with his 42.1 percent 3-point shooting, freshman Braxton Ogbueze will provide backcourt depth, and Florida may find itself feeling the addition-by-subtraction effects of losing maddening guard Erving Walker to graduation. A conference title and deep NCAA tournament run are realistic goals.
Worst-case scenario: The Gators may find that they miss Bradley Beal more than any of us think, not only because Beal was a great scorer -- a trait he didn't really turn on until the NCAA tournament -- but also because Beal was an excellent rebounder at the 3. The Gators need to make up for the lack of a second true post man next to Young on the low block. That may be a bit technical for July. Anyway, there is little mystery here. The Gators will be good. The worst-case scenario for this team is an NCAA tournament exit before the second weekend.
Georgia

Best-case scenario: Whatever Georgia's best-case scenario is -- a midtable SEC finish and bubble consideration, if not a bid -- sophomore guard Kentavious Caldwell-Pope is going to be a major part of it. Caldwell-Pope will be the nexus of nearly everything this team does on offense, and if he blows up, and he very well could, Georgia could surprise a few folks along the way.
Worst-case scenario: It's unclear whether KCP has any sort of backup on the Georgia roster. This is Mark Fox's fourth year at the school, so this is still a rebuilding project. Worst-case scenario? Let's say 15 wins or fewer.
Kentucky

Best-case scenario: Another national title. It's just that simple. As is his wont, coach John Calipari has restocked his team with elite recruits who will play big minutes right away. Bringing Ryan Harrow in after his transfer year and putting a score of athletic players around sharpshooting power forward Kyle Wiltjer is a recipe for some potentially spectacular offense. This team won't be as good as 2011-12 -- that almost seems impossible -- but its best-case scenario is still very much about hardware.
Worst-case scenario: Regardless of personnel, Calipari teams are always tough on the defensive end, so there's a baseline level of expectation baked in no matter what form -- dribble drive? downscreen sets? secondary breaks? -- the offense takes. Still, some tempering of expectations is probably warranted. Nerlens Noel is not the transcendent, once-in-a-generation freak show Anthony Davis was, and Alex Poythress and Archie Goodwin are not Michael Kidd-Gilchrist or Terrence Jones. The learning curve for this team will be higher, but when your worst-case scenario is not making the Final Four, you're in pretty good shape.
LSU

Best-case scenario: The good news for LSU fans -- and new coach Johnny Jones -- is that Trent Johnson left behind some pieces to build around. Anthony Hickey is a solid young point guard, and forward Johnny O'Bryant has sophomore leap written all over him. LSU won't make the tournament, but it could get a head start on the next rebuilding phase.
Worst-case scenario: Nice young pieces aside, LSU lost the majority of its size in the offseason when seniors Storm Warren and Malcolm White graduated and junior Justin Hamilton left for the NBA draft. That won't do much for the Tigers' offense, which held the team back throughout 2011-12. Another 18-15 season doesn't seem so bad, all things considered.
Mississippi State

Best-case scenario: This is all about the rebuild. Rick Ray inherits a program in a massive state of transition. Best-case? Incoming freshman Fred Thomas, a four-star shooting guard, shows glimpses of a brighter future.
Worst-case scenario: Ray is living it this week. On Sunday, incoming shooting guard Craig Sword was arrested and charged with misdemeanor possession of a firearm. Then Ray learned that freshman guard Jacoby Davis tore his ACL and is likely to miss the 2012-13 season. Losing one would be bad enough; losing both would be a disaster. It's going to be a long season in Starkville.
[+] Enlarge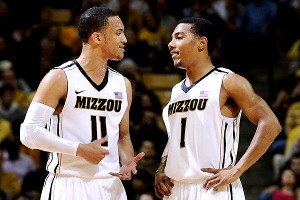 Dak Dillon/US PresswireWith Michael Dixon, No. 11, and Phil Pressey, Missouri should have the guard play it needs to contend for an SEC title.
Missouri

Best-case scenario: Missouri ended a brilliant 2011-12 season on a brutal note, and only a few of the Tigers from that team remain. But Frank Haith has enlisted the help of a deep pool of transfers in Mizzou's quest for postseason redemption. Those transfers include national-title-winning UConn center Alex Oriakhi, highly sought-after guard Jabari Brown, athletic freak Keion Bell and former Auburn swingman Earnest Ross. Lightning-quick guards Phil Pressey and Michael Dixon will anchor the backcourt, and forward Laurence Bowers will return from last summer's devastating ACL tear. You can make the argument that, save for Kentucky, this is the SEC's most talented team. An extended March stay is the very attainable goal.
Worst-case scenario: Transfers are tricky under any circumstances. This many transfers with this much talent? Haith, whose hiring was widely panned, acquitted himself brilliantly in his stewardship of a guard-heavy Tigers lineup last season, but this will be his most challenging coaching job yet.
Ole Miss

Best-case scenario: A return to the NCAA tournament for the first time since 2002. That might seem slightly optimistic, but only if you missed Ole Miss's quiet 20-win 2011-12. Murphy Holloway, Jarvis Summers, Nick Williams and Reginald Buckner form a quality, balanced core, one joined by some quality newcomers, particularly four-star small forward Anthony J.P. Cortesia. If the Rebels get more consistent offensive play, particularly shooting, they can go dancing.
Worst-case scenario: That this team is already what it is. If that's the case -- if Holloway doesn't raise his play, if the Rebels can't find better outside shooting or more consistent conversion from the free throw line -- then its offense is likely to lag again, and its chances of a tournament bid will lag along with it.
South Carolina

Best-case scenario: Frank Martin -- whose teams never lack a certain edge, one that is about more than his infamous expressionistic facial displays -- gets the Gamecocks to buy in defensively and on the glass and coaches them to an impressive first season.
Worst-case scenario: If the above happens, it'll be a lovely bonus. If it doesn't, oh well. Martin is starting from scratch, not only on his roster but also in the basketball culture. It will take time to build South Carolina into a competitive outfit.
Tennessee

Best-case scenario: Jarnell Stokes was a revelation in his freshman season, and he should be a full-fledged star in his sophomore campaign. Junior Trae Golden brings savvy guard play, and forward Jeronne Maymon is an aggressive handful on the glass. With a year under Cuonzo Martin, an already-good defense that should get better and a true centerpiece in Stokes, Tennessee fans are expecting a return to the NCAA tournament much earlier than previously planned. Rightfully so.
Worst-case scenario: It's hard to picture Tennessee not taking a step forward in 2012-13, but if it doesn't, blame the offense. The Volunteers were thoroughly mediocre in all four statistical offensive factors. They were especially sloppy with the ball, allowing opponents to turn them over on 20.7 percent of their possessions, almost half of which were steals. Things look bright, but Martin's team will have to clean up some fundamentals before it can make a leap.
Texas A&M

Best-case scenario: The good news? Texas A&M has talent. Billy Kennedy's first recruiting class includes two top-100 prospects, point guard J-Mychal Reese and shooting guard Alex Caruso, and both should compete for big minutes right away. It also has a pair of solid senior veterans in Elston Turner and Ray Turner. The obvious bet is a rebuilding season, but it doesn't have to be a completely dour one.
Worst-case scenario: The bad news? The talent Texas A&M has isn't very big. Turner is the only notable returning player with anything resembling interior size. A&M may have to play small-ball, or it may have to wait until Kennedy can refresh the ranks. Neither option bodes well for 2012-13.
Vanderbilt

Best-case scenario: It doesn't look good. Vanderbilt had a great run these past four seasons, and Kevin Stallings has done a magnificent job building this program into a perennial SEC contender. His teary reaction after Vanderbilt beat Kentucky in the SEC tournament final was a fitting punctuation on the Taylor-Jenkins-Ezeli era. Now, Stallings is back to the drawing board.
Worst-case scenario: Could Vanderbilt finish last in the SEC? It seems borderline, given how much talent was lost and how little experience and playing time Stallings' new charges have. This is a down year, plain and simple. Hey, it happens.
Most Important Player

Alabama: Trevor Releford
The Crimson Tide lost a host of important pieces and will be relying mainly on freshmen and sophomores. Coach Anthony Grant will need Releford to lead the way on the score sheet and in the locker room.

Arkansas: B.J. Young
The highly touted guard had a solid freshman season and could be poised for a major breakout as a sophomore. Guard play, particularly point guard play, is probably the most important part of Mike Anderson's up-tempo attack. Young will have the ball in his hands often and should be a lot of fun to watch.

Auburn: Jordan Price
The top recruit in Tony Barbee's 2012 class, joining a roster decimated by dismissals and offseason transfers, Price should be the best Tigers player from the get-go.

Florida: Kenny Boynton
Once seen as a conscienceless gunner, Boynton quietly submitted a fantastic offensive season for the Gators. With Brad Beal and Erving Walker gone, Boynton should get even more touches. If he maintains his efficiency, look out.

Georgia: Kentavious Caldwell-Pope
Caldwell-Pope was the gem of Georgia coach Mark Fox's 2011 recruiting class and showed plenty of promise as a freshman, averaging 13.2 points and 5.2 rebounds a game.

Kentucky: Ryan Harrow
Harrow won't be the most talented Wildcat -- he is somewhere around fifth or sixth on the list -- but no position is more important to Calipari teams than point guard. Harrow will be responsible for facilitating a star-studded and athletic lineup. How he handles that role could be the key to Kentucky's season.

LSU: Johnny O'Bryant
LSU made positive strides in Trent Johnson's final season, chief among them the progress made by 6-foot-9 forward Johnny O'Bryant. After notching major minutes as a freshman, O'Bryant could evolve into a star as a sophomore.

Mississippi State: Jalen Steele
Six of Mississippi State's top seven scorers graduated, left for the NBA draft or transferred. Steele, who averaged 8.7 points per game in 2011-12, becomes Mississippi State's best scoring option.

Missouri: Phil Pressey
Pressey is the Tigers' most important player, not only because of his stylistic talent -- his thrills-per-possession ratio is off the charts -- but also because he will have to be the glue that connects a team made up largely by transfers.

Ole Miss: Murphy Holloway
Holloway quietly posted an excellent junior season, earning him previously unlikely invitations to this summer's Nike Skills Camps circuit. Holloway's rebounding ability on both ends is a major asset.

South Carolina: Bruce Ellington
The rarest of breeds -- the collegiate two-sport athlete -- Ellington will return from the Gamecocks football team and become the best point guard option on Frank Martin's depleted roster.

Tennessee: Jarnell Stokes
When Stokes joined Tennessee last season -- he graduated high school in December, a semester early -- his first game came just a week after his 18th birthday, when Tennessee was 8-8 overall. The Volunteers finished the regular season 18-13 with a 10-6, second-place SEC finish. The kid's going to be a star.

Texas A&M: Ray Turner
Billy Kennedy has some solid talent arriving in his second year, but none of it will replace the size lost in the departures of Khris Middleton and David Loubeau. Turner, the team's best remaining big man, will have a lot on his shoulders.

Vanderbilt: Kedren Johnson
This is a shot in the dark, because Vanderbilt returns so little of last season's minutes and possessions that it's hard to know what to expect. Johnson has the highest usage rate of any returning Commodore, and he'll have a major role to play.
Freshmen to watch
Nerlens Noel, Kentucky: He is the No. 1-ranked recruit in the country, the early favorite for 2013's No. 1 overall NBA draft pick and the centerpiece of another massive talent haul for Calipari and the Wildcats. He is purportedly one of the best shot-blockers we've seen enter the college stage in years -- including predecessor Anthony Davis. If Noel is even 75 percent as good as that, the Wildcats will be a defensive force yet again.
Alex Poythress and Archie Goodwin, Kentucky: I didn't want to make this entire list Kentucky's recruiting class nor did I want to exclude Poythress and Goodwin, both of whom are worthy of your attention next season. Poythress will bring athleticism and rim-attacking rebounding from the wing. Goodwin is a polished, multifaceted scorer. Both will start, and both will be crucial to Calipari from the outset.
Devonta Pollard, Alabama: The No. 28-ranked player in the Class of 2012, Pollard has drawn rave reviews from scouts, and comparisons to Travis Outlaw, for his end-to-end athletic ability. He'll have to round out his offensive game, but he'll be a tremendous cog in Anthony Grant's defense-first system.
Braxton Ogbueze, Florida: Four-year guard Erving Walker graduated, and conveniently enough, Florida coach Billy Donovan has the No. 7-ranked point guard in the 2012 class signed up to fill the spot. Ogbueze could see starter's minutes right away, or he could fill in behind Mike Rosario, Kenny Boynton and Scottie Wilbekin. Either way, the Gators' backcourt is in fine shape.
Jordan Price, Auburn: After a rather brutal 15-16 season, Auburn coach Tony Barbee desperately needed an infusion of talent. Price and forward Shaquille Johnson, both top-100 players, will help immediately.
Gottlieb: SEC Power Rankings

As part of our summer preview series, ESPN Insider experts have been doing Power Rankings for the "big six" conferences and the best non-"big six" teams for the upcoming season.
The series concludes today with the SEC.
To read Doug Gottlieb's SEC Power Rankings, click here

.
Katz: MSU Starts From Scratch

LAKE BUENA VISTA, Fla. -- Mississippi State was featured in two headlines on ESPN.com's college basketball page as of Thursday morning.
Neither was good for the upcoming season, especially for new head coach Rick Ray who is starting from scratch after Rick Stansbury "retired" after 14 seasons.
Stansbury had plenty of player movement during his tenure, including a high-turnover roster and a slew of players who went to the NBA, sometimes before they even arrived in Starkville under the previous NBA draft rule. But one thing Stansbury continued to do, in what's arguably one of the toughest recruiting spots in the SEC, was win.
He reached six NCAA tournaments and claimed five SEC West divisional titles. But he left a roster that imploded upon his departure.
The Bulldogs lost two seniors (Dee Bost and Brian Bryant) and two players who left a year early for the NBA draft. Arnett Moultrie, a four-year player after transferring from UTEP, was an expected departure. Moultrie was selected in the first round (27th overall) by Miami and traded to Philadelphia. He was a double-double machine for the Bulldogs at times. Renardo Sidney wasn't selected and probably would have been a headache for Ray had he stayed in school. Sidney consistently failed to get in shape, stay eligible and remain interested on the court.
To read the rest of Andy Katz's story on the Bulldogs, click here.